If you've found yourself pining over Disney World and wondering "when is Disney World reopening", then read ahead for all the latest information.
The Disney-obsessed amongst us have been pining for The Happiest Place on Earth to reopen. Well, fear not fellow fans, for we've finally got the news that Walt Disney World is reopening on July 11, 2020! However, although it will be a relief to many that they can get their Disney fix once more, there will be quite a lot of changes.
With the current climate, everyone wants to know what changes are going to take place, and how everyone will be kept safe with everything going on. So, to put your mind at ease, we thought it a good idea to go in-depth into the reopening procedure to answer some of your burning Disney questions.
Firstly, Disney is canceling all existing Disney Dining Reservations and FastPass+ reservations, so be fully aware of this before you book or if you have already booked!
Now, the reopening is set to be phased, with Disney's Magic Kingdom and Animal Kingdom being the first parks to be rope-dropped on the 11th. If you're craving an EPCOT or Hollywood Studios fix, then you'll have to wait until July 15th. Though all plans are subject to approval by Florida's governor, should all go well, the parks should reopen on the 11th and the 15th respectively. Though the parks will open, they will be operating at significantly reduced capacity, and there will be health and safety measures in operation to keep Disney lovers safe!
If you're looking to book a trip soon, you'll want to know what the crowds will be like and when the best time to reschedule your previously canceled trip may be. Though the Disney magic is sure to still be there, it won't be the Disney World you knew. With new safety measures being necessary, there will be changes to guest experiences that limit or exclude the parades, night shows, and character interactions.
Though reopening is set to happen, it's probably important to keep your expectations at a reasonable level. Be aware that Walt Disney World Resort Hotels won't be opening at the same time as the parks, and Disney has made this clear to guests on their website. The only properties that will be reopening when the parks do are Disney Vacation Club properties which will reopen on June 22nd. Due to the lower capacity that's going to be in place, this measure does make sense but it is obviously disappointing for many!
As there won't be any nighttime spectaculars, the parks will be closing earlier than normal, so be aware of this before you book. The times opening times will be as follows:
Magic Kingdom: 9am – 7pm
EPCOT: 11am to 9pm
Hollywood Studios: 10am to 8pm
Animal Kingdom: 9am to 6pm
Though this is subject to change, you can rest assured that this will likely remain standard.
So, Disney World is really reopening?
Okay, there's been a lot of search traffic on the reopening of Disney World, and this comes as no surprise. I mean, we need to get our Disney fix somewhere! There will be a new reservation system launching for guests that will help to control entrance numbers. Though it's likely some measures will mimic the measures currently going on in Shanghai, they will not be completely identical. Likely to be operating at 20-30% capacity, it's going to be a different experience, with entrance reservations set to sell out very quickly as soon as they launch.
If you're an annual pass holder, you will be contacted to make park reservations should you wish to. Before the public is contacted, pass holders should have the opportunity to snag some tickets before they're sold out.
If you're looking for more details on Disneyworld's new guidance, they've released a handy little infographic that should help with understanding the new safety expectations for guests and cast members.
However, be aware that face coverings will be required. All guests aged 3 and older, cast members, and other employees will be required to wear face coverings, and this isn't negotiable. Though there will be 'rest areas' where guests can remove their masks for a little breather, it's not yet clear how many of these there will be and how this is set to work.
Disney's official guide to face coverings can be found below: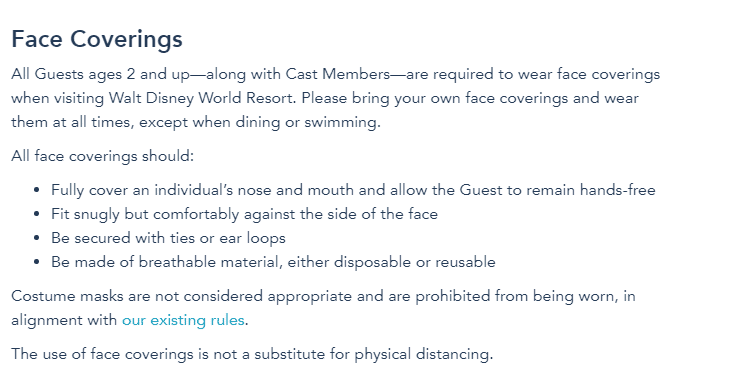 In addition, there will be regular temperature screening, cleaning, and sanitization measures, and hand sanitizer stations galore to help keep things as clean as possible. As would be expected, Disney is taking extra measures to ensure that guests and employees feel as safe and protected as possible, so don't stress too much if you forget to pack your bottle of hand sanitizer on your trip to the parks as they reopen.
Of course, there will be a degree of distancing required upon reopening. As has been general practice, guests will be required to keep 6 feet apart from those not in their direct travel party. With signs and queues giving clear information about social distancing that will show guests where they can and cannot stand, it is hoped that there will be compliance throughout the park.
If you're a fan of paying by cash, you might want to reassess, as Disney will be promoting cashless transactions over cash ones for obvious reasons. Minimizing contact with money is understandable and will prevent any unnecessary touching between guests and Cast Members.
The good news is that if you just can't wait for park reopening, Disney Springs is already open for browsing. Be aware that the same social distancing and mask-wearing requirements stand, so if this isn't your cup of tea, you'll want to wait for things to settle more before getting your dose of Disney.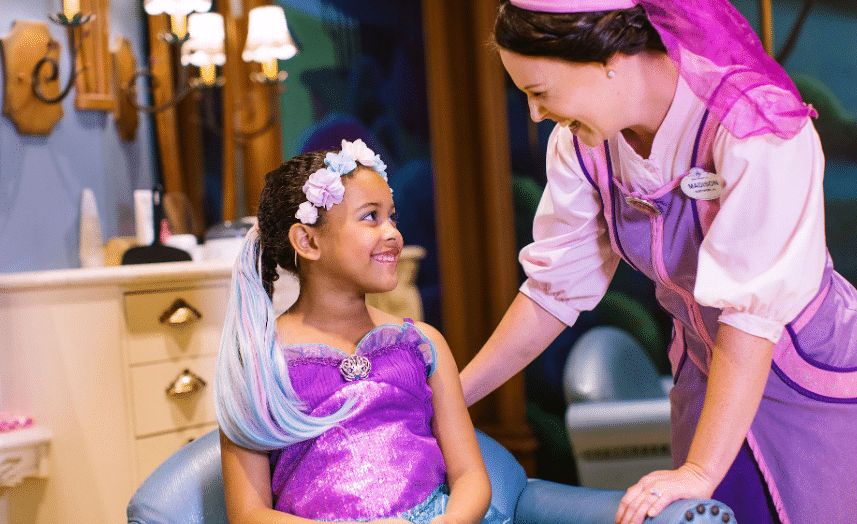 Though the entirety of Disney Springs isn't yet open, there are some shops and restaurants that are already open. However, even if you have dining reservations at Disney Springs, be aware that if the restaurant is at maximum capacity, you'll have to wait until there's space!
As will be commonplace in the parks, temperature screenings, face coverings and reduced hours will be in place in order to keep guests and employees as safe as possible.
The shops currently open in Disney Springs are as follows:
Anthropologie
The Art Corner by Artistic Talent Group
Basin
Chapel Hats
Columbia Sportswear
Crystal Arts by Arribas Brothers
Edward Beiner Purveyor of Fine Eyewear
Free People
Happy Hound
Lucky Brand
Luxury of Time by Diamonds International
Marketplace Co-op
Pandora® Jewelry
Paradiso 37 Entertainment
Pelé Soccer
Pop Gallery
Ron Jon Surf Shop®
Royally Yours by Arribas Brothers
Sanuk
Savannah Bee Company
Sosa Family Cigars
Sugarboo & Co.
UGG®
UNIQLO
UNOde50
Volcom
Vera Bradley
World of Disney
ZARA
Though it's difficult to know whether it's a good idea for you to visit, it really is up to the individual. For most Disney fans, a set date for reopening is a joy and is a step closer to normality and the experience that we know and love. It will certainly be an amazing moment to step back into the parks for the first time once more.