For Californian residents, the number one question lately has been this: "when is Disneyland reopening?".
As the parks are amongst California's most popular attractions, it's unsurprising that many people want to know when Disneyland is opening to the public once again. After all, we've all missed the snacks, the lights, the attractions, and the fun!
If you're a California native and are looking for the lowdown on when Disneyland is opening (or are a tourist trying to plan your long-awaited trip to The Happiest Place on Earth!), then read ahead for everything you need to know about Disneyland reopening.
When is Disneyland opening?
Before I go into too much detail on the matter, I'll answer that burning question.
Disneyland is opening on the 30th of April.
Now, as I'm writing this post, I can practically taste the popcorn and hear those magical tunes emanating from the Main Street speakers! Seriously, it's not long until Disneyland's opening date.
It's worth being aware that as of the date of this post, Downtown Disney is already open. If you're just looking to get your Disney fix via some merch or eateries, then you'll be set. The only stuff not open are the shopping locations in the Disneyland Hotel, Disney's Grand Californian, and Disney's Paradise Pier – so bear that in mind. However, if you're waiting for rides and the full Disney experience, then you'll need to hold on just a touch longer.
If you're wondering about the ins and outs of opening and how the date was decided upon, I'll quickly fill you in. Disneyland's reopening comes alongside new guidance on theme parks that was published in March. This guidance allows theme parks to reopen with reduced capacity.
As you may know, Disneyland California has been closed for a long time. Unlike the Florida parks, Disneyland California has been closed since March 12th, which has left a lot of American Disney fans high and dry.
Now, safety does always come first of course, but Disneyland opening again is sure to bring a smile to many faces! And hey, they've totally done their part by becoming one of the largest mass vaccination centers in California. If you want to read more about that feat, just check out this press release!
The details that you need to know
Let's get onto the details that you came here for.
Disney's Californian theme parks will reopen April 30, and though this is great news, you'll need to do some planning before heading down for the day.
As with Walt Disney World, you'll need a park reservation and a ticket for each day that you intend to visit the parks. This is because capacity will be capped upon reopening to keep things as safe as possible. So, when Disneyland's opening day arrives, you may struggle to get a reservation at first! Capacity is going to be at 15% at first, and no indoor dining will be permitted. It's quite tough, but you may finally be able to ride your favorites without waiting in perilous queues – hooray!
Now, it's not quite as simple as it seems, so bear with me while I get to the gritty details.
The whole Disneyland opening plan is based on cases and tiers. Disneyland has been allowed to open at 15% capacity if the country is sitting in the "red" tier, which basically means that new daily cases are sitting at around 7 per 100,000. Should things improve and the area enters the "orange" tier, Disneyland will be allowed to operate at 25% capacity and a 25% indoor capacity and so on.
If you want to check out the reopening rules for the California parks, here's a little snippet from the California guidance.
It's a bit bizarre for those familiar with the Floridian system, but it's designed to keep things as seamless and safe as can be.
HOWEVER, the big difference here is that Disneyland opening conditions are only applicable to California residents. This sucks for many, but it keeps things local and allows the government to monitor cases and infections. These restrictions are subject to change, so it's entirely possible that the California government will alter the rules when the tourism season kicks in – it's really just a "wait and see" scenario.
What if I'm an annual pass holder?
Okay, so here's another tricky impasse that comes with the Disneyland opening. For now, Disneyland is canceling and refunding all annual passes. I get that many people aren't going to love this, as the annual pass program saves people a chunk of cash and is convenient for frequent visitors.
However, because the pandemic has thrown things up in the air, Disneyland has decided to sunset the current program and develop a new system for when things are more settled.
You will become a "Legacy Passholder", which essentially means that you'll get discounts on food and merchandise.
Will the Disneyland opening go ahead?
It's difficult to say with certainty as things have been so changeable over the last year. However, as California's cases have dropped sharply, it's looking quite likely. If cases continue to stabilize or improve, then Disneyland's opening will go ahead according to the rules that have been outlined by the government.
If you want to get your hands on the latest information, then be sure to continually check the Disneyland official website's guidance on the matter. When the time comes, you'll be able to see everything you need to know about reservations.
For now, this nifty little infographic from the site should show you what to expect.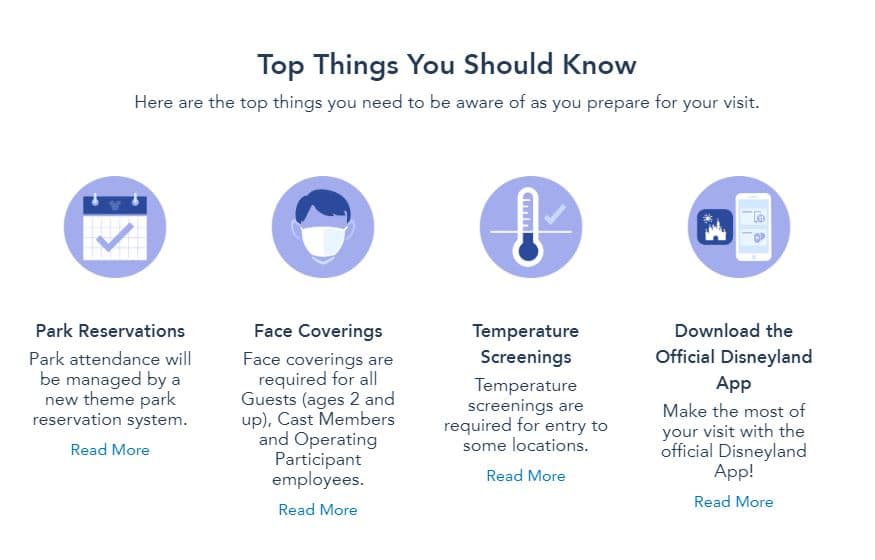 What about the FASTPASS and Disney MaxPass systems?
Unfortunately, when the Disneyland opening day arrives, there won't be any FASTPASS or Disney MaxPass services available. Though these will likely return in time, it's impossible to say when this will be!
Are there any other restrictions or missing attractions?
As is to be expected, there won't be any nighttime spectaculars or parades running. In addition to this, there also won't be any character meet-and-greets. It's a total bummer, but it's not surprising. These events all draw large crowds, and this is exactly what Disney are looking to avoid.
Again, these wonderful things will be back, we've just got to be patient!
I hope that this guide has answered that all important question: "when is Disneyland opening"? We all miss the parks, and it will feel incredible when we're finally able to get through those magical gates once more.
Do you have any comments on the Disneyland opening dates or projected plans? If so, drop me a comment and we can have a little discussion about it!