Have you been searching for the ultimate list of horse movies on Disney Plus to watch this year? I've gathered up the absolute best horse-themed flicks on the streaming platform that'll keep you occupied for hours!
I get that scrolling through Disney Plus can be overwhelming at the best of times.
Seriously, there are over 500 films, 15,000 episodes, and 80+ originals to choose from every time you open the app.
And counting!
So, if you're feeling a comforting and familiar flick? Well, it's time to out a few of the classic horse movies available on Disney Plus!
They're typically family-friendly (great for those last-minute movie nights!), and always touch on friendship, loyalty, and adventure.
Which are awesome themes for both adults and kids to learn more about!
I'll try my best not to release too many spoilers here. After all, I want to keep all the horsey magic for your first watch!
But I will give you a quick warning that a few plot summaries might include a sneak peek or two.
Oh, and most of these movies are available on Disney Plus in the USA (just FYI!).
A few titles can be streamed across the world, but bear that in mind before starting up that streaming platform!
Now let's do this.
Top Horse Movies on Disney Plus
Black Beauty (2020)
"The story of a wild horse, and the girl she loved."
Black Beauty is probably one of the most famous horse movies on Disney Plus.
It stars Mackenzie Foy as the spirited teenager Jo Green and the incredible Kate Winslet as Black Beauty.
The premise of the film is that Black Beauty was brought up in the American West as a free horse. After several years, she was then sold to a ranger called Terry.
Following several wilderness rescue missions together, Beauty is rounded up and given to the owners of the Birtwick Stables.
Black Beauty and Jo eventually form an unbreakable bond that carries the horse to the end of her life.
I won't sugarcoat it – Black Beauty has its sad moments.
But it's a gorgeous (if melodramatic!) story about the importance of animals and how they can heal their human companions.
I mean, that's reason enough to watch this movie, right?
"A wise horse once told me that a mustang spirit can never be broken. That it has the strength of the ocean, and lives forever, like the wind." – Black Beauty
The Young Black Stallion (2003)
The Young Black Stallion was released as a retrospective sequel to the 1979 movie The Black Stallion.
It's on the very short side for a movie as it clocks in at just 45 minutes.
But it's the perfect horse movie to throw on for the kids while you're getting a few chores done before bedtime!
And realistically, who doesn't love a short and sweet story about a brave wild stallion?
The story follows a young girl called Neera who's traveling through the desert with her father in Arabia during World War Two.
Unfortunately, the pair get robbed along the way and Neera gets separated from her father in the commotion.
Luckily for Neera, a beautiful black stallion named Shetan finds her and brings her to safety.
There's a bit more that happens in between that involves Neera's grandfather and horse breeding, but you'll need to watch it to find out.
Hey, I'm not about spoiling movies!
As the film was originally produced for IMAX theaters, you can expect gorgeous visuals and impressive cinematography.
I wouldn't say it's a story that would hugely engage adult viewers, but it's the perfect way to introduce animal-loving youngsters to Disney!
Justin Morgan Had a Horse (1972)
You might not have heard of Justin Morgan Had a Horse, but it's totally one of the best horse movies on Disney Plus.
It's based on the American children's historical novel of the same name by Marguerite Henry (which is a true story!).
It covers the tale of Justin Morgan and the very first Morgan horse from back in 1791 called Figure.
The stakes are relatively high in this movie as the setting is relatively close to the dawn of America as an independent country (way back in 1776!).
So, you can expect gorgeous period costumes, rolling plains, and a lot of Western flair.
It's considered a classic Disney movie as it was released back in 1972. But despite its age, it's still worth a watch!
Secretariat (2010)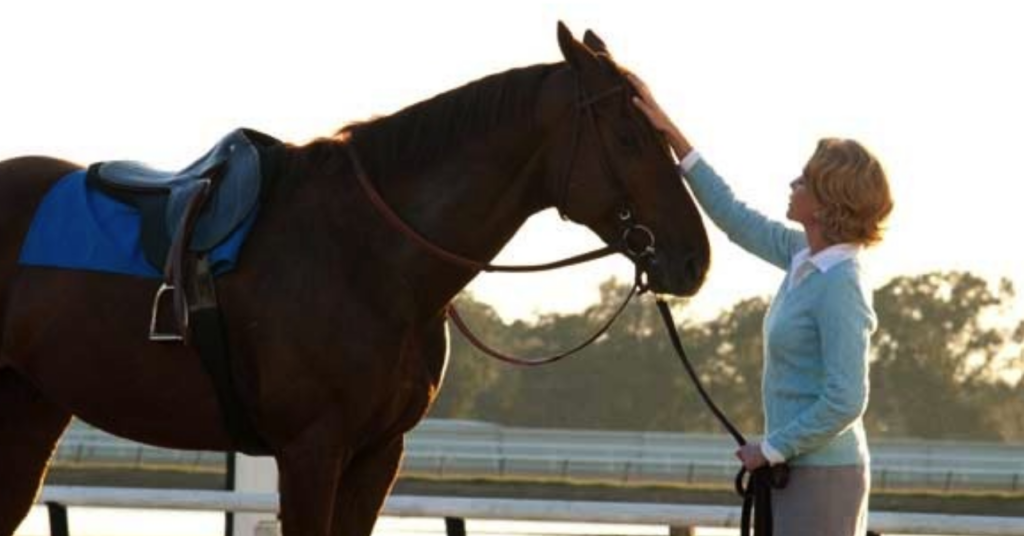 Secretariat is an incredible film with a powerful female character who takes over her family's farm after her father falls ill.
It follows the story of Penny Chenery and the real-life Thoroughbred racehorse Secretariat who won the Triple Crown in 1973.
It's considered a biographical sports drama film, but I'd say it's more than engaging enough for both children and adults.
What makes this film particularly special is the seriously strong female lead who navigates the male-dominated sport of horseracing.
Oh, and did I mention that it stars Diane Lane who's been nominated for a Primetime Emmy and an Oscar for her work?
The film pulled in an impressive $60 million at the box office and runs for 123 minutes.
So, grab some popcorn and put your feet up as this is up there with the best horse movies on Disney Plus!
Tangled (2010)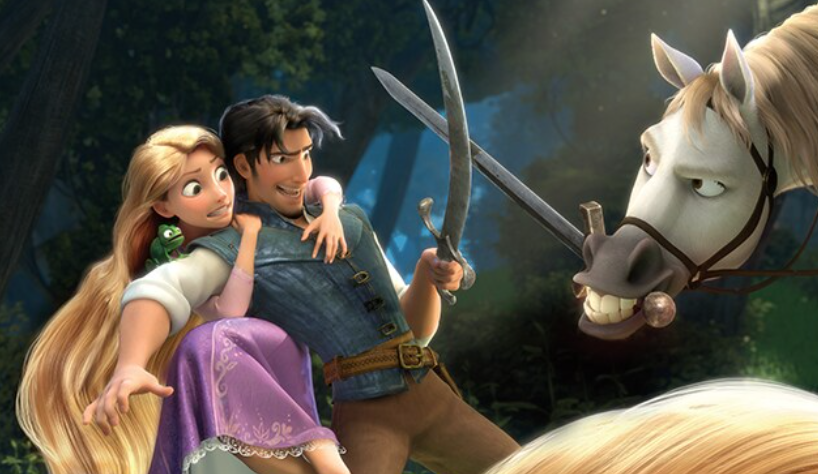 I get that I'm cheating a little by including Tangled on my list of Disney horse movies.
But Maximus is such an iconic part of Tangled that I thought it was fair game.
Tangled follows the story of a lost princess called Rapunzel who is kidnapped by the evil Mother Gothel for her magical hair.
This all happens when she's a baby, and the King and Queen release floating lanterns every year in the hope of her return.
So, when Rapunzel turns 18, she's desperate to see the floating "lights" (despite not knowing they're 100% for her!).
Along the way, she meets the handsome and roguish thief Flynn Rider who breaks into her tower after stealing a crown from the palace.
Throw in a horse sword fight with a frying pan, a few funny apple jokes, and a heroic mission to save the princess, and you have Tangled!
Again, Maximus isn't exactly a main character.
But he's enough of a feature, which makes including Tangled on this list of Disney horse movies justified!
Ready to Run (2000)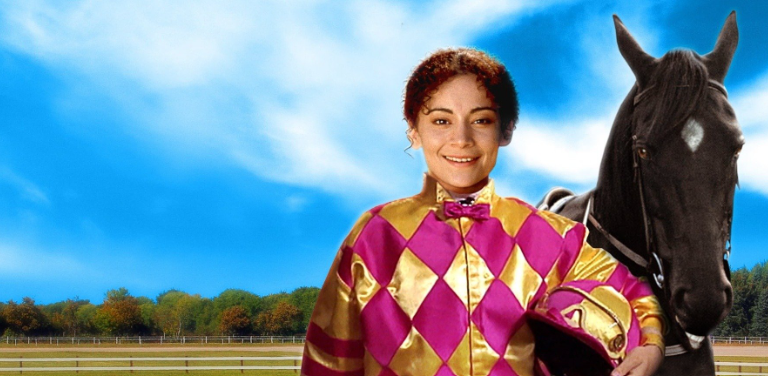 If you're looking for super family-friendly horse movies on Disney Plus, you can't beat Ready to Run.
This film follows the story of a young girl named Corrie Ortiz who's desperate to compete in the National Cup race.
What makes this story special is that Corrie lives in a small African village where racing isn't exactly the norm.
When her father's gorgeous stallion is sold to an American buyer, Corrie's dreams are crushed.
But she does meet a young up-and-comer called Thunder Jam (or TJ!) who has everything Corrie needs to become a National Cup Champion.
With the help of her grandfather and Soupy the horse trainer (yes, really!), Corrie and Thunder Jam form an unbreakable bond.
Oh, and did I mention that Corrie discovers that she can talk to horses?
This is one of my all-time favorite horse movies on Disney Plus as it follows an unlikely heroine and introduces kiddos to financial hardship and self-doubt.
Plus, this is a movie that deals with the darker side of horse racing like jockey injuries and horses being taken out of commission.
So, it promises to be an educational evening on the couch if nothing else!
It stars Krissy Perez, Sinbad, Sophia Glen, Geoff Snell, and Stephen Tozer who round out the strong cast of characters.
Home on the Range (2004)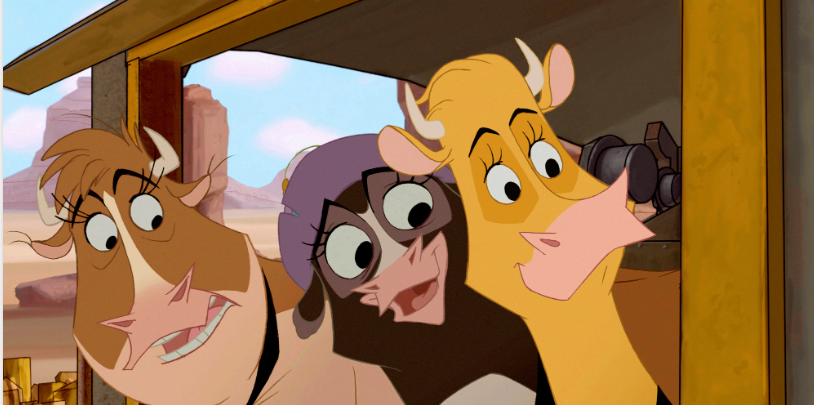 "Hoooome, home on the RAAANGE!"
As well as having a seriously catchy soundtrack,Home on the Range is also one of the top horse movies on Disney Plus.
Although it's not just a movie about horses (there are plenty of animals involved!), Buck the horse is one of the main protagonists in the film.
The film starts when an eviction notice shows up at the gates of the Patch of Heaven Dairy farm.
This kicks the three main cows into action to save the farm and stop it from being taken away (they're called Maggie, Grace, and Mrs. Caloway, BTW!).
They join the Sheriff's horse (Buck, that I mentioned earlier!) to collect ransom from an outlawed cattle rustler called Alameda Slim.
They're hoping with the cash in hand, they'll be able to take their farm back by the reigns and get things back to normal.
This slightly cheesy film might sound like one of Disney's lesser-known releases (and kind of is!).
But it also features the vocal stylings of incredible actors like Steve Buscemi, Judi Dench, Jennifer Tilley, Randy Quaid, and G.W Bailey!
Now that's a vocal line-up for the books.
Buck: Say, girls… got milk?
Hacksaw (1971)
If you're on the hunt for classic horse movies on Disney Plus, you honestly can't beat Hacksaw.
It follows the story of a girl who makes it her mission to tame a wild horse called Hacksaw on a ranch in the Rocky Mountains.
She takes a little while to capture the rowdy stud, but she quickly befriends him and trains the horse to tackle the Calgary Stampede Chuckwagon Race.
It features a few brief moments of peril, but it's mostly a wholesome film that shows a girl and a horse overcoming their troubled pasts.
And you guessed it – they come out on top!
Even if you've already watched Hacksaw, I'd say it's one of the old-school Disney flicks that's worth a revisit or two.
Get a Horse (2013)
Get a Horse is one of the newer horse movies on Disney Plus and it's actually a Mickey Short!
It combines black and white hand-drawn animation and computer animation to show the growth of Mickey Mouse over the years.
You'll even hear the wonderful Walt Disney's voice popping up from when he once voiced Mickey Mouse (thanks, archival recordings!).
It's just over 6 minutes long, but it's a charming flick that follows Mickey, Minnie, Clarabelle Cow, and Peg-Leg Pete.
At one point, Horace Horsecollar even rocks up wearing a Captain America T-shirt and sunglasses carrying an iPhone.
Yep, it's a true blend of early and modern Disney at its best!
Plus, the short is directed by Lauren MacMullen who happens to be the first woman to solo direct a Disney animated movie.
How cool is that?!
Wild Hearts Can't Be Broken (1991)
Wild Hearts Can't Be Broken is an American drama film that follows Sonora Webster Carver (who's a rider of diving horses!).
It's based on the events of Carver's life in the 1930s (and beyond!) and stars Gabrille Anwar, Michael Schoeffling, and Cliff Robinson in central roles.
As a proud Millennial, this movie was one of my go-to comfort movies.
And when I got older, I even read Carver's book A Girl and Her Five Brave Horses which is even more inspirational than the film.
Flicka (2006)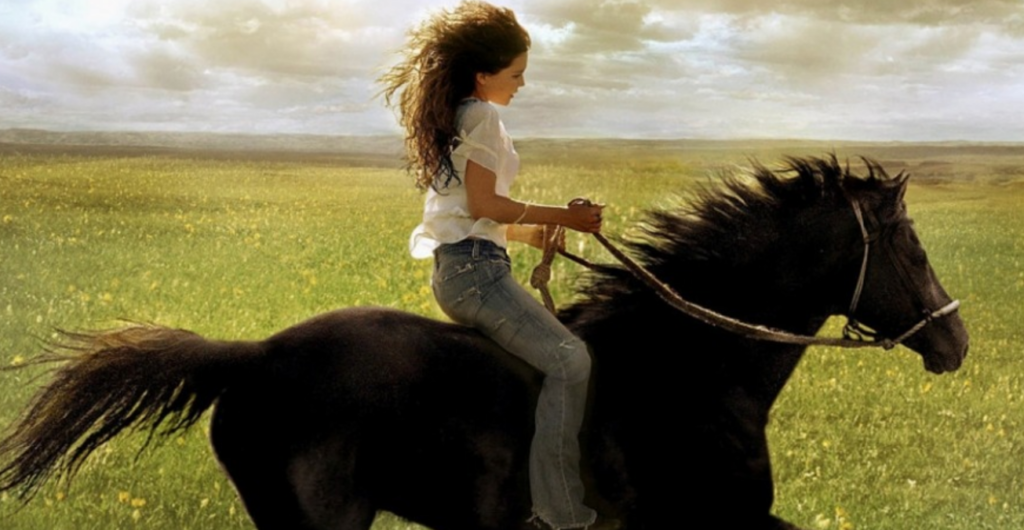 Released in 2006, Flicka is a family adventure movie that's based on the 1941 novel My Friend Flicka by Mary O'Hara.
It's the perfect film for horse-obsessed kiddos, but there are some scenes that might be a bit too mature for proper youngsters.
The story follows Katherine McLaughlin who wishes to run her father's horse ranch in Wyoming.
But unfortunately, her father is trying to force her older brother Howard to take over while sending Katy to private school.
Katy rebels against her father's authority several times, and Howard wants to attend college instead of running the ranch.
So, there's a lot of crossed wires to deal with here.
But the true horsey goodness comes when Katy finds a black wild mustang who she instantly connects with (and calls Flicka!).
There's quite a bit of drama between beginning and end (including a mountain lion attack), but all ends happily for the family.
Phew!
Flicka 2 (2010)
Flicka 2 was released as a direct-to-DVD sequel and it follows a city girl who travels to the country.
The film revolves around Carrie McLaughlin who moves in with her ranch-owning father Hank after her grandmother goes into a nursing home.
Flicka (yep, same horse!) is wild and dangerous as he longs for his old owner Katy.
When a rogue rattlesnake attacks Carrie, Flicka comes to her rescue and the two form a close bond.
Although the family relocate Flicka to another farm during the movie (and the horse is even up for slaughter at one point), the story has a happy ending.
So, don't worry.
I'd say that the themes in the sequel are a bit heavy for younger kids. But just proceed with caution as you know your kiddos best!
Gus (1976)
You got me – I'm sort of cheating again!
Gus is technically a sports comedy film about a beloved mule who can play football.
But it's such an iconic flick that I thought it was 100% worth including on this list.
The story follows the worst team in the NFL (The California Atoms) who struggle to win games under owner Hank Cooper.
As you might have guessed, Hank owes a lot to bookmakers who give him a final chance to place a bet.
If the Atoms are able to win the upcoming Super Bowl, the bookmakers will forgive Hank's debts.
Long story short, Hank discovers that the family mule can kick a ball an incredible distance.
And the rest is history!
Horse Sense (1999)
To round up my list of amazing horse movies on Disney Plus, I've got Horse Sense!
This Disney Channel Original Movie oozes nostalgia and follows a spoiled 20-year-old who's forced to go to a Montana ranch to give him perspective.
Don't worry – it belongs to his aunt!
Michael Woods soon learns that the farm might go into foreclosure and that his cousin Tommy is being treated poorly.
He also creates a strong bond with one of the ranch horses who would be sent away with the foreclosure (which isn't ideal).
Although the themes are a touch heavy here as the film centers around financial difficulties, it's certainly worth a watch!
"Horse Sense is none too subtle, pounding home its messages of selflessness and hard work. But it's well-acted and well-paced, and it's always good to see Hollywood point out the shallowness of Hollywood life. – Paul Schultz, New York Daily News 1999
A Worthy Mention
The Neverending Story (1984)
Okay, this one might be a slightly tricky watch for horse lovers as it features a heartbreaking scene featuring the horse Artax.
I won't go into it too much, but the Thoroughbred racehorse has to battle against something called the Swamp of Sadness.
And it doesn't end well.
It also isn't on Disney Plus, but I really think it's worth seeking out as it tackles complex themes and is incredibly engaging.
The story follows a boy who discovers a magical book about the dark force of Nothing that's engulfing the land of Fantasia.
That's right, just like the iconic animated film from 1940!
Although this film isn't on Disney Plus at the moment, I thought I'd mention that there's a rumored remake coming to screens in 2024!
So, just sit tight – it might be on Disney Plus sooner than you think.
I hope that you enjoyed this ultimate rundown of horse movies on Disney Plus!
Have you already watched a few of these picks? Are you looking forward to streaming any of them? I'd love to hear your thoughts in the comments below.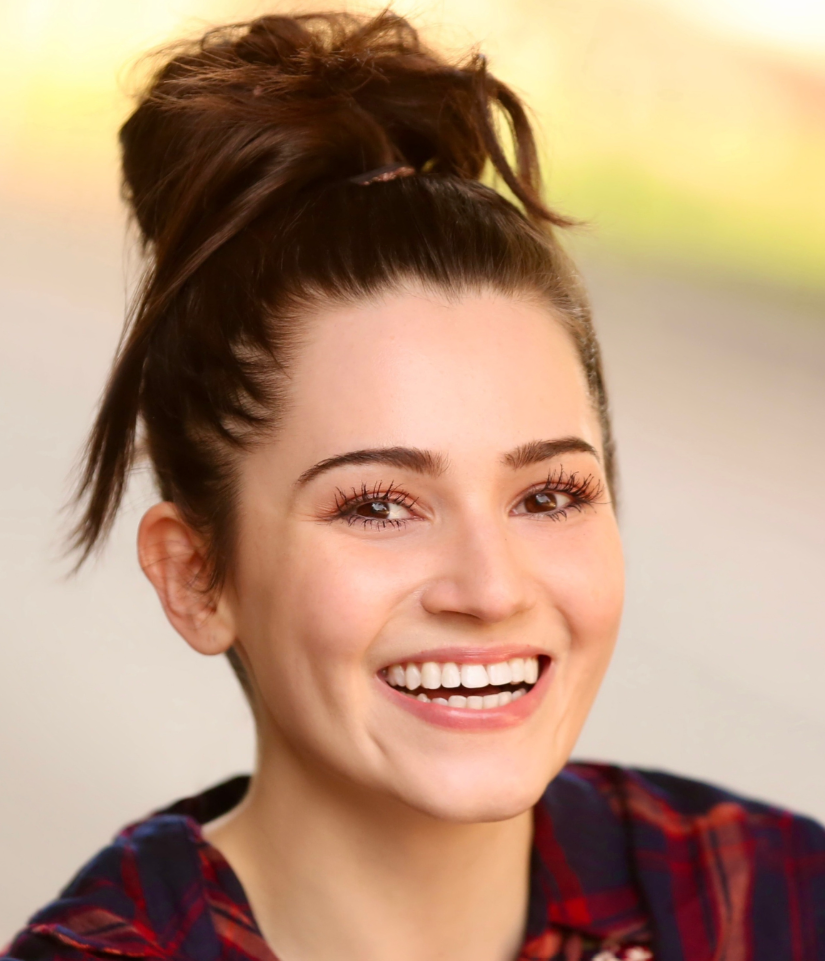 Grace is the creator, editor, and sole writer for Pixie Dust and Passports – a blog that's ALL about Disney! She's made it her life's mission to visit the Disney parks as much as possible and loves trying new snacks, grabbing the latest spirit jerseys, and rocking Loungefly bags. Oh, and she also holds a BA in History from UCL, which makes her a research and deep-dive enthusiast into all things Imagineering.