Are you searching for the best dog movies on Disney Plus to make you smile? Keep scrolling for 35 incredible picks and a few fun facts!
I adore sitting down with a warm cup of tea and putting a movie on after a stressful day. Although I'll often opt for a classic thriller or an old-school classic, there's something seriously adorable about Disney dog movies.
With Disney Plus becoming one of the world's most popular streaming platforms in the world, you might be wondering what dog movies you'll be able to catch with your subscription.
If you're looking to settle in for a movie marathon packed with pups, then simply read ahead.
This list covers almost every dog movie on Disney Plus from 101 Dalmatians to modern flicks like Beverly Hills Chihuahua, you're bound to find something you enjoy!
Best Dog Movies on Disney Plus
101 Dalmatians (1961)
It's no secret that I absolutely adore 101 Dalmatians.
From the puppies themselves to the adorable 101 Dalmatians quotes and unique names, it's an enduring Disney staple that deserves top billing on any list of dog movies on Disney+.
The OG 1961 version of the film follows the story of Roger and Anita who own the gorgeous Dalmatians Pongo and Perdita.
After Perdita gives birth to an incredible 101 puppies, the villainous Cruella de Vil (who has some incredible quotes, by the way!) rocks up and attempts to purchase the litter to make a fur coat.
Although Roger and Anita refuse to sell them, Cruella manages to kidnap the puppies which prompts the ultimate rescue mission.
Will they retrieve the puppies before it's too late? You'll have to watch the film to find out!
101 Dalmatians (1996)
The 1996 version of 101 Dalmatians isn't quite as iconic as the original animated feature, but it remains a solid movie with a standout performance from Glenn Close.
The plot of this film is exactly the same as the 1961 version, but I've always felt that it leans slightly more comedic.
You can thank Cruella's sidekicks for that one!).
102 Dalmatians (2000)
Not many people tend to talk about 102 Dalmatians, but it's one of the top dog movies on Disney Plus and is totally worth a watch.
This 2000 live-action flick is centered around Cruella and the puppies, with Cruella plotting to steal helpless dogs for spotty coats.
Although you might think this is the same plot as 101 Dalmatians, there's a slight twist.
Cruella figures out that her parole officer's boyfriend runs an animal shelter that has been struggling for funds.
So, she pretends to help in order to get the pups she needs for her coats through less-than-savory means,
Yup – she's a monster.
Old Yeller (1957)
If you're on the hunt for classic dog movies on Disney Plus, consider the search over with Old Yeller.
This movie was released all the way back in 1957, and it's basically a must-see Disney staple that stars Dorothy Mcguire, Tommy Kirk, Fess Parker, and Jeff York.
The plot is quite simple and follows a post-Civil War boy called Travis who lives in the Texan countryside.
When Travis is left to mind the family ranch while his father is called to a cattle drive in the 1860s, a yellow mutt appears who the young boy adopts.
And the rest is history!
The Shaggy Dog (2006)
Another one of my all-time favorite dog movies on Disney Plus is The Shaggy Dog because it's quirky, amusing, and downright charming.
The story follows a mail carrier called Wilson Daniels and his son, who (believe it or not!) turns into a sheepdog.
If you're wondering why, it's because the son's father doesn't exactly get along with the dogs in the neighborhood.
So, it's used to teach him a lesson and force him to do something heroic to break the spell.
Sure, it's one of the weirdest dog movies on Disney Plus.
But you're bound to agree that it's memorable!
Because Of Winn Dixie (2005)
Because Of Winn Dixie is a movie that I've loved since I was old enough to understand stories (and English, of course!).
It's a moving story that tells the tale of a girl who was left by her mother when she was just three years old.
As a result, she moves to a small town in Florida where she's allowed to adopt a stray dog that she calls Winn-Dixie.
The story is relatively innocent and straightforward but covers interesting themes like abandonment, troubled relationships, and the importance of a strong family bond.
And hey – it always helps when the dog is that cute!
Lady and the Tramp (1995)
The original version of Lady and the Tramp totally deserves a place on this list of dog movies on Disney Plus.
It follows the story of a pure-bred cocker spaniel and a charming mixed-breed mutt who fall in love in the most unlikely of ways.
Although the story starts out pleasantly when she's gifted to a family, Lady is framed by a pair of malicious Siamese cats.
After the owner's aunt attempts to muzzle her (believing that Lady has bitten a child), Lady runs into the streets of London where she meets the incredible Tramp.
It truly is a story for the ages, and deserves pride of place on this list of dog movies on Disney Plus!
Lady and the Tramp (2019)
If you'd like a change from the OG Lady and the Tramp film, why not check out the live-action remake that was released in 2019?
It follows the same story as the animated version, so you shouldn't expect anything hugely different or groundbreaking.
But if you adore real dogs and want a cute movie to cuddle up with during autumn or around Christmastime, then this is a perfect option.
Oh, and it has a seriously stellar cast packed with names like Justin Theroux, Sam Elliott, and Tessa Thompson!
Snow Dogs (2002)
Next on my list of the best dog movies on Disney +, it's Snow Dogs!
This adorable movie first burst onto our screens in 2002, and it follows the story of a dentist from Miami who receives a large inheritance of 7 Alaskan sled dogs and a border collie.
It's a slightly bizarre concept, but it remains one of my favorite dog movies available to watch on Disney Plus!
I mean, who doesn't love Alaskan sled dogs?!
Beverly Hills Chihuahua (2008)
The Beverly Hills Chihuahua series has been a solid choice for kids since the first movie was released in 2008.
This movie is almost too cute for words, but it's surprisingly deep too.
The film follows an upper-class Chihuahua called Chloe who lives in Beverly Hills with her owner.
But all hell breaks loose when she loses her way on a vacation in Mexico.
As you might expect, the film follows Chloe as she tries to find her feet and make her way back to her beloved owner.
And along the way, she meets a whole cast of characters including the loveable Papi who's determined to make things right.
Oh, and he has a huge crush on Chloe – go figure!
Beverly Hills Chihuahua 2 (2011)
Beverly Hills Chihuahua 2 is the sequel to the film I've just mentioned, and it was released in 2011.
I'll try not to spoil things too much, but this film continues to follow the fascinating love story of Chloe and Papi (who now have an adorable litter of puppies!).
It's not exactly a groundbreaking work of cinematic art, but this is one of my favorite dog movies on Disney Plus for those relaxed afternoons on the couch during summertime.
Starring Odette Annable, George Lopez, and Madison Pettis, it's a whole lot of fun!
Beverly Hills Chihuahua 3 (2012)
Beverly Hills Chihuahua 3 is the final installment of the series, and it hit screens in 2012 to tell the story of Chloe, Papi, and Uncle Pedro.
The story revolves around the cute puppy Rosa who feels as though she just doesn't fit in with the rest of the family.
So, the other pups make it their mission to show her just how special she is!
Bolt
I first saw Bolt in cinemas when it was released, and it literally blew my mind that Miley Cyrus (who was essentially my childhood idol at the time!) was in an animated movie.
The film came out in 2008, and it follows the story of Bolt (played by John Travolta) who actually believes he's a superhero.
And this is because he's been playing one onscreen his whole life!
On his adventures, he meets Penny (played by Miley Cyrus).
The two characters get separated from their owners and end up in NYC, and Bolt ends up learning what his true powers are.
Overall, it's a top-notch addition to this list of dog movies on Disney Plus and you should certainly give it a whirl.
Turner & Hooch (1989)
Turner & Hooch is a whirlwind from start to finish, making it one of the best dog movies on Disney Plus for anyone who appreciates a touch of mystery and intrigue.
This amazing film stars Tom Hanks who plays a squeaky-clean detective called Scott Turner.
And the dog? Well, it's the loveable junkyard dog named Hooch, of course!
Although Turner isn't a huge fan of the drool and mess that Hooch makes when he's first taken in, he quickly warms up to his gorgeous mutt.
Oh, and there's also an awesome murder story that you get to follow along the way.
Can you say score?
My Dog, The Thief (1969)
My Dog, The Thief is another classic Disney dog movie, and it follows the character Jack Crandall who's a helicopter traffic reporter.
It was released in 1969, so you can expect some timely jokes and old-school fun to keep you entertained!
The story is weird and wonderful, and basically starts when he discovers that his dog has managed to steal a priceless necklace away from jewelry thieves.
This film is genuinely hilarious, and you'll be charmed by its enormous St. Bernard every step of the way.
The Fox and the Hound (1981)
The Fox and the Hound is one of those adorable dog movies on Disney + that'll have you laughing one minute and reaching for tissues the next.
This film was originally released in 1981, but it never truly had its heyday.
But it's one of the dog movies on Disney Plus that sticks with you long after you've turned off your TV.
It tells the story of a friendship between a hunting dog and a fox who form an unlikely bond from childhood through to adulthood.
There are a couple of heartbreaking moments during this super-sweet film, but it keeps you entertained until the very end.
The Biscuit Eater (1972)
The Biscuit Eater probably sounds like every dog you've ever come across, but it's actually one of my all-time favorite dog movies on Disney Plus!
Released in 1972, this film follows the story of two young boys called Lonnie and Text who train an otherwise untalented pup into a top-notch bird dog.
Considering Lonnie's dad is a professional bird trainer, he's surprised – to say the least.
It's fun, charming, and a seriously easy watch, making it one of my top picks for a cozy winter evening when you're sipping hot chocolate by the fire!
A Goofy Movie (1995)
Okay, I couldn't write a list of the best dog movies on Disney Plus without mentioning A Goofy Movie.
I mean, it's seriously iconic.
It was released in 1995 and follows Goofy and his son Max (who's always humiliated by his dad's antics) as they navigate their father-son relationship.
Although it's hilarious, there are some seriously touching moments in this film that make it worth a re-watch or two.
Frankenweenie (1984)
If you're looking for Halloween movies on Disney Plus that have a canine twist, then you'll love the original Frankenweenie.
The concept here is simple.
After an owner's dog tragically passes away (who's called Sparky!), he tries absolutely everything he can to bring him back from the dead.
White Fang (1991)
White Fang was released in 1991, but it's stood the test of time to become one of the most popular dog movies on Disney Plus since it was added to the streaming service.
It's set in the Canadian wilderness and follows the willful teenager Jack who's following in his father's footsteps as a gold seeker.
As he's searching for gold, he comes across the powerful dog White Fang (well, wolf-dog!) who he makes friends with and tames.
It's a charming story that's definitely worth seeing.
And you can always check out the 1994 sequel if you want to return for seconds!
Iron Will (1994)
Iron Will is one of my top picks for dog movies to check out on Disney Plus, as it involves sled dogs!
The story centers around the inexperienced sled guide Will who enters a dog race to win $10,000 that he can use to save his family's farm.
It's an absolutely moving story that features several gorgeous dogs.
So, it's perfect for the entire family and will remind you all about what's truly important.
Far From Home (1994)
Lovers of classic 1990s movies will appreciate everything that Far From Home has to offer.
It's centered around a young teen called Angus who falls overboard with his beloved dog during a sailboat trip.
The film follows both characters as they attempt to survive in the wild.
Frankenweenie (2012)
If you want to watch an even creepier version of Frankenweenie, try out the 2012 version from famed director Tim Burton.
It follows exactly the same story as the original, but it's decidedly darker.
Oh, and it's completely animated which is a fascinating take (and perfect for curious kiddos!).
The Ugly Dachshund (1966)
The Ugly Dachshund is one of the oldest dog movies on Disney Plus as it was released back in 1966.
This film was written by Albert Aley and follows the story of a suburban couple called Mark and Fran who take their dachshund to the vet to deliver her first puppies.
But at the office, one of the doctors convinces mark to adopt a tiny puppy called Brutus who has been abandoned by its mother.
But they don't mention that it's going to grow into a huge Great Dane that wreaks havoc around the house!
Although Fran wants to rehome the Great Dane, she eventually changes her mind.
Whether you're wary of dogs or find them completely adorable, this is one of the Disney dog movies that you'll need on your shortlist.
Greyfriars Bobby (1961)
Greyfriars Bobby is among the dog movies on Disney Plus that I'll start streaming when I'm looking for the ultimate relaxed afternoon.
It's based on a true story and follows an adorable terrier and his friend Old Jock.
The film isn't overly heavy, so it's perfect for having on in the background while studying or playing during a girly movie night.
Anything goes!
The Incredible Journey (1963)
The Incredible Journey is the quintessential Disney animal movie, and it follows the story of a Siamese cat, an English Bull Terrier, and a Labrador as they attempt to find their way home.
It's an extremely moving story that you'll want to grab a few tissues for!
Homeward Bound (1993)
If you're looking for a slightly more modern take on The Incredible Journey, then you might want to check out Homeward Bound.
This movie stars Sally Field, Michael J. Fox, and Don Alder, and was released in 1993.
It centers around the characters of Chance, Shadow, and Sassy who embark on a cross-country trip to locate their owners after thinking they might have been abandoned.
Benji: The Hunted (1987)
Benji: The Hunted is one of the most popular Disney dog movies from the 1980s.
It's a simple story that revolves around the canine actor Benji and his trainer who get stranded separately after a boating accident.
Benji tries to navigate his way back to his owner, but not before meeting a few cougar cubs on his journey!
Eight Below (2006)
Eight Below isn't the easiest Disney dog movie to sit through, as it seriously pulls on your heartstrings.
But honestly, it's worth the watch.
It starts with a sled dog guide Jerry who's forced to leave his beloved dogs in Antarctica when a snowstorm hits.
Although Jerry is desperate to return for his pups, the rescue pilot is unable to safely retrieve his dogs.
So, Jerry is determined to make the journey back to Antarctica to rescue each of his 8 dogs.
But the problem is, he simply can't afford to.
Will Jerry make it back for the dogs?
You'll have to watch to find out!
The Search for Santa Paws (2010)
If you're searching for Disney Christmas movies on Disney Plus, then you're bound to appreciate The Search for Santa Paws which was released in 2010.
Like many Christmas films, this movie is lighthearted and involves Santa visiting New York City with his charming dog Paws.
On their adventures, the two become separated and Santa gets into an accident that leaves him without his memory.
While Paws is trying to find Santa, he happens upon an orphanage for abusive girls and is determined to help.
If you want to keep following the story, make sure you check out Santa Paws 2!
Super Buddies
Super Buddies is a ridiculously cute movie, and it focuses on a group of 5 golden retrievers who are trying to save the planet from an alien invasion.
It's about as silly as it sounds, but it's one of the dog movies on Disney Plus that will have you squealing with delight.
If you can't get enough of these playful pups, you can also catch them in Santa Buddies, Space Buddies, Spooky Buddies, and Treasure Buddies!
Togo (2019)
Togo is one of the newer dog movies to land on Disney Plus, but you shouldn't count it out.
It's a slightly heavier watch than other movies on our list as it's based on the true story of a serious epidemic that hit a rural town in Alaska.
To find the only cure, a man and his dog Togo must trek 600 miles (across dangerous land!) to find the only antidote that will restore everyone's health.
As you might have guessed, it's a tense watch.
So, maybe keep this on your adults-only list unless your kiddos are mature enough to handle the nervousness.
You Lucky Dog (1998)
Another classic Disney dog movie from the 1990s is You Lucky Dog, and it's a doozy!
This film follows the famous dog psychiatrist Jack Morgan (yup – that's a thing!) as he tries to read the mind of one of his patients.
And it's not for nothing either, as it's believed this pup might have witnessed a grisly murder.
With the combination of his psychic powers and a seriously cute dog, the mystery is solved.
Hounded (2001)
To round off this bumper list of dog movies on Disney Plus, we have the aptly-named Hounded!
Released in 2001, this lighthearted Disney Channel Original Movie focuses on a boy called Jay who is desperate for a scholarship.
Unfortunately, his prized speech is confiscated by the headmaster who gives it to his son. And you guessed it – the headmaster's son nabs the scholarship that should have gone to Jay.
The film follows Jay's journey to retrieve the speech and prove it was his.
But along the way, Jay meets the headmaster's wife's pup who follows him home after school.
Can Jay get his speech back? Will he reunite the dog with his true owners?
Well, you'll have to find out!
Oliver & Company (1988)
To round off my list of the best dog movies on Disney Plus, we have the ever-popular Oliver & Company which hit screens in 1988.
This film follows the story of Oliver (who's based on Oliver Twist, BTW!) as he tries to find a home in the Big Apple.
Along the way, he meets a group of rag-tag street dogs who teach him a thing or two about what it takes to survive in NYC.
Not only does it star Billy Joel as Dodger, but you'll also find bona fide stars like Bette Midler and Huey Lewis making appearances.
If you ask me, this movie is packed with some of the best Disney dogs around, so it's certainly worth adding to your watch list this year!
FAQs
What is the most famous Disney dog?
This is a tough question to answer, but I'd say it was actually Pluto – otherwise known as Mickey's pet dog!
How many Disney movies are about dogs?
Although this list only covers 35 Disney dog movies, there's a handful more (including several awesome TV shows too!).
What Disney movie has poodles?
The most famous Disney dog movie with a poodle is Oliver & Company which features the prize-winning poodle Georgette.
What dog is in Cruella?
You'll find Dalmatians in Cruella, but keep an eye out for a stray mixed-breed dog called Buddy.
Why didn't they use real dalmatians in Cruella?
They ended up using CGI dogs for the 2021 Cruella movie as the real-life Dalmatians simply weren't predictable enough.
The computer-generated dogs could be manipulated to do whatever the filmmakers needed, so it was an excellent decision!
I hope that you've picked out a few dog movies on Disney Plus that you can't wait to watch!
Which are your favorite Disney dog movies? I have a soft spot for Because of Winn Dixie, but I'd love to hear your thoughts!
If you loved this article, why not check out a few more?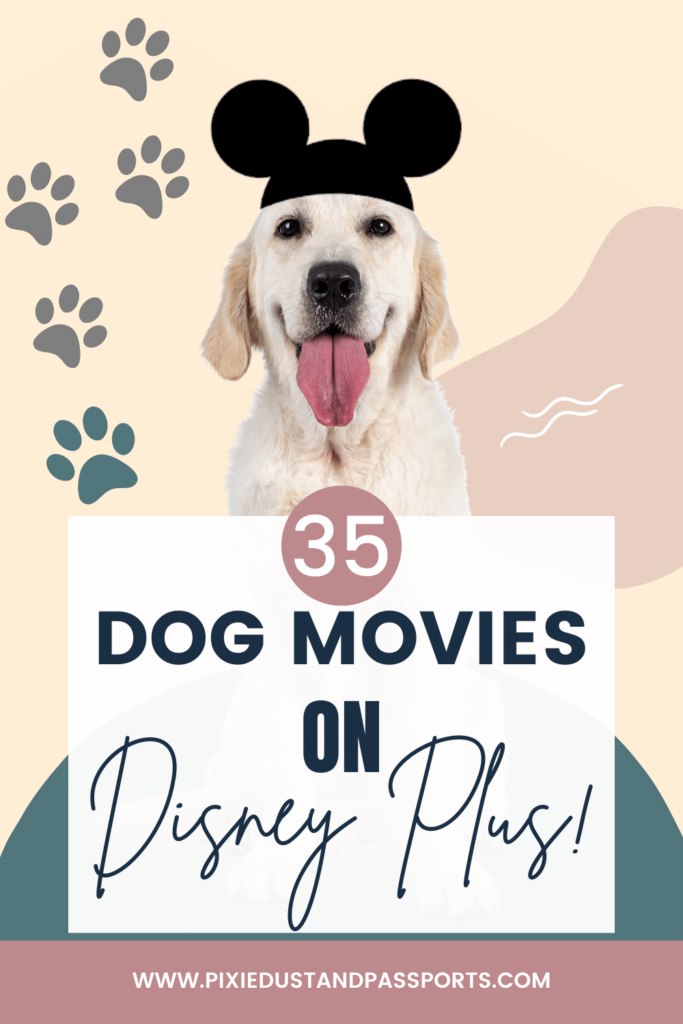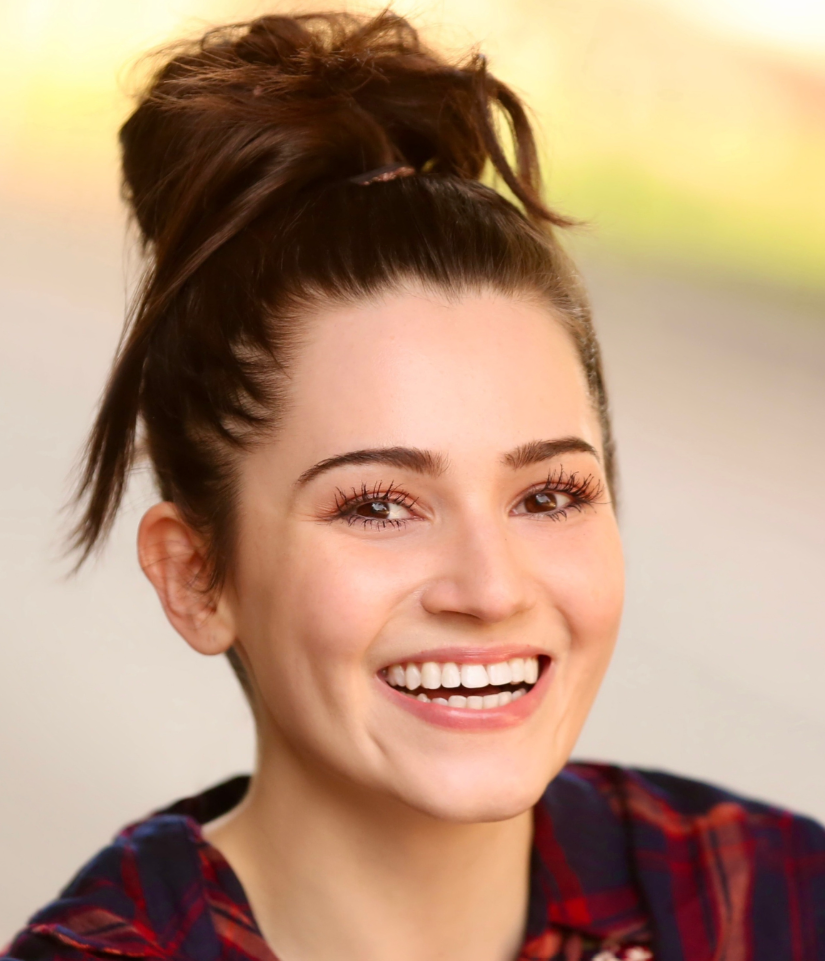 Grace is the creator, editor, and sole writer for Pixie Dust and Passports – a blog that's ALL about Disney! She's made it her life's mission to visit the Disney parks as much as possible and loves trying new snacks, grabbing the latest spirit jerseys, and rocking Loungefly bags. Oh, and she also holds a BA in History from UCL, which makes her a research and deep-dive enthusiast into all things Imagineering.