If you're wondering how much an Uber is from LAX to Disneyland, then look no further, for we've got the down-low on getting to Disney from the airport with Uber.
Though you may have weighed up the pros and cons of various transportation methods, if you've settled on a trusty Uber, then you may be wondering 'how much is an Uber from LAX to Disneyland?'. As prices can vary depending on what time you're arriving and where exactly your resort is, we've sifted through all the information out there to bring you the skinny on how much an Uber from LAX to Disneyland will be. After all, the last thing you want to start off that trip of a lifetime is a hefty transport fee that you weren't expecting!
So, without further ado, let's jump in!
How much is an Uber from LAX to Disneyland?
If you're coming from LAX, your Uber will likely cost you between $50-$70. Of course, this is traffic dependent and may be subject to surges if there's unprecedented demand in the area for whatever reason. It's important to note that grabbing an Uber is approximately half the price of a regular taxi fee, so you'd be well-served choosing them over a traditional taxi company based on fares alone.
If you're looking to cut costs, travel is one of the easiest ways to do so, as airport transfers can quickly get expensive and you could better use that money elsewhere on your trip.
It's worth noting that we highly recommend taking an Uber to your Disneyland resort as opposed to the parks themselves. Due to the expensive parking and entry charges that you accrue if you Uber direct to the gates of Disneyland, you'll find that an Uber from LAX to Disneyland quickly mounts up.
So, what might alter the price of an Uber from LAX to Disneyland?
Though the pricing is usually pretty standard for a trip from LAX to Disneyland, there are things to consider. As previously mentioned, surge pricing can bump up the cost of your trip should you be travelling at a time when demand is extremely high. This also applies should there be fewer drivers available to pick you up, so it's worth considering if you're travelling at peak season or late at night.
In addition to this, when you're trying to figure out how much an Uber from LAX to Disneyland will be, it will be necessary to take into account the size of your party. If you're just travelling with your immediate family, then you may be able to get away with a standard Uber. However, if you've got a large party of guests, you'll likely need an Uber XL which will bump up the overall price of your trip.
How can I estimate the price of an Uber from LAX to Disneyland?
If you've not quite settled on your method of transportation from the airport, then you may wish to weigh up your options. If you'd like to price up the Uber before you leave the airport, I highly recommend checking out Uber's price estimator tool. Giving you accurate estimates for the time of day that you're wishing to travel at, it's an extremely useful tool that will help you on your way.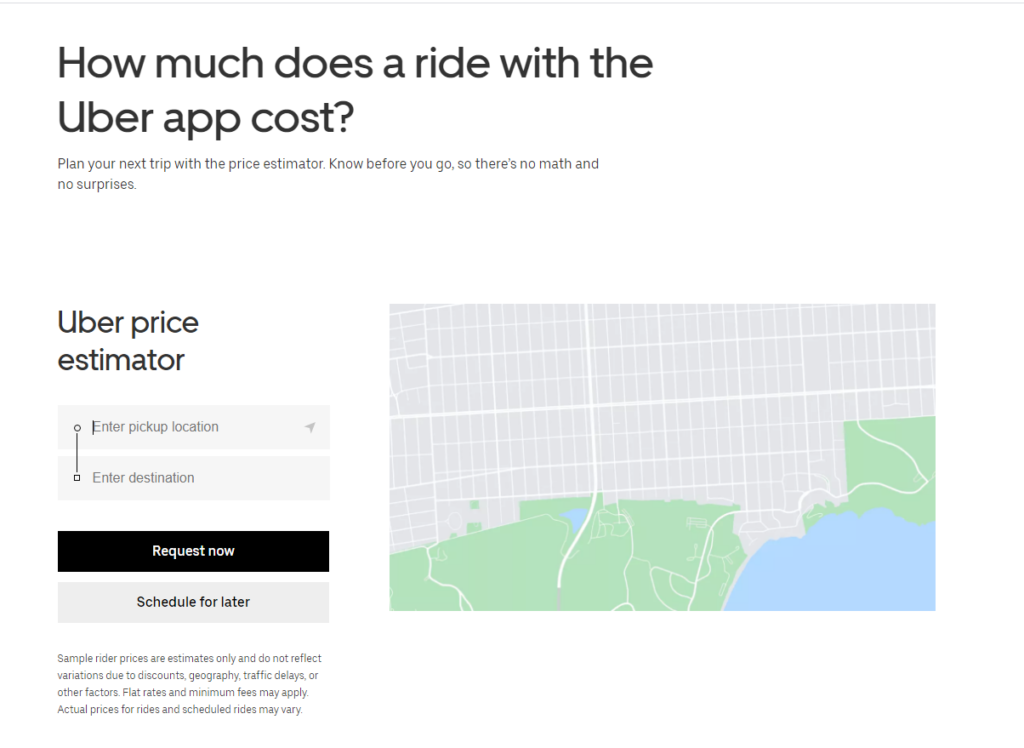 As you can see from the image above, you'll simply need to enter your pickup location (in this instance, LAX) and then your chosen destination. Depending on whether you want to be dropped at the gates of Disneyland or at your chosen resort, this destination section will vary. If you're looking for a quick guide on how to use the Uber app around Disney, simply take a read of my Walt Disney World Guide to Uber. Though the locations are different, the usage instructions are the same worldwide!
I hope that this has helped to answer that burning question: 'how much is an Uber from LAX to Disneyland'. Sometimes, a great airport transfer can make the difference between an inherently stressful holiday opener and a magical one. So, simply download that app, request a ride, and make your way towards The Happiest Place on Earth!