If you're looking for the best Buzz Lightyear Astro Blasters tips that will help you score big, then look no further.
This in-depth article will help you discover the best Buzz Lightyear Astro Blasters tips that will leave your Disney companion bewildered at how you're the most accomplished Space Ranger in the entire galaxy.
Hey – I'm happy to keep the secrets if you are!
This dark ride is simple to figure out in terms of rules, but getting a decent score is more difficult than you might think.
The information below doesn't apply to the Disney World version of the ride, but you can use these top tips for the ride in Anaheim, Disneyland Paris, and Tokyo Disneyland.
Each of these iterations of the ride is super similar, so you should be able to impress your friends by using these Buzz Lightyear Astro Blasters tips around the world.
After years of being frustrated by this ride (and never managing to reach far above the second or third tier – grr!), I've finally pinned down a few incredible insider tips that will help you get a higher score on Buzz Lightyear Astro Blasters.
To infinity and beyond, folks!
What is Buzz Lightyear Astro Blasters at Disneyland?
Before I dive into my list of the top Buzz Lightyear Astro Blasters tips that'll help you score high on this popular ride, I thought I'd quickly explain what this ride is.
Buzz Lightyear Astro Blasters is a family-friendly dark ride that takes you through several different rooms in Tomorrowland.
As you move through these rooms, you'll be encouraged to shoot at colored targets that win you points. Some targets are worth more than others, so bear this in mind.
I'm a big fan of this ride, as the line usually moves quickly as the cars are constantly moving on a conveyor. For this reason, it's one of my favorite Disneyland rides to hit if the park is close to capacity.
It also helps that much of the waiting area is gloriously air-conditioned!
The levels of scoring that you can get on Buzz Lightyear Astro Blasters are below:
Level 1 Star Cadet: 0 – 1,000
Level 2 Space Ace: 1,001 – 10,000
Level 3 Planetary Pilot: 10,001 – 100,000
Level 4 Space Scout: 100,001 – 300,000
Level 5 Ranger 1st Class: 300,001 – 600,000
Level 6 Cosmic Commando: 600,001 – 999,998
Level 7 Galactic Hero: 999,999
Buzz Lightyear Astro Blasters Tips That Will Help You Score High!
1. Read up on the target values before playing
One of the most important Buzz Lightyear Astro Blasters tips that I've picked up on over the years is to know the target values before playing. This allows you to focus on the most important ones.
Oh, and you should also bear in mind that targets are worth way more when they're lit – 10x their usual value. They tend to light up randomly, so you'll need to be eagle-eyed if you're wondering how to get a high score on Buzz Lightyear Astro Blasters.
The value of each target can be found below:
Circle – 100 points
Square – 1000 points
Diamond – 5000 points
Triangle – 10,000 points
The high-value targets are usually harder to hit and see, which explains why they're worth more!
One of my top Buzz Lightyear Astro Blasters tips is to maneuver your vehicle towards these targets whenever you can, as you'll have a better chance of striking gold.
2. Check your laser blaster is working
This might sound ridiculous, but I've been screwed over in the past when my laser blaster just wasn't working.
I may sound like a sore loser, but I was unable to score regardless of how good my aim was. It was a total bummer.
There's not much you can do about your blaster once you're heading down the conveyor, but it may help you comfort yourself if your score is utter garbage at the end of the ride.
If you're visiting during a quiet time, I recommend letting a Cast Member know about your blaster before leaving.
Usually, they'll let you ride again in a different carriage as they understand how frustrating it can be to queue for something and then be disappointed by faulty engineering! Seriously, Disneyland tickets aren't cheap – so, make sure you get your money's worth.
This is one of the lesser-known Buzz Lightyear Laser Blasters tips, so keep it in mind for your next visit.
3. Look for high-value targets from the get-go
One of my favorite Buzz Lightyear Astro Blasters Tips is to look out for high-value targets as soon as you leave the loading area.
Not everyone knows where these targets are, but I've got you covered. Each of the targets below will help you get a high score on Buzz Lightyear Astro Blasters, so keep your eyes peeled!
Behind the robot's hand in the very first room.
Where the saw blade moves in the first room.
There are triangle targets behind the moving circle of aliens in the alien-themed rooms.
If you fire at the jack-in-the-box in the alien room, you get a high-value triangle target to shoot at.
There are three glowing triangles that you can fire at in the dark tunnel.
There's a circle that you can fire at in the final room that makes a target pop out of a box – try and aim for it as it's a big point-getter.
4. Don't be afraid to take control of the steering
Being in control of the steering is one of my all-time favorite Buzz Lightyear Astro Blasters tips as it can make or break your game.
Things will always get a tad competitive in this ride, but you need to stick to your guns and move your pod towards the targets you want to shoot for.
Targets on the left-hand side tend to be slightly higher in value, so keep this in mind as you're moving through the rooms.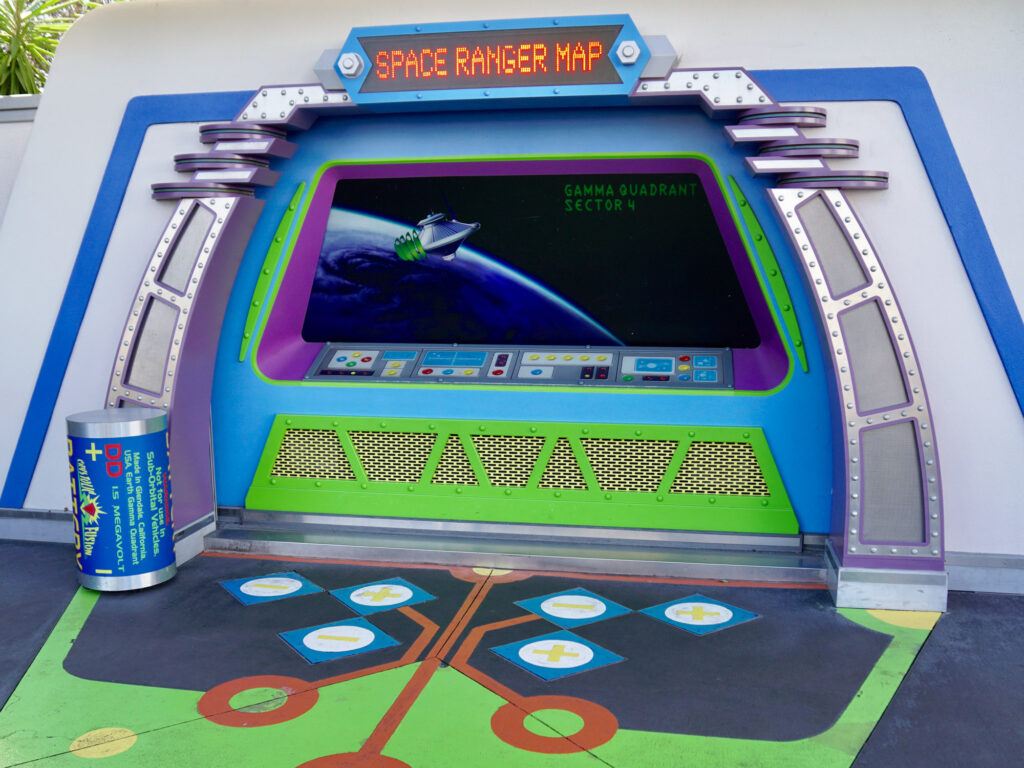 5. Try to improve your accuracy
This one may sound obvious, but one of the easiest ways to get a high score on Buzz Lightyear Astro Blasters is to simply improve your accuracy.
If you can hit targets you shoot for with decent accuracy, you're way more likely to rack up points than if you're easygoing about the whole thing.
It's tricky to see exactly where your laser is landing but try and line up the end of your blaster with the hole on each target.
The closer you can get to the center each time, the more likely the ride is to award you with a high score.
It's among the most basic Buzz Lightyear Astro Blasters tips, but it's certainly worth keeping in mind.
6. Don't miss the Emperor Zurg Goldmine – it's one of the top Buzz Lightyear Astro Blasters Tips!
Emperor Zurg's Chest is a huge goldmine if you can find it in the first and last rooms.
Believe it or not, this target is worth a whopping 50,000 points and can quickly turn you from zero to hero when it comes to a Buzz Lightyear Astro Blasters game.
For obvious reasons, it's not an easy target to hit; it's tucked away in Zurg's armor in both scenes, and you'll need to aim carefully to get it.
To get him to turn towards you, fire at his blaster as this makes it a lot easier hit the infamous chest target.
7. Ride on the left if you can
In Anaheim, the left side is always the best side.
In my experience, I've found that the targets are higher on this side, you can reach them more easily, and this gives you the best chance of getting a high score on Buzz Lightyear Astro Blasters.
8. If the ride stops, don't stop firing
It's no secret that this ride frequently stops.
Whether this is to let people board from the priority area, or there's a fault during your ride, you'll probably have a moment where you can fire away at targets like your life depends on it!
If you stop by a diamond or triangle target, then you can easily rack up points while you're stationary. If you're not close to a target, one of my favorite Buzz Lightyear Astro Blasters tips is to try your best to angle yourself to hit the nearest one.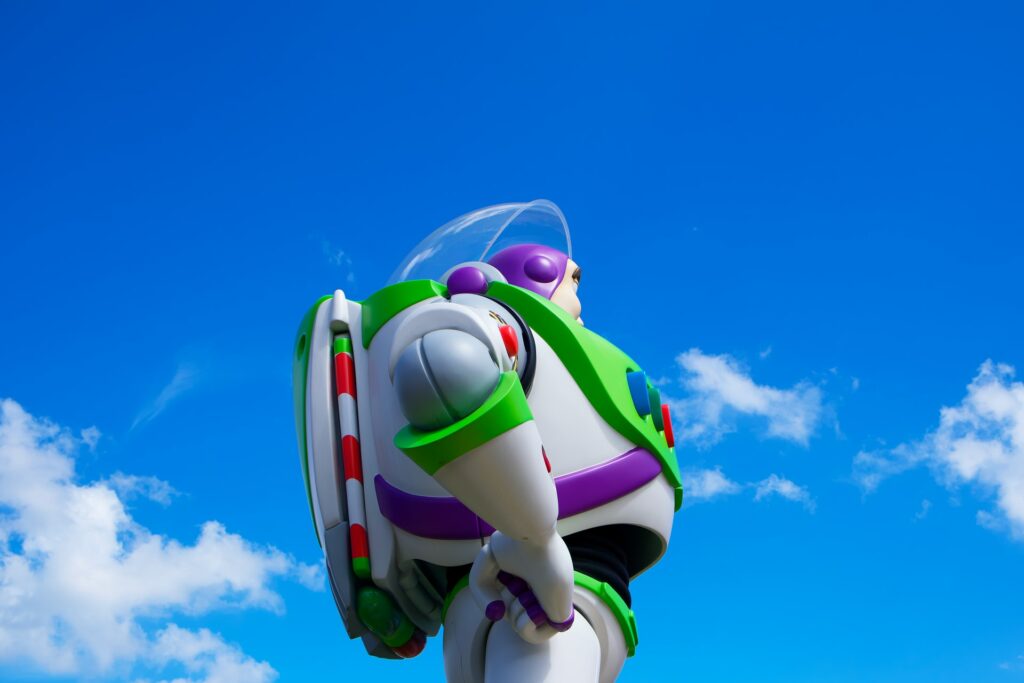 9. Never stop shooting
To be honest, whenever someone asks me "how do I score high in Buzz Lightyear Astro Blasters?", I usually say "never stop shooting".
It sounds simple, but you accumulate points if you fire and don't hit a target five times.
Call them pity points, but they all count!
Also, you never know when you'll get lucky and hit a diamond target that's lurking behind a swirling monster or moving part.
10. Ride alone if you want to score highly
This sounds kind of antisocial, but one of my top Buzz Lightyear Astro Blasters tips is to ride alone.
This gives you full control over the direction stick and clear lines to all targets.
You can even switch to the second gun if you find you have a dud a couple of minutes in.
It's a total win-win all around and keeps your scores secret until you reunite with your travel buddy!
11. Stop and purchase your photo after the ride
Okay, I get that this isn't exactly a tip for scoring high on Buzz Lightyear Astro Blasters, but I highly recommend stopping to purchase your photo.
If buying it isn't in your budget, then you can take a sneaky shot of your picture to save a bit of cash.
Usually, Cast Members won't have much to say about this, so take a quick snap and keep it tucked away in your photo albums for posterity.
Also, when you stop at the kiosk for your photo, you can see your real score listed.
If you hit above 999,999, your actual score won't display on your cruiser.
So, if you've put these Buzz Lightyear Astro Blasters tips into pay, you may want to see just how much of an expert you are.
A quick note if you're traveling with young children
It's almost impossible to score absolutely nothing on Buzz Lightyear Astro Blasters.
To keep your kids happy, I suggest telling your children to keep pressing down on the trigger for the entire ride.
As they roll through each room, they should pick up a few points if they're trying their best to aim.
I've found that this is one of the best Buzz Lightyear Astro Blasters tips for little ones, as it avoids parents having to deal with tantrums or kids leaving feeling defeated.
Of course, if you're an uncompetitive parent, you could easily take a backseat and let your kid win by taking a very laissez-faire approach to the whole thing.
It's totally up to you – I've just found that this method keeps kids optimistic about beating their score and prevents any tears!
Other Frequently Asked Questions
What did Buzz Lightyear Astro Blasters Replace?
Buzz Lightyear Astro Blasters replaced a ride called Rocket Rods which was in the parks between 1998 and 2000.
How long does it take to queue for Buzz Lightyear Astro Blasters?
It varies, but I'd say that it can be anything from 15 minutes to 45 minutes. As the ride operates as a conveyer, you should be able to get through the queue relatively quickly.
I hope that this list of Buzz Lightyear Astro Blasters tips has been useful!
Have I missed any top tips that will help you get a high score on Buzz Lightyear Astro Blasters in Disneyland California? Drop me a comment if so!
If you want to learn more about this incredible space ranger, check out this iconic list of 50+ Buzz Lightyear quotes!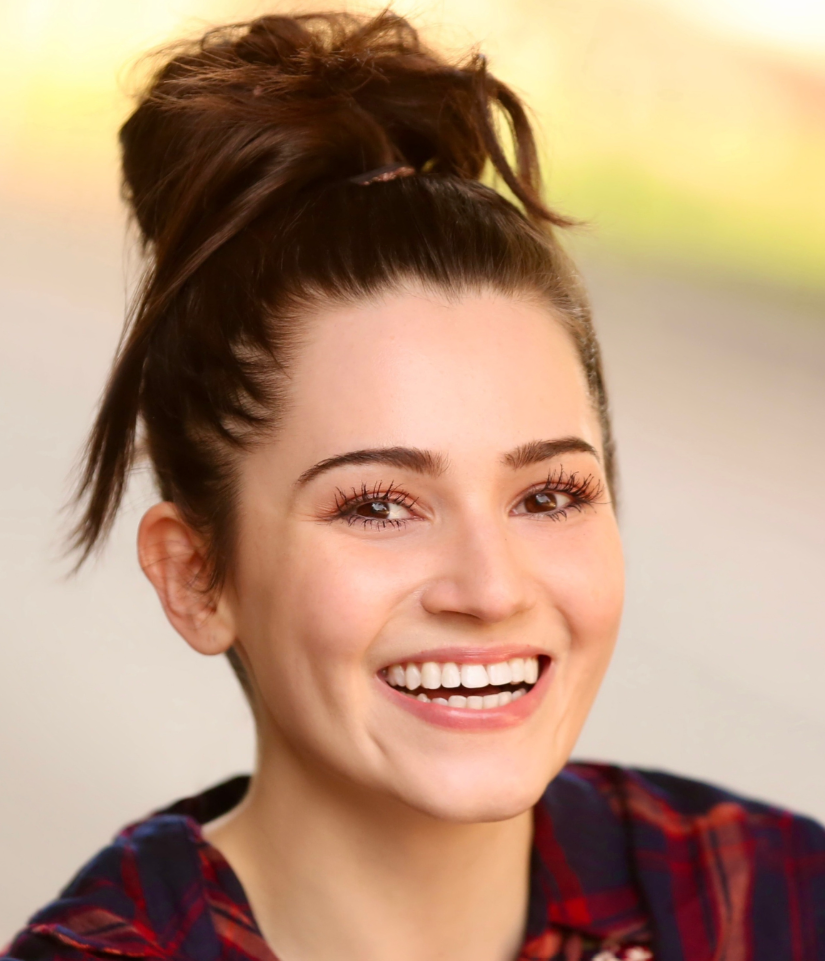 Grace is the creator, editor, and sole writer for Pixie Dust and Passports – a blog that's ALL about Disney! She's made it her life's mission to visit the Disney parks as much as possible and loves trying new snacks, grabbing the latest spirit jerseys, and rocking Loungefly bags. Oh, and she also holds a BA in History from UCL, which makes her a research and deep-dive enthusiast into all things Imagineering.