Walt's – An American Restaurant is a table service restaurant in Disneyland Paris known for its excellent theming and upscale menu.
I recently visited Walt's American Restaurant during the 30th Anniversary Celebrations in April 2022. The restaurant officially reopened to the public on April 12th (it had been closed for a long time, folks!), but my partner and I managed to sneak in on the 7th.
You can thank my incessant refreshing of the Disneyland Paris app for that rather hard-to-come-by dining reservation!
In this review, you'll find plenty of photos of the new interior and the food, plus my opinion on whether dining here is worth your time and money.
There's no doubt that visiting Walt's Restaurant is a novelty experience at Disneyland Paris, but for a family of four, it can quickly add up.
So, whether you're contemplating dining on-site for a romantic anniversary or want to experience fine dining at Disney for the first time, I've got you covered with this in-depth review of Walt's – An American Restaurant!
Walt's Restaurant: A Full Review
An overview of Walt's Restaurant
I had heard a lot about Walt's – An American Restaurant before I first visited, but it was something of an urban legend.
Although I'd visited Disneyland Paris countless times before 2022, Walt's had never been open while I was there. It had actually become something of a running joke between my partner (Simon!) and I.
If you're wondering where Walt's is, it proudly stands in the middle of Main Street. This means you'll get prime views of the parade route if you're seated in one of the rooms that overlook the area.
The dishes are largely American, but you'll find elements of classic European cuisine sneaking onto the menu.
If you're a fan of the US parks, the closest thing I can think to compare it to is Club 33. It's not quite as exclusive, as you should be able to pick up a reservation a few months in advance.
But I felt it had the same air of mystery and exclusivity as the infamous members-only club. Even during off-peak seasons, you can expect this place to be bustling.
So, I wouldn't recommend walking in and trying to score a table – it probably won't happen unless you meet a very kind Cast Member who's willing to work some magic!
In my opinion, it's a great place to visit after seeing the Disneyland Paris Dragon which is right nearby, or riding some of the best rides at Disneyland Paris for families with young kids. It's just a relaxing place to recoup, and I highly recommend it!
The lobby
The lobby was gorgeous and had several kitsch details that'll keep you occupied while you're waiting for a table.
We were given menus to flick through, but you can just have a walk around if you'd rather stretch your legs.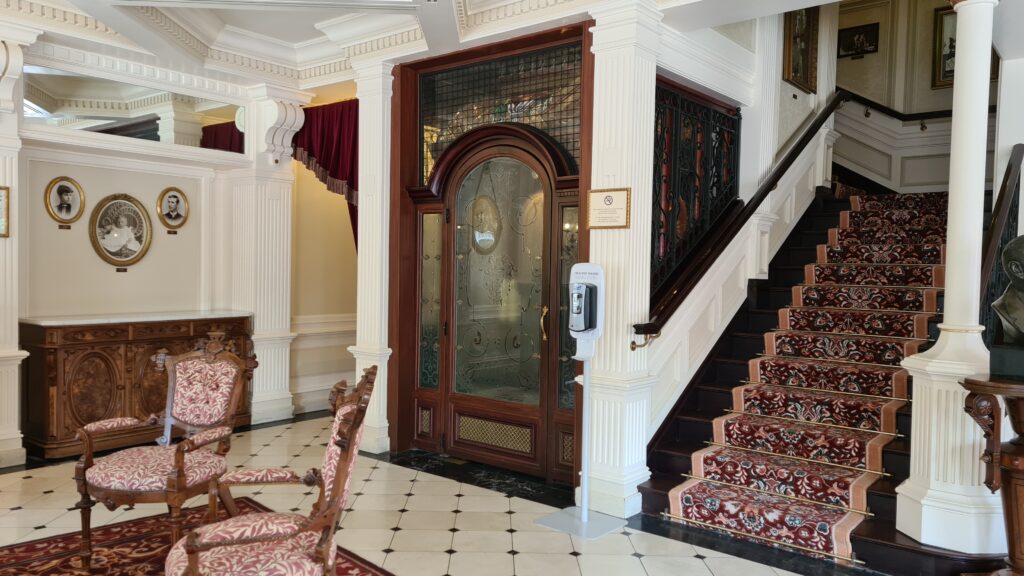 Not only does the area boast an incredible bust of Walt Disney that warmly welcomes you into the restaurant, but you'll spot several photographs of Walt and his wife Lillian scattered throughout the lobby.
The details are truly exquisite, and I recommend arriving at least five minutes before your reservation to drink it all in!
It's worth noting that you don't need a reservation to explore this area. So, it's well worth checking out if you have a few minutes to spare before a parade starts.
The rooms and the atmosphere
The rooms at Walt's American Restaurant are incredibly ornate and you'll spot themed wallpapers, framed artwork, and sculptures of popular Disney characters all over the place.
All the dining rooms are located on the upper floor, and I recommend riding to the top in the incredible old-school lift if you have the chance. For obvious reasons, only do this if it's quiet and no one needs to use it.
If you can't hop in the mahogany lift with its glorious glass top, then you can take the stairs which depict Walt's most iconic career triumphs. It's almost as good, I promise!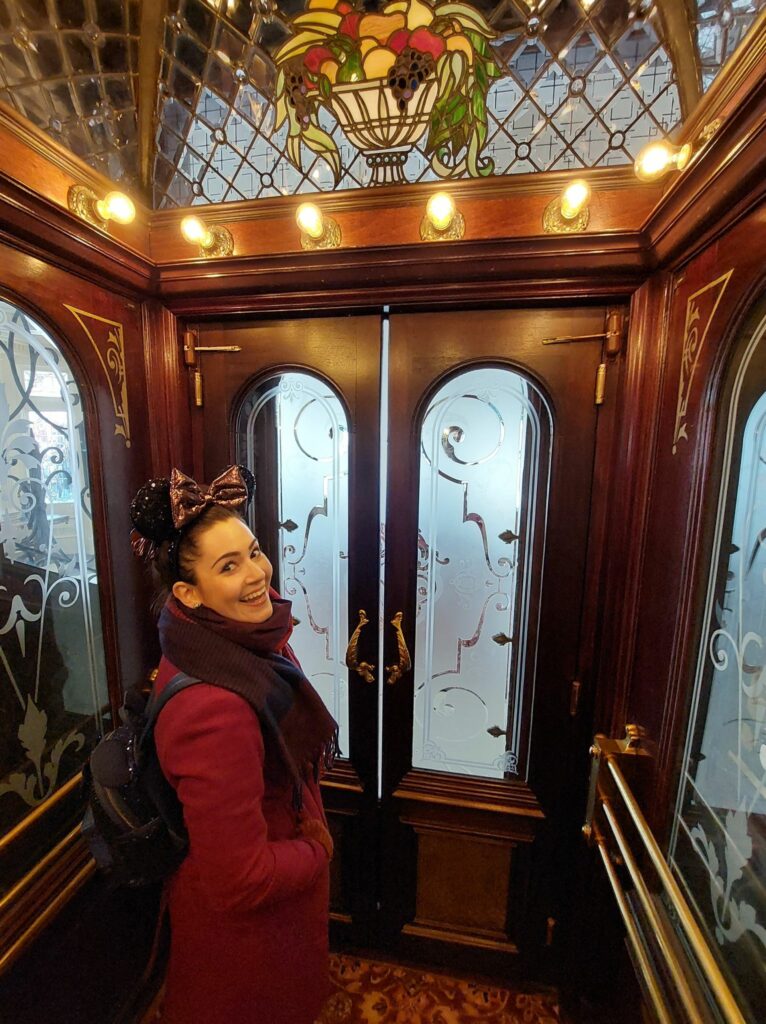 When we visited back in April, we were seated in the gorgeous Fantasyland Room which is adorned with azure and emerald wallpaper, European paintings, and a few sculptures.
We were tucked right at the back of the restaurant, but, you'll also find the Frontierland/Thunder Mesa Room, Adventureland Room, Grand Canyon Room, Discoveryland Room, and the Disneyland Hotel Room in various corners.
We didn't ask to be seated in a particular section, but I'd imagine you could ask a Cast Member if you had a preference!
What I found particularly interesting was that each room was designed using specific period decor elements that directly matched the allocated theme.
For example, the Adventureland room had hints of orientalism, while Fantasyland was designed in the Gothic style. The elements are subtle and cleverly done, but they help to give each room its distinctive character.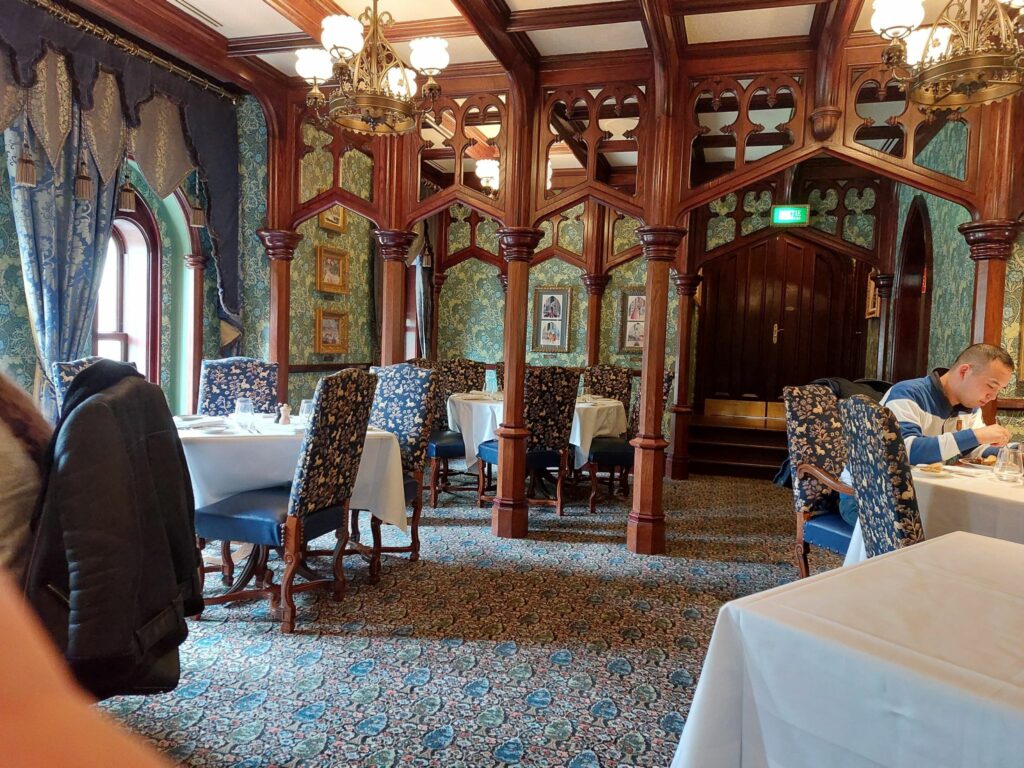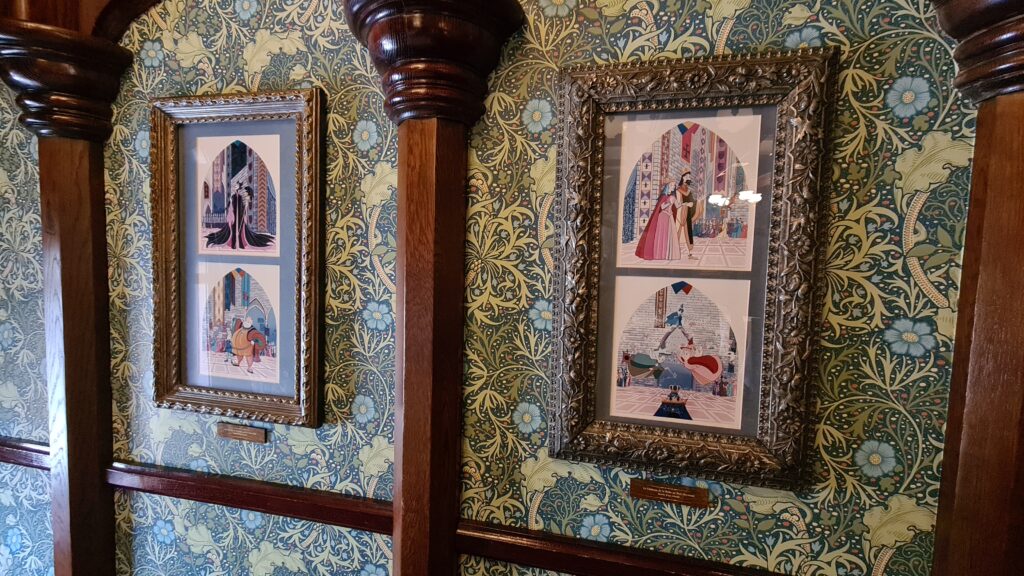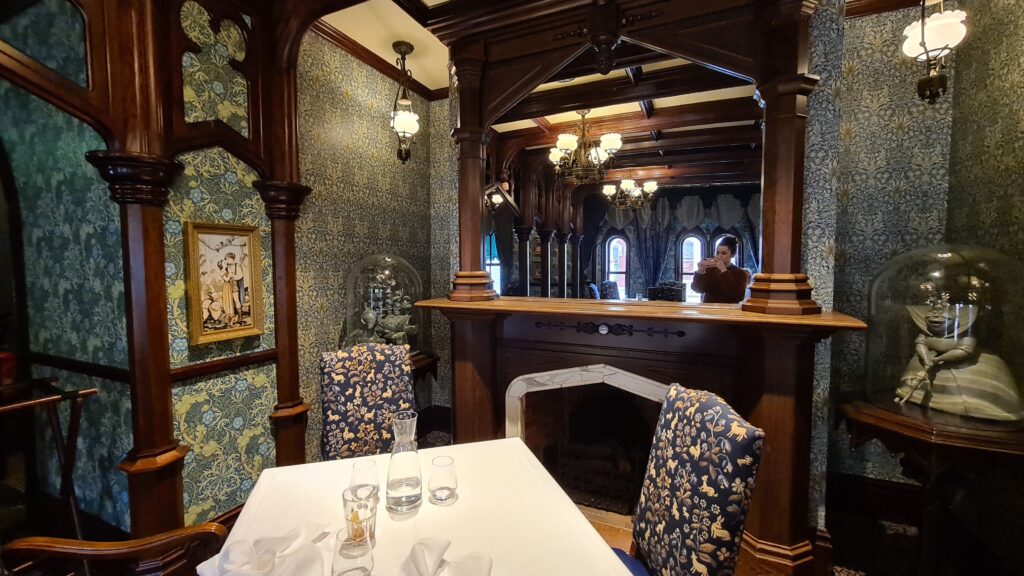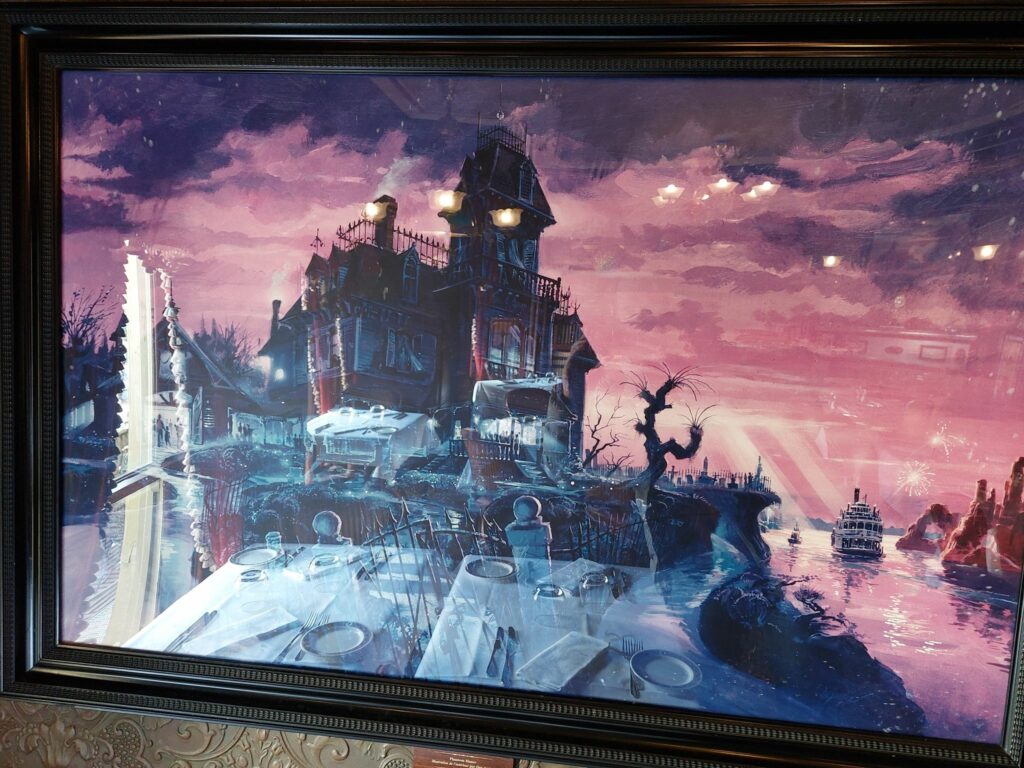 Overall, the atmosphere is intimate, warm, and friendly. Considering it's a fine dining establishment, I never felt that it was overly haughty. It was just a beautifully-designed series of rooms that welcomed all.
The review
Now that I've covered the basic elements of Walt's American Restaurant, let's move on to the main event – the review!
It's worth noting that we visited during the 'soft opening', meaning that the restaurant was virtually empty. I imagine this elevated our level of service slightly, reduced wait times, and allowed us to move easily between rooms.
The staff seemed to have no issue with me popping into every room to have a gander, but I can't imagine this would be looked on too kindly if it was bustling with hungry diners. Just food for thought!
If I was to give you my overall impression of Walt's – An American Restaurant, I'd say that it was one of the best dining options at Disneyland Paris. I've seen a couple of less favorable reviews, but I personally couldn't fault the ambiance, decor, or food.
The food
Speaking of food, let's move swiftly on to our delicious dining experience at Walt's – An American Restaurant.
Before I discuss the food itself, I thought I'd quickly warn you about drinks at Walt's. Free drinks are not a thing here. If I'm being honest, they're not really a thing at Disneyland Paris full-stop.
You can grab a beer, glass of wine, signature cocktail (which we did!), or soft drink from the decent beverage menu, but it'll certainly cost you a pretty penny.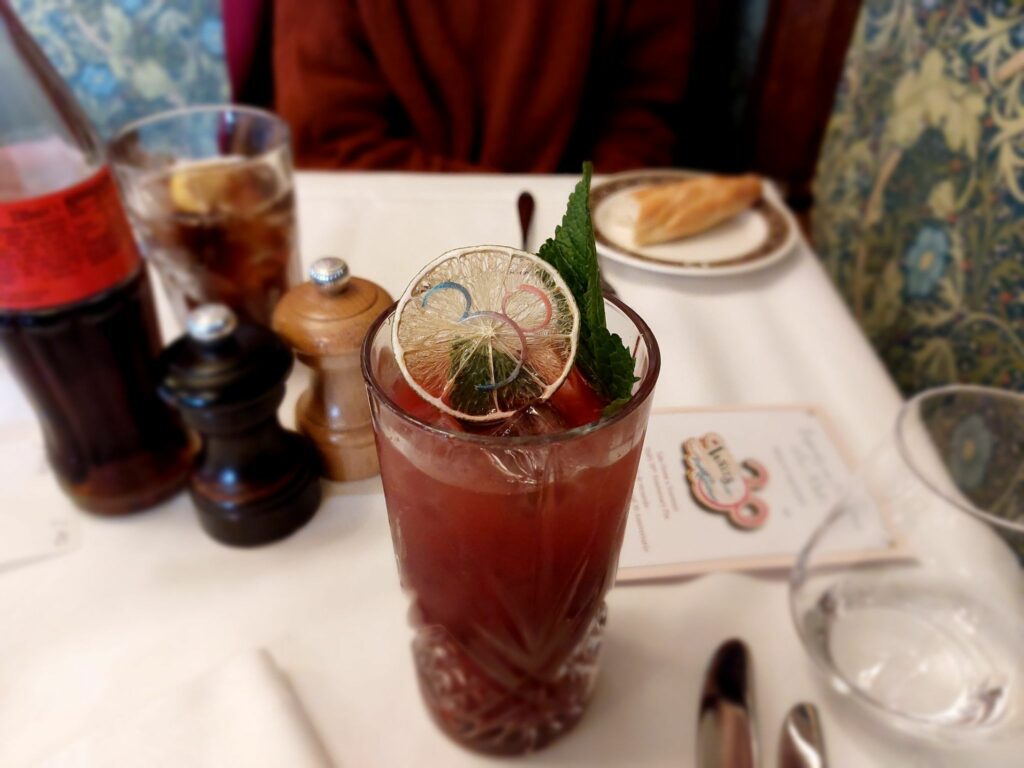 I can't remember the exact cost of my Coke Zero, but I'm pretty sure it was over 4 euros. And it was one of those irritatingly-small bottles that lead you to question your existence.
If you're on a budget at Walt's Restaurant, I highly recommend asking for tap water. Don't let them trick you into the 'still' or 'sparkling' question either.
We've been fooled once and ended up paying for a bottle as we felt too sheepish to do anything else!
I was initially shocked that Walt's Restaurant had removed the wider selection of a la carte offerings that it used to have and had switched over to a set menu. You can technically still order dishes a la carte, but we found that a three-course meal saved us money.
As there were only two of us dining, we couldn't sample every dish, but I'll link the Walt's – An American Restaurant menu for you to peruse before your visit! I felt there was a decent mix of dishes on offer, and there should be something to suit most palates.
Starters
For starters, Simon had the Sweetcorn Soup which was beautifully presented. I had the Chicken Pot Pie which was topped with a Mickey head pie crust and served with a side of coleslaw (which I left as I'm not a fan of coleslaw ever).
Simon said that his soup was pleasantly creamy but could have been slightly hotter. I was pleasantly surprised by the pot pie; it was perfectly cooked and the filling had a delicate flavor that perfectly contrasted the flaky topping.
To be honest, this was the meal's highlight for me.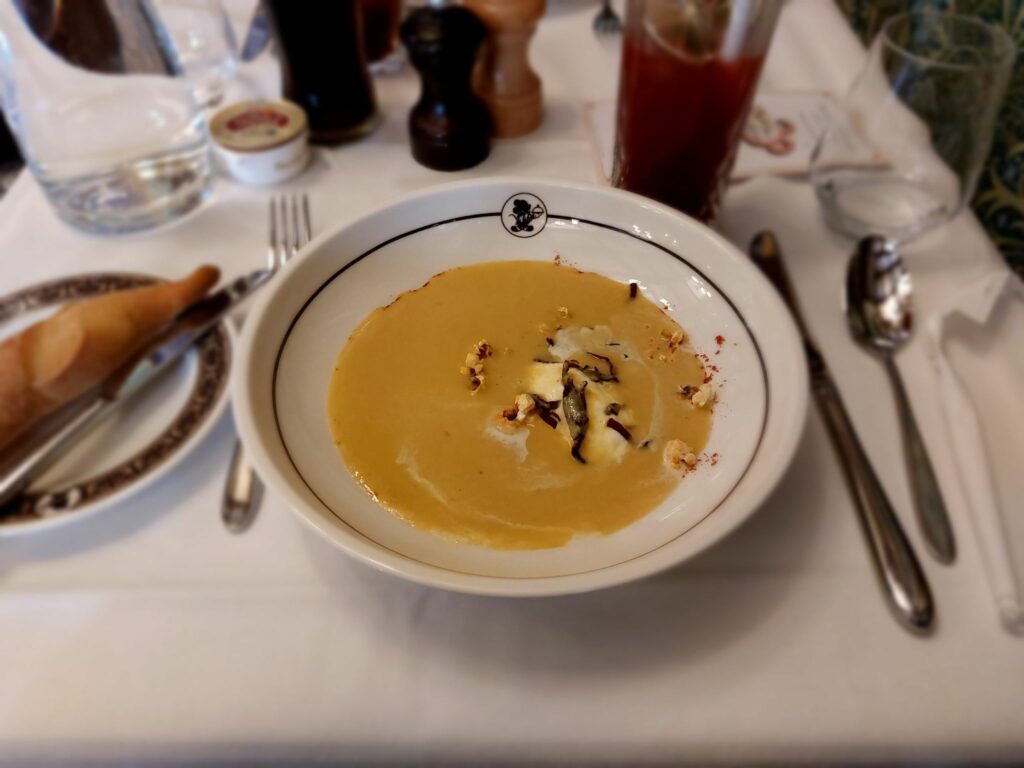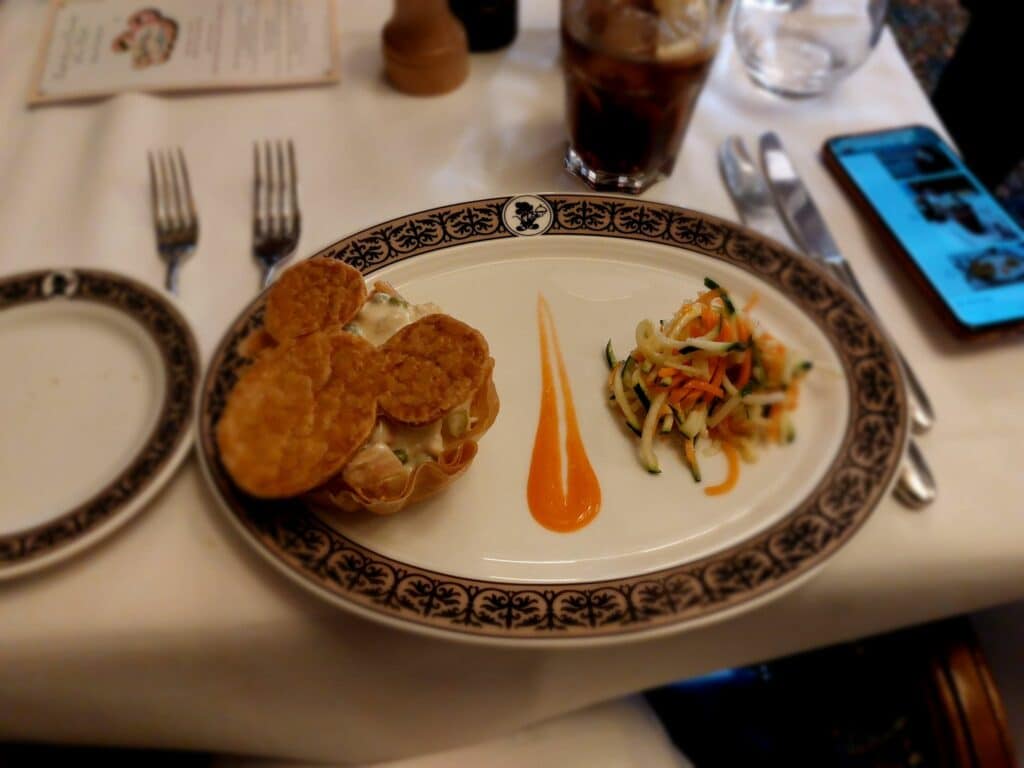 Main course
For the main course, we ordered Chili con Carne and Roast Chicken Breast.
When the Chili first arrived, we were both extremely confused. It looked like two small slivers of steak, a teeny portion of rice, and a few tortilla chips. When we looked more closely, we found that the Chili was inside the small pot topped with a Mickey cracker.
I'm not sure why it took us a while to figure this out, but maybe the photographs will shed some light on things!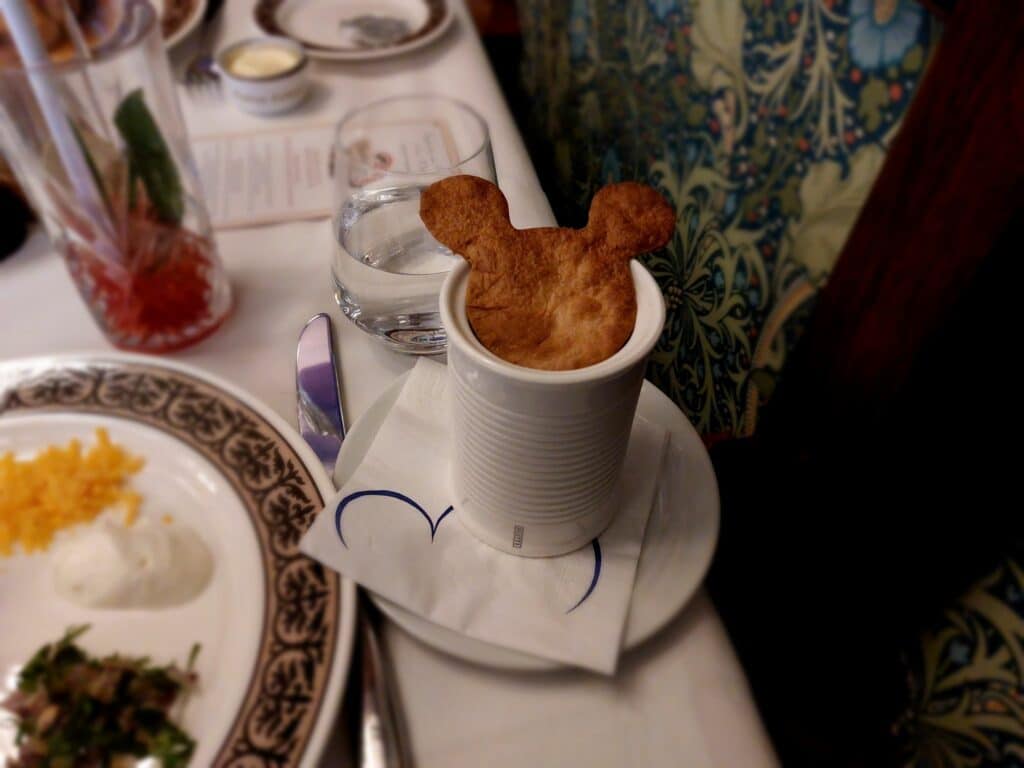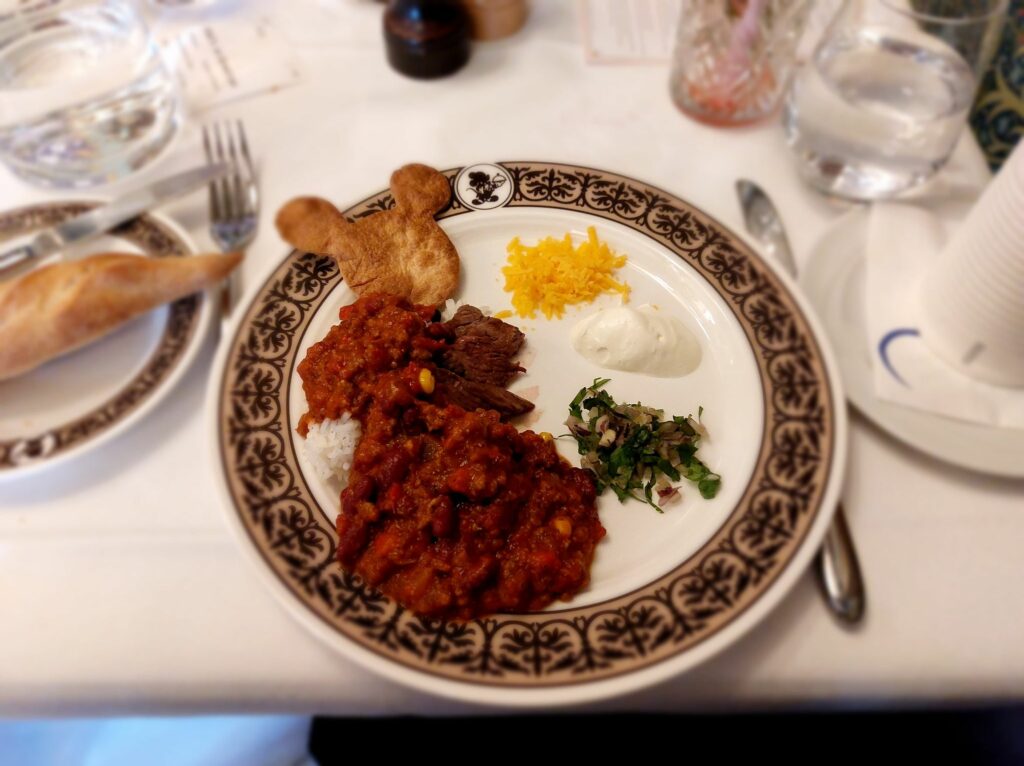 I had the Roast Chicken Breast, which was alright but hardly mind-blowing. It was served with seasonal vegetables and a portion of purple sweet potato mash.
The chicken was moist, but the portion almost made me laugh when I first saw it. In true fine dining fashion, it was tiny and I seriously think I was given half a chicken breast!
The serving of vegetables was generous though, and the delicious jus helped to elevate the dish slightly.
Would I order it again though? Probably not.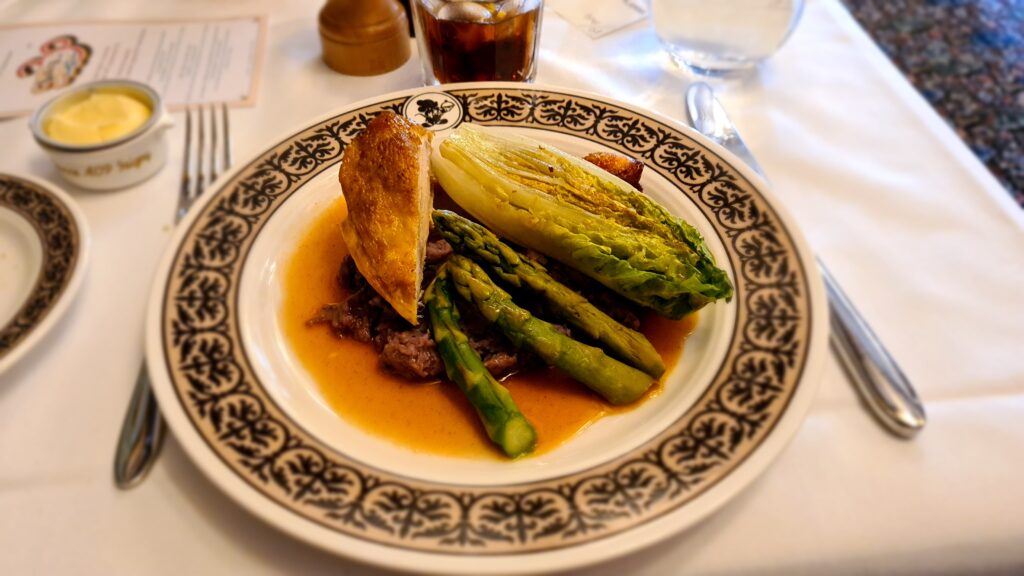 Dessert
When it came to dessert, Simon went for the Lemon Meringue Pie and I had a trio of ice creams called the Flower Street Sundae.
Like the other courses, portions were on the small side.
I preferred Simon's as it was artfully presented, tasted fresh, and felt more upscale. There was nothing wrong with my lovely trio of ice creams, but I felt I probably could have gotten the same result by grabbing Ben & Jerry's from Gibson Girl or popping to Val d'Europe for a sundae.
Overall, I thought the food was great.
I'm not a fine dining expert by any means, but the flavors were pleasant, the dishes were hot, and they were presented beautifully.
When I compared the price of a set meal at Walt's, it wasn't far off a typical buffet meal or set menu at any other restaurant (except for Auberge de Cendrillon, of course!).
You may find slightly better food in nearby Val d'Europe, but I wouldn't miss visiting Walt's – An American Restaurant during a trip to Disneyland Paris.
The service
I haven't got much to say about the service at Walt's, but our waiter was attentive, pleasant, and was continuously replenishing our bread rolls which I hugely appreciated.
When we finished our drinks, he was also very quick to ask whether we wanted another one!
I never felt pressured or rushed during my visit, and our server was happy for us to move between rooms, take our time eating, and even sit around for a while after our meal.
It's worth noting that this probably wouldn't have been the case if Walt's was busier, but I thought the approach to service was spot-on.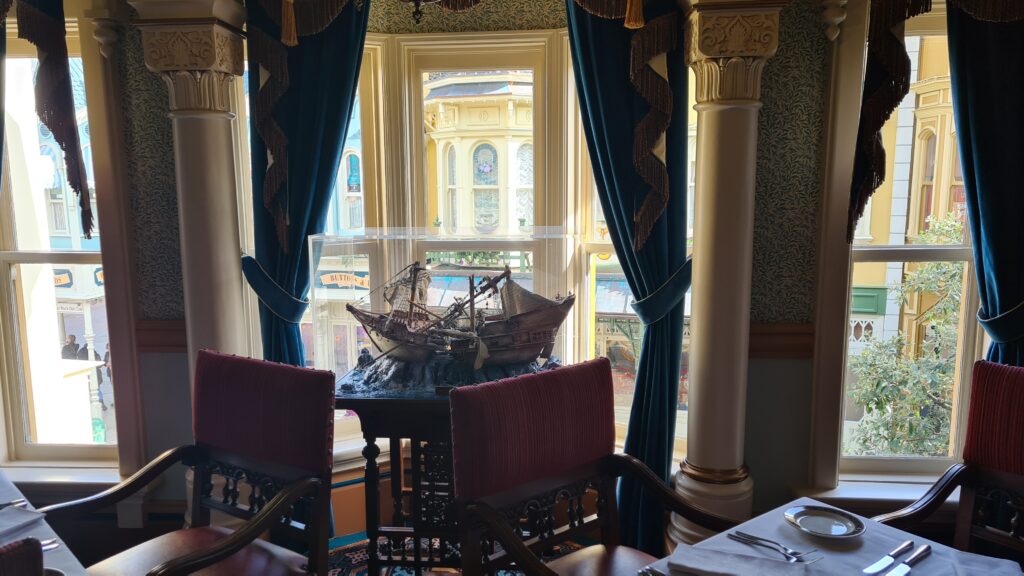 Would I come back?
Absolutely.
Walt's was one of the best dining experiences I've ever had at Disneyland Paris, and I'd come back on my next trip.
It's hard to say whether a second visit would live up to my first one (I'd imagine crowd levels would be significantly higher!), but I can certainly hope.
And there you have it! My in-depth review of Walt's – An American Restaurant!
Have you been to Walt's in Disneyland Paris restaurant since its reopening? Are you planning to go on your next trip?
If so, I'd love to hear about it in the comments below.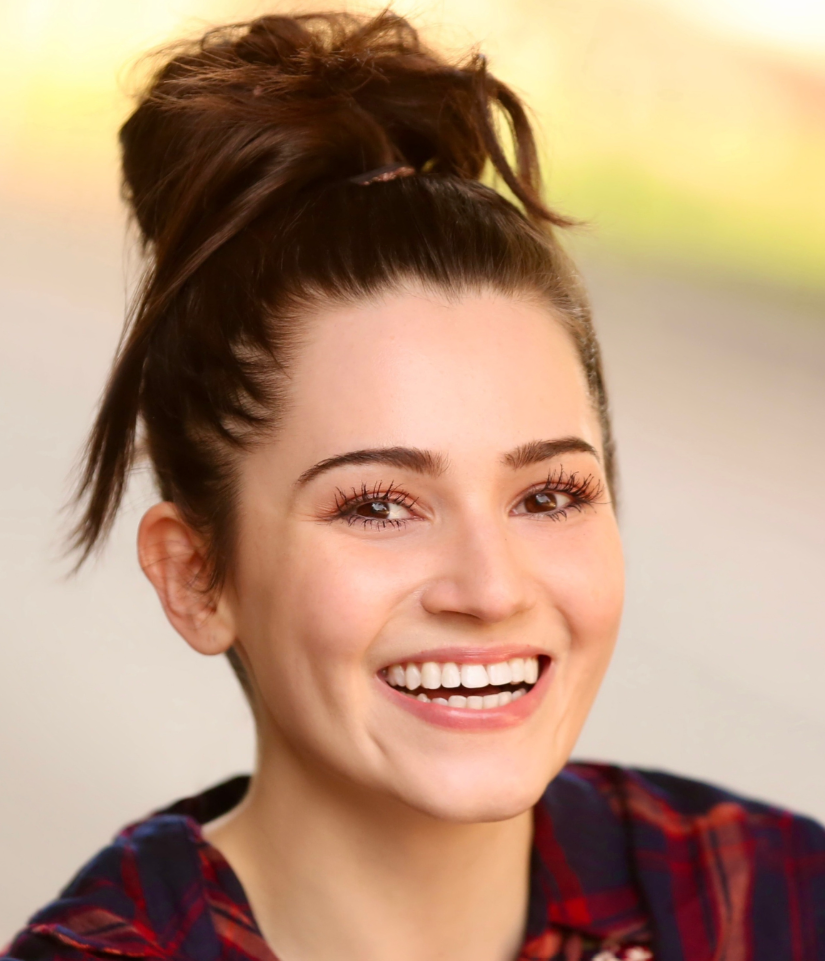 Grace is the creator, editor, and sole writer for Pixie Dust and Passports – a blog that's ALL about Disney! She's made it her life's mission to visit the Disney parks as much as possible and loves trying new snacks, grabbing the latest spirit jerseys, and rocking Loungefly bags. Oh, and she also holds a BA in History from UCL, which makes her a research and deep-dive enthusiast into all things Imagineering.