It can be tricky to know whether you're going to enjoy a thrill ride. So, whether you're an anxious theme park visitor or simply don't know what to expect on Space Mountain, this guide should answer the question "is Space Mountain scary?" and will help you make the right call!
Space Mountain is an incredible attraction that has been impressing theme park guests since opening at Walt Disney World in 1975. These days, it's charming adrenaline junkies at 5 of the 6 Disney parks around the globe!
If you're not an avid rollercoaster fan, you may be wondering "is Space Mountain scary?".
I completely get it – rollercoasters aren't my first port of call, and I'll always check whether I'll be able to handle a ride before I jump in the queue.
If you're in the same boat, I've got you covered with this guide that covers the ins and outs of Space Mountain.
Now let's learn more about this potentially spooky beast!
What is Space Mountain?
Space Mountain is one of the most popular and iconic rides at Disney World (and the rest of the parks!).
It's an indoor rollercoaster that takes place in almost complete darkness, and it boasts some seriously impressive theming that makes you feel like you're shooting through space.
If you're looking for the official Disney definition of the ride, I've got you:
"Dip and careen into the inky blackness as a futuristic soundtrack echoes all around you. Fly past shooting stars and celestial satellites. Roar past streaking orbs of light, wayward comets, and migrant meteors. Feel the pull of gravity as you're drawn into a swirling wormhole!"

Disney
Exciting stuff.
So, How Scary is Space Mountain?
I'll answer the question "is Space Mountain scary" in more detail in just a second, but I'll quickly give you a basic rundown.
The TLDR, if you will.
It's not 'scary' in the sense that it has deliberate spooks (I'm talking to you Haunted Mansion!). But the speed of the ride, the dark setting, and the sharp turns can scare some riders.
How much this bothers you will depend on your experience with rollercoasters.
If you're a newbie, you might hate it as you won't be able to figure out where you are in space. If you're a seasoned rider, you should have no problems with it.
It's completely down to the individual, so have a read of my in-depth analysis to come to the right conclusion for you!
Speed
Space Mountain is one of the fastest rides in Disney World and it hits tops speeds of 28 miles per hour.
It's worth noting that this is the top speed of the ride – so, it won't be hitting these numbers most of the time.
I won't say that it's slow by any means, but the ride feels a lot faster than it is thanks to the dark theming and the lack of visibility along the track.
I'd say that the speed paired with the darkness makes this quite frightening for children. But honestly, many kids find the theming enchanting and aren't remotely put off by the darkness.
It's very much a case of "your mileage may vary"!
Drops and fast turns
Drops
Part of what scares people about rollercoasters is the "dropping" feeling that you get in your stomach.
This doesn't affect everyone the same way, but it can make people feel incredibly anxious if they're uncomfortable with the feeling or simply don't enjoy it.
Space Mountain is advertised as a ride with "big drops", but you'd be surprised at how tiny the drops are.
It's the complete darkness that makes them seem much larger than they are!
Believe it or not, the largest drop is only 8 meters – it's really nothing to worry about unless you're completely terrified of drops.
If drops are your kryptonite (they're mine, BTW!), then just know that all the larger drops are basically over before they've begun.
They're way shorter than the drop on Splash Mountain (which is approximately 52 feet).
So, if you can manage that with a touch more speed, you'll be fine!
Fast turns
If you're wondering: "is Space Mountain scary?", you may be thinking about fast turns and abrupt stops.
As Space Mountain is an indoor coaster, it has unbelievably smooth tracks that won't have you feeling sick or getting whiplash.
There are quite a few turns that are made scarier by the lack of visibility, but I'd say everything should feel manageable to anyone who's ridden a rollercoaster before.
I promise that anything on Expedition Everest or Rock 'n' Rollercoaster will feel much worse!
Just be aware that a few of the sharp movements on the ride will pull your head back slightly.
It's nothing to worry about, but they may catch you off guard if you're not expecting them.
Darkness
Whenever somebody asks me "is Space Mountain scary?", I'll always talk about the darkness factor.
The darkness is one of the main things that makes Space Mountain scary, but the effect this has varies from person to person.
You won't ever hit any part of your body on the tracks or surrounding low-hanging sections (of course!). But it can feel that you're about to collide with something as the darkness messes with your depth perception.
So, if you're wondering "is Space Mountain scary?", you may want to consider the fact that you'll feel the need to duck out of the way as your vehicle careers around the tracks.
The entire ride is dimly lit, and the only glow you'll get is from the fluorescence of your vehicle and the flashes of light throughout the ride. As a result, you'll literally see next-to-nothing for most of the ride.
It's beautiful, but the lack of light and ability to figure out where you are in space (pun intended!) may put some people off.
Inversions (in Paris only)
If you're visiting Disneyland Paris, then Space Mountain is a lot scarier.
The track includes several large drops and inversions, making it a much more legitimate thrill ride than the American or Asian versions of the attraction.
If you're not a fan of loops, do not ride this attraction in Paris!
The ride vehicle
The ride vehicle is slightly different depending on where you're riding.
In Walt Disney World, the ride takes place in a single-seat carriage.
In Paris, you'll be able to ride alongside someone else on a slightly wider vehicle.
Your position in the carriage makes quite a big difference to how quick the ride feels (and Walt Disney World denies you moral support if you get scared!).
For the smoothest ride, it's a great idea to ride at the front of the vehicle instead of at the back. The difference isn't enormous, but the back of the vehicle is literally dealing with all the weight that comes before it.
So, it's naturally going to be a much bumpier and more abrupt ride than the experience in the front carriages.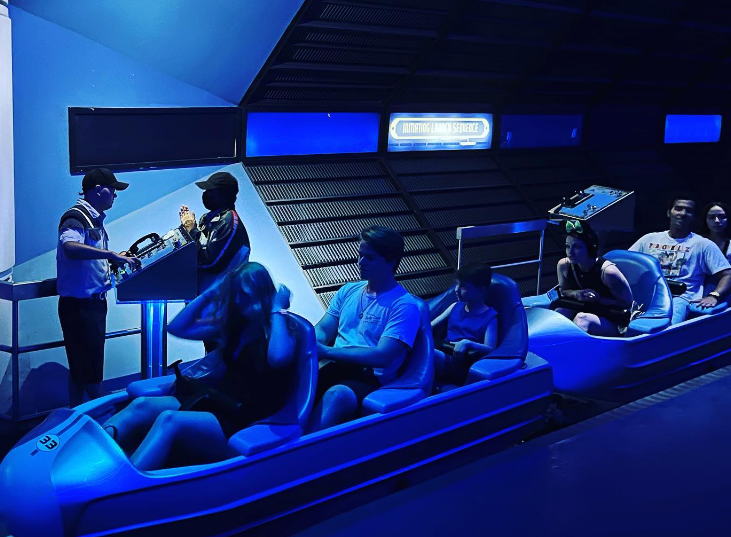 Is Space Mountain Scary?
It's hard to give a definitive answer here as it depends on who you are.
But I don't think so.
The theming isn't spooky, the ride is smooth, and most of the bad drops are over in a flash.
I completely understand that the single-seater layout, darkness, and lack of depth perception can make Space Mountain scary, but I'd say most people won't mind this too much.
You'll be too distracted by the amazing theming and gorgeous lights to notice!
If you're not sure whether you'll find Space Mountain scary, give it a whirl just once.
I know this is easier said than done, but if you truly hate it, you can close your eyes and wait for it to be over.
Then you'll know for sure!
It's one of the park's most iconic rides, and I always advise people to try it before they write it off entirely.
If you're still worried about checking out Space Mountain, get to grips with the track layout by watching a POV video with the lights on!
FAQs
Is Space Mountain a rollercoaster?
Yep – it's an indoor rollercoaster that is space-themed and located in almost all the Disneyland-style parks (except Shanghai Disneyland!).
How long is the Space Mountain ride?
Space Mountain at Disney World is just under 3 minutes in length.
Is Space Mountain safe?
Completely – like most of Disney's rides, it has been stress tested for all potentially dangerous situations!
You should be in good health before riding, but you'll be able to spot brakes along the tracks that are designed to slow or stop ride vehicles in an instant.
Is Space Mountain scary for adults?
The darkness doesn't tend to frighten adults as much as kids, but any older riders that hate drops or fast turns should skip this one!
Is Space Mountain scary for kids?
This entirely depends on your kids, but some children might be frightened by the speed or darkness of the ride.
How old do you need to be to ride Space Mountain?
There isn't an age limit to ride Space Mountain, but you need to be above 44 inches or 112 centimeters to ride safely.
There's a recommended age of 5 years old, but if your kid is tall enough – it's up to you!
Is Space Mountain scarier than Big Thunder Mountain?
In my opinion, yes.
As a smoother indoor coaster that moves more quickly (and is in the dark!), Space Mountain is naturally scarier than Big Thunder Mountain.
Does Space Mountain go backward?
Nope – it's a completely forward-facing ride.
Does Space Mountain have multiple tracks?
Yes! It has two separate tracks in the Magic Kingdom Park which are called Alpha & Omega.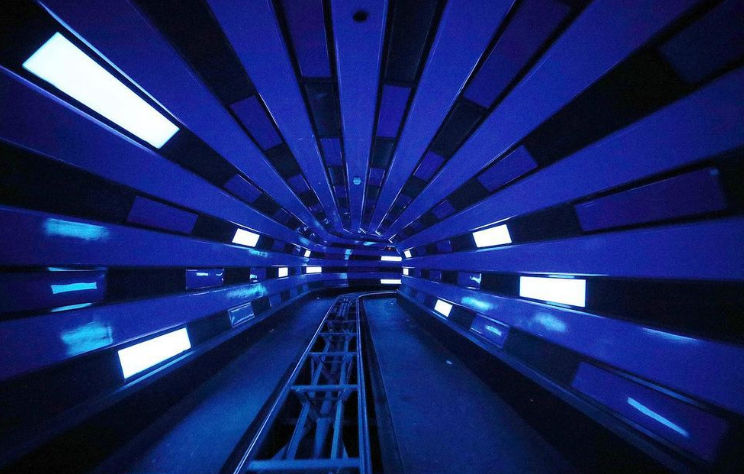 What is the largest drop on Space Mountain?
The largest drop is 8 meters, but each of the drops is over before you know they've happened.
I'll admit that many of them feel longer than that because of the darkness factor.
Is Space Mountain plus-size friendly?
Space Mountain has quite low seats which can be tough to get into for larger guests. You'll also need to be able to place your legs under the seat in front which can be challenging.
It doesn't technically have a weight limit and doesn't restrict plus-size passengers, but you need to be able to fit into the harness securely.
Is Space Mountain worth the wait?
The coaster makes you feel as though you're riding under the stars. Also, it's a Disney classic that's worth trying at least once!
Have you ever ridden Space Mountain? Are you planning to try it out for the first time on your next trip? I'd love to hear about it in the comments below!
If you enjoyed this article, why not check out a few of my related posts?