Are you trying to figure out "Is Expedition Everest scary"? Join me on an adventure to the Himalayas as we uncover everything you need to know about Disney World's infamous Yeti coaster!
So, you're heading to Disney's Animal Kingdom and want to know "Is Expedition Everest scary?".
Well, you're not alone as this thrill ride has been dividing theme park goers since it first opened in 2006.
Not only did it cost an impressive $100 million to create, but it took 6 years to finally complete.
Now that's a coaster that's worth checking out.
For a bit of context if you're new to Animal Kingdom, Expedition Everest takes you through the Himalayan Mountains.
But it's not just any ride through Tibet and Nepal – this ride puts you face to face with an angry Yeti!
In this deep dive, I'll run through everything that might make you question – is Expedition Everest scary?
From drops and speed to theming and ride mechanics, I've got everything covered.
And I'll even fill you in on fun facts, accessibility requirements, and the best times to ride!
Now let's get down to business.
What Is Expedition Everest?
Expedition Everest is an exciting journey through the Himalayan mountains that results in a major encounter with a yeti!
It's a high-octane rollercoaster that heads through dark passages, goes backward, and picks up serious speed.
And if you want a better idea on theming, here are the words from Disney themselves!
"Wander into a Tibetan village at the base of Mount Everest and board a train to the "top of the world." Beware: Some say a legendary snow monster lives deep in the mountain. After a steep ascent, your train picks up speed and races into the darkness. Without warning, a broken and twisted track appears in front of you. Brace yourself as you plummet backward into total darkness. Inside the cavern, the mythical tale comes true as you see the shadow of a massive, growling beast! Race to escape the cursed mountain—before the Yeti claims another expedition."
It's one of the fastest rides at Disney World and is also up there with the most intense rollercoasters in the park.
That's for a combination of reasons, but it's mostly down to the smooth and fast motion and mega drops.
But don't worry – I'll get to all of that later!
Which Park is Expedition Everest in?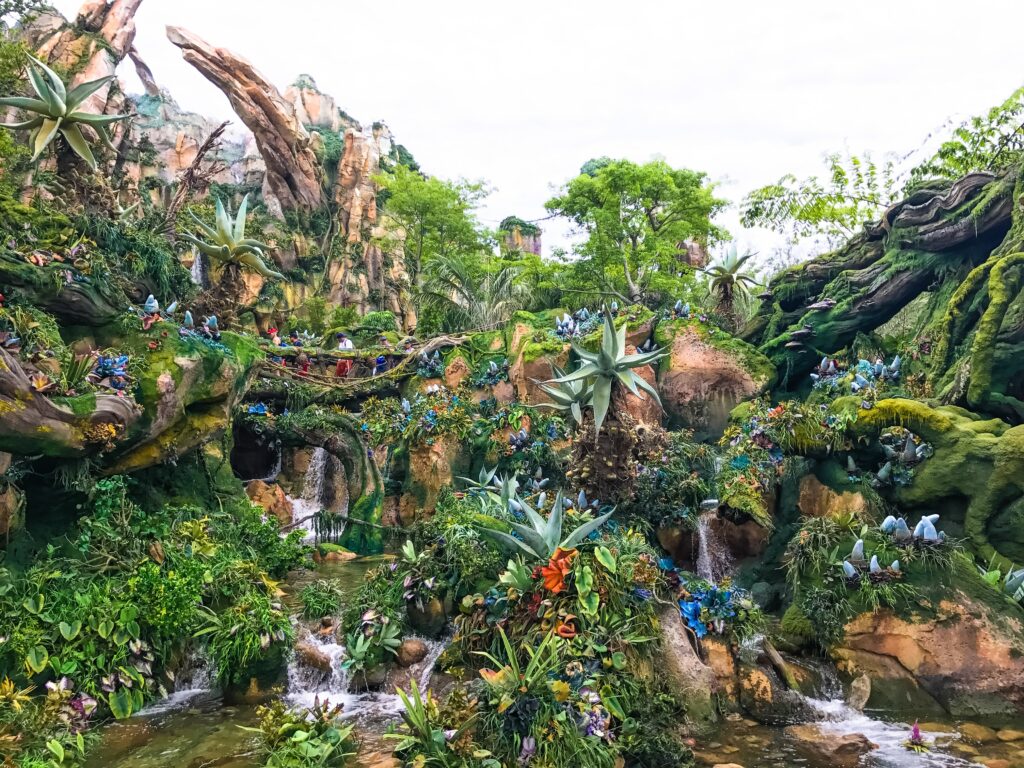 Expedition Everest is inside Disney's Animal Kingdom at Walt Disney World.
It's quite easy to spot as it's tucked inside an enormous 199.5-foot mountain (it's not any taller or it'd need a flashing beacon!).
That's taller than Cinderella's Castle, BTW.
Believe it or not, the coaster is built by the minds behind Seven Dwarfs Mine Train (Vekoma).
But all of the theming and conceptualization of the ride comes from the magical minds of Disney's Imagineers.
Joe Rohde (one of Disney's most incredible talents) was the lead designer of Expedition Everest and Animal Kingdom as a whole.
And you can see his quirky style appearing throughout the entire ride.
He noted at a D23 Expo that:
"You have to understand, it's a giant complicated machine sitting on top of, like, a 46-foot-tall tower in the middle of a finished building."
So, it's no surprise that the attraction took an incredible 38 miles of rebar and 5,000 tons of structural steel to put together.
The Expedition Everest Ride Experience
Okay, now that I've briefly outlined what Expedition Everest IS, let's run through the ride experience.
We'll be talking about speed, drops, the ride vehicle, the darkness factor, and theming.
Overall, these points should help you decide "Is Expedition Everest scary?".
Now let's go!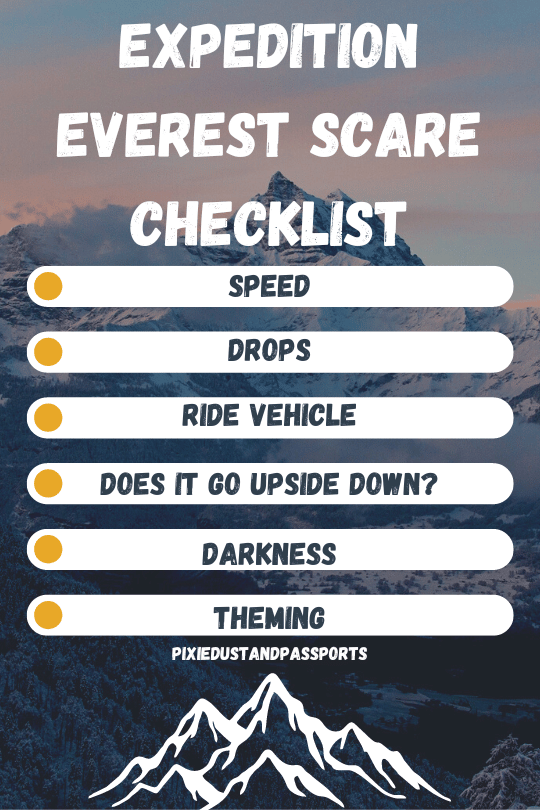 Speed
As Expedition Everest is absolutely one of the fastest rides at Disney World, speed fiends can't get enough of it.
But if speed is something that you don't handle well on rollercoasters, then you're probably going to struggle.
Expedition Everest reaches an incredible speed of 50 miles per hour at the climax of the ride as it hits a large drop.
It doesn't move this quickly for the entire ride, but you'll certainly feel as though you're hurtling along a lot.
You'll slow down when you hit a few curves (and you even stop completely at one point!).
But overall, the speed of the ride is quite intense and might be too much to handle for some people.
If you can handle the speed of rides like Rock 'n' Roller Coaster and Test Track, you should be alright.
Just be warned that the ride is relatively rickety and bumpy at certain points which can boost the discomfort.
And also, there are no drops on Test Track, so the sensation won't be the same as what you're dealing with here.
Drops and maneuvers
The first time I rode Expedition Everest, the largest drop literally took my breath away as it's massive.
If you've read a few of my other ride posts, you'll know that I'm a little bit terrified of large drops.
And for that reason, Expedition Everest isn't exactly a firm favorite of mine.
The train starts by ripping out from the base of the mountain and begins its quick ascent to the first major drop.
As with most coasters, the ascent itself is manageable (but you just know that something big is coming).
The final drop is 80 feet and it jolts you forwards after you see the Yeti unceremoniously pulling up train tracks.
It's a projection effect, so it's not overly scary.
But the drop is truly major when it comes to feeling G-Force and the stomach-flopping feeling.
Overall, I'd say that Expedition Everest was a biggie on the drop front and can be tough for even seasoned rollercoaster lovers.
Part of this is the angle of the drops (they're steep!), but there's also a lot of them.
And to make things even scarier, you hurtle backwards for quite a significant portion of the ride.
If you're not expecting this, it can be truly terrifying as it's also in the dark.
You'll know when it's coming as the track appears to end and the only way to continue the ride is to go back!
Between the drops, you'll also be dealing with curves and smaller dips that are more manageable.
Does Expedition Everest go upside down?
Expedition Everest doesn't go upside down as you're secured in with a simple lap bar. So, if you're not a fan of inversions you don't need to worry!
Ride vehicle and seating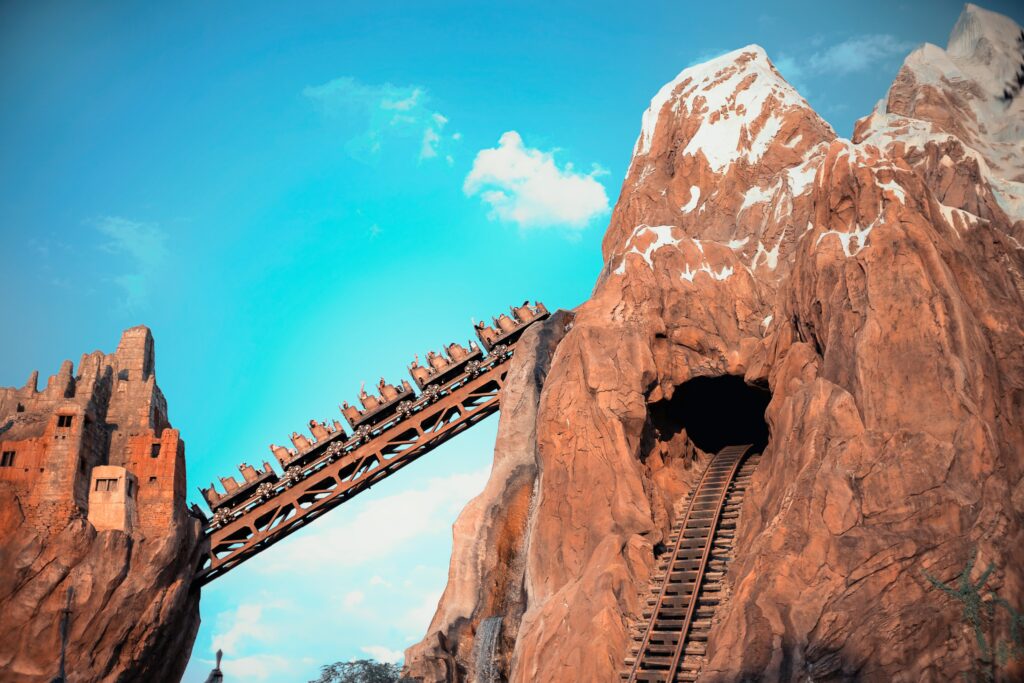 The ride vehicle is a relatively classic coaster design designed to look like a steam train.
It secures you in with a lap bar, has 17 rows in total with 6 cars and 34 seats.
You'll spot the words "Anandapur Rail Service" etched into the front of each train and the carts are supposed to look rusty.
Don't worry folks, they're not actually old and breaking down!
The ride vehicle isn't necessarily anything to be scared of, but the lap bar means you'll really feel the G-Force.
That's because your body isn't quite as secured and stable as it would be with an overhead restraint.
If you want to try and minimize that feeling, just make sure the lap bar is pulled down as far as possible.
They're individual bars, so you shouldn't need to worry about getting a super-secure fit.
Darkness
There is a section where you're completely in the dark during Expedition Everest and it can certainly be scary.
This happens when the Yeti has ripped up the train tracks and you get send hurtling backwards.
I always find that backwards portions of coasters feel way more intense in the dark.
And for that reason, it's part of what makes Expedition Everest hard to handle for a lot of people – it's disorientating!
As you have no frame of reference for where you are in space, many people get motion sickness from this section.
It's obviously not guaranteed and everyone responds to external stimuli differently.
But if you're traveling with younger tykes, this part is almost guaranteed to scare them unless they're major thrill seekers.
Theming
Expedition Everest has some of the most unique theming I've seen on a Disney ride.
It's inspired by a trek up to the incredible Mount Everest (which very few people do!) and takes you through Tibet.
You'll see a Tibetan Temple before heading up the infamous mountain where you encounter the mythical Yeti.
While you're in the queue, you'll walk through artifacts from lost expeditions as well as an office packed with documents.
Along the way, you'll also spot murals warning you about the famed Yeti and its territory.
The Yeti itself was the most complex animatronic that Disney had built at the time and measures 25 feet.
This alone is probably enough to scare young children!
What Is the Best Age for Expedition Everest?
Although Disney recommends this for kids, teens, and adults, I wouldn't suggest you take young kids on Expedition Everest.
The mixture of speed, darkness, and huge drops will probably unsettle children under 10.
And even if you have a serious adrenaline junkie on your hands, the theming is probably the nail in the coffin here.
Of course, you know your family best and you can probably assess what's best based on your own experiences.
But I just want to reiterate that this is an extremely intense thrill ride for youngsters (and adults!).
So, it's a good idea to restrict this one to the teens and adults in the family who can deal with all the ride elements.
Are There Any Ride Restrictions for Expedition Everest?
As long as you reach the height restriction of 44 inches, you'll be given the green light to ride Expedition Everest.
If you're pregnant or have heart, back, and neck conditions, you'll also be warned not to ride.
And as with many of the thrill rides at Disney World, anyone traveling in a wheelchair or scooter will need to transfer over.
Make sure you have a member of your party on hand to help with this
Is Expedition Everest Scary?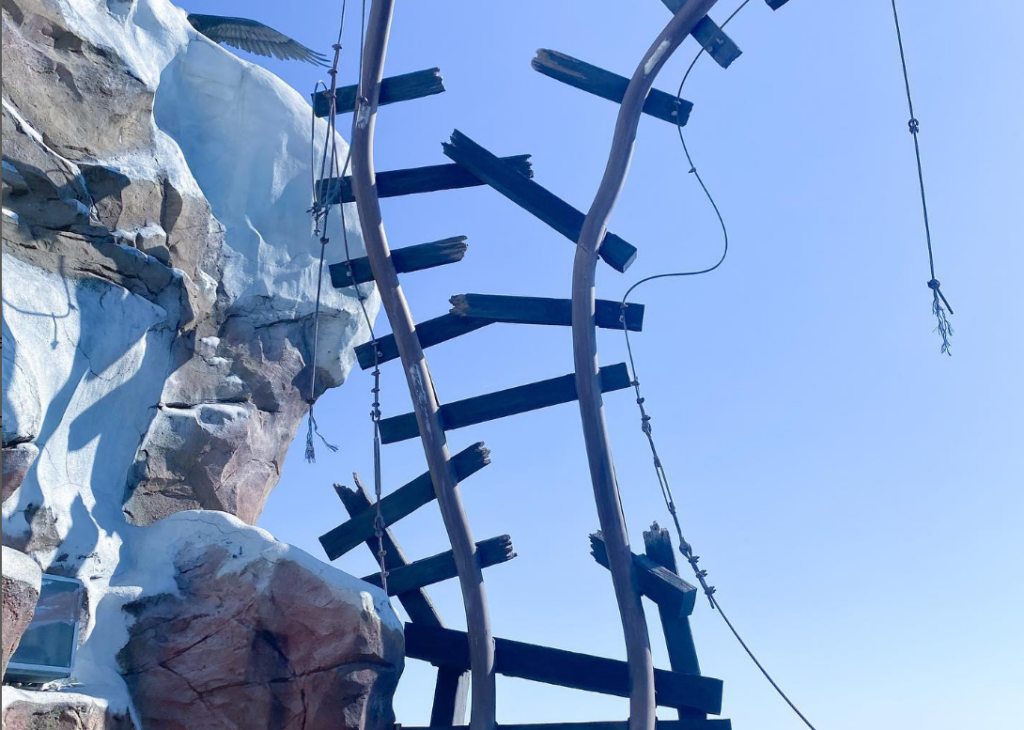 Now let's answer that crucial question you've all been waiting for – is Expedition scary?
And I'll say that YES, IT IS.
It's an incredibly thrilling rollercoaster with immense drops and spooky theming that goes backwards and throws you around.
The ride's curving and turning maneuvers might also be a lot to handle (along with the threat from the Yeti!).
You won't feel unsafe at any point with the solid ride mechanics.
But you will feel a bunch of G-Force, stomach flopping, and disorientation as you're thrown backwards.
At the end of the day, you know what you and your family can handle – so, ride with caution and have fun!
Is Expedition Everest Worth Riding?
Expedition Everest is absolutely worth riding if you appreciate thrill rides, fun theming, and amazing Imagineering.
The story is incredibly well thought-out, the drops and awe-inspiring, and you truly feel like you're flying around the track.
Because the queue lines are typically shorter (as it's so intense!), it's also a good option for thrill seekers without Genie+.
FAQs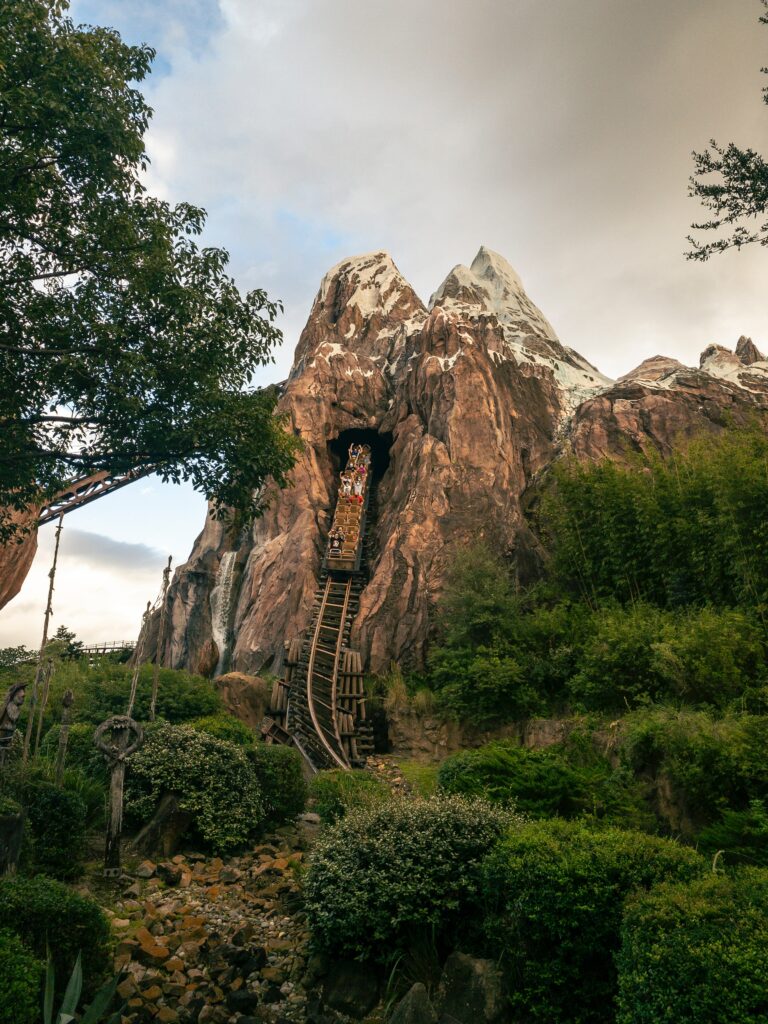 When did Expedition Everest open?
Expedition opened for previews on January 26, 2006 but officially opened to the public on 7 April, 2006.
The ceremony was led by Jay Rasulo and Disney's CEO at the time, Bob Iger.
Can you use Genie+ or Lightning Lane for Expedition Everest?
Luckily, Expedition Everest can be booked as part of Genie+ which can significantly cut down on wait times.
But if I'm being honest, you may not need it outside of peak periods.
Because this ride is undeniably scary and you can SEE the intense drop, many families simply chicken out.
So, the ride can be as low as 15 – 30 minutes on certain days.
If the ride time is relatively stable and low, I'd save your Genie+ reservations for something else that day.
Is there a single rider line for Expedition Everest?
There's a single rider line for Expedition Everest that's often used by thrill seekers in the family.
It essentially allows you to skip the line for families wanting to ride in twos or fours in a single carriage.
It's the perfect way to slot onto the ride with a family of 3 without battling long queues or shelling out for Lightning Lanes.
What about rider switch?
You can use rider switch for Expedition Everest and I find it used a lot because of the height restriction and theming.
What is the best time to ride Expedition Everest?
I actually love riding Expedition Everest at night as you get sensational views of Animal Kingdom and EPCOT.
You can even see Cinderella's Castle from the peak drop!
In terms of beating the crowds, you'll want to head here right after rope drop (if you're not hitting Flight of Passage).
I also find that crowds tend to taper off in the late afternoon and early evening if you want to ride in daylight!
Is Expedition Everest scarier than Space Mountain?
I'd say that Expedition Everest is 100% scarier than Space Mountain because of the intense drops and theming.
There's an element of threat throughout the entire story from the Yeti and the biggest drop is immense.
The ride mechanisms aren't hugely different, but Expedition Everest is faster and has serious G-Force on those drops.
That's just my opinion though.
If you're scared of the dark, you'll probably find Space Mountain far more terrifying!
What's scarier – Expedition Everest or Tower of Terror?
In the face-off between Expedition Everest and Tower of Terror, I'd say that Tower of Terror wins.
Not only is the theming super spooky, but the drops and height are completely unexpected.
With Everest, you can kind of brace yourself for what's coming.
There you have it: the ultimate guide on "Is Expedition Everest scary?"!
If you have any further questions about this iconic Animal Kingdom ride, just get in touch! I'll be happy to run you through the ins and outs of the Yeti's great escape.
Related Posts: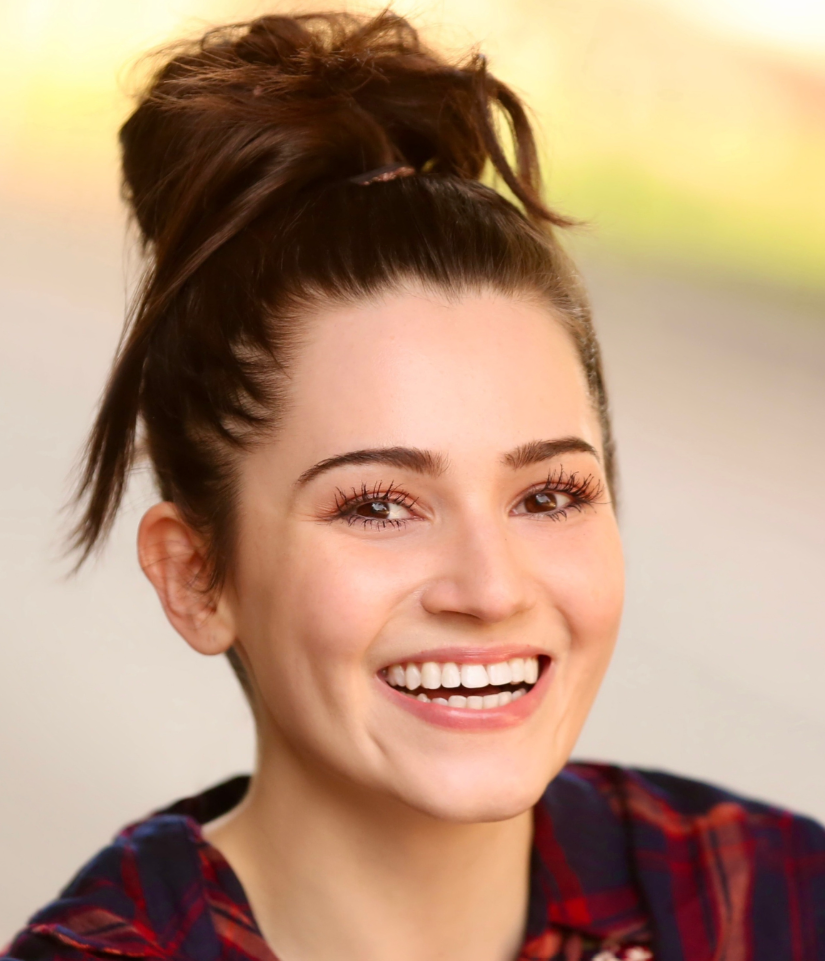 Grace is the creator, editor, and sole writer for Pixie Dust and Passports – a blog that's ALL about Disney! She's made it her life's mission to visit the Disney parks as much as possible and loves trying new snacks, grabbing the latest spirit jerseys, and rocking Loungefly bags. Oh, and she also holds a BA in History from UCL, which makes her a research and deep-dive enthusiast into all things Imagineering.