Are you looking for some great Disney bedroom ideas for kids that your little ones will love? Read ahead for my top recommendations!
So, the time has come. Your little one has asked for a big bedroom refurb and you're not quite sure where to start. Now, before you panic about the amount of work that it's going to take to revamp that bedroom of theirs, just take a breather. You may be surprised at just how easy it is to make Disney bedroom ideas for kids come to life!
Sure, it'll take a bit of elbow grease, but most of the products that you'll need for your project are easily available online.
Score!
Okay – so now that you've gotten into the right frame of mind to get that decorating done, it's time to pose those great Disney bedroom ideas to your kiddos.
They may be dead-set on a certain theme, but if they're open to something different (or aren't old enough to make that decision for themselves yet – hello nurseries!), then look through my list of Disney bedroom ideas that will inspire you to get your decorating cap on.
Ready to explore the best Disney bedroom ideas for kids out there? Let's dive in.
The Best Disney Bedroom Ideas for Kids
Finding Nemo
One of the best Disney bedroom ideas for kids is a Finding Nemo-themed room.
Perfect for little tykes who wish they could surf the incredible East Australian Current, this theming idea is bright, stimulating, and great for a range of age groups.
To make the most of this Disney bedroom idea, grab a Finding Nemo duvet set and some themed decals, and go to town with as much blue as you can lay your hands on!
Toy Story
Who doesn't love the Toy Story gang?
One of the best ways to jazz up a lackluster bedroom is with some light blue wallpaper that mirrors the style plastered over Andy's bedroom walls!
In addition to some great wallpaper, you can truly bring this Disney bedroom idea to life with some printed curtains and (of course!) toy versions of the characters themselves!
Just be sure to keep an eye out for toys moving around the room without your know-how…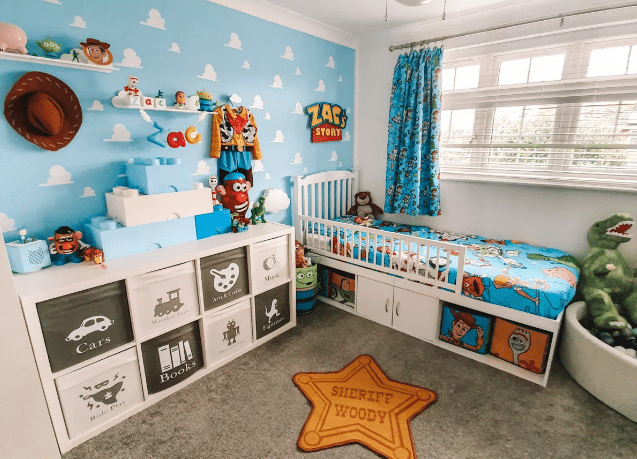 Cinderella Carriage
A classic Disney bedroom idea that kids love is a Cinderella Carriage bedroom.
Not only is this one of the most eye-catching Disney bedroom ideas out there, but it's also one of the most popular.
You can either go all-out on this idea with a state-of-the-art carriage bed, or you can allude to the idea with an interesting bed base and a stunning net curtain.
It's totally up to you!  
Peter Pan
If you're searching for a Disney bedroom idea for kids that any resident of Neverland would envy, look no further than this Peter Pan-inspired room.
For this idea, I recommend ordering some gorgeous wall decals and having a statement wall dedicated to the film's famous London shot. These gorgeous Decals from the Runtoo Store are ideal!
Just remember, dark blue hues and lots of fairy lights will be your friend with this Disney bedroom idea.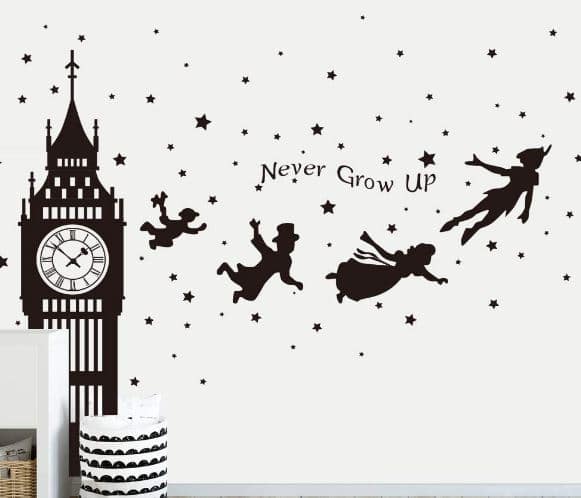 Disney Bedroom Ideas for Kids: Monsters Inc
If your little one can't get enough of Sully and Mike Wazowski, then be sure to consider this awesome Monsters Inc. Disney Pixar bedroom idea.  
For a simple yet effective setup, paint those walls blue and green, pick up a themed duvet set, and if you're feeling particularly creative, paint your child's door in the style of Boo's famous door!
Should Monsters University be the flavor of the hour, there are plenty of options available for that too.
Frozen
For superfans of Frozen, check out this incredible Disney bedroom idea.
You won't have to keep the room running at freezing (your electricity bill is safe, don't worry!), but it's a great idea to keep the theme white and blue.
For a Disney bedroom idea that really stands out from the crowd, why not purchase some awesome prints or wallpaper?
Both these decoration options are easy to install but are sure to have a massive impact on your little one and any guests. Talk about a win-win.
Disney Bedroom Ideas for Kids: The Little Mermaid
The Little Mermaid is a classic Disney film, so it's no surprise that a Disney bedroom idea based around Ariel and her pals has rocked up on my list! What's great about this Disney bedroom idea is that it's one of the more flexible ones. You can either deck the place out with Ariel's famous colors (hello green and purple!) or you can use the characters to frame the space. So, whether your child prefers an understated approach or would love to have Scuttle, Flounder, Eric, and Ariel gracing the walls, there are tons of options available!
In my opinion, this mermaid-themed room from Good Housekeeping is just perfect.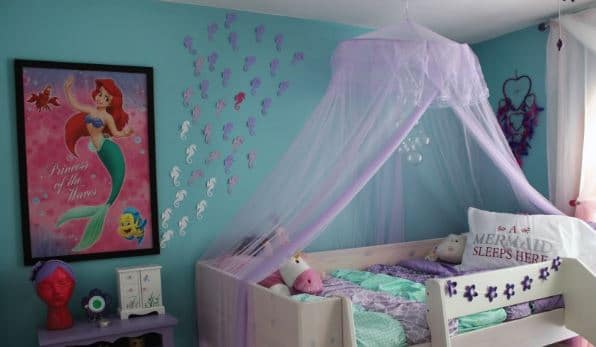 Aladdin
If your kid wants to head to a whole new world in their dreams, then why not give this Aladdin Disney bedroom idea a try?
This one can really be jazzed up depending on the child's age, so you can either use awesome Aladdin decals or you can use more subtle Arabian decorations to get the theme across.
Versatility is always great when it comes to decorating a room, so this is a great choice if you want to get experimental! If you want Jasmine to be the focal point of the space, then consider purchasing one of these beautiful wall murals.
If you're looking for some other great decoration ideas and inspiration from the parks, why not check out one of the top Disney blogs on my curated list for some tips and tricks?
Disney Princesses
If your little one can't decide on which princess they love most, then I've got you covered.
One of the best Disney bedroom ideas out there is a princess room, and it's a surprisingly easy idea to pull off.
Just grab some great wallpaper or prints, keep the color scheme aligned with their favorite characters (think blue for Cinderella and pink for Aurora!), and you'll be smooth sailing.
For a simple wallpaper that looks great on any surface, I highly recommend checking out this Princess Ballroom offering from Komar.
Trust me, it's a winner.
Winnie the Pooh
I absolutely love this Disney bedroom idea for younger children.
Not only is Winnie one of the most popular faces in the entire Disney canon, but he's just so darn cute!
What's great about this Disney bedroom idea is that it's just so easy to find bits and pieces to put in the room.
With many brands churning out Winnie the Pooh merch left, right, and center, you're sure to find some great throws, prints, and laundry baskets that will brighten up even the darkest spaces.
This matching 7-piece Disney nursery set is the perfect way to draw a room together; after all, who doesn't love some matching homeware?
I hope that this list of Disney bedroom ideas has given you some inspiration for your next big project! As you can see, there is so much great stuff out there.
So, open some homeware tabs, get browsing, and away you go!