Are you wondering "when does Halloween Start at Disneyland"? If so, read ahead for my in-depth look into the spooky season in Disneyland California.
Halloween is one of the best times of the year to visit Disneyland. Not only are there awesome parades, shows, and themed treats on offer, but both Disneyland Park and California Adventure Park are kitted out from head to toe with unique decorations too! Trust me when I say that it's a spectacle that you won't want to miss.
If you're looking to find out more about when Halloween starts at Disneyland, just read ahead!
When does Halloween start at Disneyland?
Each year, the Halloween season runs from mid-September through to Halloween at Disneyland. The start dates in September vary, and occasionally Disneyland will deck the place out slightly earlier than the previous year. However, as a rule, you tend to get those Halloweentown vibes from mid-September.
During this period, you should expect various changes to both park entertainment and snack offerings (I'll go into detail on this later!).
What happens when Halloween starts at Disneyland?
September and October are prime times to visit Disneyland anyway, but the fun of Halloween just makes it sweeter. If you're looking to avoid the crowds, I recommend heading to the parks during the start of the Halloween season.
Usually, September in the California parks is less crowded, so it's a much cheaper time to visit if you're looking to pinch those pennies.
For details on how to save money on your tickets during this period, check out my post on Disneyland California tickets!
Don't be surprised at the crowd levels as the Halloween season picks up though – it truly is one of the most popular times of the year to visit Disneyland.
That probably explains why so many people wonder "when does Halloween start at Disneyland?"!
Aside from the crowds, there's plenty more to expect when Halloween starts at Disneyland.
What to expect at Disneyland Park
Decorations
One of the best parts of the Halloween season in Disneyland is the decorations. Seriously, nothing that gets me more excited about a holiday than great decorations!
There are decorations placed everywhere at Disneyland, but one of the most eye-catching ones is the giant jack-o-lantern on Main Street. This is a major photo spot, and you'll usually spot several PhotoPass opportunities available here.
The huge pumpkin is one of the main decorations, but there are mini pumpkins dotted all around the park, so keep an eye out!
The general theme is orange, orange, orange (as you may expect!), but there are plenty of yellow and green decorations dotted around too!
It is fall, after all.
In addition to the pumpkins, you'll see Frontierland dressed up for Dia de los Muertos. If you've watched Coco, then you'll know what these wonderful characters will look like. This section is one of the most amazing in the parks, and the bright colors tend to look fantastic in photos.
Characters
One of the best parts about the start of Halloween at Disneyland is the number of characters out and about. Jack Skellington and Sally frequently appear to greet guests, so keep an eye out for them in New Orleans Square.
Of course, it's not Halloween without a spooky visit from Mickey, Minnie, and Friends! During the Halloween season, these face characters have a costume change, so it's a great photo opportunity if you usually visit during non-festive periods.
In addition to more famous characters, you will also spot some featured Haunted Mansion characters. The Tightrope Walker appears quite regularly during Halloween, and you'll see the Ghost Bride hanging around on most days too.
Oh – and it's not Halloween without villains, right? Over the Halloween season, you'll see the Queen of Hearts, Cruella, Frollo, Jafar, and many more villains lurking about.
Just keep a keen eye out and have your camera ready.
Parades
Boo-to-You Halloween Parade
The parade at Disneyland California during the Halloween season is called Boo-to-You, and it's one of the best parades that's held at the parks in my opinion.
This parade includes characters from the Haunted Mansion as well as your favorite fur characters.
So, if Mickey and Minnie are your jam, then never fear – they're still here dressed in their spooky best!
Fireworks
Halloween Screams Fireworks
Each year at Halloween, there is a special fireworks display called the Halloween Screams Fireworks.
Now, these fireworks are awesome, but it's worth being aware that they usually only occur on Halloween Party nights. I mean, that's part of the draw of the Halloween nights, right?
Sure, it's a bit of a bummer, but there's talk of these fireworks being changed to appear every night throughout the Halloween season – there is hope!
If you are viewing the fireworks at any time of year, the best spot to view from is Main Street, U.S.A. Due to its central location and front-facing placement, you're guaranteed to get a stunning view from most angles.
However, if Main Street is packed, you'll get an equally good view from the Small World viewing area.
If you want a sneak peek, check out this recording of the show below!
Ride changes
Haunted Mansion Holiday
One of the main ride updates during Halloween is Haunted Mansion Holiday. Quite simply, the Mansion gets a Nightmare Before Christmas makeover!
The overlays cover the usual ride, but if you're a frequent visitor, you're sure to love the change of scene.
If you're visiting the parks and want to ride Haunted Mansion Holiday, just make sure that you account for longer than usual wait times.
This ride is popular during the Halloween season, as it essentially becomes a limited-edition ride (which is obviously exciting!).
If possible, try and grab a FASTPASS for this ride when you first enter the parks – trust me, it will be well worth it and will free up more time in your day to check out those Halloween activities.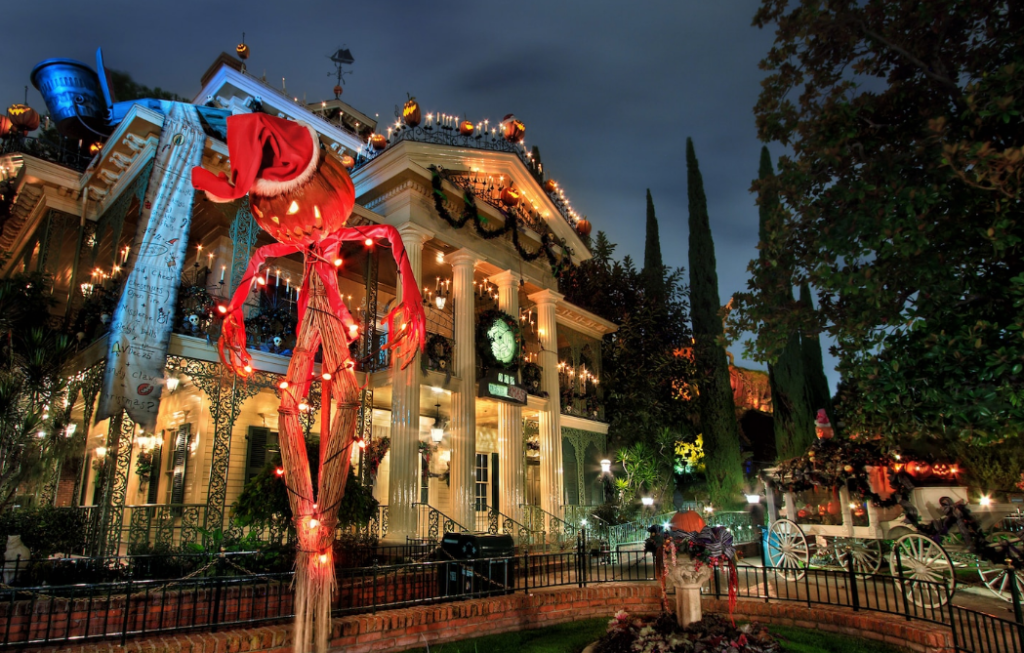 Food
Food is one of the best parts of visiting a theme park, and Disney always takes their themed food to the next level.
Though the snacks available change each year, they're usually either pumpkin-flavored or Halloween-themed. Think ghost snacks, caramel apples, and special churros.
As you might expect, Halloween food at Disney is on the sweeter side, so make sure you bring your sweet tooth along for the ride!
If you're looking for examples of the food on offer, look at the Halloween snacks from 2019 in the video below.
Just try not to drool…
Oogie Boogie Bash
One of the major developments in Disneyland California's Halloween offerings is the Oogie Boogie Bash. This Halloween Party has replaced Mickey's Halloween Party and it's been a total success.
This party is an after-hours party that requires a separate ticket. Unfortunately, you can't just rock up to the park after-hours and expect admission to Oogie Boogie's Bash – ah, how we wish it were that easy!
Tickets for the bash always sell out incredibly fast, so you'll need to be poised and ready when the tickets are released online.
Though the activities and rides are awesome during the Oogie Boogie Bash, one of the most special things about this party is that adults can dress up for it.
If you know anything about Disney, you'll know that this never happens, so take advantage of the opportunity!
What to expect at Disney California Adventure
Decorations
The decorations at Disney California Adventure are great too and tend to feature Oogie Boogie and lots of purples.
The decorations heavily feature on Buena Vista Street, so don't worry about missing anything!
If you keep an eye out, you'll spot the Headless Horseman who gives off an ominous vibe – oooooh.
Monsters After Dark
When Halloween starts at Disneyland, you'll be able to experience Monsters After Dark at The Guardians of the Galaxy – Mission: BREAKOUT!
Every evening, you'll be able to try out a whole new ride that aims to continue the story of the daytime ride. If you're traveling with kids, then be aware that the nighttime version of this ride is much spookier.
Brave kiddos should be okay, but if they're very young it may be worth convincing them to sit this one out!
This ride is very popular during Halloween, so be aware that you might be waiting a significant amount of time to board.
Activities
A great thing about the Halloween season is the activities that are on offer. Recently, these activities have been themed around Dia de Los Muertos, with mariachi music, mask making, and even A Musical Celebration of Coco becoming a featured small show.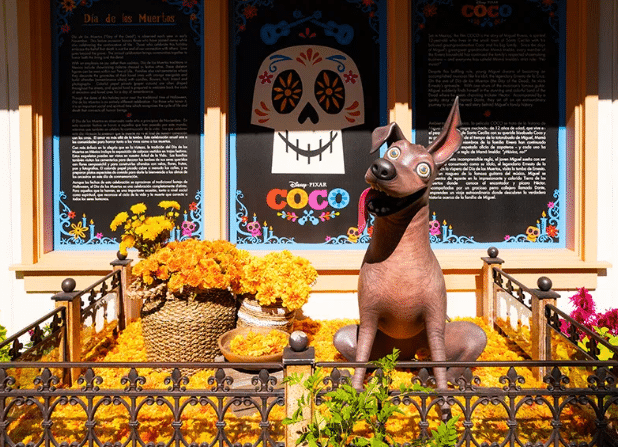 You'll also see that Radiator Springs has been transformed when Halloween starts at Disneyland – or should we say, "Radiator Screams"!
As an example, Mater's Junkyard Jamboree gets transformed into Mater's Graveyard JamBOOree. The theming is cute in this section, and though it's meant to be somewhat scary, it's certainly suitable for kids.
Happy Haul-O-Ween, everyone!
I hope that this guide to Halloween at Disneyland California has been helpful.
As you can see, so much happens when Halloween starts at Disneyland, so it's well worth booking in during the festive season to soak in all the spooky goodness.
I hope that this post has helped to answer the question "when does Halloween start at Disneyland?".
What's your favorite season in the parks?