Have you found yourself asking, "when does Disneyland decorate for Christmas?". If so, you've come to the right place!
If you're a huge fan of the most wonderful time of the year, then you'll certainly want to visit Disneyland during the Christmas season. I cannot stress enough how stunning Disneyland California is around Christmastime.
With sprawling decoration displays, seasonal snacks, and some truly awesome ride updates, there are so many reasons to visit during this period.
Now, that's all very well, you may think.
However, we all know that the seasons at Disneyland can be a bit tricky to pin down sometimes. With the parks getting busier around this period, you'll probably want to time your visit just right if you want to catch the Christmas magic without the crowds.
Should you want to visit right around Christmas Day, be aware that it'll be a bit trickier. Not only will the parks be rammed, but it's one of the most popular times of the year to visit, so you may struggle to get on as many rides as you would at other times of the year.
Are you ready to explore the magic of Disneyland at Christmas? If so, read ahead for everything you need to know to answer that burning question: "when does Disneyland decorate for Christmas?".
So, when does Disneyland decorate for Christmas?
Disneyland's Christmas season begins at the start of November and runs through the start of January.
However, some holiday decorations start going up as early as October!
If you're looking to catch two seasons at once, you can be a bit cheeky and visit in the transition time between the two periods. Though you'll have to visit for a few days to make this happen (the exact transition day varies each year), it's well worth it if you're looking to experience the best of both worlds.
As most of the decorating happens overnight (seriously, the speedy overhaul from Halloween to Christmas is insane), it's an extremely quick turnaround.
You won't catch every single decoration from the very first day, but most of the Christmas goodies will go up right after Halloween.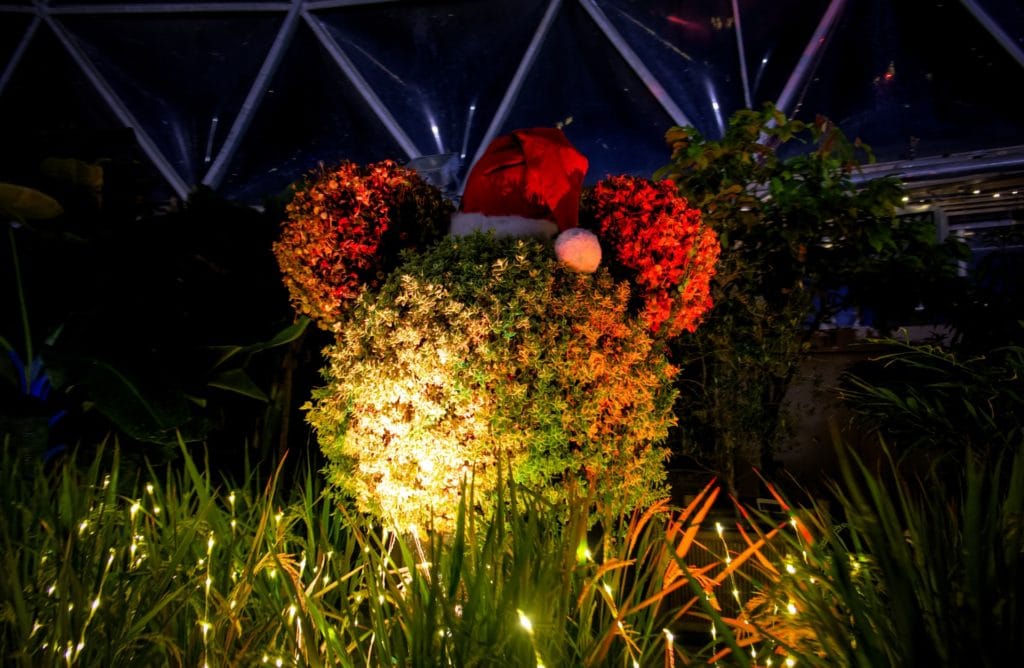 There's plenty to do around Disneyland at Christmas, and there are festive decorations, parades, festive fireworks, and more!
It's genuinely worth paying a visit to Disneyland during the Christmas season (especially if you haven't visited the parks during this time before), as it's so different from the rest of the year at the parks.
Just trust me, it's super magical.
What are the changes that occur when Disneyland decorates for Christmas?
Right, so you may be wondering what changes you can expect at Disneyland during the Christmas season. Well, sit tight folks, as I'm going to fill you in on everything you need to know about Christmas at Disneyland!
Disneyland Park
Rides
Haunted Mansion Holiday
One of the most popular changes at Disneyland during the Christmas season is Haunted Mansion Holiday.
This is both a Halloween and a Christmas attraction (I also talk about it in my Halloween Disneyland guide!). As The Nightmare Before Christmas is a bit of a hybrid Christmas/Halloween film, it really does jazz up the Haunted Mansion ride.
Though some people might miss the original ride, The Nightmare Before Christmas overlay is a unique addition to Disneyland that you should try and check out at least once.
If you usually visit Disneyland outside of the Christmas and Halloween periods, Haunted Mansion Holiday is almost like adding a completely new ride to your list of things to do in the parks.
Oh – and one more thing!
Get your nose at the ready, as Disney pumps in a wonderful Gingerbread scent into this ride each year which you will want to get a whiff of.
It's a Small World Holiday
Another awesome ride that's exclusive to Disneyland at Christmas is It's a Small World Holiday.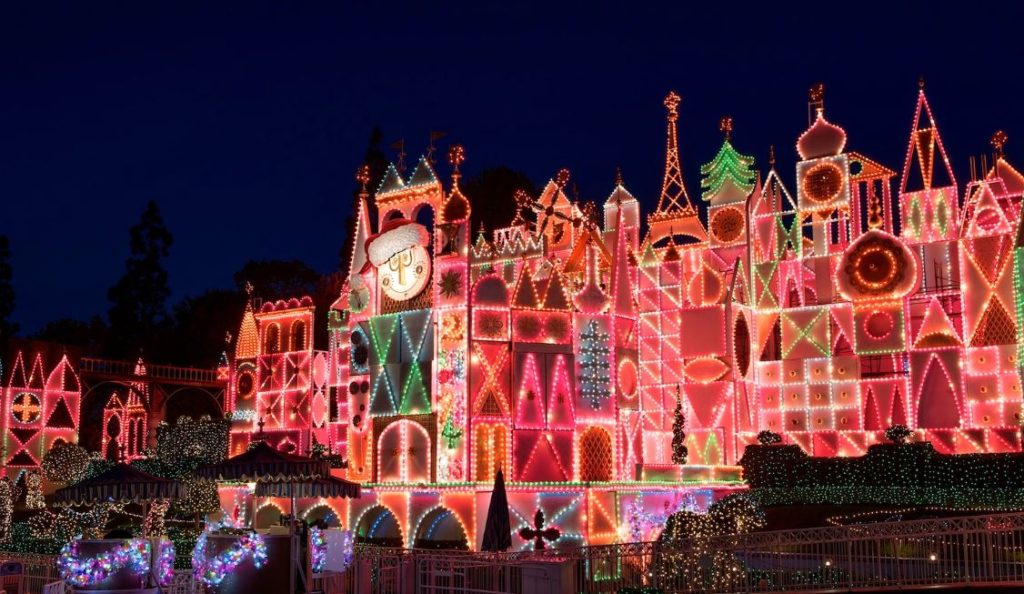 Though there are obviously similarities with the regular ride, the overlay gets a festive theme with different scents for each country. In addition to this, the whole lighting rig of the exterior gets switched up for the holidays.
This does mean that the queues at night can get hefty, but if you've got time to spare then it's well worth investing those extra minutes so you can check it out.
Oh, and keep an ear out for the adorable rendition of Jingle Bells and Deck the Halls that the dolls sing – it's certainly a change from the regular Small World tune!
Parades
Christmas Fantasy Parade
A Christmas parade runs at Disneyland which features classic characters and special festive outfits! The timings of this can vary depending on the year, but they tend to run at 3.30 pm and 6 pm as a rule.
The parades at Disneyland are not to be missed, so you'll want to add this to your list of things to do at Disneyland during Christmas. Just be aware that these parades are extremely popular, so you'll want to rock up early to secure a decent spot.
Firework display
Believe…in Holiday Magic! Firework display
If you're a fan of fireworks, then you won't want to miss Disneyland's Believe…in Holiday Magic! Fireworks. As with most of the fireworks in Disneyland, the show is projected onto Sleeping Beauty's castle, so there's plenty of room for everyone.
One thing we need to note is that this show often gets canceled. Yep, it's a shame, but California's windy weather can be a bit unpredictable, so if there's wind, the show's off! Safety always comes first, but it can be a massive disappointment for out-of-town visitors.
Though you can wait for the fireworks in advance, it's honestly not worth doing. You should be able to snag a decent view while enjoying the park during the evening – so try not to stress too much!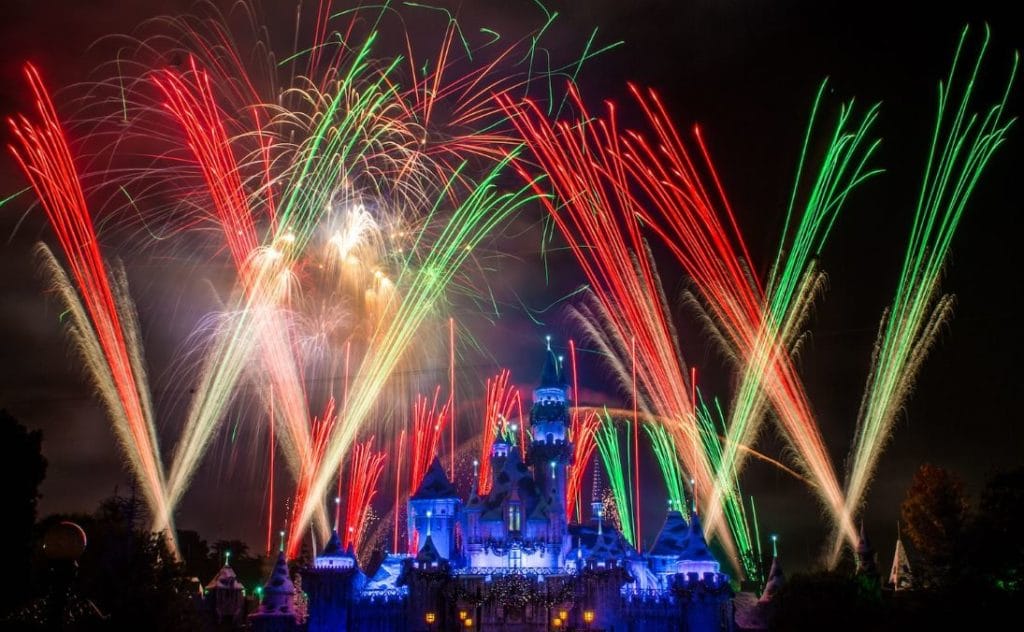 Candlelight Processional
Disneyland California's Candlelight Processional has been going on since 1958 and it remains an important part of what happens when Disneyland decorates for Christmas.
If you want to catch the Candlelight Processional, then you'll want to head down to the parks during the first weekend of December. It's extremely popular, but there are two performances over the two nights that it's on each year.
Expect beautiful carols sung by a massive choir and plenty of holiday magic.
When Does Disneyland Decorate for Christmas: Disney California Adventure
Decorations
Disney California Adventure decorates for Christmas around the same time as the main park, so you may as well check out the offerings at both, right?
You'll immediately be hit with the beautiful garlands and lights on Buena Vista Street, but the enormous Christmas tree is the main draw. The decorations in Disney California are less traditional than those that you'd find in Disneyland, but they are awesome.
For example, you'll see decorations that look like those that you'd find in LA adorning Hollywood Boulevard, and who could forget the creatively decorated Grizzly Peak? I mean, the bear is dressed in a Christmas jumper – what could be better?
Cars Land Christmas
During Christmas, the Cars area gets a full seasonal overlay. Two rides that you'll notice as slightly different are Luigi's Joy to the Whirl and Mater's Jingle Jamboree!
The names alone are probably enough to make you want to give them a 'whirl', right? Pardon the pun.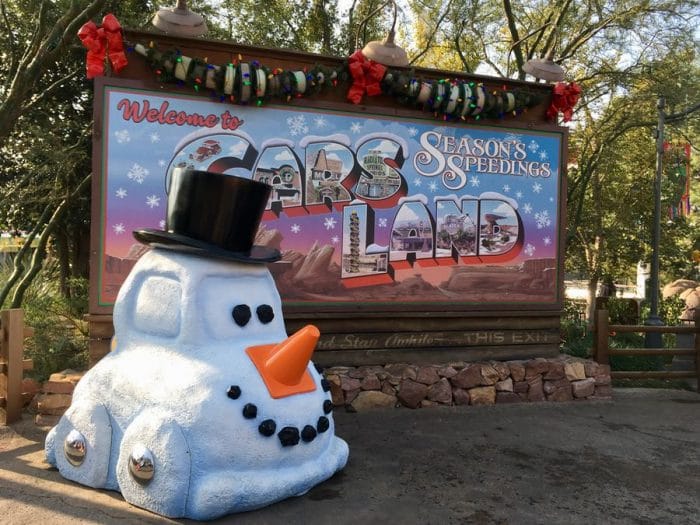 World of Color – Season of Light
If you're looking for an awesome show to catch at Disney California Adventure when Disneyland decorates for Christmas, then be sure to check out the World of Color – Season of Light.
This show combines holiday songs with clips from classic Disney films to create an experience that you won't soon forget. It's a beautiful celebration of Disney's finest works, and the holiday touch makes it even better.
Sadly, FASTPASSES are no longer available for this. So, I suggest settling in early to get a decent view.
Festival of the Holidays
Festival of the Holidays is an annual offering at Disney California Adventure. Featuring 12 festive marketplace booths and some incredible food, this is a must-do if you're visiting Disneyland during the Christmas period.
If you want to keep track of what you eat, you can even grab a Tasting Passport! This essentially allows you to tick off everything you want to try and gives you a great list of everything on offer that year.
¡Viva Navidad!
One of the best ways to celebrate Christmas at Disney California Adventure is by paying a visit to the ¡Viva Navidad! Fiesta! Though this is a different vibe from the rest of the Christmas entertainment on offer at Disney California Adventure, it's truly wonderful.
At ¡Viva Navidad!, you'll sample Mexican street food, try your hand at crafts, and meet some fabulously dressed characters! One of the most magical parts of this festival is the selection of dancers.
The whole thing just radiates joy, and I genuinely think it's one of the things on the entertainment roster at DCA that you need to see.
When is best to visit Disneyland after they decorate for Christmas?
This is difficult to advise on, as every Disney-goer is different. The week of Thanksgiving and the week of Christmas is always rammed. There's really no way around that, so if you want to visit during those weeks be prepared for queues and crowds.
The month of November and the first week of December tend to be quieter and are great times to visit for anyone that's a first-timer. You'll be able to get plenty done without battling the crowds.
I hope that this guide to Disneyland at Christmas has been helpful. Hopefully, you should know plenty about when Disneyland decorates for Christmas, what entertainment is on offer, and what ride changes to expect.
So, there you have it! A guide that hopefully answers the burning question "when does Disneyland decorate for Christmas?"!
What do you think about Disneyland during the holiday season? Do you wish Disneyland's holiday period lasted longer? Let me know your thoughts in the comments!
If you'd like to learn more about Disneyland California, check out these related posts!