Whenever I go to Disney World, I'm always drawn in by the many sights, sounds, and smells that make the parks unique. As soon as I leave, I'm on the web trying to track down the best Disney candles that will recreate that park experience.
I thought I was alone in being completely obsessed with Disney scents, but apparently – I'm not! There's an entire market of people looking for Disney scented candles.
Most people want to relive their favorite rides (hello Pirates of the Caribbean and Soarin'!), but others just want to get that hit of happiness as they walk down Main Street.
If this sounds like you – you're in luck. I've rounded up an enormous list of Disney candles that smell exactly like the parks.
This way, you'll be able to live in that Disney bubble for a few weeks after your trip.
Talk about dreamy.
Why Are Disney Scented Candles So Important?
Oh man, they just bring back so much nostalgia.
Your sense of smell is deeply connected to your memory and a single whiff of something can instantly transport you.
But it's not just that.
Disneyland (and Disney World!) specifically pump several smells through their parks and resorts to make you buy things or make you feel something.
It could be the smell of vanilla and popcorn on Main Street. Or maybe it's the bromine in Pirates of the Caribbean that instantly makes you think of water.
Whatever you're smelling, Disney has probably put it there for one reason or another.
If you'd like to learn more about why Disney scented candles take you right back to the parks, check out this fascinating video by MrCheezyPop!
Long story short, it's all down to Disney's Smellitzer machines.
Best Disney Candles
Disney Scented Candles That Smell Like Rides or Parks
If you're on the hunt for Disney candles that smell like rides or sections of the park, I've got you covered.
This subsection will fill your home with everything from the scents of orange groves to the magic of Main Street.
Main Street USA Candle
You can't deny how magical Main Street is. So, it's probably no surprise that people want to bring the classic scent of this iconic attraction into their homes!
It's tough to nail the exact scent of Main Street, as the smells are artificially pumped into the air. This is to make you buy more food, BTW!
If you want to recreate the smell of the amazing Main Street Bakery, then I'd start with this amazing candle from MiloCandles.
It smells just like baked cookies and is sweet but not overpowering.
For something that smells more general but will transport you right to the park gates, check out BibbidiBobbidiCandle.
They sell a wonderful scent called "The Smell of Main Street" that blends candy floss, marshmallows, and popcorn that you'll love.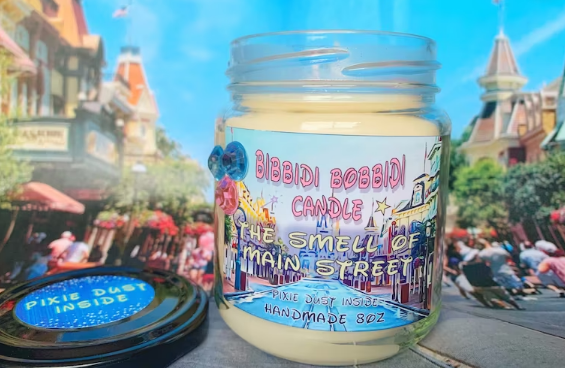 Haunted Mansion Candles
Haunted Mansion Candles usually have a sweet but subtle scent that reminds you of old libraries and musk.
There isn't an official candle for this ride, but I adore this pick from The American Hut.
It's made with professional-grade soy wax, is 100% plant-based, and is completely sustainable.
It smells like cedarwood, musk, and flower essences, and it's not too overpowering.
The best part about this Disney candle is the color!
It's a vibrant purple that reflects the famous Haunted Mansion wallpaper that we all know and love.
Oh, and the best part? It's one of the most affordable Disney scented candles on the market!
If you're looking for a different option, the Ghostly Castle candle from Spireside is an excellent pick.
It's on the pricey side, but it smells like graveyard grasses, dusty furniture, and musty carpets.
It sounds unpleasant, but it's a super-clean and surprisingly fresh scent that anyone's bound to love.
Flight of Passage Candle
It's been tricky to find a Flight of Passage candle for years, but Disney finally decided to capitalize on this popular ride.
If you're wondering how close the smell profile of the official candle is to the ride, Disney themselves has said the following:
"[the]scent is a replica of the aroma from Avatar Flight of Passage at Disney's Animal Kingdom."
Unlike a few of the other Disney candles on my list, this is an official piece of merch.
This means you can grab this Flight of Passage candle at Disney World boutiques and on ShopDisney.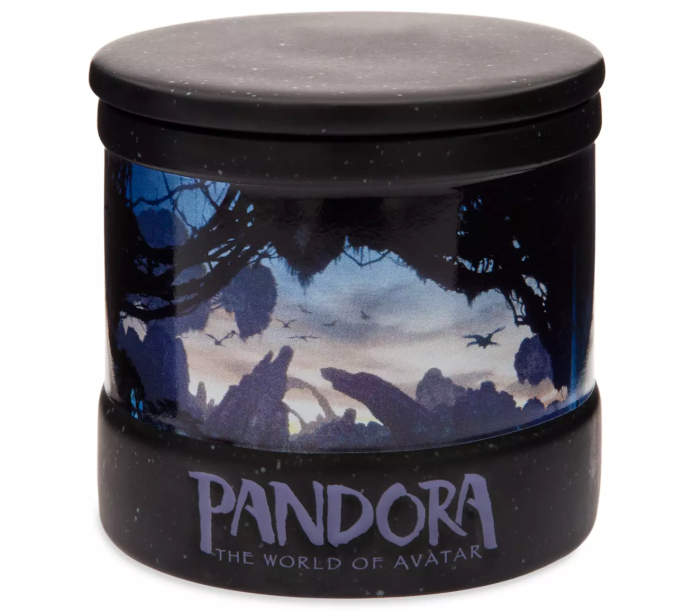 If you can't grab the official candle, Banshee Flight from the Magic Candle Company is a very close match.
It's packed with notes of apple, melon, orange, and bergamot which beautifully recreate the ride's natural atmosphere.
Better yet, you can even purchase room sprays, lotions, and oils to take the scent further!
Another gorgeous option is the Pandora Banshee Flight candle from Main Street Melts.
It's infused with orange, grapefruit, and sage, giving it a wonderful earthy quality that blends seamlessly with the rose and lavender notes.
Spaceship Earth Candle
A Spaceship Earth candle may not float everyone's boat. If you're wondering why, it's because the ride basically smells like a bonfire.
Nevertheless, a few people might want to recreate that warm and cozy feeling from this ride (and I'm one of them!).
It's a trickier Disney scented candle to find, as most companies add musk or floral scents to dampen woody notes.
Luckily, the Magic Candle Company has come through yet again with Rome Burning.
This scent is a wonderful match for Spaceship Earth, but you might want to burn it in increments as it's strong.
PhilarMagic Candle
There aren't too many smells in Mickey's PhilarMagic, but you might remember the classic pie scene during "Be Our Guest".
If you want to feel warm and cozy this autumn or winter, you should pick up the Farmer's Market Yankee Candle.
It's been talked about tons on Disney discussion boards and Reddit.
Most people agree that it smells exactly like the famous apple pie from the show.
If you'd like to support Main Street Melts instead, pick up their PhilharMagic candle.
It's one of the best Disney candles on Etsy and promises to look gorgeous on your mantle.
Splash Mountain Candle
I'm not the biggest fan of Splash Mountain, as I'm always the unlucky sucker that gets soaked.
But I do love the smell of the ride.
Like Pirates of the Caribbean, Splash Mountain blends a classic damp smell with a touch of bromine to take you on a sensory adventure.
Magic Candle Company have perfectly captured these scents with their Allow Our Splash fragrance.
It's incredibly subtle, making it one of the best Disney candles for freshening up guest rooms or linen closets.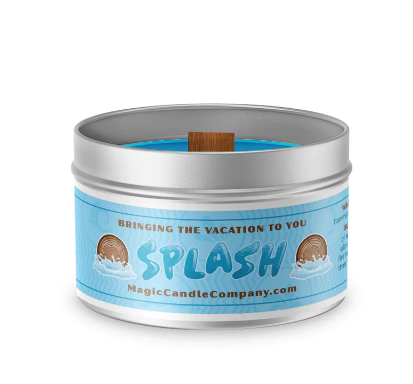 Soarin' Candle
If you're on the hunt for Disney candles that smell like Soarin' Over California, then you'll adore Coastal Linen.
This Disney scented candle is available at Target, and it's said to smell exactly like the orange groves that you fly over on the ride.
It blends scents of linen, lavender, and grapefruit to create a gorgeous summer scent that wafts through the room.
It's also made from a blend of soy and paraffin wax. This means you'll get a decent burn time of around 50 hours.
If you want something even closer, Flying Over Orange Groves from the Magic Candle Company is said to be an exact match!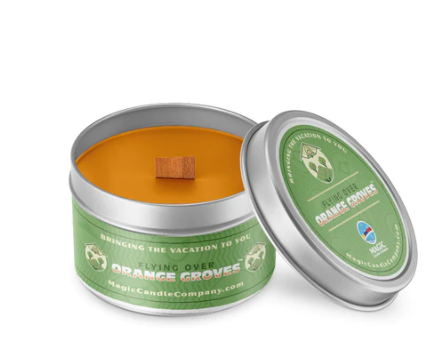 Pirates of the Caribbean Candle
Finding candles that smell like Pirates of the Caribbean can be tricky.
I mean, there's a lot going on.
Whether it's the subtle scent of gunpowder in the fight sections or the subtle bromine that drifts through the entire ride, nailing this ride in candle-form isn't easy.
Sadly, you can't put actual bromine in a candle. For obvious reasons, gunpowder isn't a great idea either.
The closest match I've found that captures the excitement and tropical nature of the ride is Pirate Life from the Magic Candle Company.
It blends scents of fresh rain, damp ocean air, and salty breezes to create a calming Disney candle that will lift any room.
Like most of their other scents, you can pair your purchase with a room spray, diffuser oil, or soap if you like!
If you'd like to try something different (and want more of a bromine-esque scent!), LuxIllume sells a gorgeous candle called "We Wants the Redhead".
According to the company themselves, this candle:
"smelled like the Pirates ride with the water, musty fog machines, and a splash of the chemical scent from treating the water."
It's more expensive than my other option, but it's a lovely aquatic scent that will transport you right to a balmy beach.
Disney Candles That Smell Like Resorts
Disney resorts always have a unique smell.
Whether it's the delicate scent of the Grand Floridian or the signature whiff of Pop Century, people have been trying to recreate these incredible lobbies for years.
Well, you're in luck with this list of Disney World candles that smell like different resorts.
Believe it or not, every single candle on this list has notes that will remind you of your stay.
So, let's check them out, shall we?
Animal Kingdom Lodge Candle
The Animal Kingdom Lodge is one of Disney World's most popular resorts.
According to DisBoards, people have agreed that the lobby smells like a mix of vanilla, sandalwood, sage, citrus, and musk.
If you have the cash to splash, the Trudon Ernesto Candle from Cire Trudon is a great match.
It's slightly sweetened with rum, grapefruit, and bergamot, but remains grounded with amber and clove.
Don't have the money to burn (pun intended!) on a candle? Try Sage Citrus from Yankee Candle.
It blends earthy sage with talc and citrus notes to create a beautiful scent that's just like Animal Kingdom Lodge!
Grand Floridian Candle
A Grand Floridian Candle is bound to make any house smell completely otherworldly.
To be honest, most people searching for Disney candles are on the hunt for this scent!
You might think that the Grand Floridian smells totally unique, but the scent of the Contemporary and Beach Club are the same.
If you're in the parks, you'll be able to pick up official Disney scented candles from the Contemporary Resort.
You'll find them in Bayview Gifts and Fashion (thanks AllEars!).
Don't worry if you can't head to the parks anytime soon. You can pick up a wonderful alternative from Wishes Candle Co. called "The Grand".
The smell is luxurious and contains notes of green clover and aloe.
To make things even sweeter, this is of the Disney candles that comes with a free pin!
Polynesian Village Resort Candle
The official scent used in the Polynesian resort is a commercial-level fragrance called Hibiscus Passion. Sadly, you can't purchase this as a Disney fan.
If you're looking for an alternative, Main Street Melts sells an awesome 3-wick Disney candle called "Polynesian Village".
It burns for hours and will gradually pump the scent of bamboo, green florals, and ginger throughout your home.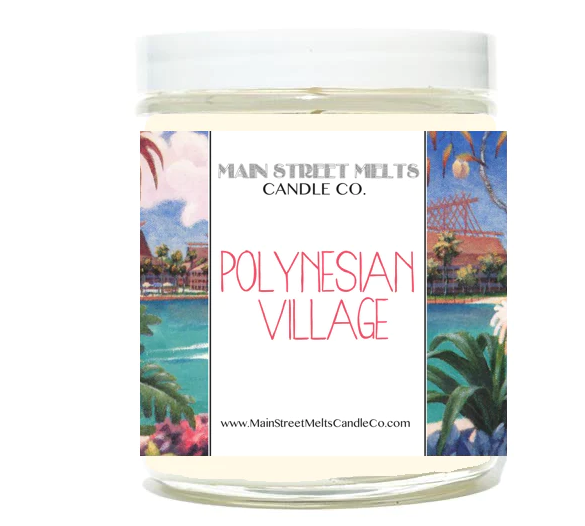 Another great option is the "Polynesian" candle from the Magic Candle Company.
It's much smaller but offers a gorgeous blend of island fruits, citrus, and wild hibiscus that's a dead ringer for the official scent.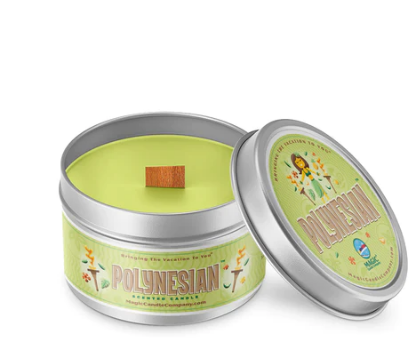 Pop Century Candle
There's something incredibly comforting about the smell at Pop Century. It takes you right back in time with a fresh scent of lemongrass and linen.
Seriously, it's glorious!
If you want to recreate this at home with Disney scented candles, try Century from the Magic Candle Company.
It's a very light fragrance and won't disrupt you too much. This makes it perfect for lifting bathrooms or bedrooms that need a helping hand!
Disney Food Candles
You can't beat the smell of classic Disney food. From the delicious Dole Whip to Mickey waffles and popcorn, it's no surprise that most of my budget goes on snacks when I visit the parks!
These are a few of my favorite Disney candles that smell exactly like classic park snacks.
Popcorn Candle
A popcorn candle can be a wonderful way to relive the smells of Main Street.
I mean, the smell of popcorn is continually pumped through the parks – so it only makes sense!
I recently came across this popcorn-scented candle from CastleMagicCandles which I can't get enough of.
You'll need to leave it burning for a couple of hours to get the full effect, but it's incredibly strong without smelling sickly.
Mickey Waffle Candle
I'm always on the hunt for Mickey waffles when I'm at Disney World. I'm so obsessed, that I've even written a guide to where you can find them in the parks!
If you're like me and want to recreate the smell of them at home, try Mouse Waffles from Mort & Co.
The primary scent is maple syrup, but you'll also catch notes of vanilla and waffle batter to spice things up.
Dole Whip Candle
You can find Disney Dole Whip at tons of locations around the park, with Pineapple being the most popular flavor.
If you want to relive that first frozen bite, check out the Pineapple Whip candle from the Magic Candle Company.
It smells exactly like Dole Whip.
For a hint of vanilla and cream, you can't beat the classic Dole Whip candle from EnchantedCityCandles.
It blends a hit of juicy pineapple that dies down to subtle vanilla cream.
Adorable Disney-Themed Candles
If you're not looking for Disney scented candles and want something more decorative, then check out these incredible picks! They're bound to look adorable in your home but won't overpower your space.
Winnie the Pooh Honey Pot Candle
A Winnie the Pooh Honey Pot candle is a cute way to spice up your living space with a pop of color.
This HUNNY Candle from ScentlyDelightful on Etsy is one of my all-time favorites as it just looks beautiful. It's available in wax melts if you'd prefer, but I love the stunning mesh warp around the top of the full-size candle.
It smells like raw honey (as you might expect!), orange blossom, and wild mountain florals for a delicate and welcoming scent.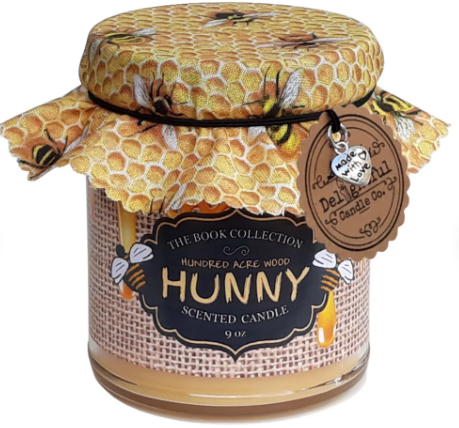 Mickey Mouse Candle
A Mickey Mouse candle is a great way to keep things simple while showcasing your love for Disney.
There are usually one or two candles available on ShopDisney at any time, but I love this one from Charmed Aroma.
It's incredibly unique as it's one of the only Disney candles with rings available on the web. Not only do you get an adorable keepsake candle, but you get a full piece of jewelry too!
Talk about a win-win!
Don't worry about sizing either. Charmed Aroma allows you to choose the ring size that comes in your candle, so there should be no surprises.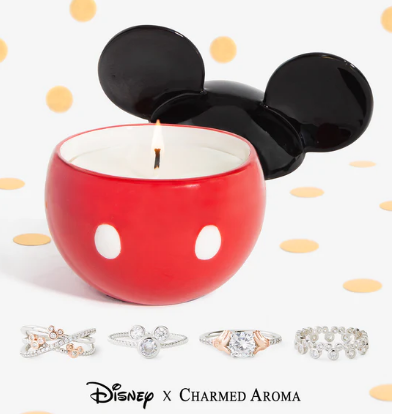 Nightmare Before Christmas Candles
When it comes to the holidays, I love pulling out a few The Nightmare Before Christmas decorations to spice things up. This goes for Halloween or Christmas by the way!
I adore this beautiful candle from TheMusicalityStore on Etsy. It's decorative, has a lid to prevent your wick from being exposed, and you can just tell tons of work has gone into it.
It's a 100% soy candle and it smells like candy canes and pumpkin spice for those Halloween and Christmas feels.
Disney Candles with Pins
If you're on the hunt for Disney candles with pins, then Wishes Candle Co. has got your back.
This may seem random, but I used to love getting Kinder Eggs because the idea of hidden treasure was so appealing to me.
These Disney candles with pins are basically the same thing. You burn through the candle, reveal a unique pin, and use it however you please!
Among the bestsellers, you'll find Bag of Beignets, Down the Boardwalk, and Briar Rose which is a delicate scent that should suit most people.
The pin you'll get is entirely potluck. So, I feel this is a fun thing to do for pin collectors who are tired of doing things the old-fashioned way!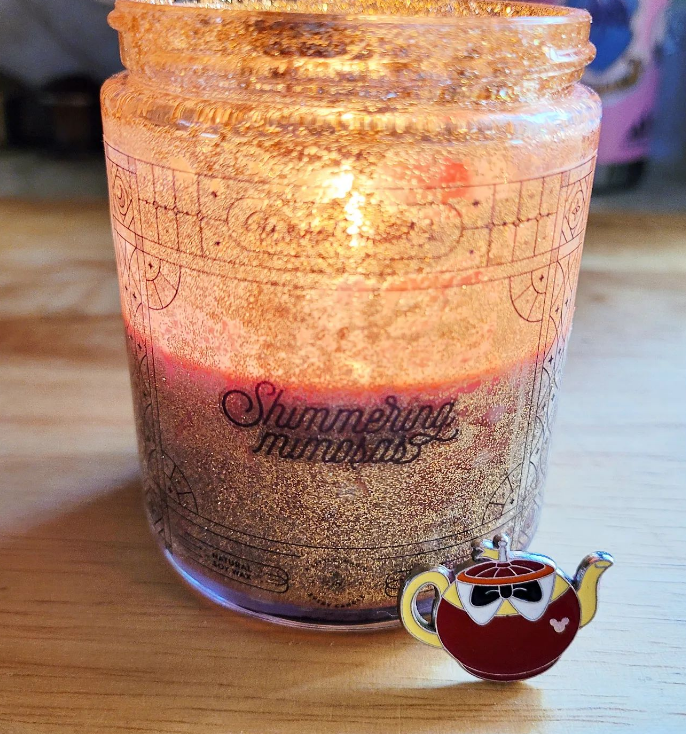 I hope that you've enjoyed this in-depth look into Disney candles. Who'd have thought it was so easy to recreate our favorite Disney scents?
Is there a smell in Disney World that you can't get enough of? I'd love to hear about it in the comments below. I'll probably even be able to suggest a Disney scented candle for it!
Did you enjoy this post on Disney candles? If so, you may like my other posts too!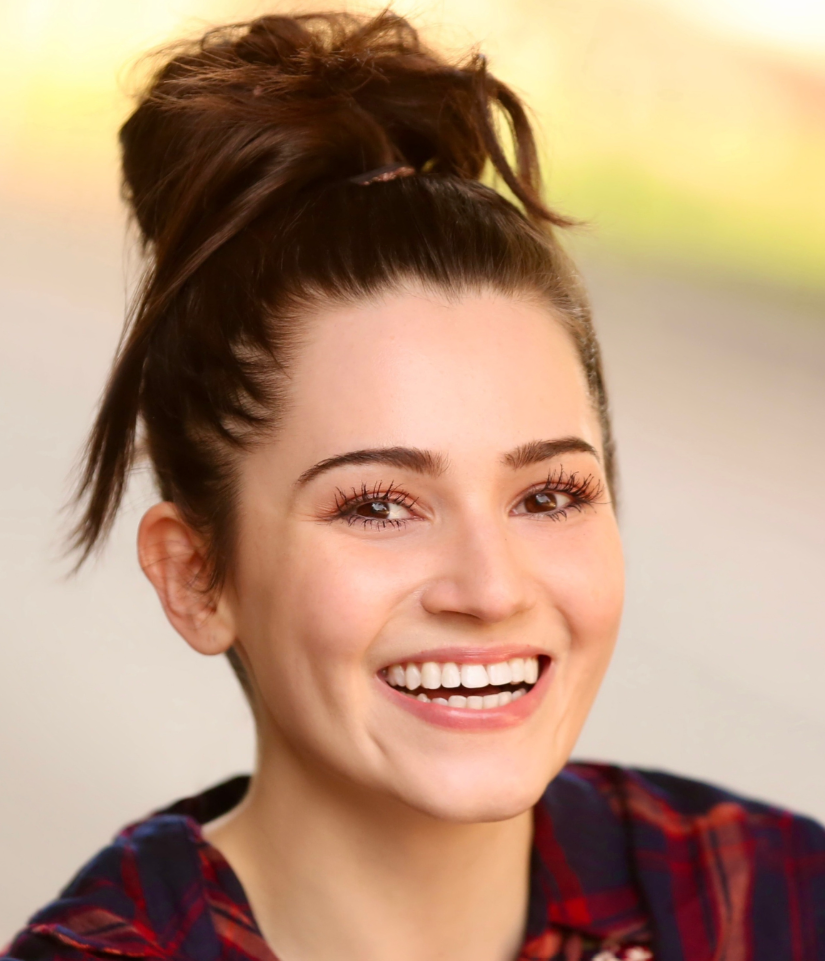 Grace is the creator, editor, and sole writer for Pixie Dust and Passports – a blog that's ALL about Disney! She's made it her life's mission to visit the Disney parks as much as possible and loves trying new snacks, grabbing the latest spirit jerseys, and rocking Loungefly bags. Oh, and she also holds a BA in History from UCL, which makes her a research and deep-dive enthusiast into all things Imagineering.