If you're looking for some awesome Disney party ideas for adults, then look no further, as I've got you fully covered.
Look, I get it – most of the options you can find online for Disney parties are specifically catered to kiddos. While I'm often incredibly jealous of those Disney party ideas, adults are often looking for a slightly more sophisticated take on Disney than a vision conjured up by an Elsa-obsessed five-year-old!
So, I hope that this dedicated list of great Disney party ideas will help you throw a "practically perfect" Disney party that Mary Poppins would surely approve of.
Whether you're looking for some great Disney food options or you want help with your party theme, you're sure to find something here that will inspire you.
Without further ado, let's check out the best Disney party ideas for adults that will make your next bash one to remember!
Disney Cupcakes
There's nothing quite like some delicious cupcakes to spice up a party! This great Disney party idea for adults is one that can easily be altered for different party themes. Whether you're hosting a princess party or a Lion King-themed bash, you're sure to find some great cupcake ideas online to make your dessert table shine.
I love these surprisingly simple princess cupcakes from Amy Treasure. Made from simple ingredients, these cupcakes are taken to the next level with adorable toppers that you can find pretty much anywhere!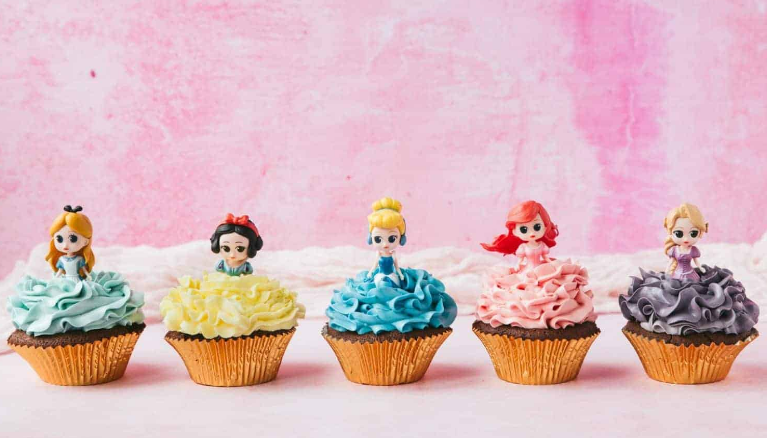 Disney Photo Booth
A custom photo booth is easy to create, and it doesn't have to break the bank either.
This Disney party idea for adults is great, as you can really personalize your photo booth with printable booth props that are readily available online!
Simply create a blank space with a couple of chairs and go to town with those Disney props! If you want to get slightly more creative, you can hang themed curtains or balloons in your booth space.
These photo booth props from The Dapper Fox Designs are a total goldmine for Disney parties.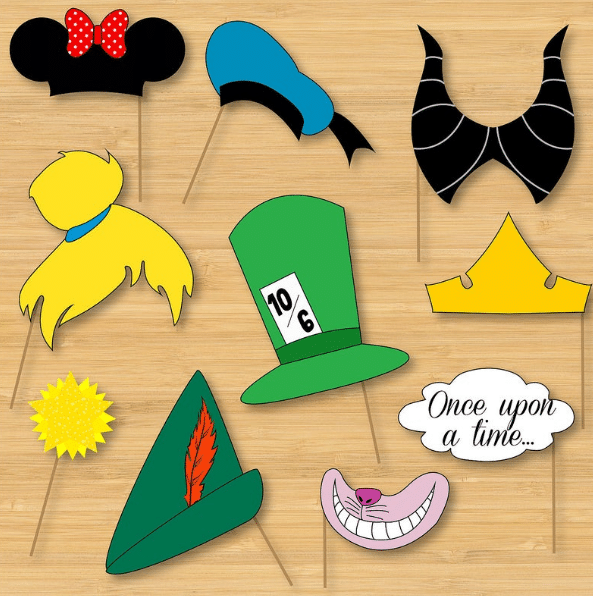 Castle Backdrop
A castle backdrop is a great Disney party idea for adults that will jazz up any space. Just pick your favorite castle (I have a soft spot for Paris!), get it made up in advance by a printing company, and display it for your guests to see!
If you don't fancy setting up a photo booth at your party, then a backdrop makes for a great photo opportunity.
Themed Banners
Themed banners are the perfect Disney party idea for adults. Not only do banners fit any party theme, but they can be made cheaply too!
Personally, I'd try and match your party banner to your general party theme.
If you have a Lion King party, a Hakuna Matata banner is a perfect choice. I mean, who doesn't want no worries for the rest of their days?
This one from Etsy is just adorable if you're currently on the hunt!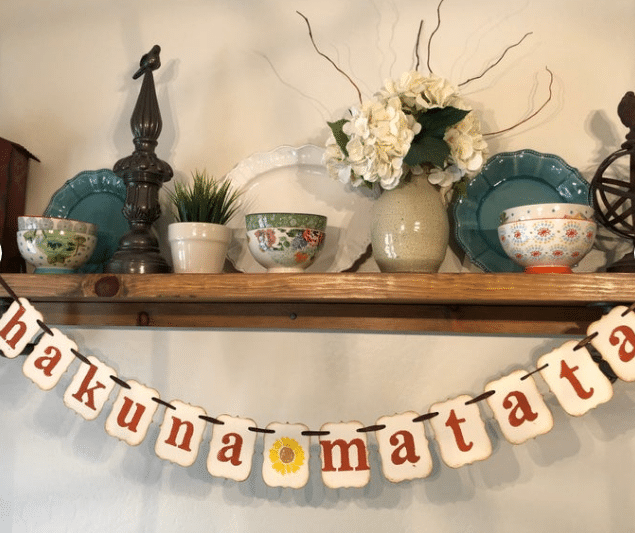 Alternatively, pastel banners and bunting are perfect for princess-themed parties.
Whatever you go for, just be sure to secure your hangings carefully, as no one wants a collapsed banner ruining a party.
Disney music
Disney music and movies are a great thing to have in the background of any Disney party.
Though we don't recommend running Disney movies on full blast, having them quietly playing or muted can create that Disney vibe without being too intrusive.
A great Disney party idea for adults is a boozy version of Musical Chairs. Not only is this always a riot, but it gets surprisingly competitive too!
Disney Quiz
I love some classic Disney trivia, and a well-thought-out Disney Quiz is a great Disney party idea for adults.
Your quiz doesn't have to be overly complicated, but I do recommend throwing in a music round, character round, and park round to spice things up a bit.
Disney Cocktails
If you want a Disney party idea for adults that's sure to go over well, then mix up some Disney cocktails!
You'd be surprised at just how many options there are out there, and the Disney Food Blog has created an amazing post on different Disney cocktails that are sure to inspire you.
This Mouse Slide cocktail is as sweet as can be and combines Oreo Vodka, White Chocolate Liqueur, and Ice Cream. Delicious!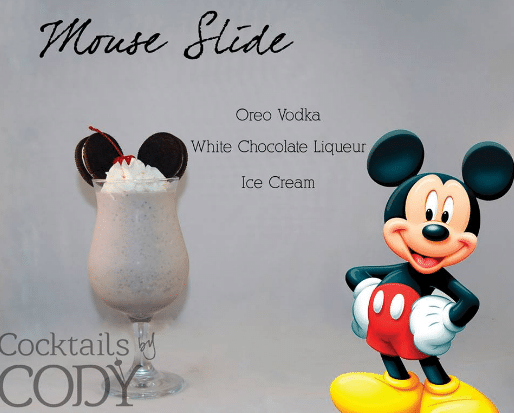 Create a dessert table based on your favorite Disney characters!
There's nothing better than Disney-themed food. I genuinely believe that Mickey-shaped ice cream tastes infinitely better than regular ice cream.
Sure, I may be a marketer's dream but elevating your dessert table with themed food is a Disney party idea for adults.
As adults are more likely to notice the intricacies in your luscious spread, you'll know that all the hard work hasn't gone to waste!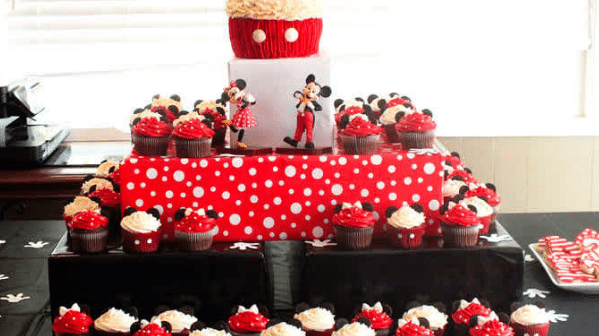 "Hint of Disney" Dress Code
To involve your guests more heavily in the party, why not incorporate a "Hint of Disney" dress code into your theme?
This can be as simple as adding Disney accessories to an outfit, and as intense as a full-blown character costume. The choice is completely up to you – just have fun with it!
If you feel like it, you can even set up a costume competition and award the winner with a small prize. Everyone loves a bit of friendly competition, after all!
Theme the party with your favorite princess colors!
An easy way to inject some Disney magic into your party is with some great theming.
For a simple theme, incorporate the main colors of your favorite princess throughout the room. Pale yellows are perfect for Belle, and deep purples are ideal for a Tangled party!
Create a Main Street USA Vibe
There's nothing more stunning than the view down Main Street USA, and I think that recreating the vibe from Main Street is the perfect Disney party idea for adults.
Just pop some popcorn, set up some castle frames, and you're basically good to go.
This setup from C'mon Get Crafty is the perfect aesthetic for a Disney party, so feel free to take some inspiration from there.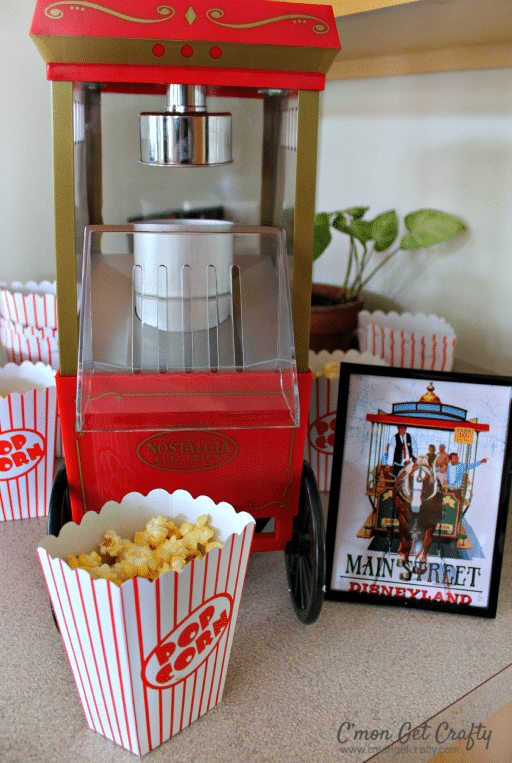 Fantasyland theme
The final Disney party idea for adults I love is a Fantasyland Theme.
Fill your space with teacups, pastel colors, and plenty of Disney snacks for the perfect park experience that's sure to feel totally transportive.
This setup from Kara's Party Ideas is sure to give you plenty of creative vision!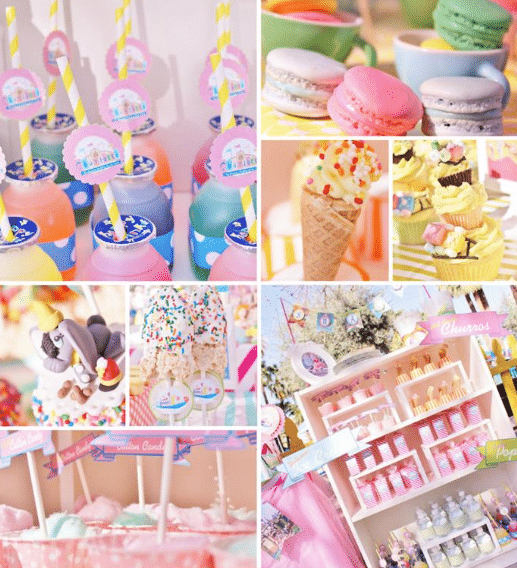 I hope that this list of great Disney party ideas for adults has given you some grown-up guidance on throwing the perfect Disney bash.
If you're looking for more great party info, then be sure to check out these related posts!
So, what are you waiting for folks? Get planning!