Are you on the hunt for Disney World beignets? If you're not sure where to find them (or what they are!), keep scrolling for everything you need to know.
Whenever I visit Walt Disney World, I'm always on the lookout for new snacks. I've tried tons of sweet treats at the parks over the years, but the first time I tried Disney World beignets I was blown away.
The soft and pillowy center paired with the avalanche of powdered sugar was just incredible. So, you can imagine how disappointed I was when beignets stopped being served for a while.
Now that Disney World's major resorts have started to open their doors again, our favorite dining spots are back with a bang. You know what that means – the return of our favorite snacks (including Mickey-shaped beignets!).
If you're not sure where to find these sweet treats around Disney World, then this guide includes everything you need to know.
Now let's get snacking!
---
What Are Disney World Beignets?
Beignets are soft, pillowy treats that were first created by French-Acadians in the 18th century.
They made their way to the USA thanks to French colonists, and they're now one of New Orleans' finest delicacies.
They're kind of like donuts (basically fried doughy pillows of goodness!), but beignets are showered with powdered sugar and are slightly less sweet.
I'd say they're also denser than donuts, but not by much.
Disney World serves 3 different kinds of beignets. The Mickey-shaped beignet, the traditional square beignet, and the Baton Rouge beignet which is injected with alcohol.
If you're planning to grab any beignets at Disney World, you'll want to pick up a handful of napkins as the powdered sugar gets everywhere.
Totally worth it, of course.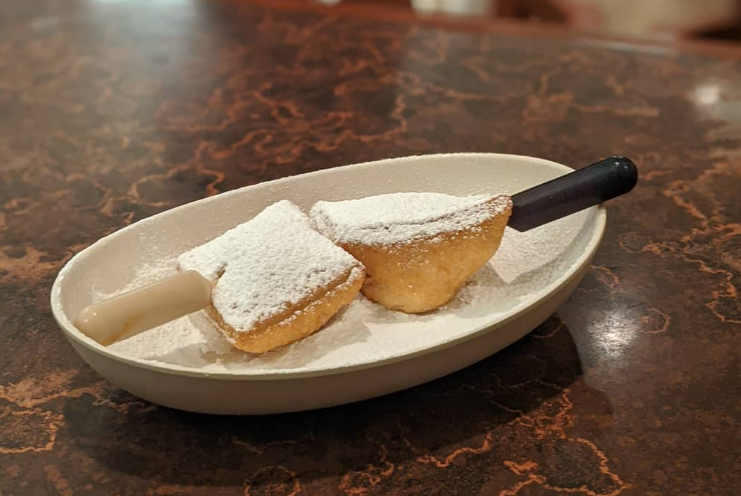 ---
Where to Find Disney World Beignets
Scat Cat's Club Café is currently the only place to get beignets at Disney World.
This quick-service joint is located at Port Orleans – French Quarter.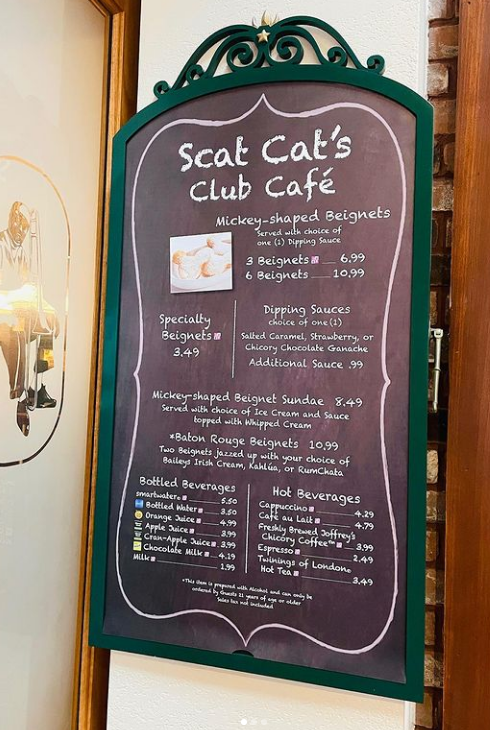 This spot sells a selection of different beignets. You'll find the classic Mickey-shaped variety here and New Orleans-style beignets that are square-shaped and dusted with powdered sugar.
If you're feeling brave, you can try out the Baton Rouge Boozy Beignets. For obvious reasons, they're only available to adults 21 and over!
They're regular beignets that are filled with alcohol like Baileys and Kahlua, offering a boozy bite that's pretty darn delicious.
You can choose how much alcohol you shoot into the beignets.
As the alcohol tastes quite strong, I suggest being very careful here and squirting in a bit at a time.
---
Frequently Asked Questions
How much are Disney World beignets?
The Mickey-shaped beignets and classic beignets currently cost $6.99 for 3 and $10.99 for 6.
There's also a selection of dipping sauces (salted caramel, chocolate, and strawberry) available for $1.99 each.
If you're planning to buy beignets for the entire family, I suggest splashing out for the 6.
Even as part of a couple, I find that we get through most of them before the end of the day and you'll save a bit of cash.
If you're grabbing the alcohol-filled Baton Rouge beignets, they're slightly more expensive. They're usually ~$7.99 for one or just under $15 for a pair.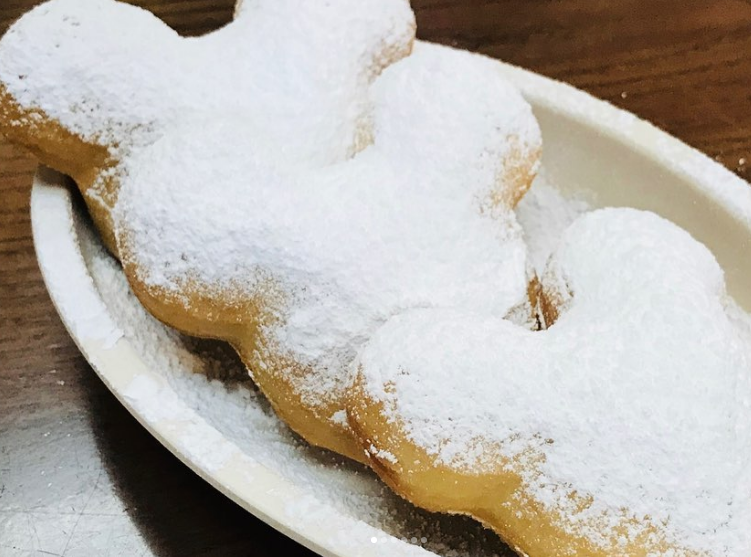 ---
What are the opening hours for Scat Cat's Club Lounge?
This café is open between 7 am and 11 pm and the lounge from 5 pm to 12 am.
It operates as a jazz bar during the evening, so it's a wonderful place to relax with a few beignets and cocktails.
But if you just want to grab a beignet, feel free to swing by for breakfast and pack your delicious donut away in your park bag!
---
Are The Beignets at Disney World Allergy-Friendly?
Yes, allergy-friendly beignets are currently available at Disney World.
The flour used in these tasty treats is gluten-free (it's Bob's Red Mill flour, to be precise!).
Better yet, the allergy-friendly beignets are vegan as they contain no dairy, no soy, and no eggs.
If you were still concerned about food safety, you'll be pleased to know that these beignets are made in a separate frier from the rest of the treats.
So, you don't need to worry about contamination at all.
You may need to wait slightly longer for gluten-free and vegan beignets as they're slightly less popular.
But they're well worth the extra time.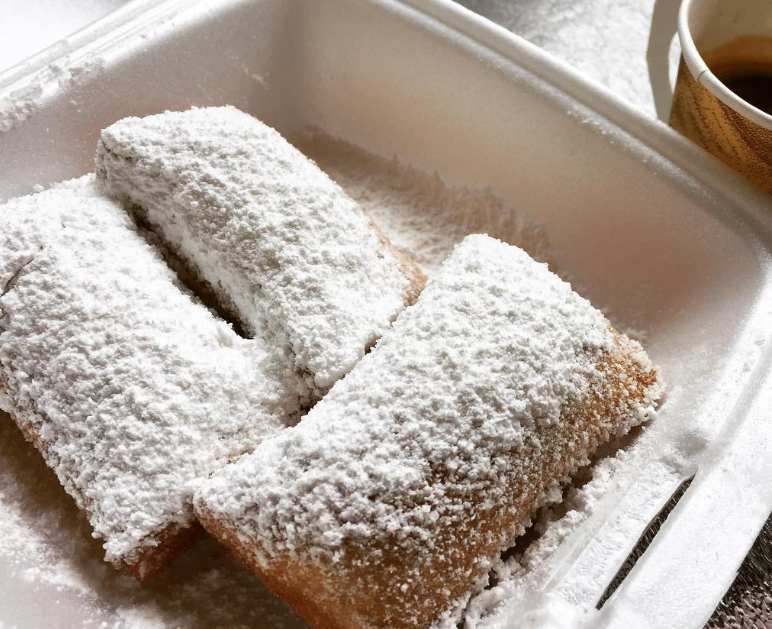 ---
Can I Grab Disney World Beignets Without Being a Hotel Guest?
Absolutely – don't worry about it!
Scat Cat's Club Café is open to the public and you just need to get to Disney Port Orleans Resort French Quarter to grab a few beignets.
It's easy to get here from Disney Springs. Simply hop on the Sassagoula River Cruise service and you'll be there in minutes.
The service is completely free, which is a major bonus.
These boats run every 20 minutes from 10:30 am until 11:00 pm, but you won't want to get to the resort before 5 pm if you want beignets!
Just so you're aware, the last boat back from Disney Springs departs at 11:30 pm (but that's probably only relevant if you're staying here!).
Just so you're aware, you'll want to head from the Marketplace Co-Op in Disney Springs and hop off at Doubloon Lagoon before making your way to the famous beignets.
If you need a helping hand, just check out this useful map of the resort. You should be able to use it to navigate to Scat Cat's Club Café.
---
The Ultimate Recipe to Create Disney World Beignets at Home!
If you can't make it to the parks, you may want to make your own beignets.
Luckily for us, Disney has released their official beignet recipe via #DisneyMagicMoments which I'll outline below.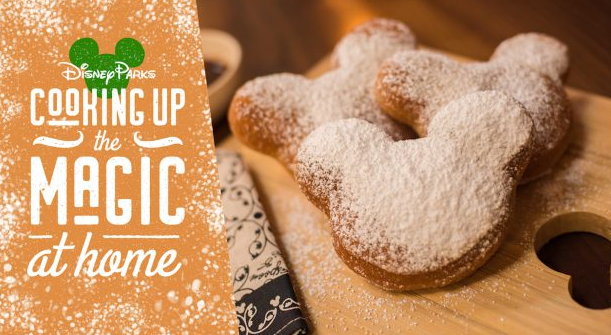 Ingredients
1/2 teaspoon dry yeast
1/4 cup warm water
1/4 cup sugar
2 tablespoons vegetable shortening
1/2 teaspoon salt
1/2 cup heavy cream
1 egg
4 cups all-purpose flour
1/2 cup boiling water
Vegetable oil for frying
Powdered sugar
Directions
1. Sprinkle yeast over warm water in a small bowl, stirring to dissolve. Let stand for 5 minutes.
2. Combine sugar, shortening, salt, heavy cream, egg, flour, and boiling water in a large bowl; stir in yeast mixture. With the dough hook attachment of an electric mixer on medium speed, mix the dough just until combined and smooth.
3. Let dough rest for 30 minutes.
4. Roll to 1/4-inch thickness and cut individual beignets with a Mickey Mouse-shaped cutter or cut into 2 1/2 to 3-inch squares.
5. Cover with a towel and let the dough rise until doubled in size in a warm, draft-free area, about 1 to 1 1/2 hours.
6. Using caution, heat 3 inches of vegetable oil to 350°F in a deep, heavy pot over medium-high heat. Fry beignets until golden brown, about 2 to 3 minutes, turning as soon as they brown on one side. Remove with tongs and place on paper towels to drain.
7. Dust warm beignets with powdered sugar and serve immediately.
If you need the printable version of this recipe that Disney released, check it out here!
---
There you have it: the ultimate guide to Disney World beignets!
Have you ever tried Disney World beignets? If so, which ones are your favorite? I'd love to hear about your experience with beignets in the comments below.
Now, go and eat up!
If you're on the hunt for other incredible Disney food posts (including information on beignets at Disneyland!), check out these related pieces.