Have you been wondering "Is Rise of the Resistance scary"? Join me as I run you through literally everything you need to know about this popular Star Wars ride at Hollywood Studios!
As a relatively anxious person, I'm always the first to intensely Google whether a ride is going to freak me out.
Seriously, I delve deeply into pre-shows, drops, darkness, and everything in between. Hey, a girl just likes to be prepared!
So, when Rise of the Resistance first opened, I was kind of walking in blind.
This relatively new addition to the Florida and Hollywood Disney parks is relatively thrilling, but what scares one person might not scare another!
And that's where this article comes in.
I've round up literally everything you need to know about this Star Wars attraction.
From a rundown of the ride itself to drop heights, darkness ratings, and even when to ride – it's all here.
Based on the information I've got, you can probably answer the question "Is Rise of the Resistance scary?" for yourself!
Now let's do this thing and head to the Black Spire Outpost.
What is Rise of the Resistance?
"Immersed in an epic battle between the dreaded First Order and the courage of the Resistance, what will you do?"
According to Disney themselves, Rise of the Resistance is:
"A massive attraction with multiple ride systems that is unlike anything you've ever experienced at Walt Disney World Resort… or anywhere else in the galaxy!"
And they're not wrong.
It's essentially a multi-system ride that includes motion simulators, walkthrough experiences, and even drop mechanisms.
So, there's a lot happening here!
In terms of the actual plot of the ride, this is what Disney has to say (hey, I'm all about going to the source!):
"With the First Order desperate to extinguish the spark of the Resistance, the mission is bound to have unexpected twists and turns. When your transport is captured by an imposing First Order Star Destroyer filled with legions of stormtroopers—and even Kylo Ren!—you're going to need all the help you can get. Fortunately, a covert team of Resistance fighters—including Rey and BB-8—is at the ready to give you a fighting chance to escape… and a chance for the Resistance to rise."
It's basically 4 rides in one because it has so many different sections and a full-on pre-show.
But overall, I'd call it an immersive trackless ride in Galaxy's Edge with motion simulator sections rolled in.
Pre-Show
The pre-show is essentially the Rise of the Resistance queue and is where you encounter a holographic Rey.
You board an Intersystem Transport Ship here which is a motion simulator ride.
But it's minimally intense as you're not even strapped in.
As you move slightly, your movement will line up with the motion of the screens you'll see through viewing windows.
Overall, the thrill-factor is pretty low here but might affect riders with motion sickness.
Transport Ship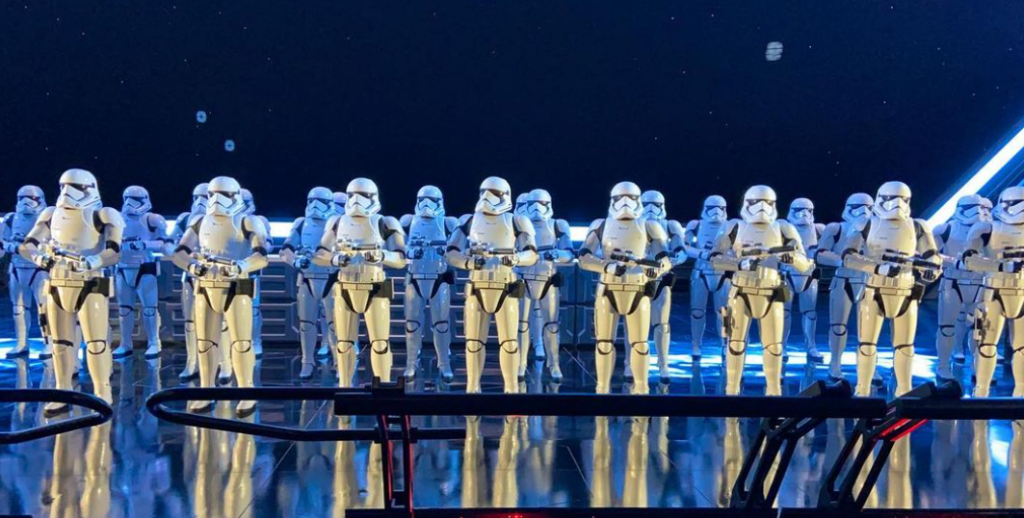 The second part of the Rise of the Resistance ride, you'll be walking (yes, walking!) through the Star Destroyer.
This is where you'll come across the famous shot of the real-life stormtroopers occupying the ship.
You'll have a bit of time to take photos before being ushered along by slightly scary First Order officers.
They'll shout orders and shift you through the "interrogation rooms" which is essentially the next part of the ride.
This section of the experience isn't scary per se, but the barking officers might be a bit intense for kiddos.
When you head to the interrogation room, there's also a slightly freaky moment where Kylo Ren traps you.
Don't worry though – the Resistance busts you out!
Destroyer
For the Destroyer segment of the ride, you'll be on a trackless system that guides you through the Star Destroyer.
You'll navigate bridges and corridors and narrowly avoid Stormtrooper bolts.
And hey, you'll even be chased down by Kylo Ren which certainly adds to the thrill factor.
The vehicles won't shunt around too much, but there are sudden movements and stops as you try to avoid being hit.
Think evasive maneuvers as you dodge fire before you board an elevator up 20 feet or so to reach the finale.
Finale
I'd say that this was the most intense part of the ride that'll help you figure out "is Rise of the Resistance scary?".
This is where your Fleet Transport Vehicle locks into an escape pod and drops about 20 feet into the ground.
If you're wondering how, the trackless vehicle basically heads into a motion base facility and drops down a freefall tower.
It's basically the same mechanism as Tower of Terror, but way less.
What Characters Are in Rise of the Resistance?
You'll encounter a few characters on your Rise of the Resistance adventure, including:
BB-8
Nein Nunb
Rey
Kylo Ren
Finn
Poe Dameron
General Hux
Lieutenant Beck
First Order Officer
Which Park is Rise of the Resistance In?
Star Wars Rise of the Resistance is in Hollywood Studios in Walt Disney World and Disneyland Park in California.
Both attractions are equally good, but WDW's offering opened in 2019 and Disneyland's in 2019!
Is Star Wars: Rise of the Resistance a Roller Coaster?
No, Star Wars Rise of the Resistance isn't a rollercoaster but is more of a hybrid walk-through, motion simulator, and trackless ride.
It runs for around 18 minutes and does include a small drop (I'll get to that in a minute).
But the cars aren't on a traditional rollercoaster track and is instead entirely controlled by computers.
So, it can go in virtually any direction which adds to the fun!
Just be warned that the complex ride system means it does break down quite a lot which is a major bummer.
You'll probably be given a free Lightning Lane pass to return if this happens while you're in the queue area.
But it's not 100% guaranteed.
Things to Consider When Figuring Out Is Rise of the Resistance Scary
Rise of the Resistance drop – is there one?
If you're trying to figure out "is Rise of the Resistance Scary", the first thing you're thinking about is probably a drop.
I'd say that YES there's a drop on Rise of the Resistance, but it's minimal and not overly scary.
It happens exactly when your pod is released from the Star Destroyer and takes you around 20 feet straight down.
As the drop only lasts about a second or so, your body doesn't really have time to register the G-Force change too much.
But I'd say it'd probably make you a touch anxious if you're 100% against drops.
If you're not sure when it's coming and you want to brace yourself – don't worry.
The ride warns you several times that you're going to be dropped and tells you just before it happens.
It essentially says you're going to be released to return to Batuu, so it's not totally out of nowhere.
Compared to rides like Tower of Terror, I'd say that the drop here is super relaxed in comparison.
Yes, you'll still feel the movement from the motion simulator that might make you feel a bit "off". But otherwise, it should be manageable for most people.
The drop comes relatively close to the end of the ride as you crash-land before Lieutenant Beck picks you up.
If you're affected by the drop, you can pretty much hop off seconds later into the outdoor unloading area.
Overall, I'd say it doesn't create that horrible stomach-churning that I hate about intense coasters, but it might catch you off-guard!
Queue area
Oh man, I love the Rise of the resistance queue as it's essentially modeled after the Batuu resistance base.
You'll start by winding through an outdoor space with waterfalls before heading into a Resistance-heavy cavern.
Props are what make the place atmospheric along with clever sound design (it's mainly supplies, tools, work gear – you get the picture).
As you walk through the queue area, you'll spot a few clearly labeled exit routes that are designed for last-minute mind changes.
I've actually ducked out a couple of times on several Disney World rides, and there's honestly no shame in it.
You can change your mind until pretty late in the game, so feel free to assess how you feel as you walk through.
Loading and seats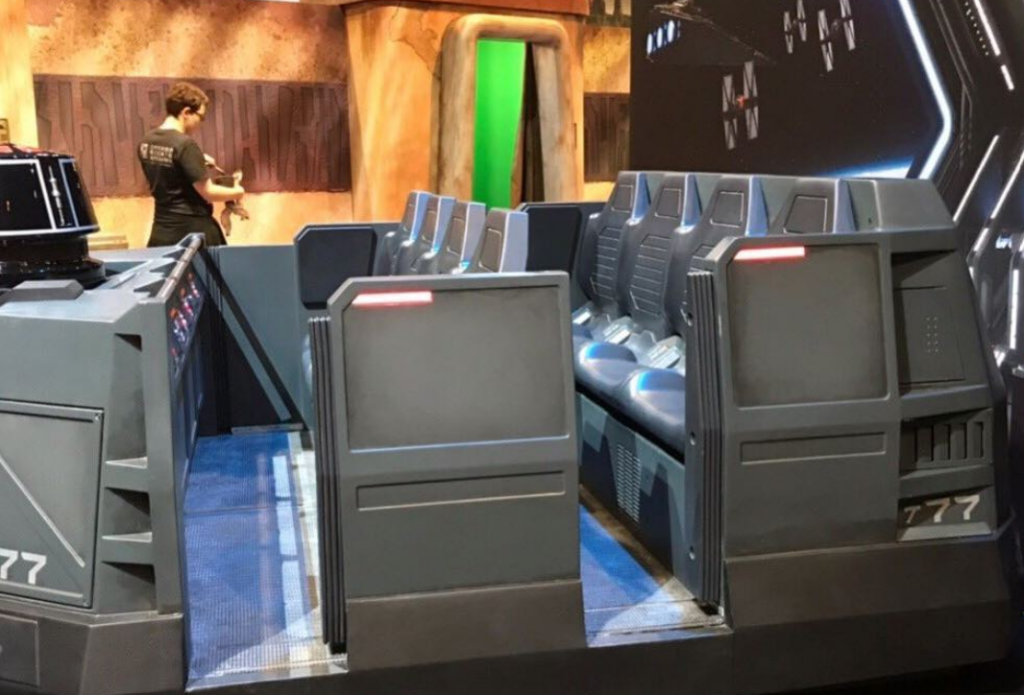 There's nothing particularly scary about the seats on Rise of the Resistance, but plus-sized guests will want to take time loading in.
There shouldn't be much of an issue here as there's decent legroom and an old-school lap seatbelt.
So, you should be able to move the bar to suit the size of whoever's riding.
In terms of your belongings, you can just pop everything in the loose pouch by your seat before heading off.
The ride vehicle is designed in a 4-seat and 2-row configuration with a cute droid at the front (obviously!).
I suggest trying to ride at the front if you're keen to see as much as you can, but the tiered design removes most obstructions.
To add to that, I also find the front feels a little less claustrophobic (though that might just be down to my 6'1 boyfriend!).
Darkness and hidden objects
If the main thing you're worried about is the unexpected, then let's talk about darkness and hidden objects.
Most of the ride takes place inside a Destroyer where the lighting is certainly on the dark side (pun intended, LOL).
I'd also say that the general ominousness of the Storm Troopers is something to consider if you're traveling with younger children.
But overall, things are "visible".
And in terms of hidden objects, there's nothing popping out at you here – everything's pretty life-size.
Inversions
As Rise of the Resistance isn't a rollercoaster, you don't need to worry about any inversions!
Motion sickness
The main thing that worries people regarding Rise of the Resistance is motion sickness.
I will say that the ride moves incredibly smoothly as it's trackless (so, think Ratatouille).
But the sudden jerks and movements of the ride vehicle might trigger motion sickness in some people.
To try and counter this, I suggest popping a travel sickness pill around 30 minutes before you expect to ride.
This should help your body deal with the unexpected movement more easily and reduce your chances of motion sickness.
To be honest though, I'd say that this was only really necessary if you really struggle with motion sickness.
So, Is Rise of the Resistance Scary?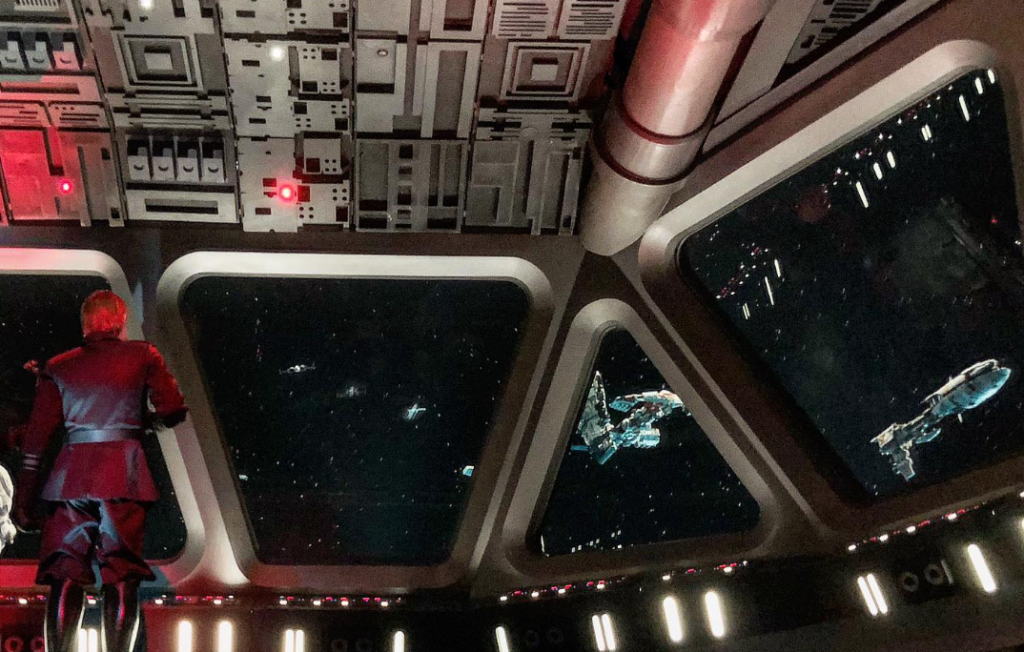 Overall, I'll say YES and NO (I know, I'm kind of cheating).
If you struggle with even a single quick drop, find sudden noises stressful, and don't like trackless rides – this is a no go for you.
But if you can handle a short drop and don't mind the feeling of old-school motion simulators, you'll be good to go.
Anyone that can handle watching Star Wars films (including kids) should be fine to handle the subject matter here.
I'd say that young kids (that are tall enough to ride at 40 inches) might struggle a bit with the overall vibe.
But frankly, a lot of kids I know handle this ride better than some adults – so there's that!
Can You Use Rider Switch?
If you have kids that can't ride Rise of the Resistance, I highly recommend taking advantage of Rider Switch here.
It means that both parents will get a chance to check out the ride without having to babysit the entire time!
Can I Use Genie+ For Rise of the Resistance?
You can use Genie+ for Rise of the Resistance, but I honestly suggest shelling out for an individual Lightning Lane if the times aren't right.
The queues for this ride are long, and it can save you serious park time.
It's not the cheapest LL in the world as it can be upwards of $20 during peak times at the parks.
But if you're at Hollywood Studios for a limited time, it's honestly worth shelling out a bit of extra cash.
Are There Any Health Restrictions for Rise of the Resistance?
Before you ride Rise of the Resistance, you'll want to make sure that you're in the clear health-wise.
If you have any of the following health conditions, you'll want to avoid riding:
If you're pregnant
Heart problems
Neck issues
Back issues
Trouble with motion sickness
High blood pressure
No one will physically stop you from going on the ride (as you don't need to disclose your medical conditions).
But for your health, it's obviously best to be on the safe side here!
When it comes to guests in wheelchairs or electric vehicles, you'll need to transfer before heading on the actual ride.
The queue portion is fine, but make sure you speak to a Cast Member to safely transfer you over.
What Are the Height Requirements for Rise of the Resistance
If your child is over 40 inches tall, they'll be able to ride rise of the resistance.
It doesn't necessarily matter what age they are, as long as the make the height cutoff.
The only age thing you need to think about is if your child is under 7 – they'll need to ride with a companion who's 14 or up!
When Should You Ride Rise of the Resistance?
If you can't rope drop Rise of Resistance, then around 11am is a decent time to ride.
You may also be able to hop into the queue just before the parks close, but I suggest reserving this time for Slinky Dog Dash instead.
Early access is also a decent time to ride if you can get it, but a Lightning Lane is the way to go.
How Long is the Ride of the Resistance Queue?
On average, the Rise of the Resistance queue usually runs for around 2 hours in the standby queue.
So, it's pretty long!
Is Rise of the Resistance Worth Queuing For?
Rise of the Resistance is definitely worth queueing for if you're into Star Wars. It's fun, fresh, and is an amazing way to immerse yourself in the Star Wars universe.
If you can't handle motion simulators and don't appreciate drops, you might want to give it a miss.
But overall, I'd say that it's a suitable ride for almost every Disney-goer – and that's a hard prize to achieve!
I hope this guide has helped to answer the question: "Is Rise of the Resistance scary?"!
Have you ever ridden Rise of the Resistance? Are you worried about anything else to do with this ride? Hit me with your questions and I'll do my best to fill you in!
Related Posts: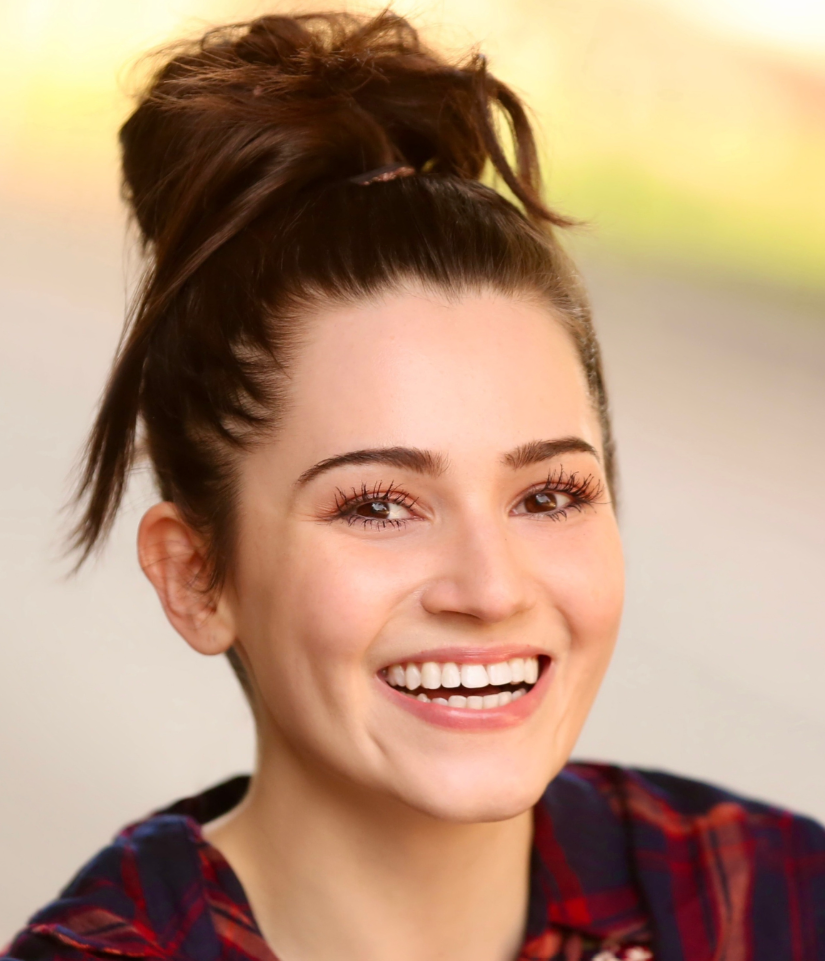 Grace is the creator, editor, and sole writer for Pixie Dust and Passports – a blog that's ALL about Disney! She's made it her life's mission to visit the Disney parks as much as possible and loves trying new snacks, grabbing the latest spirit jerseys, and rocking Loungefly bags. Oh, and she also holds a BA in History from UCL, which makes her a research and deep-dive enthusiast into all things Imagineering.