Are you looking for the ultimate rundown of adorable Disney rabbits? From Winnie the Pooh's Rabbit to the March Hare (and more!), I've got them all here.
There's something seriously special about Disney animals.
I mean, we've got the iconic Disney cats with characters like The Aristocats and 101 Dalmatians who are cute and cuddly.
But did you know that there are actually a BUNCH of incredible Disney rabbits with powerful personalities?
From obvious picks like Judy Hopps and the White Rabbit to lesser-known gems like Clover and King Amok, there are lots of bunnies to love.
And who knows? You might even come across a few unknown TV shows that you can't wait to watch!
So, prepare to uncover the wonderful world of Disney rabbit characters that you may (or may not!) know about.
Let's do this!
21 Best Disney Rabbits
Judy Hopps (AKA: The Bunny from Zootopia)
When it comes to incredible Disney rabbits, Judy Hopps is one of the very best.
She's the female protagonist in the movie Zootopia and is often underestimated in her new role as a police officer (because she's a bunny!).
Yep, she's the first ever bunny to join the Zootopia police force and is sweet, fiercely optimistic, and incredibly independent.
She simply wants to make the world a better place, and struggles with Nick's (the fox!) negative outlook on life.
Judy also strongly believes that predators and prey should be on equal footing and wants to leave her previous life of carrot farming behind.
Through hard work and sheer grit, Judy changes tons of views in Zootopia and captures a major undercover criminal.
She even saves the tiny Mafia Mouse Fru Fru from being squashed by a giant donut!
Now that's one of the Disney rabbits that's worth talking about.
"Look inside yourself and recognize that change starts with you. It starts with me. It starts with all of us."
***Related: 77 Zootopia Quotes That'll Completely Inspire You***
Rabbit (Winnie the Pooh)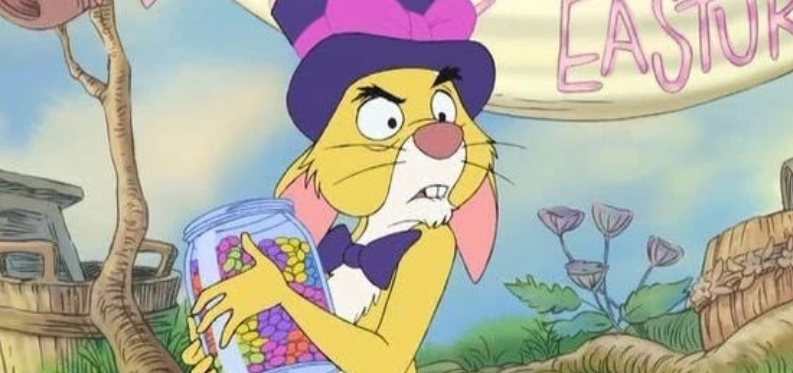 Rabbit is one of the Disney rabbits that's basically just like every fussy and compulsive adult you know.
Unlike Pooh and Piglet who are optimistic and slightly dopey, rabbit is all about being practical and working by the book.
And that's why Rabbit's Garden is his prized possession as it's his and his alone!
Rabbit lives under a large tree with his friends in the Hundred Acre Wood and is usually spent cleaning, reading, or tending to his crops.
He's also one of the few "real" looking animals like Owl (when you consider that Pooh and Piglet are obviously toys!).
For this reason, he doesn't have signature stitches and has more realistic movements, whiskers, and fur.
Rabbit might be a touch uptight and intolerant, but he's still one of the most lovable Winnie the Pooh characters.
"This is Rabbit's garden and Rabbit does his harvesting by the BOOK!" ―Rabbit
King Amok (Talespin)
One of the lesser-known Disney rabbits is King Amok from Talespin.
He's the aged monarch of the Kingdom of Macadamia and is a tan giant rabbit with very long ears.
He also sports black glasses, black whiskers, and a pink toned muzzle, hands, feet, and ears.
You might also spot his hugely obvious molar teeth and stark brown eyebrows!
He's a bit of a joker as he's not overly bright and is manipulated by the Royal Chancellor Trample to abdicate the throne.
But I recommend watching Talespin on Disney+ to get the full scoop with Balloo, Kit, and the gang!
King Amok: [after Trample is exposed] Well, anything to say, Trample?

Chancellor Trample: [bawling] Convict me! Jail me! Torture me!

Louie, Baloo, Princess Lotta Lamour: Sounds fair.
Oswald the Lucky Rabbit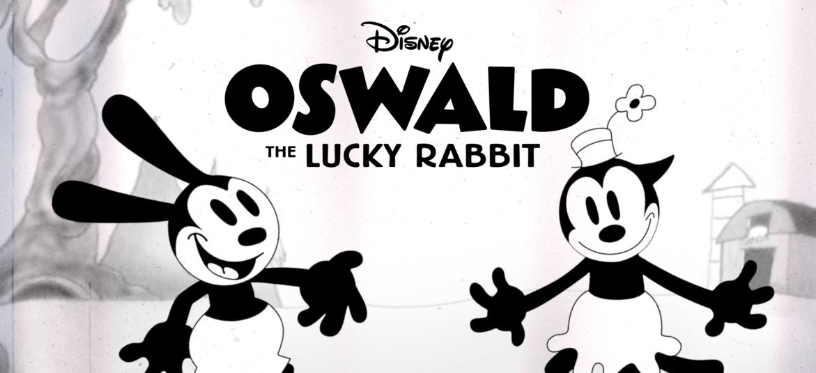 Oswald the Lucky Rabbit is one of the Disney rabbits that was actually hugely helpful to the Walt Disney company.
And that's because Oswald was actually one of Walt's very first successful cartoon characters!
Oswald was created with amazing animators like Ub Iwerks and Friz Freling and actually precedes the creation of Mickey Mouse.
Yup, he's that old as he was actually created for Universal Pictures back in 1927.
Don't worry though, Disney got the character back in 2006 when Walt's daughter Diane made a trade with Universal.
Bob Iger won back the rights to Oswald's early shorts in exchange for Al Michaels to host NFL on Sunday Night.
So, thanks Al Michaels for being willing to change your contract!
As well as having superhuman strength, Oswald can also reassemble different body parts to his advantage.
Now that's a talented rabbit.
"He, uh, seems pretty popular down here." ―Mickey Mouse
Max Hare (Silly Symphony)
Max Hare is one of the Disney rabbits that can be found in the animated short film Silly Symphony.
It's a relatively classic retelling of the Tortoise and the Hare where Max Hare is favorited to win a major sporting event.
He's an athlete and typical bragging type who shows off his archery tricks and tennis skills to the ladies.
Classic, right?
But when Max spends all his time gloating while the Tortoise tries to catch up to his lead and loses?
Well, he learns that the easiest route isn't always the best one.
It's also thought that Max Hare is one of the inspirations for Warner Bros' iconic character Bugs Bunny!
Thumper (Bambi)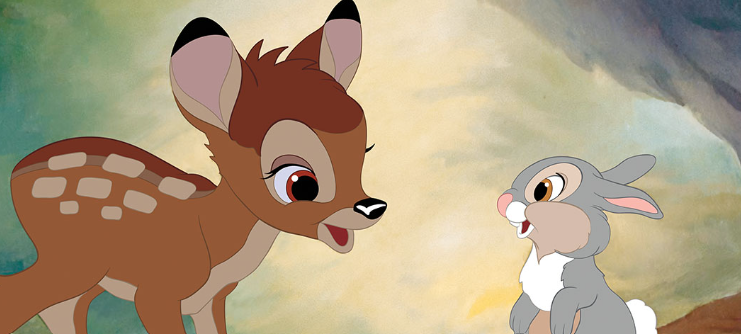 I couldn't write a list of adorable Disney rabbits without mentioning one of the most famous ones around – Thumper!
Thumper is a secondary protagonist in the 1942 film Bambi and is known for his habit of – you guessed it – thumping his left foot.
He's a very young rabbit and teaches Bambi how to survive and thrive in the forest.
This little bunny is also on the mischievous side, but he never means to be unpleasant in any way.
You'll recognize Thumper by his gray fur, deep hazel eyes, white muzzle, and white patch of chest fur.
In short, he's super cute!
Although his main appearance is in Bambi, Thumper also appears in Bambi II, Who Framed Roger Rabbit, and Donald's Charmed Date.
You can also meet him at the parks!
Br'er Rabbit (Splash Mountain/Song of the South)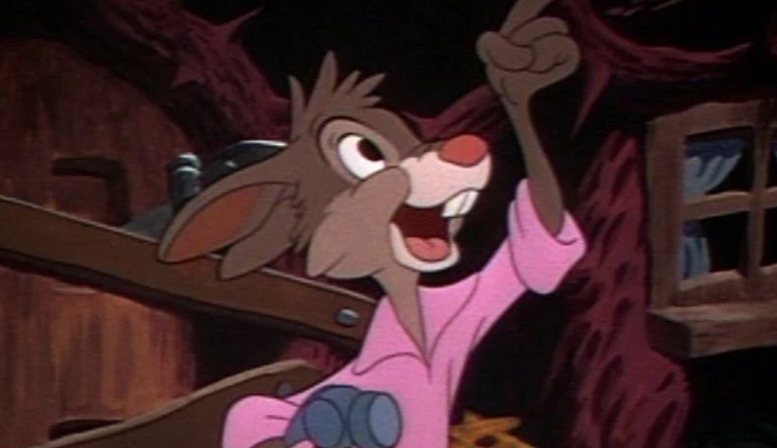 Br'er Rabbit is best known for appearing on the Splash Mountain ride as your friendly host.
But you'll also see him in Song of the South from back in 1946.
Interestingly enough, Br'er Rabbit is actually a central figure in African American oral tradition.
He was said to be a trickster who got around authority figures by bending social norms and using his wits.
He's certainly an interesting and quirky character, although the Disney version is slightly toned down on the mischief-front.
Dennis the Bunny (Phineas and Ferb)
Dennis might not be a major Disney character, but you might recognize this rabbit from Phineas and Ferb!
He's a former agent of the O.W.C.A who went rogue back in the day and tempted to attack the organization's mainframe.
These days, he's a "mercenary for hire and a master of disguise" according to Major Monogram!
Candace originally called Dennis Mr. Cutie Patootie and raised him as a pet.
But the real Dennis was lurking beneath the surface before being captured by the O.W.C.A.
Considering how cute this Disney rabbit is, it's amazing that he's so cold, calculated, and violent.
Looks can be deceiving, right?
Señor Scratchy (Wandavision)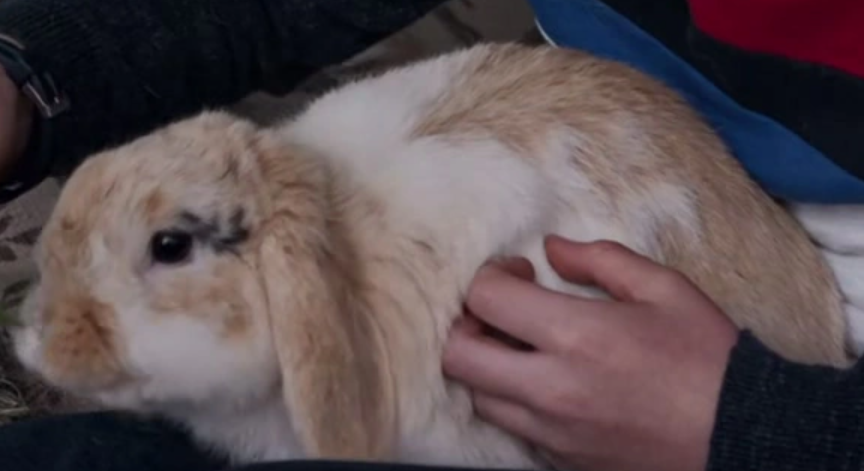 Oh man, I was so invested in Wandavision when it first came out on Disney Plus.
But you might have forgotten about Señor Scratchy in all the Wanda and Vision drama (and Agatha, OFC!).
Agatha gave Scratchy to Wanda to use during her Magic show at Westview's talent show.
He doesn't exactly have a huge role in proceedings, but he appears again Agatha babysits Billy and Tommy Maximoff.
He's definitely not evil though, and he's super cute.
"Señor Scratchy's got real star quality, don't you think?" – Agatha Harkness
The White Rabbit (Alice in Wonderland)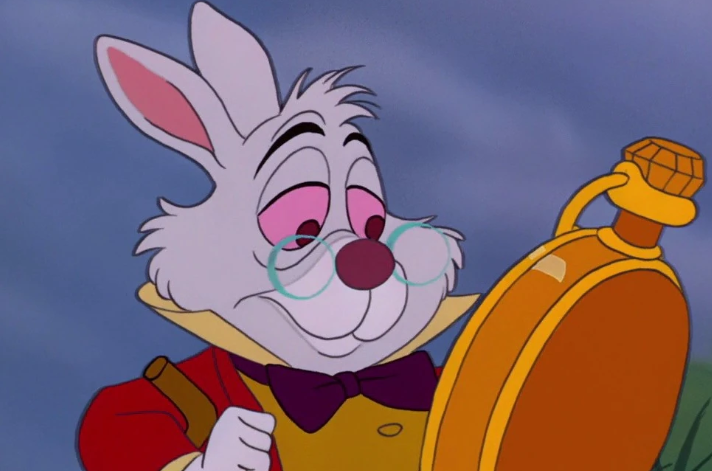 If you're often late for a very important date, then you're bound to relate to the famous White Rabbit.
He's really not a major character, but his manic running to work is what gets Alice to go down the hole to Wonderland.
And that's because he's the Queen of Hearts' Royal Herald.
He's definitely not mad like the Hatter, but he's a bit befuddled and highly-strung because he's scared of the Queen!
March Hare (Alice in Wonderland)
The March Hare is another one of the Disney rabbits who appears in Alice in Wonderland.
He's a Wonderland resident who carries a mallet, but he's best known for being the Mad Hatter's best friend.
He loves tea, is loud, rude, and super energetic.
There's not really much to this character, but it's interesting that he's not remotely scared of the Queen of Hearts!
You can also spot the March Hare in Bonkers, House of Mouse, and This is Your Life Donald Duck.
Roger Rabbit (Who Framed Roger Rabbit)
If you're on the hunt for famous Disney rabbits, you can't miss out Roger Rabbit!
He's an animated anthropomorphic rabbit who appears in the 1988 film Who Framed Roger Rabbit.
And his main aim throughout the film is to prove that he's not guilty of a murder he's been accused of.
Yep, it's pretty heavy!
During the film, he joins forces with Eddie Vallant to clear his name and get back to his old life.
Plus, he's married to the absolutely gorgeous Jessica Rabbit – so, he's certainly doing well for himself otherwise!
Skippy (Robin Hood)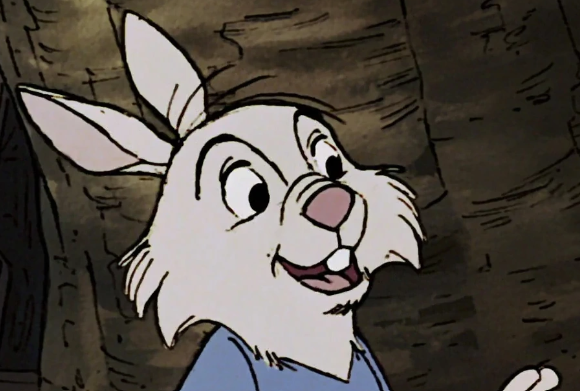 If you've ever seen the movie Robin Hood, then you'll probably recognize the sweet and trouble-making Skippy!
He's an energetic 7-year-old who's usually hanging out with his sisters Sis and Tagalong.
He completely idolizes Robin Hood and gets his single farthing confiscated by the Sheriff of Nottingham.
So, he's responsible for kick-starting a lot of the outrage towards the king and the tax system.
Fall-Apart Rabbit (Bonkers)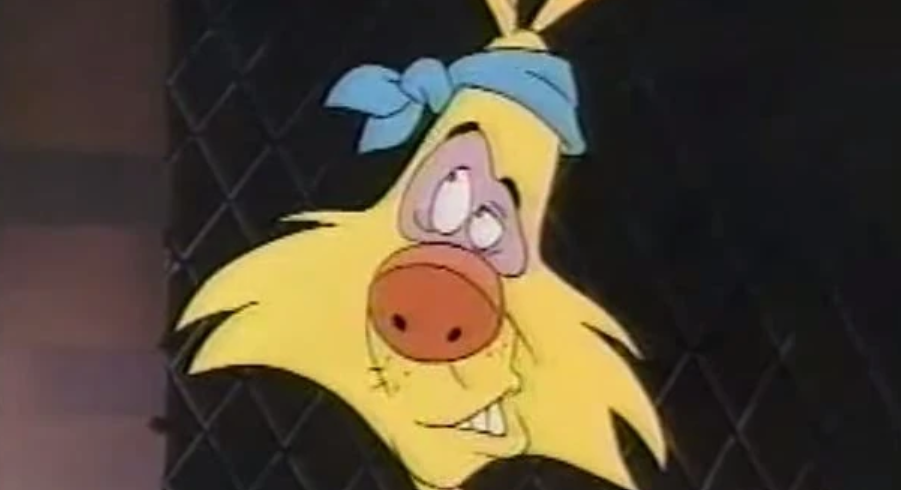 Fall-Apart Rabbit is a close friend of Bonkers D. Bobcat in the Bonkers series.
He's a relatively simple yellow bunny with detachable body parts (yep, like our good friend Oswald!).
He loves disarming bombs, ironing, and them parks, but he's not a fan of losing his body parts in the mix!
If you're wondering why that's relevant, it's because Fall-Apart Rabbit acts as Bonkers' stunt double.
He started his career in Hollywood, but eventually moves to Washington D.C. during the series.
If you want to catch this classic 90s TV show, you can watch it on Disney Plus.
It's completely nostalgic, so it's worth at least a few hours of your time!
"Good morning, afternoon or evening, sir or madam. Can I interest you in a set of encyclopedias A-Z missing only B-Y, available at an introductory price of merely twice their actual value?"
Fun Bun (Ralph Breaks the Internet)
If we're looking at Disney rabbits that are seriously minor characters, Fun Bun totally falls into that box.
Fun Bun (along with Puddles!) is a bunny who stars in the popular mobile app game Pancake Milkshake.
That's a game in the 2018 movie Ralph Breaks the Internet, just FYI.
It basically involves serving the bunny pancakes and the kitty milkshakes – simple stuff, right?
The bunny doesn't have a particularly large role in the film.
But what's hilarious is that Ralph and Vanellope enter the game and serve a lot of pancakes to Fun Bun.
He swells so much that he rumbles and explodes (much to the horror of game players!).
I like to think that the game just resets and everyone's good to go – after all, other game characters take beatings!
Pickles (Doc McStuffins)
Have you ever seen the Disney Junior show Doc McStuffins?
If you have, then you'll probably recognize the purple rabbit, Pickles!
Pickles is Alma's absolute favorite toy rabbit and she starts to cry when she thinks she's been sent to a yard sale.
Luckily, it's all a big misunderstanding and Lambie and Stuffy manage to find Pickles and take her back to Alma's room.
It's very Toy Story 3, but I love it nonetheless!
You'll spot Pickles in the episodes The Bunny Blues, The Big Sleepover, and Hazel Has a Sleepover.
StellaLou (Tokyo Disneyland)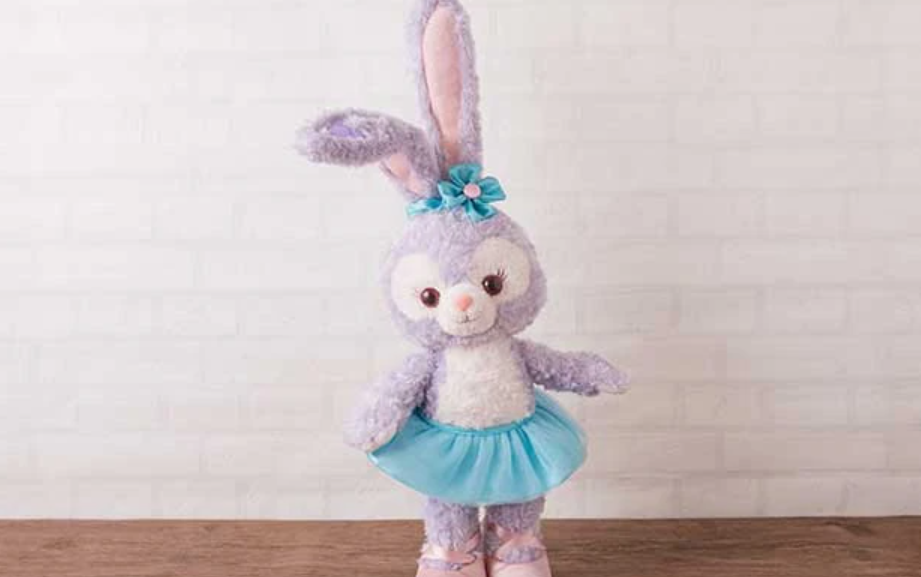 StellaLou isn't a Disney rabbit that appears in a show or movie – she's actually one of the official Tokyo Disney mascots!
She's a lavender rabbit that appears on the American Waterfront at Tokyo DisneySea and is one of Duffy's friends.
She originally came to Disney in March 2017 as part of the Easter celebrations, but she kind of stuck around!
And that's because she's just incredibly cute and fits with the "kawaii-esque" branding you'll find at the Asian parks.
Aside from being a mascot, she's said to love dancing and making new friends!
"This is StellaLou. Her dream is to become a dancer and performer in New York." ―StellaLou's backstory.
Professor Emelius Brown (Bedknobs and Broomsticks)
Okay, so Emelius Brown is technically a man and not a rabbit.
But Emelius actually gets turned into a rabbit by Eglantine Price when he doesn't hand over a spell she needs.
The Substitutiary Locomotion spell, to be exact!
He doesn't spend too much time as a white rabbit, but it's certainly worth mentioning as a major plot point.
Bunny (Toy Story 4)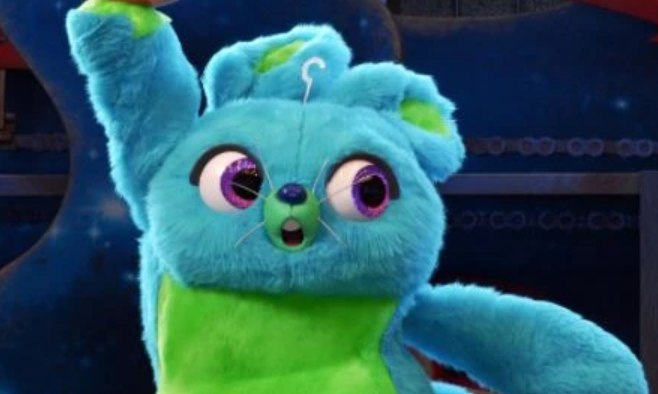 Bunny is one half of the iconic duo Ducky and Bunny who are introduced during Toy Story 4.
They're essentially a pair of very fluffy carnival toys that want to belong to a kid.
Ducky and Bunny originally meet Buzz and are frustrated that he gets in the way of them being won.
So, it's not exactly love at first sight.
But Ducky and Bunny eventually warm up to the entire Toy Story crew and even get involved with the Forky Rescue Mission!
And as a reward, then end up living with Bonnie.
Happy days all around!
What I love most about Bunny and Ducky is that they're voiced by comedy legend Key and Peele.
For that reason, you can expect big personalities and a bunch of sassy quips!
Clover (Sofia the First)
Sofia the First is a super feelgood show that you can catch on Disney Plus.
And it's also home to one of my all-time favorite Disney rabbits called Clover!
Clover is one of Princess Sofia's closest friends and lives safely with her in Sofia's room as an animal guide.
Just so you know, Clover is also called Furball and Princess by various characters (despite being male!).
He's a big fan of strokes, carrots, pies, and eating in general.
And as he's a seriously sassy character, he doesn't like being told what to do!
Watch out for the character's incredible one-liner if you're watching the show with kids (or as a lone adult).
They're hilarious and are well worth tuning in for.
"Sofia must have messed up the spell. She made a bad apple."
Barrington "Barry" Augustus Buns III (Kiff)
To round off this list of must-know Disney rabbits, we've got Barrington "Barry" Augustus Buns III from Kiff!
Barry is Kiff's best friend who follows her on her adventures through the mountains.
In terms of appearance, Barry has light blue fur, a white belly, and cute paw pads.
Oh, and long ears and a small fluffy tail of course!
He's a super mellow character compared to Kiff which creates a classic Chalk and Cheese-type friendship.
There you have it: the ultimate list of Disney rabbits that you're bound to love!
Have you ever watched any of these classic bunny-based TV shows or movies? Have I missed any classic Disney rabbits that you'd like to see? I'd love to hear your thoughts below!
Related Posts: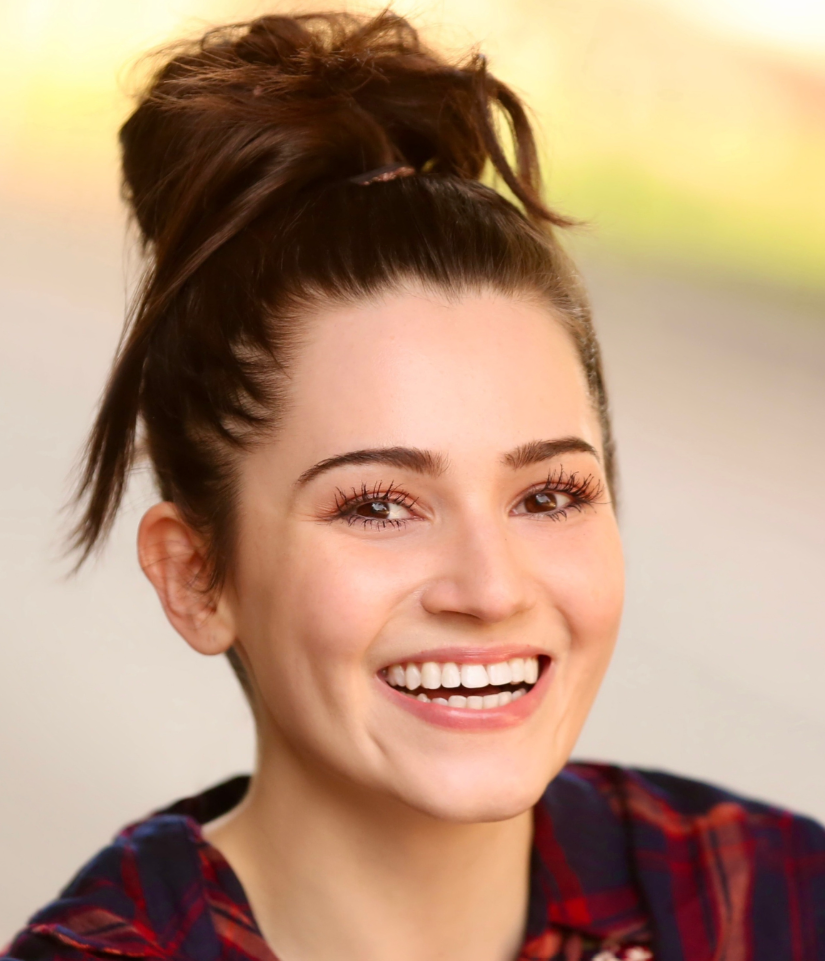 Grace is the creator, editor, and sole writer for Pixie Dust and Passports – a blog that's ALL about Disney! She's made it her life's mission to visit the Disney parks as much as possible and loves trying new snacks, grabbing the latest spirit jerseys, and rocking Loungefly bags. Oh, and she also holds a BA in History from UCL, which makes her a research and deep-dive enthusiast into all things Imagineering.