Have you been wondering whether you can take bags on rides at Disney World? Keep reading for literally everything you need to know!
So, you've arrived at Disney World and can't wait to get stuck in. But you've got a glorious Loungefly bag or a bagful of snacks on you!
That may have been fine and dandy along Main Street, but you might be wondering "can you take bags on rides at Disney World?". If you're worried about the Disney World bag policy, I've got you covered.
This in-depth guide will cover whether you can take bags on rides and where to store them if you can't.
Oh, and keep an eye out for a few top tips that'll help you keep your valuables secure during your trip.
Now let's do this!
Can You Take Bags on Rides at Disney World?
Let's get right to the point.
YES, you can certainly take bags on rides at Disney World.
In fact, the park is designed to let guests hold onto their luggage with plenty of room around their feet.
Yup – even on rollercoasters!
This has always been a major selling point for the Disney parks, as finding lockers (and paying for them!) can be a huge bummer.
I'll say there's a slight caveat in terms of which bags you can take (no suitcases!).
But if you're planning to stick with Loungefly bags, regular backpacks, or anything of a reasonable size you'll be fine!
What Is the Bag Policy for Disney World?
If you're wondering "can you take bags on rides in Disney World?", you'll need to figure out how large your bag is first.
The official Disney World Bag Policy states that bags must be smaller than 24" long x 15 " wide by 18" high.
You should be fine with most backpacks and fanny packs, but be careful with duffels.
If you're traveling to Disney World with toddlers, bringing a decent-sized diaper back is often a good idea.
It'll fit water bottles for your trip, toddler supplies, and virtually everything else you'll need.
Tips For Taking Bags on Rides at Disney World
Keep your bag on the seat next to you or by your feet
If you're going on a ride that lets you put your bag next to you, it should be safe and sound.
This will usually be the case for slower rides without huge lap bars.
You'll probably spot a decent gap of space right by your feet which is the perfect place to store your bags.
This isn't usually the case for rip-roaring rides like Expedition Everest, but I'll get there!
And hey, you can always use your heels or arches to keep your bag firmly between your feet!
Here are a few examples of rides where you'll be able to store your bags by your feet:
Spaceship Earth (which is one of the best rides for toddlers at EPCOT, BTW!)
Living with the Land
The Haunted Mansion
Buzz Lightyear's Space Ranger Spin
Toy Story Midway Mania
Na'vi River Journey
This isn't an exhaustive list by any means.
But you'll see that what these rides have in common is that they're all slow and don't usually feature huge drops.
So, there's little chance of your bags flying out!
Place the bag inside the designated area on the ride
If you're not able to hold onto your bag, there will always be a dedicated spot for it.
On Soarin', you'll place it in front of you before it's collected by a Cast Member.
On Flight of Passage, there are special cubbies next to the ride vehicles that let you store your belongings without stress.
You'll also find dedicated storage spots on rides like:
Dinosaur
Expedition Everest
Big Thunder Mountain
Space Mountain
Again, these things have something in common.
This time around, it's the fact that they're some of the fastest rides in Disney World!
Although the storage pouches on rides are usually safe, there's always a slim chance that your bag could get loose.
To avoid this, make sure it's snugly tucked inside the pouch and secured (as best possible!).
Use your feet!
If you're heading on a ride that lets you store bags by your feet, here's a nifty tip.
As I'm usually carrying a Loungefly backpack (try and pry my Peter Pan Main Attraction Backpack from me!), I always use the loops.
So, you tuck your foot around the backpack loops and put a bit of weight on them.
Trust me, that bag won't be going anywhere.
What Rides Don't Let You Take Bags On?
Kali River Rapids
There's currently only one ride at Disney World that strictly doesn't allow bags – it's Kali River Rapids!
This ride is renowned for getting people wet, which means you'll need to put your valuables away in a locker.
They're free for 2 hours, which should be long enough to get on the ride!
At the moment, you'll have to pay around $4 for 2 hours if you want a large locker. But if you're traveling as a family, it might be worth the cash for peace of mind.
Although rides like Splash Mountain might get you slightly soaked, nothing cools you down like the Rapids.
For this reason, you'll want to put your backs in lockers to avoid damaging electronics or the bags themselves.
If you're carrying something small like a fanny pack or crossbody, you may be allowed to ride with it.
But it's wise to cover your swag with a poncho or put any valuables inside a Ziploc pouch.
Better safe than sorry, right?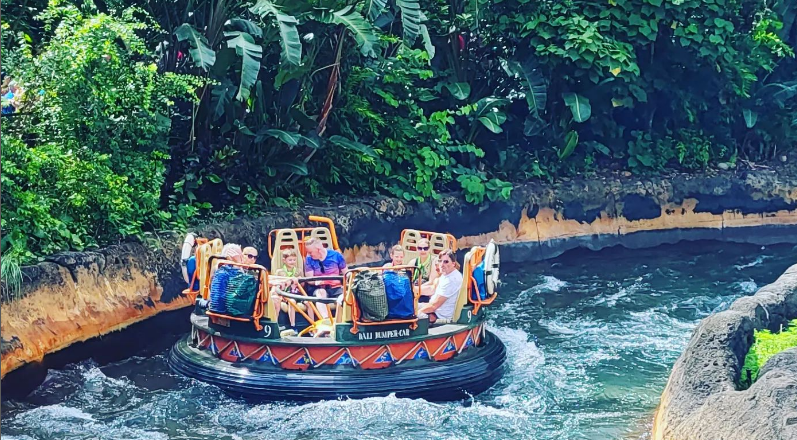 Soarin'
The only other ride where you may not be allowed to have a bag with you is Soarin'.
There's technically a dedicated area for bags on the ride.
But larger bags should be placed in front of you where Cast Members collect them until you're done.
Whatever you do, KEEP YOUR BAGS IN A SAFE AREA.
Not only is leaving your bag unattended kind of a security risk, but it's way more likely to be stolen this way.
I'm not saying this is certain to happen as the culprit will probably end up in Disney World jail.
But it's just not worth the risk.
Seriously, I've heard horror stories of guests getting entire strollers snatched away by thieves.
Not ideal.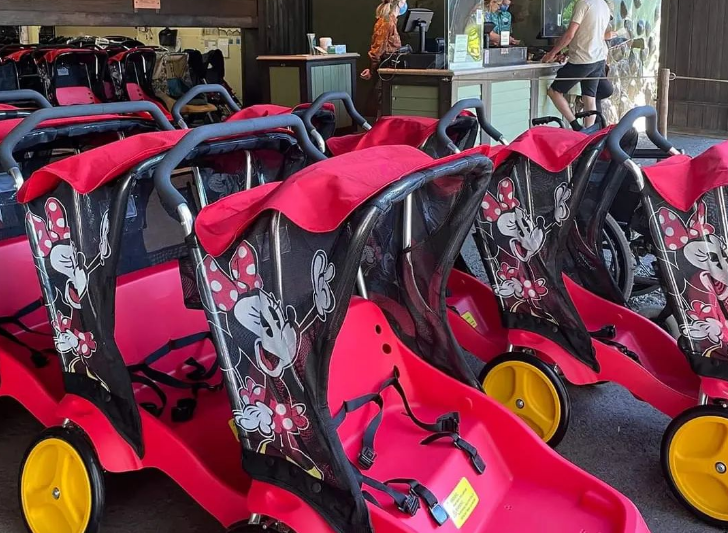 What Should I Do If I'm Carrying Merchandise or Souvenirs?
I always recommend doing your shopping as late as possible so you're not burdened throughout the day.
But if you bought a Limited Edition item, you will not want to lose it!
I honestly don't recommend bringing anything breakable on any rides as the risk is just too high.
So, if you're planning to buy something valuable and don't want to risk it – have it sent straight to your hotel!
This won't be suitable for anyone staying offsite, but it's a nifty way to avoid carrying anything fragile.
And if you've paid a fortune for a lightsaber, you do not want to have it break on a ride!
Are There Lockers to Store Bags at Disney World?
Even if you can technically take your bag on a ride, you may not want to be lugging tons of weight around.
If this sounds like you, it's worth renting a park locker for approximately $10-15 (depending on size!).
You'll be able to pay with cards or magic bands, giving you the freedom to go cashless.
I wouldn't say it's the most cost-effective thing in the world, but sometimes needs must!
If you're planning to rent a locker, these are the dimensions you should think about:
Small Lockers: Come in at 12 inches x 10 inches x 17 inches – $10 a day
Medium Lockers: Come in at 15.5 inches x 13 inches x 17 inches – $12 a day
Large/Jumbo Lockers: Come in at 17 inches x 22 inches x 26 inches – $15 a day
If you're traveling as a family, I suggest just getting the largest lockers and shoving whatever you don't want to carry in there.
It ends up being more cost-effective this way!
I hope that this in-depth guide has helped answer the question "can you take bags on rides at Disney World?"!
If you have any other questions or want to share your experience with bags, I'd love to hear from you in the comments below!
Related Posts: