Have you been asking yourself "Is Slinky Dog Dash scary"? Read ahead for everything you need to know about this charming Toy Story-themed coaster at Disney's Hollywood Studios!
Slinky Dog Dash is a roller coaster inside Disney's Hollywood Studios and it's super fun.
It's definitely a family-friendly option as it doesn't invert or contain major drops.
It opened back in 2018 and has since become one of the most popular rides in the parks (which explains the long wait times!)
But if you're visiting the parks for the first time, you may be wondering "Is Slinky Dog Dash scary?".
As the poster child for rollercoaster fear (I'm not a huge fan of drops, though I will ride!), this is a question for me!
Not only will I cover facts and tips about riding this coaster, but I'll delve into whether it's scary (or not!).
Now let's do this thing!
Where Can I Find Slinky Dog Dash?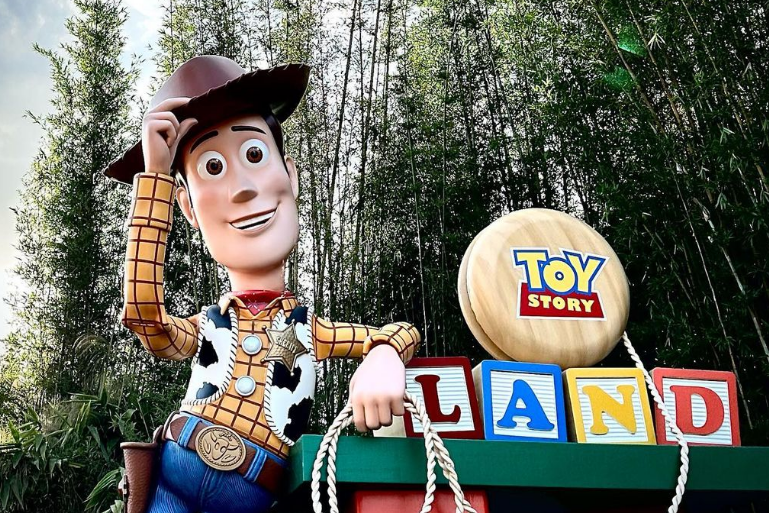 Slinky Dog Dash is inside Toy Story Land which is in Hollywood Studios.
It's virtually right by Midway Mania which is right in the middle of Toy Story Land.
But honestly, it's quite hard to miss as it's such an overarching part of the park.
Just be warned that the ride queue isn't air-conditioned or fully covered (which can be extremely difficult when it's hot).
For this reason, I always suggest bringing a small electric fan to the parks – just trust me.
What Happens On Slinky Dog Dash?
Slinky Dog Dash is a relatively simple ride, and I think Disney's official site puts it best when it comes to the concept:
"Andy's assembled his Mega Coaster Play Kit—and Slinky Dog is taking you on a wild ride. Slinky Dog's springy coils stretch to the limit as you bend around curves, zoom up hills and drop back down. A spring is a marvelous thing—and this attraction is wonderful fun for the entire family!"
The idea is that you shrink down to the size of a toy and take a ride through Andy's backyard on Slinky Dog.
And the coaster you're riding on? Well, it's supposed to look as though Andy has put the entire track together using Tinker Toys!
You'll see that Jessie and Rex on the ride as well as Christmas lights, blocks, and other fun additions that make the entire thing seem like a playland.
Throughout the 2-minute ride, you'll encounter a few curves, dips, and drops that will make the adventure feel fun-filled!
Once you've finished the whole ride, you'll be greeted by Wheezy (from Toy Story 2!) singing You've Got a Friend in Me.
Is Slinky Dog Dash Scary?
In basic terms, the answer to the question "Is Slinky Dog Dash scary?" is NO.
But I'd say that this depends on how well you deal with rollercoasters in general.
I'll be the first to admit that I'm not great with thrill rides or rollercoasters of any kind.
I can just about manage Big Thunder Mountain and small-scale coasters, but anything with drops, loops, and inversion? I'll struggle with it.
I handle Slinky Dog Dash well as it's basically an elevated kiddie coaster.
It's definitely more than a kiddie coaster as it hits speeds of up to 40MPH (so, it's one of the fastest rides at Disney World!).
But the drops and general G-Force that hits you just aren't enough to scare you.
Plus, I think the fact that it's a smooth outdoor coaster certainly helps to get rid of the "thrill factor".
The smooth track removes a lot of the juddery feeling that I dislike about older coasters, while the outdoor setting removes uncertainty.
So, I'd say it's a relatively tame coaster with manageable dips and drops that should be suitable for even younger children.
Adults should be fine on this ride, but parents know their kids best.
Don't worry though – I'll cover things that might scare kids in just a second.
This way, you can assess the personality sensitivities of your kiddos and see whether this ride is worth queueing for.
What Is the Slinky Dog Dash drop height?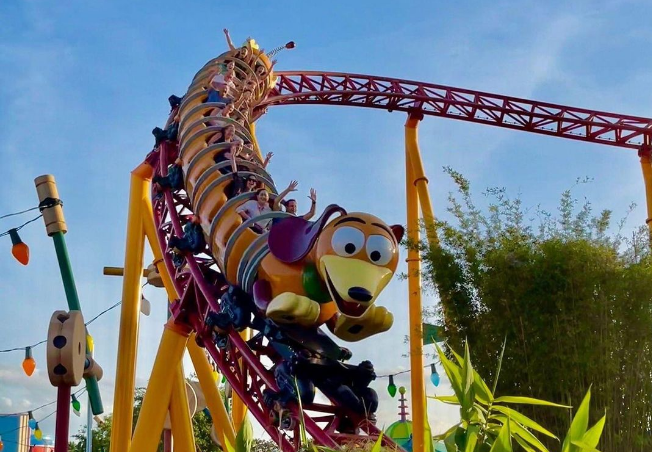 The first thing that could make Slinky Dog Dash scary is a big drop.
There ARE dips and drops along the track, but they're just nowhere near what you'll find on rides like Expedition Everest or Space Mountain.
The maximum height of the ride is 50 feet (or 15 meters), and the entire ride runs as a large curve.
So, you won't experience as many stomach drops – it's more of a smooth and steady (but quick!) whip around.
There are two small drops after the two launches on this ride, and even the steep-looking drops are quite tame.
Because the ride vehicle significantly slows down as it drops, you don't get the unpleasant feeling in your stomach half as much.
Yep, that large curved drop you can see from the queue line? It's nowhere near as bad as it looks!
I'd say the main thing you should consider before riding is whether small dips or drops will unsettle you.
If they will, even what you find on Slinky Dog Dash might be too much!
Does it have flashing lights?
As this is an outdoor coaster, there are no flashing lights to deal with.
Some adults and kids have sensitive eyes or are triggered or overstimulated by flashing lights or quick lighting changes.
If this is your main concern, I wouldn't worry.
Slinky Dog Dash does get lit up at night and gets a few flashes around the second launch area.
But otherwise, your main worry would be bright sunlight in the queue if you're dealing with light sensitivity.
How fast is Slinky Dog Dash?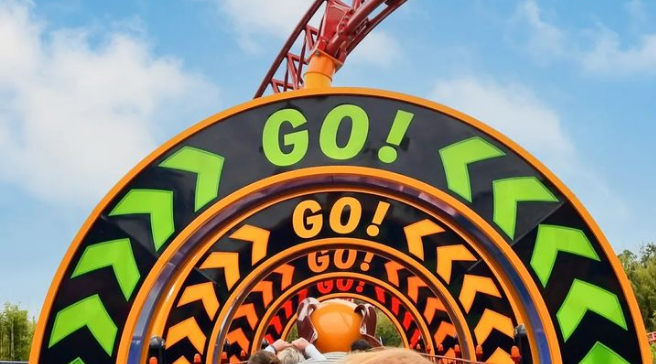 Slinky Dog Dash hits maximum speeds of 40MPH (which is surprisingly fast for a family coaster).
When you compare this to Space Mountain which runs at 28MPH, you'll see that it's considerably faster.
But because you're outdoors and the drops on the ride are pretty insignificant, I find it doesn't feel as fast.
Despite my semi-aversion to coasters, I can always handle speed as it's the sharp drops that get me a little nervous.
Plus, you're strapped in safely which should settle most fears about slipping or losing your grip during a ride.
And honestly, Disney's safety measures are so strict, that the chances of anything happening to you are ridiculously slim!
What are the visuals like?
I wouldn't say there were many visuals of note when it comes to electronic projections, animatronics, or photos.
The whole ride is colorful and inviting, and there literally isn't anything of note to mention that might scare kids or adults.
Does Slinky Dog Dash Go upside-down or invert?
No, Slinky Dog Dash doesn't go upside-down, but it does feature bumps, launches, and small drops.
For this reason, I'd say it's more than suitable for kids that are new to thrill rides but have grown bored of the small Pirates of the Caribbean spills!
Does Slinky Dog Dash cause motion sickness or claustrophobia?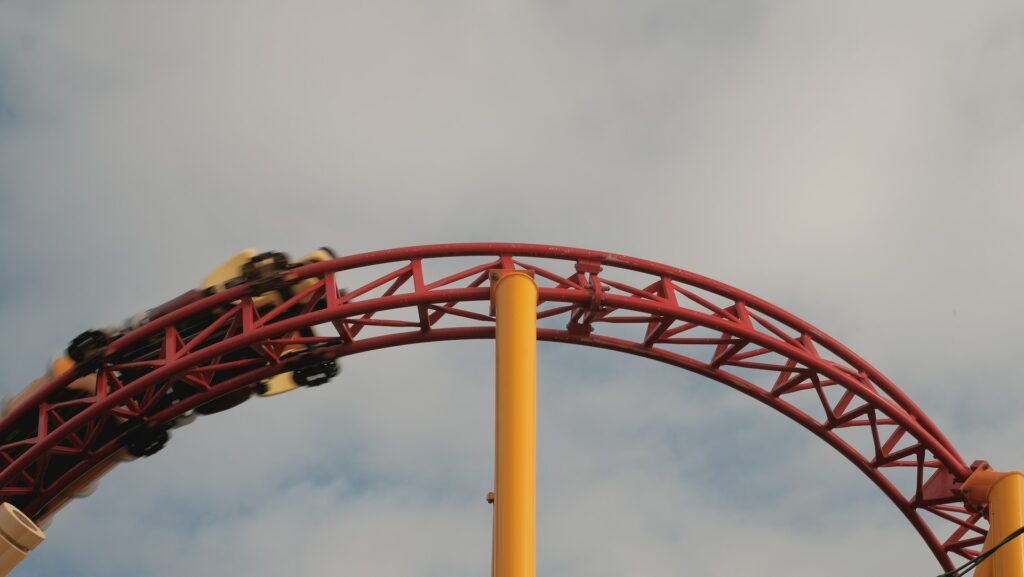 I'd say it depends.
I only struggle with motion sickness in cars as my body can't quite figure out where it is in space.
You may experience a similar thing on Slinky Dog Dash as you're not in complete control of the direction your body will move in.
But honestly, I'd say you'll be absolutely fine as there isn't any spinning or inverting on the ride.
Slinky Dog Dash Height: How Tall Do You Need to Be/What Are the Height Requirements?
When it comes to the Slinky Dog Dash height requirement, it's worth noting that it's 38 inches.
From this alone, you'll probably be able to answer the question "is Slinky Dog Dash scary?".
I say this because intense rides usually have the highest height requirement of 44 inches and above for safety reasons.
So, you can assume that this ride is a bit less intense than the top-billed thrill rides at Disney World!
What Is the Ride Vehicle Like?
The ride vehicle is a relatively basic coaster car with lap bars that are height-adjustable.
Each rider has their own separate bar which is useful if you're traveling with someone that's a considerably different size.
There are also handy grips on the lap bar that make hanging on easier for kids and adults.
If you take a look at the seat, you'll also notice that there's a slight dip at the back (where your butt goes!).
The dip holds you in place more than a regular straight seat and it'll stop you from sliding into your riding partner.
It's not the roomiest vehicle in the world, but I'd say it's more generous than a lot of options around the parks (hello, Space Mountain).
If you're looking to take your bags on rides at Disney World, there's a handy pouch inside the car for your belongings.
Is Slinky Dog Dash Suitable for Plus-Size Guests?
I've already written a post about Disney World ride weight limits which might come in handy here.
But overall, I'd say that Slinky Dog Dash is suitable for plus-sized guests as the seats are dipped and the lap bars adjustable.
You might not be overly comfortable, but there's more space in the ride vehicle than other coasters offer!
I'd say that if you're mid-size or near the bottom of the plus-size ladder you'll be fine.
If you're in the obese category, the lap bar will be firm but manageable and still safe.
Anyone over 450 or 500lbs should probably give this ride a miss as the knee area and lap bar won't be safe.
The same rules apply if you're extremely tall.
Although the lap bar and vehicle will accommodate you, you'll struggle with your knees encroaching on the bar.
Is Slinky Dog Dash Worth Riding?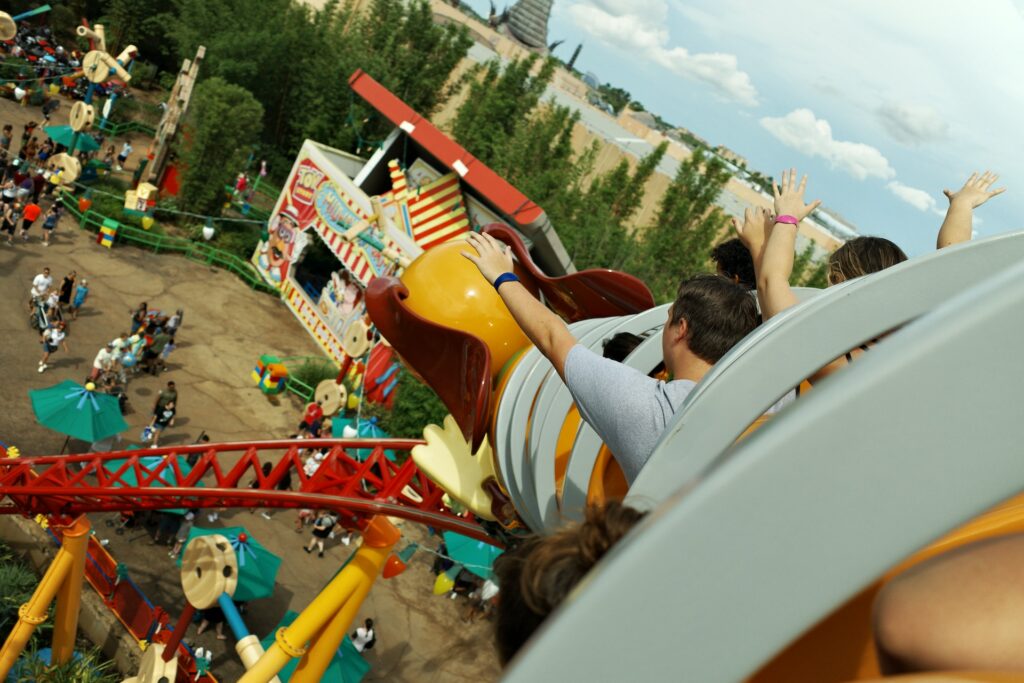 Slinky Dog Dash is totally worth riding if you enjoy family coasters that run at high speed with great theming.
If you're a thrill seeker who doesn't have a deep-seated love of the Toy Story franchise, it's cool to miss it.
But as it's so cleverly done and is generally a charming little ride in Hollywood Studios – it's worth it.
If you've never been on this ride before, you need to check it out at least once.
Just be prepared to wait it out or be very clever with your use of Genie+ or rope-dropping.
Tips For Riding Slinky Dog Dash
Get on Genie+ ASAP
Slinky Dog Dash Lightning Lane reservations are like gold dust.
So, you need to be on Genie+ as early as is humanly possible (we're talking 6:59 am).
You'll need to have bought Genie+ for your Hollywood Studios visit specifically to book a Lightning Lane.
That's unless you're willing to buy an individual pass.
If you can get a relatively early time, I'd jump on it and use it.
But if you can't, I'd say you're better off buying an individual pass or trying to ride this at rope drop.
And that's because you can't book another reservation until you've used the first one!
It's also a good idea to try and disconnect from your resort's WiFi (if you're at a Disney Resort).
Everyone tries to book Lightning Lanes at 7 am, so you may get through quicker using your data instead
You can also game the system a little by signing each member of your party up to Genie+ and trying to book on multiple devices.
Whatever you do, tap that LL icon RIGHT at 6:59:59 on the dot for the best chance of getting your reservation.
Hit it at rope drop or just before the park closes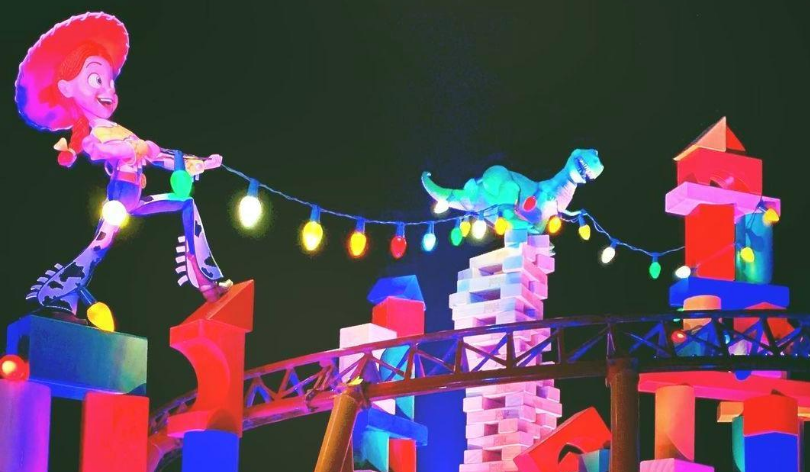 As Slinky Dog Dash is one of the most popular rides (if not the most!) in Hollywood Studios, you need to hit it early.
Getting here at rope drop or Early Entry will cut down wait times significantly.
And honestly, I wouldn't say this ride was worth waiting around hours for.
If you don't want to hit this ride at rope drop or you simply can't get to it quickly enough, try riding last thing at night.
Families with kiddos will probably have cleared out or be watching the shows. Plus, you'll get an incredible aerial view of the park as you ride.
I get that this won't be possible if you have young children, but you can always palm them off on a Disney babysitter for the night!
Keep checking the My Disney Experience app
If you don't get a LL reservation first thing in the morning, you might give up.
But Disney actually releases a few slots throughout the day on their app.
It's not a great use of your time as you'll want to be present and in the moment at the parks.
However, it's a good option if you're desperate to ride (say it's your last day!).
Try checking in the afternoon or late morning as this is when the extra slots are typically released.
Facts About Slinky Dog Dash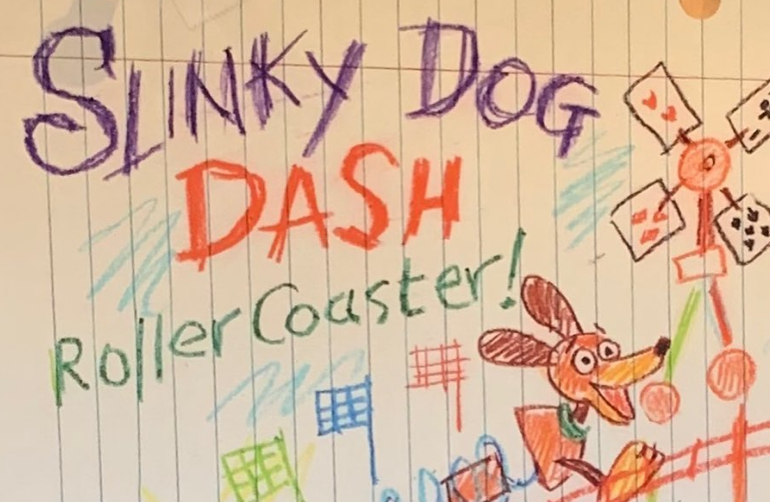 All the drawings you see around the ride are supposedly done by Andy (so, it's a bit of a throwback!). Most of the drawings are designed to outline what a Slinky Dog coaster would look like. Hats off to the Imagineers here!
Adults will spot classic toys and accessories from their childhoods dotted through the queue line. Think Crayola Crayons and Elmer's Glue to name a couple!
You'll find a few familiar characters located around the ride. Jessie and Rex are the most obvious, but you'll also see a couple of others if you look carefully.
The ride stops halfway through, but this isn't a mistake! As a child supposedly designed the rollercoaster, the big stop is meant to represent "The Big Finish".
If you keep an eye out, you'll see an ID tag from Andy's dog Buster by the entrance. It looks a bit like a gold medallion.
If you're searching for hidden Mickeys, take a look at the wall mural. There is a hidden Mickey right on the notebook paper in the clouds!
The ride is designed to look like it's in Andy's backyard which explains all the shrubbery around the area.
FAQs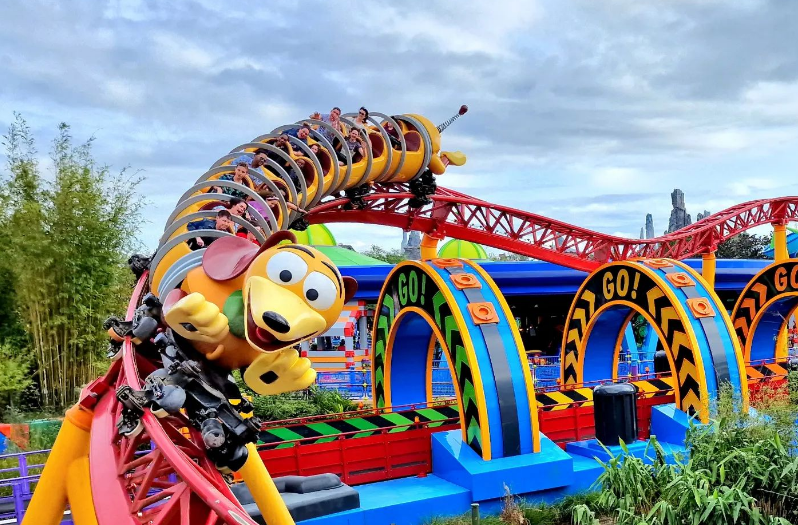 Why is Slinky Dog Dash so popular?
Slinky Dog Dash is so popular as it's themed well, is kid-friendly, and offers incredible views of the park from certain angles.
It's also one of the better rides at Hollywood Studios, which explains why it's super popular as a Lightning Lane option.
How long is Slinky Dog Dash?
Slinky Dog Dash runs for approximately 2 minutes from beginning to end.
When did Slinky Dog Dash open?
Slinky Dog Dash opened in Hollywood Studios (Toy Story Land!) on 30 June 2018.
Is Slinky Dog Dash worth waiting for?
I'd honestly say yes, but it depends on what you enjoy about the parks.
If you're prioritizing thrill rides, the long wait times for this ride might not feel worth it.
But because of the glorious park views and family-friendly vibes, I'd say you should ride it at least once during your trip.
Is Slinky Dog Dash accessible?
There is a designated ride car on the coaster that has a short step-up.
This is designed for guests in wheelchairs as they'll be able to transfer into the ride car through the side panel.
The queue line is also accessible and doesn't have any steps or roadblocks for wheelchair users.
Plus, it's really fun to walk through and check out all the interesting Easter Eggs that were added for Toy Story fanatics.
Just be aware that all users will need to transfer to a regular wheelchair before riding and service animals won't be allowed to ride.
Will adults like Slinky Dog Dash?
I'd say that adults visiting Disney World would like Slinky Dog Dash as it's smooth, well-themed, and doesn't have major drops.
It's obviously not as scary as something like Tower of Terror (which is genuinely scary for many reasons!).
So, it's probably one to miss if you're strictly after thrill rides during your time in the parks.
And that's because it just isn't overly thrilling by typical standards!
Can you use Rider Swap on Slinky Dog Dash?
You sure can!
All guests involved in the swap need to be at least 38 inches tall and will need to let a Cast Member know.
What happens here is you'll then have an adult waiting with a person who isn't riding before switching out.
The Cast Members will escort the waiting group to a designated area outside the attraction.
You can do other things during the waiting time so you're not killing your park time though!
Once one group has been on the ride, the second group is then able to queue skip and jump on within an hour.
It's a dream if you're visiting Disney World with toddlers who would struggle to queue for long periods.
And hey, Slinky Dog Dash IS one of the best rides at Hollywood Studios for toddlers after all!
Does Slinky Dog Dash run in the rain?
As Slinky Dog Dash is an outdoor coaster, it'll run if there's a light drizzle.
But if there's a downpour or any major inclement weather, it'll shut until it's safe to reopen again.
Luckily for you, there are tons of awesome things to do at Disney World in the rain that'll tide you over!
Does Slinky Dog Dash have a Lightning Lane?
There's currently a Standby and Lightning Lane available for Slinky Dog Dash.
But unfortunately, there's no Single Rider option available here.
I'd say that the Standby Line is fine if you're planning to ride at Early Entry or rope drop.
But otherwise, I'd say your Lightning Lane pass for something else.
It's also tricky to score a Genie Plus reservation for Slinky Dog Dash as it's super oversubscribed (as one of the most popular options).
So, bear that in mind before adding it to your Lightning Lane shortlist.
If you do want to use your Lightning Lane here, you'll want to hit the Slinky Dog Dash attraction screen right before 7 am.
This way, you'll have the best chance at scoring a return time by clicking "Book Experience".
It's not guaranteed as the slots go like hotcakes.
But it's worth a try!
When is the best time to ride Slinky Dog Dash?
I'm a sucker for riding Slinky Dog Dash just before the park closes as you get incredible views of the park at night.
If you're not doing this, I suggest either hitting it at rope drop or using one of your Lightning Lane allocations under Genie+.
I hope that this article has answered the question "Is Slinky Dog Dash scary?".
If you have any further questions about this fun, family ride, just drop me a comment below and I'll do my best to answer them! Have you been on Slinky Dog Dash before? Have you got your own answer to "Is Slinky Dog Dash scary?". I'd love to hear your thoughts.
Related Posts: