Looking for the best Disney World park for adults that will keep you having fun without kids in tow? Keep reading for the ultimate rundown that will help you figure out what to hit and what to skip.
I've always thought of Disney World as an escape for both adults and kids. I might be biased as a certified Disney adult (and proud of it!), but some people seem to think that the parks are only fun for toddlers and tweens.
Well, they'd be wrong.
And I'll prove it with this guide to the best Disney World park for adults that highlights everything that older guests will love about the House of Mouse!
With everything from intense thrill rides to EPCOT's dazzling World Showcase on offer, you'll be booking a return trip before you've reached the end of your first day.
Mark my words.
Without further ado, here's the lowdown on the best parks in Disney World for adults!
Every Disney World Park for Adults Ranked
1. EPCOT (AKA – the best Disney World park for adults!)
In my humble opinion, the best Disney World park for adults is EPCOT.
It offers an amazing set of festivals throughout the year that feature alcohol (always a plus), several incredible rides, and a low-key atmosphere that's perfect if you're child-free.
This isn't to say the other Disney World parks aren't suitable for adults, but EPCOT will always clinch the top spot!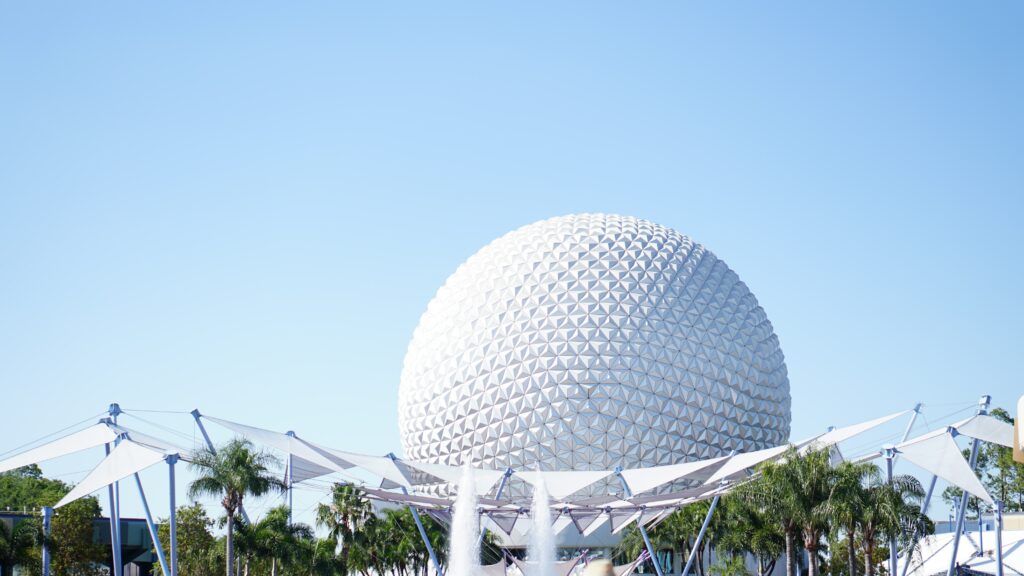 Attractions
The first thing that makes EPCOT the best Disney World park for adults is the ride selection and incredible attractions.
Rides like Spaceship Earth have an impressive educational aspect that takes you through time and space.
On the other hand, Living with the Land offers adults a gentle boat ride through greenhouses packed with unique agriculture.
But don't count this park out on the thrill ride front either!
At EPCOT, you'll be able to ride some of the fastest rides at Disney World (including Test Track), fly above orange groves on Soarin', and indulge your inner child at Frozen Ever After.
And hey – if you've ever wanted to live out your dream of being a space cadet, you can head on Mission Space which certainly isn't suitable for young kids!
Food
If I'm being honest, I'd say that the number one thing that makes EPCOT the best Disney World park for adults is the food.
EPCOT is home to the famous World Showcase, which essentially allows you to eat and "Drink Around the World" (if you're comfortably over 21, of course!).
As you work your way around the 1.2-mile loop, you'll be able to try delicious dishes from 11 different countries, including Italy, the US, France, Norway, and Mexico.
This is an amazing way to spend a day in Disney World as an adult, as you won't have kids nagging you to move on to the rides.
You can just sip your beers and chow down on your strudel.
In short, it's a complete mecca for foodies and allows you to enjoy the magic of Disney without feeling like you're going on a holiday for kids.
Top restaurant suggestions while you're in EPCOT:
Biergarten in Germany for delicious bratwurst
Teppan Edo in Japan for teppanyaki
Le Cellier in Canada for amazing wines
Via Napoli in Italy for delicious pizza and Florence theming
San Angel Inn in Mexico for authentic dishes with a signature spice
Although the food itself is great, the World Showcase also allows you to embrace the clothing, cultures, and atmospheres of each country which is seriously amazing.
Entertainment
Even the entertainment at EPCOT is geared slightly towards adults.
Along with the animatronic American Adventure show and the World Showcase films, you'll also be able to catch the high-quality nighttime show Harmonious (which is set to change in 2023, just FYI!).
These are still wonderful fireworks by WDW standards, but there's more of a focus on global harmony (hence the name!) and the beauty of the world around us as opposed to Disney characters.
If you want to see what I'm talking about, check out the amazing YouTube video of the show below. Don't want to spoil it? Head to the parks and catch it for yourself!
At the various annual festivals, you'll also be able to catch plenty of live music throughout the year.
Whether that's traditional Japanese drumming or new hits from local artists, there's lots to love about EPCOT entertainment.
Events
If the food, entertainment, and rides weren't enough to convince you that EPCOT was the best Disney World park for adults, perhaps the annual events will!
EPCOT is prized for its incredible festivals, which I'll quickly outline below:
The EPCOT International Festival of the Arts is the winter festival and is packed with live music, food stalls, and art from around the world.

This festival also involves the DISNEY ON BROADWAY concert series, which features songs from award-winning Broadway shows.

The EPCOT International Food and Wine Festival used to take place during the fall, but it now extends for slightly longer as it's super popular.

These days, it runs from mid-July through mid-November, so there's plenty of time to catch it!
Alongside the amazing food, you'll be able to catch music from local artists, grab signature spirit jerseys and pins, and just bask in the amazing atmosphere that this festival creates.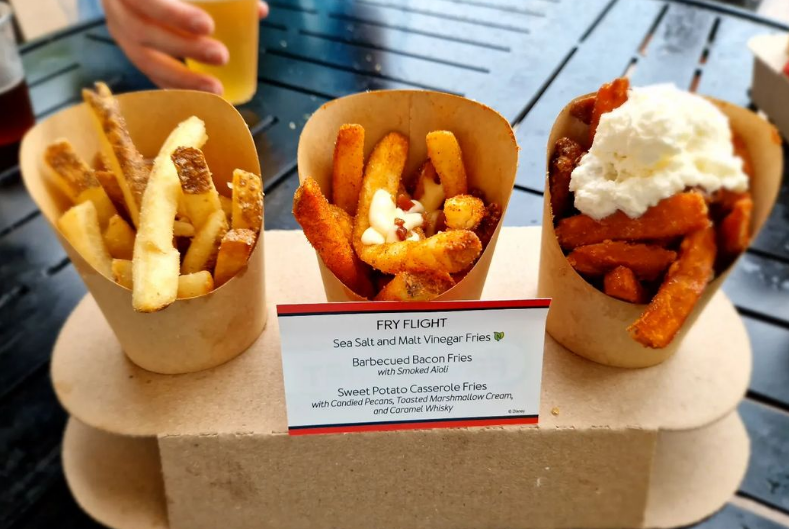 EPCOT International Festival of the Holidays is a wonderful way to ring in the holidays and takes place from the start of November through to the end of the season.

You'll find candlelight processionals, holiday treats, and themed gifts if you visit during this period.

EPCOT International Flower & Garden Festival is perfect for green thumbs and takes over the park with gorgeous garden arrangements, great food, and live entertainment.

Keep your eye out for character topiaries, outdoor food stalls, live entertainment, and themed merch.
It usually runs between early March and early July.
Is EPCOT worth visiting for adults?
ABSOLUTELY.
I can't say it with more enthusiasm than that!
I feel that it's been designed with adults in mind, which makes it the perfect way to embrace the Disney magic without being overwhelmed by "kiddie" stuff.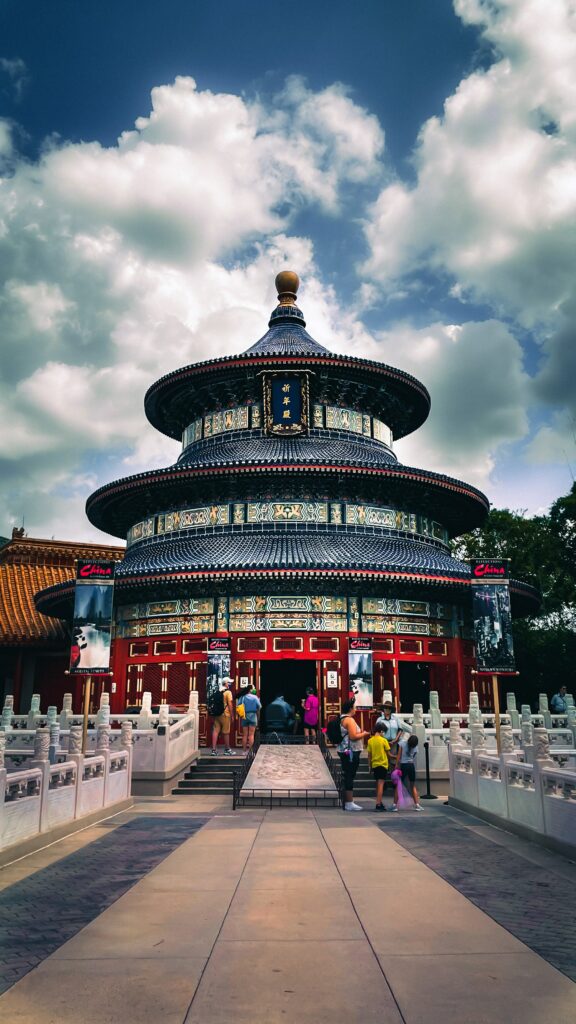 2. Animal Kingdom
The next spot we'll explore while trying to figure out the best Disney World park for adults – it's Animal Kingdom.
This place is tricky to assess, as it's just completely different from the rest of the parks.
It's certainly designed with adults in mind, but there aren't many rides (especially thrill rides).
Instead, it's all about the atmosphere.
Rides
If you're visiting Disney World as an adult, I highly recommend checking out the rides below:
Expedition Everest – This ride is one of the fastest rides in the parks and it's quite scary (yup – even for adults!). It hits impressive top speeds, and the theming is truly incredible. The ride follows a runaway train that's heading through a Yeti-infested Tibetan mountain.
Flight of Passage – I'd say this was one of the don't-miss rides in Animal Kingdom for adults, as older guests will truly appreciate the amazing graphics and atmosphere created by the Pandora landscapes.
Kilimanjaro Safaris – As Animal Kingdom is all about the animals (obviously!), you can't miss this fun safari ride during your visit.
Na'vi River Journey – I had to include this purely for the animatronic which kids might not appreciate. The first time I saw it, I was simply blown away by its smoothness of it and attention to detail!
Food
The food at Animal Kingdom doesn't compare to anything at EPCOT, but Tusker House is one of the best character dining spots at Disney World if you're looking to unleash your inner kiddo at breakfast time.
There are a few quick-service spots that will suit adults trying to maximize park time, but there's nothing otherworldly or super impressive here.
Entertainment
I have a real soft spot for the entertainment at Animal Kingdom. It's probably the main reason I consider it the second-best Disney World park for adults.
Along with the amazing Festival of the Lion King, you can enjoy the following shows at Animal Kingdom:
In addition to these great shows, you'll also spot the Tam Tam Drummers of Harambe and Kora Tinga Tinga as you're walking around the park.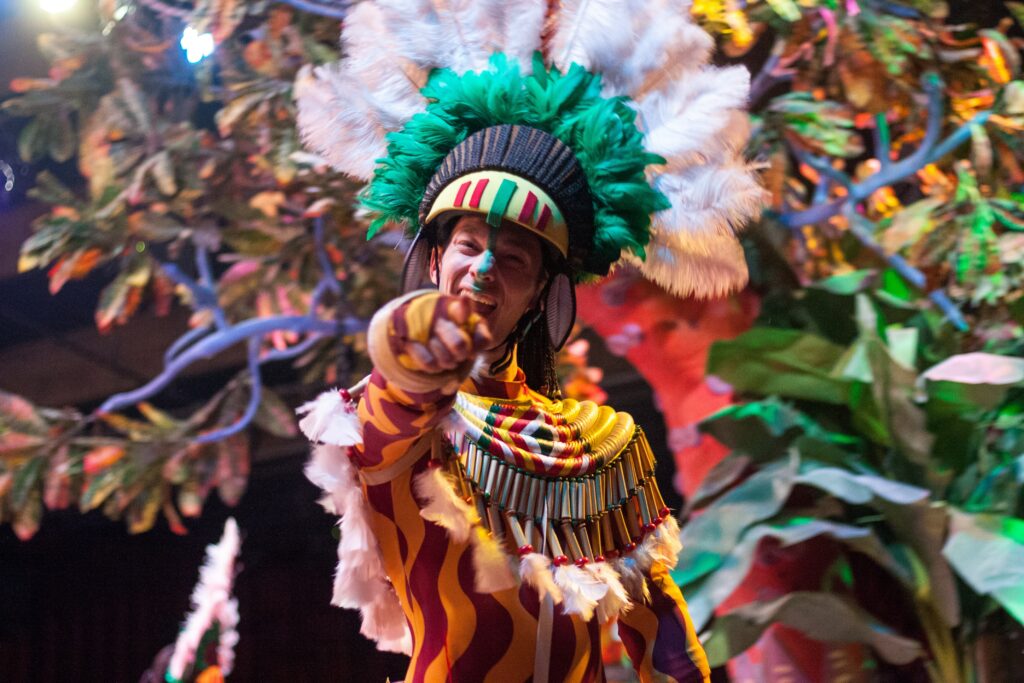 Is Animal Kingdom worth visiting for adults?
I'd say you should visit EPCOT if you only have a day or two to play with.
But Animal Kingdom deserves the second place rank on this list of the best Disney World parks for adults!
So, YES – it's worth visiting!
3. Magic Kingdom
Magic Kingdom is the quintessential Disney park, and it's always worth checking out.
It comes in at number 3 on this analysis of the best Disney World park for adults as most of the rides are geared toward children.
This isn't a bad thing, but the park is more about getting in touch with your inner child than enjoying an adult-friendly experience with rich food and tons of alcohol.
There's one major downside to this park if you're visiting as an adult.
Yup, it's strollers.
The strollers are probably an adult's biggest bugbear, as they're just everywhere. Outside rides, on most of the pathways, and hanging around the parade route.
You name it, they're probably there.
It's completely unavoidable (and understandable!), but the overwhelming number of kids might not appeal to anyone who has chosen to be child-free.
Magic Kingdom is still a wonderful place to visit for Main Street and classic rides, but it's just not designed with adults in mind.
Rides
There are a few incredible rides that you'll want to check out if you're visiting the park as an adult. I'll also detail a couple of thrill rides for the adrenaline junkies amongst you!
Classic rides:
Pirates of the Caribbean
Haunted Mansion
It's a Small World (if you can handle the song!)
Jungle Cruise
Splash Mountain
Thrill rides:
Space Mountain
Big Thunder Mountain
Seven Dwarfs Mine Train
All these rides are incredibly nostalgic, but they're not exactly going to send your heart rate through the roof.
For this reason, I had to push Magic Kingdom down on my list when I was assessing the best Disney World park for adults.
Once the TRON rollercoaster opens in Tomorrowland, I might be bumping this park up in the rankings.
But we'll have to wait and see!
Food
There are a couple of amazing restaurants in Magic Kingdom including Cinderella's Royal Table and Be Our Guest.
The theming at both restaurants is glorious, and the food is decent.
But honestly – it's geared towards little ones and isn't worth the high price tag if you're visiting the parks as an adult.
You'd be better spending your hard-earned cash at the delicious food stalls at EPCOT!
Just trust me on this one. At Magic Kingdom, you're paying for the childhood wonderment – not great food!
One of the things that I do think makes Magic Kingdom one of the best Disney World parks for adults is the fact that you can grab alcohol and beer at restaurants.
It's a bit of a drag as alcohol is only available at the table service restaurants (you can't walk around with it in your hands!), but it's still a great boost if you're looking for a sip of the strong stuff.
Entertainment
The only reason I almost listed Magic Kingdom as the best Disney World park for adults was because of the entertainment and nostalgia factor.
This is the park with classic parades, castle shows, and nighttime fireworks.
And honestly, that stuff is magical for visitors of all ages.
Is Magic Kingdom worth visiting for adults?
Overall, I wouldn't skip the Magic Kingdom if you're visiting Walt Disney World.
It's on the "childish" side, but it's packed with classic Disney magic and a whole bunch of nostalgia.
4. Hollywood Studios
The final contender on this list of the best Disney World park for adults is Hollywood Studios.
With its mishmash of rides and constant new additions, it's always been one of the stranger parks.
But is it worth visiting as an adult?
Let's find out.
Rides
Hollywood Studios is probably the worst park in terms of rides, which is why I couldn't call it the best Disney World park for adults.
Don't get me wrong, it's not bad – it's just not great.
It does have the Tower of Terror, Rock 'n' Roller Coaster, and Star Wars: Rise of the Resistance to its name.
But the queues are usually long and they're virtually the only thrill rides on offer for adults at the park.
The rest of the rides appeal to slightly younger guests (though not necessarily kids, in my opinion).
For example, Toy Story Mania is cute and makes adults competitive.
But is it worth the crazy wait times? Probably not.
There's also the huge pull of Galaxy's Edge which has awesome theming and a few excellent photo opportunities that'll spice up your Insta feed.
But the adult-friendly rides are honestly lacking in Hollywood Studios, which is why it's in last place on my list of the best Disney World parks for adults.
Sorry, not sorry!
Food
The food at Hollywood Studios is decent and is on par with offerings at Animal Kingdom and Magic Kingdom.
I've found that this is especially true for the quick-service spots which are similar across the board.
Docking Bay 7 Food & Cargo is a decent spot for a quick bite and the Hollywood Brown Derby Lounge is also great for midday cocktails.
But otherwise? There's not much happening here.
Entertainment
The entertainment at Hollywood Studios s surprisingly good, with the Indiana Jones Stunt Spectacular being one of the best options for adults.
If you want to dial up the nostalgia factor, Beauty and the Beast Live on Stage is fabulous.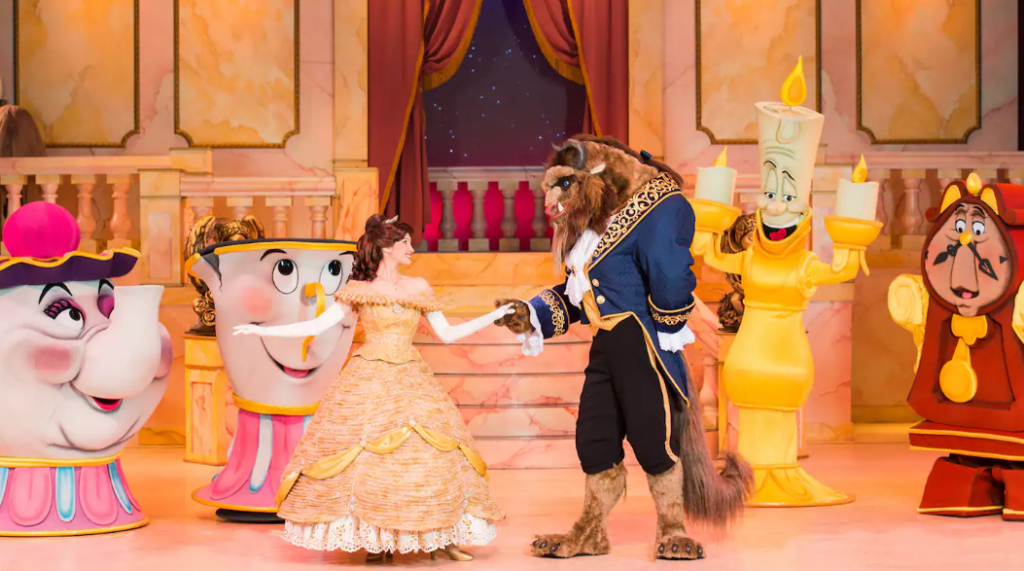 Muppet fans will also appreciate Muppet*Vision 3D which is always a huge crowd pleaser.
If you're happy to stay in Hollywood Studios for the evening, I'd also stick around for Star Wars: A Galactic Spectacular as it gets lit up and looks stunning.
But don't bother with the Disney Junior Dance Party as it's entirely geared toward kids. I promise that you'll be cringing and begging to be released with every second that passes!
So, is Hollywood Studios worth visiting for adults?
If you're short on time, I'd say that you can skip Hollywood Studios if you're visiting Disney World as an adult.
You can match the thrill rides elsewhere, there's no unique food, and the shows are good but not mind-blowing.
Plus, even Star Wars fans can get a taste of Space Magic by heading to the Kennedy Space Center.
Hey, you didn't hear it from me!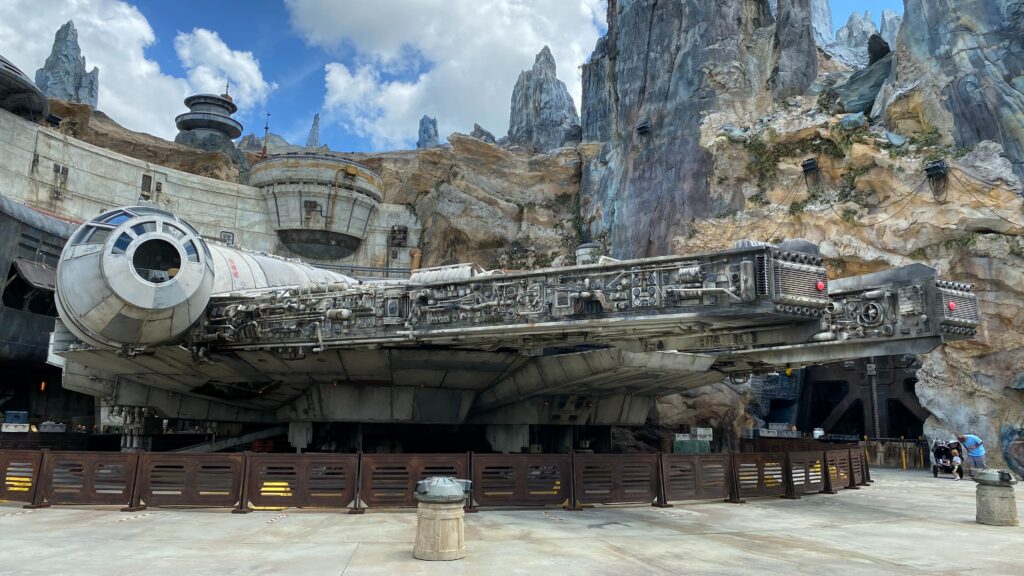 Final Thoughts
I know I'm a Disney nerd, but think every single park has something to offer. So, it was quite tricky for me to decide on the best Disney World park for adults.
But overall, I'd say that EPCOT is still the best Disney World park for adults who want to feel like they're truly on vacation.
Alcohol? Great Rides? Cool festivals? This park does it all.
And hey – if you want to dial up your Disney vacation, you can explore the fine dining restaurants onsite or book a fancy Disney resort that's geared towards adults.
Whatever you do, you're bound to feel the magic of Disney every step of the way.
I promise.
Related posts that you're bound to love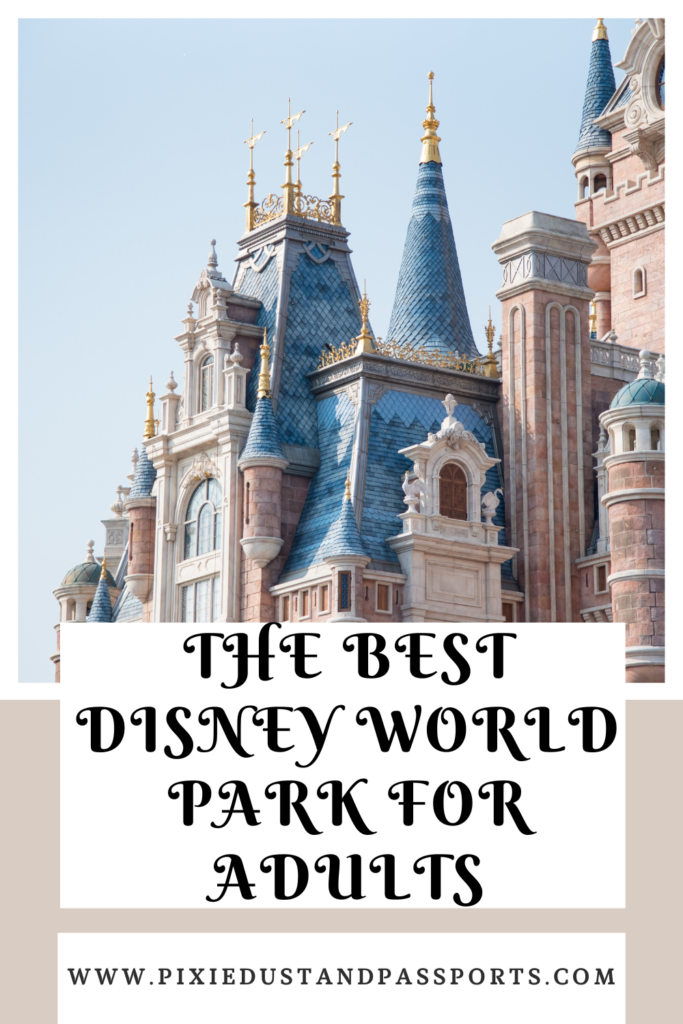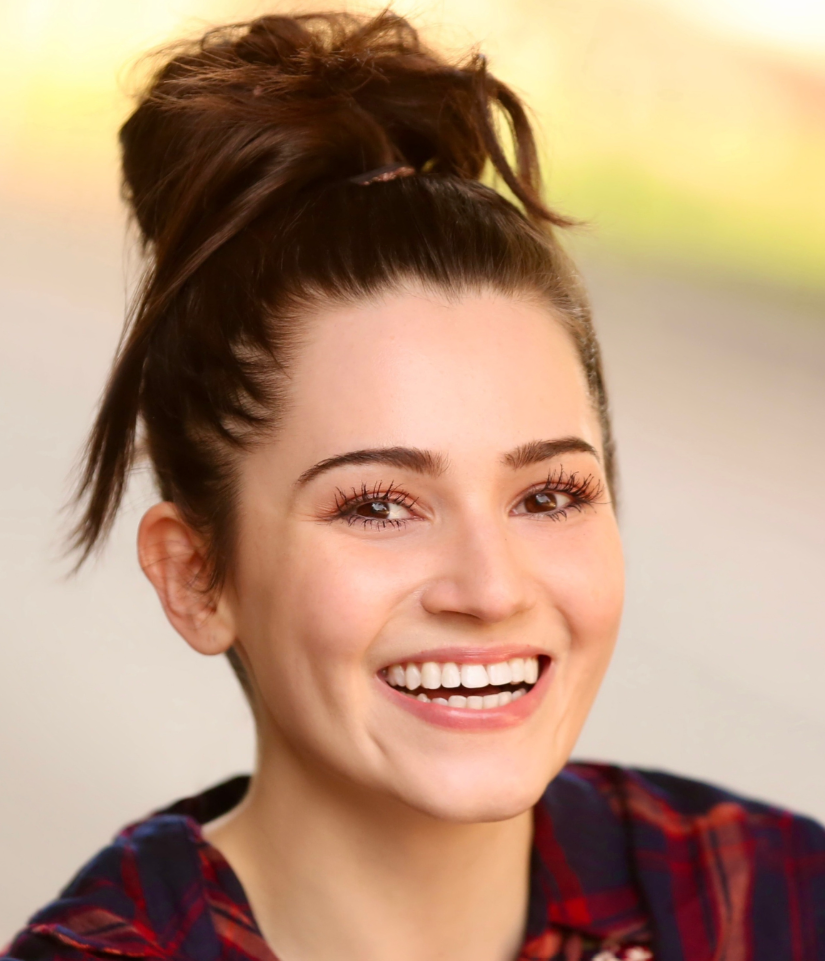 Grace is the creator, editor, and sole writer for Pixie Dust and Passports – a blog that's ALL about Disney! She's made it her life's mission to visit the Disney parks as much as possible and loves trying new snacks, grabbing the latest spirit jerseys, and rocking Loungefly bags. Oh, and she also holds a BA in History from UCL, which makes her a research and deep-dive enthusiast into all things Imagineering.