Are you wanting to check out the new Trolls Hug Time Jubilee show at Universal Studios Singapore? Let me run you through everything you need to know about this Troll-tastic show at the Hollywood Theater!
With Trolls Band Together coming to theaters at the tail-end of 2023, it's no surprise that Universal Studios is capitalizing on its IP.
And along with new Trolls merch at Universal Studios Singapore, we're getting a new show!
That's right folks, it's the Trolls Hug Time Jubilee show that follows fan favorites Queen Poppy and Branch.
I'll be the first to admit that I'm not a huge Trolls aficionado, but I walked into the Hug Time Jubilee with an open mind when I visited in October 2023.
So, if you're also a theme park adult (or a family with kids in tow!) I'll run through everything you need to know about this new show.
That includes questions like:
Where is the Trolls Hug Time Jubilee?
What is the show's plot?
What's my honest review?
Now let's get glitter-ific!
Trolls: Hug Time Jubilee Key Information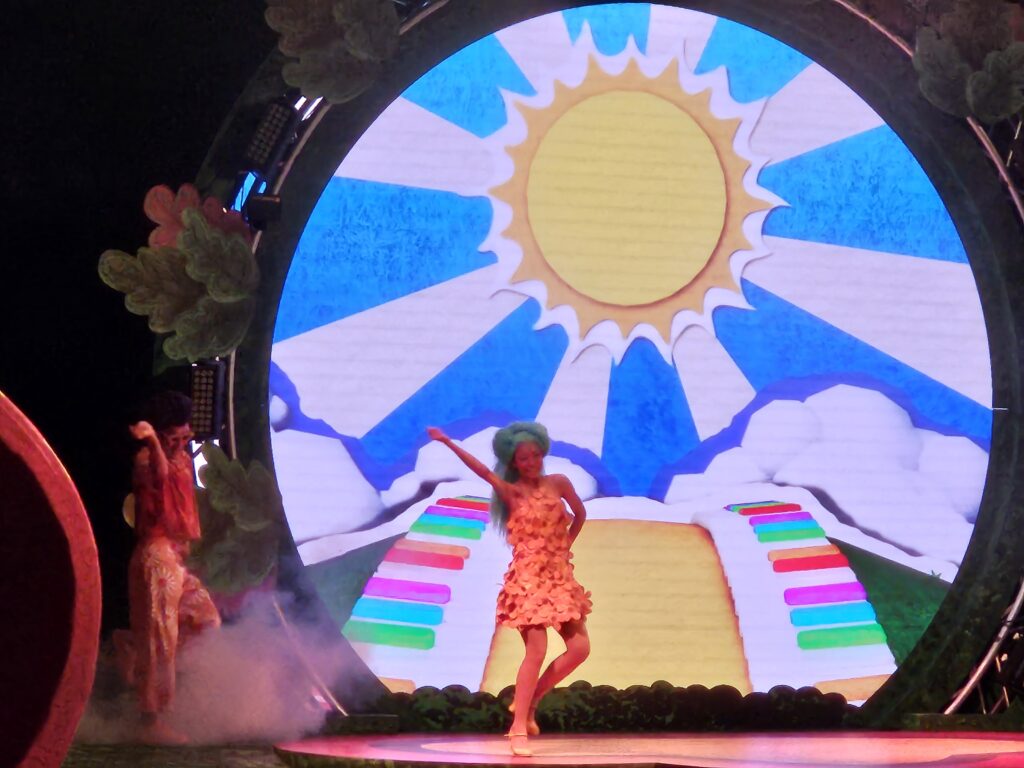 Before I dive into my review of the Trolls Hug Time Jubilee show, let's cover some basic information.
Location: Studios' Pantages Theater at Universal Studios Singapore (Resorts World)
Opening Date: September 15, 2023
Showtimes: They vary, but there are typically 2 showings at 12:15pm and 4:45pm
Recommended ages: Between 4 and 12, but it's suitable for all ages (I'm a fully-fledged adult and had fun!).
Do you need to buy tickets: Nope, you just show up to the theater as the show is included with the price of your Universal Studios ticket.
What is the Trolls Hug Time Jubilee?
Okay, so I'll be the first to admit that I'm not incredibly well-versed in Trolls-lore.
But I found this show relatively easy to follow as a Trolls newbie.
Just so you know, this is the official description of the show from Resorts World (AKA: the larger corporate company that runs Universal Studios Singapore!):
"It's time to celebrate with DreamWorks' Trolls as they get ready for their first ever Hug Time Jubilee. Join Queen Poppy and Branch in their search for the perfect singing sensation to headline the biggest hug-fest of the year. Come cheer on your favorite Trolls as they strut their stuff in this all-new glitter-ific show!"

Resorts World Singapore
And I'd say that covers the show in a nutshell.
It's loud, proud, extremely colorful, and showcases a few pop classics from the 80s through to the noughties.
I'm SO here for it.
I'd also say that the glitter-ific aspect was accurate, as they really spared no expense on the costumes and set for this thing.
Don't worry – I've got tons of photos that give you a great glimpse into what the show looks and feels like.
What Is the Plot of Trolls Hug Time Jubilee?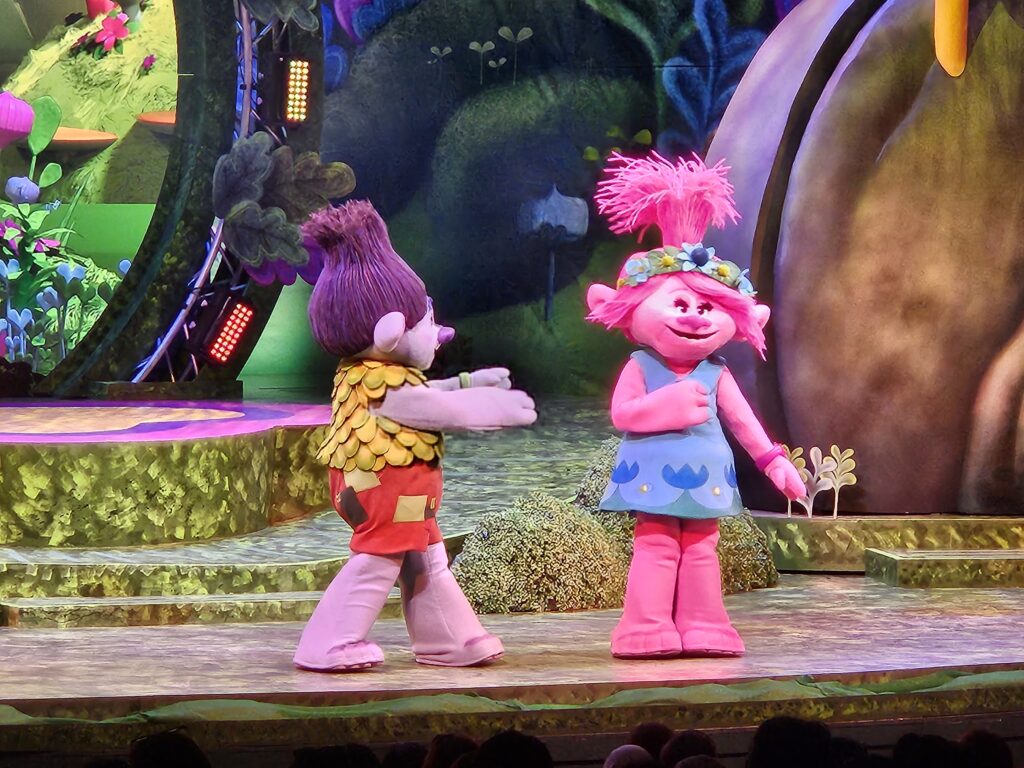 The plot of Trolls Hug Time Jubilee probably isn't going to win a Tony anytime soon, but it's adorable.
Queen Poppy and Branch are the central characters here.
They're on the hunt for the perfect singing act to headline (you guessed it!) the Hug Time Jubilee!
To find the ideal act, they put on video recordings of belt-tastic pop numbers like "Walking on Sunshine" and "Shine Bright Like a Diamond".
So, all recognizable pop hits that you're bound to know!
Along with the pre-recorded voices of Queen Poppy and Branch, you'll also get an appearance from Cloud Guy.
This character is voiced by Trolls director Walt Dohrn and is a cool nod to the movies (shoutout to the Trolls fans!).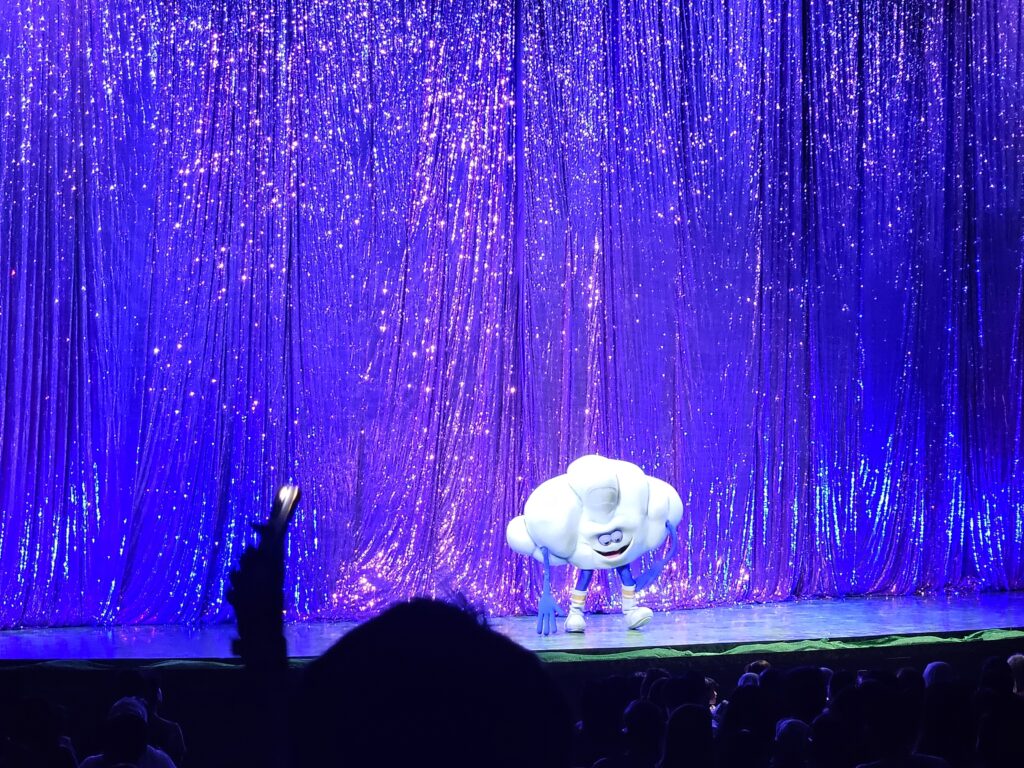 There's one small disagreement in the story which leads to a (very brief!) fallout between Poppy and Branch.
It basically involves them disagreeing on which act should win the competition, and Branch LOVES cool guy "Fizzay".
I won't give away who they choose, but it all ends happily – don't worry!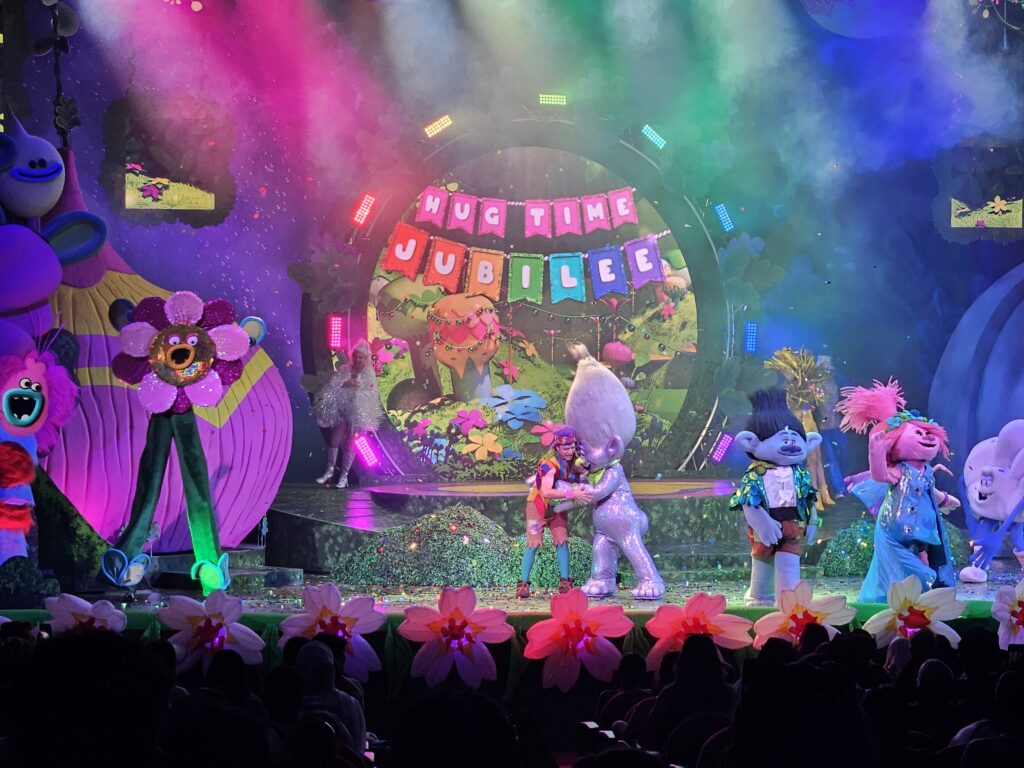 My Review
I'll start my review of the Trolls Hug Time Jubilee show by saying that I'm SURE I'm not the primary target audience.
I can totally sit through a Trolls movie, but I'm fully aware they're geared towards kids (in both concept and humor).
The first thing I'll mention is that the Hollywood Theater in Universal Studios is glorious and super well air-conditioned.
And as someone that grew up in Singapore and lived there for 18 years, I can say that it's a welcome relief from the humidity!
So, I suggest hitting one of the showings that hits at a point when you need relief from Singapore's heat.
And the chairs? SO comfortable.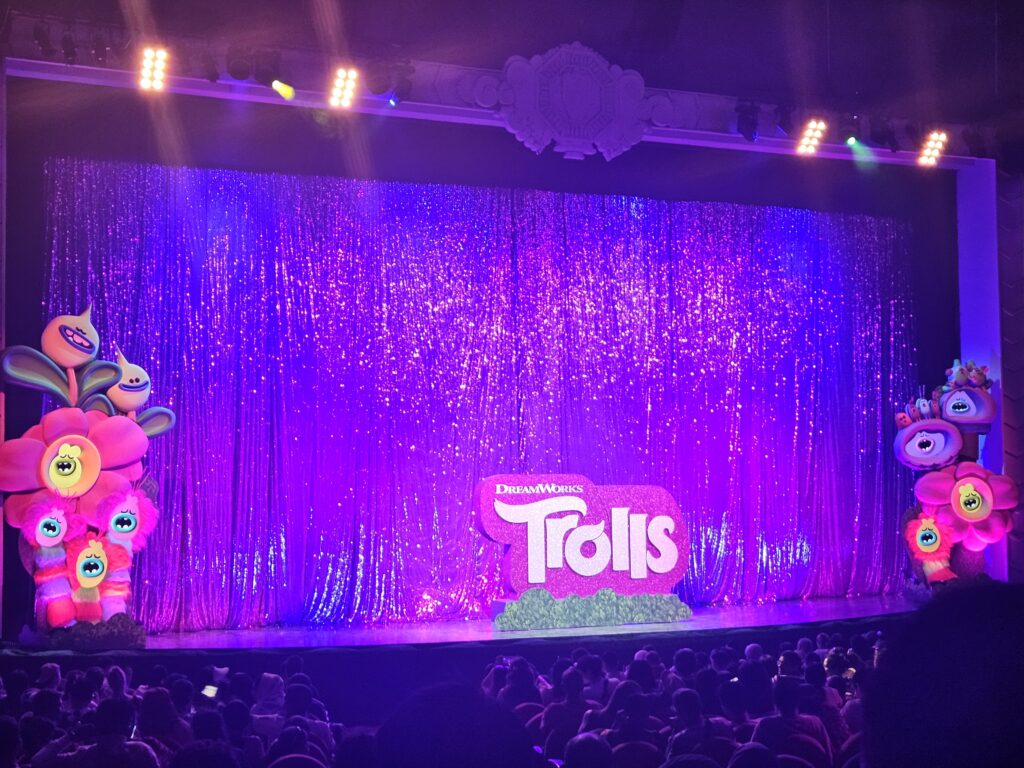 I went to the 4.45pm show to cool off just before the park closed (the hours aren't great!).
But there are several showings throughout the day, including an early afternoon performance. It was at 12:15 pm when I went in October 2023, but they're subject to change.
Aside from the plush, well-raked chairs and the awesome A/C, the show itself is a great way to kill 20 minutes.
It's not overly long, which means kids won't struggle to keep their attention on it without getting wriggly.
Plus, you can honestly have kids singing along and making noise and it probably wouldn't be an issue.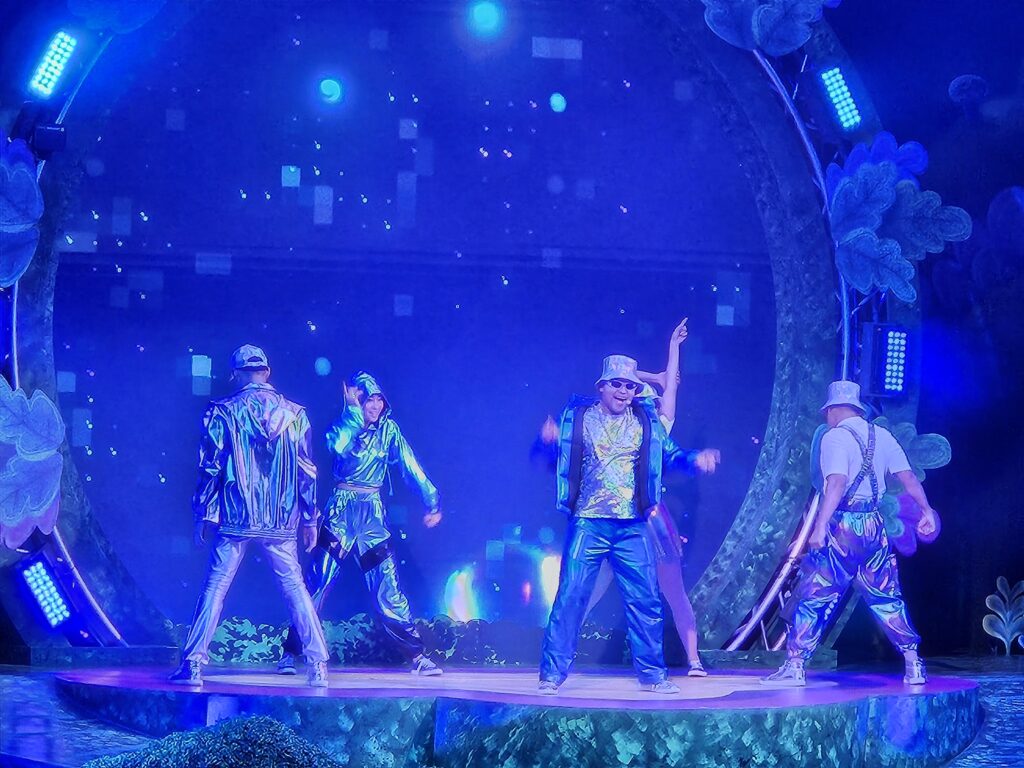 Despite being in a theater, the atmosphere here is incredibly relaxed. You're even encouraged to get up and dance at the end of the show!
I will say that Singaporeans don't tend to make a peep during performances, so don't be surprised if it's relatively quiet.
But if you want to show your appreciation by whooping and hollering – go for it!
What did I honestly think of the Trolls Hug Time Jubilee?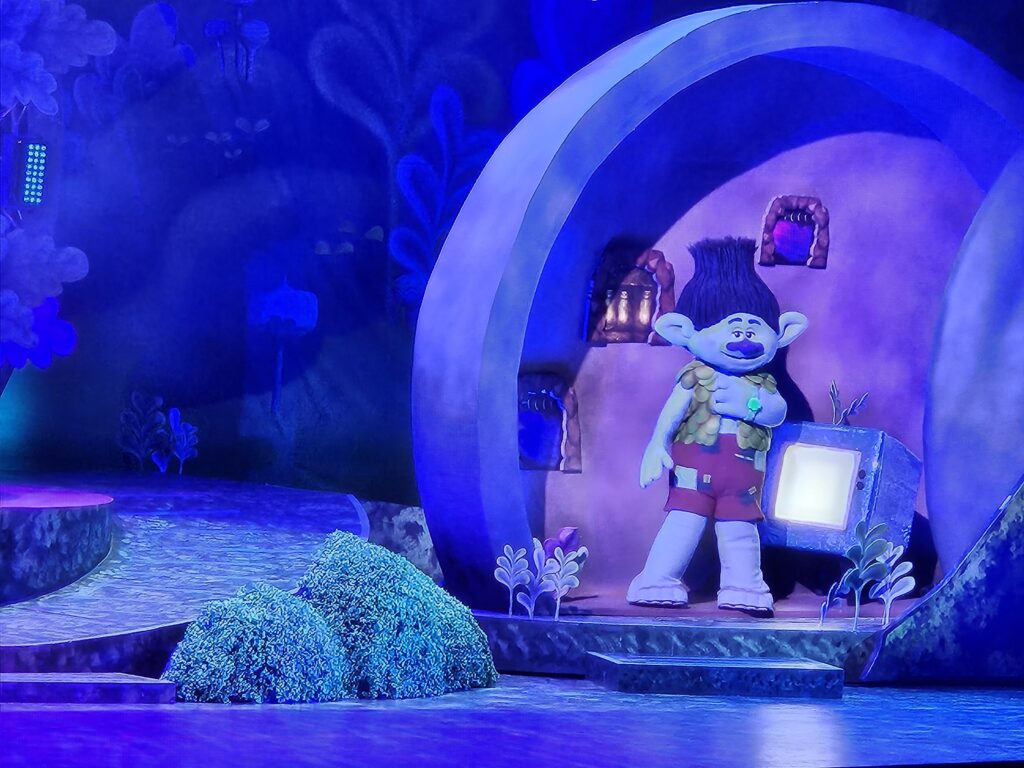 Okay, I won't lie and say that this show changed my life. But I DID have a really fun 20 minutes and loved escaping from the heat to sit in a dark (but colorful!) room.
The production value on the show was genuinely impressive (seriously, there were flowers on stilts!).
Plus, as a Musical Theatre performer, I know just how good the sound mixing was in there.
The one thing I will say is that if you're short on time and are traveling with only adults in your party, you can skip this.
I've always been amazed at how short the opening hours are for Universal Studios Singapore.
And if you haven't hit the headlining rides like Battlestar Galactica, The Mummy, or Transformers, you can miss this.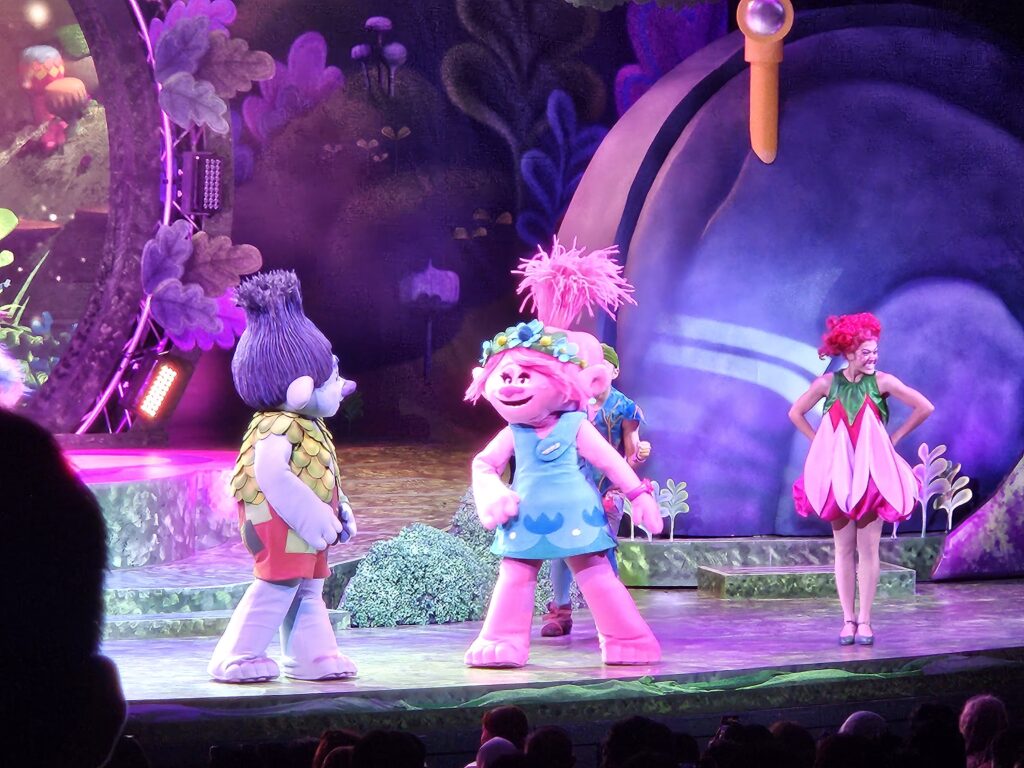 Kids will absolutely adore it because of the bright colors, dancing, and pop bops.
But for adults, it's more of a way to sit down and recoup instead of a life-changing performance.
That's just my opinion of course, and your mileage may very much vary!
If you're interested in seeing it, I suggest catching the last show of the day to give yourself time to cover everything else.
That way, you can always strike it off your to-do list if you just don't have time to see it.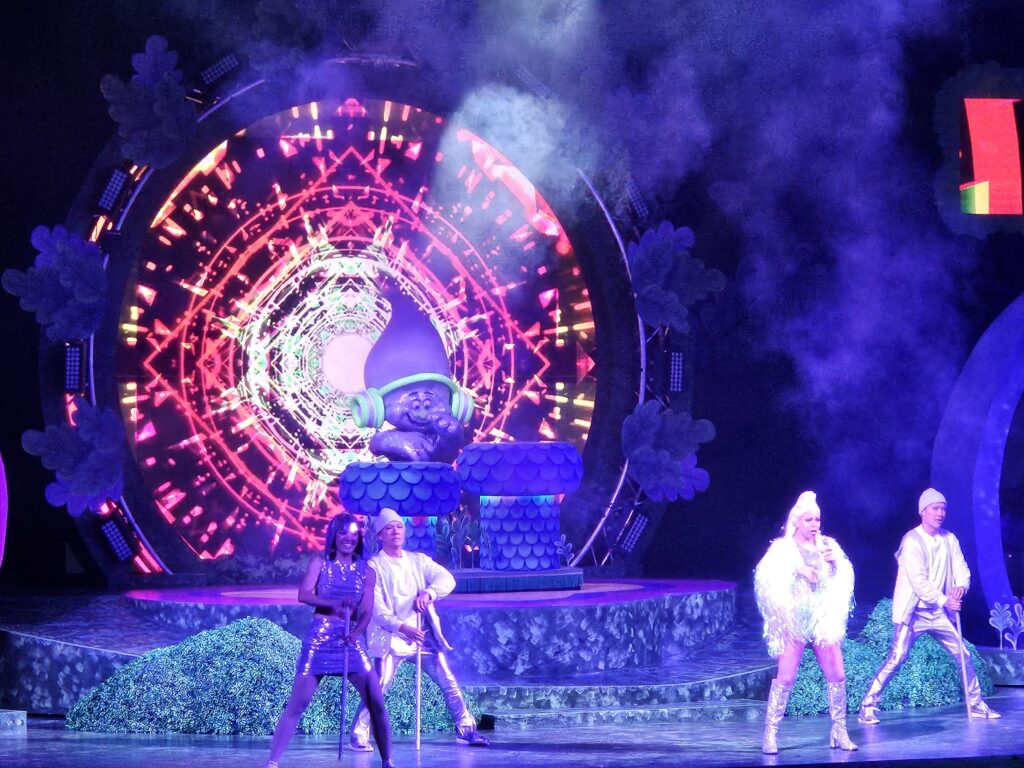 Hopefully my review on the Trolls Hug Time Jubilee has been useful!
This fun little 20-minute show is a great way to cool down if you're struggling with Singapore's summer sun. Plus, you can't go wrong with showing the kids music, colors, and their favorite characters LIVE on stage!