Are you searching for a Universal Studios Singapore guide that will walk you through the parks and give you a few tips and tricks? If so, you'll want to keep scrolling!
As someone who grew up in Singapore, I've always had a soft spot for our home-grown version of Universal Studios. It's home to incredible thrill rides, a bunch of great shows, and delicious eateries that stock everything from theme park favorites to local dishes.
But if you're not sure where to start, you might be struggling to figure out how to make the most of your day at the park.
If this sounds like you, don't worry. I've created the ultimate Universal Studios Singapore guide that'll run you through everything you need to know. From ticket prices and how to get there to the park's zones and locker system, I'll leave no stone unturned.
Now without further ado, let's dive straight into this Universal Studios Singapore guide!
Ticket Prices
To start off this guide to Universal Studios Singapore, we have that all-important factor – ticket prices!
Prices are always subject to change, but they're at these points as of 2022. If you want up-to-the-moment prices, I suggest heading to the booking page to make sure!
One-Day Ticket for Non-Residents:
Child – $61SGD
Adult (visitors 13 and above!) – $81SGD
One-Day Ticket for Residents:
Child – $58SGD
Adult (visitors 13 and above!) – $68SGD
Compared to US ticket prices, I'd say that entry prices to Universal Studios Singapore are quite reasonable.
The park is smaller, but you can easily extend your day by mooching around Resorts World and its surrounding shops.
As I've been stuck in the ticket queues a few times over the years, I highly recommend purchasing your tickets online before arriving.
Not only does this help you get in quicker, but you might be able to snag a slight discount for buying your tickets in advance!
If you want to add a Universal Express Pass, you'll be pleased to know that it's much cheaper than the US equivalent.
You can pick this up for $40 per person for one-time access to each ride, or $70 for unlimited access to every ride that's eligible.
This might be worth doing if you're planning on covering the entire park or riding the big-ticket rides multiple times.
But otherwise, I'd say you can get away with leaving this alone!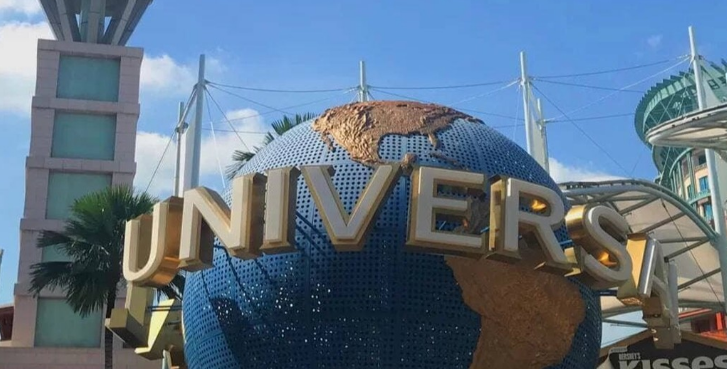 Should you get a 1-day ticket or an annual pass?
If you're a Singapore resident and plan on visiting Universal Studios Singapore more than a couple of times, I'd say you should go for the season pass or the annual pass.
Both are reasonably good value (the annual pass is just $198SGD!), making them a total no-brainer for locals.
How to get to Universal Studios Singapore
By monorail
The best way to get to Universal Studios Singapore is by heading to VivoCity and hopping on the monorail to Sentosa.
The monorail is occasionally free (it depends on the time of year and any special promotions), but it usually costs $4 per person which includes admission to Sentosa.
To get here, you'll want to hop on the MRT (or drive!) to VivoCity.
If you're taking the MRT, you'll want to go to Harbourfront MRT Station and head up to the 3rd floor of VivoCity. It's easy to find, but staff around the mall will be happy to point you in the right direction if you get lost.
The stop you'll want to get off at is called "Resorts World Station" and it's the first stop after VivoCity.
If you're a tourist, I suggest buying your ticket with cash as the machines only accept NETS or EZ-Link cards otherwise!
Once you arrive at Resorts World Station, you'll just need to go down the station escalators and follow the very clear signs toward Universal Studios Singapore.
You'll then see the large Universal Globe that marks the entrance to the park!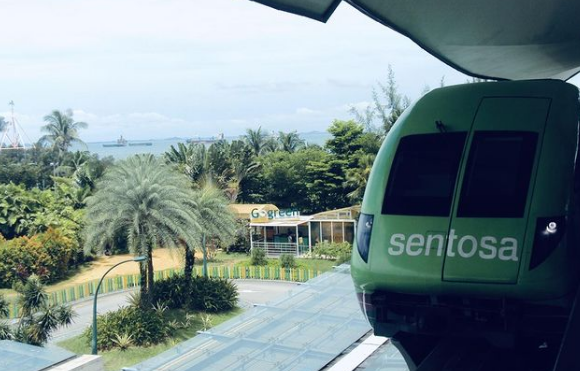 By cable car
If you're feeling fancy, you might want to take the cable car over to Sentosa from the Habourfront Cable Car Station (inside Harbourfront Tower 2).
I wouldn't advise this if you're on a budget as it costs $35, but it's a great way to enjoy the gorgeous views around the Harbourfront area.
You can either get the MRT to Harbourfront to get on the cable car or park up inside Harbourfront Mall or Vivo City if you're driving.
The entire journey takes around 25 minutes if you're heading to Sentosa, but you'll need to head to Merlion Cable Car Station if you want to go to USS.
Otherwise, you can get off at the Sentosa Cable Car Station (the first stop!) and walk over/get the monorail.
Each one is equally easy – so, pick whichever option you feel is best!
On foot
If you'd like to save your cash and enjoy the Sentosa Boardwalk, you can easily walk from VivoCity.
It links directly to Resorts World Sentosa and you'll find it on the first level of VivoCity.
Directions to the Boardwalk are clearly marked, and you just need to keep going straight until you hit Resorts World!
Best Time to Visit Universal Studios Singapore
If you can, try and head down during the week.
The queues will be shorter, you'll miss the weekend crowds, and you should be able to tick off way more rides.
And if you're flexible, avoid any school holidays and head to the parks during Singapore's low season (September – November is best).
Whatever you do, stay away from February when Chinese New Year is in full swing.
The décor around Singapore is amazing, but the crowds are usually next-level.
Universal Studios Singapore Zones
Hollywood
Hollywood is the first zone you'll find on this Universal Studios Singapore Guide. It's right at the entrance of the park, so you can't really miss it!
This is the place for meet and greets, and you'll often spot characters like Gru and the Minions, Po and Master Tigress, and Betty Boop hanging around here.
There are also a few small-scale shows that take place on a mounted platform throughout the day.
This is also where you'll find the Universal Studios Store and Mel's Drive-In which is one of the most popular eateries in the park.
New York
Once you've finished in Hollywood, you'll move through to the next zone – New York!
Here, you'll find classic rides like Sesame Street Spaghetti Space Chase and shows like Lights, Camera, Action!
Alongside these great attractions (seriously, I love Lights, Camera, Action!), you'll see Big Bird's Emporium and KT's Grill if you're looking for a quick bite to eat.
It's very much a walk-through-and-stop-occasionally type of zone, so you should be able to cover it within an hour if you're lucky with wait times.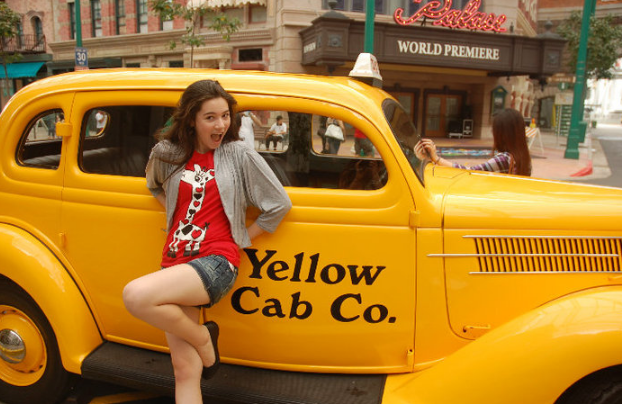 Sci-Fi City
Sci-Fi City is the place to be for exciting rides, high speeds, and of course – Battlestar Galactica: HUMAN vs. Cylon!
In addition to that amazing coaster, you'll find TRANSFORMERS: The Ride and Accelerator which is essentially is spinner ride.
While you're here, you'll be able to meet a few of the Transformers (if you're brave enough!) and grab a few goodies at the Transformers Supply Vault.
If you need a bite to eat while you're here, head to Planet Yen for snacks, Frozen Fuel for slushies, and the Starbot Café for larger comfort food dishes.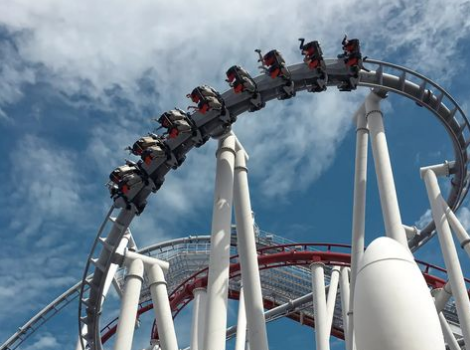 Ancient Egypt
It's no secret that Revenge of the Money is the big-ticket ride in this zone, but there's plenty else to love about Ancient Egypt!
Treasure Hunters is one of the most popular rides for young children, and it involves you stepping into the shoes of an Egyptologist who's exploring forbidden parts of Egypt.
It's not exactly a thrill for adults, but kids can't get enough of it!
You can also grab fresh coconuts and a few snacks from Cairo Market before heading through to the Lost World.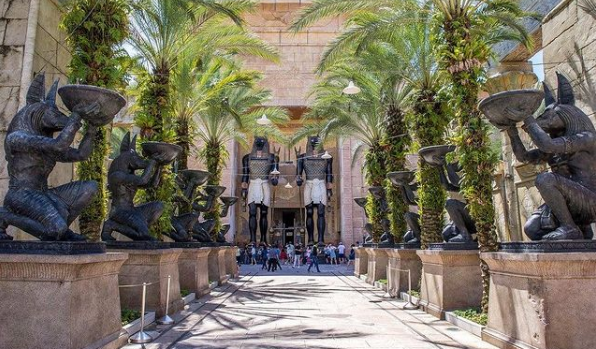 The Lost World
The Lost World used to be much smaller than it is these days, but it now offers a decent number of rides and a rock-climbing adventure for brave visitors!
If you don't fancy getting wet on the headlining splash ride (Rapids Adventure!), you can head on the kid-friendly Dino-Soarin' or Canopy Flyer rides.
While you're here, don't forget to check out the exciting water show (WaterWorld) that's packed with death-defying stunts!
If you want to escape from the heat, you can pop into the Dino-Store or the Discovery Food Court which serves incredible local dishes.
Far Far Away
Far Far Away is probably my favorite part of Universal Studios Singapore for kids.
Not only does it have tons of kid-friendly rides, but there are heaps of shows that'll keep them entertained (and out of the sun!).
In this part of the park, you'll find Enchanted Airways (a kiddie coaster), the Magic Potion Spin (a miniature Ferris Wheel), and Puss In Boots' Giant Journey (another family coaster).
Another major highlight in this zone is Shrek's 4D Adventure which is a classic 4D film with water and wind effects.
When it comes to food, I suggest ducking into Friar's Good Food for fresh pizzas and burgers.
Madagascar (soon to be Minions Land!)
This part of the park is currently closed as of 2022 to make room for Minions Land.
When that part of the park opens, I'll be sure to update this post!
Lockers at Universal Studios Singapore
There are a few rides on this Universal Studios Singapore guide that'll require you to stow your belongings away in a locker.
Although it's a bit of a drag, it's worth putting your stuff away to avoid having to carry it around!
I recommend just grabbing a locker for the whole day if it's within your budget.
As there are several rides that require lockers (like the Mummy and Jurassic Park), it's best to just bite the bullet and pay the $15.
Otherwise, you might end up paying more if you get 2 separate small lockers throughout the day at $12 each!
If you need a larger locker, you'll have to shell out $30 for the whole day – oof.
There are several spots where you'll find lockers throughout the park, but I like the Hollywood Zone the best. The lockers are larger here and it's close to the center of the park and the park's entrance.
In addition to the Hollywood Zone, you'll find lockers at:
Sci-Fi City next to Battlestar Galactica (they're free for the first 45 minutes, then will open!)
Ancient Egypt by the Revenge of the Mummy (which also gives you a decent amount of time for free – 60 minutes!)
The Lost World Zone by the Park Rapids Adventure – these are my least favorite lockers as they charge you a lot and give no free time.
Shows at Universal Studios Singapore
Lights, Camera, Action!
I could genuinely wax lyrical about this show for hours.
It was the first thing that blew me away when I visited Universal Studios Singapore as it's just so well done.
It runs for just 7 minutes, but in that short time you'll experience everything from hurricane special effects, fire, smashing windows, and an enormous boat bursting through the wall.
Yep, you read that right.
The effects are incredibly realistic and truly make you feel as though you're on a film set.
So, don't miss it!
Location: New York
WaterWorld
Another excellent show that I've already briefly mentioned is WaterWorld.
This show has been around for years, but it's still one of the best attractions in this Universal Studios Singapore guide.
It runs for around 20 minutes and features everything from speedboat stunts to elements of fire and major stunt falls.
The story is simple; it follows a girl who has found a map to the "Dry Land".
To gain ownership of the map, a massive fight ensues between the bad guys and the good guys.
It's an exciting show that kids love, but I recommend sitting further back if you don't want to get wet!
Location: The Lost World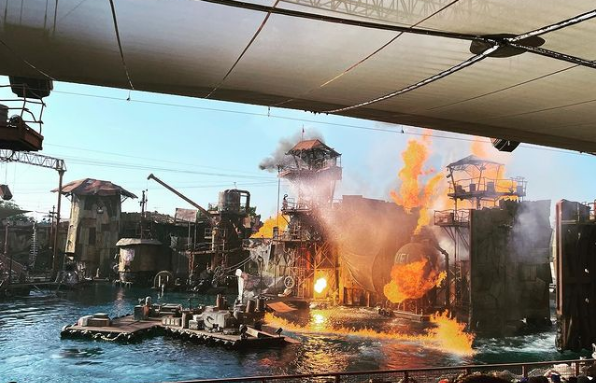 Shrek 4D Adventure
Shrek 4D Adventure probably won't set your world alight, but it's a fun (and funny!) 4D show that kids always appreciate.
It follows Shrek during his honeymoon period with Princess Fiona.
But there's only one problem – the ghost of Lord Farquaad has kidnapped Fiona and wants to make her his ghostly bride!
Will Shrek save her in time? Is Donkey along for the ride?
You'll have to visit to find out!
Location: Far Far Away
Donkey Live!
My boyfriend hates this ride as he always gets picked on (I'm not sure what that says about him!), but I find it completely hilarious.
It's a classic animated show that involves audience participation.
Basically, you're talking to Donkey, he's asking questions, and he calls on members of the audience to get involved.
It's lighthearted, fun, and usually results in a few laughs.
Don't worry – he's rarely mean to kids!
Location: Far Far Away
Tips for visiting Universal Studios Singapore
Queue for the top-tier rides early
This goes for virtually every single theme park around the world, but it's always a good idea to hit the big-ticket rides early.
This will significantly shorten your overall queue times and give you a chance to try those smaller rides without running out of steam.
If I had to pick, I'd make a beeline for Battlestar Galactica as the Revenge of the Mummy queue line moves much more quickly.
It's also worth trying to jump on the Jurassic Parks Rapids Ride early as it gets increasingly busy throughout the day (when it gets hot!).
Keep an eye out for street performers and characters
There's an awesome rhythmic dancing and drumming group that plays in the park throughout the day which is always worth catching.
But there are several other character meet and greets and small-scale shows that you'll spot throughout the park.
You'll probably chance upon a few, but it's worth grabbing a park map to check out showtimes to make sure you don't miss anything.
The app is even better!
Get into Sentosa for free
If you don't want to pay to access Sentosa, I highly recommend using the Sentosa Boardwalk instead of alternative methods.
And hey, you'll get a hit of fresh air and a few steps in before shoveling down the junk food!
Wear lightweight clothing
It's no secret that Singapore is hot, but it's the humidity that'll weigh down on you throughout the day.
To avoid the worst of that muggy feeling, wear lightweight clothing and slap on tons of sunscreen to keep your skin protected.
Bring cash
Most of the shops in the park take cards and cash, but they usually only take NETS or credit cards.
To avoid nasty transaction fees, it's better to bring cash to buy food and souvenirs.
Download the app!
I love using the Universal Studios Singapore App as it's super useful.
It shows you maps and showtimes that will make your trip way easier.
Oh, and did I mention that it lists height requirements, meet and greet information, and showtimes?
So, it's a must-download app that you'll want to get while you have Wi-Fi!
Get used to the zones before visiting
You can easily navigate the zones if you have a map, but it's a good idea to familiarize yourself with the zones before heading down.
This will help you beat queue times and generally prevent you from wasting time throughout the day.
Other Places to Go After Universal Studios Singapore
If you adored this Universal Studios Singapore guide, then you might want to check out a few other attractions that are right nearby.
Below, you'll find a few of my top favorites that are around the Resorts World Sentosa area.
S.E.A Aquarium (fabulous for kids!)
Madame Tussauds
VivoCity (excellent for late-night bites and shopping)
Adventure Cove Waterpark
Dolphin Island
Trick Eye Museum
Check out the various hotels (including the Hard Rock Hotel!)
I hope that this Universal Studios Singapore guide has helped make your trip to the park slightly easier. I get that planning the perfect park itinerary can be tricky at the best of times!
If you've been to USS before or want to know anything else about this popular attraction, just drop me a comment below.
Related Posts: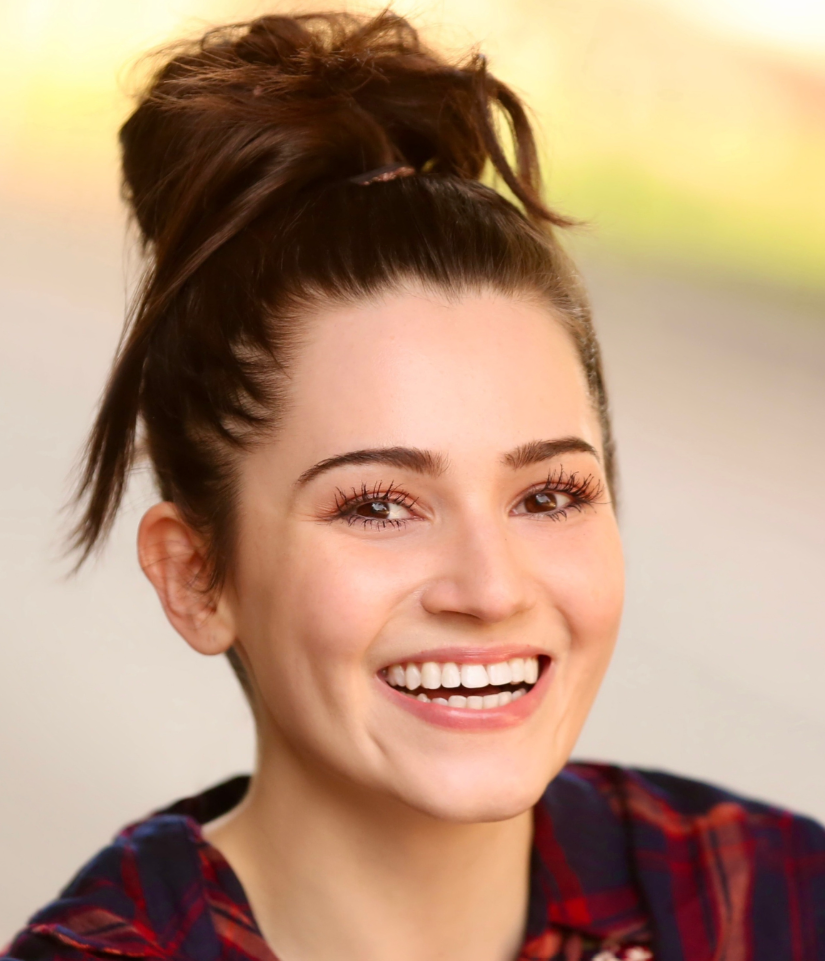 Grace is the creator, editor, and sole writer for Pixie Dust and Passports – a blog that's ALL about Disney! She's made it her life's mission to visit the Disney parks as much as possible and loves trying new snacks, grabbing the latest spirit jerseys, and rocking Loungefly bags. Oh, and she also holds a BA in History from UCL, which makes her a research and deep-dive enthusiast into all things Imagineering.