Have you been wondering "is Jurassic Park Disney or Universal"? Read ahead for everything you need to know about Jurassic Park attractions in Orlando (and who owns the rights to them!).
There's so much fascinating intellectual property dotted around the Disney parks.
From Star Wars to Marvel and Avatar, it probably comes as no surprise that people aren't sure where Jurassic Park lies in the Disney Universe.
I've always enjoyed the Jurassic Park films, and I've always assumed that it was a Disney venture because it just fits.
But when I learned the truth – I was a little surprised.
So, if you've always been wondering "Is Jurassic Park Disney or Universal?", then prepare to have your questions answered.
And don't worry – that's not all you'll get.
I'll also run you through what you'll find inside the park, who owns the rights to the Jurassic Park IP, and even a few fun facts that you'll LOVE.
Now let's get right to it and find out "is Jurassic Park Disney or Universal?"!
Is Jurassic Park Disney or Universal?
If you've been wondering whether Jurassic Park was Disney or Universal, I'll cut right to the chase.
It's Universal!
A Jurassic Park section can be found inside Universal's Islands of Adventure and is designed to be an immersive land with several exciting rides.
While you're here, you'll come up against raptors on the VelociCoaster, T-rexes on the River Adventure, and tons of other beasts!
It's not the largest land in Universal, but there's merch, dining experiences, and attractions tucked inside the Jurassic Park section of the park.
There are a couple of dinosaur-themed bits and pieces inside Disney World, but I'll get to that later!
Who Owns the Rights to Jurassic Park?
The TV and film rights to Jurassic Park are currently held by Amblin Entertainment which is Stephen Spielberg's production company.
If you're wondering how this happened, the adventure started when Universal and Amblin purchased the rights to Jurassic Park.
This was a novel by Michael Crichton, and the two teams saw so much potential in the story that they bought the rights before the book was published!
Talk about commitment to the cause.
The original Spielberg flick burst onto our screens in 1993, but it's had a resurgence in popularity thanks to the Jurassic World reboots.
But the franchise is owned exclusively by Universal for any theme park-related merchandise and attractions.
This means that Universal can co-opt any of the intellectual property, characters, and ideas for their section of the theme park.
Related: Does Disney Own Harry Potter? The Lowdown.
Which Theme Park is Jurassic Park In?
Jurassic Park is inside Universal Islands of Adventure at Universal Orlando Resort.
You'll find it right in the center of the park and it's meant to replicate the exact layout of the original Jurassic Park (the movie version!).
Although I don't think it's quite as impressive as the Wizarding World of Harry Potter (nothing is!), it's still excellently themed.
Inside the section you'll find:
Camp Jurassic (a recreation area for kiddos)
Pteranodon Flyers
Jurassic Park River Adventure
Jurassic Park Discovery Center (you'll find skeletal mock-ups here!)
The Burger Digs
Thunder Falls Terrace
Merchandise Areas
The entire Jurassic Park area covers 21 acres, which is a pretty decent size for a single theme park section!
What Are the Jurassic Park Rides at Universal
If you're wondering what rides you'll find at Jurassic Park inside Universal Studios, let me fill you in.
There are a few headlining rides, but you'll also find smaller sections designed for children.
Jurassic Park River Adventure
The Jurassic Park River Adventure is a relatively classic raft ride that takes you past everything from raptors to a scary T-rex!
Not only is it an exciting thrill ride with bumps and spins along the way, but it leads up to an amazing 85-foot drop at the end!
It's designed to be immersive and slightly spooky.
The start of the ride takes you to the Ultrasaurus Lagoon where you'll see a huge Ultrasaurus rising above the water and eating plants.
Then, you hit Stegosaur Springs. This part of the ride shows two Stegosauruses who lean over your raft vehicle.
The next part of the ride is Hadrosaur Cove which is where you might get wet for the first time as a Parasaurolophus shoots water at your raft.
And this is where things start getting dicey.
You'll pass through the Raptor Containment Area where you'll see a hole in a fence where a handful of dinosaurs have escaped from.
Your guide will say that you'll be guided to safety, but you somehow end up in the Water Treatment Facility where you'll descend toward the main drop.
But not before coming face to face with a Tyrannosaurus!
This is one of the water rides that I recommend wearing a poncho for as you can get unpleasantly wet when you splash to the bottom.
P.S.: If you look up just before the drop, you'll get an amazing photo as this is where the camera is!
And what is the Raptor Encounter?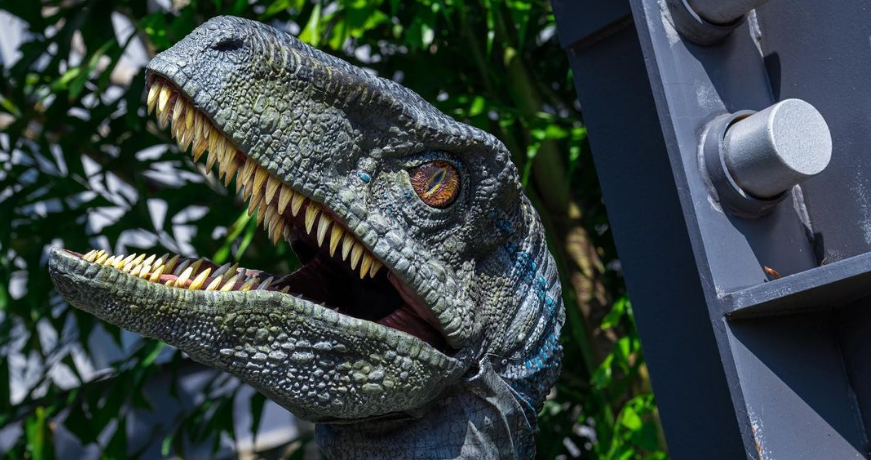 Okay, this isn't so much a ride as an experience. But it's just unforgettable.
It's basically an animatronic dinosaur that is designed to jump out and scare guests. But what makes it fantastic is that it just looks so real.
Seriously, the first time I did it I genuinely jumped out of my skin.
I'd say it's partly because there are snapping and sharp movements from the raptor. But the noises coming from Blue the Velociraptor can be startling, to say the least!
The whole thing is essentially a character meet-and-greet through puppetry, and I recommend being ready with a camera to snap photos.
The only real downside here is that you can't use a Universal Express Pass – so, prepare to wait around for a while.
Although this attraction used to have its own location, it's now by the Jurassic Park River Adventure.
Jurassic World VelociCoaster
If you're on the hunt for thrill rides with Jurassic Park theming, look no further than the VelociCoaster.
It's the newest addition to the Jurassic Park ride line-up and launches you at incredible speeds (around 50MPH!).
I'd say that it's a fabulous ride to tick off if you're going into the parks with early admission as the queues can get long.
And believe it or not, this ride is so good that it was awarded the Best New Theme Park Attraction in 2021 by USA Today!
It goes as high as 155 feet in the air, making it a majorly thrilling (and adrenaline-inducing!) ride.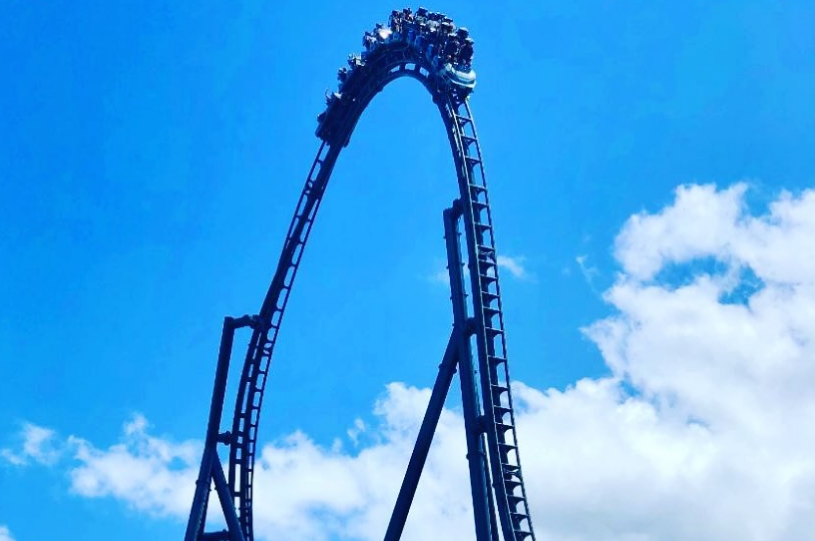 Does Jurassic Park at Universal Have Anything for Kids?
Although there are a few thrill rides at Jurassic Park, there's still plenty for little ones to enjoy.
Camp Jurassic
Camp Jurassic isn't a ride, but it's an attraction worth visiting if you're traveling with young kids who need to blow off steam.
There are rope bridges and caves around here – plus a couple of water cannons!
You'll also find a bunch of classic playground equipment that kids will be obsessed with.
You won't need long to explore, but the area is big enough that you should keep a close watch over small children.
Pteranodon Flyers
The Pteranodon Flyers can definitely be ridden by adults if they're accompanying kiddos under 56 inches.
But otherwise, it's strictly a kiddie ride.
It's essentially a ride that takes you into the air on a swing and gives you views over Islands of Adventure.
It's not a thrill ride by any means, but it's a great option for younger children who are just getting used to attractions.
I also like that it doesn't have any sudden drops, movements, or sounds that could frighten youngsters.
Plus, it's a great way to escape from the sometimes-brutal summer heat in Florida!
Jurassic Park Discovery Center
The Jurassic Park Discovery Center isn't really anything special. But it's a fun (and cool) place to visit if you have curious kids in tow.
It's basically a trivia area that lets kids answer dino-related questions, test their DNA, and check out huge T-rex fossils.
If you stick around, you can even see the dinosaur "eggs" in the nursery where baby Velociraptors hatch. Just be aware that there are no set times for hatchings – so you'll need to temper your expectations with this one!
You can skip this attraction if you're visiting the park as an adult, but it's interesting for kids if you're happy to spare half an hour or so.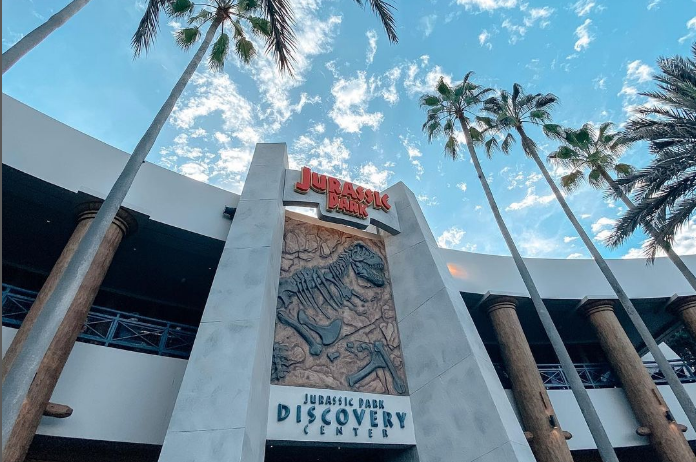 Does Disney World Have a Dinosaur Park?
Not technically.
If you're visiting Disney World and want your fill of dinosaurs, you should head to Disney's Animal Kingdom.
There's a DINOSAUR dark ride that takes you on a fascinating journey through the Cretaceous period (with animatronics!).
During the ride, you'll need to save an area called Iguanadon from extinction!
It's surprisingly intense (though there are no major drops). But I'd say that the small drops and darkness of the ride may frighten young children.
Plus, the Velociraptors and Cearadactylus flying overhead never fail to make me jump.
Oh, and don't even get me started on the meteors that fall around you as you ride (not real ones, of course!).
Where to Eat at Jurassic Park in Universal Studios
There are a few decent restaurants to visit while you're at Jurassic Park.
I wouldn't say that these were the best restaurants in Universal Orlando, but they're decent quick-service spots for a light bite.
The Watering Hole: Perfect for grabbing alcohol (like frozen cocktails and wine!). They also serve light snacks if you need to fill up on food.
The Burger Digs: This is a pretty classic quick-service burger joint. But it does serve themed grub and a few salads if you're struggling to hit your 5-a-day.
Pizza Predatoria: If you'd rather grab a slice of pizza and breadsticks, I suggest heading here!
Thunder Falls Terrace: This is an enormous quick-service place that serves rice bowls, turkey legs (which are amazing!), burgers, and light bites.
Fun Facts About Jurassic Park
John Hammond is played by Richard Attenborough, but he wasn't the first choice!
This iconic role was played wonderfully by Attenborough, but Sean Connery, Marlon Brando, and Clint Eastwood all turned it down first!
A lot of the scenes were filmed in Hawaii, but a hurricane hit the area 3 weeks into production.
This meant that all the sets were hit and power was completely taken out.
As they couldn't figure out a way to move forward, they had to move the sets back to LA and film there instead!
Everyone wanted to buy the book
Universal may have won the rights to the book (and Stephen Spielberg's production company!), but tons of people wanted it.
Not only was Tim Burton in talks to direct, but Warner Bros was one of the many teams who wanted to buy the rights.
Oh, and did I mention that James Cameron wanted a shot too?
Despite this, Spielberg was always the top choice to direct
There was a bunch of interest in the story, but Universal always wanted Spielberg on the project.
He agreed to the offer when they said they'd make Schindler's List afterward!
Many of the dinosaurs are actually real-life animatronics!
You might not believe this, but the special effects team had a major job here.
Sam Winston was tasked with creating live-action robots that would move realistically.
This includes the 7.5-foot-tall Brachiosaurus puppet that went down in history!
Spielberg was so committed to the project that he even hired teams of paleontologists!
To help get the dinosaur characteristics nailed down, Spielberg brought on an expert team of paleontologists (including industry legend Jack Horner).
Malcolm wasn't always going to be played by Jeff Goldblum.
We all know he nailed the role, but the part almost went to comedy star Jim Carrey!
FAQs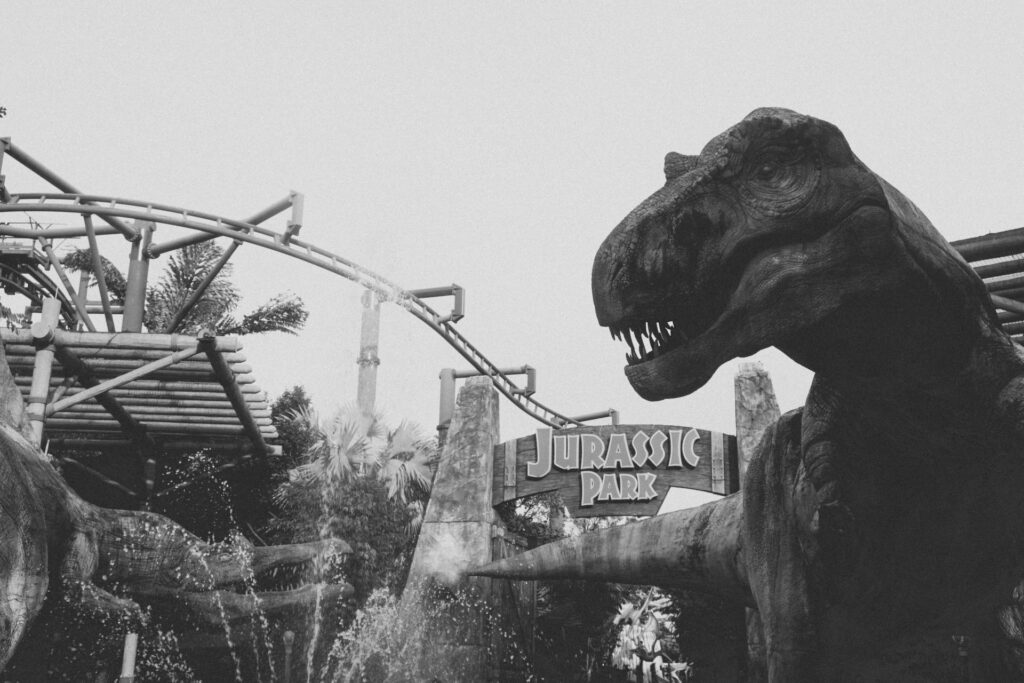 Is Universal owned by Disney?
Universal isn't owned by Disney – instead, it's part of the Comcast family. In the Comcast family, Universal comes under the NBC Universal umbrella. Believe it or not, the company dates back to April 1912!
Is Jurassic Park available on Disney+?
Although you won't find Jurassic Park on Disney+, you can watch it on HBO Max, Amazon Prime Video, or iTunes. It occasionally pops onto Netflix too!
What theme park has Jurassic Park?
As I briefly mentioned earlier, Universal has exclusive rights to a Jurassic Park-related park!
How many Jurassic Park theme parks are there?
Jurassic Park is owned by Universal, but there are several different parks around the world that feature these dinosaurs. They're all Universal parks, but you'll find them at Universal Studios Singapore, Japan, Beijing, and Hollywood too!
Does California have Jurassic Park?
It does indeed! Universal Studios Hollywood also has plenty of Jurassic Park-themed rides.
Where is the biggest dinosaur park?
The biggest dinosaur park is Dinosaurs Alive At King Island in Ohio! It's home to more than 65 dinosaurs that are completely life-size. Oh, and don't forget the 80 rides!
Is the dinosaur at Universal Studios real?
You'll spot a pretty realistic puppet at the Raptor Encounter designed by Michael Curry. But it's not real. Instead, this clever puppet is controlled by performers!
I hope that this in-depth guide has helped answer the question "is Jurassic Park Disney or Universal?"!
Are you surprised that Jurassic Park doesn't fall under the Disney umbrella? Are you a huge Jurassic Park fan? I'd love to hear all about your dino-related experiences in the comments below!
Related Posts: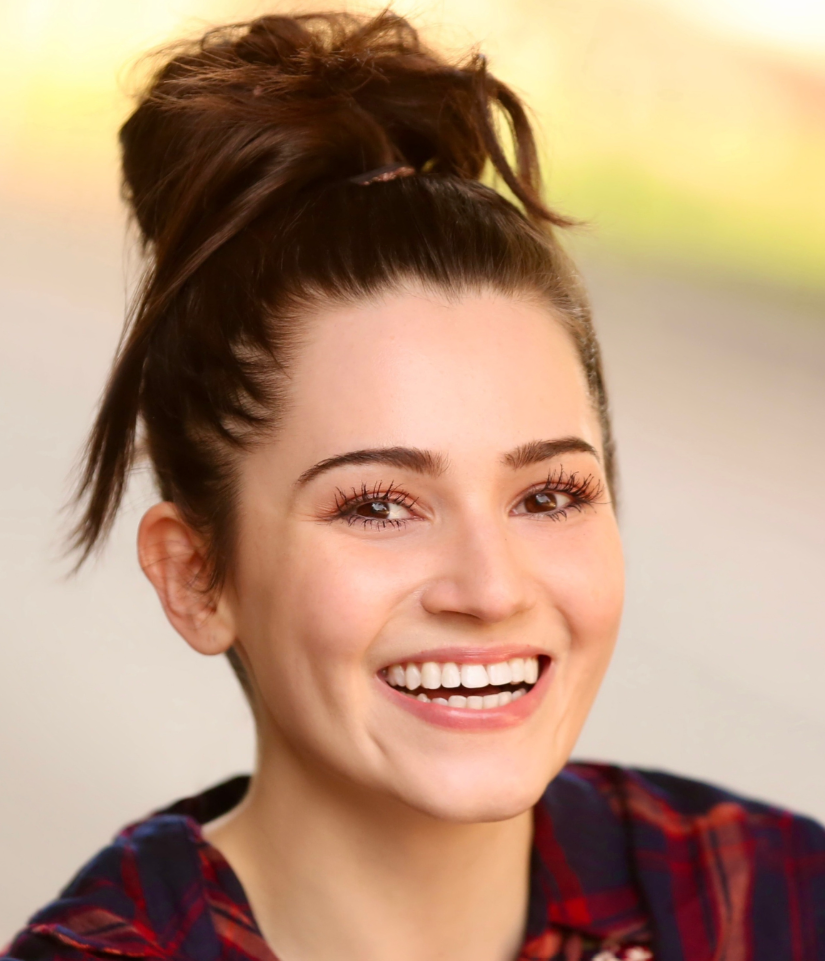 Grace is the creator, editor, and sole writer for Pixie Dust and Passports – a blog that's ALL about Disney! She's made it her life's mission to visit the Disney parks as much as possible and loves trying new snacks, grabbing the latest spirit jerseys, and rocking Loungefly bags. Oh, and she also holds a BA in History from UCL, which makes her a research and deep-dive enthusiast into all things Imagineering.