Are you wondering where you can find beignets at Disneyland? If so, read ahead for the best spots to pick up these delightful sweet treats in Anaheim!
You never forget your first beignet. Soft, pillowy, and sprinkled with a generous amount of icing sugar, these sinful desserts are the perfect Disney treat.
Whether you've visited the parks a thousand times or are a complete newbie to the California parks, you may be wondering where to find beignets at Disneyland.
If so, I've got you covered, as I've created the ultimate guide to Disneyland beignets that'll have you chowing down in no time.
At present, there are 3 places where you can grab Disneyland beignets, and these are the Mint Julep Bar, Ralph Brennan's Jazz Kitchen, and Ralph Brennan's Jazz Kitchen Express.
Crowd levels are slightly different at each restaurant, so it's worth weighing up your personal Disney itinerary before trying to score Disneyland beignets at rope drop or waiting until later in the day.
What exactly are Disneyland beignets?
If you've never heard of these delightful Disney snacks, you may simply be wondering: "what on earth is a beignet?!".
Well, much like the gorgeous Princess Tiana herself, beignets first found their feet in New Orleans.
They're technically a French delicacy, but they were brought over to the city for Mardi Gras when French Catholics first settled in the area.
They're quite similar to donuts, but I'd say that they're slightly lighter in texture and have far more icing sugar dumped on them. Thanks to the additional yeast in these treats, they puff up more than typical donuts.
The result? A light and fluffy treat that pairs perfectly with a cup of coffee, a portion of dole whip, or a soft drink.
Now that we've covered the humble beignet's history, let's discover where to find beignets at Disneyland!
Where to find Beignets at Disneyland
Where to find Beignets at Disneyland: Mint Julep Bar
The Mint Julep Bar is the best-known spot for grabbing Beignets at Disneyland.
It's also the only place that you can find beignets inside the parks. As a result, it tends to be more crowded than the other spots.
The Mint Julep Bar is surprisingly easy to miss, as it's a small serving window tucked on the side of the French Market Restaurant in New Orleans Square.
The most popular thing served here is the iconic Mickey Beignet, but you'll also find non-alcoholic mint juleps and soft drinks available each day.
Depending on your hunger levels, you can grab a set of Assorted Beignets that includes Mickey-shaped and Seasonal Beignets, or opt for a 3 or 6-pack of the classic Mickey Beignets.
The Mint Julep Bar now offers mobile ordering if you'd like to make things easier.
I highly recommend doing this if you can, as the queues for beignets at Disneyland can get ridiculous around mid-afternoon.
If it's your first time at Disneyland, you may want to munch your Mickey Beignets on the go to save time.
However, if you're a seasoned Disney traveler, consider sitting near the garden patio of the French Market area and watching the world go by for ten minutes or so.
Where to find Beignets at Disneyland: Ralph Brennan's Jazz Kitchen
Ralph Brennan's Jazz Kitchen is another great place to grab beignets at Disneyland, and it's located in Downtown Disney.
It's worth noting that this restaurant offers beignets on its dessert menu only. So, you'll need to wait until the breakfast menus change to pick one of these delicious Disney snacks up.
Once the beignets arrive on the menu, you'll be able to choose between 4-packs, 6-packs, 10-packs, and 12-packs.
You get more choice at this location than you'll find at the Mint Julep bar, and the slightly larger portions prove cost-effective for large families.
One word of warning though – the beignets at this location are more traditional, meaning you'll only find square beignets as opposed to the classic Mickey Beignets from inside the parks.
So, if you're looking for Princess and the Frog beignets that are just like Princess Tiana makes them, make a beeline for Ralph Brennan's!
It's worth noting that the lack of Mickey beignets might be slightly disappointing for little ones. So, keep this in mind when you're working out where to find beignets at Disneyland.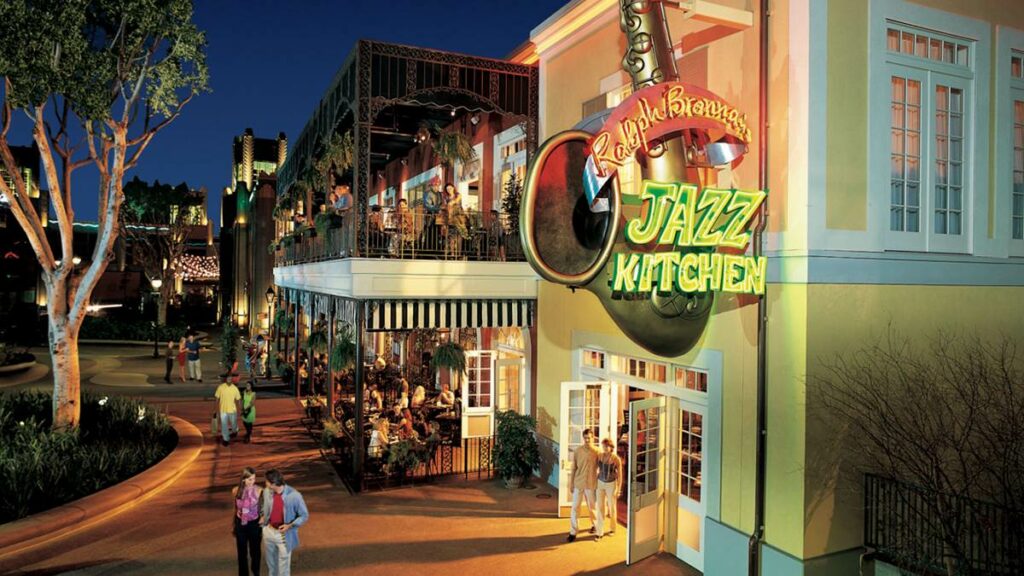 Where to find Beignets at Disneyland: Ralph Brennan's Jazz Kitchen Express
Ralph Brennan's Jazz Kitchen Express is similar to Ralph Brennan's Jazz Kitchen, but it offers beignets as soon as it opens.
As opposed to the bite-size beignets at the larger restaurant, the Kitchen Express offers Cookies and Cream Glazed Beignets and Original New Orleans Beignets.
Again, these are square-shaped like the beignets from Princess and the Frog – so, not Mickey-shaped!
You can order the Disneyland beignets in packs of 4, 6, or 10.
They call the 10-pack the family-size option, but I'd say that 6 beignets will go a decent way if you're looking to save 5 bucks.
To be honest, this is the first place I'll offer when someone is wondering where to find beignets at Disneyland as it's excellent value.
While you're here, you can pick up a slightly cheaper Mint Julep, assorted Fountain Beverages, and a delicious hot chocolate.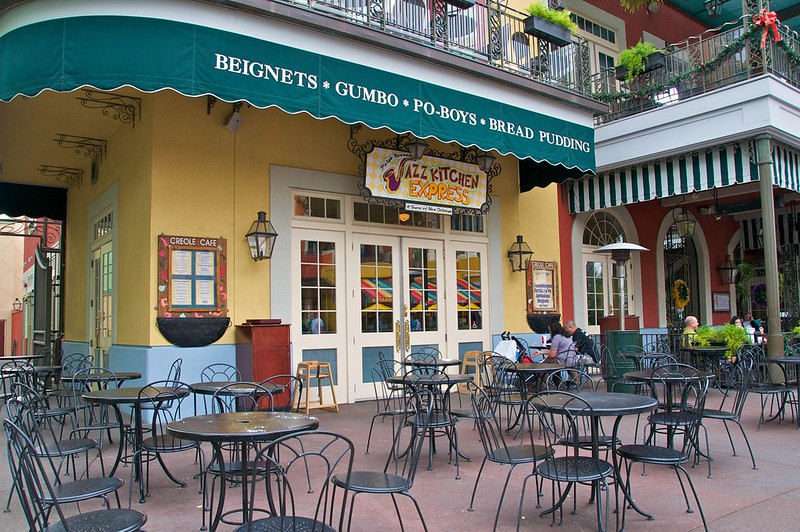 Where to find beignets at Disneyland: Royal Street Veranda
As of 2023, you can also grab Disneyland beignets at the Royal Street Veranda by Pirates of the Caribbean!
It serves glorious coffee, clam chowder, gumbo, and beignets!
They currently serve a 3-pack of Mickey beignets for $4.99 a pack, and they're dusted with powdered sugar.
You can grab them throughout the day while stocks last – but when they're gone, they're gone!
Now that you know where to find beignets at Disneyland, which delicious eatery are you going to stop by first? There are so many things to discover at the Most Magical Place on Earth, but finding the elusive Disneyland beignets may just be the highlight of your trip!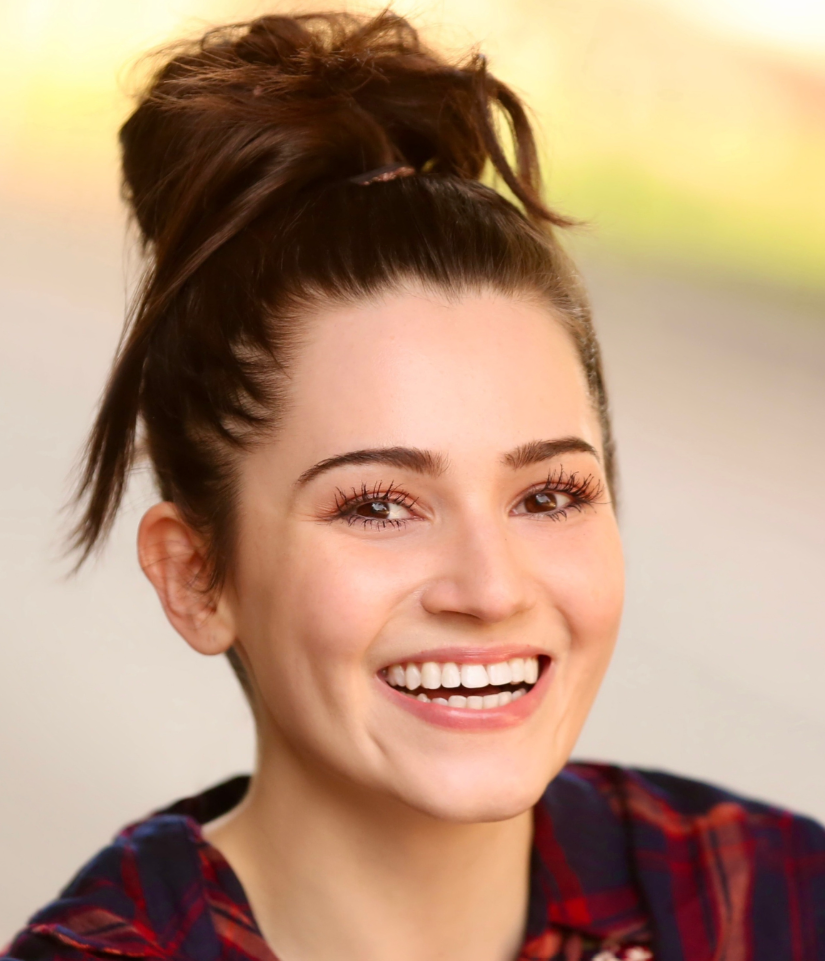 Grace is the creator, editor, and sole writer for Pixie Dust and Passports – a blog that's ALL about Disney! She's made it her life's mission to visit the Disney parks as much as possible and loves trying new snacks, grabbing the latest spirit jerseys, and rocking Loungefly bags. Oh, and she also holds a BA in History from UCL, which makes her a research and deep-dive enthusiast into all things Imagineering.