Are you looking for the lowdown on the infamous Disneyland Paris Dragon that lurks beneath the castle? Read ahead for literally everything you need to know about this incredible hidden attraction!
If you've never been to Disneyland Paris, then you may not know that there's an actual DRAGON hiding under the castle.
Take that Cinderella's Castle at Walt Disney World!
Although there's much to love about all the Disney castles around the world, Paris is the only park with a hidden beast.
And honestly, it's something that you can't miss on your next visit.
Whether you need help finding the dragon or simply want to learn how it came about – I've got you.
Oh, and I'll even give you a few top tips that'll help you avoid any queues and make the most of Fantasyland!
Now let's do this.
What Is the Disneyland Paris Dragon?
If you're visiting Disneyland Paris for the first time or trying to pin down your itinerary, you might be wondering what this mythical dragon actually IS.
Well, it's an absolutely incredible animatronic that's housed underneath the Sleeping Beauty Castle.
When it was first built back in 1992, it was the largest animatronic of its kind in the world – and boy can you tell.
It's a walkthrough attraction that's designed to mimic the dingy and grimy dungeons of the castle.
I honestly think it looks more like a spooky cave, but that might just be me!
Although the dragon is often lying still (while looking menacing), it regularly moves, puffs smoke, and glares at you with red eyes.
If you look very closely inside the water, you'll even notice its forked tail moving!
I adore the attention to detail in this attraction.
Everything from the dragon's scales to the wings and surrounding rock is beautifully designed.
Despite being over 30 years old, the dragon animatronic is still impressively realistic and continues to spook guests!
What Is the Story Behind La Tanière du Dragon?
If we're talking about the hypothetical story, it's said that the dragon is meant to be a caged and tamed Maleficent.
But as she literally died in the movie, I'm not entirely sure how plausible this theory is.
And according to Imagineers – it's not Maleficent, it's just a beastly green dragon that's lying in wait for a victim.
Spooky, indeed.
The project was spearheaded by Imagineer Terri Hardin who had been working with Disney since 1987 as a sculptor.
She first started designing Big Thunder Mountain Railroad, but she's primarily known for the Disneyland Dragon!
She originally wanted to have the skeleton of Maleficent's dragon lying under the castle to fit in with the story's cannon.
But Disney vetoed it as being too dark – which is undeniably fair.
So, she decided (on her own, BTW as she was the sole Imagineer on the project!) to create a green and dimly lit walk-through attraction.
The animatronic took a while to come to life and has to be refurbished relatively regularly.
But it remains an incredible hidden attraction at Disneyland Paris that speaks to the creativity and hard work of Imagineers.
Where is the Disneyland Paris Dragon?
The Disneyland Paris Dragon is underneath Sleeping Beauty's Castle, but it's actually surprisingly tricky to find.
It's close to Main Street as you just need to walk down toward the castle which is straight on from the front entrance.
You'll pass a couple of topiary designs in the center before reaching the castle drawbridge.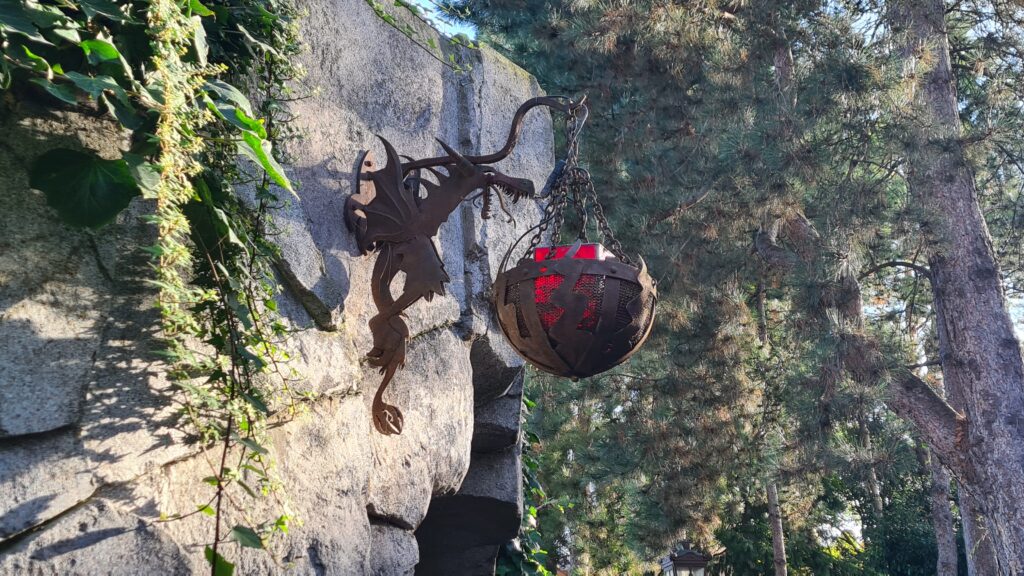 How Do You Get to the Dragon in Disneyland Paris?
There are 2 different entrances to the dragon attraction.
One is down by the left of the castle which you can reach by heading towards Adventureland. Right on the side of the castle, you should spot a tiny sign that guides you in!
You can also approach from the Fantasyland side by the giftshop that's closest to the Snow White dark ride attraction.
You then walk straight past it and it should be on your left!
If you're walking through the castle's drawbridge entrance (AKA: the main entrance), head into the jewelry shop in the left.
You can walk through here and enter through a specified set of stairs that takes you straight down.
What Are the Disneyland Paris Dragon Opening Times?
The attraction more or less opens and closes with Disneyland Park each day – but there are a few caveats.
The whole of Fantasyland is cordoned off approximately an hour before the whole park closes (it can be up to 2!).
This gives the firework specialists time to prepare for the evening spectacular without potentially causing anyone harm.
I used to question WHY Fantasyland had to close early back in the day.
But I quickly realized that trying to usher guests away from a full-on firework display would be more than difficult.
In terms of concrete opening times, you should go based on park opening hours MINUS an hour.
Just be warned that the dragon closes even earlier (1 hour and 45 minutes before park closing).
During the summertime, it can be open as late as 10 pm. But during the winter months, you'll have to clear out by 5:15 pm!
For this reason, I always recommend visiting Disneyland just before the peak summer season as the hours are amazing.
This attraction is also open during Extra Magic Time (from 8:30 am most days for park guests and qualifying pass holders).
So, you can visit even earlier if you like!
But honestly, you're better off visiting this at any other time and saving your Extra Magic Time for very popular attractions.
If you're doing rope drop, make a beeline for Peter Pan's Flight, Pinocchio, and Snow White.
These rides are worth doing, but they are not worth the sometimes-ridiculous queues later in the day! You can then tack on the dragon once you've ticked these rides off.
Don't worry about getting stuck in the attraction either.
Cast Members will be on hand to usher you out once Fantasyland starts closing.
If you're even remotely worried about missing out, I suggest downloading the Disneyland Paris App.
It's an official app that keeps you posted on wait times and closing times for attractions.
I've been to Disneyland Paris countless times and STILL use it!
How Big is the Dragon in Disneyland Paris?
The Disneyland Paris Dragon is 27 meters long (or 89 feet!) in total.
But it's not seen from end to end in the attraction.
To fit inside the small rocky section of the attraction, the dragon lies in a slightly curled position with its tail wrapped.
Oh, and did I mention that it weighs a whopping 2,500 kilograms? So, you certainly don't want to get on this creature's bad side!
What to Expect While You're Visiting the Disneyland Paris Dragon
I'd say that the Disneyland Paris Dragon was one of the simplest attractions in the park.
You essentially walk in past a few glistening rocks and arrive to see the dragon (usually!) asleep.
There's some atmospheric green and red lighting along with growling and rumbling sounds.
If the dragon moves, you'll get some growling noises and a bit of side to side or up and down movement.
The dragon's tail might even move if you're lucky!
It doesn't happen all that often, but you should be able to catch an instance of movement if you're here for more than 5 minutes.
What's the Best Time to Visit the Disneyland Paris Dragon?
I honestly wouldn't say there's an ideal time to visit the dragon as there's never a queue (it's a walk-through!).
But I would avoid prioritizing it during Extra Magic Time.
Not only is it a waste of that precious time, but Fantasyland usually gets flooded at the start of the day.
I totally blame Peter Pan's Flight – grr.
I'd just head down when you have a spare moment in the day or are struggling to cope with long wait times elsewhere.
Just make sure you head down before it closes for the day.
What Is There to Do Nearby?
La Boutique du Château
The festive season reigns supreme all year round at La Boutique du Château!
It's Disneyland Paris's designated Christmas shop and it's absolutely packed to the rafters with festive décor.
I always pick up a Christmas decoration whenever I visit, and my tree is now close to tipping over with Disney baubles.
You can also pick up stockings, advent calendars, and themed gifts while you're here.
It's certainly worth a stop if you're heading into the castle. Just be warned that it's small and can get crowded.
So, I recommend visiting just before Fantasyland closes.
Sleeping Beauty Gallery
Oh man – you cannot head to Disneyland Paris without checking out the Sleeping Beauty Gallery.
It's known as La Galerie de la Belle au Bois Dormant in French and it's a great place to escape the crowds for a few minutes.
It's another spot in the park that's often glossed over, but it's home to some of the most gorgeous stained-glass artwork around.
Oh, and don't even get me started on the woven tapestries!
The art depicts the story of Sleeping Beauty, and guests are invited to walk around the gallery in a clockwise direction.
Though people usually don't adhere to that rule!
Along the way you'll see artwork of Aurora, the Fairies, Maleficent, Prince Philip, and almost every other major character.
Once you've reached the end of the gallery, you can step outside onto the balcony for a wonderful view over Fantasyland.
While you're up here, you can also see the castle's blue-tiled turrets in more detail. You just need to keep walking around the balcony until you spot the exit stairs.
You might even be able to see the famous gold-painted snails and twinkling lights if you look closely!
To get here, you just need to head up the set of stairs on your left (just after the jewelry gift shop!).
There should be a jeweled book that signals the entrance to the attraction, but it's incredibly easy to miss.
The Sword in the Stone
I love the Sword in the Stone as it's hilarious watching people trying to pull the sword out (to no avail!).
I won't dive too much into how the Sword in the Stone works, but it's not usually something you can pull with brute force.
Even if you're not lucky enough to pull the stone, it's still a great spot for a photo!
Take photos in front of the castle
It probably goes without saying that taking photos in front of the castle is a must at any Disney Park.
So, it's worth trying to stop outside the castle for a quick shot before heading down to the dragon.
If you don't want swathes of tourists in your shot, I recommend heading to the small platform that's just to the left and right of the castle.
Most people don't think to head down here, but you get an amazing vantage point of the castle with NO ONE IN YOUR SHOT!
Check out Fantasyland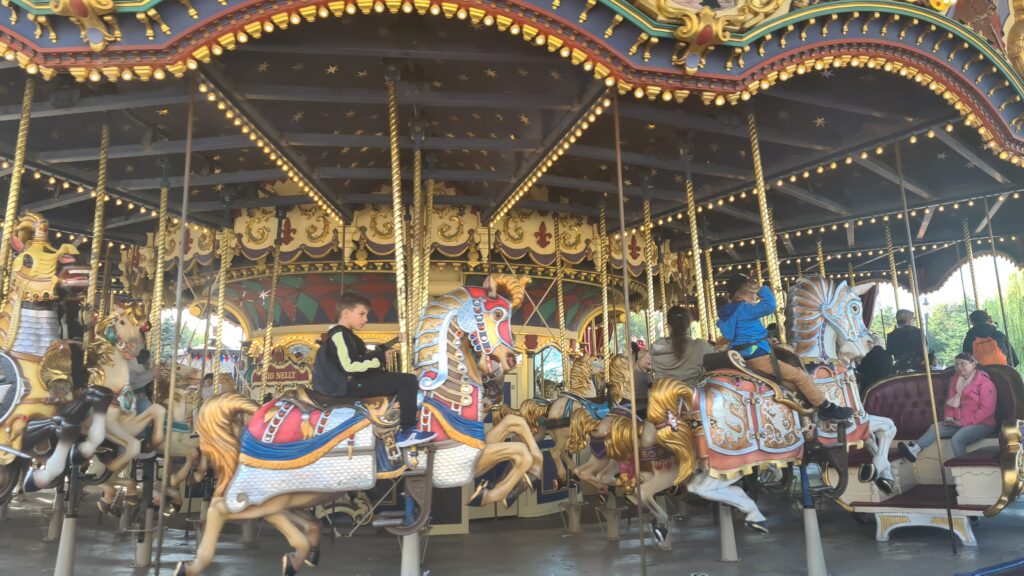 It might sound obvious, but one of the best things to do after seeing the dragon is just walk around Fantasyland.
You can hit Peter Pan's Flight, any of the dark rides, walk through Alice's Curious Labyrinth, or even grab a bite to eat!
The Carousel is also right outside the castle, which makes it a great segue ride (which rarely has a long line!).
Grab some Mickey Waffles at the Old Mill
Ah man, I'm a sucker for Mickey waffles at Disney World, but something about The Old Mill's waffles hit different.
They're always perfectly warm and are drizzled with a glorious chocolate sauce.
You can also pick up a cold drink before exploring the lesser-known area of Storybook Land.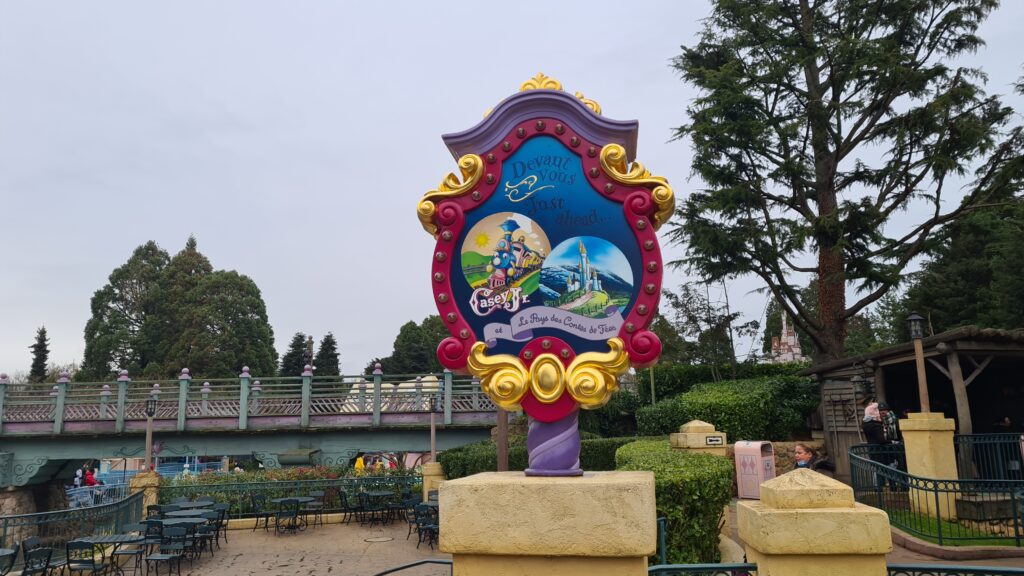 This section of the park is hidden away and often skipped (as people just don't see it!). It's home to Casey Jr. Petit Train du Cirque and Les Pays de Conte des Fees which is a small boat ride.
Both are technically kiddie rides, but I absolutely adore them.
Hey, I'm a total kid at heart!
Tips For Visiting the Disneyland Paris Dragon
Check for refurbishments
The main thing I suggest doing before heading down is checking the attraction refurbishment calendar.
This will tell you if the dragon is actually open during your visit.
Plus, you'll be able to check out if there are any other closures that you need to know about.
Don't use flash
Using flash is an absolute no-no if you're visiting this attraction as it just spoils the experience for everyone around you.
Not only does the flash not improve the quality of your photograph, but it ruins the dark atmosphere.
If you need to capture the moment, either use night mode or just take a short video!
I promise – it'll come out way better than any flash photo would.
Stand further back
This might sound bizarre, but it's a good idea to stand right by the railing AND further back while you're here.
You'll get different views from both angles that are both worth checking out.
If you're by the railing, you'll see close-ups of the dragon's scales and get a better look at the tail.
From further back, you'll see the whole body and get a better look at the up-and-down movements.
Visit at times of low foot traffic
It can be difficult to get a good view of this attraction if it's packed out with people.
So, if you notice it's exceptionally busy when you try and see it – just come back later!
Otherwise, you won't see much and will walk away disappointed.
Be careful of where you're going!
As this is a dark attraction, you really need to watch your step.
If you don't you could do everything from slip to falling back on a stroller (which you don't want to do!).
Stay for at least a few minutes
As the dragon only moves every few minutes or so, you'll need to stay for at least 5 minutes.
I usually stick around for up to 15 minutes to catch the smoke puffing, several movement patterns, and a sleeping session!
Trust me, it's worth it.
Keep an eye out for the lift
If you need to get down to the dragon but have accessibility requirements, there's a lift that heads down to the dragon.
Just approach a Cast Member and they'll happily help you out.
Where Else Can You See the Dragon?
If you can't get enough of the Disneyland Paris Dragon, you'll be able to catch a version of it in Disney Stars on Parade!
This is the park's main parade and it features a float that's made out of a fire-breathing Maleficent.
It's very dramatic, very cool, and absolutely worth seeing.
Like the dragon under the castle, this animatronic also moves its limbs (though it's less smooth as it's almost like a puppet).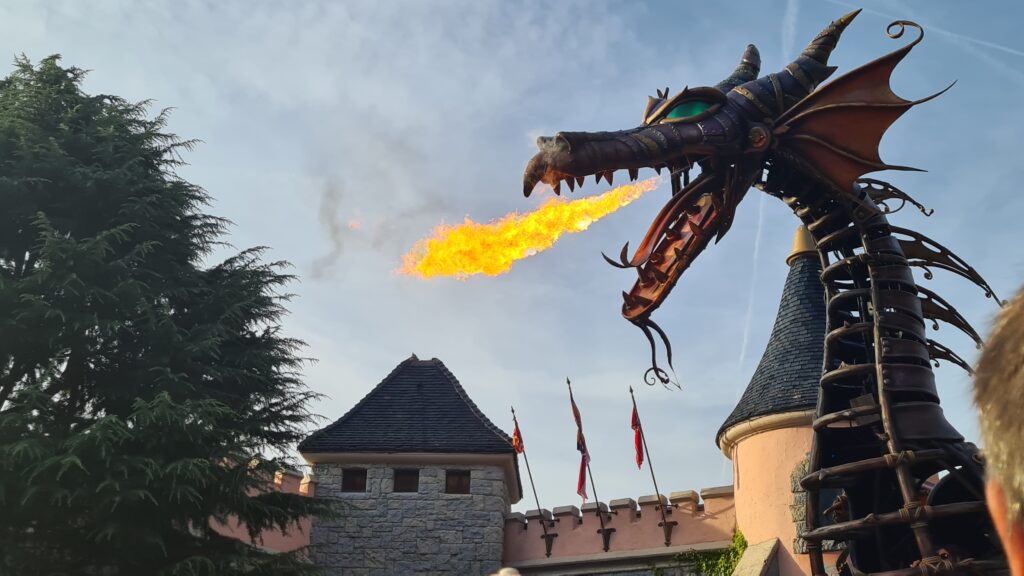 It usually comes as one of the last floats on the parade, so you'll need to stick around to catch it.
If you want the best views, I highly recommend going to It's a Small World and stopping right by the green gate.
This is where the parade starts, meaning you'll be able to get great views (the castle is packed during parades).
Plus, you can rush off after the rope is carried away before the rest of the parade crowd can catch up.
Talk about efficiency!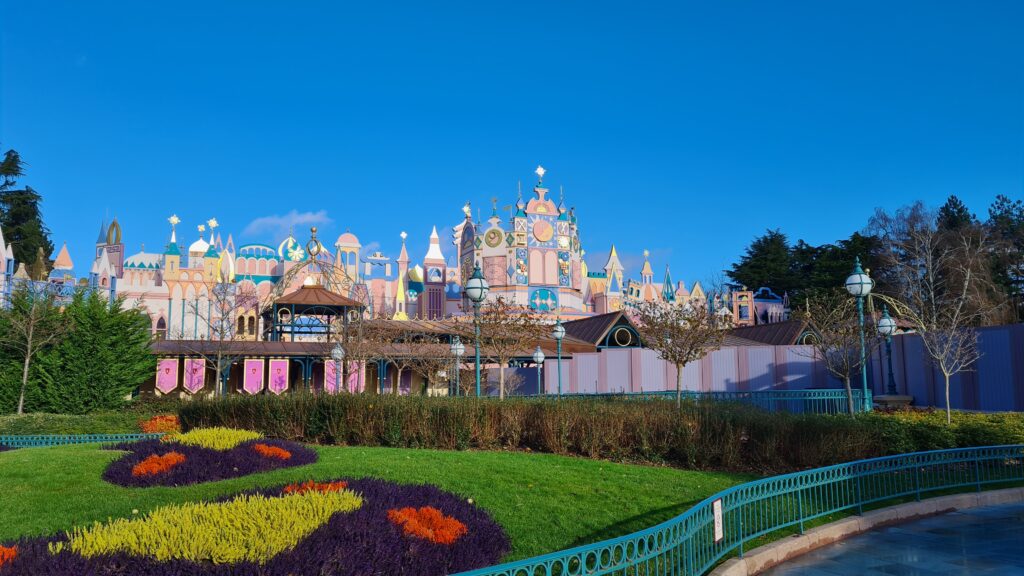 I'll also mention that this is a great opportunity to see princesses, characters like Peter Pan, and any hard-to-spot fur characters.
They ALL come out here, and it saves you standing in meet-and-greet queue lines or paying for a princess breakfast.
Yup – Auberge de Cendrillon (which is the character princess dining experience in Paris) is super expensive.
FAQs
Is the dragon under the castle at Disneyland scary?
I suppose it depends on your constitution!
The first time I visited the dragon I was 4. So, I was extremely spooked when it moved as I wasn't expecting it and the noise startled me.
But if you're an adult, you're more likely to find it incredibly cool than scary!
Is the Disneyland Paris Dragon suitable for kids?
I'd say it'll be fine for slightly older children as young kids might be frightened by the darkness, noise, and HUGE DRAGON.
As with any attraction at the parks – you know your kids best.
If you think they'll be frightened, it's worth watching a POV video or checking out a few photographs first.
This will show you exactly what to expect and should help you figure out how your kiddos will handle it.
Can you go inside the Disneyland Paris Castle?
You sure can!
Not only can you check out the Disneyland Paris Dragon, but there are gift shops and a gallery up here.
What is the name of the Disneyland Dragon?
The dragon attraction is called La Taniere du Dragon in French, but the dragon itself doesn't have a name!
I hope that this ultimate guide to the Disneyland Paris Dragon has been helpful for planning your trip!
As I've been to Disneyland Paris a million and one times (well, almost!), I'm happy to answer absolutely any questions you have. So, ask away in the comments below!
Related Posts: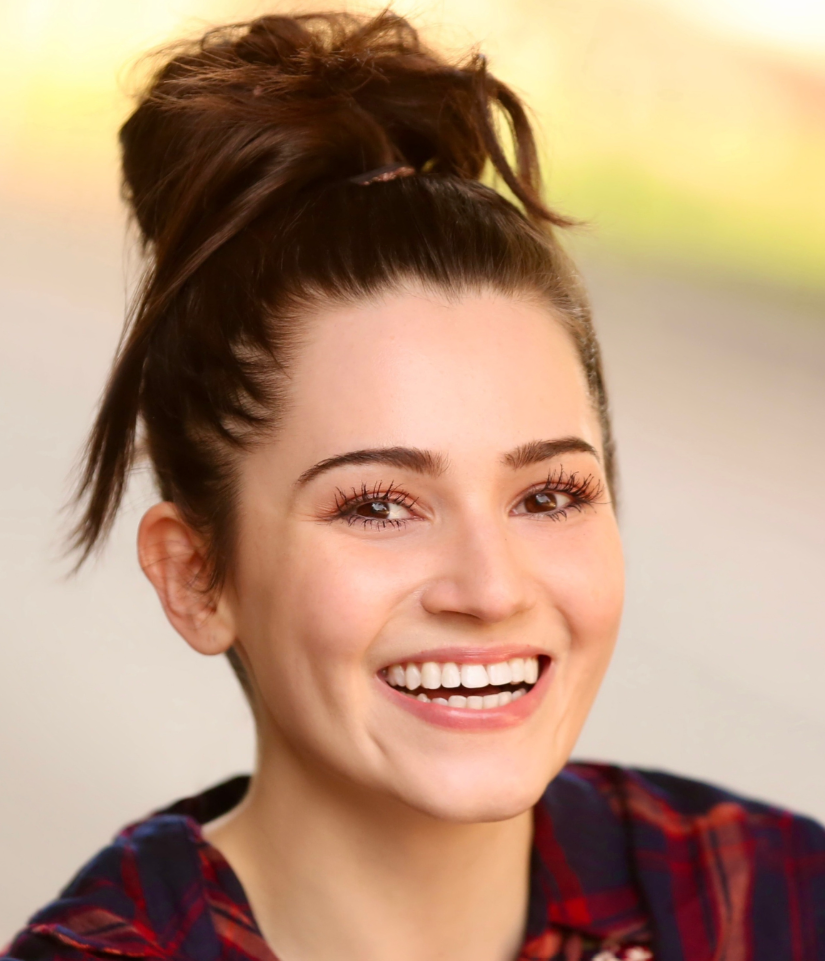 Grace is the creator, editor, and sole writer for Pixie Dust and Passports – a blog that's ALL about Disney! She's made it her life's mission to visit the Disney parks as much as possible and loves trying new snacks, grabbing the latest spirit jerseys, and rocking Loungefly bags. Oh, and she also holds a BA in History from UCL, which makes her a research and deep-dive enthusiast into all things Imagineering.