Are you trying to figure out what to bring to Disney World? Well, look no further as this comprehensive list should have you set up in no time!
Going to Disney World is a big deal.
Seriously, heading to the Happiest Place on Earth is no small undertaking, so you'll probably want to plan your trip down to the last detail!
It's unlikely that you'll be heading to Disney World for too short a period, so the first thing to do is make sure that you've got everything you need in your luggage for the perfect trip. If you're worried about what you need to bring to Disney World or are just looking for a reference list to consult with before heading to the House of Mouse, then I've got you covered.
This list will cover everything from clothes to pack to the travel documents that you might need on your journey. As there are quite a lot of things to bring to Disney World, this post will be split into a few handy sections.
First, I'll let you know in a basic list form the top things you need to bring to Disney World. Then, we'll dive into the essentials that you'll want to pack (and might not have thought about!) to make your trip as seamless as possible!
So, without further ado, let's get you packed and ready to go!
What to bring to Disney World
Clothing
Clothing choices are individual, but you will want to bring lightweight layers to Disney World that you can rip on and off in a flash if the Florida temperatures decide to mess with you. If you love a good piece of merch, then consider packing some Spirit Jerseys. They tend to be popular and readily available in the parks, so don't worry if you don't own one – you can always pick one up!
Shorts
T-shirts
Tank tops
Spirit Jerseys
Lightweight Dresses
Jeans
Leggings
A sweatshirt or hoodie
Comfortable walking shoes
Underwear
When you're considering what to bring to Disney World, don't forget underwear. I get it, it's strangely easy to do, but you will want fresh underwear each day in the parks with the amount of sweat that you'll be experiencing. A couple of bras will probably be enough for the ladies, but I do think that sports bras are more comfortable to wear for long periods – so that's worth considering too.
There's nothing wrong with wearing activewear as regular clothing in my book!
Accessories
Though accessories aren't 100% necessary, they're great additions to any outfit and should absolutely be considered when you're thinking about what to bring to Disney World. The one thing that I would suggest packing is a decent sun hat. The Florida sun can beat down HARD, and sun protection is always important regardless of the weather.
So, to keep you safe and sound, pack a sun hat!
Belts for jeans or dresses
Sun hat
Scarves (in case it gets chilly)
A watch
Sunglasses
Swimwear
You'll want a good pair of swim trunks or a swimsuit on the brain when you're making a list of what to bring to Disney World. After all, there are water parks here! Many of the Disney resorts also have incredible pools, so you don't want to have to purchase anything once you arrive. Trust me, you'll be paying through the nose if you forget a swimsuit!
Swim Trunks
Bikini
Swimsuit
Goggles
Inflatable sleeves (for kiddos)
Travel documents and important stuff!
Park tickets
Airline documentation
Driver's License and ID
Any confirmations for hotels and restaurants
Maps
Magic Bands (if you've already received them)
Guidebooks
Luggage tags
Baby stuff
If you're wondering what to bring to Disney World with a baby, then here are a few extra things to consider!
Diapers
A sturdy diaper bag
Stroller (you can rent these but you'll be more comfortable with your own)
Car seat (if you're renting a car)
Baby wipes
Blankets
Plenty of sunscreen
A mini fan
Games
Hat
Electronics
For those long-haul flights and long car rides, bring along a few electronic items to make everyone's lives easier.
Ipad
Mobile phones
Headphones
Chargers
Food
If you're staying in self-catered accommodation, you'll probably need to consider some food and crockery. So, check out my "what to bring to Disney World" cooking checklist below!
Coffee
Tea bags
Sugars
Creamer or UHT milk
Cereal
Juice
Chips
Fruit
Cereal bars
Washing up liquid/dish soap
Sponge
Plastic cutlery
Paper plates
Disposable cups
Sippy cup for kids
Ziploc bags
Bin bags
Water bottle
That should be enough to get you through in terms of long-lasting food and drink. For fresher stuff, you'll be able to get this at any nearby grocery store.
To keep things easy, here's a combined version of everything that you need to bring to Disney World that you can save and use!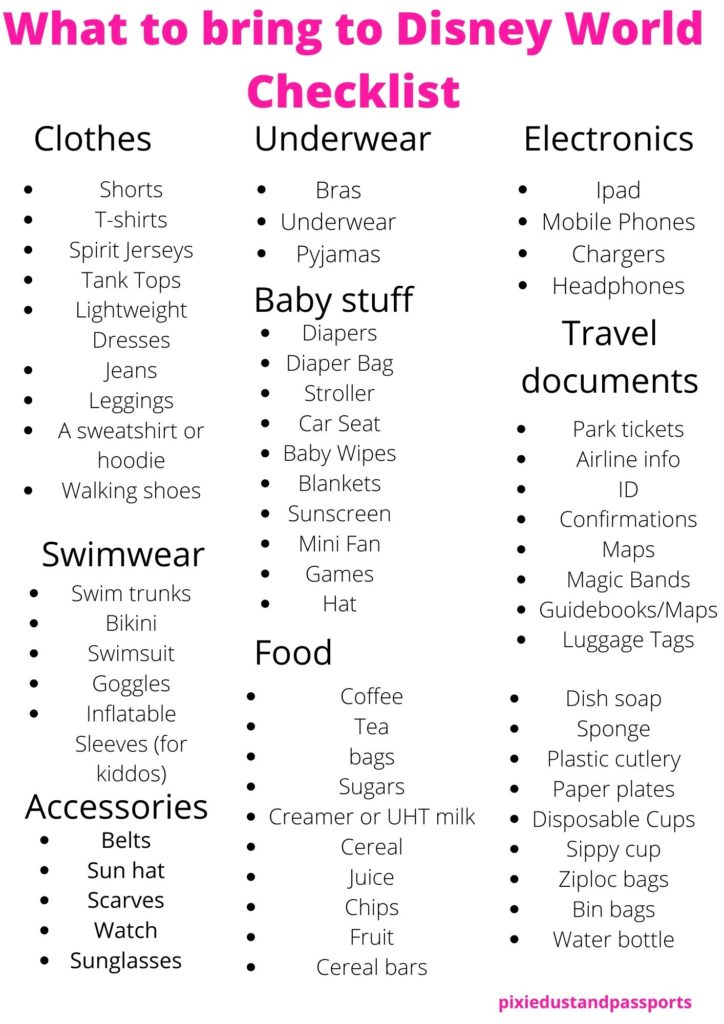 Lifesavers
There are some things that you might not think of straight away when you're planning your Disney trip.
But believe me, having some extras on your list of what to bring to Disney World is sure to make your trip a whole lot easier.
External Charger
Is there anything worse than your phone dying unexpectedly? In the parks, you'll be using your phone for everything from checking ride wait times to taking photos of meet and greets.
Sure, you could try and scour the parks for a socket, but you'll quickly find that you're out of luck! To avoid the absolute tragedy of a flat cell phone battery, add a charger to your "what to bring to Disney World" to ensure that you'll have enough juice to get you through even the most intense days of filming.
Wall adaptors
This one's important if you're coming from abroad. Different countries have different outlet designs, so if you want to charge your electronics you will need an international travel plug!
Filter Bottles
You'll quickly find that buying food and drink at Disney adds up – even with a meal plan! The Florida sun gets HOT, so to avoid getting dehydrated, pack a filter bottle that you can regularly fill up at water coolers. Bringing along a filtered water bottle is by far the cheapest way to get water at the parks, as repeatedly buying bottled water for the whole family is just a cost you don't want to be thinking about.
Sunscreen
Sunscreen is important all the time, but it's especially important if you're spending hours in the sun. As most of Disney World is outside, you'll want to pack a high factor (at least SPF30, but preferably SPF50) in your park bag to avoid burning. Keep reapplying throughout the day to ensure you're protected all day long!
Hand Sanitizer
Okay, so the Disney parks are clean, but they're not faultless. With so many people passing through each day, it gets germy. To avoid picking up a nasty bug, add hand sanitizer to your "what to bring to Disney World" checklist and apply it throughout the day. Any alcohol-based one should be fine!
Anti-Chafe Balm
Most of us have thighs that touch, so if you want to prevent chafing pack some anti-chafe balm in your suitcase for use at the park. It's never very expensive, so don't worry!
Lightweight Backpack
When you're heading to Disney World, you'll want a backpack that's lightweight but big enough to hold everything you need for a day. As you will be walking around for most of the day, I recommend choosing something that's practically weightless and saving your back for the actual things you need to carry during the day. Trust me, it makes a big difference.
Medicines
This one might seem obvious, but to save the cost of buying over-the-counter meds on your trip, pack some ibuprofen, paracetamol, and any allergy or prescription medications that you might need. It's not a bad idea to bring vitamins along too. If you happen to get burned on your trip, you'll want some aloe vera or aftersun to soothe the pain!
Packing Cubes
To keep things easy, add some nifty packing cubes to your "what to bring to Disney World" checklist. They make organizing much easier, and they also save space in your luggage!
Portable Fan
A portable fan is a really great thing to bring to Disney World as it can sometimes get unbearably hot. A simple fan is all you'll need, but you can purchase a slightly bigger one that sprays mist if you're feeling particularly fancy.
Blanket for Parades
The parades at Disney World are really popular, so you'll want to add a blanket to sit on to your "what to bring to Disney World" checklist.
Waterproof Umbrella/Poncho
When it rains in Florida, it pours. I recommend picking up a study waterproof umbrella before you head off to get through those days when the weather isn't on your side. If you'd rather be hands-free, then a poncho or rain jacket works well too! Genuinely, a waterproof of some kind is a key item on my checklist of what to bring to Disney World.
Blister Balm
You're going to be walking around a lot at Disney World, so you'll probably want to add some blister balm to your "what to bring to Disney World" checklist! Nothing ruins a good day like a bad blister, so don't let them get you!
Great Walking Shoes
A pair of great walking shoes are crucial to have on your "what to bring to Disney World" checklist. Though it may seem fun to dress to impress, shoes are where you really don't want to compromise. It will genuinely be all pain, no gain. Trainers that have been broken in should work fine, but you'll want to grab some walk boots or waterproof shoes if you can. There's nothing worse than soggy feet…
Towels
If you're heading to the water parks, you'll want a few decent beach towels to bring with you. If you fancy it, you can pick up some adorable, themed towels that will fit right in at Typhoon Lagoon and Blizzard Beach!
What not to bring to Disney World
Bug repellent
In case you didn't know, there are basically no mosquitoes at Disney World! Weird, I know – but it's true! So, you really don't need to carry bug repellant on you. If you're really concerned though, you can always grab some while you're there as it's free at the parks.
First aid kit
You can bring some ibuprofen and paracetamol to have on hand, but you won't need much else with you. The parks are fully kitted out with First Aid gear, so don't worry about that.
Restricted items!
Just don't do it, folks. The last thing that you want is to arrive at the parks only to be turned away (or worse – questioned!). If you're not sure what you can't bring, just check out this handy list.
Final tips
Though I've covered plenty on this "what to bring to Disneyworld" checklist, these final tips should see you through and make for the best trip ever!
Leave some space for merch
When you're at the parks, you will probably get carried away buying gifts and park merchandise. So, to save the sticky situation of physically not being able to fit it in your luggage on the way back, pack slightly less than you would normally and leave some space.
Start early!
Start your packing as early as you can. This will leave you plenty of time to head out to the shops if you've forgotten anything crucial or just don't have it yet.
I hope that this "what to bring to Disney World" checklist has been helpful in planning your trip.
If you want to, feel free to print this article off and tick each thing off your list as you pack!