Disney nails are a cute and stylish choice for women who want to express their love for iconic characters. The best Disney nail designs suit any shape, design, and length, allowing anyone to get a chic manicure that suits them. If you want to try your hand at adorable Disney nails, this bumper list of ideas will help you create the perfect manicure that complements your personality.
Some women might want to get simple Disney nails that they can rock at work, while others will prefer Stitch nails that reflect their views on family. Would you prefer to stay classy? A Disney French manicure is bound to look sensational!
Before you dive in and get a Disney manicure, make sure you book in with a nail tech that's skilled at creating beautiful nail art. If you do this, you'll be able to add everything from rhinestones, elegant linework, and gorgeous portraits to your nails!
To inspire you, I've compiled a gorgeous list of the best Disney nails to try out. From classy styles to cute designs, explore these incredible Disney nail designs that will make your next trip to the parks so special!
75 Disney Nail Designs That You Need to Try!
Simple Disney Nails
Simple Disney nails are a great choice if you want to get a manicure that won't interfere with your outfit. For easy Disney nails that won't take much time at the salon, choose a block polish color and paint a couple of adorable Mickey heads on the tip of your nails. If you want to dial things up, paint one of your nails with glitter to give your nails a trendy accent.
Long Disney Nails
Long Disney nails are a stylish choice for women who want to elongate their hands for an elegant and refined look. If you aren't blessed with long nails, chat to your nail tech about acrylics. To make the most of your Disney-themed nails, go for a coffin or stiletto shape that instantly draws the eye. You can then spice up your manicure with Disney princesses, cute stitch nail art, or glitter Mickey heads!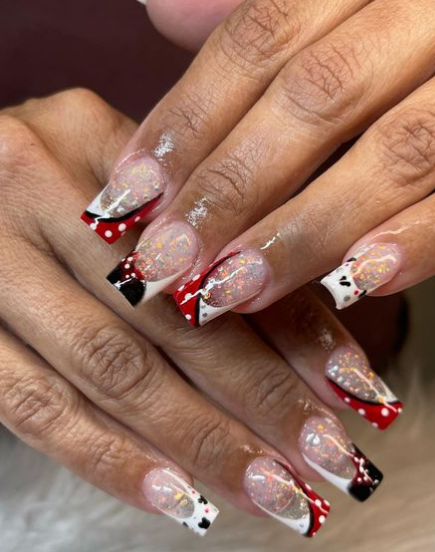 Short Disney Nails
Short Disney nails are a practical and low-maintenance option that won't get in the way of your daily activities. When you're picking Disney nail designs for short nails, it's best to stick with simple artwork that won't look too cluttered. If you try to cram in the entire cast of Aladdin, you may end up with a blurry and messy manicure.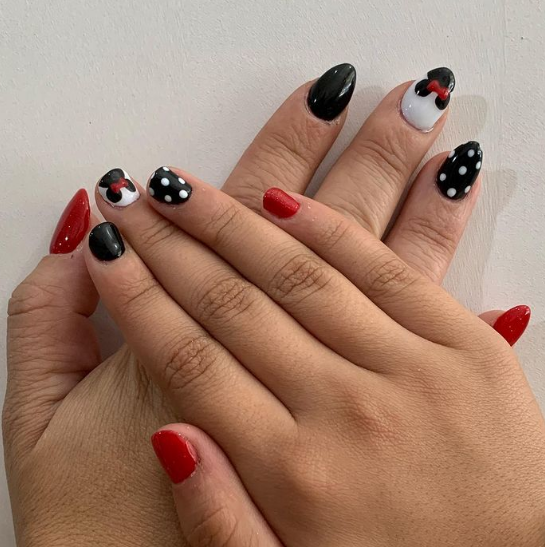 Disney Press-On Nails
Disney press-on nails are a wonderful choice for women who don't have the time or budget to hit the salon every couple of weeks. You'll find several hand-painted designs on Etsy, but you can also jazz up a simple set from Amazon with a bit of polish and creative vision. For a cool and attractive manicure, follow the packet instructions to the letter!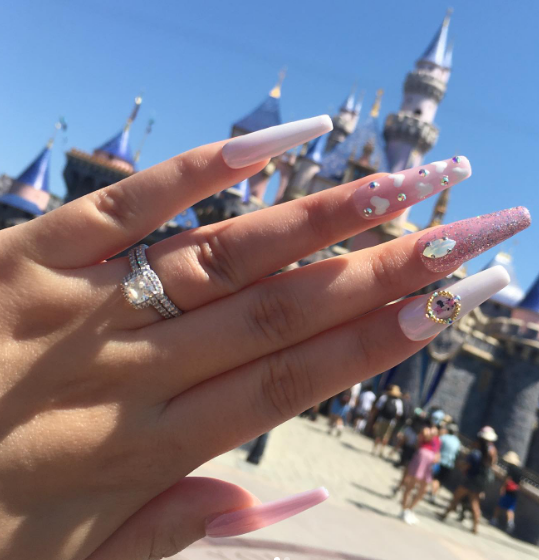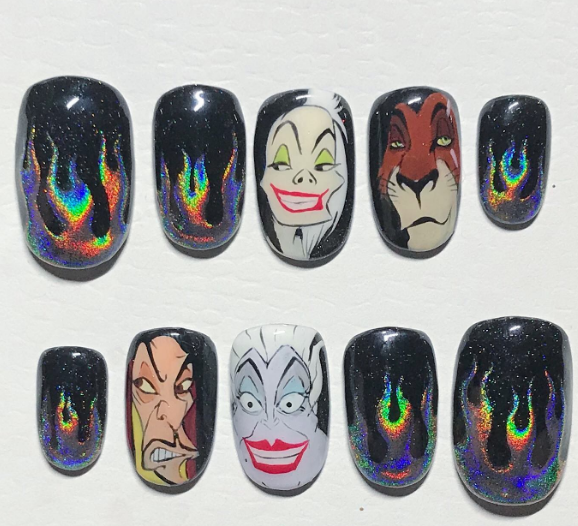 Cute Disney Nails
Cute Disney nails are whatever you want them to be, but you should choose designs that incorporate your favorite characters. Glitter polish and adorable Mickey heads are great additions to any manicure, but you can also ask your artist to design cartoon versions of your favorite Disney princesses!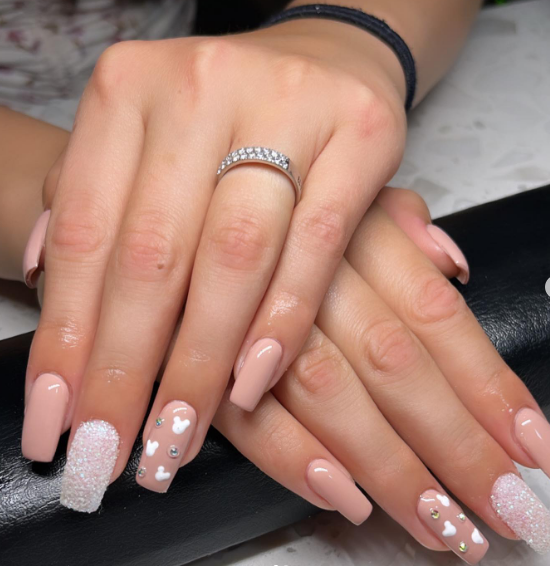 Disney French Manicure
A Disney French manicure is an elegant and classy design that never goes out of style. To keep things delicate and feminine, get a regular French manicure that incorporates tiny Mickey heads and a touch of sparkle. If you want to get creative, get a distinctive character design and match the tips of your nails to their signature color. For example, you can get blue for Cinderella, pink for Aurora, or polka dots for Minnie Mouse!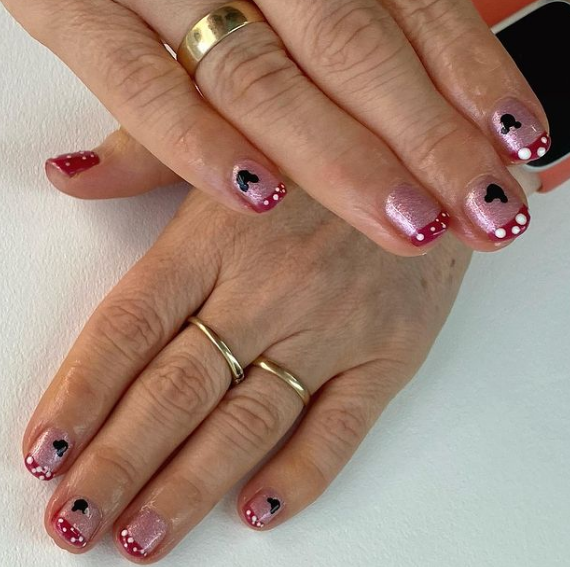 Stitch Nails
Stitch nails are an extremely popular style to get for fun and adventurous women who aren't afraid to show their wild side. You'll want to get deep blue nails to match Stitch's fur, but you can add images of Lilo, Angel, paw prints, or cute hearts to make your design more personal. If you want to get cute Stitch nails, ask your artist to paint this adorable character in a cartoon style with his famous puppy-dog eyes taking center stage!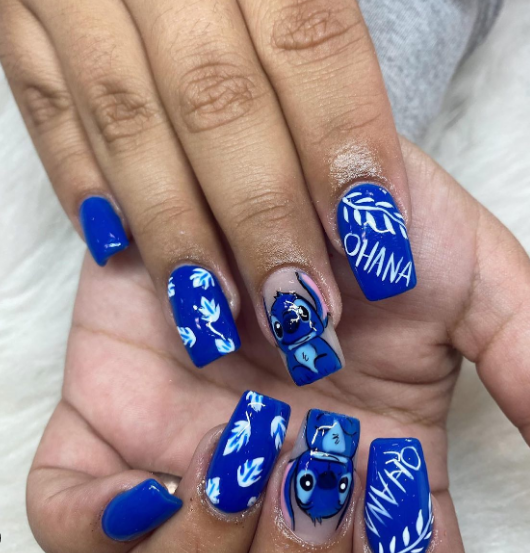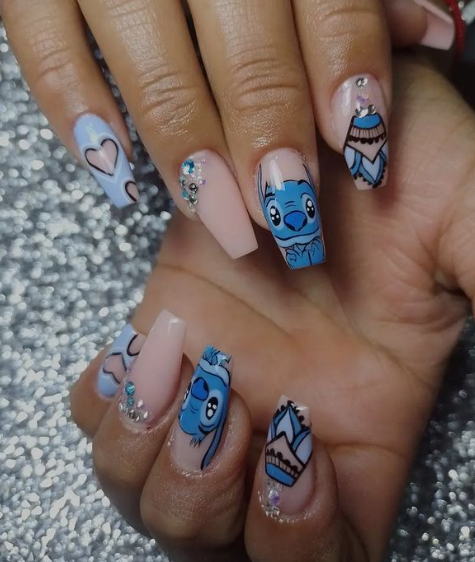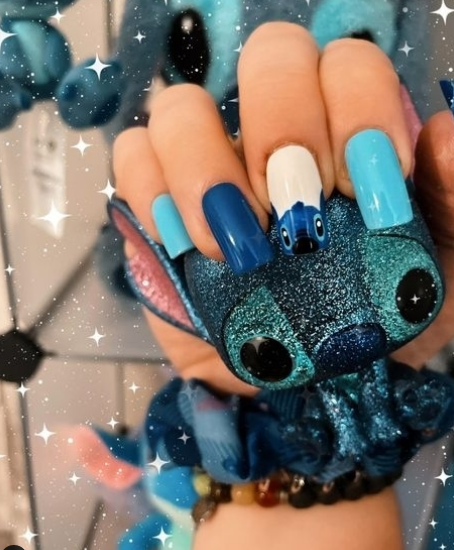 Minnie Mouse Nails
Minnie Mouse Nails are a gorgeous design for women who want to showcase their love for this cute and colorful character. You can get seriously creative with Minnie Mouse nail art by adding polka dots, splashes of red and black, or drawing photorealistic images on your nails.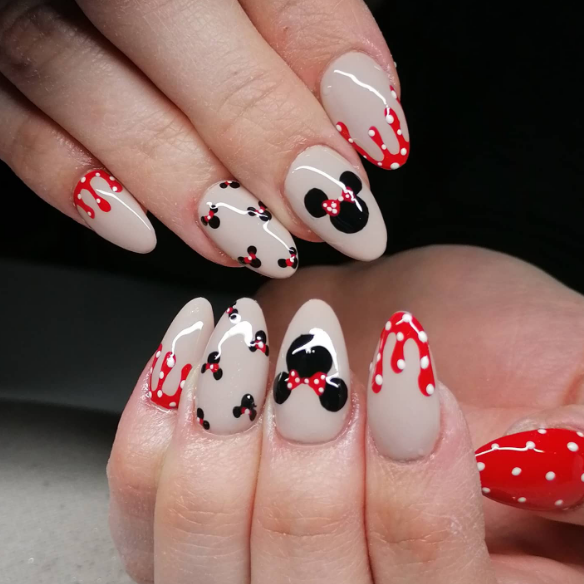 Pink Minnie Mouse Nails
Pink Minnie Mouse nails are a flattering choice if you don't feel like rocking Minnie's signature colors. You can keep things perfect for springtime with pastels and light pinks or rock stylish neon colors for a bolder finish. If you want to allude to your favorite Disney character without being obvious, get Minnie Mouse nail art that incorporates her bow, white polka dots, and stylish glitter polish.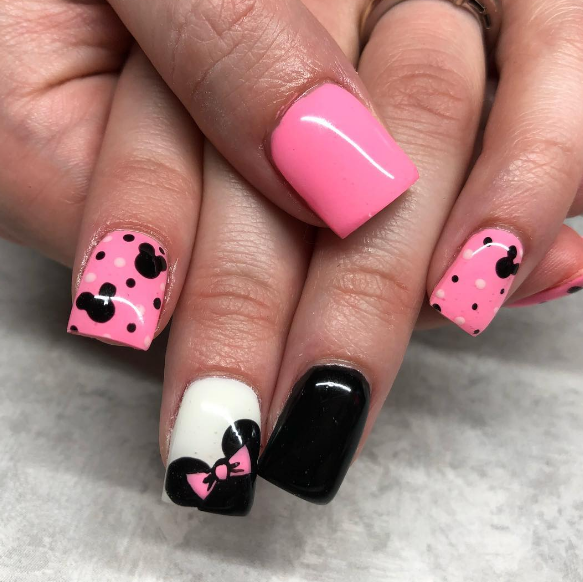 Disney Halloween Nails
Disney Halloween nails are an interesting way for women to experiment with fall colors and exciting textures to bring their manicures to life. You can keep things mellow with matte polishes or dial things up with shiny gels that will draw attention to any nail art you choose. Whether you want to get an adorable design of Zero and Oogie Boogie from A Nightmare Before Christmas or want to get a cute design of Mickey ghosts or pumpkins, there are so many options to choose from.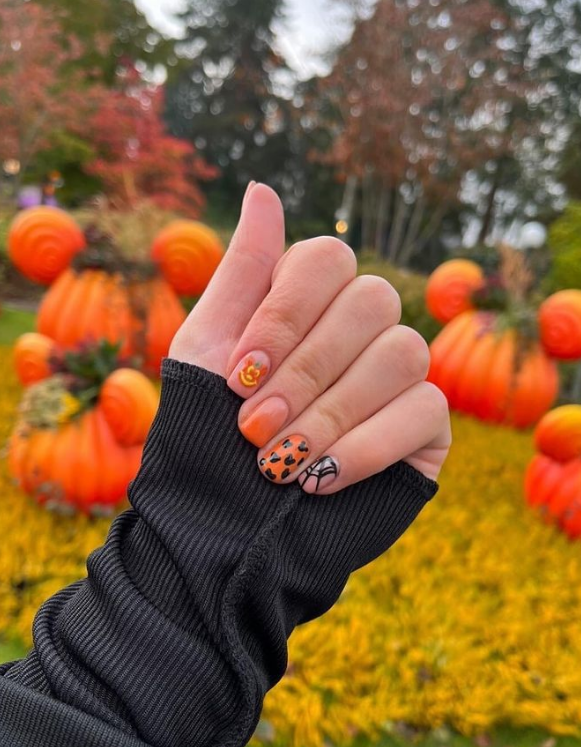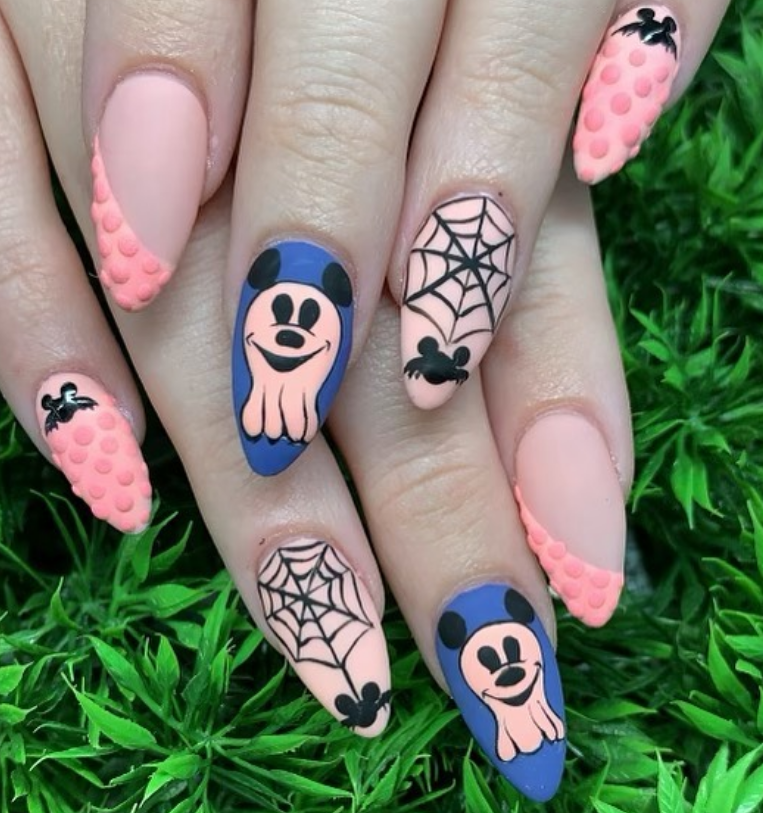 Winnie the Pooh Nails
Winnie the Pooh nails are perfect for caring women who want to rock a bright and bold manicure. You can keep the focus of your design on Winnie with honeypots, yellow polish, and honeycomb nail art, or involve the whole gang with photorealistic images. If you want to add some sparkle to your set, dot some golden rhinestones near the cuticle and ask for small dots of glitter on your nails.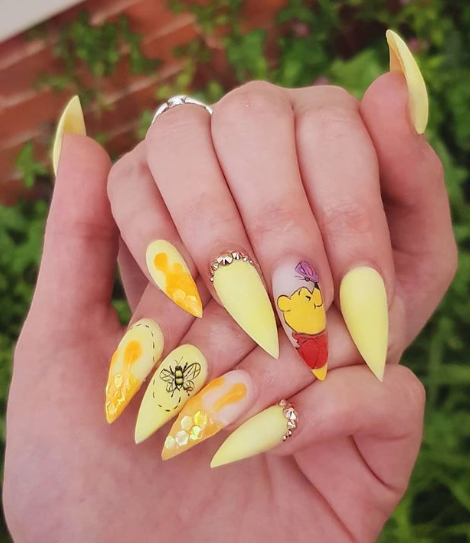 Frozen Nails
Frozen nails are one of the top choices for women who want to get a gorgeous Disney manicure during the winter months. Your manicure can be as bold or subtle as you choose. You can either go for photorealistic drawings of Anna Elsa, Sven, and Olaf, or adorn your nails with rhinestones, glitter, and snowflakes to represent the main themes of the movie. Whatever frozen nail designs you choose, it's worth getting them in gel to extend the life of your manicure.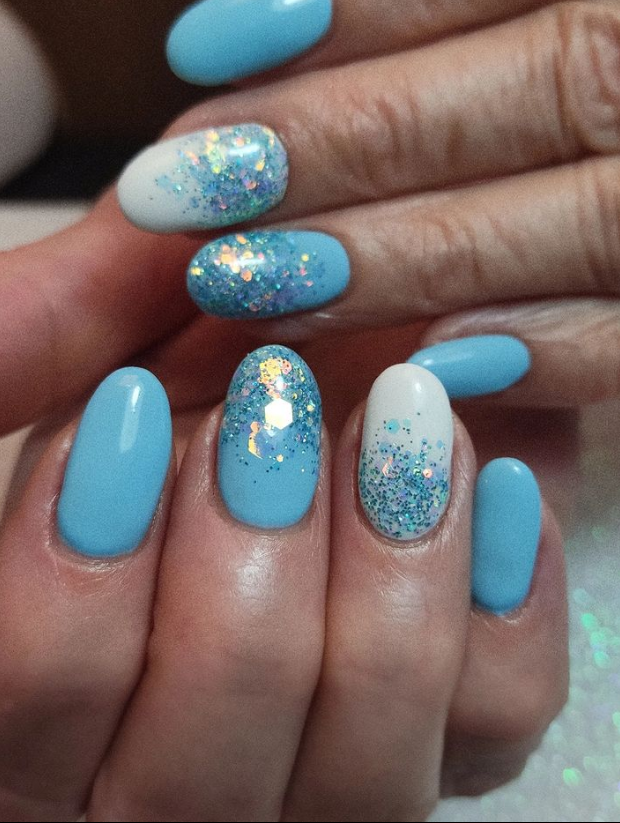 Disney Holiday Nails
Disney holiday nails are the perfect way to welcome Thanksgiving and Christmas in style. You can ring in your Thanksgiving feast with a cute image of Pilgrim Mickey or skip straight to Disney Christmas nails with Santa hats and red glitter polishes. If you want more space to work with, consider getting a set of acrylic nails that will allow you to create nail art with more detail.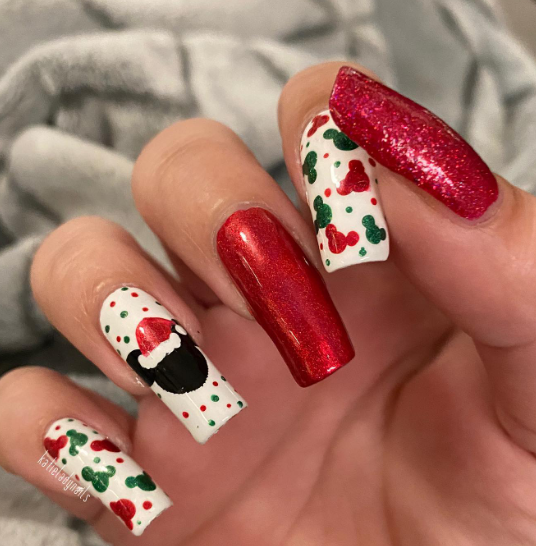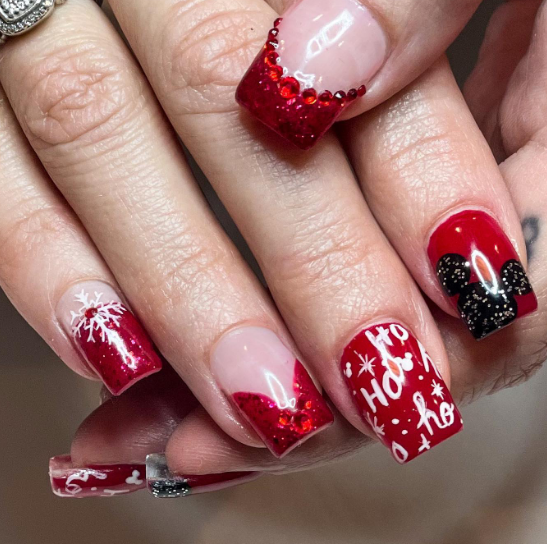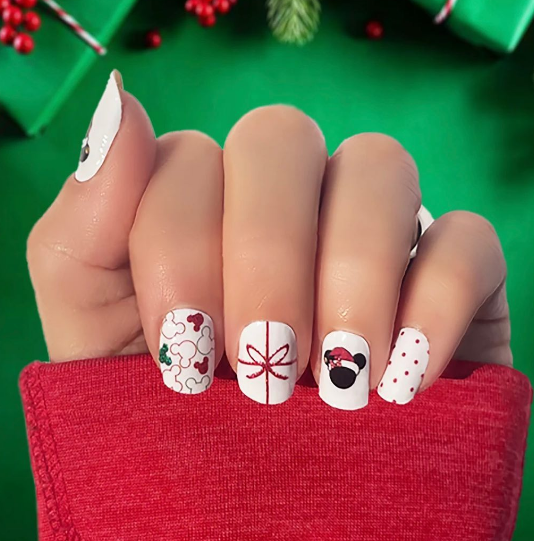 Gel Disney Nails
Gel Disney nails are a classic and long-wearing option that offers a chip-free experience for busy women. You can get creative with your designs by choosing your favorite characters, opting for a classy French manicure, or keeping things simple with tiny polka dots or Mickey heads. If you're looking for a daring look that will instantly command attention, ask for an ombre effect that's dotted with rhinestones and an image of your favorite princess.
Classy Disney Nails
Classy Disney nails are an enduring option that won't look out of place in professional settings. To keep your look subtle and elegant, go for a nude polish that's taken to the next level with white nail art. You can make your manicure feminine with French tips and small Mickey heads or go for a simple outline design that subtly hints at your love for the world's most famous mouse! If you want something slightly more eye-catching, paint your ring finger in a glittery rose gold shade for a gorgeous finish.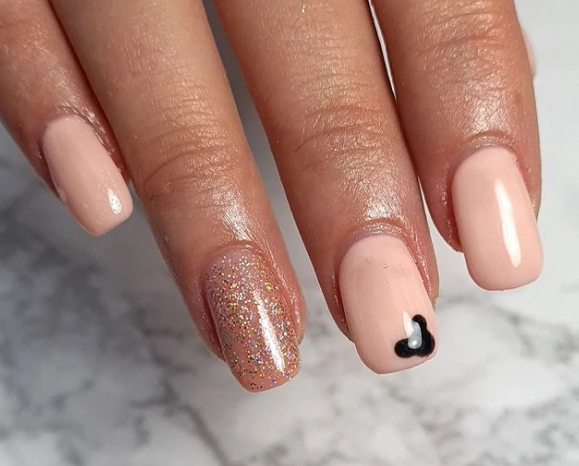 Fall Disney Nails
Fall Disney nails are a classy and timeless style that can add a dose of magic to your look as the cooler months roll around. You can keep things simple with adorable Mickey heads and mauve tones or dial things up with pumpkins and vibrant orange polish. To add flair to your nails, think about striped lines, flecks of glitter, or themed characters that you love.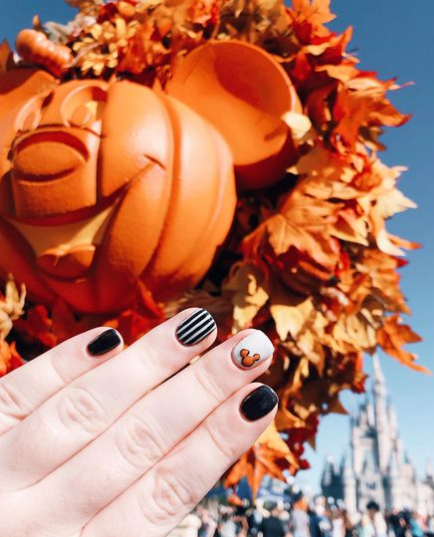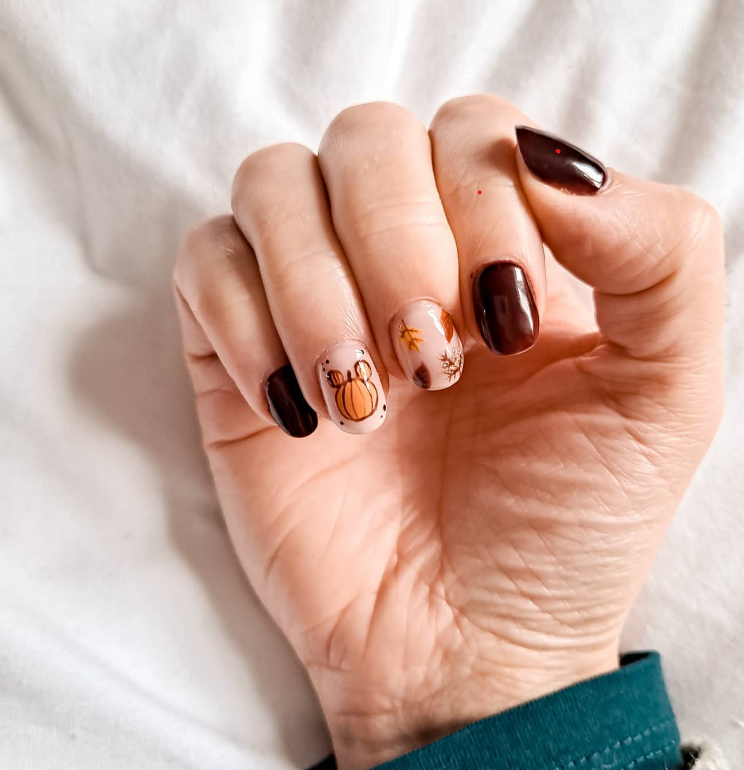 Acrylic Disney Nails
Acrylic Disney nails are a perfect option for women who want to sport a long and beautiful manicure without growing their nails out. You'll need to pencil in regular infills with your nail tech, but you'll be able to play around with stiletto, coffin, and almond styles that look truly gorgeous. Take advantage of the extra length by creating portraits of your favorite characters or rocking incredible themed French tips that will have all eyes on you.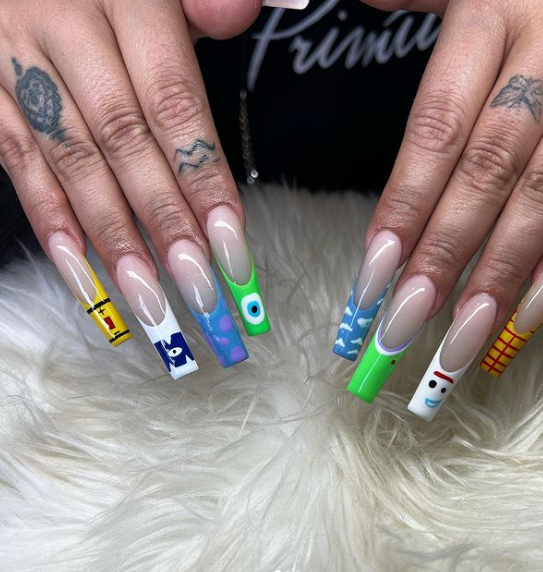 Disneyland Nails
Disneyland nails are one of the best ways to showcase your passion for the parks. You can truly get creative with this idea, but you should try and incorporate the iconic castle in some way. If you have the time and cash to spare for intricate nail art, you could represent each of your favorite rides across your manicure. Otherwise, getting a pastel design with the park's famous balloons will always look striking when done well. If you want to keep things simple but stunning, use Mickey and Minnie's signature color scheme on a set of long acrylics.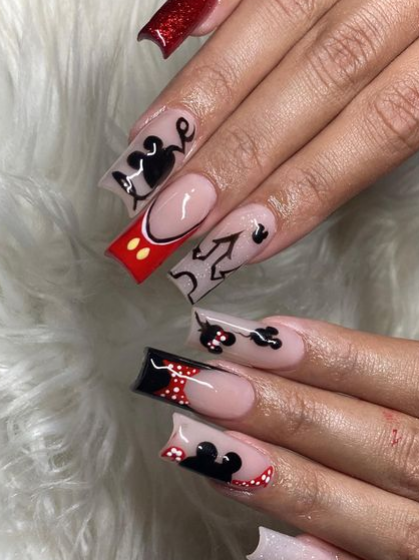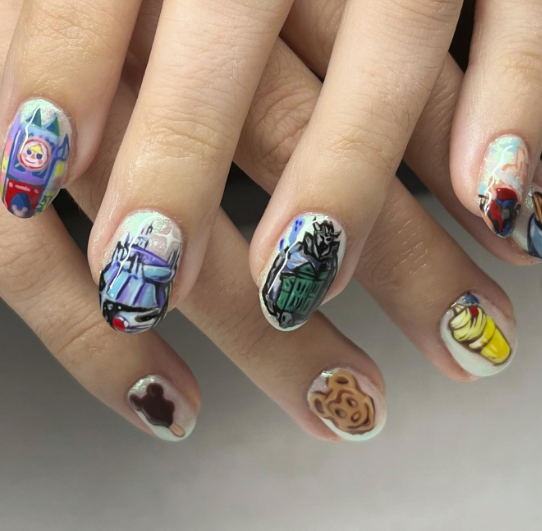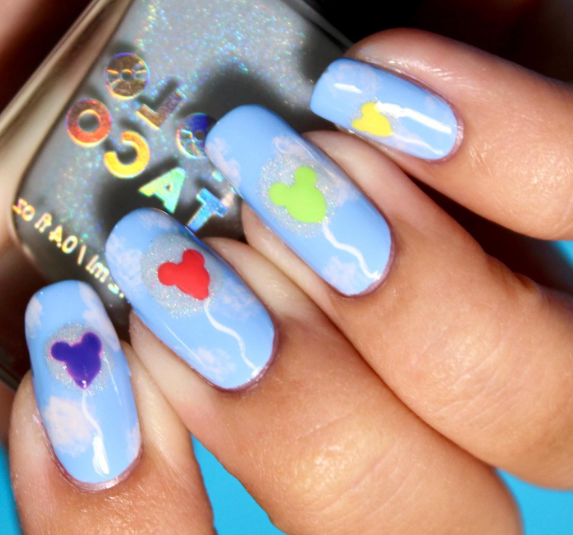 Disney World Nails
Disney World nails can be the perfect excuse to treat yourself before a trip to Florida. When you're getting nails for Disney World, you can keep things refined with a Mickey and Minnie-themed set or get seriously creative with a collage of your favorite characters. If you're getting nail art, be sure to discuss the intricacies of your design with a nail tech to avoid a cluttered and messy result.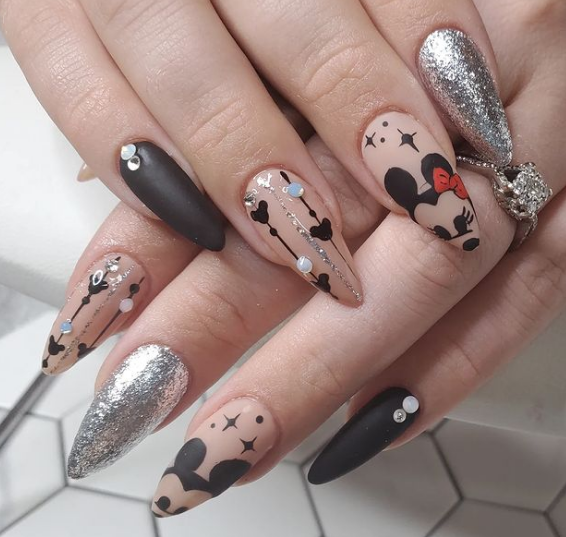 Disney Wedding Nails
Disney wedding nails should be classy and incorporate elements of white for a stunning bridal finish that will make your day special. To avoid clashing with your gown, stick with subtle nudes or white polishes. You can dial things up with glitters, cute nail art, and rhinestones if you want something more unique.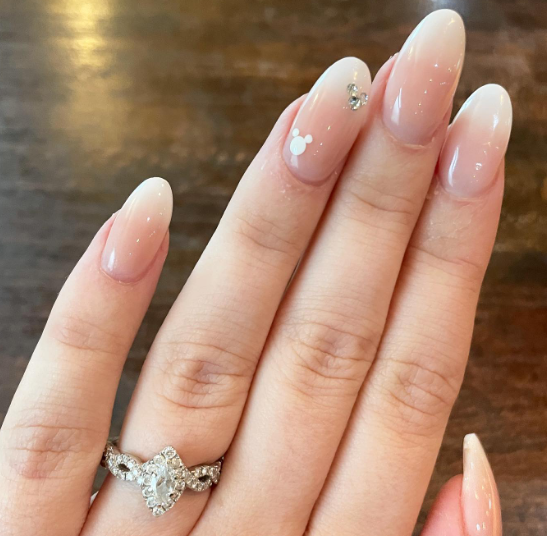 Coffin Disney Nails
Coffin Disney Nails can be a gorgeous way to showcase a larger design that will instantly turn heads. Once you've achieved a glamorous shape, you can take your design to the next level with Disney character images, glitter, polka dots, or anything else that takes your fancy.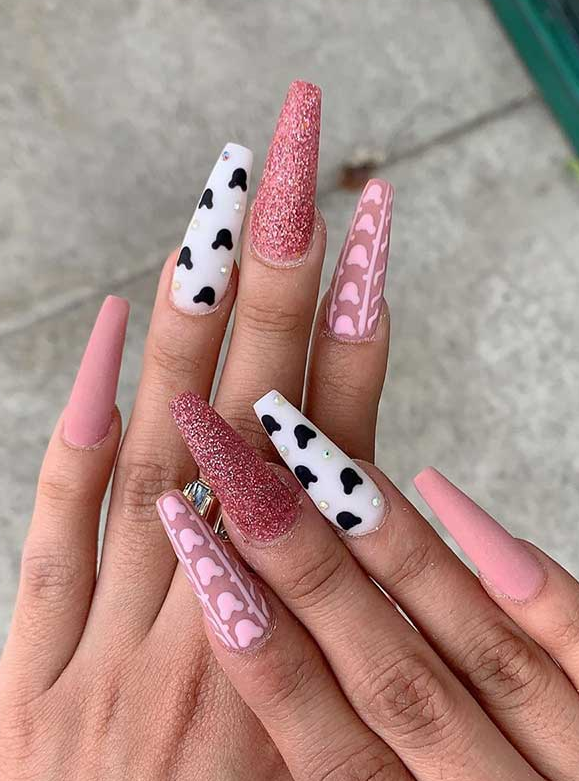 Easy Disney Nails
Easy Disney nails are a cool and trendy option that you can achieve without much effort. To keep things as simple as possible, choose a single block color for your nails and add a tiny design to add that signature Disney touch. If you want to lift your manicure slightly, create an accent nail with a swipe of glitter or ask your nail tech to add some classic Minnie polka dots to the mix.
Disney Nail Wraps
Disney nail wraps are a beautiful alternative if you don't want to shell out for a visit to the salon. You can purchase several designs on Etsy, and they take just minutes to apply. As they don't require heat lamps, gels, or damaging chemicals, they are one of the safest manicure options for Disney-lovers. Whether you want to get Cinderella-inspired nail designs or an adorable Stitch set, these handy nail wraps will have you rocking gorgeous nails in no time.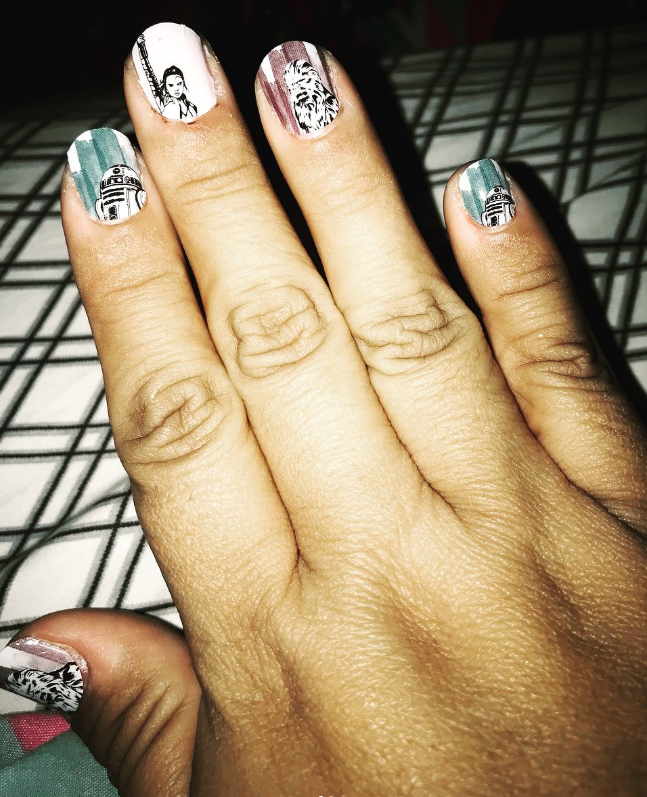 Disney Lion King Nails
Disney Lion King nails are a fierce and bold option for anyone who believes in the power of Hakuna Matata. The possibilities with this idea are endless. You can rock Timon and Pumba nails, Simba designs, or channel your edgy side with a set of Scar nails. If you want to hint at the movie without being too overt, you can get paw prints or sunset-inspired nails that represent the African plains.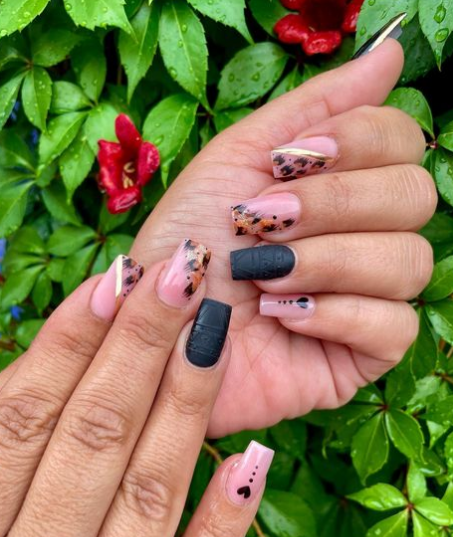 Disney Princess Nails
Disney princess nails are becoming increasingly popular among women who want to recreate the joy and wonder of their childhood. Depending on your taste, you can choose an entire set dedicated to a single princess or get photorealistic or cartoon portraits of each one as vibrant nail art. If you want something more subtle, choose a design that incorporates elements or symbols for each character. An apple for snow white, snowflakes for Elsa, and pink glitter for Aurora are all gorgeous ideas.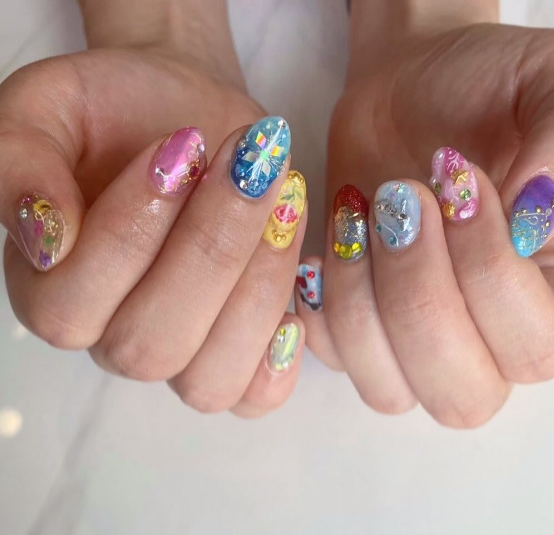 Mickey Mouse Nails
Mickey Mouse nails are one of the most versatile options for Disney nails as they can be as bold or muted as you like. You can keep things eye-catching with realistic Mickey Mouse nail art that depicts the main man himself. Otherwise, you can choose to adorn your nails with Mickey heads, polka dots, or glitter. If you want something neutral, don't be afraid to get a nude polish that's dotted with small and subtle nail art.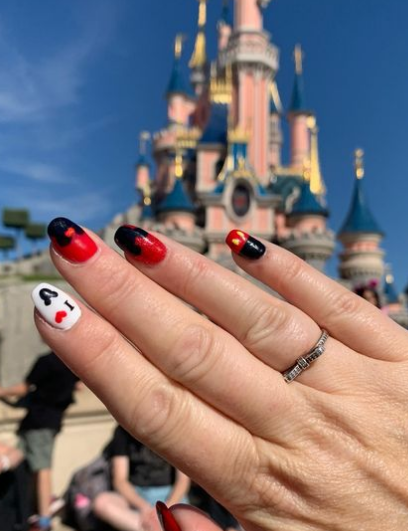 Ursula Nails
Ursula nails are a badass choice for any woman who wants a fierce and stylish manicure. Although Ursula is a rather creepy sea witch, her signature purple and green shades allow you to get creative with your nail designs. You can incorporate flotsam and jetsam, seashells, tentacles, and anything else that resonates with you. If you want a touch of sparkle, add rhinestones and dazzling purple glitter to the mix.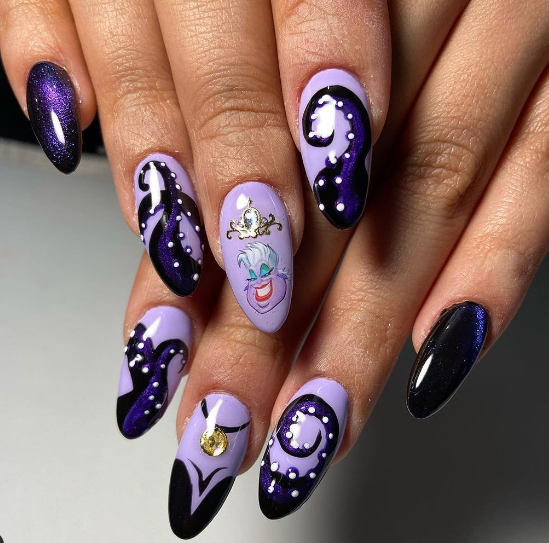 Tigger Nails
Tigger nails are ideal for fun-loving women who adore the Winnie the Pooh franchise. You can subtly hint at the character with fierce tiger stripes in a French manicure style or ink Tigger's cute face on your nails to make a statement. Although the central colors to your design should be black and orange, don't be afraid to play around with shades of white and yellow to add depth to your manicure.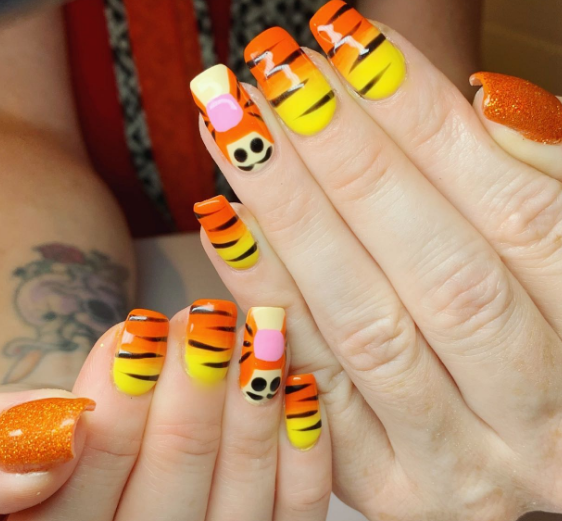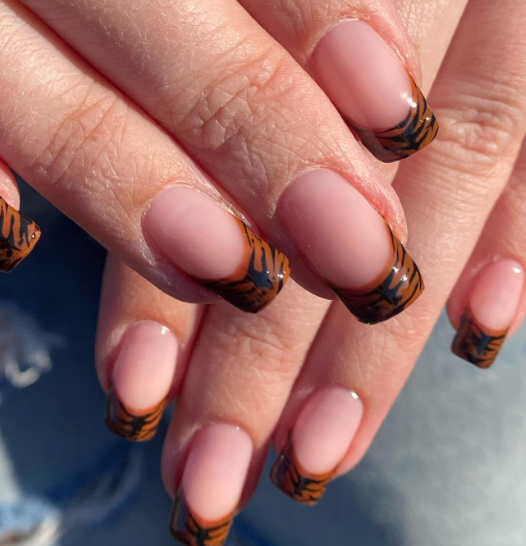 Yoda Nails
Yoda nails allow you to carry The Force with you by rocking a cute and stylish design on your fingertips. As The Mandalorian is getting more popular, you may want to get Baby Yoda nails which are jazzed up with glitter and photorealistic imagery. If you want something more classic, you can recreate the beauty of space with marbling, solid gels, and incredible nail art.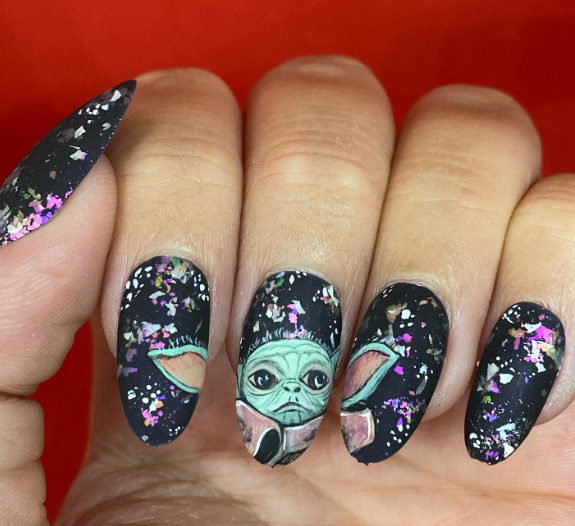 Princess Tiana Nails
Princess Tiana nails are a feminine and glamorous design that will transport you right to the Bayou. Realistic designs with green tips and rhinestones are gorgeous, but you can also keep things simple with block green polish and glitter.
Tinkerbell Nails
Tinkerbell nails are among the most adorable designs you can get, as they typically incorporate gorgeous greens and yellows for the perfect summer style. Tinkerbell nail designs don't need to be complex, but you can showcase your artistic side with a stunning portrait that highlights her signature topknot. For something simpler, get some gorgeous neon tips that are decorated with glitter polish for a striking finish.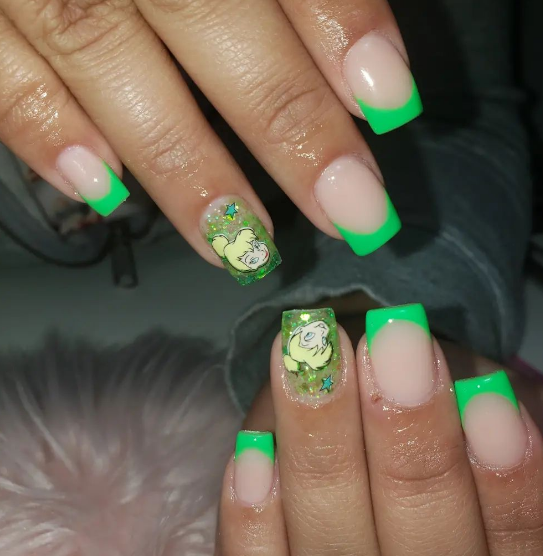 Up Nails
Up nails incorporate bright colors and balloon artwork to create a stunning style that is bound to turn heads. This design allows you to get seriously creative, as you can get nail art of the characters (Carl and Kevin are popular!) or keep things more ambiguous with images of clouds and balloons. For a truly gorgeous look, get rounded a polka-dot design with a nude base.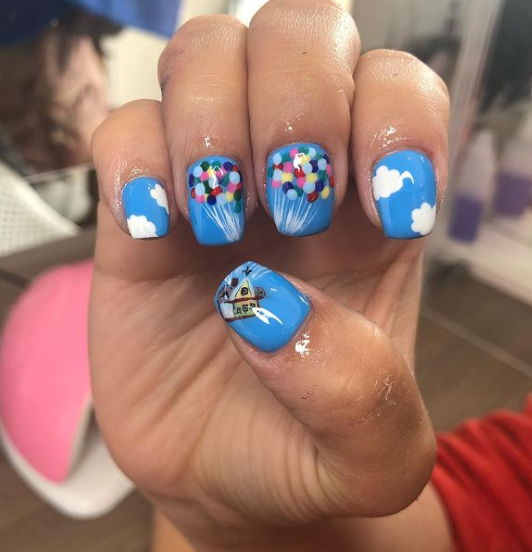 Beauty and the Beast Nails
Beauty and the Beast nails are a gorgeous choice for romantic individuals who adore the classic animated movie. Creative stained glass nails are a beautiful way to represent the central themes of the movie. However, you can also channel Belle's signature color palette with pastel yellow polish, roses, and plenty of glitter.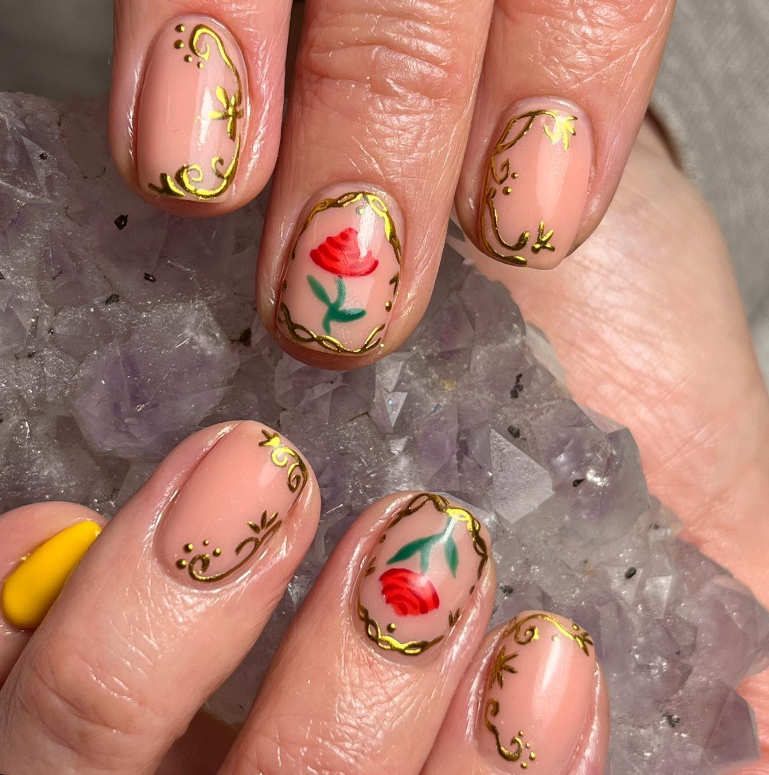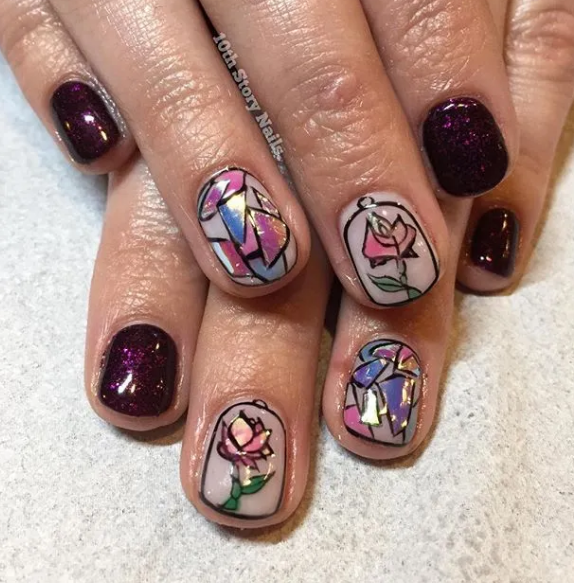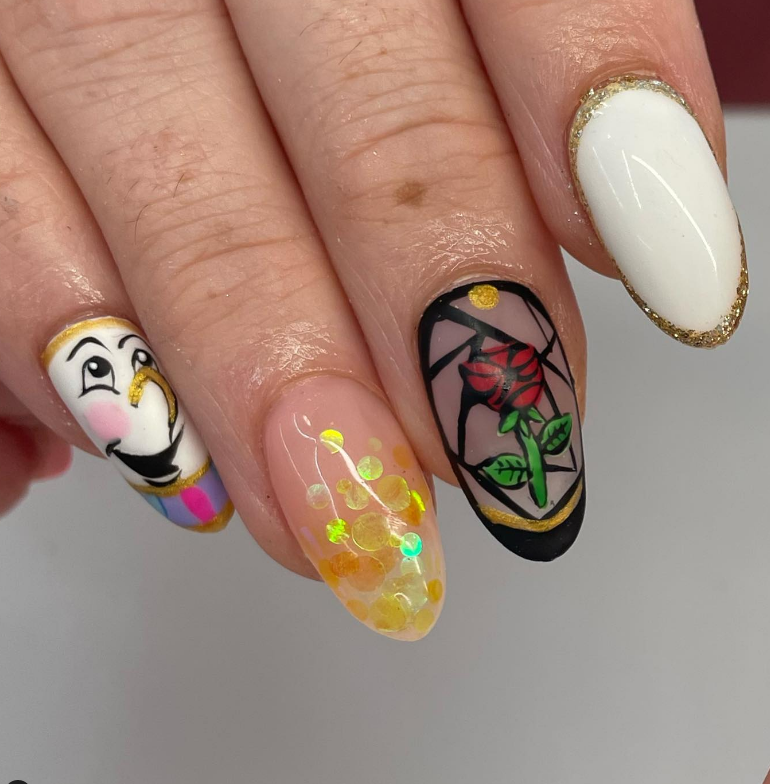 Cinderella Nails
Cinderella nails always look regal and beautiful, giving you the chance to experiment with glitter, blue French tips, and rhinestones for a stunning finish. Cinderella nail designs can be complex and incorporate carriages, photorealistic portraits, and shoe imagery. But they can be made equally beautiful with glitter polishes and delicate lines.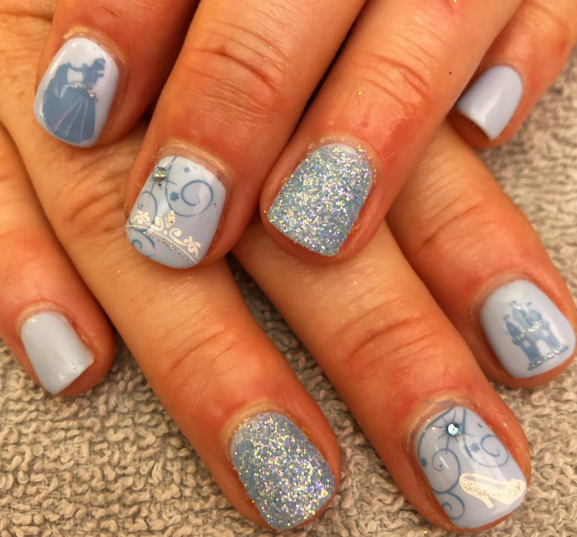 Bambi Nails
Bambi nails are a cute style that you can easily achieve with a skilled nail technician. As it's tricky to allude to this character without nail art, you'll want to take time choosing the right design for you. You can either get an adorable acrylic design featuring Bambi, glitter, and glitter or allow side characters like Thumper to take center stage!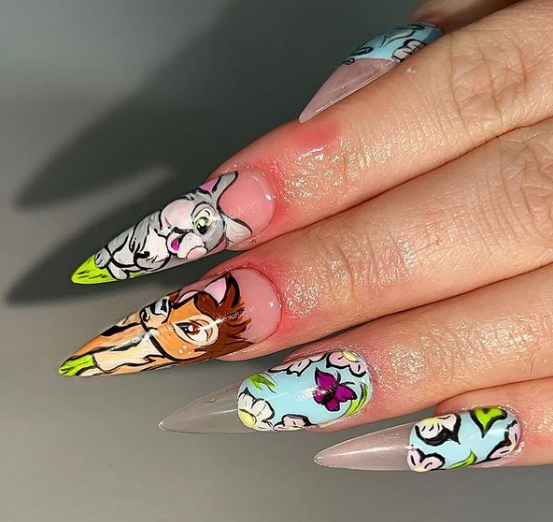 Toy Story Nails
Toy Story nails are an interesting way to experiment with texture, color, and character for an incredible manicure that allows you to "reach for the sky"! If you're not afraid of rocking long nails, you can represent each of the main characters with stylish stiletto or coffin French tips. If you're looking for something more subtle, pull out the main elements of each character's clothing and represent them on your nails!
Disney Toenails
Disney toenails are an excellent way to keep your feet clean and healthy while representing your favorite characters. As you don't have much space to work with, go for simple designs like polka dots, balloons or small Mickey heads to keep your toes from looking cluttered.
I hope that you adore these Disney nail designs and try a few out at the salon! Which are your favorites? Do you have any styles that you love? If so, I can't wait to hear about them!
If you enjoyed this post, why not check out a few of my other Disney lifestyle posts?