Are you on the hunt for a rundown of amazing Disney Halloween nails to bring to your nail tech this season? Join me as I cover the most gorgeous Disney Halloween nail designs that'll inspire you to whip out the pumpkin decor!
It's that time of year again, folks – spooky season is well and truly upon us!
If you're looking to channel the holiday magic into your manicure with Disney nails, then I've got your back.
In my book, Disney Halloween nails are a cute and refreshing way to bring the season to life with a creative set featuring villains, poison apples, and everything in between.
And to make things even sweeter, the best Disney Halloween manicures work on both long and short nails (so, feel free to rock those acrylics!).
Whether you're after short nails, French tips, Nightmare Before Christmas ideas, or a classic Ghost Mickey set, they're all here.
Oh, and did I mention that I've even included detailed portrait designs, gorgeous gemstones, and glitter nails in this list of Disney Halloween nail designs?
Now let's get going and uncover the manicures that you'll be itching to show off at the Oogie Boogie Bash this year!
Disney Halloween Nail Ideas
Short Disney Halloween Nails
Short Disney Halloween nails are a fun and themed way to play around with your natural nails.
I prefer getting gel polish to avoid chips when I'm carving pumpkins and furiously Trick or Treating.
But you can always go with regular polish to create everything from adorable pumpkin Mickeys to fun Nightmare Before Christmas swirls.
And hey, a few cute bats, shimmery stars, and Mickey heads wouldn't go amiss either!
Just remember to spice things up with funky colors and glitter to keep your set interesting without extra length.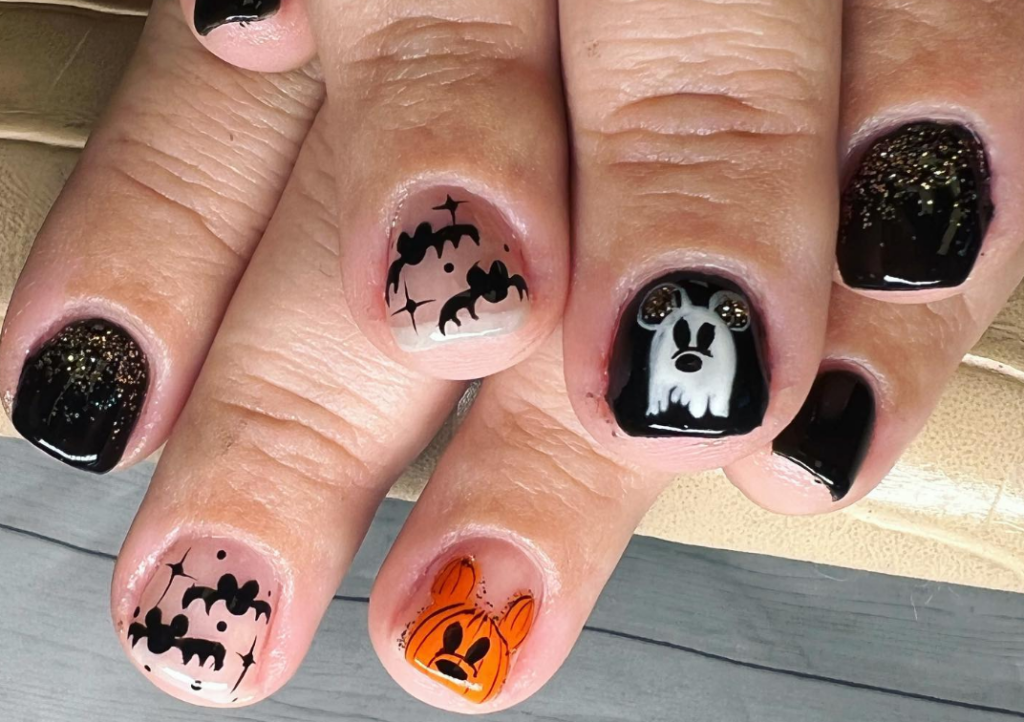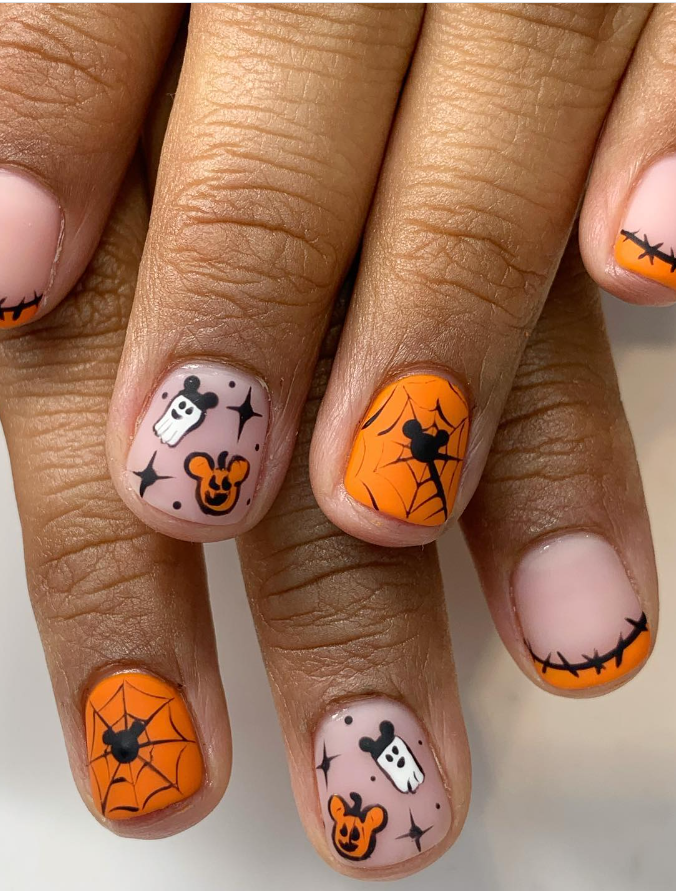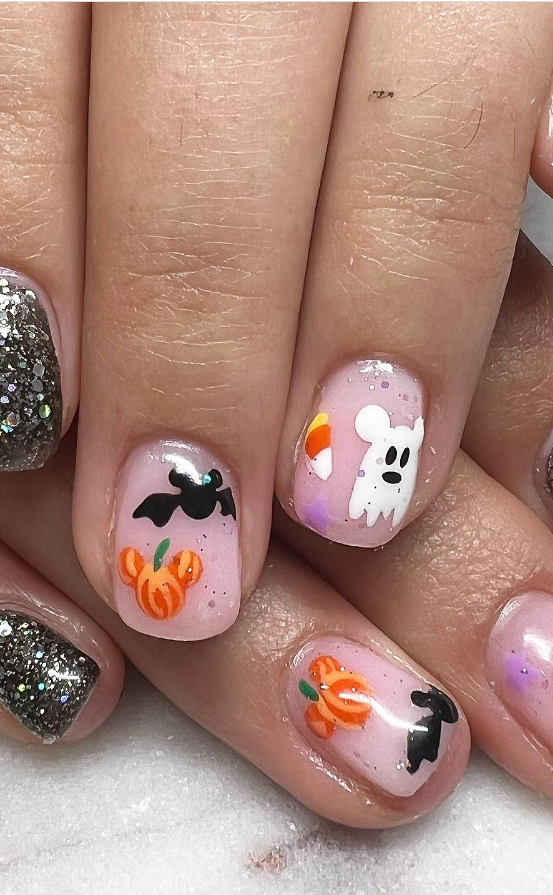 Simple Disney Halloween Nails
Simple Disney Halloween nails don't need to be boring with a bit of extra length and basic nail art.
You can either get a themed French manicure with stitching (a la Nightmare Before Christmas!) or a simple Mickey ghost on an accent nail.
If you're really going low-maintenance and classy, nude nails with a couple of Mickey heads in burnt orange can be adorable.
The most important thing to remember is to choose something that hints at Disney without being too on the nose.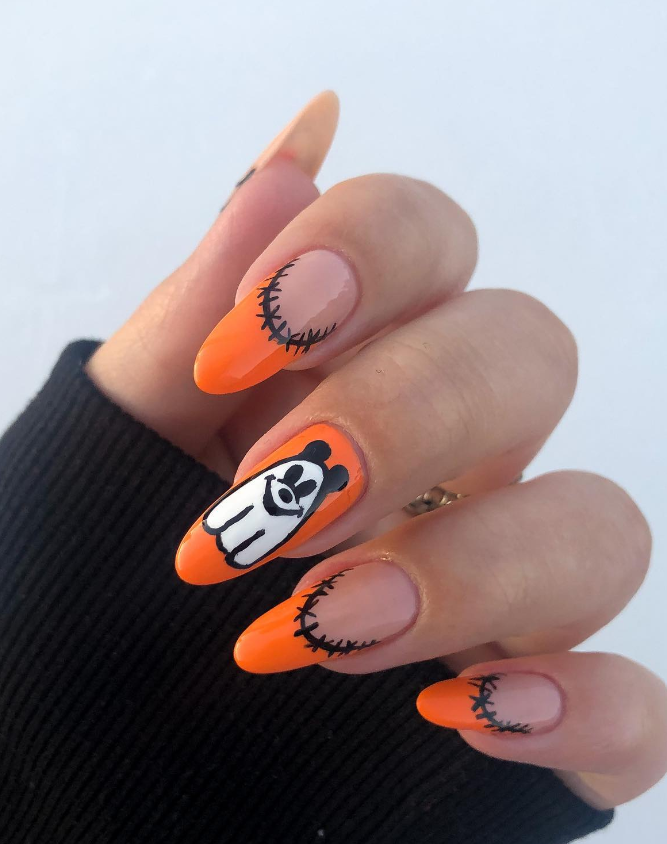 Cute Disney Halloween Nails
If you're getting acrylics, you can easily play around with fun colors and nail art to create cute Disney Halloween nails.
The extra length isn't 100% necessary, but it gives you the real estate for pumpkins, cheeky ghosts, and chic stitched French tips.
Disney Halloween Press on Nails
A set of Disney Halloween Press on Nails are a great alternative to spending hours in the salon chair this spooky season.
You can purchase cute press-on sets from sites like Etsy or Amazon, and the Disney theming is usually amazing.
From Scary Mickey to Mickey and Minnie and Oogie Boogie sets, press on nails are stylish, trendy, and oh-so-easy to apply.
If you want to jazz up a simple manicure, a set of Disney nail stickers are a good option for the holiday.
Disney-Inspired Nail Art for Halloween
Is there anything cuter than getting Disney-inspired nail art for Halloween?
I love getting shimmery stars with fall-inspired colors for a wearable look at Halloween.
But you can always get ghost Disney characters, cute pumpkins, spider web accents, and funky French tips!
Seriously though, nothing beats a floating ghost Mickey and a classic Disney pumpkin to ring in the spooky season.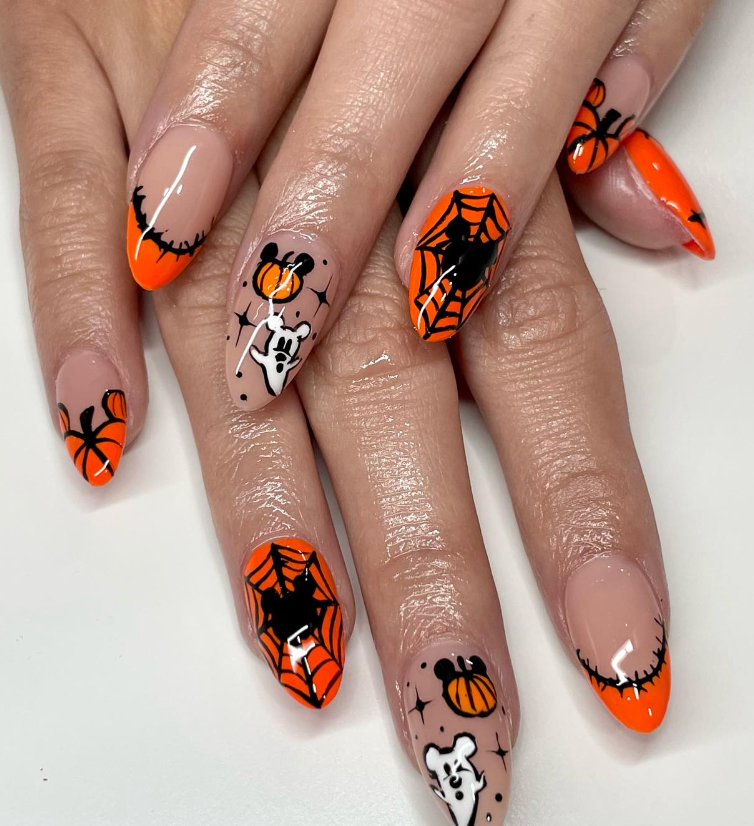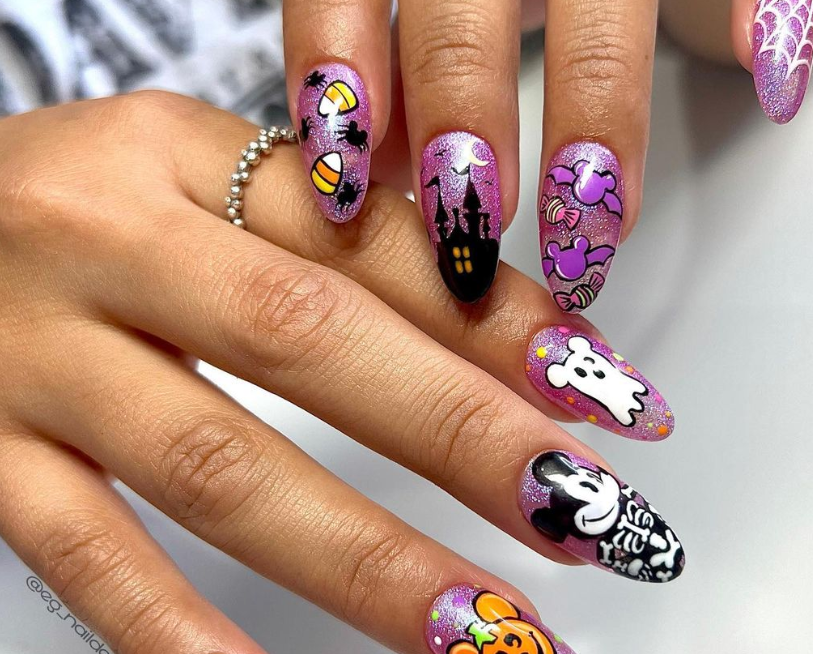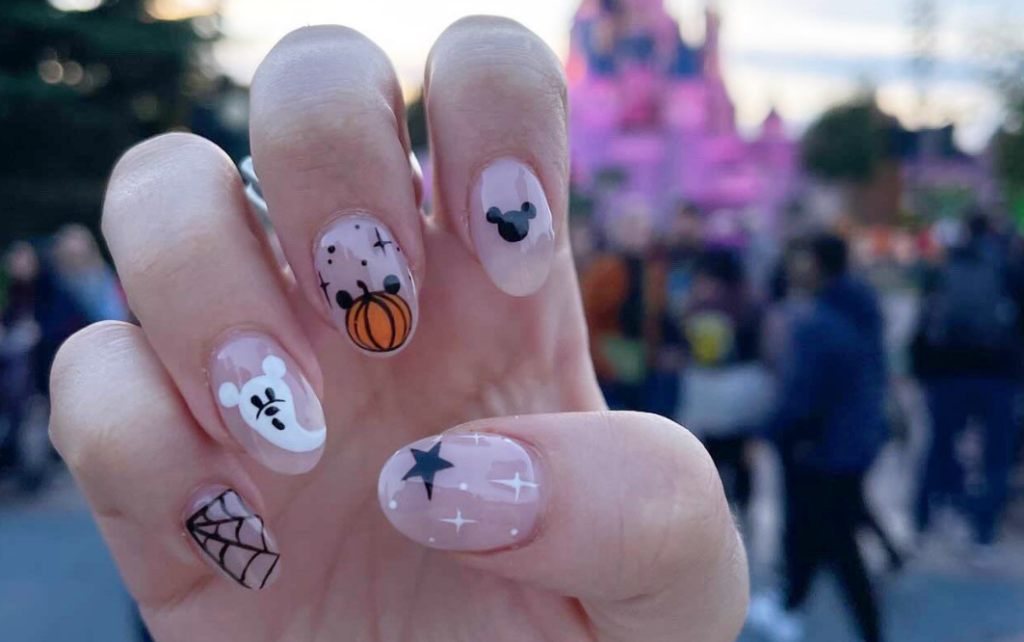 Poison Apple Nails
Poison Apple nails are a fun way to reference your love for Snow White with a fresh and creative set.
You can get the spooky poison apple as an accent nail and paint the rest of your digits with a dark glitter.
If you want to go more subtle, dripping nails in green and red can represent the iconic poison apple in style.
For those wanting to go bold, stiletto nails with skull apples and dripping neon poison can look awesome.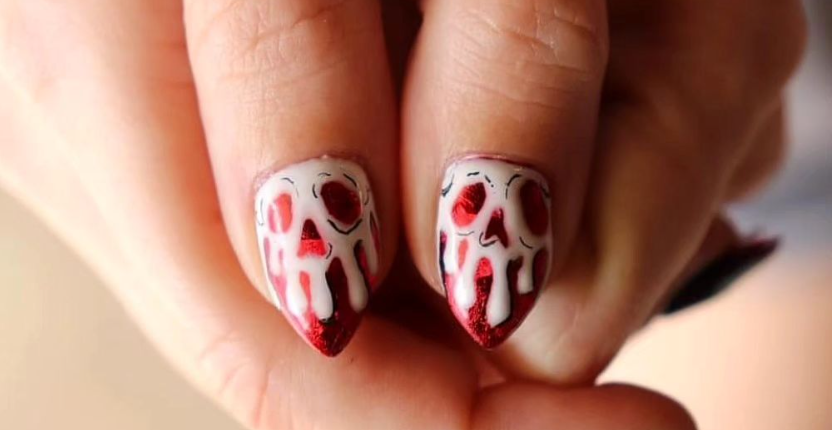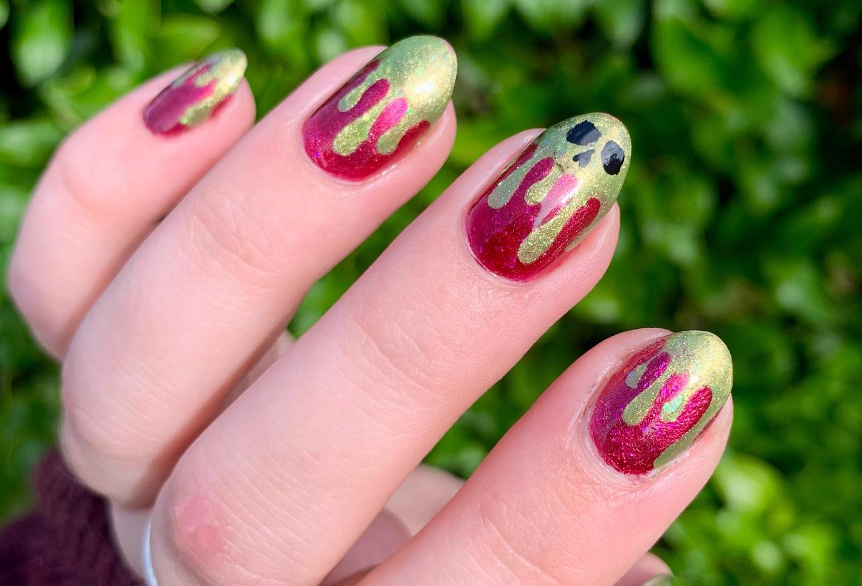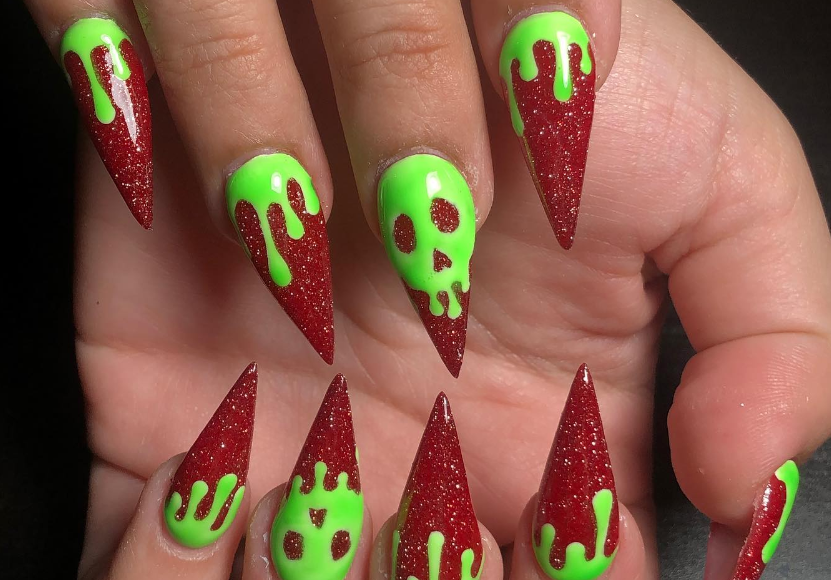 Disney Villain Halloween Nails
Nothing screams scare-factor like Disney Villain Halloween nails with detailed nail art.
From Hades and Oogie Boogie to the Evil Queen and Ursula, getting these iconic characters on your nails is bound to turn heads.
For something more subtle, switch out hyper-realistic artwork for villain heads or headpieces.
Alternatively, choose symbols to represent each character like Maleficent's horns, poison apples, or Ariel's voice necklace!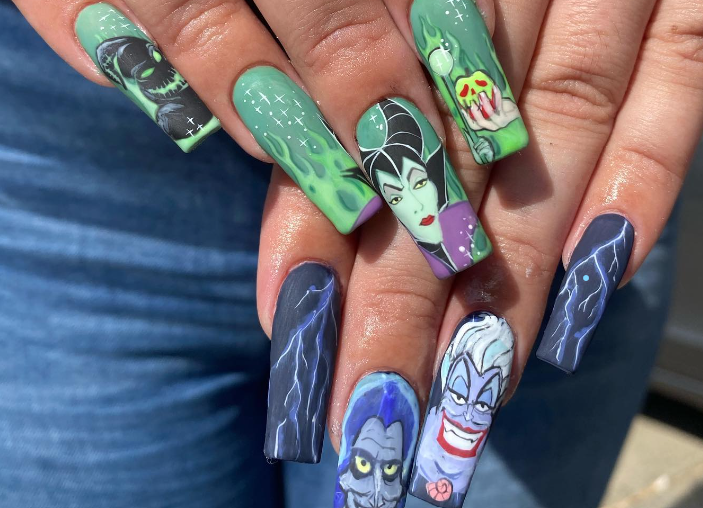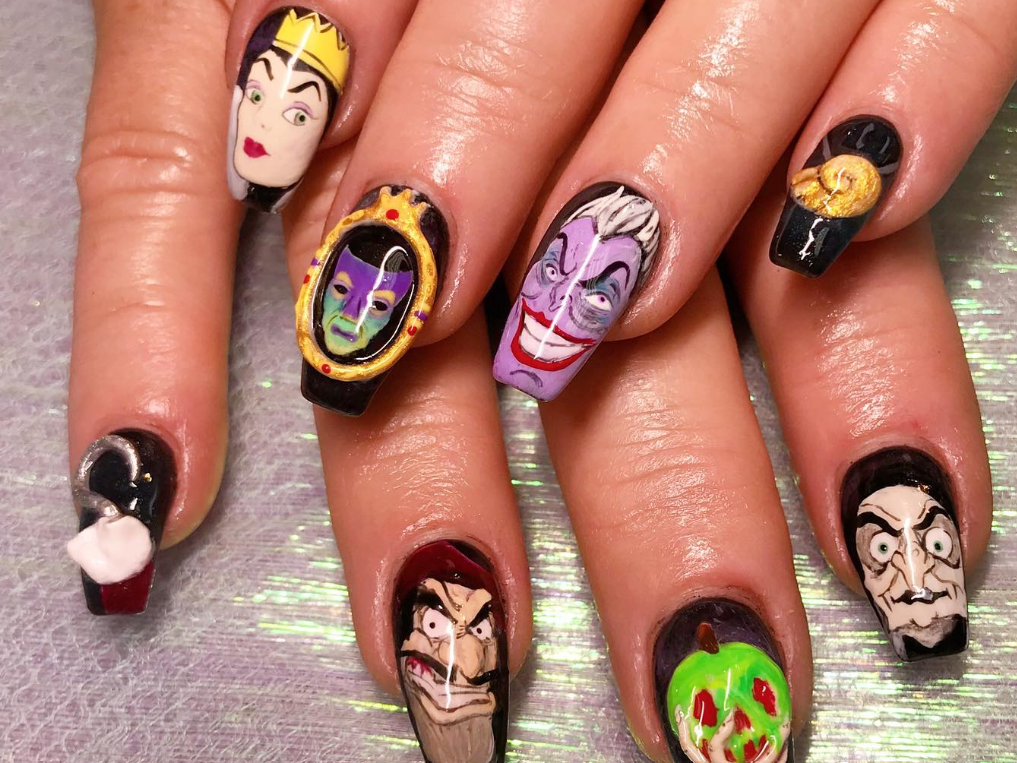 Coco Halloween Nails
These Coco Halloween nails are the perfect way to ring in Dia de los Muertos with a bang.
I love bringing out the sugar skulls and bright colors to give my set a refreshing and fun feel.
But you can also opt for realistic portraits of Miguel, Mama Imelda, Hector, and Ernesto (he's a villain, after all!).
To add autumn flair to your mani, consider orange glitter and gemstones for a pretty and feminine finish.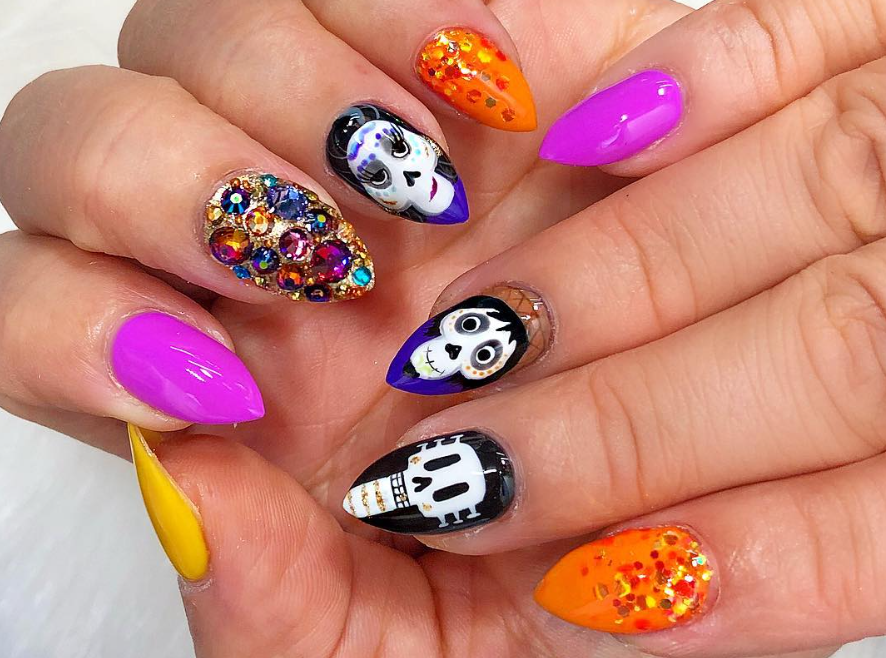 Disney Nails for Halloween with Acrylics
When you're looking for longer manicures, Disney Halloween acrylic nails can be a fun touch.
The extra length gives you tons of space to play around with spider webs, stylish French tips, pumpkins, and ghosts.
For a serious touch of Disney magic, you can even depict the Sensational Six on your nails in incredible detail!
Just don't forget to turn them into Frankenstein, witches, or devils for that seasonal vibe!
If you have cash to splash, a detailed set packed with 3D artwork and gemstones can look incredible with characters like the Evil Queen.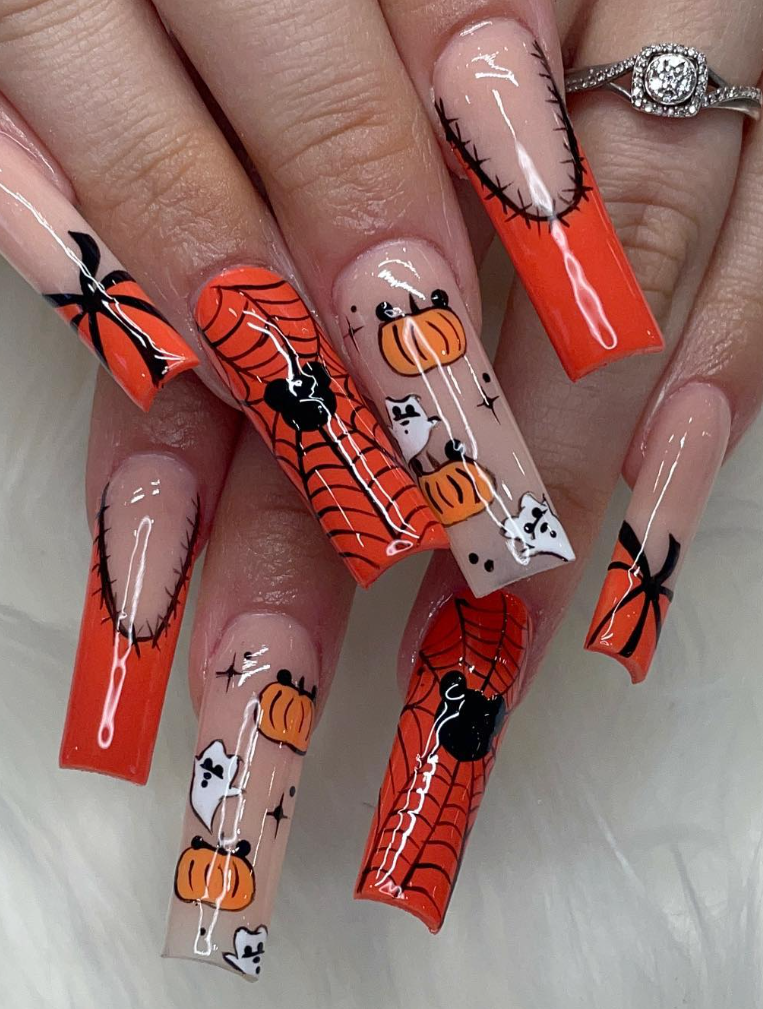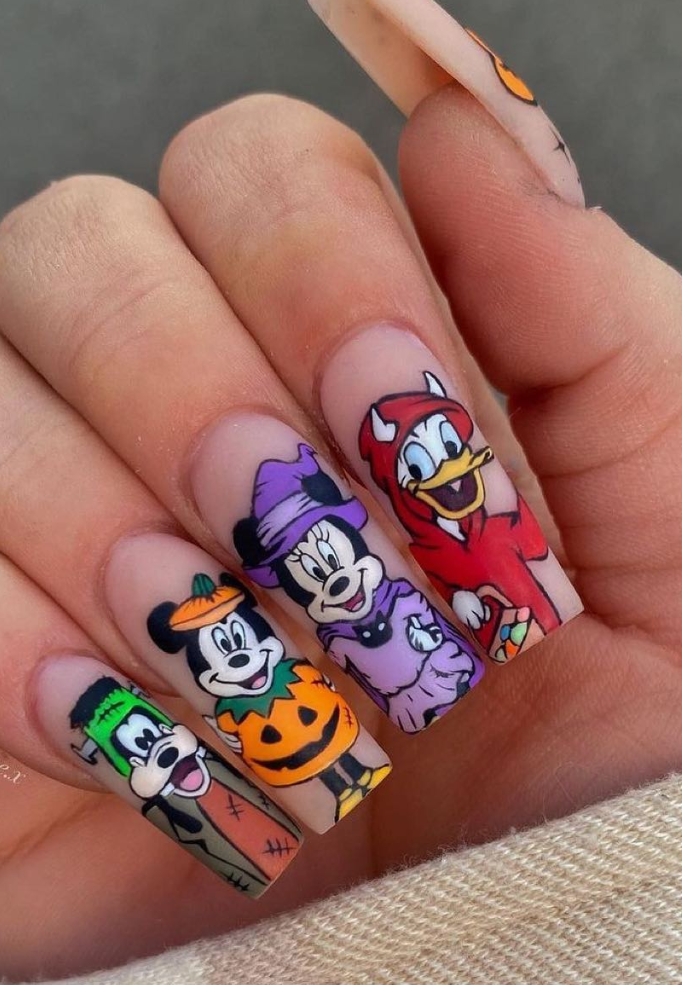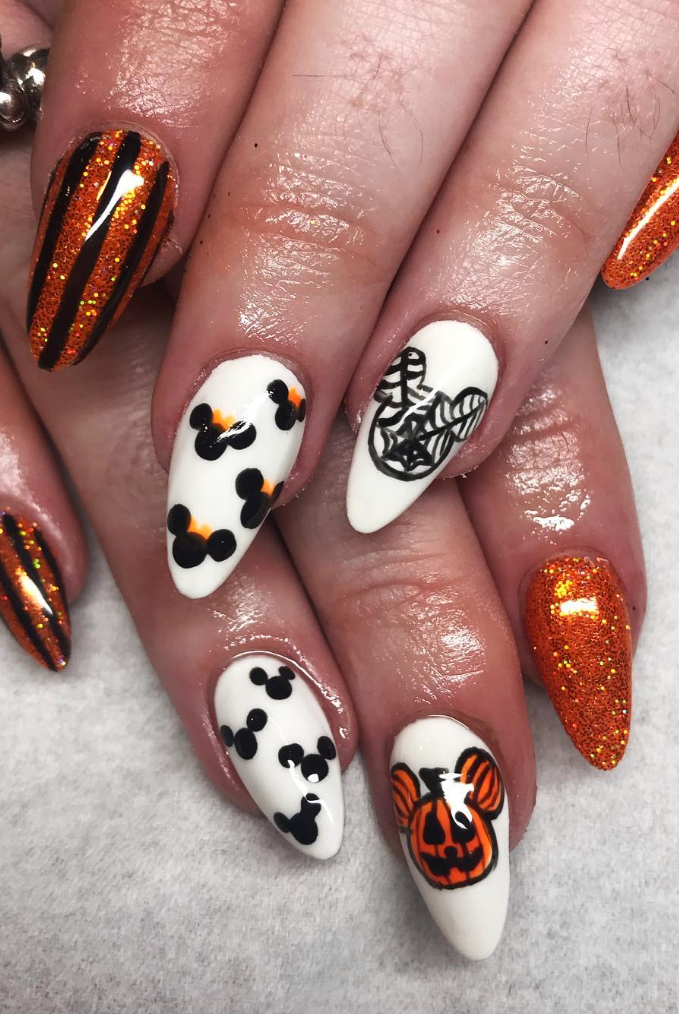 Haunted Mansion Nails
Welcome, Foolish Mortals – to this rundown of Haunted Mansion Nails!
I love using cool blues and black shades to create a spooky, ghostlike vibe on a manicure that reflects the ride.
If you want something brighter, the tightrope walker, striped wallpaper, and even bright purple patterns can be refreshing alternatives.
For a detailed look that's packed with character, add Madame Leota, ride text, and gravestones to your set.
It's all about embracing the spooky vibe of the ride – so, go nuts!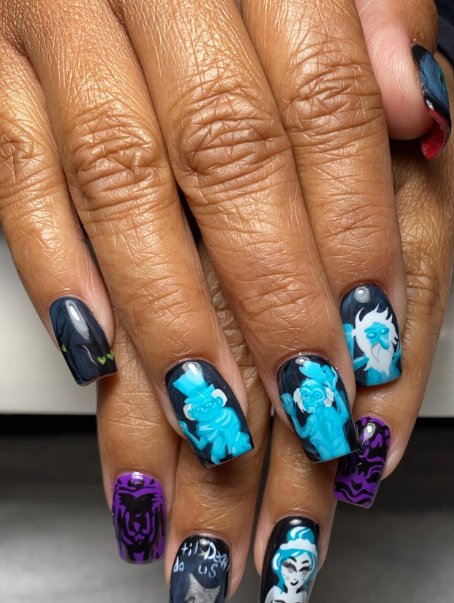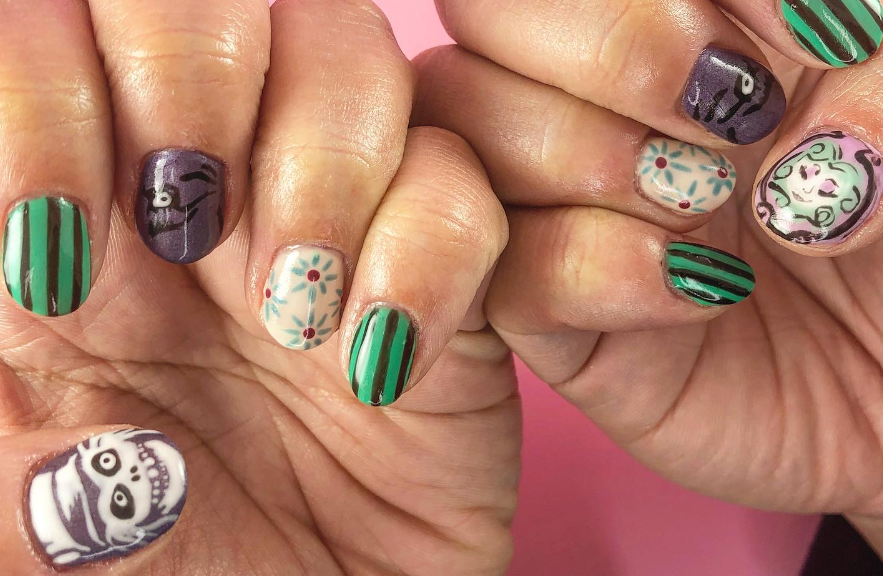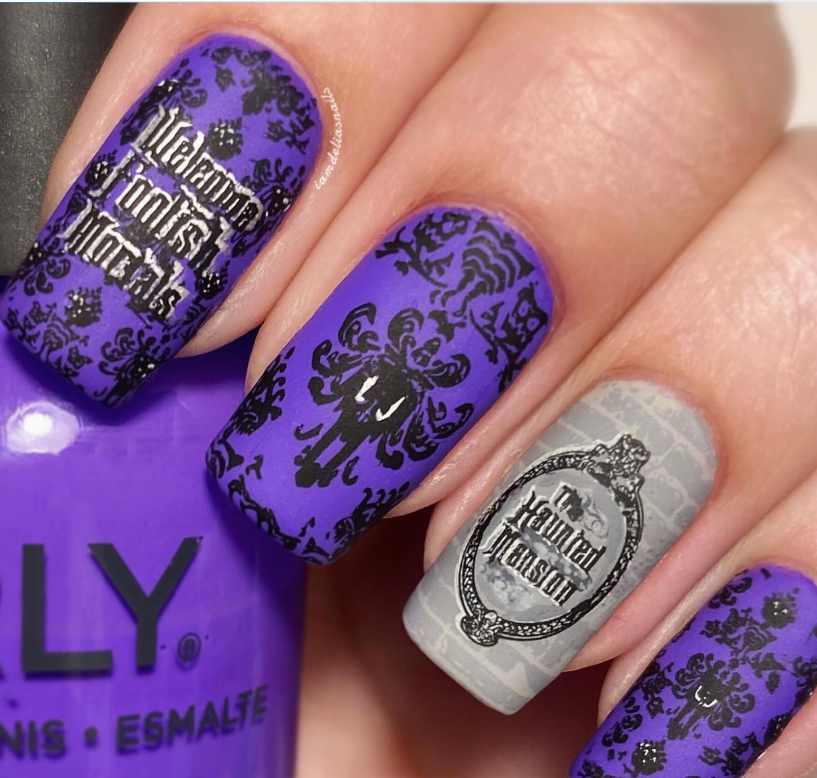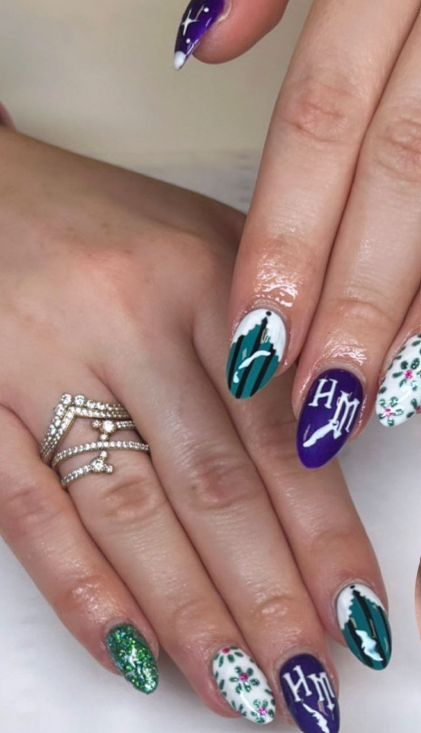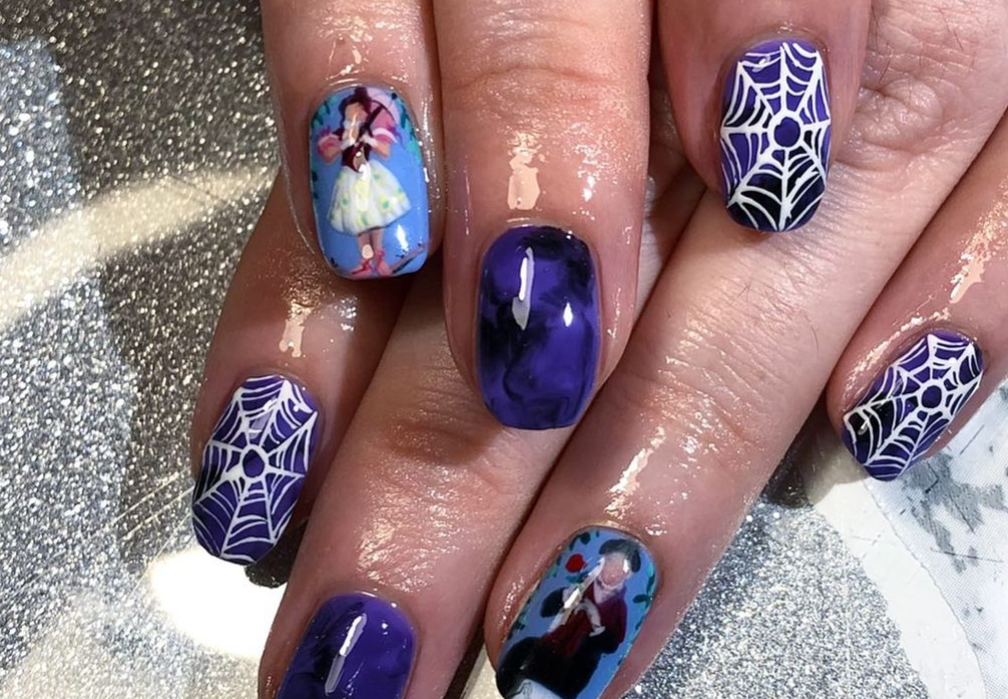 Disney Spider Web Nails for Halloween
Channel your inner Marvel lover by getting Disney spider web nails for Halloween.
You can keep things detailed with Spider Man French tips and bright white artwork.
For a feminine vibe, combine Spider Man artwork with pink French tips and pretty gemstones.
If you're not a fan of Spider Man, ghost Mickey, Minnie, and Donald can look cute surrounded by detailed webs.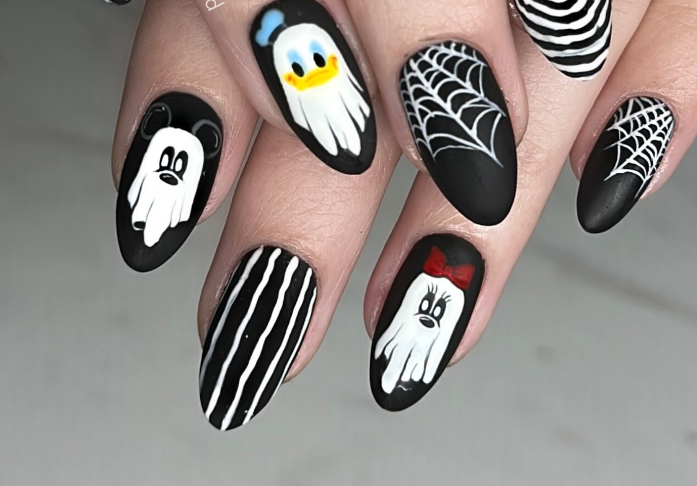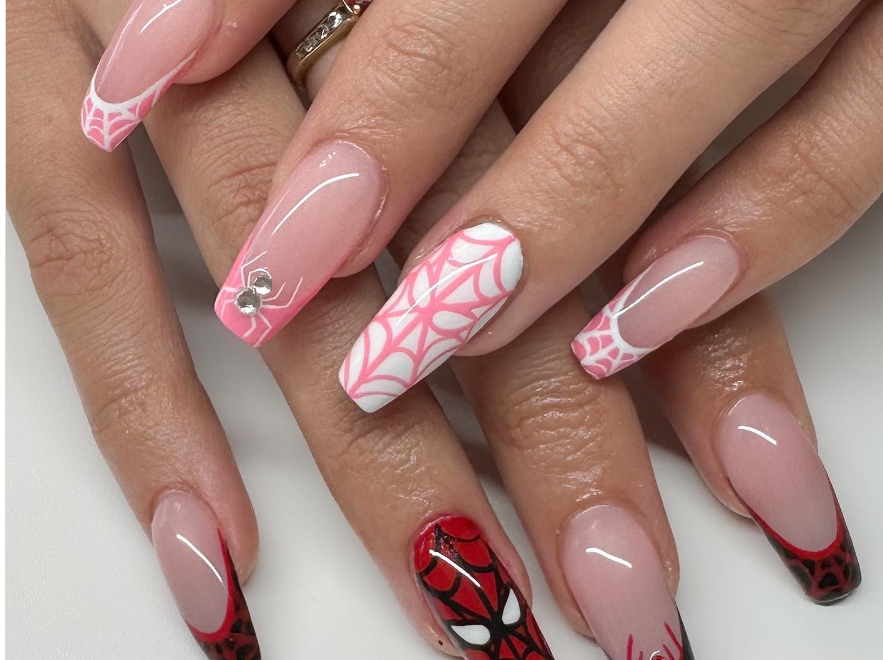 Disney Halloween Coffin Nails
Getting Disney Halloween coffin nails is a chic and elegant way to embrace the holidays with a longer set.
The coffin shape is naturally sophisticated, and you can jazz up your digits with spider webs, candy corn, and spooky characters.
And hey, cute versions of Winnie the Pooh are a great way to soften the longer tips.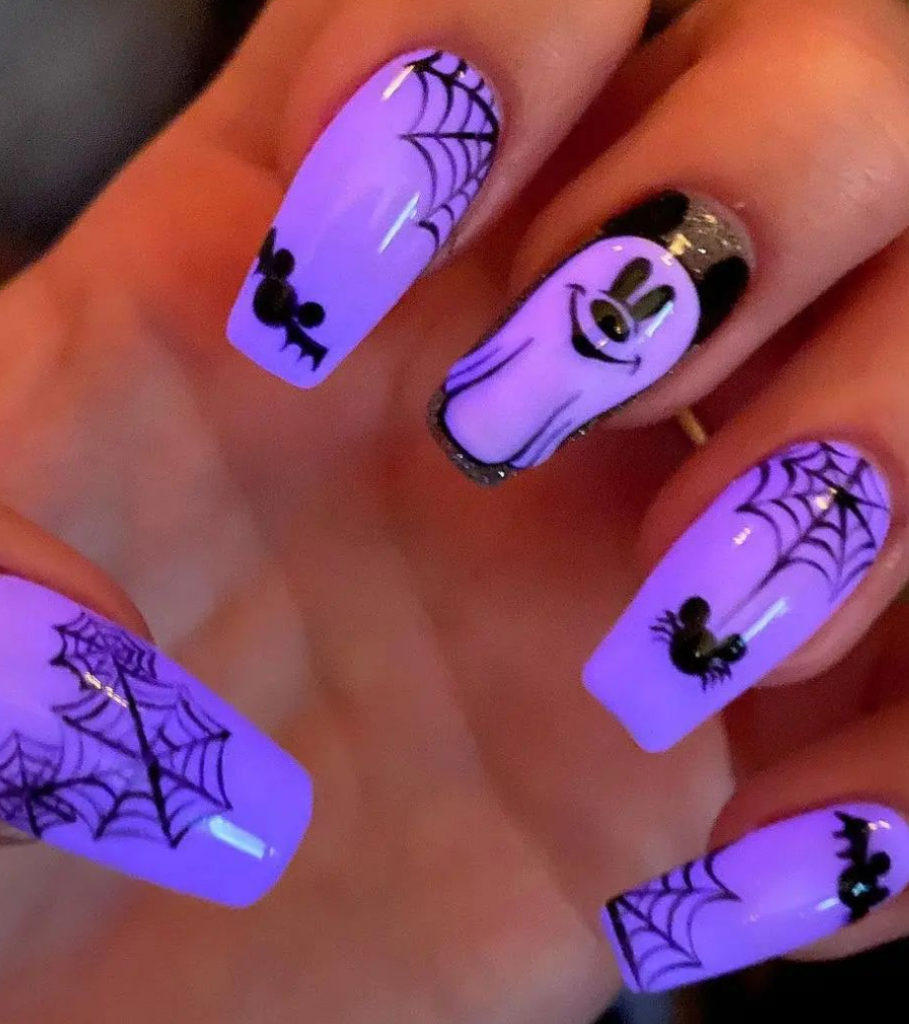 Disney Halloween Gel Nails
When you'd rather keep things shorter and natural, Disney Halloween gel nails can be a gorgeous choice.
You can opt for shorter acrylics for a manageable and low-maintenance vibe that's dialed upwith pumpkins and poison apples.
Otherwise, you can stick with gel on the natural nails for a long-wearing seasonal manicure that won't chip for up to 3 weeks.
Now that's the Disney magic I'm talking about!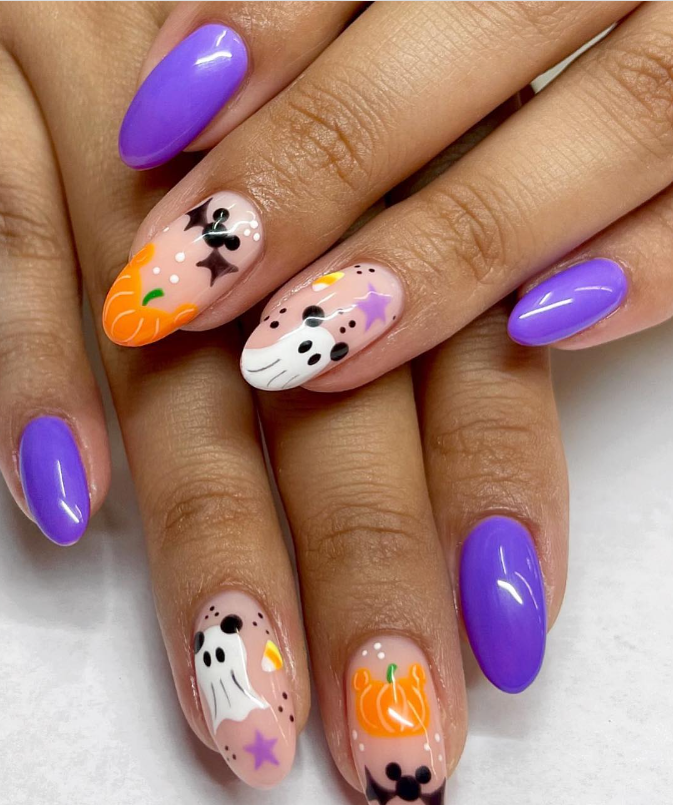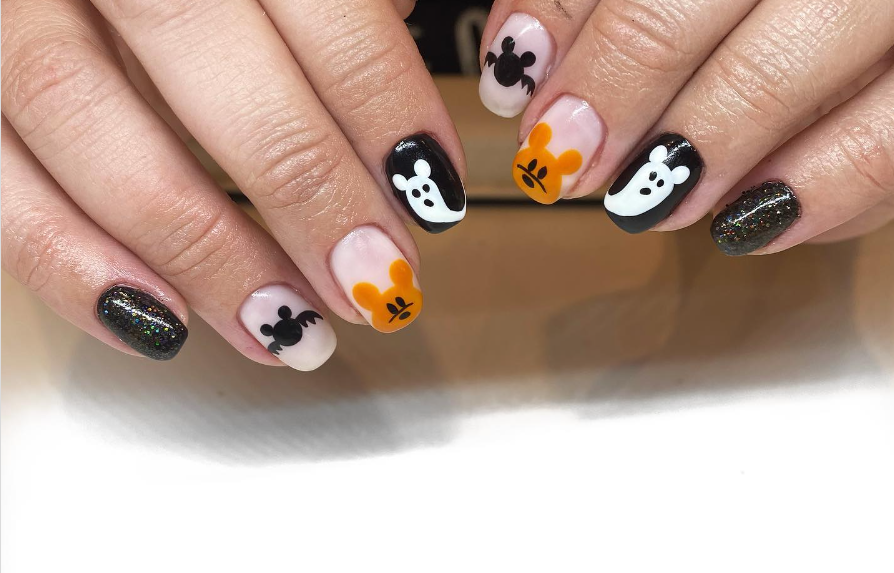 Cruella Disney Halloween Nails
Cruella Disney Halloween nails are designed for rebellious folks who want to channel one of the studio's most iconic villains.
Almost every Cruella de Vil manicure is going to include spots in some form (obviously!).
But you can also throw in Cruella portraits, split nail designs, pops of red, and even paw prints to dial up the drama.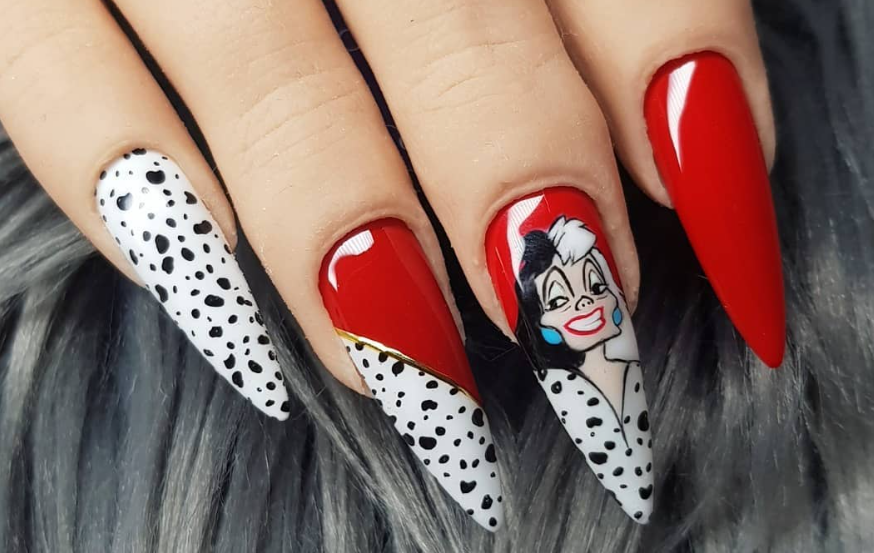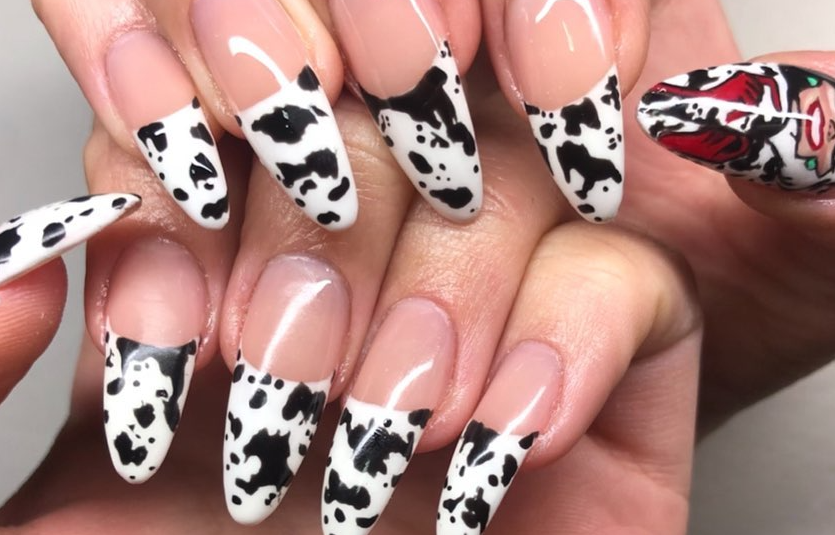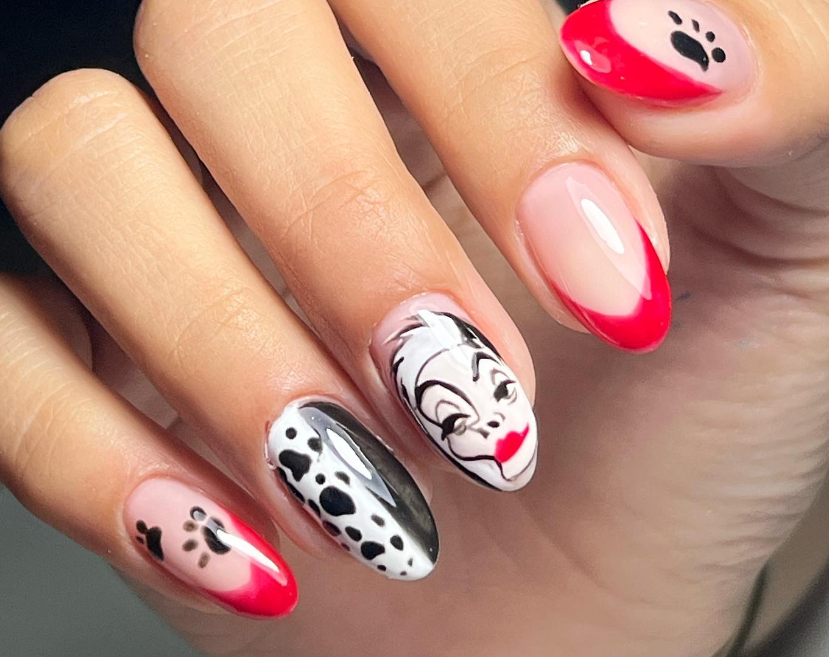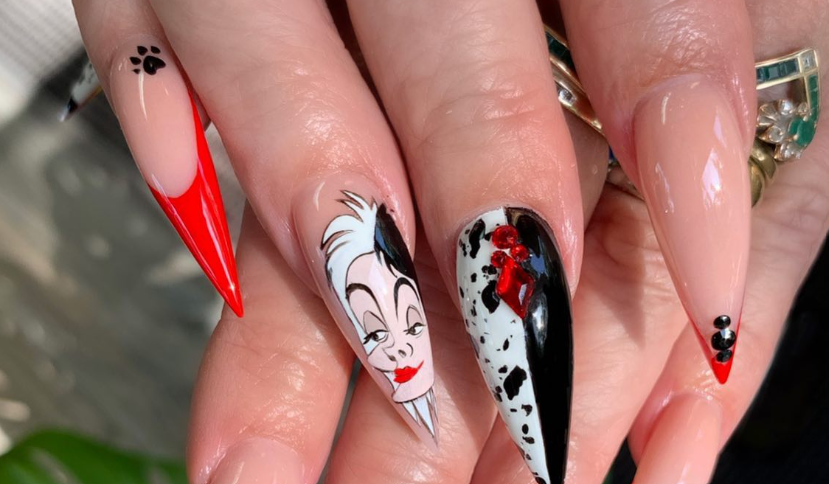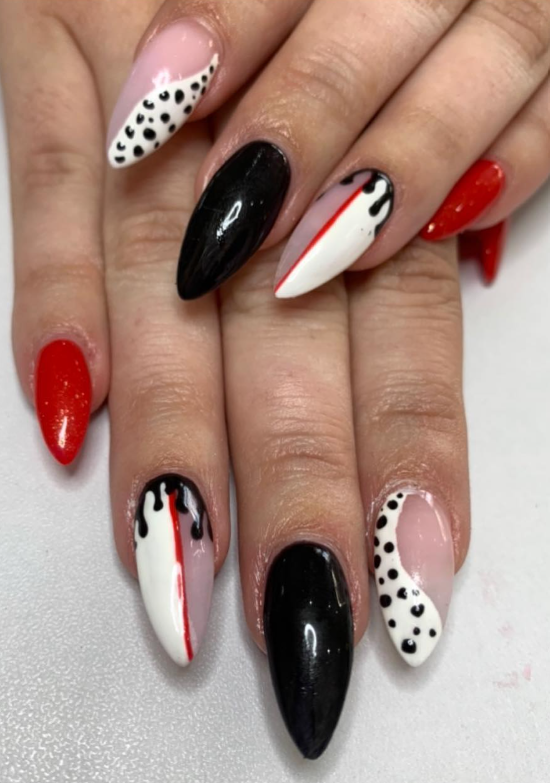 Ursula Halloween Nails
Getting purple Ursula Halloween nails is a fabulous way to channel your darker side this season.
From glittery accent nails with black swirls to incredible portraits of the spooky sea witch, the options here are virtually endless.
If you want to play around with gemstones and gold leaf, ask your tech to pull out starfish and shell details to bring things together.
For a subtle take on this idea, tentacles, chunky glitter, and a mermaid ombre are all you need!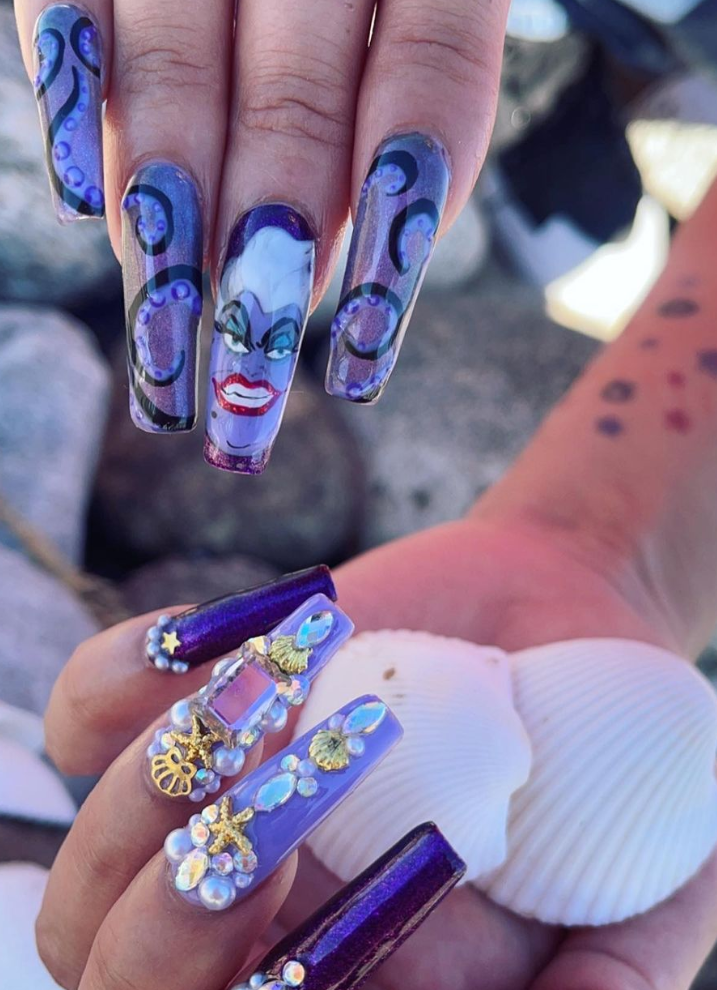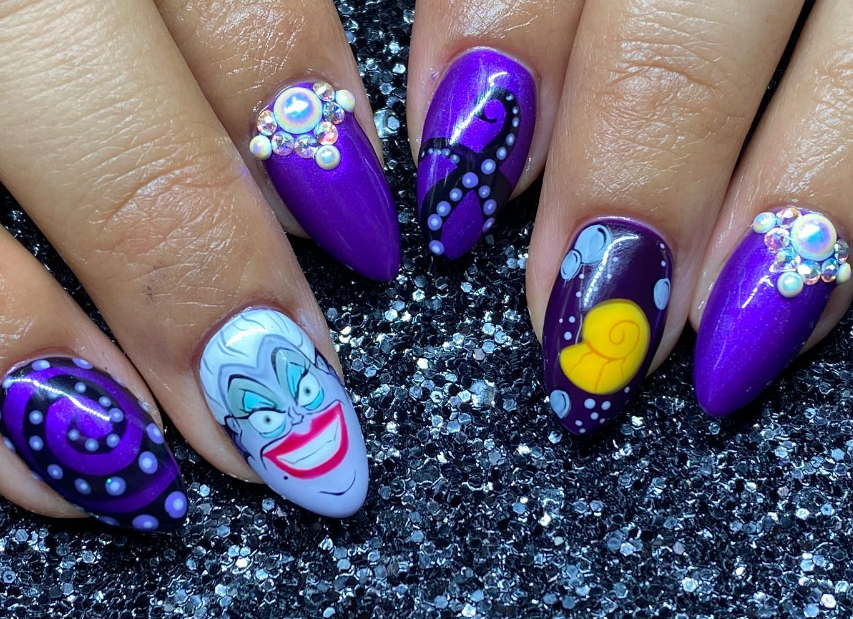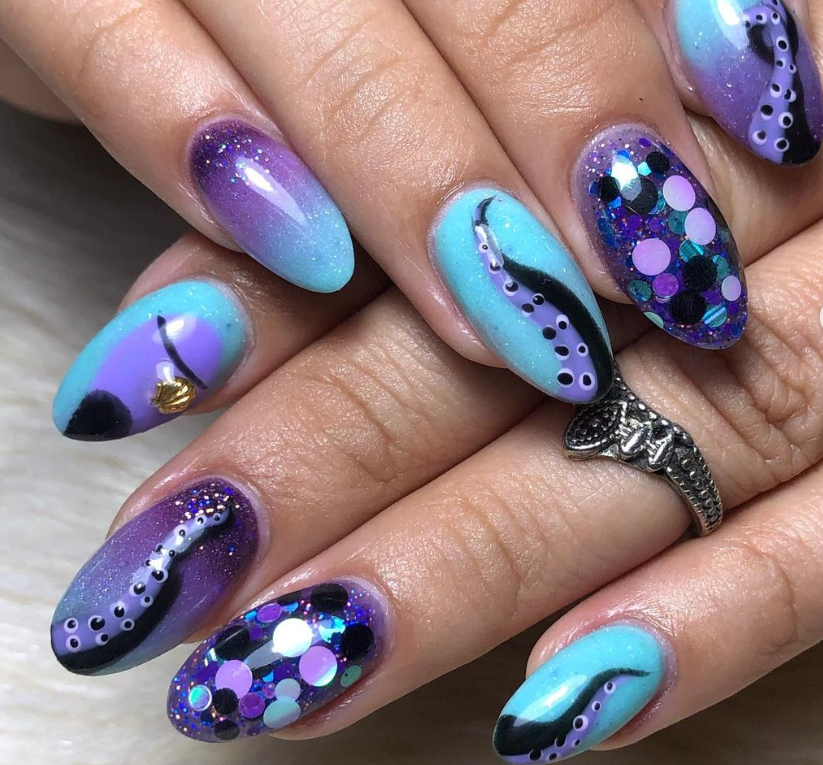 Fall-Inspired Disney Nails
If you don't want to fully lean into the Halloween vibe, fall-inspired Disney nails can be a great choice.
You'll just want to grab burnt orange, black, brown, purple, and sage green shades and go to town!
To add a touch of Disney magic to your set, throw in a couple of poison apples or Mickey heads to the mix.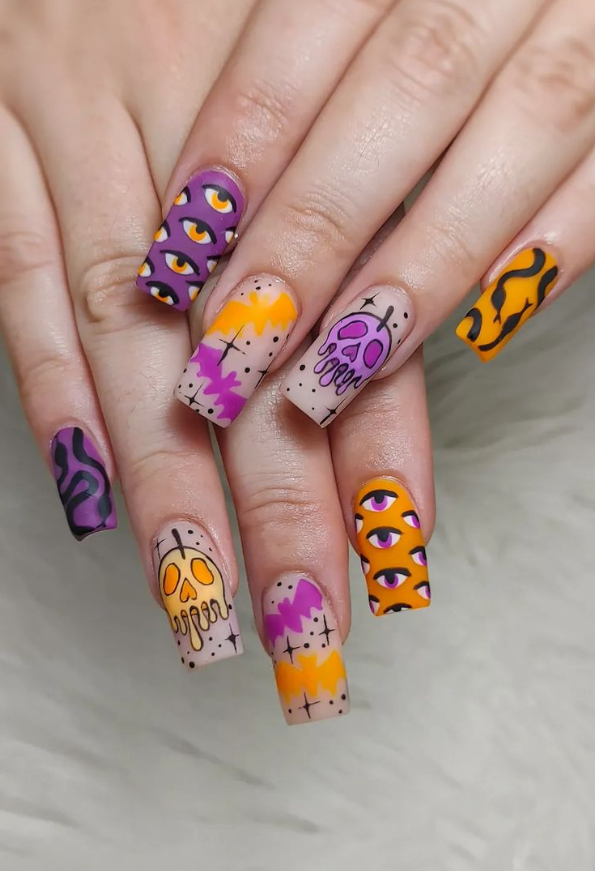 Burnt Orange Disney Halloween Nails
Burnt orange Disney Halloween nails are a glorious way to embrace the fall season with a gorgeous and creative set.
I love playing around with Jack Skellington nail art, spider webs, honey pots, and pumpkins to bring out the best of this autumn shade.
Oh, and you can't beat long acrylics to make that nail art truly pop.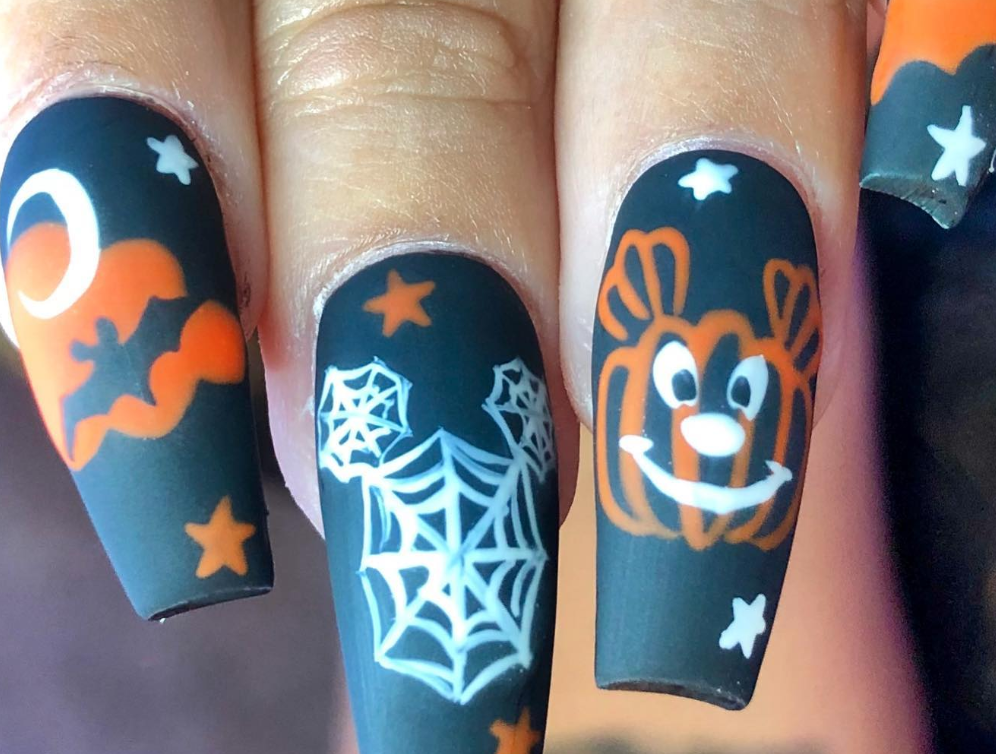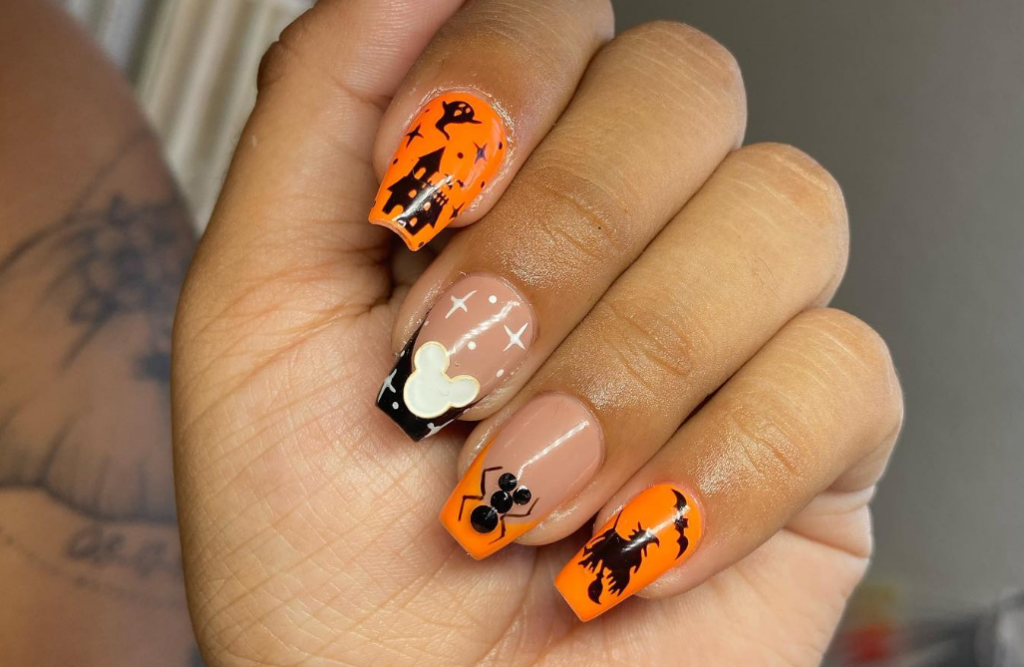 Pumpkin Mickey Halloween Nails
Nothing represents the spooky season like a set of Pumpkin Mickey Halloween nails.
This symbol of the holidays is everywhere around the Disney Parks during the Halloween period and it looks amazing near the nail bed.
If you want to get creative, the words "BOO", spider webs, and Mickey ghosts are all great additions to this look.
Go as simple or as bold as you like by bringing in candy corn artwork and ombre glitter – the sky's the limit!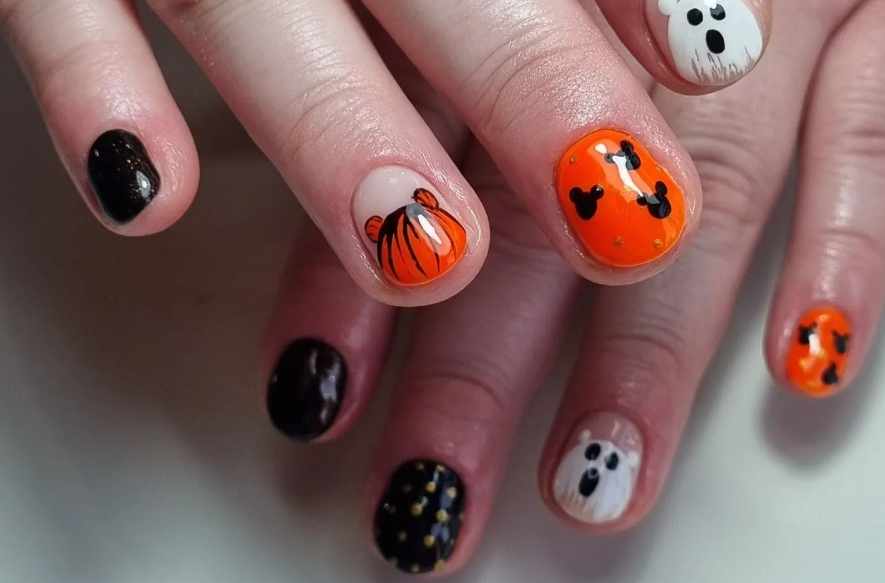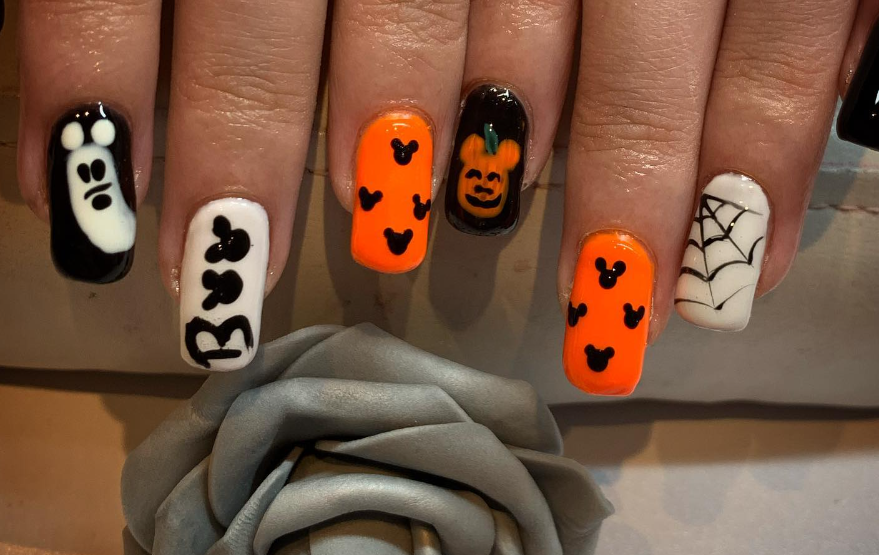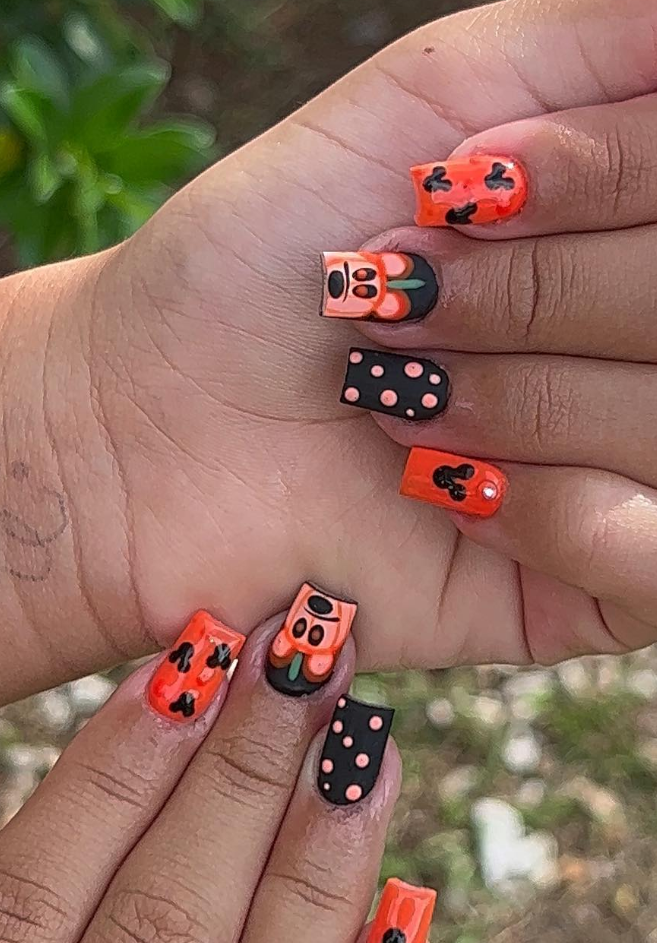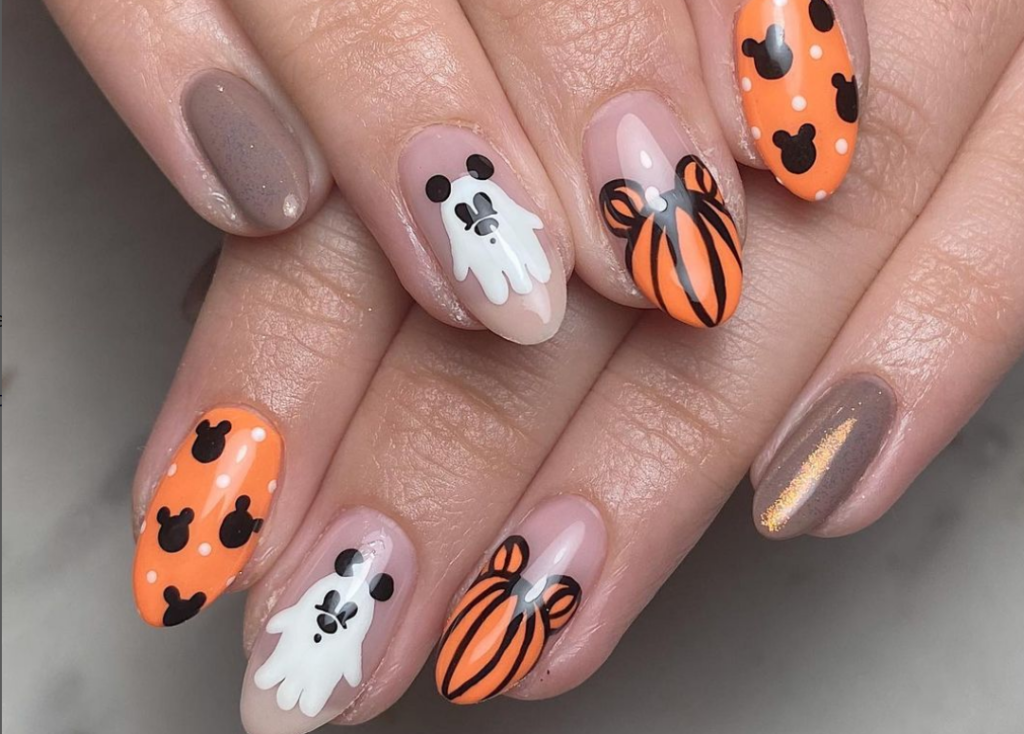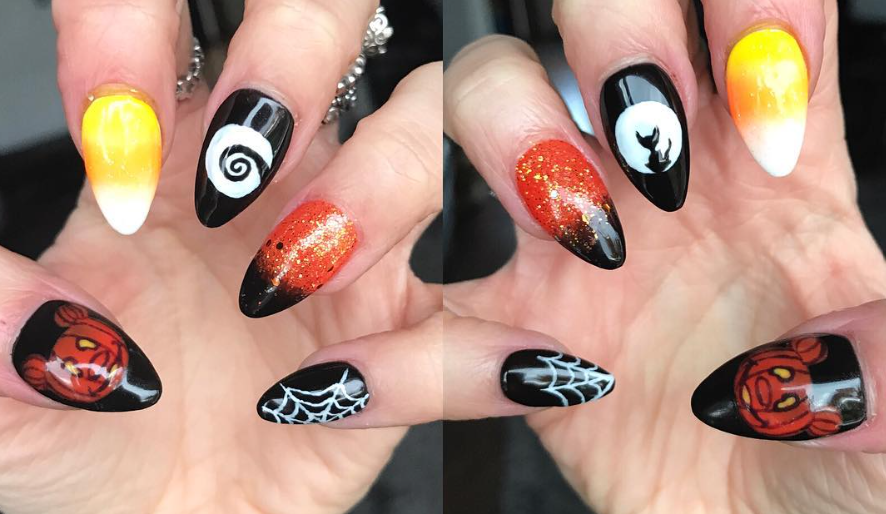 Oogie Boogie Halloween Nails
Oogie Boogie Halloween nails are perfect for the annual bash at Disneyland (or anywhere else, for that matter!).
Using chrome greens and glow-in-the-dark polishes can be a fresh way to lift this idea.
But you can also incorporate purples, deep greens, and glittery blacks to make the most of this spooky villain.
Whether you opt for square tips or coffin nails, it's a great idea to get acrylics to give yourself space for detailed nail art.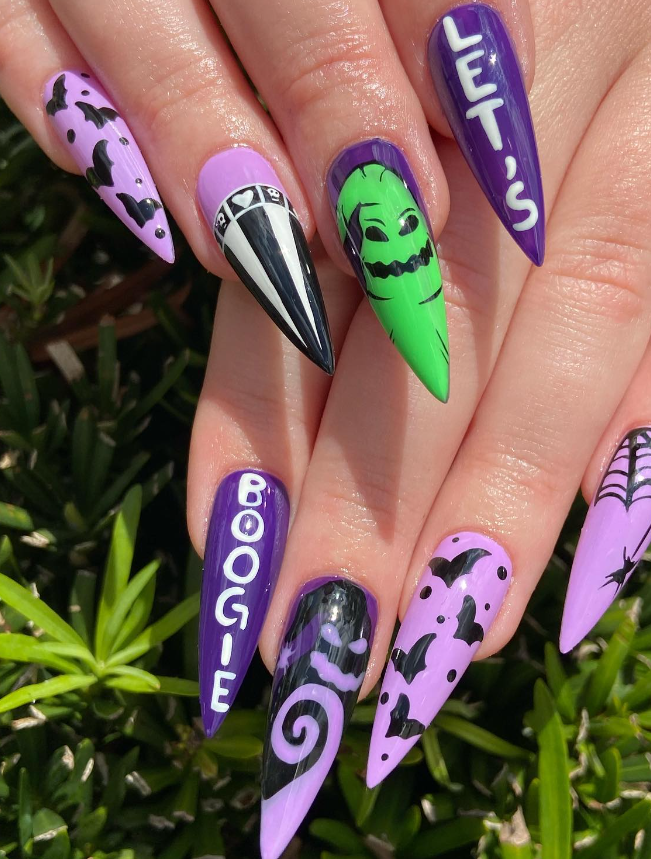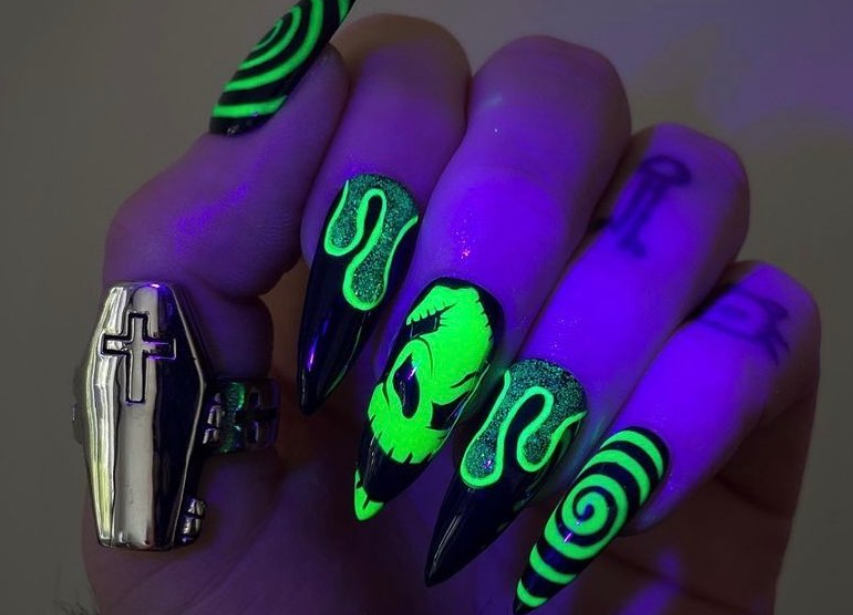 Jack Skellington Nails
Jack Skellington Nails are a gorgeous choice if you want stunning monochrome nails that instantly turn heads this Halloween.
From detailed black and white skull nails to spider webs on white matte polish with doodled character artwork, there's tons of potential here.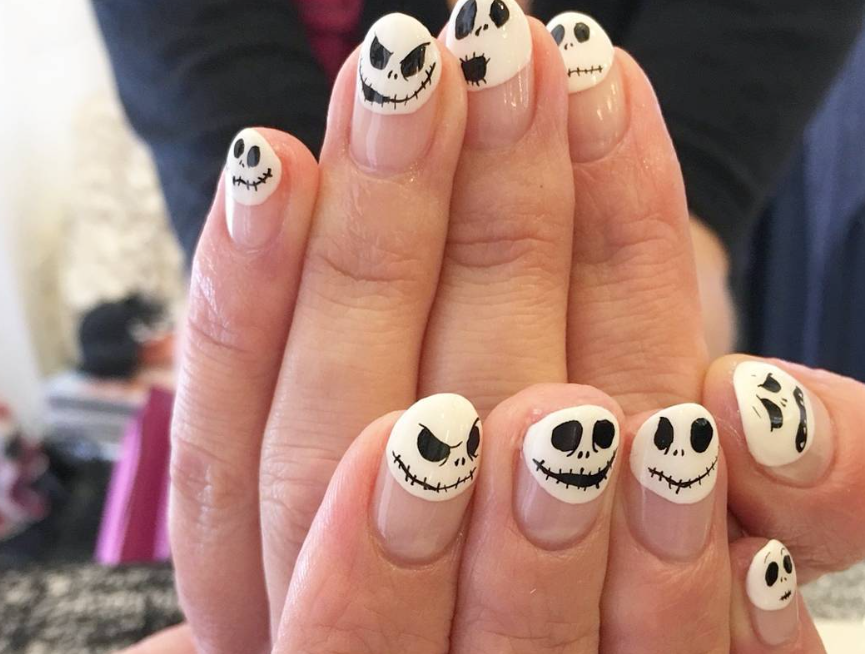 Nightmare Before Christmas Nails
Vibrant and striking, Nightmare Before Christmas nails are a fabulous way to ring in the holiday season with color and pizazz.
The amazing stitching looks incredible on French tips.
You can also pair her with other characters for a multi-colored style if you're feeling funky.
If you're willing to spend time in the salon chair, multiple character portraits with black swirls, splashes of neon, and even Jack on the Spiral Hill can look amazing.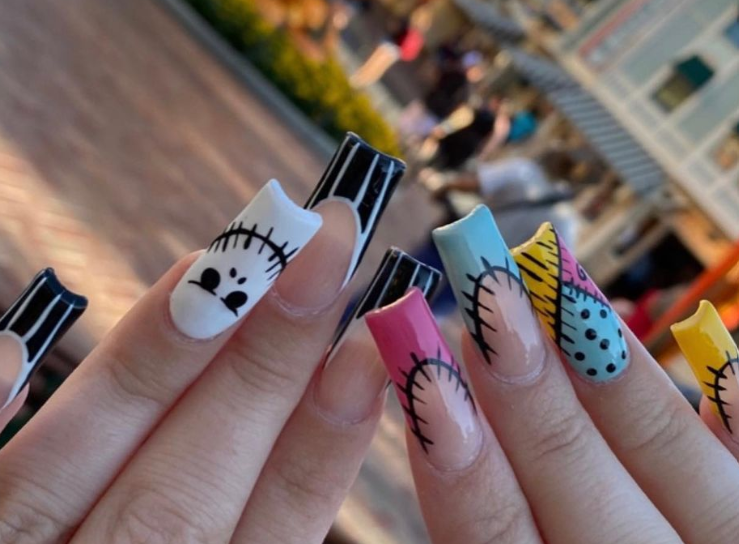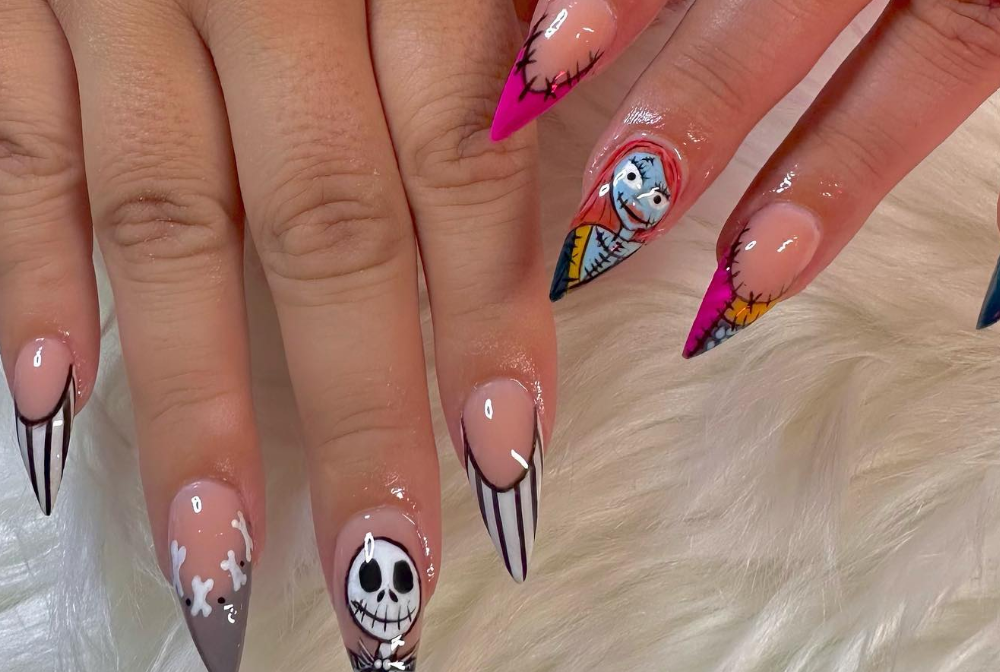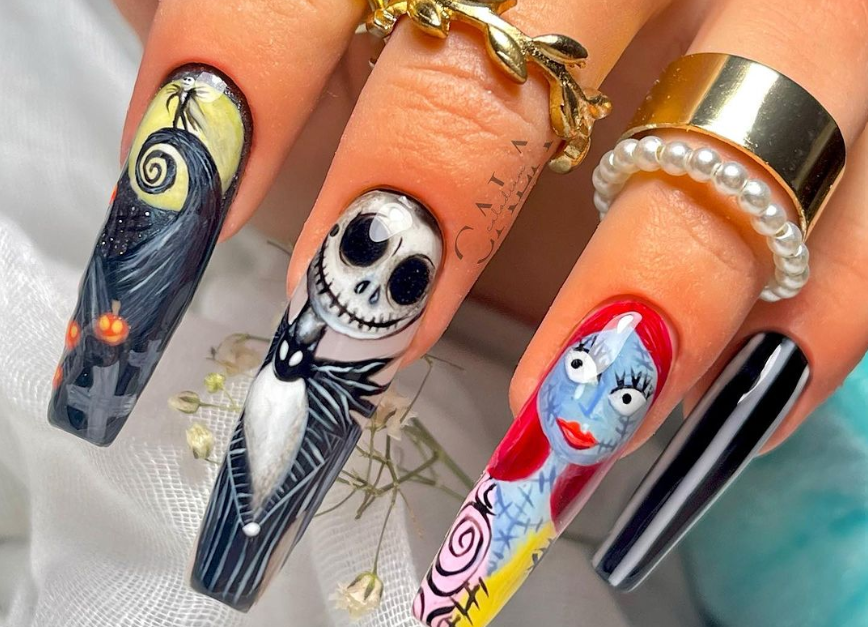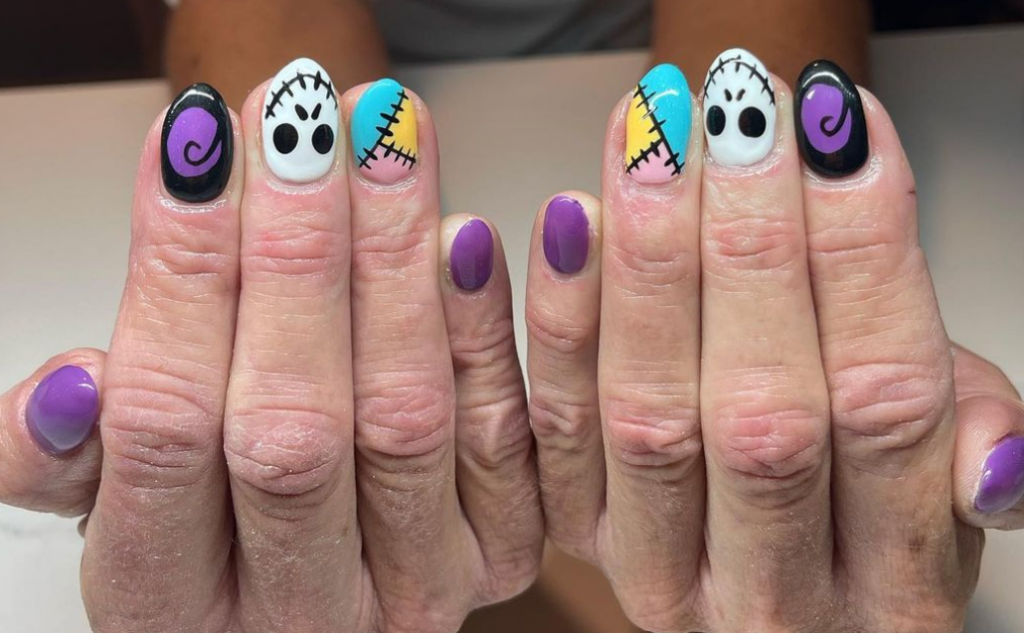 Sally Nightmare Before Christmas Nails
Sally Nightmare Before Christmas nails give you the chance to add pops of color and spooky stitching to your manicure.
I adore adding Zero and hyper-realistic character portraits to this idea.
You can also stick with blues, oranges, and pinks to represent Sally's iconic stitching for a more subtle set.
Ghost Mickey Halloween Nails
Ghost Mickey Halloween nails seriously dial up the cute factor with color, glitter and monochrome details.
I personally love adding Pumpkin Mickey to the mix for extra oomph.
But glitter tips, black and white accent nails, and simple nail art are all good options.
Hocus Pocus Halloween Nails
It's time to embrace your wicked side with a set of witchy Hocus Pocus Halloween nails.
The Sanderson Sisters are always a good starting point for any Hocus Pocus manicure (realistic or abstract!).
If you're looking for more, throw in chrome cauldrons, Binx, the Spellbook, and everything in between!
Mickey and Minnie Halloween Nails
Mickey and Minnie Halloween nails let you represent two of Disney's most iconic characters with a cute and elegant set.
Acrylics are a must here as they give you the real estate to create photo-realistic portraits of the characters.
You can always go abstract with funky fans, asymmetrical French tips and even bold text if you want to switch things up.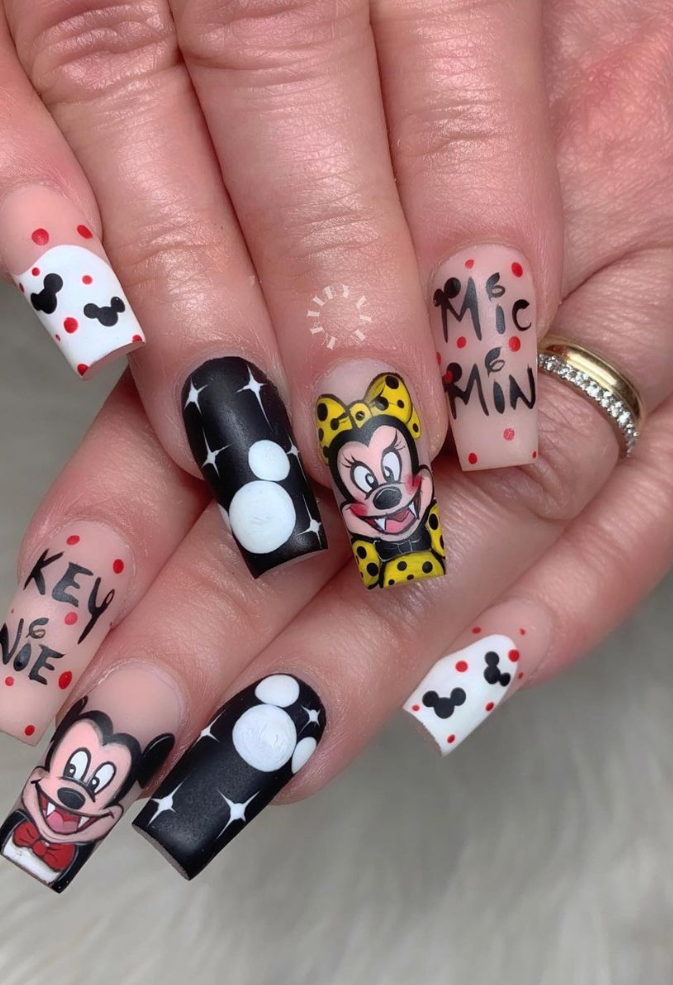 There you have it – the ultimate rundown of Disney Halloween nails that you need to try this spooky season!
Which of these Disney Halloween nails are your favorite? Are you planning to try any of these awesome designs? I'd love to hear your thoughts in the comments below.
Related Posts: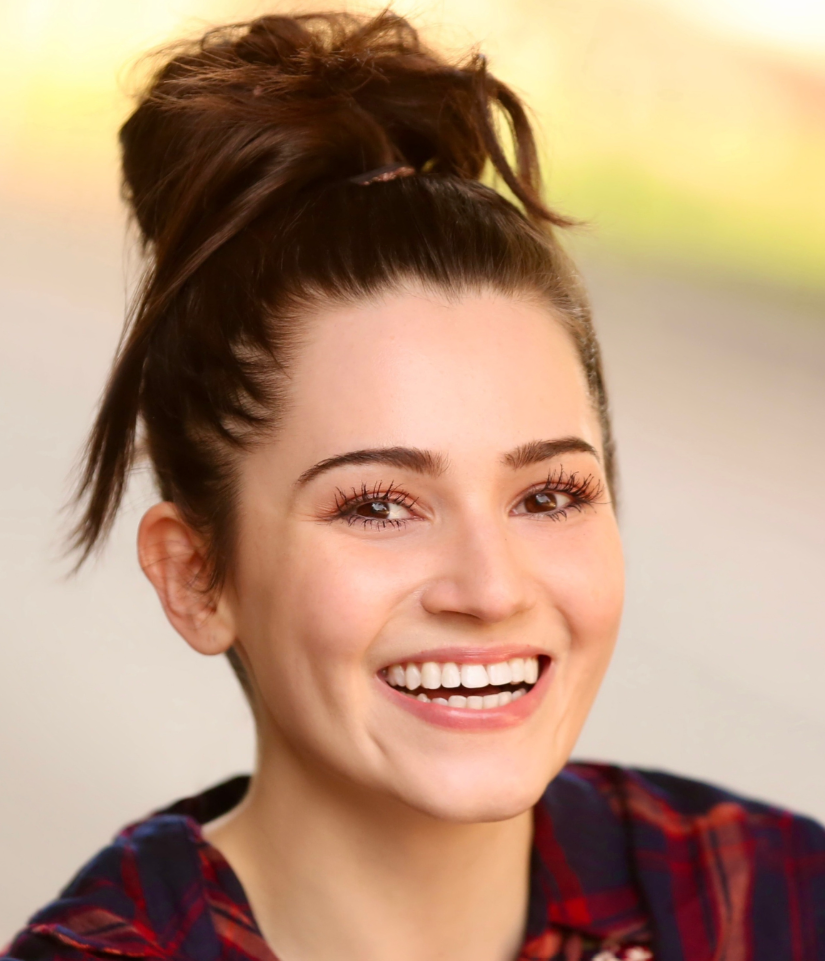 Grace is the creator, editor, and sole writer for Pixie Dust and Passports – a blog that's ALL about Disney! She's made it her life's mission to visit the Disney parks as much as possible and loves trying new snacks, grabbing the latest spirit jerseys, and rocking Loungefly bags. Oh, and she also holds a BA in History from UCL, which makes her a research and deep-dive enthusiast into all things Imagineering.