Have you spotted carts for Disney Silhouettes hanging around the parks? Are you trying to figure out exactly what these Disney keepsakes are? Join me as I delve into everything you need to know about these gorgeous hand-cut portraits!
If you want a Disney keepsake that'll remind you of your trip (while being super personal!), then I've got your back.
I think that Disney Silhouettes are the BEST souvenirs in the park. Not only are they ready in a flash, but they're affordable and will look beautiful on your wall or mantle.
In this deep dive, I'll cover everything from the cost of these souvenirs to stall opening times. Oh, and the process of making the silhouettes, of course!
Now let's do this.
What Are Disney Silhouettes?
Disney Silhouettes are hand-cut portraits of guests or Disney characters that are made from black card stock.
Cutting the portraits on black paper and placing them on a white background makes them look slightly shadowed. Hence the name "silhouette"!
They're not very detailed and take the basic features from your side profile to create a sleek, shadow-like picture.
You usually sit for a portrait (and the process is VERY quick), but artists can also create silhouettes from photos too!
If you don't want a portrait of yourself, you can get pets, characters, or even Walt Disney himself.
What's the History of Silhouette Artwork?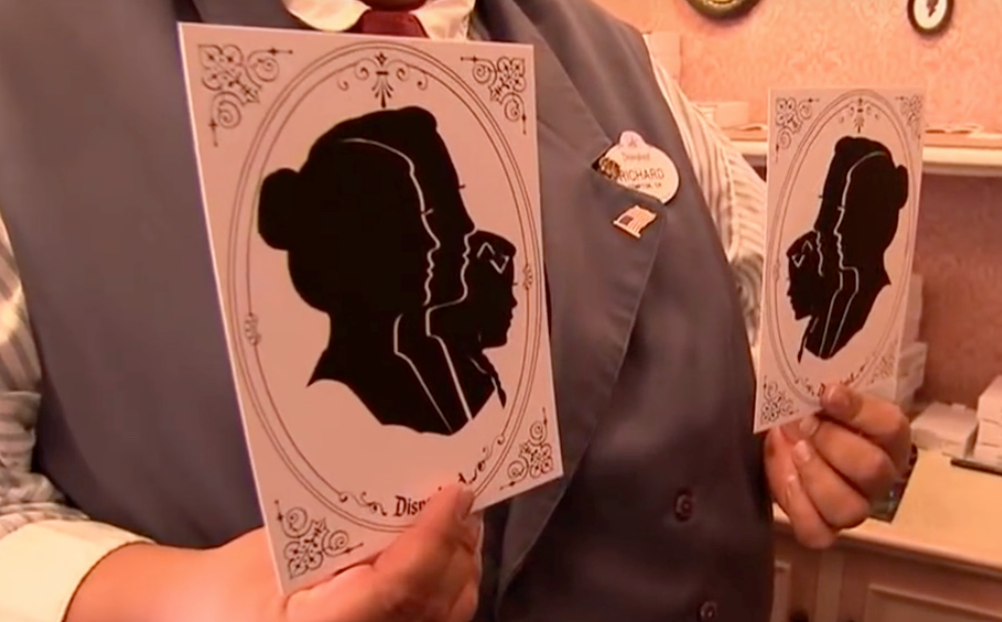 I did a history degree, so I'm always super interested in the background behind anything Disney-related!
Now, Disney didn't create silhouette artwork – it has been around since the late 1700s!
They were previously known as "shades" and were a popular way to recreate your image before photography existed.
The name is taken from the French Finance Minister of the time Etienne de Silhouette.
It's said that Etienne cut profiles when he wasn't on the clock, and his work was extremely popular.
Silhouettes hit their peak of popularity in the early 19th century.
They fell out of fashion when the camera was invented in 1826 but resurged in the USA in the 20th century.
That's when they started being produced and State Fairs, and this is where Walt Disney will have seen them for the first time!
He fell in love with them and offered the silhouettes at Disneyland Resort from opening day.
Where Can You Get Disney Silhouette Portraits?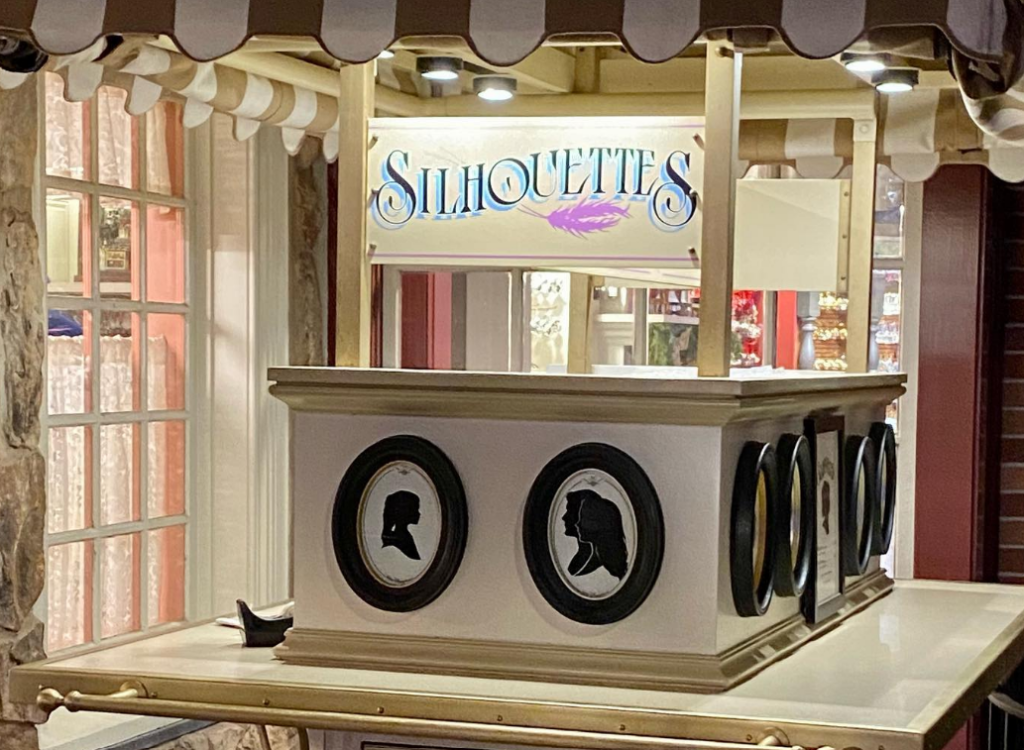 I've never found Disney Silhouettes at Disneyland Paris (despite going there every single year since 2015!).
I believe they were there around 2014, but they seem to have gradually phased out over time.
But hey, you can always head to an artist in Montmarte for an authentic portrait instead!
They're usually tucked away near Place du Tertre by the Sacré-Coeur Basilica.
So, you might as well take advantage of being in the birthplace of silhouette portraits!
Just FYI, they're also not currently available on Disney Cruise Line.
Walt Disney World
Magic Kingdom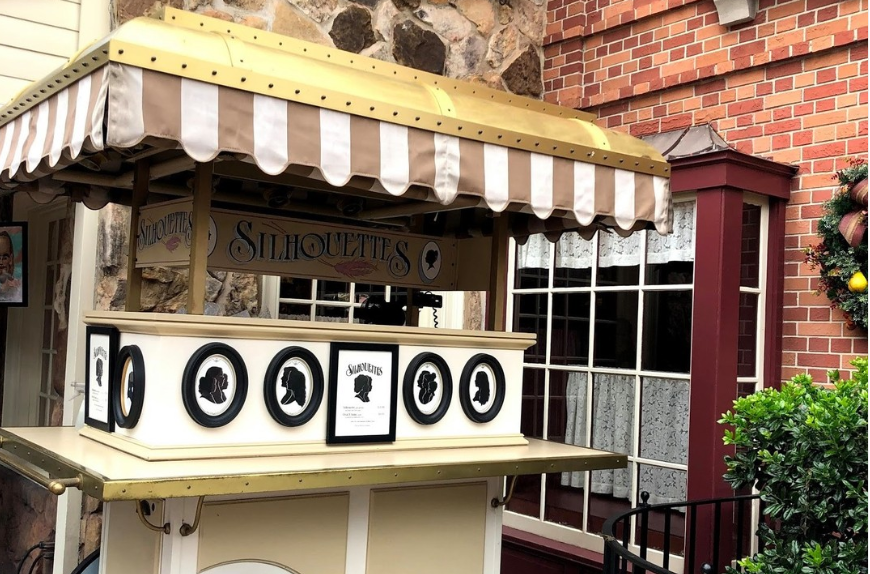 The most popular place to grab Disney Silhouettes is in Magic Kingdom.
There's a dedicated cart that's just on the right of Main Street if you're facing towards Cinderella's Castle.
There's also a cart at the entrance of Liberty Square which tends to be slightly less busy. It's right across from Sleepy Hollow and is easy to spot.
Disney Springs
If you're around Disney Springs, you'll find silhouette artists at Crystal Arts Shop by Arribas Brothers.
I recommend going in the middle of the day or near park closing as the queues tend to be shorter.
EPCOT
In EPCOT, the silhouette stand is tucked away in the France pavilion near the fountain.
Disneyland Resort
The Silhouette Studio is placed right by the park entrance at Disneyland's Town Square.
A lot of people stroll right by it, but it's a great place to stop right at the start or end of your park day.
The Disneyland location is by far the oldest and dates back to 1955. It's SMALL and is tucked between China Closet and Crystal Arts Shop.
It's not a cart (like most Disney World silhouette locations) but a small shop that's seriously easy to miss.
Just look for the hanging circular silhouettes and pink wallpaper to make sure you don't miss it!
When Can I Get a Disney Silhouette Portrait (Operating Hours)?
At almost every location around the Disney parks, silhouette portrait hours can vary.
That's usually because one artist is working at a time and the carts and stands don't operate during inclement weather.
And when you're in Florida, rainy days are usually part of the deal!
You can't make reservations or even find exact opening and closing hours for the carts – you just need to hope for the best.
To avoid disappointment, I highly, highly recommend heading to Guest Services right at park opening.
Although they won't be able to give you exact timings (because of the weather!), they'll have scheduled hours for that day.
Because operating hours are different each day, it'll give you a chance to get a portrait.
I will say that because not many people know about Disney silhouettes and they're quick to get, queues are usually short.
They tend to peak a bit during peak periods like summer, the holidays, and Christmastime.
But if you're in the queue and there isn't a storm brewing, you should have no issues getting a portrait.
So, YAY!
How Long Do Disney Silhouettes Take?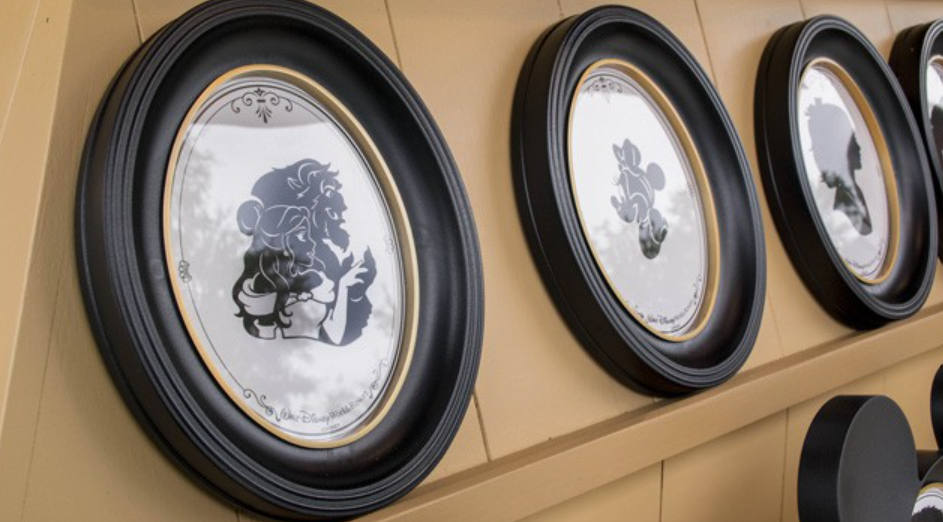 Getting your silhouette portrait cut takes minutes.
When I got my first one done a few years ago, it took UNDER 2 MINUTES.
Granted, I was only getting a single portrait of myself, but I was impressed.
If you're getting a family of 4, you can expect to be sitting for just over 5 minutes.
Young kids will probably have trouble sitting still for the portraits. But you can even get them done while your kids are asleep!
All the artists need are a decent view of a side profile.
What Does Getting a Disney Silhouette Entail?
Okay, so the process isn't complicated and as I've already mentioned – it's super quick!
I was also amazed at how much the silhouette looked like me. I don't want to say I wasn't expecting it to, but it's a black silhouette
You can either get Disney character silhouettes (think Sleeping Beauty, Cinderella, and Pooh) or a silhouette of YOU.
I'm a huge Disney character lover, but I think getting one of yourself is a far better souvenir.
You can usually get a silhouette of up to 4 people, making it great for families.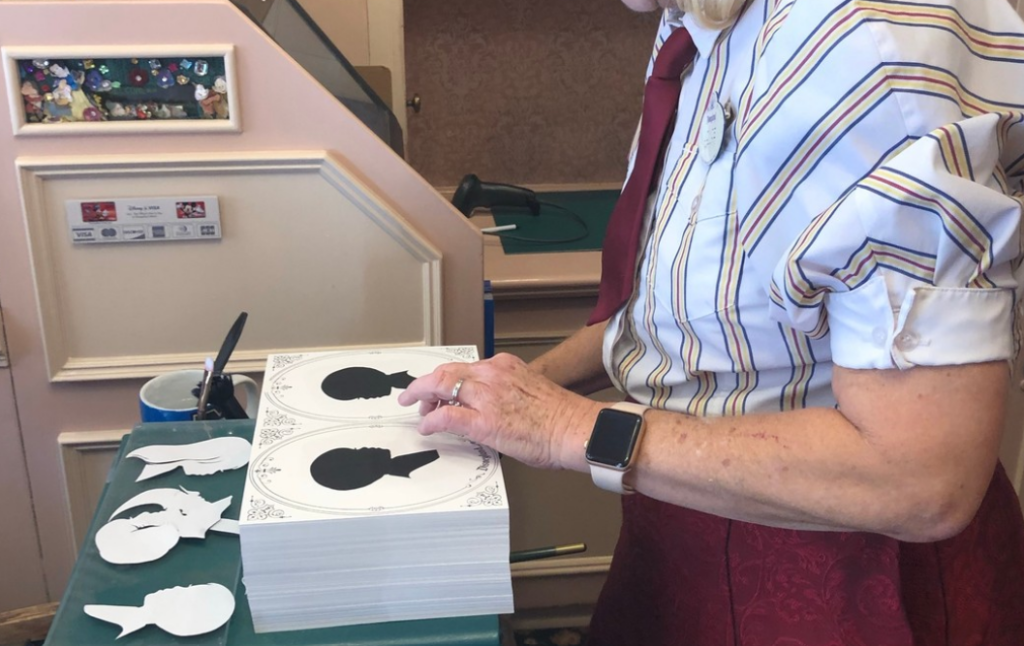 If you want a Disney silhouette of each individual person, that's cool too! Just be aware that little ones will need to be sat steadily on a parent's lap.
Believe it or not, you can even get pet silhouettes done! They obviously won't be there in person (unless they're a service dog), but the artists are always happy to work from pictures.
Just make sure your pet's mouth is fully closed and the shot is not front-on. Pictures of profiles are key here and you can always offer multiple options to the artist. They'll then choose the best one for you.
Although I usually get the silhouette portrait on its own, you can also add a character to the background of your shot.
It's completely optional, but a flying Dumbo or Mickey Mouse will add a touch of Disney magic to the mix.
How Much Do Disney Silhouettes Cost?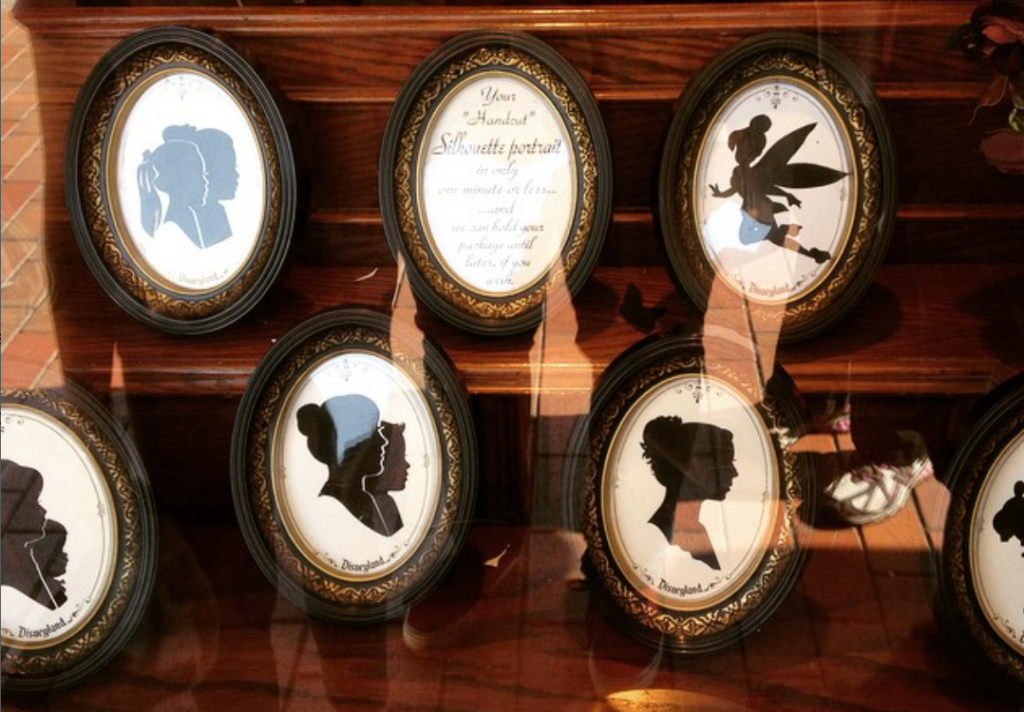 Disney silhouettes are currently $11.99 per person without a frame included.
If you want an oval frame, it's $19.99.
Every picture technically comes with one free copy as the black silhouette is folded. This creates a mirror-image copy that you also get to keep.
I honestly recommend just paying for the framed version as it's way prettier and protects your silhouette.
You can leave your artwork with Guest Services if you're going on rides, but they should be safe in your bag.
If you're worried about damaging your portrait but can't store it anywhere, wrap the frame in clothes!
Oh, and if you can tip the artist doing your portrait, try to. These guys are amazing and it's always appreciated.
You might also want to leave a Cast Compliment if you have time (you can do it on mobile, so why not!).
If you're a Disney Visa Cardmember, you can also get 10% off silhouettes that cost $50 or more.
I Can't Visit the Parks – Can I Get Disney Silhouette Portraits Online?
You can order Disney Silhouettes online, but they can take anywhere from 2-3 weeks to arrive.
To order your silhouettes, take a clear profile photo of each subject and send them to silhouettes@arribas.com.
Once your silhouettes are ready to send out, you'll get a shipping confirmation!
This is a GREAT development for anyone who wants a Disney silhouette but can't visit the parks regularly.
Plus, it's an awesome alternative if a stall closed because of bad weather!
There you have it: the ultimate guide to Disney silhouettes!
I'm a huge fan of Disney silhouettes as they're affordable, gorgeous, and look incredible hanging in your home. They truly capture the Disney magic without breaking the bank, and you can't argue with that!
Have you had a Disney silhouette portrait done? Do you still have it hanging in your home? I'd love to hear all about your experiences in the comments below!
Related Posts: