Have you been wondering what the Disney World employee discount is for Cast Members? Read ahead for everything you need to know about Cast Member benefits!
So, you've decided to apply to become a Cast Member at Disney and want to know what benefits you'll receive.
First of all – congrats!
There's so much joy to be found as a Cast Member, and you'll be able to visit the Happiest Place on Earth every week.
But if you're wondering "do Disney World employees get free tickets and discounts?" – we don't blame you.
As a matter of fact, Disney World employees get plenty of discounts and benefits as part of their employment.
From gate passes to merchandise discounts and freebies, there's a lot to love about working for the House of Mouse.
Now let's find out exactly how much the Disney World employee discount is!
Do Disney World Employees Get Free Tickets to the Main Parks?
The most important question that needs answering here is whether Disney World employees get free access to the parks.
And the answer to that is YES.
There are certain rules that need to be followed (of course!). But Cast Members will get into the parks with their ID after 2 weeks of employment.
This includes both full-time and part-time positions, which is a huge perk.
What about the water parks?
Disney Cast Members do get free entry to Blizzard Beach and Typhoon Lagoon – but only during the low season.
If you're trying to get in during the high season, you'll need to wait until after 2pm.
Don't worry if you're desperate to visit during the peak summer period – you can still grab one-day admission tickets!
Plus, they'll be heavily discounted which will help to soften the blow.
Do Disney World Employees Get Free Tickets for Guests?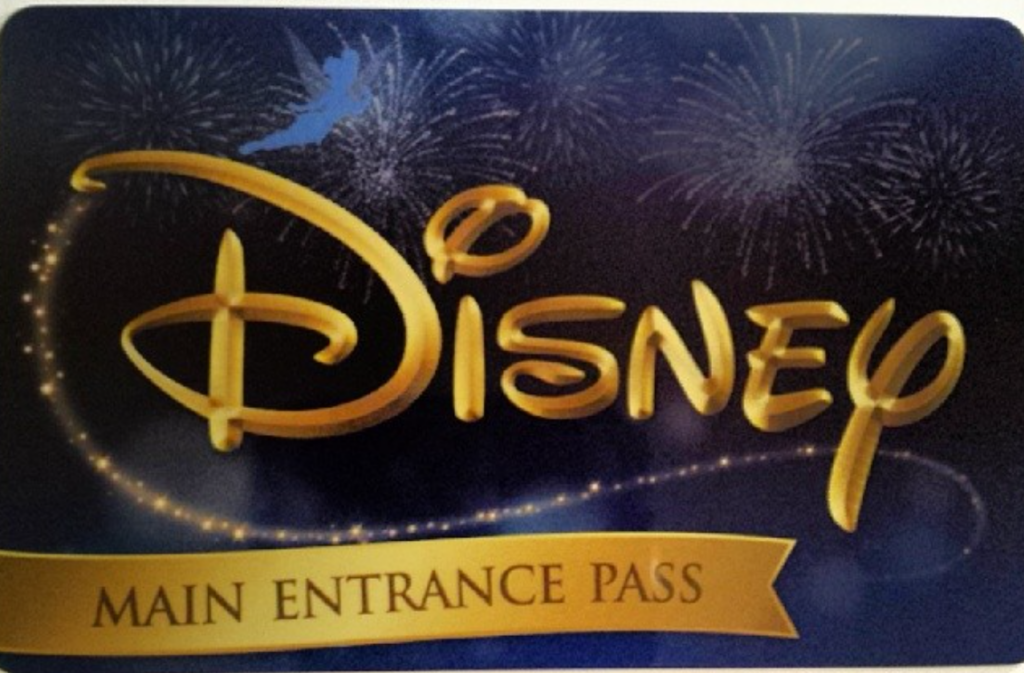 Okay, this one is slightly trickier.
While Disney World employees do get free tickets for guests, there are certain limitations to this.
After working for the company for 90 days (essentially a probation period), Cast Members will receive a Main Entrance Pass.
This is a specific employee pass that allows you to bring a certain number of guests into the park.
Cast Members can usually bring 3 guests in at any time (which covers a typical nuclear family).
But the main drawback to this is that they can't use their Main Entrance Pass all the time.
How often a Main Entrance Pass can be used depends on years of service.
All employees that have been with the company for under 15 years will get a Blue Main Entrance Pass which can be used 16 times a year.
If you've been working for the company for over 15 years, the Blue Pass is upgraded to a Silver one.
And that's when you get to bring in friends and family members as many times as you want!
The only thing you need to consider with a Silver Main Entrance Pass are reservations – you won't get in without them.
To do this, you'll need to register your Main Entrance Pass to a My Disney Experience account which links your tickets.
It's relatively straightforward, you just need to navigate to the My Plans Tab and then Link Tickets.
What other free tickets can you get?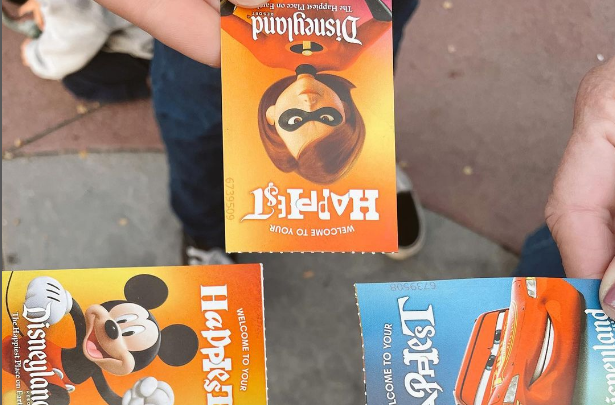 If you're not bringing guests in using a Main Entrance Pass, you'll be relying on Complimentary Tickets.
These will still get you into the parks, but you'll only get a few every year.
Like the Main Entrance Pass, you'll be given 3 Complimentary Tickets at a time (and they're given out sparingly).
I'd say that it's usually twice a year, but they're given out more occasionally.
The only thing you need to understand with these tickets is that they're strictly for friends and family.
So, you can't just grab them for random people, and you certainly can't sell them (unless you want to be disciplined!).
If you'd prefer to treat your acquaintances, you can get unlimited tickets at a 10-15% discount at the Company D store.
And if that wasn't enough, Disney World employees also get large discounts for tickets to Sea World and Busch Gardens!
Disney College Program
If you're on the Disney college Program, you can get One-Day Guest Hopper Passes.
You'll need to enter the parks WITH your guests by using your Main Entrance Pass (which can be a drag).
But it's the only way around the rules for College Program candidates.
You'll need to rack up 150, 300, and 600 hours to get 3 tickets at each milestone. But most people working on the College Program will hit these relatively easily.
Just be aware that you'll need to work with the Disney Reservation System in order to book in when Cast Member slots are free.
Cultural Representative Program
Guest passes received by those on the Cultural Representation Program will work in a similar way to regular employee passes.
You'll get Guest Passes you can use throughout the year around 16 times, but you'll also get a few Comp Tickets.
What Other Discounts Do Disney World Employees Get?
Now that I've covered tickets in quite a bit of detail, let's dive into the other Disney World employee discount options you have!
Disney World Resorts
Cast Members usually get:
50% off Resort bookings for themselves
40% for friends and family
50% (or less – it depends!) at Disney's Aulani in Hawaii
Disney Dining Plans and General Dining
Although Dining Plans are currently on hold, Cast Members get discounts on Disney Dining with a valid ID.
They will get 20% off at these onsite restaurants:
Disney's All-Star Resort – Intermission Food Court and World Premier Food Court
Disney's Animal Kingdom Lodge – Boma, Jiko, The Mara, Sanaa
Disney's Art of Animation – Landscape of Flavors
Disney's Boardwalk – Boardwalk Bakery, Boardwalk Pizza Window, Trattoria al Forno
Disney's Caribbean Beach Resort – Centertown Market and Sebastian's Bistro
Disney's Contemporary Resort – Chef Mickey's, Contempo Café, Steakhouse 71
Disney's Coronado Resort – Barcelona Lounge, Three Bridges Bar and Grill, Toledo
Disney's Fort Wilderness Resort – Crockett's Tavern, P&J's Southern Takeout, Trail's End
Disney's Grand Floridian – 1900 Park Fare, Citricos, Grand Floridian Café, Gasparilla Island Grill
Disney's Old Key West Resort – Good's Food to Go, Olivia's Café
Disney's Polynesian Resort – Captain Cook's, Kona Café, Ohana
Pop Century – Everything POP Shopping and Dining
Port Orleans Resort – Boatwrights Dining Hall, River Roost Lounge, Riverside Mill Food Court, Sassagoula Flatworms and Food Factory, Scat Cat's Club Café (home of Disney beignets!)
Saratoga Springs – The Artist's Palette, The Turf Club Bar and Grill
Disney's Vero Beach Resort – Wind and Waves Market, Wind and Waves Grill
Disney's Yacht and Beach Club – Ale and Compass, Beach Club Marketplace, Cape May Café, The Market at Ale and Compass, Martha's Vineyard, Yachtsman Steakhouse
Magic Kingdom – The Crystal Palace, Jungle Skipper Canteen, Liberty Tree Tavern, Plaza Restaurant, Tony's Town Square
EPCOT – Akershus Royal Banquet Hall, Biergarten Restaurant, Coral Reef Restaurant, The Garden Grill, Le Celier Steakhouse, Rose and Crown
Hollywood Studios – Hollywood and Vine, 50s Prime Time Café, The Hollywood Brown Derby, Mama Melrose's Ristorante Italiano
Animal Kingdom – Flame Tree Barbecue, Harambe Market, Nomad Lounge, Restaurantasaurus, Tusker House, Tiffins
Merchandise Discounts
The merchandise discount you get as a Cast Member depends entirely on your years of service (like the Entrance Pass).
If you've got a Blue Pass, you get 20% off.
If you're lucky enough to get the Silver Pass, it shifts up to an impressive 35%.
During the holiday season, Cast Members sometimes get up to 40% off merchandise (which helps during Christmastime).
Parking Discounts
Disney World employees get free parking across all parks.
They just need to bring their company ID at the parking entrance.
Lockers
Cast Members used to be able to pay a $5 deposit for a locker, but this perk has recently been removed.
Adventures by Disney
Cast Members can get impressive Adventures by Disney discounts outside of blackout dates.
As these discounts can vary, it's best to check the Hub for full details on your particular dates.
Disney Cruise Line
Cruise Line discounts depend on the dates you're booking, but you can sometimes score rooms for as little as $80/night.
The only issue here is that you'll need to book cruises that actually have capacity.
You probably won't have much luck during the height of summer.
Plus, you'll need to work for Disney for a certain stretch of time before you qualify (the classic 90 days).
If you're willing to follow the dates available on Disney's Sail Away Program, you can purchase unsold rooms for a major discount.
But you'll need to be willing to book tickets with as little as 2 weeks' notice.
Generally, the discounts you get will be between 40 and 60%, and you'll get a further 20% discount on board.
As Disney Cruises are expensive, I'd say that this is a seriously sweet perk!
Tour Discounts
Disney runs a few tours across the parks, and employees will get a relatively good discount on a few of them.
The major one is the Backstage Magic Tour at Walt Disney World which scores you a 35% discount.
But you can also check out the Keys to the Kingdom Tour (50% off!) and the Wild Africa Trek (50% off).
If you're willing to try something a bit different, you can head on the EPCOT Seas Aqua Tour where you'll get 50% off.
It's essentially an aquarium tour that lets you explore the marine life inside The Sea with Nemo and Friends.
The other discounted tours you'll receive are:
Dolphins in Depth – 50% off
EPCOT Dive Quest – 50% off
Behind the Seeds at EPCOT – 50% off
Water Equipment at Sammy Duvall's – 10% off activities
Discounts at Disney Springs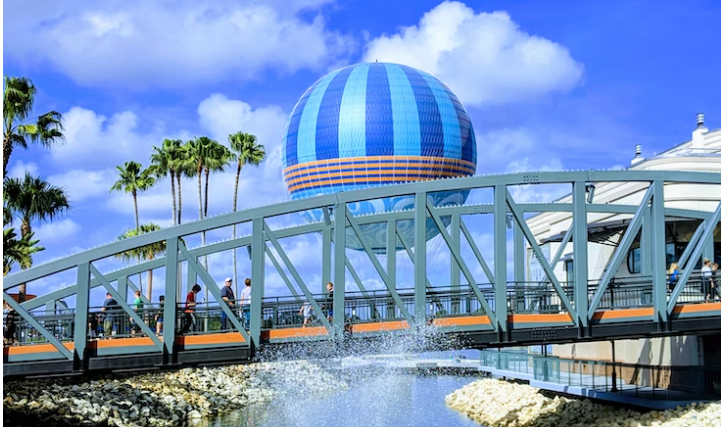 Even when Cast Members aren't inside the parks, they'll get awesome discounts just outside of it.
At Disney Springs, you can expect discounts at the following stores (in alphabetical order!):
| STORE | DISCOUNT |
| --- | --- |
| Arribas Brothers | Usually 20% but can be up to 35% |
| Basin | 15% off |
| Bowes Signature Candles | 10% off |
| Earl of Sandwich | 15% off |
| East Crater Ventures | 10% off |
| Florida Games | 25% off |
| Ghiardelli | 20% off |
| Initial Rings | 10% off |
| Just Plumerias | 10% off |
| Happy Hound | 25% off but this only applies to collar charms |
| Lefty's | 25% off |
| Rainforest Café | 35% off merch and 20% off food |
| Spice & Tea Exchange | 10% off |
| SJM Enterprises | 10% off |
| Starbucks | 10% off |
| The Lego Store | 10% off |
| T-REX | 20% off food, 20% to 35% on merch |
| Wetzel's Pretzels | 20% off |
Discounts at The Landing
At The Landing, you'll get the typical 20% off at Cookies of Dublin, Morimoto Asia, and other restaurants and eateries.
But you'll get varied discounts at other spots.
Disney's Boardwalk
I love the Disney Boardwalk restaurants, and you'll get decent discounts at most of them as a Disney employee.
You'll get the classic 20% at the Bakery, Tarttoria al Forno, and the Pizza Window.
At Jellyrolls you'll get 50% off the cover charge though!
Walt Disney Recreation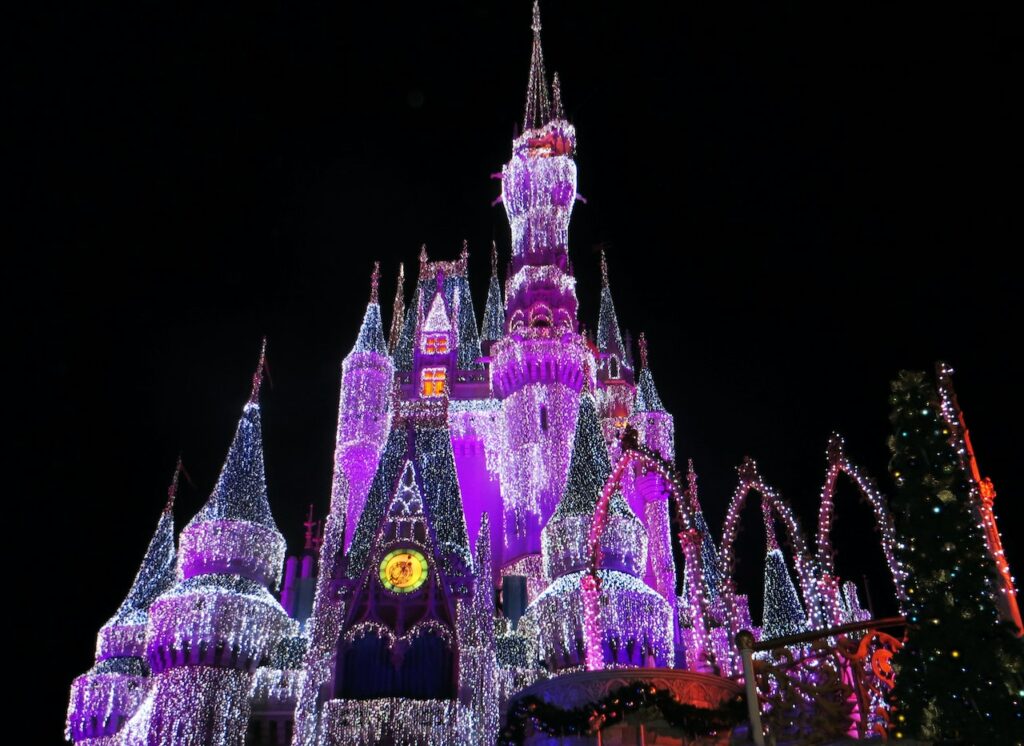 Disney Spas
If you're looking for the best spas at Disney World, then you'll be pleased to know that employees get major discounts!
And breathe.
Cast Members will get 15% off spa services that are longer than 50 minutes.
So, you can recoup from those tough days at the park (on your feet!) with a relaxing massage or facial.
How dreamy is that?
Special Occasions
Although Disney's weddings are almost hilariously expensive, you can get up to 50% off Disney Fairytale Weddings.
The only catch is that you literally need to book your date YEARS in advance.
And that's because park weddings are incredibly popular. So, Cast Members will need to slot inside gaps left by the public.
It's a bit of a drag, but at least you'll also get 10% off Disney Floral Services too!
Christmas and Holiday Discounts
I briefly mentioned this earlier, but I genuinely thought it deserved its own section as these discounts are SICK.
Around the Christmas period, employees get between 30-50% off Disney Dining and merchandise.
They're usually given in booklet-form and let you grab snacks, treats, free tickets, and certain drinks.
You'll also be able to get a 50% discount at the Disney mini golf courses during the peak holiday period (sometimes it's free!).
Score.
Oh, and did I mention that you'll get free tickets to the waterpark during the Christmas period?
What Benefits Do Disney Employees Get?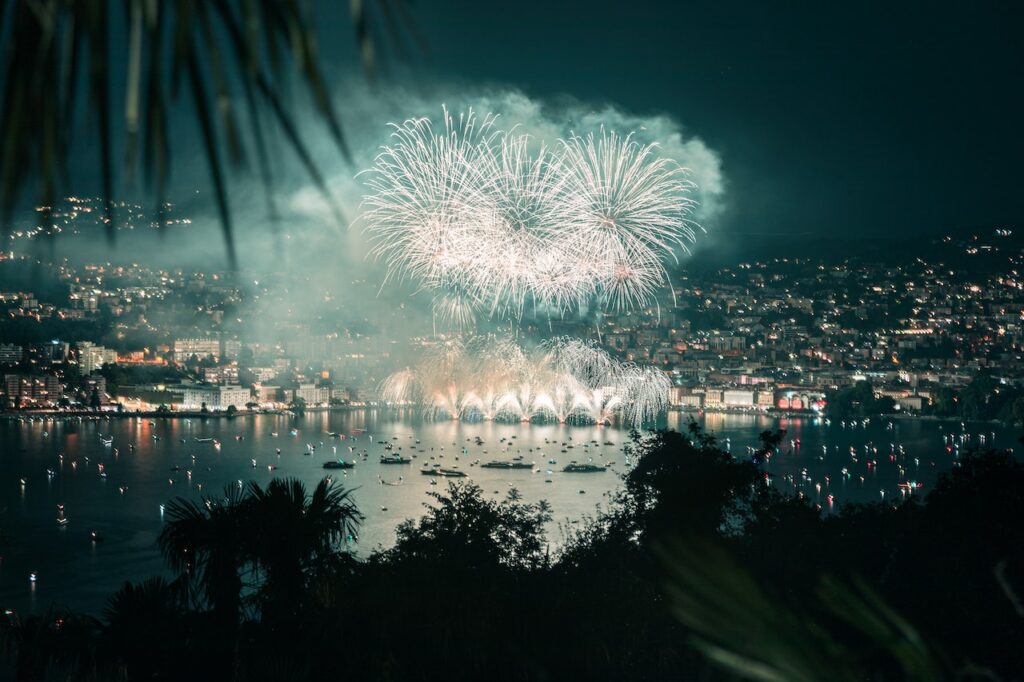 If you want to become a Disney Cast Member, then you might be wondering what other perks you'll get.
The answer is – quite a few, and they're all quite good too!
Disney is known for offering exceptional benefits to their employees, which is part of why positions are so coveted (and competitive!).
Along with weekly pay with a direct deposit option, you'll get:
Health insurance (for full-time employees!) – this is also affordable, and Disney offers Reimbursement and Family accounts depending on your budget. It also includes dental and vision coverage for some positions.
Paid leave for vacations and sickness. Vacation time gradually accrues based on time worked.
Retirement plans for full and part-time employees that can be chosen ahead of time.
Employee stock options.
Onsite wellness programs.
Childcare options and support for parents. This includes low-cost and back-up options at many work locations.
Volunteering opportunities through VoluntEARS.
Career development classes and courses (most of these take place online for convenience). This includes reimbursement for classes and Disney Inspire which pays for tuition at network schools.
Discounts on dining, merch, hotels, and activities (which I've already mentioned).
Commuter Assistance which helps employees and Cast Members find commuter resources and options.
Flexibility @ Disney which is designed to offer employees a mix of remote and onsite work where possible.
What Else Do Disney Employees Receive?
There are tons of Disney-related benefits if you work at Disney.
But did you know that you can also get local and completely unrelated discounts too? Score!
Outside of the parks, you'll get the following Disney World employee discount options:
20% off Orlando City Soccer tickets
AT&T discounts (usually on phone plans, but you can also grab accessories)
10% off AMC Theaters tickets
Discounts at the Nike Outlet (10%, but it's not always offered)
Free entry to Howl at the Moon
Discounts on Orlando hotels including the Holiday Inn, Four Seasons, Hilton, and Margaritaville.
Are There Any Downsides to Being a Disney Employee?
I get that this article makes working at Disney sound all sunshine and roses – and honestly, it largely is.
But all jobs come with their downsides, and it's worth knowing about Disney's downsides before applying.
After all, there's nothing worse than coming up against a dealbreaker once you've signed a contract!
One of the major downsides is that working as a character can be tough.
Not only do you need to meet strict height requirements (and weight restrictions), but you can't break character. You can't even directly mention that you play a character when you're not at the parks. The best you can do is say that you're "friends" with the character.
Another thing that's worth mentioning is that it's sometimes difficult to keep a smile on your face if you're having a bad day. I totally get it – everyone has down days! But at Disney, you simply can't let it show or you'll quickly be disciplined or even removed from your post.
It's also important to note that you won't get to choose where you're stationed as a Cast Member. You'll likely move around slightly, but you won't get to choose whether you're in merch or running a ride.
Plus, your wage and degree of discount largely depends on the role you take on at the park. Although you'll get paid more as you work for the company longer, you'll start on the classic base rate.
Is the Disney World Employee Discount Transferrable?
In short, tickets can be transferred using the My Disney Experience App, but your Disney World employee discount itself is NOT.
You'll still get to benefit from free entry and tickets, but someone else won't be allowed to use your discount.
So, if you're hoping to throw your pass around to friends and family to get discounts – it's not going to work!
In fact, it could land you in hot water.
FAQs About the Disney World Employee Discount
Do Disney employees get Disney Plus for free?
YES, Disney employees get Disney Plus for free if they're currently registered on the books.
You'll get a bundle that includes Disney Plus itself as well as Hulu and ESPN Plus.
Do Disney employees get a bonus?
Park workers don't often get large bonuses, but managers within the Disney corporation can get a 15% bonus every year.
According to PayScale, the average Senior Software Engineer will get around $15k while a marketing coordinator will get $2k.
What is the Disney signing bonus?
As of early 2022, Disney World has been offering a new sign-on bonus to new employees. It's said to be between $1000 to $6000 for open positions.
The size of the bonus largely depends on the position you're going for, of course!
There you have it: the ultimate guide to the Disney World employee discount!
Are you trying to become a Disney employee? Are you a past employee who's curious about current discounts? Either way, I'd love to hear from you in the comments below.
Related Posts: