Are you wondering "is Disney World open on Christmas Day?". Join me as I uncover everything you need to know about visiting Disney World on Christmas Day!
I've been lucky enough to visit Disney parks around Christmas several times, and nothing beats it.
From the gorgeous holiday decor to the faux snow and the general holiday cheer – it's truly the best way to get in the festive mood.
But are you wondering "is Disney World open on Christmas Day itself"? And what about Christmas Eve?
Will you be able to pull out a few classic Disney Christmas quotes to put on your amazing Instagram shots?
If you're not sure whether you'll be able to get into the parks (and what you can do!), then stick with me.
Not only will I cover opening hours and those dreaded park reservations, but I'll cover what you can actually DO here at Christmas.
Oh, and I'll even run you through where you can eat on Christmas Day for a full-blown Turkey Dinner!
Now let's get to it and answer the age-old question: "is Disney World open on Christmas Day?"!
Is Disney World Open on Christmas Day?
YES, Disney World is open on Christmas Day as the parks are open 365 days a year!
Although it might seem slightly alien to visit the House of Mouse on Christmas Day, it's actually an extremely popular day for the parks.
It's partly because Disney are looking to capitalize on families taking their Christmas vacations in Florida.
But it's also because Disney is simply the most magical place to spend a day that's all about love, laughter, and cheer!
And honestly, checking out Christmas-themed special events ON Christmas Day just makes it all extra-special, right?
It's also worth mentioning that ALL of the Disney parks are open on Christmas Day.
So, that means Magic Kingdom, EPCOT, Animal Kingdom, and Hollywood Studios.
I'd say that Magic Kingdom tends to reach capacity at lightning speed, but I wouldn't sleep on getting to the gates ASAP for any park.
When it comes to last-minute reservations, the chance of scoring one is pretty much nil.
Christmas Opening Times at Disney World
The Christmas opening times at Disney World are usually between 9 am and 11 pm across the different parks during the holidays.
But that doesn't mean every park will close that late!
Animal Kingdom often closes slightly earlier, while Magic Kingdom is typically open latest because of the fireworks.
It's also worth mentioning that Mickey's Very Merry Christmas Party hours will vary from regular park hours and prompts earlier closures.
If you have a party ticket, then you're good to go and can stay in the parks.
But this doesn't take place on actual Christmas Day, so don't worry too much!
In case you're interested, Annual Passholders and DVC Members usually save $10 per ticket for the party.
But regular parkgoers can expect to pay anything from $149 – $199 for a ticket during an average year.
The closer you get to actual Christmas Day, the more you can expect to pay.
I'll also say that opening times during December are generally much longer than during other times throughout the year.
So, it's a relatively good time to visit if you're looking to maximize your experience by rope dropping and staying until close.
Though, good luck powering through for that long!
Magic Kingdom
The opening hours for Magic Kingdom on Christmas Day are usually 9 am – 11 pm.
EPCOT
EPCOT is usually open from 9:30 am until 10 pm on Christmas Day.
Animal Kingdom
Animal Kingdom tends to close the earliest generally (because of the animals!) and this is no different on Christmas Day.
So, expect the park to be open from 8 am until 8 pm on Christmas Day.
Hollywood Studios
Hollywood Studios is open between 8:30 am and 9 pm on Christmas Day.
P.S: If you're not sure about any Disney Park opening hours, you can check hours day by day on the official website! Oh, and remember that Park Hopper access doesn't activate until 2 pm at every park.
What to Expect on Christmas Day at Disney World
You should expect crowds, holiday magic, and plenty of good food if you're visiting Disney World on Christmas Day.
Not only are there special parades that run, but the decorations and festive treats are truly next-level.
Now, you CAN experience much of the Christmas magic at Disney without visiting on Christmas Day itself.
But there's something about indulging in the festive goodness on the day itself that hits differently.
And hey, there aren't many places that have a parade featuring actual Santa Claus on Christmas Day!
It's particularly special if you're traveling with youngsters, as they'll truly be invested in the spirt of the holiday.
Is Disney World Crowded on Christmas Day?
Yes, Disney World is absolutely crowded on Christmas Day and you 100% need to get there early if you want to get in.
If you're staying at a Disney Hotel, you'll be able to get in 60 minutes before the parks open – and this is a gamechanger.
Guests staying offsite will still be able to make park reservations and get in, but Magic Kingdom is typically at capacity by 12 pm.
So, you'll want to be quick!
If you want to get into your chosen park (yes, they're all open on Christmas Day), you need to get on the reservation page months ahead.
In fact, if you can pick up your tickets more than a year ahead of time – that's even better!
And if you're not convinced that you'll be able to get into Magic Kingdom (AKA: the most popular Christmas Park), stick with me.
Which Disney Park is Least Crowded on Christmas Day?
I won't say that any Disney Park is going to be sparse at Christmas, but EPCOT is probably your best bet.
The opening times are slightly longer than Animal Kingdom or Hollywood Studios which gives you more time to stagger your day.
Plus, it's far larger than the other parks which will make it feel less stifling as the day rolls on.
You can also take regular breaks and spice things up by heading to the World Showcase if ride queue times get ridiculous.
Oh, and don't forget about the Festival of the Holidays!
What Disney Park Is Best on Christmas Day?
I personally wouldn't just visit a park on Christmas Day because it's less crowded.
You should try and choose the park you want to check out based on the experience you want to have.
The first thing you'll need to think about is whether you can actually get reservations for a park (that might narrow things down!).
Then, you can figure out which rides, special events, and parades you want to see on Christmas Day.
Magic Kingdom is an excellent pick as it boasts a Christmas parade, the bulk of the festive décor, and the classic Disney feel.
You'll also find that many attractions have been given a holiday makeover (like the Jungle/Jingle Cruise and the Haunted Mansion).
If you manage to get on Jungle Cruise, you'll even get festive jokes thrown at you by the Cast Members which is fun.
For me, I'd rather avoid crowds at all costs.
So, what I'd be doing is booking into Magic Kingdom the day before or after to experience the holiday magic.
Then, I'd book Animal Kingdom or EPCOT for Christmas Day itself.
Animal Kingdom has the gorgeous Tree of Life and is typically less busy than the other parks as it's not quite as festive.
You can also try and park hop, but it's unlikely that you'll manage on Christmas Day as every park will be full to bursting.
Does Disney World Do Anything Special on Christmas Day?
On Christmas Day, you'll get the Once Upon a Christmastime Parade at 12 pm and 3:45 pm (though timings are subject to change).
It's worth mentioning that Disney's Jollywood Nights will have ended just before Christmas Day.
I know – such a bummer.
If you're planning to visit Animal Kingdom, the Tree of Life Awakenings spectacular at nighttime is a worthy addition to the holiday calendar.
But if I'm being honest, most of the festive joy comes from hanging out with family and friends at Disney.
So, don't underestimate the sheer happiness you'll get from the atmosphere!
Are Disney Restaurants Open on Christmas Day?
They certainly are!
I recommend visiting Disney Springs if you want a classic holiday meal, and these spots are some of my favorites:
City Works Eatery & Pour House
Terralina Crafted Italian (the braised beef short rib is next-level)
Paddlefish (if you're a seafood fan)
Raglan Road
STK
Rainforest Café (for a more classic Christmas meal)
If you want to get further away from the parks, you can head to any of the following spots at Disney Resort hotels:
Intermission – All Star Music
End Zone – All Star Music
Contempo Café – Contemporary
World Premiere – All Star Movies
Sassagoula Floatworks and Food Factory – Port Orleans French Quarter
Everything POP Shopping and Dining – Pop Century
Centertown Market – Caribbean Beach
Riverside Mill Food Court – Port Orleans Riverside
Jiko – Animal Kingdom Lodge
Sanaa – Animal Kingdom Lodge
Flying Fish – Boardwalk
Trattoria al Forno – Boardwalk
California Grill – Contemporary
Chef Mickey's – Contemporary
Steakhouse 71 – Contemporary
Toledo – Coronado Springs
Citricos – Grand Floridian
The Turf Club Bar & Grill – Saratoga Springs
Whispering Canyon Café – Saratoga Springs
Amare – Swan Reserve
A lot of them are more on the casual side, but they can be great options for grabbing food when you're pooped!
Things to Do on Christmas Day in Disney World
Festival of the Holidays (EPCOT)
If you're heading to EPCOT for Christmas Day, you need to check out Festival of the Holidays.
It usually starts in late November and runs through the end of December each year.
The event is touted by Disney as a "seasonal event inspired by cultures near and far", featuring everything from candlelit processions to seasonal eats.
The candlelit procession is major and essentially features a celebrity narrator telling the story of the nativity each night.
You'll also get a choir and a 50-piece orchestra involved (which you know, is extra).
What I love about this is that it's not an additional purchase – it's all included in your park ticket!
I also recommend checking out the Holiday Cookie Stroll which lets you try different sugar cookies from around the World Showcase.
Mickey's Once Upon a Christmastime Parade (MK)
A classic Magic Kingdom staple is the Mickey's Once Upon a Christmas Parade which runs during the holiday season.
It's all about the ambiance and it even snows on Main Street if you want to snap some photos!
It runs during the daytime and in the leadup to Christmas, Christmas itself, and through New Years Eve.
Try and catch it on Main Street if you're able to snag a spot as the view is by far the best from here.
But you're bound to get a decent view of the light-up floats from virtually anywhere on the parade route.
Visit Ye Olde Christmas Shoppe
Is there anything better than getting Christmas garb and decorations on Christmas Day?
If you're able to get in, I suggest heading to the Liberty Square store "Ye Olde Christmas Shoppe" that's packed with gorgeous ornaments.
It'll boost your Christmas spirit and give you something cute to hang on the tree next year.
Talk about a win-win.
And if you're not feeling ornaments, there are tons of amazing spirit jerseys, Loungefly bags, and general holiday merch dotted around.
Shop until you drop, folks.
Frozen Sing-Along Celebration Holiday Show
If you're hanging around Hollywood Studios, it's worth stopping by Echo Lake to see the holiday-themed Frozen show.
It's a classic flurry of stories and songs told by a couple of Royal Historians that tell their version of Frozen.
Anna, Elsa, and Kristoff appear too, which makes this a great alternative to a Frozen meet and greet!
The show has a holiday spin during this time of year, which makes it particularly special on Christmas Day.
Christmas fireworks
You can't leave the parks at Christmas without catching Minnie's Wonderful Christmastime Fireworks.
There are projections on the castle and a huge number of fireworks are shot out across the course of the show.
And to take information directly from Disney itself, the show encourages you to:
"Get in the Christmas spirit as your host—Minnie Mouse—invites you to take in a sparkling, yuletide fireworks display. Watch as the sky becomes alight with festive colors to the tune of some of your favorite carols like Deck the Halls and We Wish You a Merry Christmas. This merry display can be thoroughly enjoyed from most locations throughout Magic Kingdom Park—including Liberty Square, Fantasyland and Tomorrowland."
Just be warned that these fireworks will run at 8:15 pm on Christmas Eve and Christmas Day (although this is subject to change).
So, don't miss them and stay until park close like you might usually do!
Meet Christmas-themed characters
There are quite a few Christmas characters that appear during the holiday season.
Classic faces like Mickey and Minnie usually don festive outfits, but you'll also get a selection of season-specific characters.
Jack Skellington and Sally are two characters that come to mind, but don't miss actual Santa Claus either!
Many of the meet and greets take place at Mickey's Very Merry Christmas Party.
But there are also meet and greets throughout the holiday season to enjoy if you don't have a separate ticket.
Grab holiday food
Christmas Day at Disney is all about food, and the World Showcase is a great place to start.
You'll find Christmas-specific treats in Canada, Germany, Mexico, and most other stalls.
Just be warned that these stalls will be busy (though not as busy as restaurants during Christmas week).
From sweet treats like cookies and themed funnel cakes to savory mac and cheeses, the sky is the limit here!
Marvel at the decorations
One of my favorite things to do at Disney World on Christmas Day is just look at the decorations.
Yup – I'm old school and appreciate that Disney decorates for Christmas pretty early.
Magic Kingdom is probably the best place to go for decoration-spotting, but all the parks have a touch of holiday magic.
If you're visiting a few days before Christmas, try and park-hop to spot all the little festive bits and bobs!
Tips for Visiting Disney World at Christmas
Visit somewhere other than the parks
Okay, it might seem weird to not visit the parks considering what this article is about.
But there are tons of things to do outside of the parks if you can't get a reservation.
Not only can you hop over to Typhoon Lagoon or Blizzard Beach to cool down, but you can shop around Disney Springs!
There are tons of great restaurants that'll be open for a glorious Christmas meal if you're feeling hungry.
It's also worth popping outside of the parks (if you get a reservation!) to explore your surroundings and take a break from the crowds.
As much as I love Disney at Christmas, it can be a lot.
So, grabbing a table reservation for lunchtime (as far in advance as you can – trust me!) can be worth its weight in gold.
Stay onsite
If you can, I really recommend booking an onsite hotel to take advantage of Early Access an hour before official opening.
This is especially true if you're traveling with toddlers as they'll tend to burn out in the afternoon.
You don't necessarily need to spend a fortune either, and you can easily head to a Value resort just for early entry.
As you might expect, hotel rooms go like hotcakes around the holidays.
So, make sure you get in as far ahead as possible (preferably up to a year in advance!).
Make your reservations early (especially for holiday meals)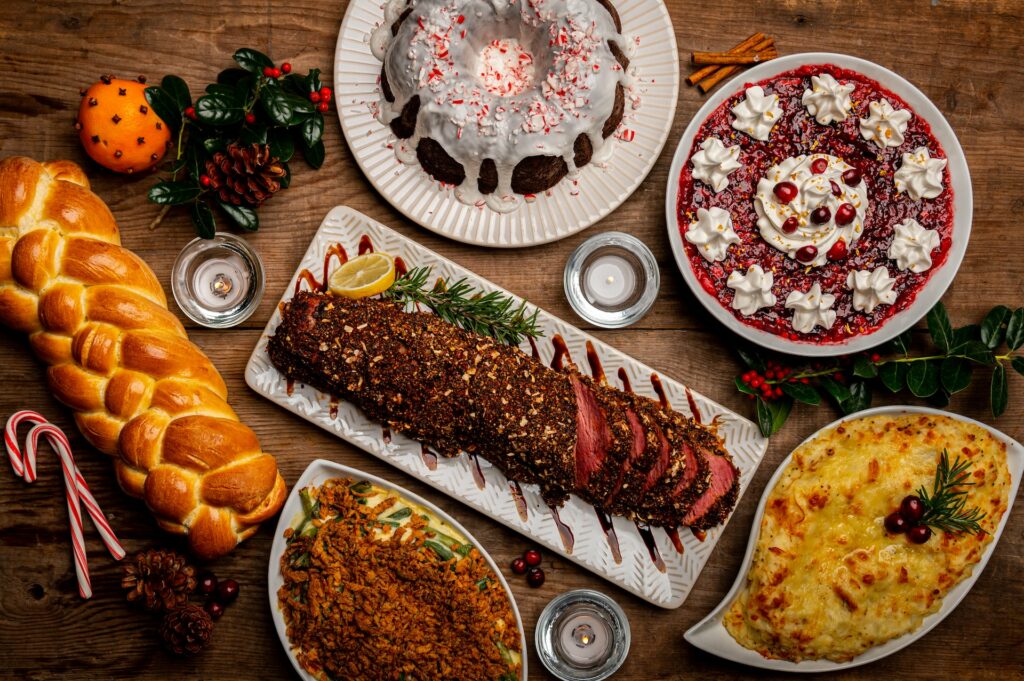 One of the best ways you can prepare for Christmas Day at Disney World is by booking all reservations way ahead.
A year or more is the gold standard, but anything less than 6 months ahead and you'll struggle to get what you want.
This goes for hotel rooms, tickets, reservation tickets for respective parks, and dinner reservations.
I'm not joking when I say that everything sells out fast (to the point where I usually dine off-site for dinner!).
If you haven't booked anything online, you could be waiting hours for a table at places like Disney Springs.
Even if you want to grab quick service food at any of the parks, be prepared for longer lines than usual.
Try to accept that there'll be crowds
I'm the kind of person that moans and groans about crowds, but I've learned to accept that Disney is just super crowded at Christmas.
I wouldn't say it's going to make you lose the will to live, but it's wall-to-wall.
For that reason, you absolutely need to get in place for fireworks and parades relatively early to secure a spot.
If you struggle to stay focused or positive in lines, I recommend downloading something like Heads Up Charades on your phone.
Simple card games, apps, books, and TV shows on a tablet are also decent ideas for families traveling with children.
Just try and keep the process as interesting as possible and it'll feel a lot easier to deal with!
Keep your kids close by
It's no secret that a few kids go missing at Disney World each year (don't worry – they're always found safe!).
But to avoid any unnecessary stress with those major crowds, it's wise to keep your kids close.
Air tags and colorful clothing are excellent ideas for young children, but it's honestly best to just keep your family together.
Pushchairs can be a lifesaver here, but it's always wise to make sure your kiddos aren't wandering off.
They're devious when they're left to roam, so just keep them within arm's reach!
Get there early and leave late
I get that rope dropping and staying until close can be brutal on the body and mind (even for experienced Disney-goers!).
But one of my top tips for managing Christmas Day at Disney World is to take on as much of the day as possible.
Arriving early lets you tackle busier rides more easily, while staying late lets you cover the stuff that's dominated by families earlier on.
Equally, having as many hours to work with as possible lets you cover most of a park if you're only in the parks for a day.
Be prepared with what you're wearing
With crowds comes increased heat, and Florida's muggier temperatures can be hard-wearing during the busy holiday season.
But I will say that the weather in December can be changeable.
It can be blazing sun one minute and complete cardigan weather the next.
So, come prepared by packing a couple of layers, a jacket or sweater, and anything else that you can whip on and off.
You'll thank me later!
Bring snacks
Getting a prime-time dining reservation can be tough, and I recommend packing snacks to stave off hunger if you're waiting.
Often, you'll be forced to accept a super late lunch, an early dinner, or a ridiculously late dinner.
So, having snacks on hand will prevent you from over-spending on festive treats out of desperation.
To be honest though, I totally encourage that during the holidays!
Prioritize festive activities and shows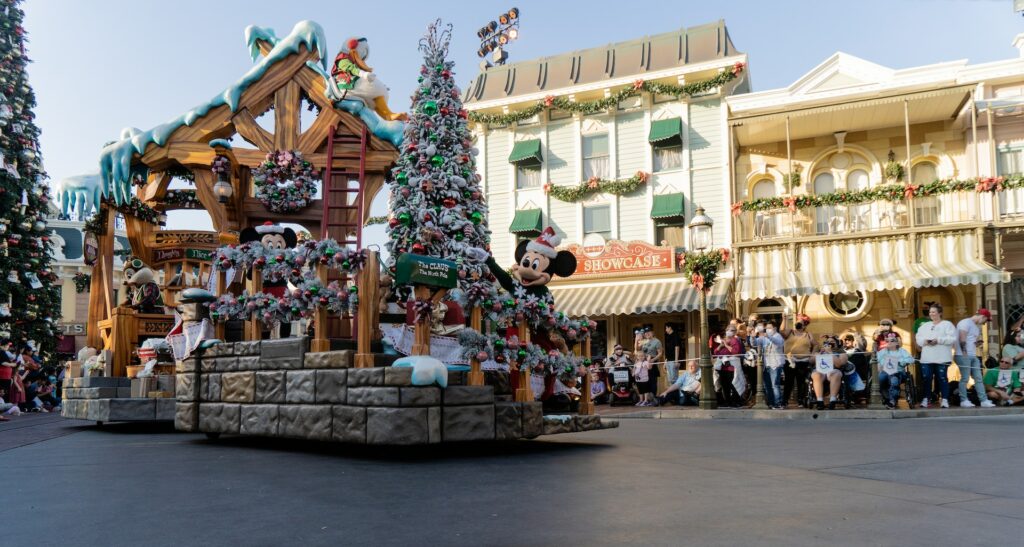 If you're not visiting Disney World for the first time, you definitely want to prioritize special parades and shows.
This is especially true to Christmas Day-specific events, but also for holiday parades and shows.
These will only be running at certain times and will end when the season changes.
So, feel free to come back if you want to check out long-running favorites without holiday overlays!
Use Lightning Lanes and Genie+ to your advantage
I don't think tackling Disney World on Christmas Day is really possible without grabbing Genie+ and a couple of Individual Lightning Lanes (ILLs).
Because of the crowds, regular standby lines will be intense.
If I'm being honest, you'll spend most of your day queueing for a couple of rides if you take the no add-on route.
For the sake of the Genie+ base price and around $30 each for a couple of top-tier rides, you'll be thanking yourself.
By saving at least a couple of hours of queueing time, you'll have much more of a chance to soak up the magic!
Should I Go to Disney World on Christmas Day?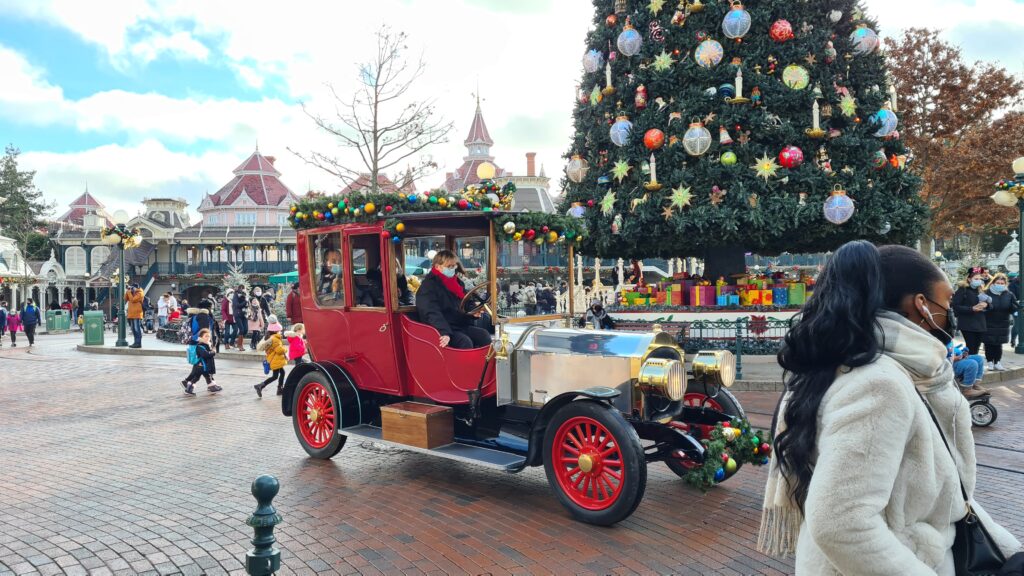 I'd say that the answer to this question depends entirely on you.
Anyone wanting to experience pure Disney magic and a bunch of holiday magic will certainly appreciate the vibe in the parks.
But the immense crowds, long wait times, and difficult-to-get dining reservations might get to you.
In my opinion, I'd suggest avoiding Disney World on Christmas Day if you want to make the most of a park day.
It's not because it's not amazing, but the crowds and wait times just mean that you won't be able to see as much.
The sweet spot is just before the holiday crowds start hitting but decorations and experiences have already started.
So, try early December if you're not married to the idea of being in Disney on actual Christmas Day.
FAQs on "is Disney World Open on Christmas Day?"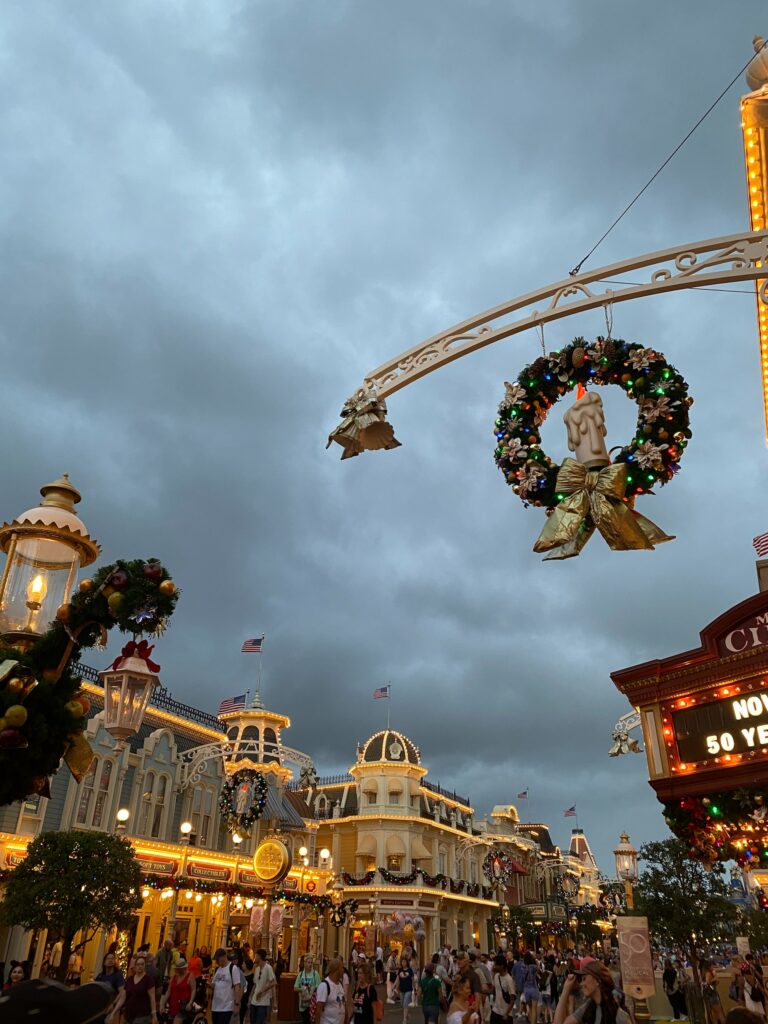 Is Disney World open on Boxing Day?
By now, I should have officially answered the question "is Disney World open on Christmas Day?".
Boxing Day is the day after Christmas Day and it's not typically celebrated in the USA.
And as I already mentioned, Disney World is open 365 days a year – so, you'll be good to go!
Do you need park reservations on Christmas Day?
Yes, you absolutely need reservations on Christmas Day!
Before the park reservations came into play, you might have been able to chance it by purchasing a ticket and rocking up at the gates.
But as reservations sell out quickly for the holiday season, you'll be completely out of luck if you don't make one.
I hope that this guide has helped you answer the question: "Is Disney World Open on Christmas Day?".
If you need any more information about visiting Disney World at Christmas, feel free to get in touch! I'll do my best to guide you and help you achieve the best vacation ever!
Related Posts: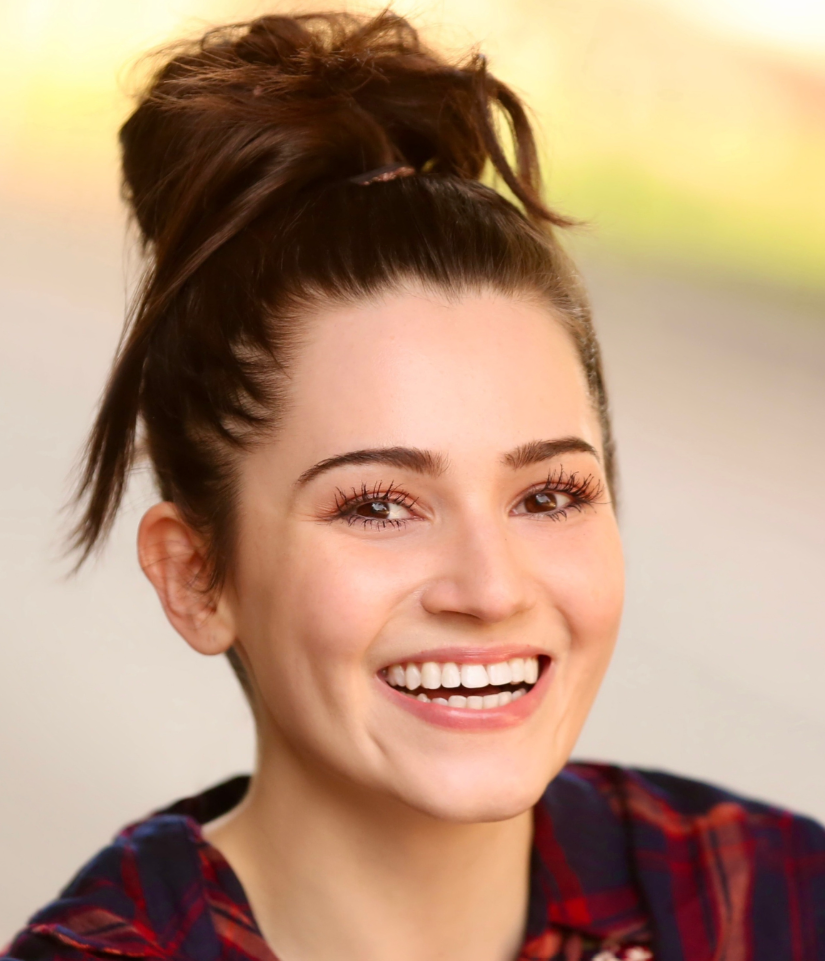 Grace is the creator, editor, and sole writer for Pixie Dust and Passports – a blog that's ALL about Disney! She's made it her life's mission to visit the Disney parks as much as possible and loves trying new snacks, grabbing the latest spirit jerseys, and rocking Loungefly bags. Oh, and she also holds a BA in History from UCL, which makes her a research and deep-dive enthusiast into all things Imagineering.