I recently went to the Disney100 Exhibition in London and I'm here to give you my honest review. Not only will I cover key information about the exhibition (and how to get there!) but I'll show each room in detail!
If you're a Disney fan, you've probably heard that it's the company's 100-year anniversary in 2023.
So, along with the Disney100 Concert, there's a Disney100 Exhibition coming to town!
I went to the exhibition in London, but it's also heading to Chicago, Philadelphia, and around the globe in the next 5 years.
The exhibition boasts 10 themed galleries that cover 100 years of Disney magic.
From original scripts to concept art, costumes, and even REAL ride vehicles, there's a lot to cover.
If you're wondering whether the Disney100 Exhibition is worth your cash, this in-depth review should cover everything you need to know.
All pictures and videos are taken by me and should give you a great idea of what to expect during your visit.
Important Information About Disney100: The Exhibition
Location: ExCel Centre, London
Nearest tube: Customs House (Elizabeth Line)
Cost: £21-£33 for adults (depending on the day of your visit)
Opening times:
Monday to Thursday: 10am – 6pm (final session)
Friday to Sunday: 9am to 7pm (final session)
Sessions are run every 30 minutes for 2 session each hour
Number of total rooms: 10
How Long Do I Need for the Disney100 Exhibition?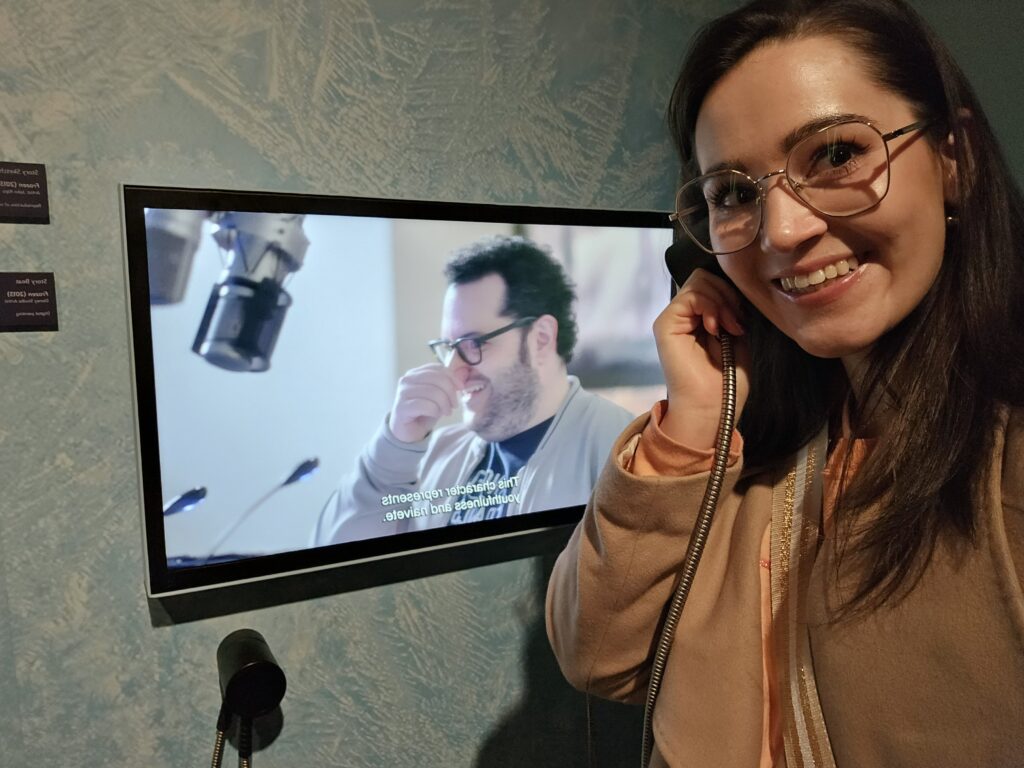 The official guidance advises you to set aside around 50 minutes to an hour to explore all 10 rooms.
When I visited, I spent around 1.5 hours exploring the entire exhibition (including the interactive sections).
I think if you're visiting for the first time, leave 2 hours to be safe as this will give you a chance to take photos.
What Can I Expect from the Disney100 Exhibition?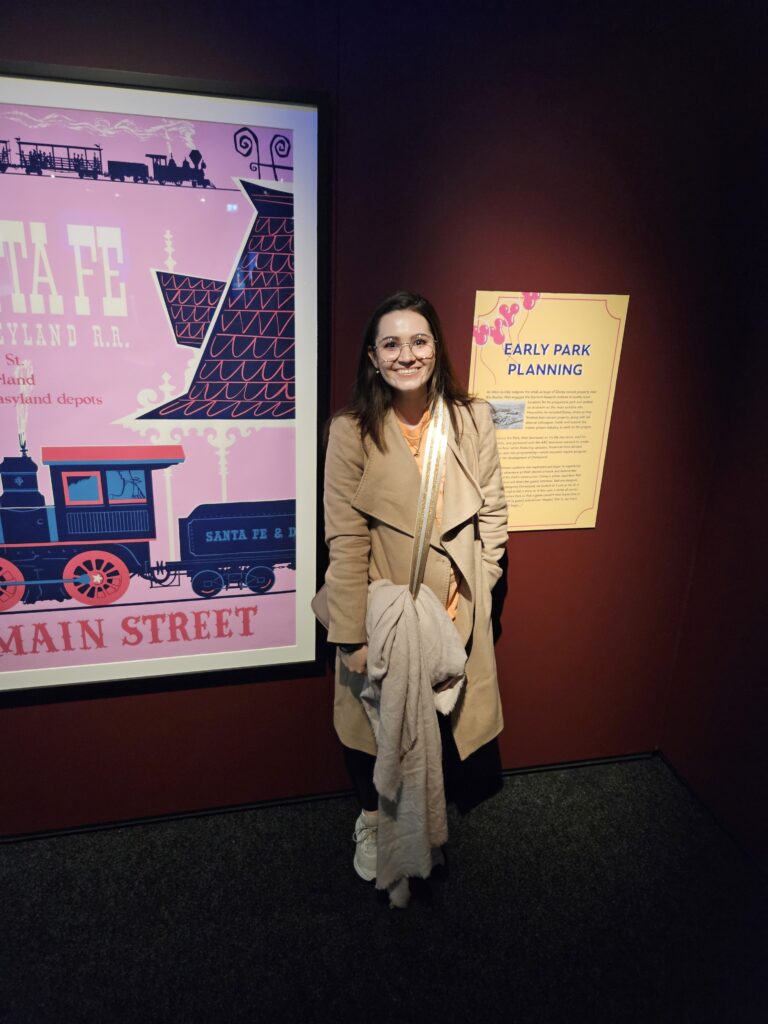 Disney100: The Exhibition is designed to take you through a series of themed rooms that celebrate 100 years of the Walt Disney Company.
These rooms will take you on a journey that covers the Walt Disney Company from its inception to the present day.
As you walk through, you'll learn about everything from Oswald the Rabbit to the Parks and Animatronic production.
We're talking movie memorabilia, costumes, ride vehicles (really!), and more.
So, there's a little bit of everything.
If you want Disney's official rundown of the exhibition, here you go:
"Disney100: The Exhibition invites guests to step into ten magnificent and imaginatively themed galleries, where moving stories, unique interactive installations, and behind-the-scenes glimpses will take them on a journey through 100 years of The Walt Disney Company."
Just be warned that there are no character meet and greets here.
There ARE plenty of great photo opportunities which I'll get into soon.
But don't arrive thinking you'll meet the princesses (or Mickey!).
My Review of the Disney100 Exhibition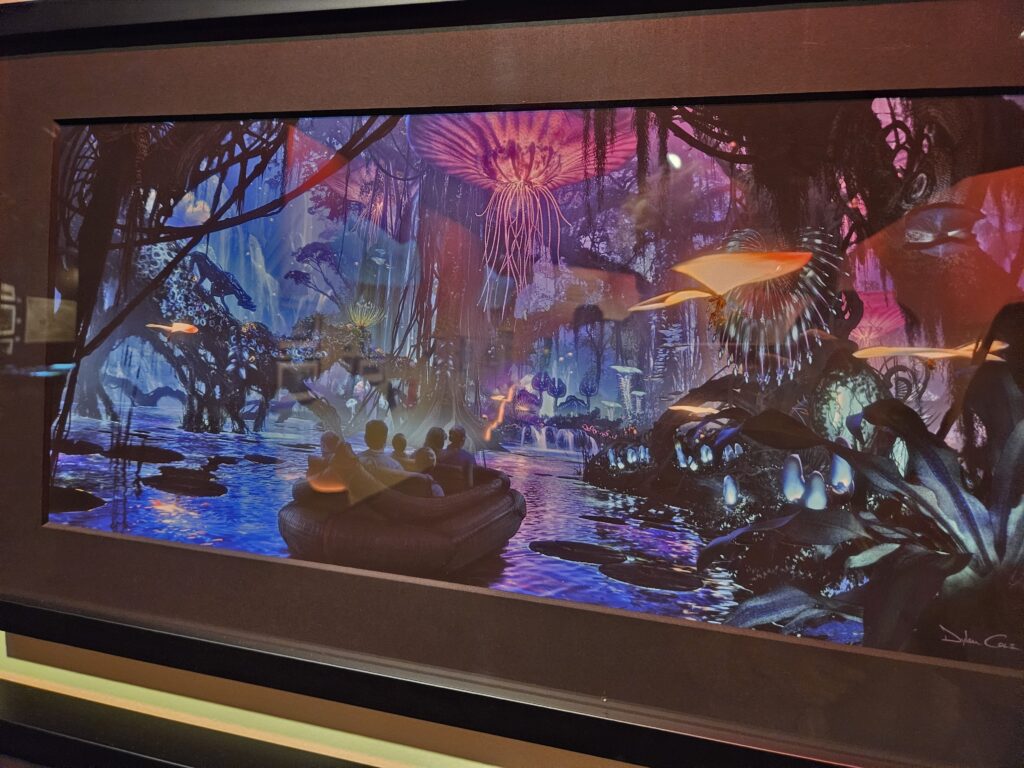 The first thing I'll say is that I had an awesome time at the Disney100 Exhibition in London.
For starters, I'm a bona fide Disney lover and seeing 250+ rare artefacts was an incredible experience.
But I also found that there was an excellent mix of interactive exhibits, park-related information, and movie magic.
I have a soft spot for the stuff about the theme parks, but I'll get to that!
I'll organize this review into my overall opinion before I dive into each of the separate sections of the exhibit.
I'll also cover the entry system and how efficient (or inefficient!) this was.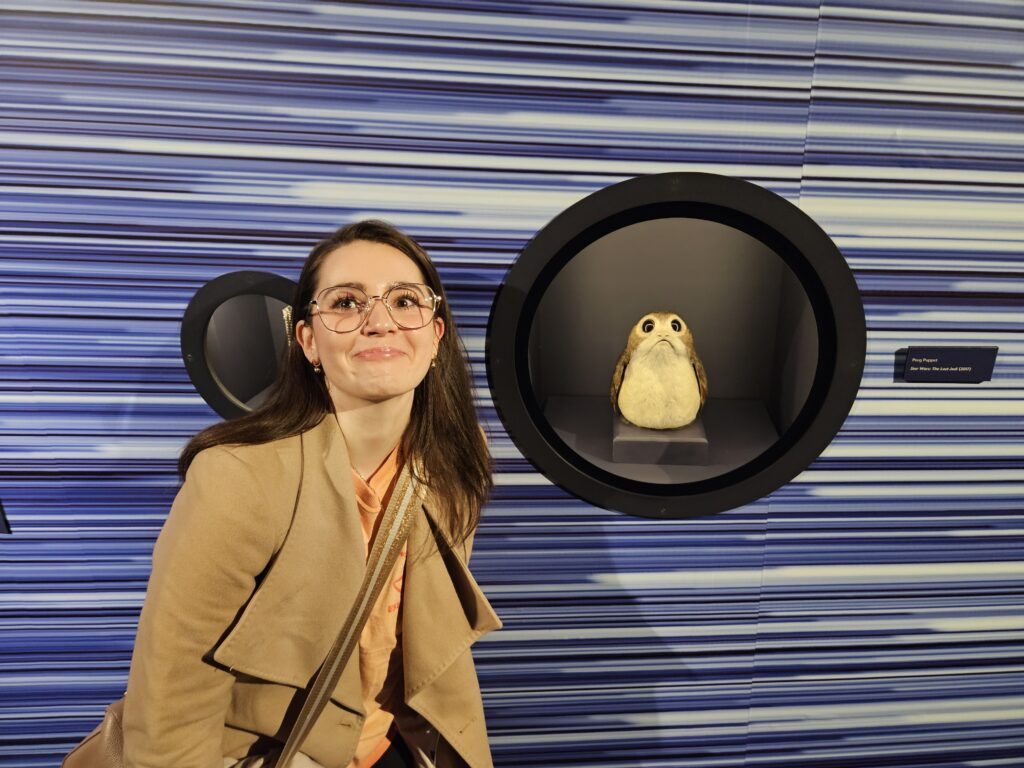 My overall opinion is that this exhibition is 100% worth booking if you're a Disney fan.
It's packed with unique information about Walt Disney's life, Marvel movies, Star Wars, Pixar (and way more!).
Fashionistas and music lovers out there will even spot genuine sheet music and costumes from popular movies and rides.
I wouldn't say it's an absolute must-visit exhibition if you have no interest in Disney (as it just won't feel as nostalgic.
But even the staunchest Disney-hater will appreciate how much work has gone into this thing.
Now let's dig a little deeper.
The Disney100 Exhibition Section by Section
Before I run through each section, the themed rooms you'll find at the Disney100 Exhibition are:
1: Where It All Began
2: Where Do the Stories Come From?
3: The Illusion of Life
4: The Spirit of Adventure and Discovery
5: Magic of Sound and Music
6: The World Around Us
7: Innoventions
8: Your Disney World
9: The Wonder of Disney
10: The Next 100 Years
So, let's look at each of these galleries in detail.
Entryway
The first thing you'll do before hitting the actual exhibition is get your ticket checked.
You'll then get your picture taken and head into a room with a short video that explains what the exhibition is all about.
***You can buy the picture later if you like, but we gave it a miss!
Once you've seen this video, you'll be taken through to a magical room that looks like it's filled with stars.
Here, you'll watch a short video about the history of the Walt Disney Company and get an adorable intro from Walt and Mickey.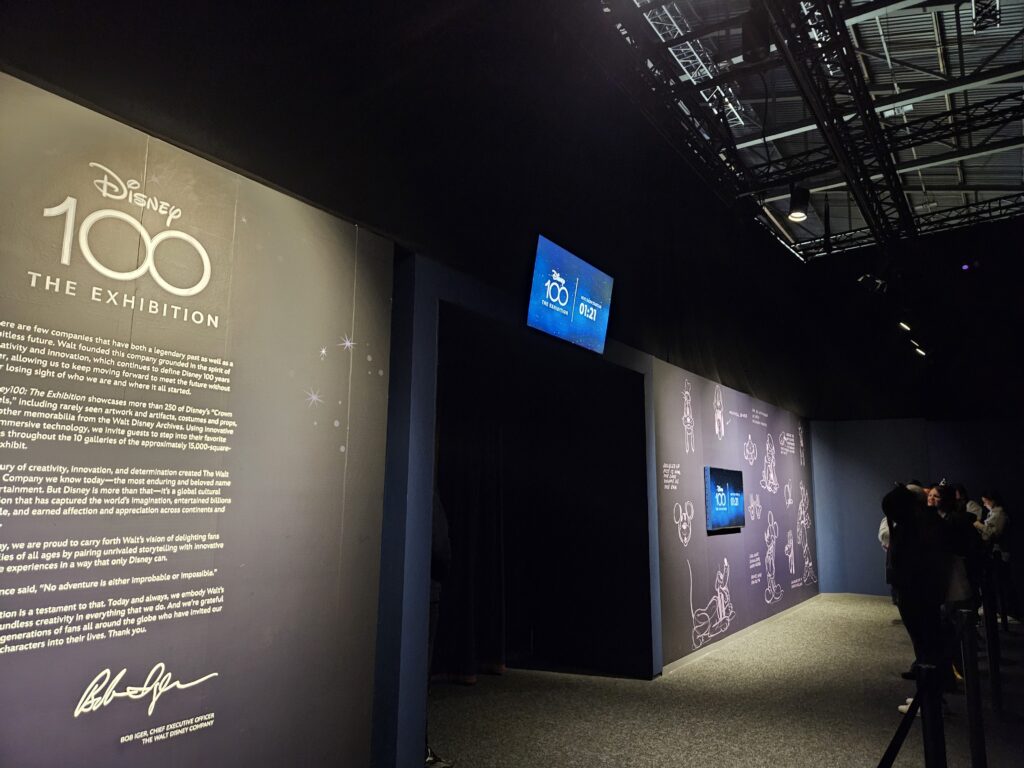 I imagine this was made with the help of AI as Walt comes to life, but don't take my word for it.
When you've watched this video, you'll pass into the main section of the first gallery.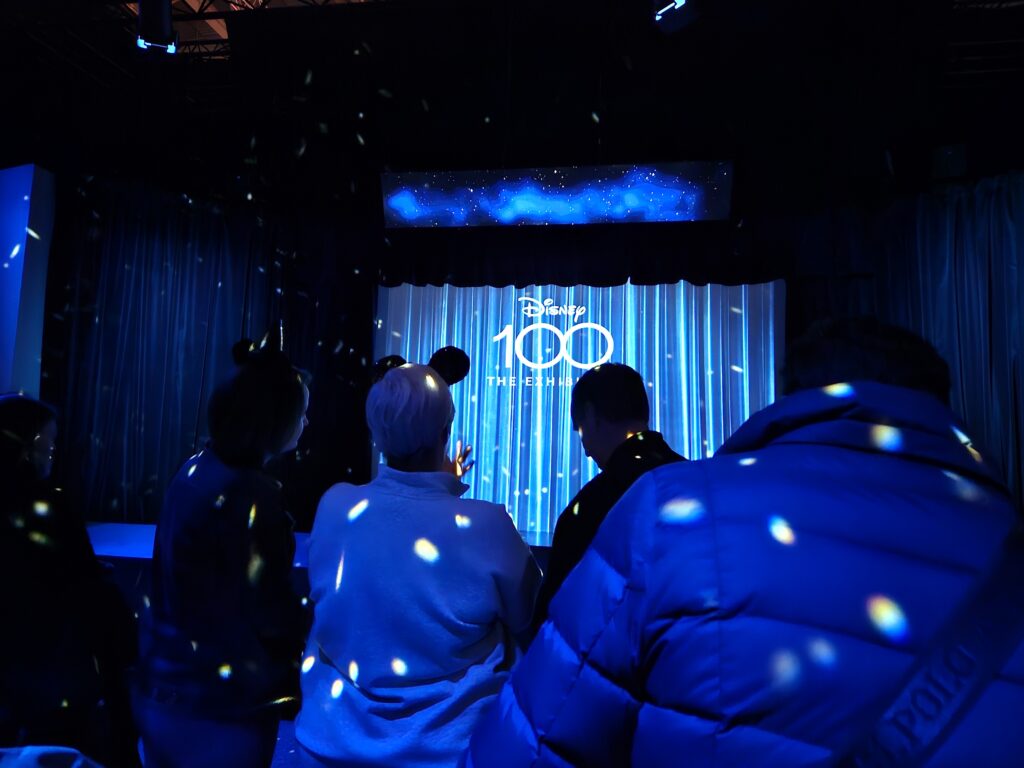 1: Where It All Began
This part of the exhibition is designed to run you through Walt's very early days.
You can expect to find information about the Alice comedies, Oswald the Lucky Rabbit and Mickey and Minnie.
That's right, you'll learn all about the origins of Minnie Mouse here (and get to see some early sketches!).
This room isn't super interactive. However, you'll find some Mickey and Minnie shorts along with several information boards.
I'd try to move through the room slightly and turn back on yourself.
I say this because there was a big traffic jam coming out of the video room where everyone tried to read the first things at the same time.
So, just head over to the Oswald section and double-back – trust me!
This room is quite small and you should be able to get it done in about 5 minutes before moving on.
2: Where Do the Stories Come From?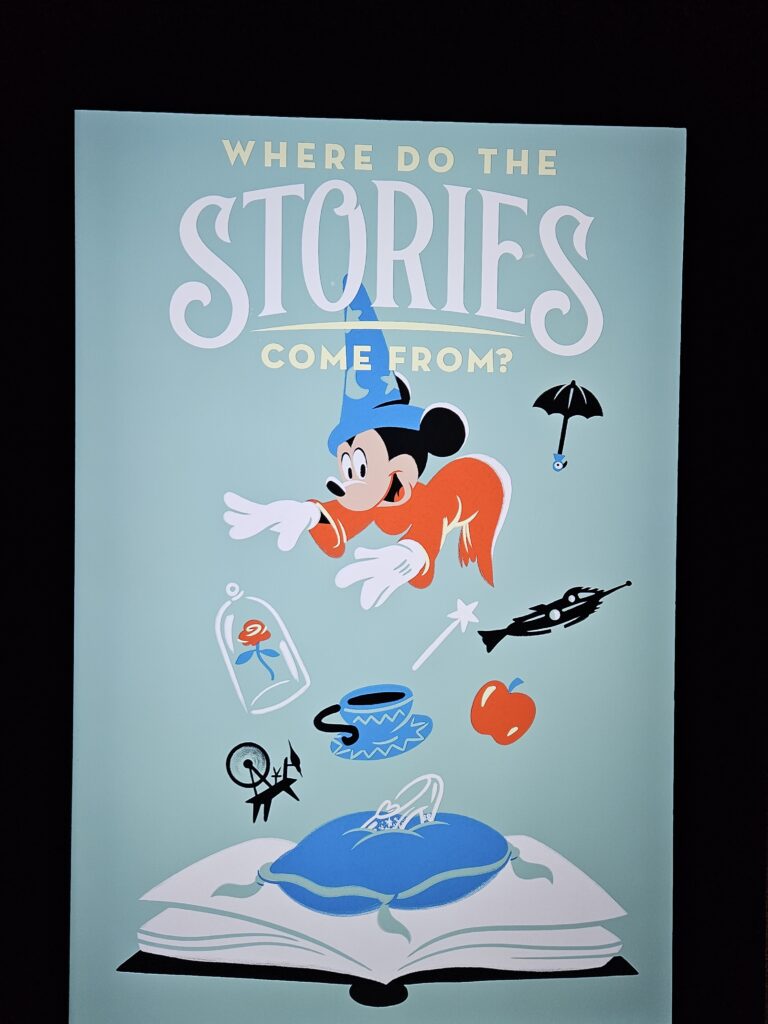 This was one of my favorite rooms in the exhibit and covers the inspiration behind Disney's most famous stories.
That includes:
Pinocchio
Snow White and the Seven Dwarves
Tangled
The Princess and the Frog
Cinderella
Sleeping Beauty
Alice in Wonderland
Mary Poppins
Big Hero 6
Lady and the Tramp
Winnie the Pooh
Beauty and the Beast
For most of these films, you'll find costume memorabilia, props, concept drawings, and a few photo spots.
You'll 100% want to stop to take a shot with the Fairy Godmother!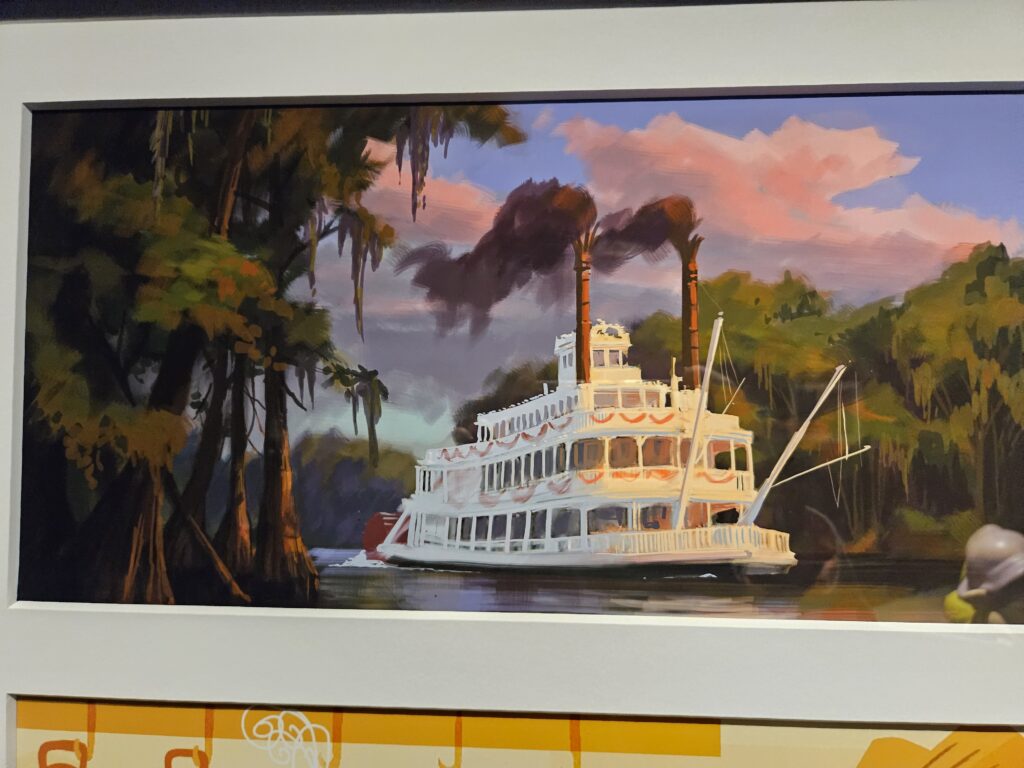 I particularly liked the Sleeping Beauty storybook (that reflects on the wall for easy viewing!) and a Mary Poppins carousel horse.
Plus, the concept art you'll find in this section is truly amazing.
You'll even see the original Snow White bodice that was used for the live action picture-mapping.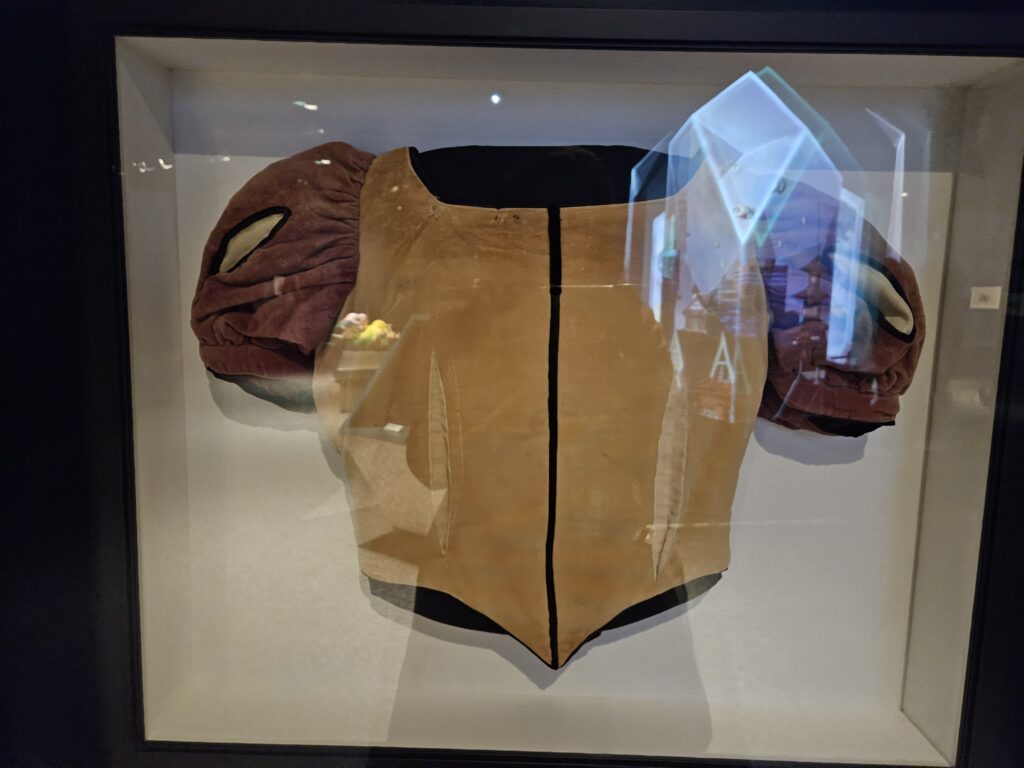 Oh, and did I mention Cinderella's crystal slipper from the Cinderella 2015 live action movie? Swoon.
I'd take your time in this section as there are an incredible number of props to check out.
Once you're done, you can move into the next section.
3: The Illusion of Life
This part of the Disney100 Exhibition is all about showing you how characters come to life.
From concept designs to costumes, this was probably my second-favorite section of the entire thing.
There are several great photo opportunities here, but you'll want to head to the center of the room first.
This is where you'll find an interactive screen with turning knobs that cover important characters from concept to end-point.
That includes Moana, Captain Hook, Tinkerbell, and even Mickey Mouse himself!
You'll be able to read into their story, who they were based on, and how their characters were finalized.
It's definitely worth 10 minutes of your time, and there were several interactive screens available.
If you walk around the outside of the gallery, you'll find the Animator's Model Shop.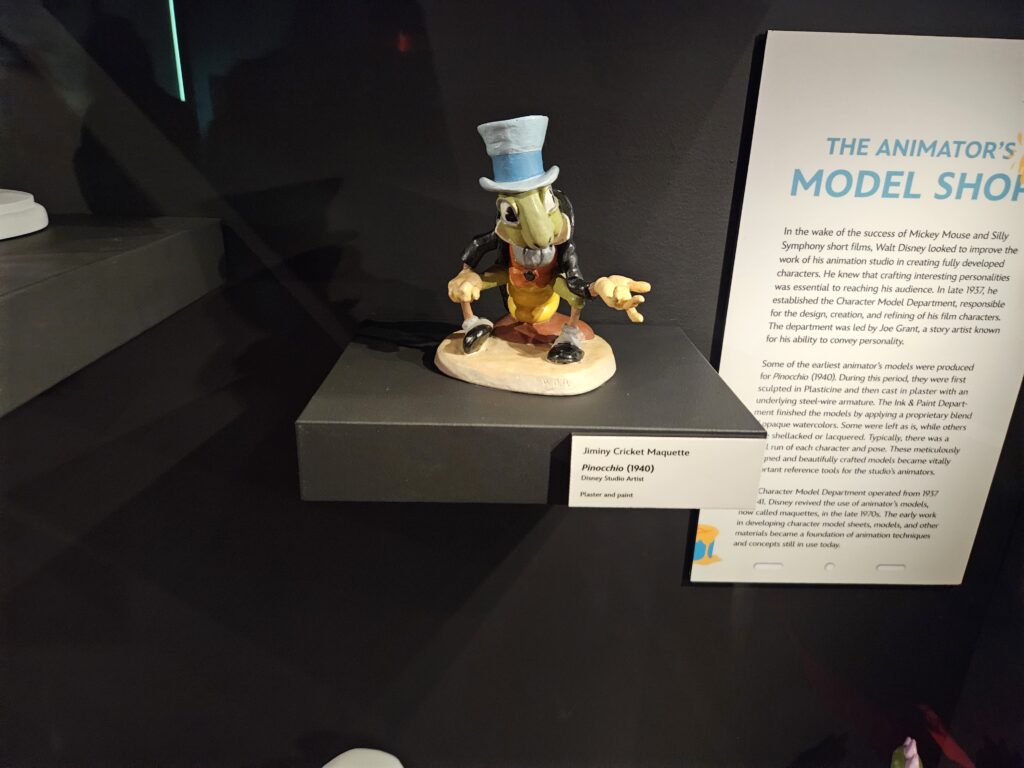 Here, you'll see molded versions of some of your favorite Disney characters before they were put on-screen!
If you keep moving around, you'll find concept art of Cruella de Vil AND Emma Stone's amazing Cruella dress.
I mean, just look at it.
As you keep walking, you'll read about Olaf's character design (and get to listen to Josh Gad's voice-over experience).
Just past this is the concept art for The Little Mermaid and Halle Bailey's gorgeous costume from the 2023 live action remake.
That's the end of this gallery where you'll then step into room 4.
4: Spirit, Adventure, and Discovery
This is the gallery that all adventure fans have been waiting for – it's basically the action film gallery!
To start with, you'll see props and costumes from Pirates of the Caribbean and Jungle Cruise.
Then, you'll get a few stunning concept drawings of Moana, Peter Pan, and Lilo and Stitch.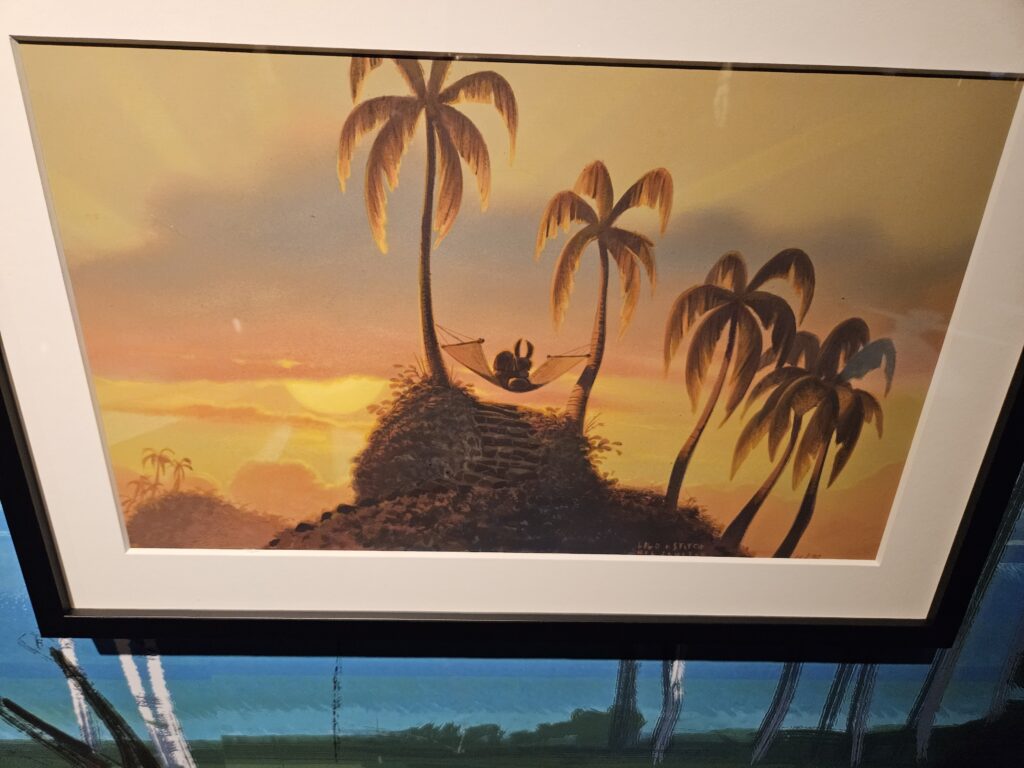 If you're a fan of the Disney+ release Peter Pan and Wendy, you'll also spot a couple of props on display.
And then you hit the Star Wars and Marvel sections (which are super popular photo spots, just FYI).
Here you'll spot a pog, a stormtrooper costume, and an adorable BB8 recreation.
After you see these artefacts, you'll find a line of Marvel helmets and Black Widow's costume from the recent movie.
There's a small section about Walt Disney's obsession with progress and the future, but it takes just a minute to read.
5: Magic of Sound and Music
If you're a fan of Disney's wonderful music, then this is the gallery you'll want to spend a bit of time in.
You'll find sheet music, more concept art, and several different listening pods.
My favorite one was listening to Elsa's from around the world singing Let It Go in their own languages!
However, the "We Don't Talk About Bruno" language pod was a close second!
If you keep moving around, you'll see a section on special effects and sound production.
There are several sound pods that dive into how sounds in early Disney films were created. For example, how the dragonfly Ermentrude was "voiced" with buzzing.
I won't give it away, but it's well worth working through each pod as most people seemed to bypass this section. Don't – it's worth checking out!
As you work around the back of this gallery, you'll have a chance to listen to some of Disney's best tunes.
From "Yo Ho Yo Ho" to the "Star Wars Theme", you could easily spend half an hour with headphones on here.
6: The World Around Us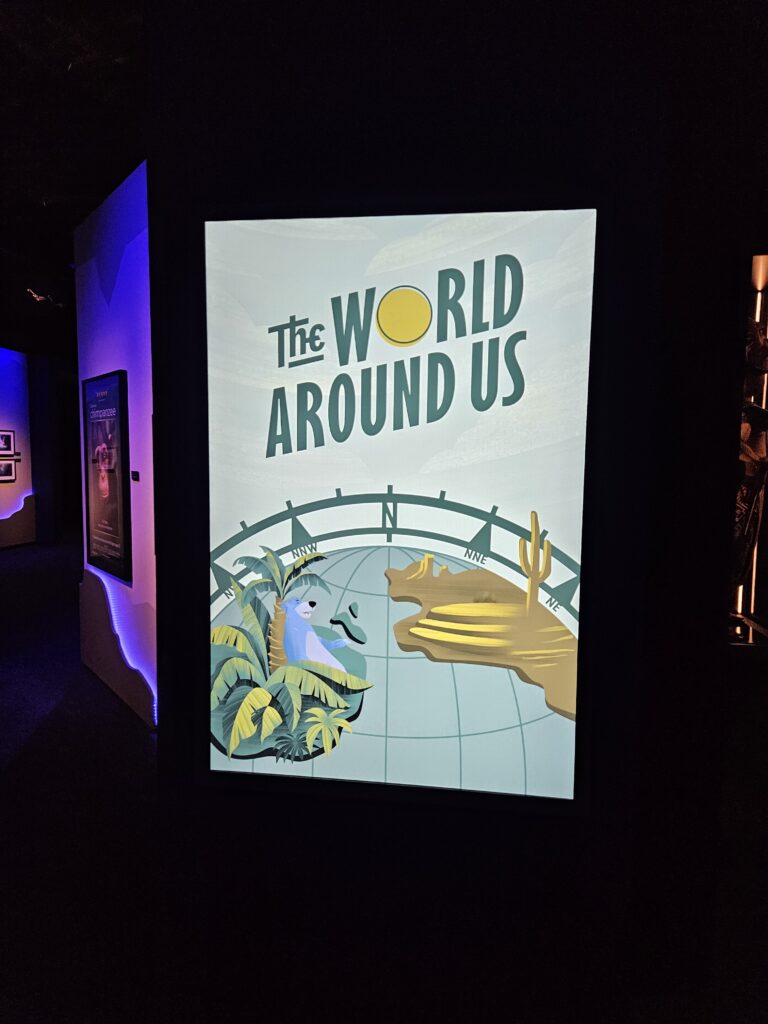 This is probably the smallest gallery in the entire exhibition.
There's a large, almost-tunnel-like section that shows how Disney's animals were inspired by wildlife.
It also covers Disney's nature documentaries and how these are created.
I'll be honest and say I largely walked through this section and moved on. But if your kids are particularly interested in animals, it's worth spending 5 minutes in.
7: Innoventions
If you're interested in HOW Disney movies are produced, then you'll adore this gallery.
It's covered with information about multiplane cameras, animatronics, and bringing concept art to life.
You can play around with an animatronic hand if you want.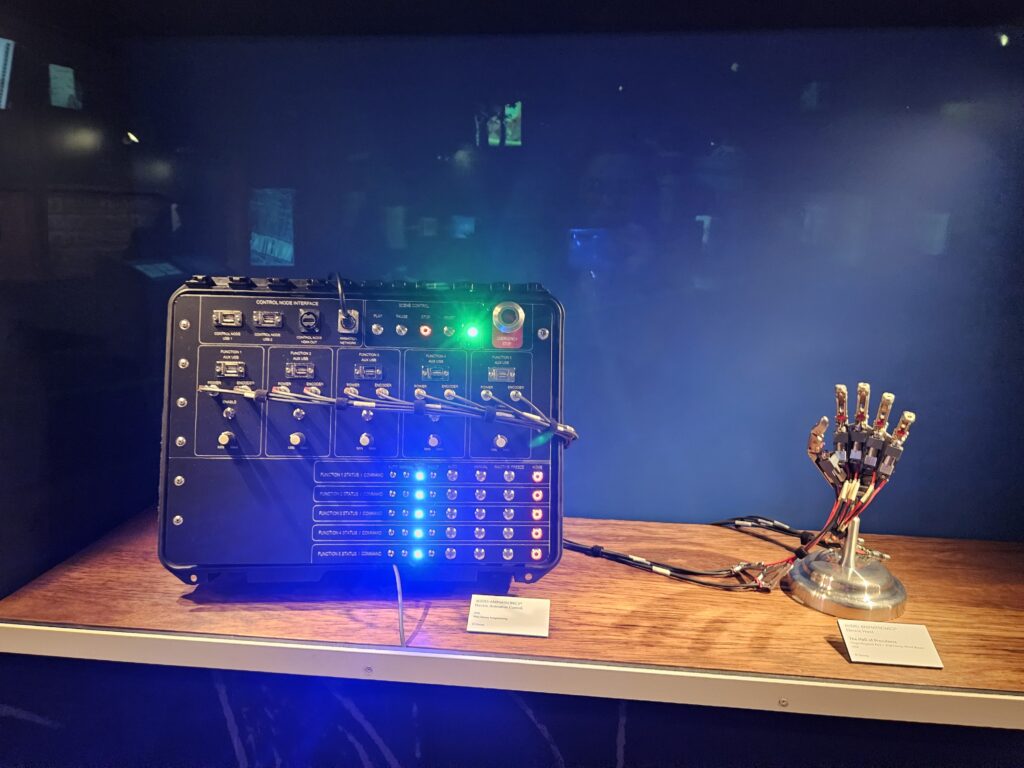 But the highlight here for me was seeing how the multiplane cameras were used in early flicks like Bambi.
They essentially involve layering different painted sets behind each other to create moving depth in a static image.
It's awesome.
You'll also be able to map your movements onto a version of Rocket from Guardians of the Galaxy!
8: Your Disney World
This was my absolute FAVORITE part of the Disney100 Exhibition as it's all about the theme parks.
It showcases painted concept pieces and even lets you sit in real ride vehicles from the Disney parks.
Just be warned that you can't jump onto the Peter Pan's Flight vehicle – sorry!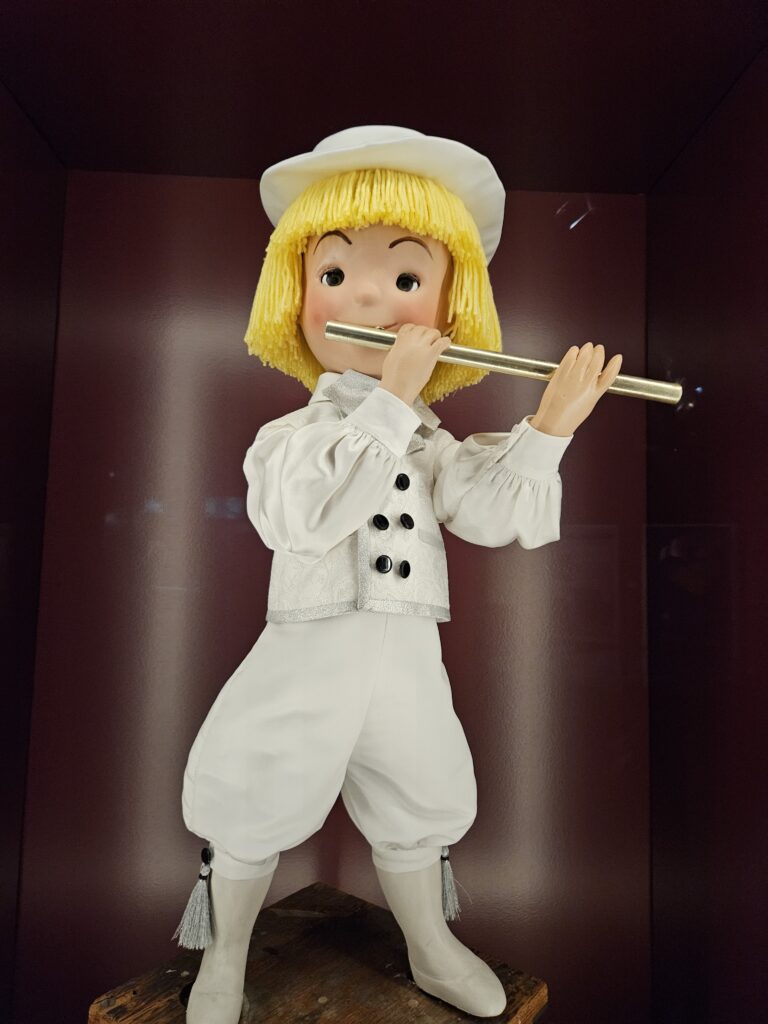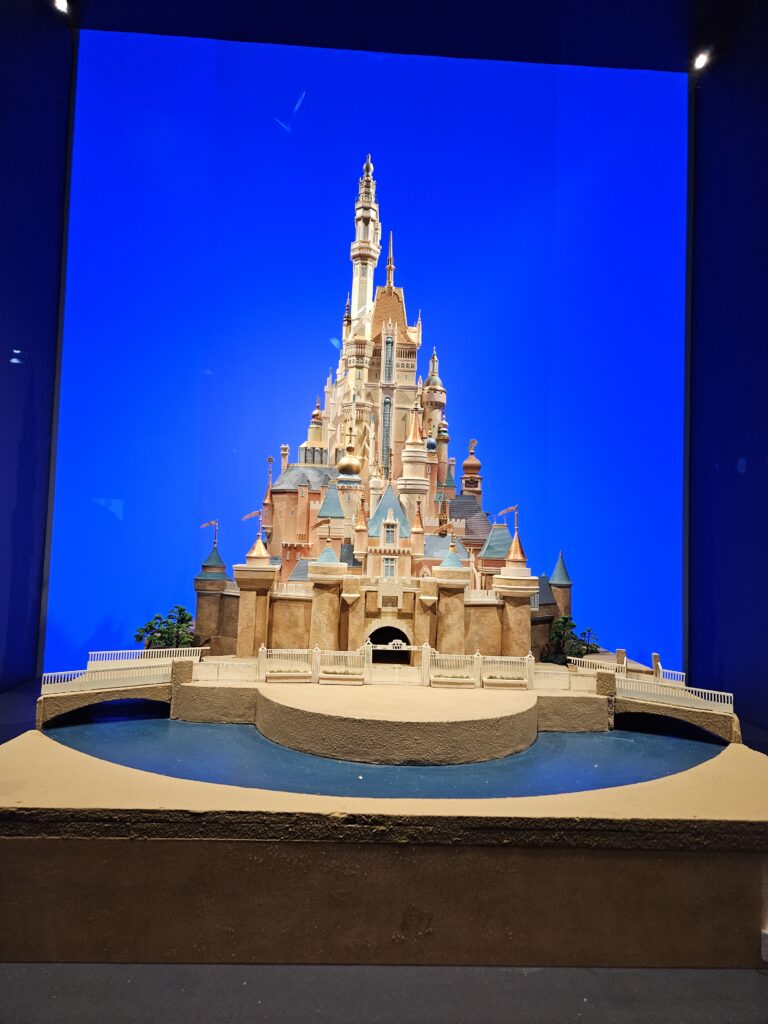 Aside from the information on the walls, you'll find another interactive map screen that dives into each park around the world.
It'll show you how they were created, unique rides, and the dates they opened. Try to spend some time here if you can, as it's well worth it.
9: The Wonder of Disney
Just past the ride vehicles you'll find an interactive section where you can "wave" to Mickey and Minnie.
I'd say this was a great stopping point for kids, but isn't an absolute must if there's a queue.
The rest of this gallery was about showing Disney merchandise, parks, and movies throughout the years.
That sounds quite vague, but the gallery is essentially split into decades.
These separate decades show exactly how the magic of Disney changed over time.
It's a short gallery and you can easily walk through it in 5 minutes or so before heading into the final section.
10: The Next 100 Years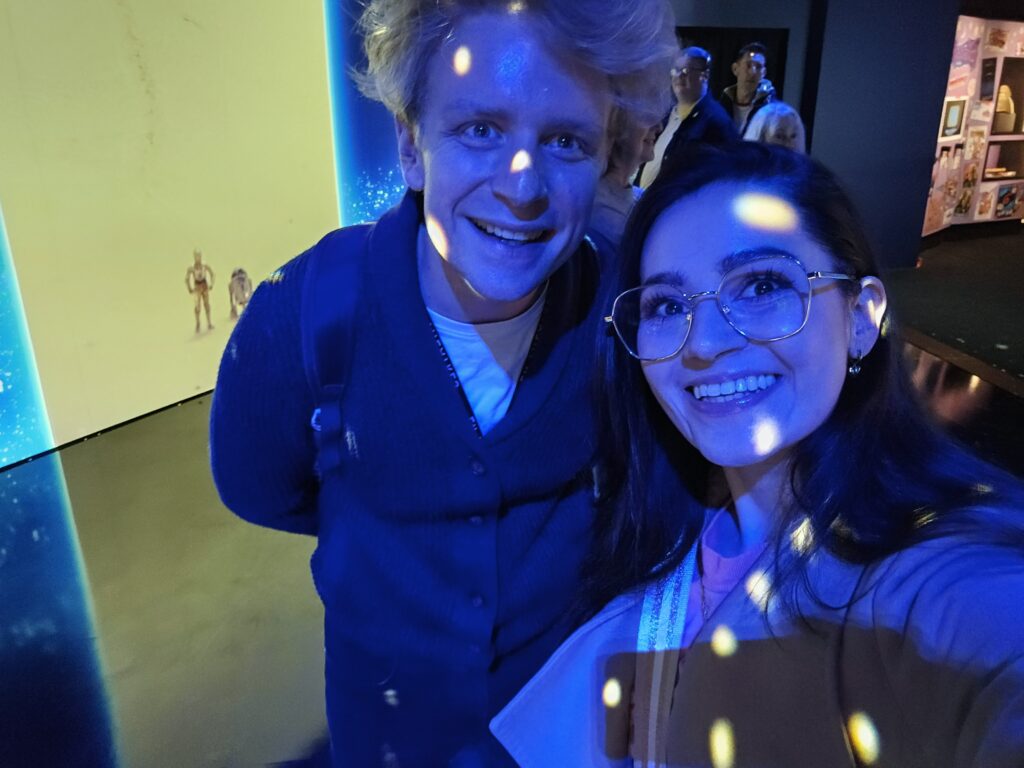 The final room is a star-filled room that shows clips of Disney's best works across a mirrored space.
It's not so much a gallery as it is an immersive room. You can stand in here for as long as you like, as the effect is honestly quite magical.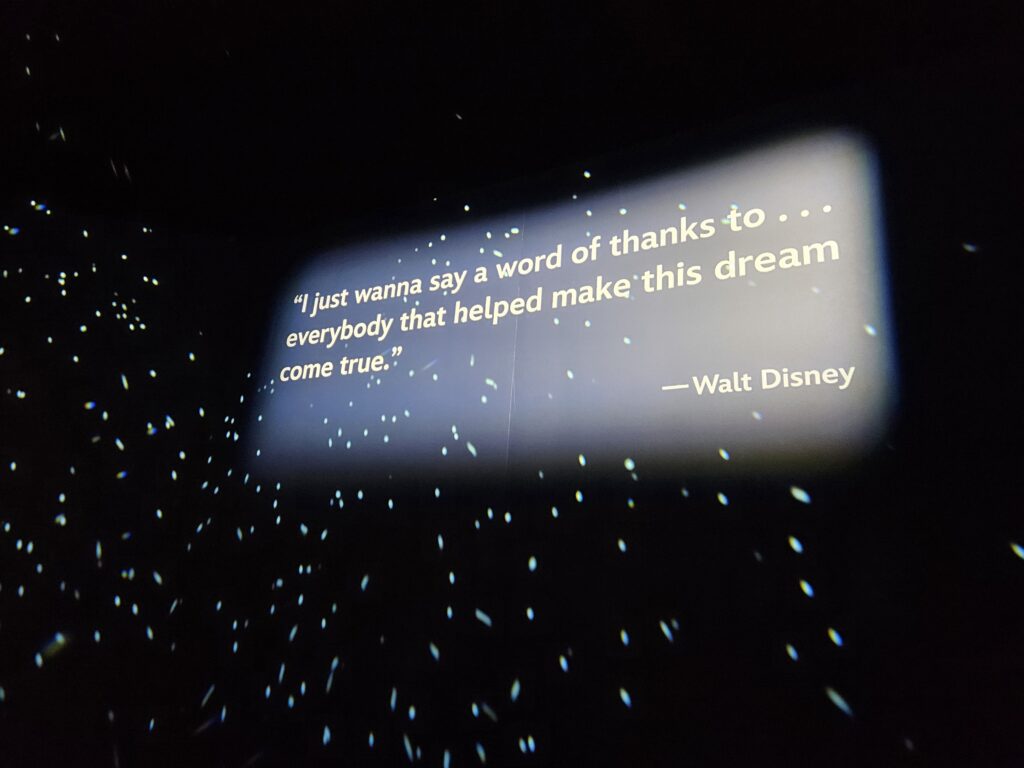 But there's honestly not much to actually SEE – it's just to round off the exhibition with a bang.
There is a photo opportunity just before you leave where you can take a photo with Mickey. If there aren't tons of people waiting, try to grab a quick shot before heading to the gift shop.
Gift Shop and Exit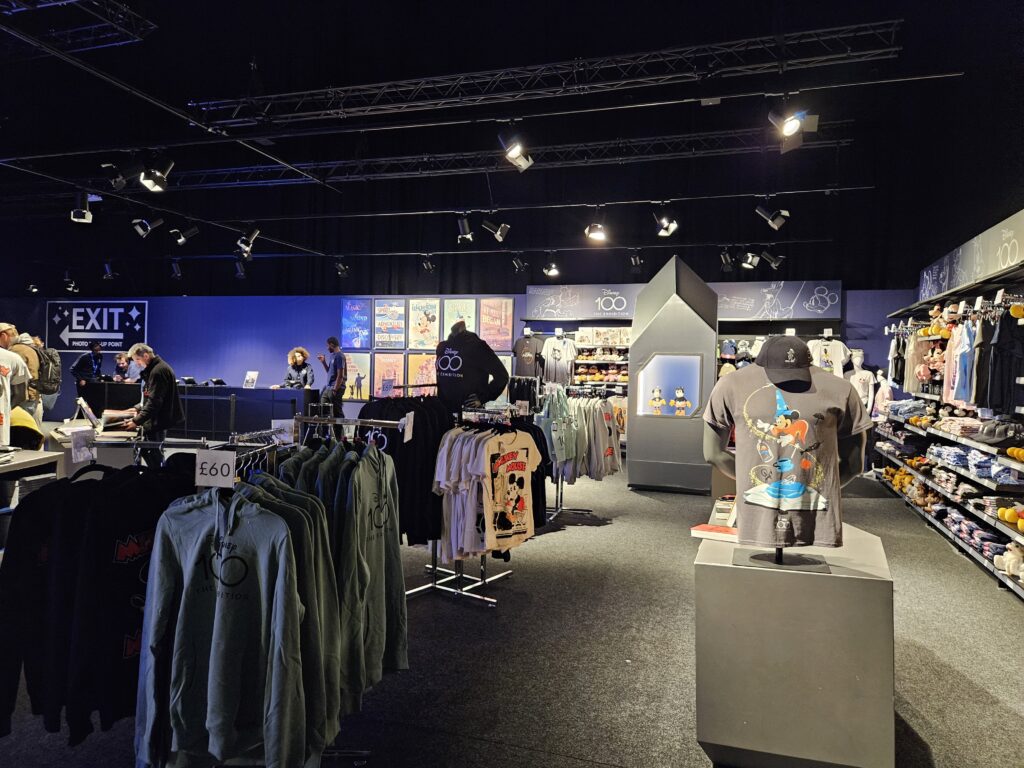 The final thing you'll do is be led through the exit route.
You'll be able to buy photos here that you took earlier and kids can get some coloring or tracing done.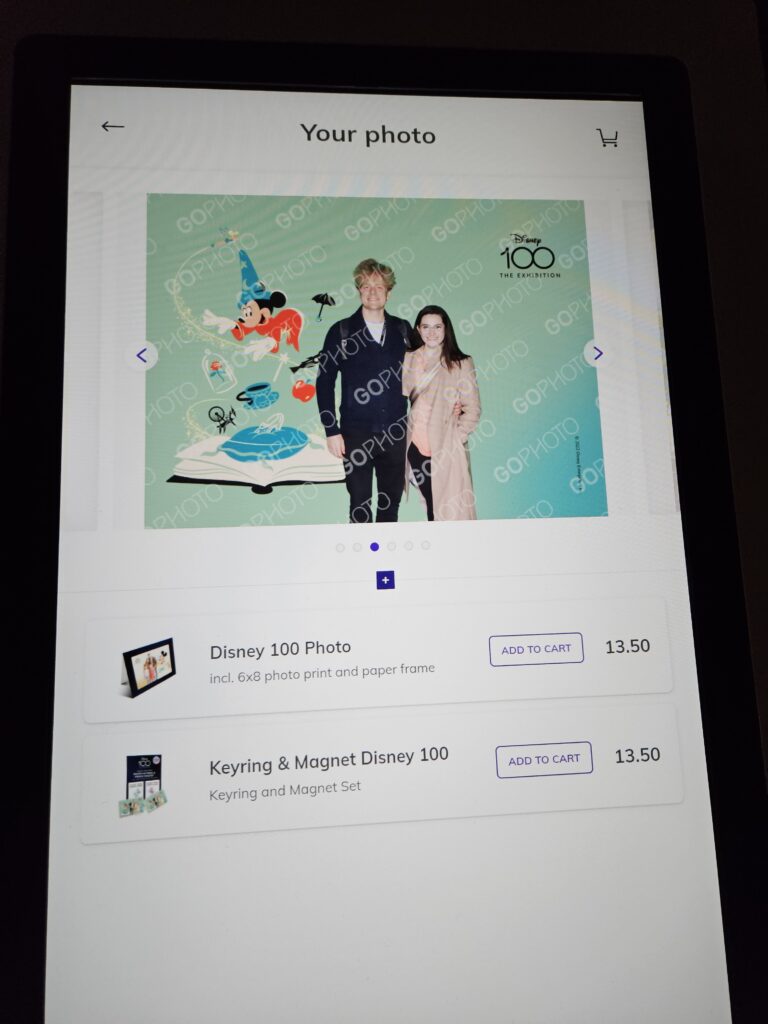 The gift shop is loaded with Disney100 Merch, and you can also buy any of the posters you saw for each gallery.
They were reasonably priced at £12, so the posters are a great souvenir choice if you're on a budget.
Otherwise, you can expect shirts, hoodies, toys, Top Trumps, and similar souvenirs.
Just after the gift shop, you'll find a couple of final photo spots with Goofy and the characters from Encanto.
I obviously took advantage of both!
After this, you'll be led through to the exit which comes out right by the attraction's entrance.
AND THAT'S ALL!
How to Get to the Disney100 Exhibition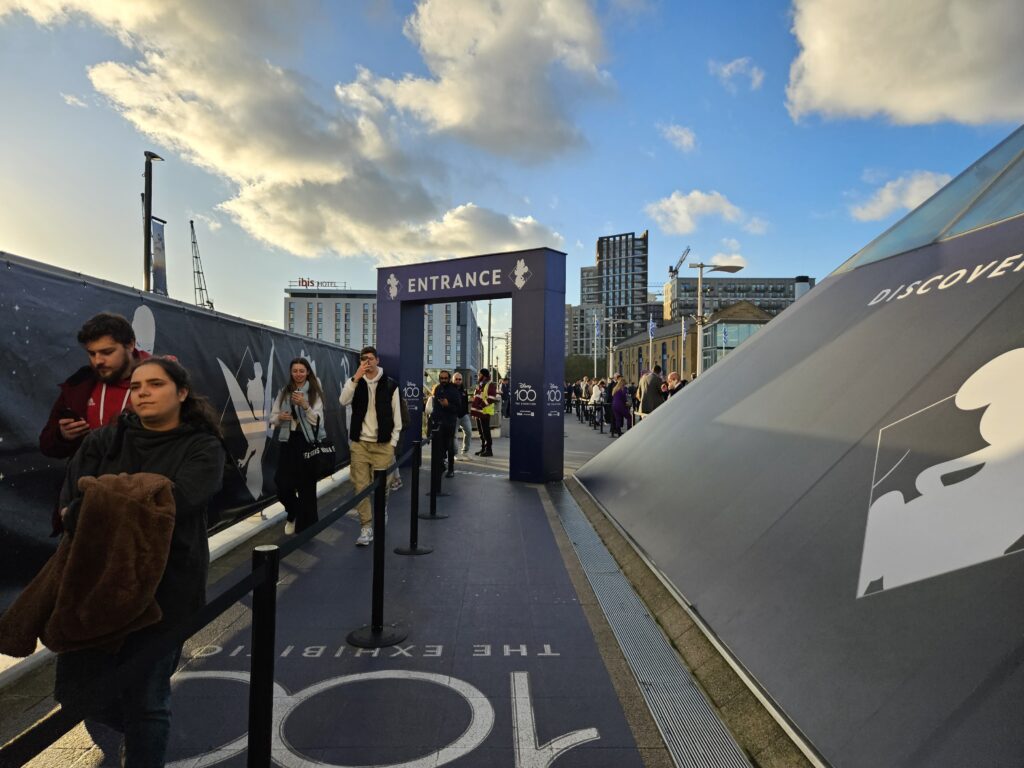 If you're traveling into London, I recommend hopping on the Elizabeth Line and going to Customs House.
It's right by the ExCel Centre and leads you almost straight through to the exhibition.
From the tube station, you'll head up the escalators, turn left, and walk straight past Starbucks.
You'll then keep walking until you hit the Entrance sign for the Disney100 Exhibition.
It's all clearly signposted and it's only a 2 or 3 minute walk from the station – it's easy to find!
FAQs
Is Disney100: The Exhibition good for kids?
I'd say that young kids will probably struggle with the exhibition.
There's enough light and sound to keep them occupied, but there's a lot of stopping and reading.
Any kids 5 and up should be absolutely fine, but you might want to proceed with caution if you have toddlers.
Can I bring a bag?
You can, but it needs to be smaller than an A4 piece of paper.
If you absolutely need to bring a bigger bag, there are lockers onsite where you can pay to store your stuff.
But honestly, I'd try and bring a smaller bag.
Are service dogs allowed at the exhibition?
Yes, they are but they need to be registered.
If you require accessibility assistance, you'll need to email accessibility@fkpscorpio.co.uk before arriving.
Can I purchase a ticket on the day?
You can purchase a Disney100 ticket on the day, but I honestly don't recommend it.
Getting a ticket would depend entirely on session availability for that day, and the exhibition has been super popular.
If you want to attend on the day, I recommend going on a weekday outside of any school holidays.
This should get you in when there are fewer crowds.
Do I need to print my ticket for Disney100: The Exhibition?
No, you can just show the relevant QR code on your phone.
I'm pretty sure almost everyone had a digital ticket when I attended, but you can always print it if you're nervous.
There you have it: my in-depth review of the Disney100 Exhibition in London!
If you have any questions about the experience, I'd be happy to answer them. Have you been to the exhibition? What did you think?