Have you been asking yourself the question: "how big is Disney World"? If so, you'll want to stick with me as I reveal absolutely everything about the size of this world-famous attraction in Florida!
Whether you've been to Orlando or are planning your first trip, you may be wondering "how big is Disney World?".
And I totally get it.
The Happiest Place on Earth comprises an impressive 6 parks, tons of shopping spots, and several hotels.
Oh, and there's even a monorail system in place here!
And with all those attractions and places to rest your head, it only makes sense that Disney needs A LOT of land.
But just HOW much land does the Walt Disney Company own in Florida? Is it all built on? And which is the largest Disney Park by acreage?
Well, you'll have to read ahead to find out!
How Many Acres is Disney World?
When you're asking yourself "how big is Disney World?", you're probably thinking about acreage (or miles!).
So, let's dive into the acreage first!
Disney World is an impressive 27,520 acres, which comes out to an impressive 43 square miles.
And believe it or not, that's almost the same size as San Francisco or TWO Manhattan Islands!
Yep, it's big.
When you throw in the fact that Walt Disney World has its own zip code and tons of people visit each day?
Well, it's easy to see how the park can take up so much space.
The main park acreage consists of EPCOT, Hollywood Studios, Magic Kingdom, and Animal Kingdom.
Disney property also comprises Blizzard Beach and Typhoon Lagoon, but these are largely seen as separate.
Oh, and don't forget Disney Springs, the 4 golf courses, and the hotels and resorts!
Before I move on though, I'll quickly mention that 7,100 acres of this land hasn't been fully developed yet.
It's in the works of course, but this land is currently reserved for further expansions.
How Big Is Disney World Compared to Disneyland?
Okay, so we've established that Disney World takes over approximately 27,520 acres of land.
In comparison, Disneyland in California spans just 500 acres, which makes it around 51 times smaller than Disney World.
So, it's clear that one state reigns supreme when it comes to size!
But I will say that Disneyland packs a lot into its more limited space, with an impressive 9 lands available to visit.
Adventureland
Fantasyland
Frontierland
Main Street
New Orleans Square
Galaxy's Edge
Tomorrowland
Critter Country
Toontown
It's also worth mentioning that California Adventure is in the mix at Disneyland which is home to several attractions.
Not only is Radiator Springs here (which is a huge draw for Lightning McQueen fans), but you get Pixar Pier!
And realistically, who doesn't want to spend time trawling around a site dedicated to Pixar hits?
California Adventure spans 72 acres, while the main Disneyland Park spans 85 acres of the park's total real estate.
So, while Disneyland is larger than California Adventure, there's actually not a lot in it.
The main difference you'll notice between Disneyland and Disney World is that there is just WAY more parks.
You can explore Disney Springs, park hop between Animal Kingdom and Magic Kingdom, or hit the water parks!
In short, it's easy to see why you need at least a week at Disney World (while Disneyland can be covered in days!).
If we look even more closely and count up the rides, things get more interesting.
In total, Disney World has 173 rides in total with the following breakdown:
41 at Magic Kingdom
42 at EPCOT
17 at Hollywood Studios
46 at Animal Kingdom
11 at Typhoon Lagoon
12 at Blizzard Beach
In comparison, Disneyland has:
61 attractions across both Anaheim parks with 18 being at California Adventure.
From these ride figures, it becomes even clearer that Disney World is considerably larger!
What about hotels and resorts?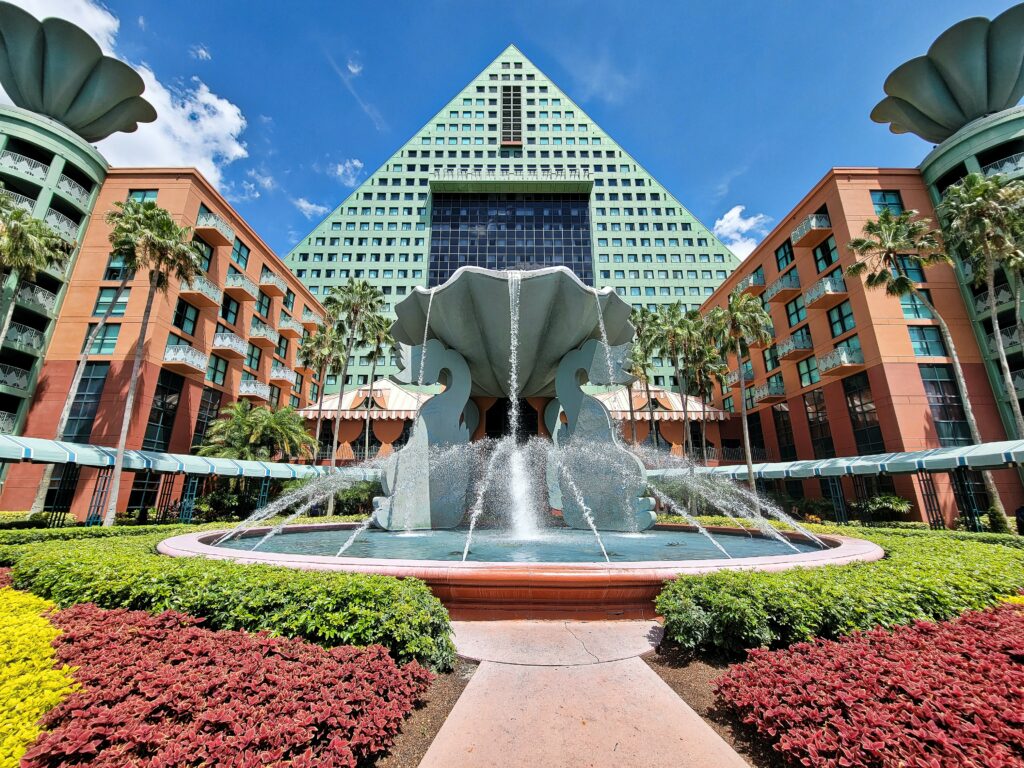 When it comes to the hotels, Disney World is home to more than 25 resorts.
There are a range of different options that range from budget-friendly Value Resorts to Deluxe picks.
Now, I can't say exactly how much space the hotels take up. But it's a considerable amount of the resort's total acreage!
In terms of Disney Springs, it's a 120-acre complex that includes The Landing, West Side, Town Center, and Marketplace.
So, it's just a small percentage of that 27,520-acre total.
Inside that acreage though, you'll find an impressive 150 stores and restaurants to explore.
And if you're a Disney World Cast Member, you'll even get discounts across several stores!
How Many Parks Are in Disney World?
There are 6 parks in total across Disney World's property.
But the main 4 are Magic Kingdom, Animal Kingdom, EPCOT, and Hollywood Studios.
Blizzard Beach is just 66 acres, while Typhoon Lagoon is even smaller at 56 acres.
They're still worth visiting of course, but the 4 main parks are far larger.
Just how large, you ask? Well, let's find out!
How Big is Magic Kingdom?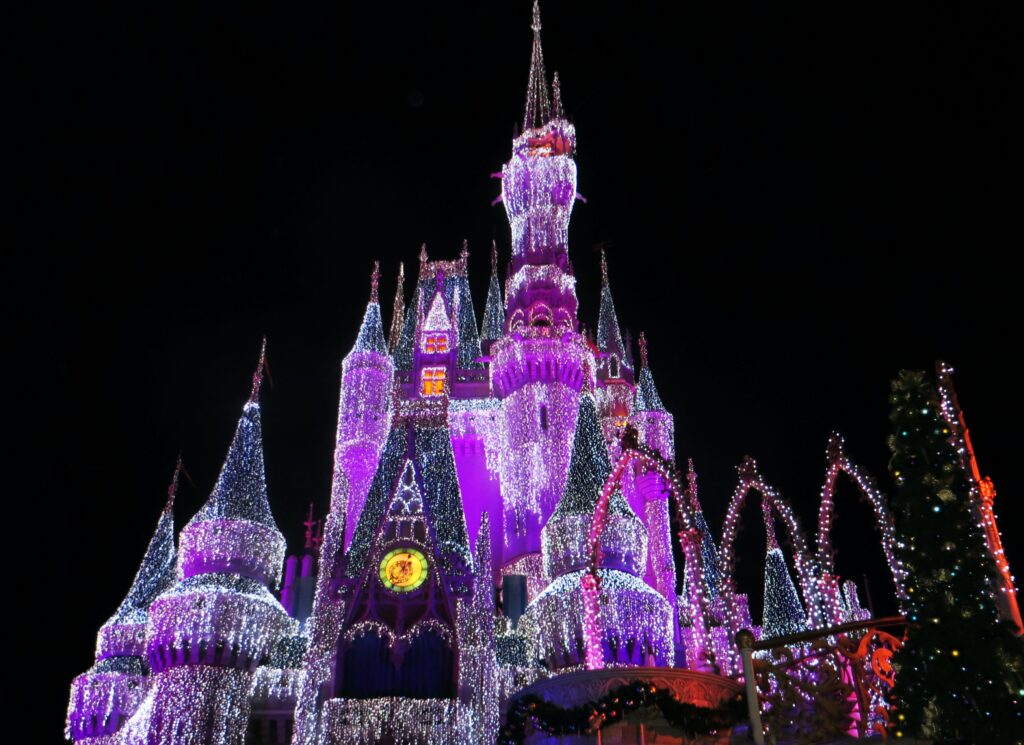 The first major park that we'll take a look at is Magic Kingdom.
It's an impressive 107 acres which is over twice the size of Disneyland in Anaheim.
It's worth noting that it's technically around 142 acres, but not all of it has been developed on (so it doesn't count!).
You'll also want to think about underground passages, Cast Member-only access areas, and maintenance areas.
Inside the Magic Kingdom, you'll find 6 separate lands:
Tomorrowland
Fantasyland
Frontierland
Adventureland
Main Street, USA
Liberty Square
This park is home to the classic rides like Haunted Mansion, Splash Mountain, and Buzz Lightyear's Space Ranger Spin.
Amongst tons of other attractions, of course!
How Big is EPCOT?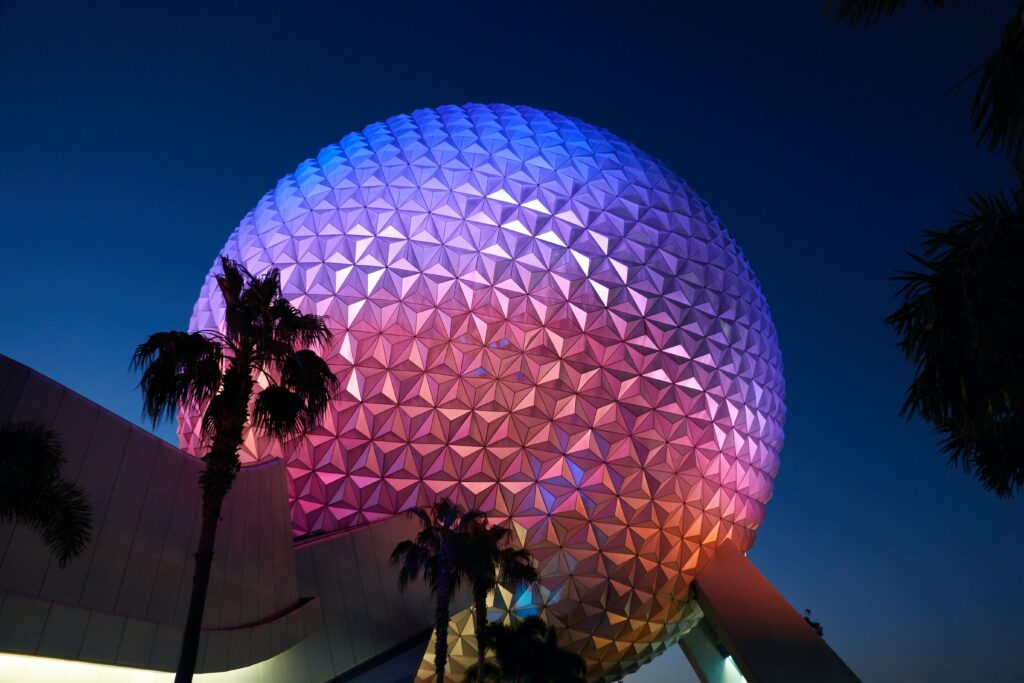 EPCOT is HUGE and it spans an almost-ridiculous 305 acres.
Like Magic Kingdom, only around 200 acres is actually developed on and accessible to guests.
But it's still one of the largest parks (even without all of the extra acreage!) and I find it's easy to dedicate at least 2 days to it.
Along with the huge World Showcase Lagoon and 11 pavilions, you'll also find attractions like Test Track and Spaceship Earth.
Yup – Spaceship Earth is inside the EPCOT Ball (which takes up a lot of space on its own!).
The ball is 180-feet tall and is almost as tall as Cinderella's Castle to give you an idea of scale.
EPCOT is split up into 4 separate districts which are:
World Nature
World Celebration
World Showcase
World Discovery
Each section has its own charm, dining opportunities, and attractions. So, you'll want to spend plenty of time checking each section out!
How Big is Hollywood Studios?
Hollywood Studios is on the small side and comes in at 154 acres (it's expanded quite a bit since it first opened).
As you might expect from its name, Hollywood Studios is designed to take you behind the scenes of movie magic.
So, expect to see rides inspired by the Golden Age of Hollywood AND Disney's greatest hits.
Inside this park, you'll find attractions like Toy Story Midway Mania and Mickey and Minnie's Runaway Railway.
It's one of the most walkable parks if you're visiting Disney World with toddlers or young children.
This park is split into 7 lands which is pretty impressive considering its size!
These are:
Galaxy's Edge (which takes up a whopping 14 acres of land on its own!)
Hollywood Boulevard
Echo Lake
Grand Avenue
Toy Story Land
Sunset Boulevard
Animation Courtyard
There aren't that many attractions at Hollywood Studios – you can probably cover it in a day if you're pushed for time.
How Big is Animal Kingdom?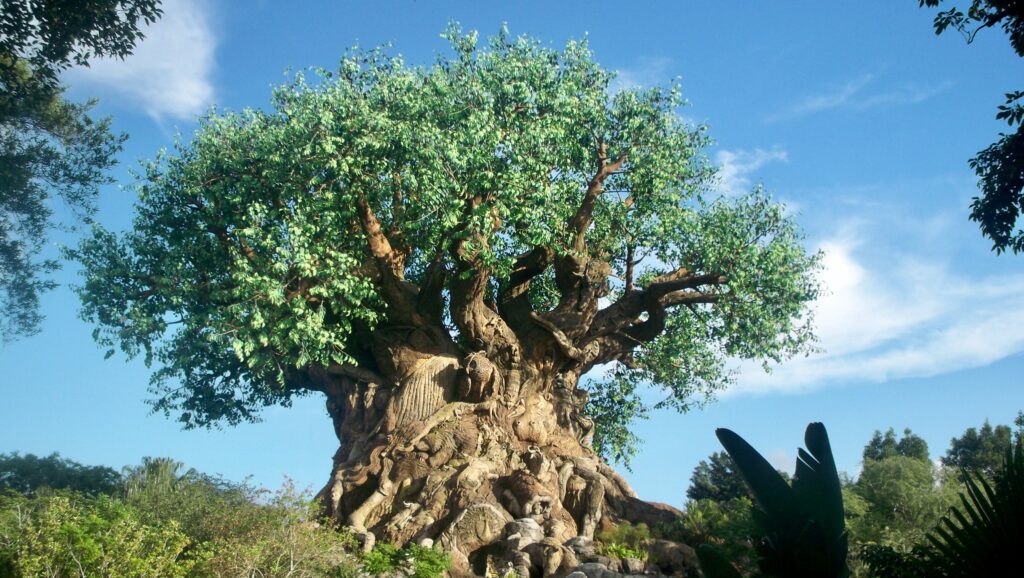 The final park I'm going to talk about is the much-loved Animal Kingdom which clocks in at 580 acres.
So, it's HUGE.
Part of the reason this park is so big is down to the space required for the animals.
Kilimanjaro Safaris takes up 110 acres all on its own – so, it certainly makes sense!
But everything from Pandora to Expedition Everest take up large amounts of land.
When you put things in perspective, Animal Kingdom is FOUR TIMES larger than Magic Kingdom and almost twice as big as EPCOT.
Now that's a large park.
Animal Kingdom is split into 6 different lands, and you'll want to dedicate plenty of time to each of them.
These are:
The Oasis
Discovery Island
Pandora – The World of Avatar
Asia
Africa
Dinoland U.S.A
You'll probably need to dedicate the most time to the country-based lands and Pandora.
But you should gauge what rides you're interested in and work from there!
How Big is the Disney World Castle?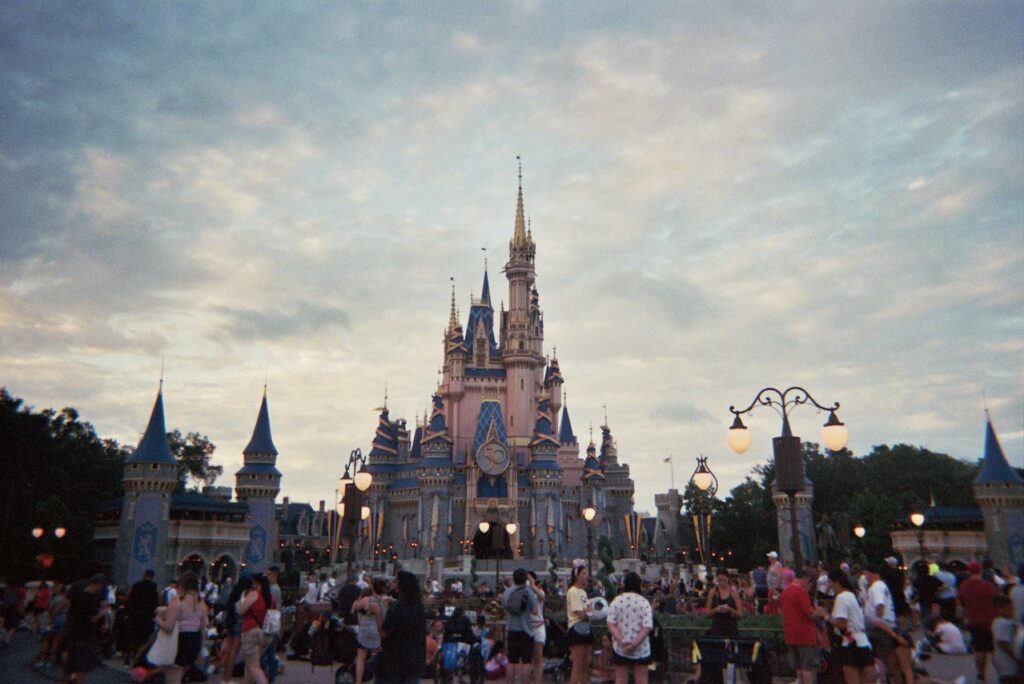 In comparison to other Disney castles around the world, Cinderella's Castle at Disney World isn't the largest.
But it still comes in at an impressive 189 feet.
And that's because planning regulations in 1971 meant that any structure above 190 feet needed a flashing red beacon to alert air traffic.
That wasn't quite the Disney magic that Walt was going for.
Plus, thanks to a bit of clever forced perspective down Main Street, it looks far bigger.
Oh, and don't forget the impressive 27 spires that make everything look super grand (and taller, of course!).
It doesn't quite beat Shanghai's Enchanted Storybook Castle at 197 feet, but it's relatively close.
In terms of size, we should also consider the 3 elevators, restaurant, and Castle Suite tucked at the top!
So, the castle is certainly bigger than it appears at first glance.
Why Is Disney World So Big?
Now that you've got an answer to the question "how big is Disney World?", you might be wondering WHY it's so large.
And I can answer that by turning to the very start of the Disney World journey.
As Walt wanted to keep much of the construction under wraps, the Walt Disney Company purchased a huge acreage of land in 1965.
The acreage was acquired on the 15th November for a Florida-based theme park and construction began almost immediately.
Part of the reason that Disney World is so big can also be attributed to the American Dream.
Walt wanted to build a park that was bigger and better than anything that had come before it (including Anaheim!).
While Walt couldn't acquire as much land when Disneyland was first built in 1955, he had much more to work with by 1965.
And that's because Disneyland had opened to seriously good reviews.
By buying up SO much land, Walt was able to keep the project as surreptitious and under-wraps as possible.
While rumors were still flying around, controlling the environment and surrounding property was super important.
That's partly because the surrounding establishments around Disneyland weren't up to Walt's standards.
But it's also because Walt wanted to build resorts, several parks, and expansions that were beyond anyone's comprehension.
Hence the 25,000+ acres of land!
What About the Rest of the Land?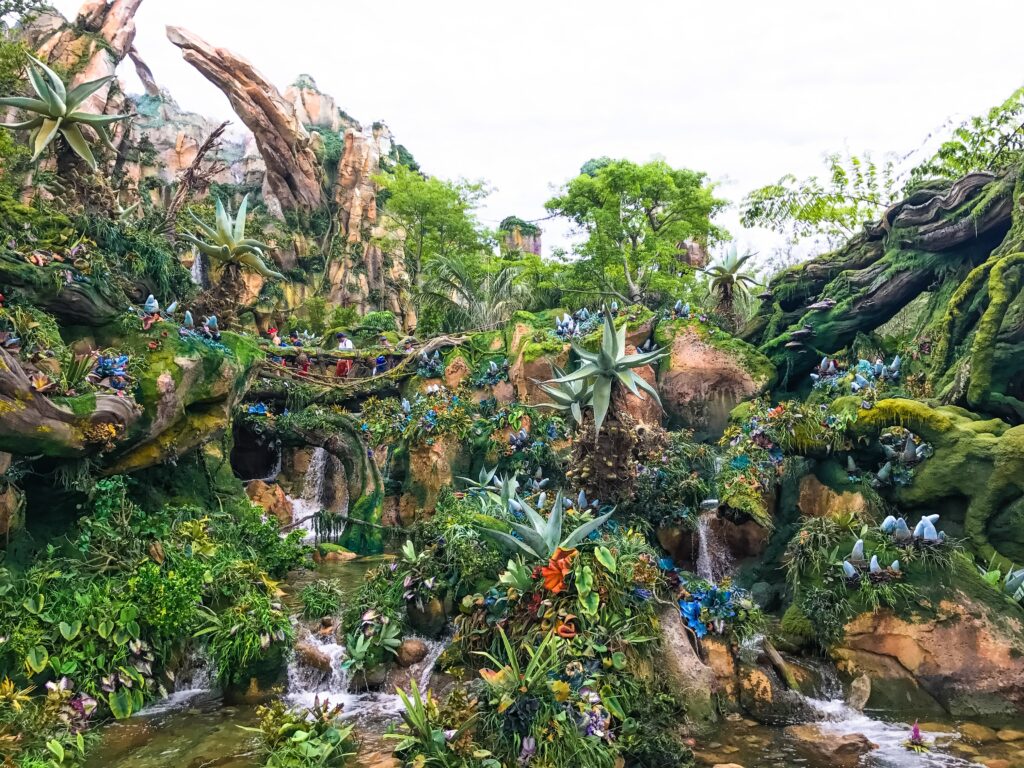 Okay, although Disney's parks and resorts cover a significant amount of land – what about the rest of it?!
Well, much of the land that was purchased by Walt has actually been left as conservation.
So, an impressive 7,500 acres of land here is simply designed to protect the parks from marshland.
If you didn't already know, much of this part of Florida was originally swampy, and there's a huge network of levees that prevent flooding.
Plus, Walt also wanted to make sure that the surrounding forestry was well-protected and left to sit undisturbed.
Although this can be built on down the line as part of an expansion, it's completely untouched at the moment!
FAQs
How big is Disney World compared to England?
Disney World is as large as cities like Liverpool and Bristol, which shows just how impressive it is!
What is the most ridden ride at Disney World?
The most popular ride overall is Space Mountain, but Seven Dwarfs Mine Train and Big Thunder Mountain are up there!
Which Disney Park requires the most walking?
I'd say that EPCOT is the park that requires the most walking, while Hollywood Studios requires the least.
How big is SeaWorld compared to Walt Disney World?
SeaWorld clocks in at just under 200 acres, which is just a fraction of the size of Disney World.
To Conclude!
So, exactly how big is Disney World?
Well, it's huge – as you can see!
Not only is it the largest theme park complex in the entire world (behind Disneyland Paris!), but it's gorgeous.
An incredible amount of time, effort, and money goes in to making the park experience as magical as possible.
And with a large amount of land still available to be built on, who knows what's going to hit the parks next?
Either way, I can't wait to see it!
I hope that this ultimate guide has helped to answer the question: "how big is Disney World?"!
Do you have any further questions about Disney World's size? I'd love to hear your thoughts in the comments below. Seriously, no question is too small – just hit me with it!
Related Posts: