Have you been asking the question "can you bring food into Disneyland?". If you're trying to save cash, read ahead for everything you need to know about bringing food into the parks (without getting it confiscated!).
I can't get enough of the restaurants at Disneyland.
From the tasty quick service stops to the expensive dining rooms, I adore chowing down on Disney-themed food when visiting the parks.
But it's no secret that Mickey-shaped goodies come at a price – and a high one at that!
So, if you're wondering whether you can bring food into Disneyland, you've come to the right place.
Not only will I delve into the guidelines around food at Disneyland, but I'll give you suggestions for what you should bring!
Plus, there are tons of tips on coolers, where to eat your homemade grub, and what will get confiscated at the gates.
Now let's dive in!
Can You Bring Food Into Disneyland?
In simple terms, you CAN bring food into Disneyland.
Just make sure that it's clearly for self-consumption and is carefully packaged to avoid spillages.
When it comes to bringing food into Disneyland, the company has officially stated that:
"Guests are allowed to bring outside food and non-alcoholic beverages into the parks for self-consumption, provided they are not in glass containers, do not require heating, reheating, processing or refrigeration, and do not have pungent odors."
So, as long as the food you're bringing in doesn't break any strict park rules – you'll be good to go.
You also won't be allowed to bring huge coolers, folding chairs, knives, selfie sticks, or drugs of any kind.
Bringing Food Into Disneyland: Guidelines
If you're bringing food and drink into the parks, you're supposed to inform a Security Cast Member that you have it.
Not everyone does this (though they should!), but it's always best to play by the rules if you're bringing food into Disneyland.
They'll check it over, make sure it's not breaking any park rules, and just let you right through.
Expect alcohol to be confiscated though – it's strictly prohibited!
But don't worry – you can head to the Mint Julep Bar for a Disneyland Beignet and a quick sip of alcohol if you're desperate.
And it's worth padding out your day with a single trip to a quick service spot for a burger if you want to find a more balanced approach.
What food should you bring to Disneyland?
Now that you've had an answer to the question "can you bring food into Disneyland?", you might be wondering what to bring.
I've always packed lightweight snacks and small sandwiches, but there are a whole host of things you can bring with you!
Just remember to stick with non-perishables and things that don't need to be reheated.
Meals
If you don't want to eat at the Disneyland restaurants, it's worth bringing in slightly more substantial meals. The best choices are picnic-like foods, but there are tons of options!
My favorites are:
Sandwiches (made with slightly robust bread if you can!)
Oatmeal packets or cereals (if you can grab milk)
Snacks
If I'm trying to bring food into Disneyland, these are my go-to picks for energy, ease, and deliciousness.
Dried fruit
Nuts
Sliced fruit (like apples or oranges)
Bananas/other whole fruits
Crackers
Chips
Jerky
Chocolates
Candies (though not too much if you've got kids!)
Granola bars
Lunchables
Pretzels
Protein bars
Trail mix
Small cubes of cheese or string cheese
Cookies
Applesauce
Raisins
There are tons of wonderful snacks at Disneyland, but these are great options if you're trying to save cash.
But if you're craving something Disney-themed, you can try:
Mickey pretzels
Beignets
Corn dogs
Dole whip
Funnel cakes
Cookies
Food You Can't Bring Into Disneyland
I briefly touched on this at the beginning of the article, but there is some food you can't bring into Disneyland.
You can't bring anything that's pungent, needs to be reheated or refrigerated, or is kept in glass bottles. The only thing that defies the glass bottle rule is baby food!
It's worth keeping your use of spices to a minimum, and pungent fruits like durian are basically off-limits as they'll bother other guests.
It's annoying, but the rules are there to keep the peace!
Tips For Bringing Food Into Disneyland
If you're planning to bring food into Disneyland, I have a few tips.
1: Make sure everything is wrapped up properly
This probably goes without saying, but you don't want anything to spill into your bag or cooler. So, wrap up sandwiches in foil or plastic wrap before packing them. This will keep them fresh too!
2: Use coolers to make transporting food easier (+ keep it fresh)
If you want to keep your food as fresh as possible, throw everything in a cooler with ice packs or frozen water bottles.
3: Eat in shaded areas
It's key to keep cool when you visit Disneyland, which means you'll want to eat in shaded areas. You can either head to designated picnic areas or find a shaded bench!
4: Prioritize packaged food that won't deteriorate
It's a good idea to bring in food like goldfish, chips, and other packaged items. These are already slightly processed, which means they won't deteriorate out of the fridge. This means you won't need to bring a cooler for your treats!
5: Invest in plastic containers
You won't be able to bring glass containers into the parks, so it's important that you use plastic containers.
You can usually grab these cheaply from local dollar stores or Amazon, but it's worth getting a few that will stand the test of time.
How to Use Coolers to Bring Food into Disneyland (For Freshness!)
If you're trying to bring food into Disneyland for the entire family, then you might want to take a cooler.
They're technically allowed, but you'll need to keep them small or they'll be confiscated by security.
The official dimensions for Disneyland coolers are 24" long x 15" wide x 18" high.
These will be suitable for most families looking to take sandwiches and a few snacks but won't hold entire picnics.
It's also a good idea to take advantage of Disneyland lockers if you don't want to cart your cooler with you on rides.
Just be aware that these can cost anywhere from around $10 to $15 for the day, so they might not be in everyone's budget.
Plus, you'll need to head outside to the lockers every time you want to grab a snack. Not the most ideal situation in the world!
I often choose a soft cooler that I can put in my bag, but hard coolers are usually more robust and might fit under a stroller.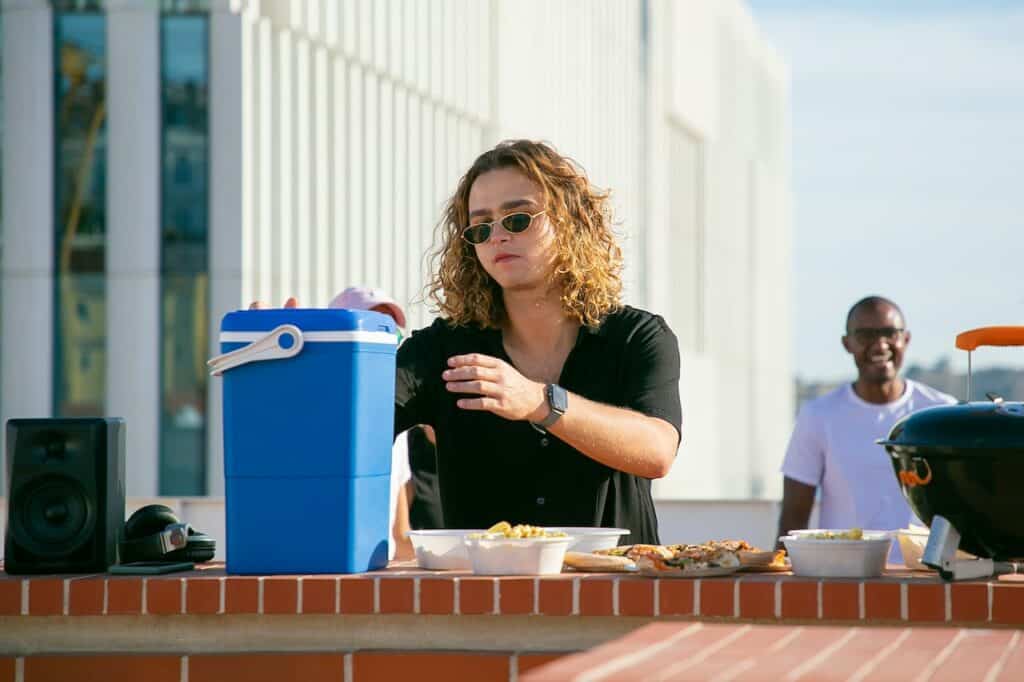 How to keep food fresh
Your cooler should protect any food from getting crushed in your Disney park bag, but there are other ways to keep things fresh.
Loose ice is a no-no, but you can certainly freeze water bottles or use Ziploc bags filled with frozen water.
It's also worth noting that a few Disneyland hotels offer mini-fridges, and you can use these to freeze water.
If not, you may be able to get ice from restaurants to fill your cooler with – it's all about going with the flow!
Should you be relatively local, it's a good idea to use reusable ice packs. They're not considered loose ice and should keep your food fresh for hours.
When it comes to sandwiches, I recommend using fillings that aren't going to go soggy.
So, tomatoes and wetter veggies are out. But spreads like peanut butter or marmite are excellent options that won't deteriorate!
It's also worth using airtight containers for your sandwiches as they'll prevent bread from going stale throughout the day.
And hey – there's no need to add mustard or mayo to your sandwiches as you can pick up small sachets inside the parks!
Where Can You Eat Outside Food at Disneyland?
If you'd like to eat your own food at Disneyland, it's a good idea to head to the designated picnic area that's right outside the Main Entrance to Disneyland.
Although you can technically eat your own food at any seating area throughout the park, it'll be very risky to try this at restaurants.
If you're eating at any of the onsite restaurants at Disneyland, you'll be expected to purchase food sold there.
Can't find space at the designated picnic area? No worries!
Just bring along a small blanket and spread it out on the ground near shaded parks and benches.
You'll need to be wary of how much space you take up (and whether you're blocking anything), but it should be comfortable.
If you want somewhere pleasant for a bite, Tom Sawyer's Island is lovely and there are several small picnic tables available here.
Can You Bring Your Own Water Bottle to Disneyland?
Yes, you can bring your own water into Disneyland as long as you're not using a glass bottle.
There are several awesome water bottles that you can use for a Disney trip that'll keep you hydrated.
Without paying those ridiculous park prices, that is!
Just don't try to sneak in clear spirits in a water bottle – you'll very quickly be found out and will possibly be banned from the parks.
If you need to refill your bottles at any time, there are free water fountains located around the park.
And if you want anything ice-cold, just head to any counter service spot for a free cup of cold water!
Otherwise, fill your bottle with ice before arriving and use a vacuum flask that'll keep cool all day.
I hope that this in-depth article has answered the question "can you bring food into Disneyland?"
As you can see, there's a lot to consider if you're bringing outside food into Disneyland. But it's not as complicated as you might think if you follow the rules. Just remember to follow any guidelines and you'll be good to go.
Do you have any tips that helped you bring food into Disneyland? I'd love to hear your thoughts in the comments below!
Related Posts: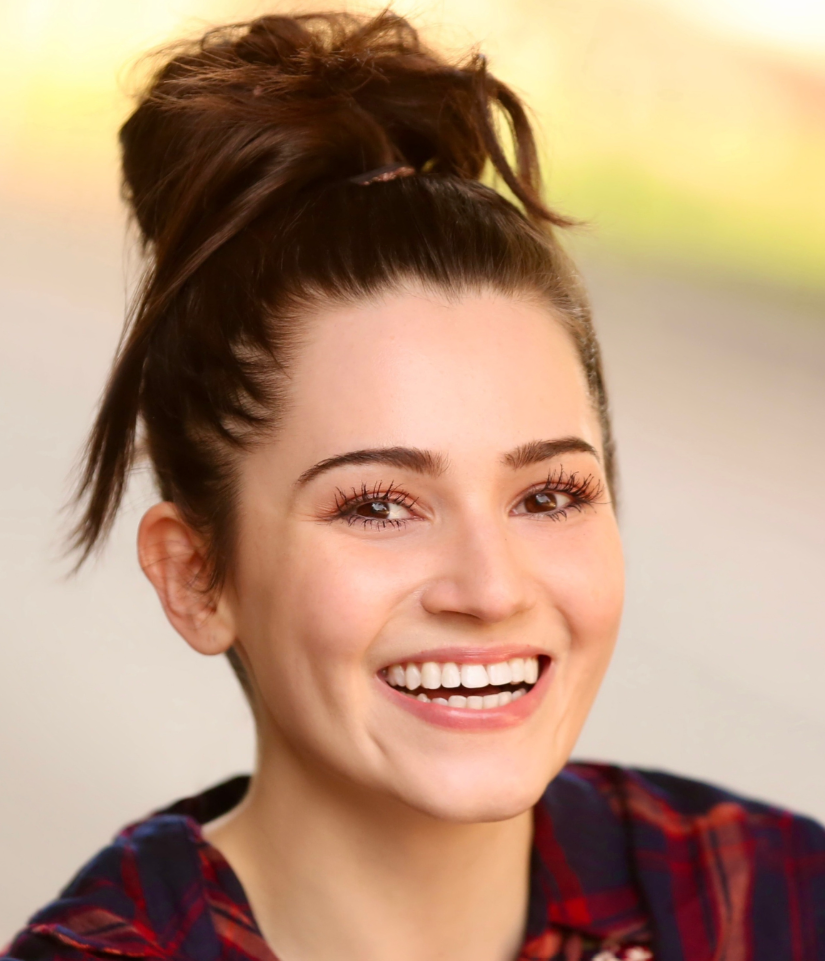 Grace is the creator, editor, and sole writer for Pixie Dust and Passports – a blog that's ALL about Disney! She's made it her life's mission to visit the Disney parks as much as possible and loves trying new snacks, grabbing the latest spirit jerseys, and rocking Loungefly bags. Oh, and she also holds a BA in History from UCL, which makes her a research and deep-dive enthusiast into all things Imagineering.