Are you on the hunt for Epcot rides for toddlers that they'll love (and can actually ride)? If so, read ahead for my top recommendations that'll have them beaming.
If you're heading to Walt Disney World with toddlers, you may be wondering whether there are suitable rides for toddlers at Epcot. Although it's not the best Disney World park for toddlers, there's still plenty to do for little ones!
From Frozen Ever After to the newly opened Remy's Ratatouille Adventure, there's enough here to fill an entire day. Oh, and don't forget the smaller activities that will give you a break from tiring queue lines and temper tantrums!
This guide focuses on the best Epcot rides for toddlers but it's a great idea to read the whole post for additional activities, tips, and FAQs.
Now let's get going!
Is Epcot Good for Toddlers?
When you think of Epcot, drinking around the world is probably one of the first things that comes to mind.
But that's not the only thing to do at Epcot – it's a wonderful place for little ones too!
Although I'd say that there were more rides for toddlers at Magic Kingdom, there are several rides with no height requirements.
So, your toddling tot should be able to ride these without any tears (or challenges from Cast Members!).
Even if you don't take rides into account, additional character meets and kid-friendly activities will pad out your day perfectly.
What Are the Best Epcot Rides for Toddlers?
Remy's Ratatouille Adventure
Remy's Ratatouille Adventure is one of the best Epcot rides for toddlers as it's bright, fun, and makes use of 3D effects.
The concept of the ride is simple; you shrink down to the size of a rat as you run around Gusteau's kitchen!
Not only is it one of the newest additions to Epcot's attractions list, but even babies can ride this as there are no height requirements and it allows lap rides.
It may be tricky to fit youngsters with one-size-fits-all 3D glasses.
But you can always encourage kids to gently hold them on their faces to make the most of the awesome effects.
Better yet, it's not inherently scary like some of the rides in Animal Kingdom.
We're talking to YOU "It's Tough to Be A Bug"!
Wait times can be on the longer side for this (60 minutes or so at peak times), but most toddlers should enjoy the interactive line.
If not, this is one of the attractions that's eligible for an Individual Lightning Lane that will cut queuing down significantly.
Location: France Pavilion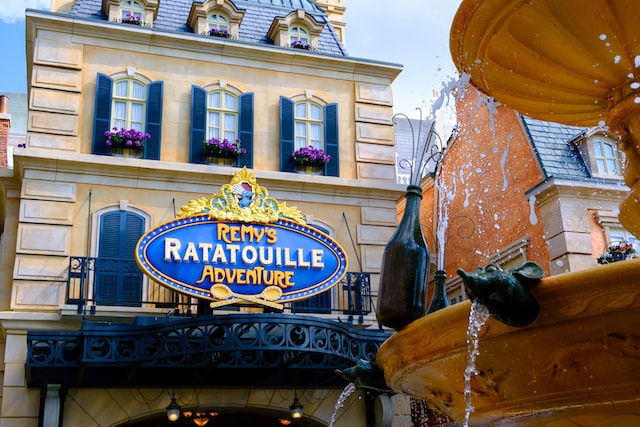 Spaceship Earth
Spaceship Earth is an incredible attraction that's tucked away inside the Epcot Ball.
It takes you through the history of time and human progress and has no sharp turns, dips, or drops.
It's just a relaxing, storytelling adventure that typically has wait times of 20 minutes on an average day.
Although it doesn't have as many bright colors as other rides throughout Disney World, the ride time is short enough to occupy most kids.
Just be aware that very young toddlers might struggle with the lack of excitement.
Once you've finished the ride, don't forget to make an animated video of your party!
Oh, and try to visit this ride just before leaving the parks for the day as its prime location attracts early risers.
Location: Epcot Ball
Living With The Land
Next on my list of Epcot rides for toddlers – it's Living With The Land!
Living With The Land is a relaxing indoor boat ride that takes you through farming and agriculture displays.
It might sound like a gardener's dream (and it IS!), but kiddos also appreciate the Disney-shaped pumpkins and enormous greenhouses.
As it's just 15 minutes from beginning to end, it should be short enough to hold a toddler's interest.
To make things even sweeter, wait times are usually under 30 minutes and might even lull your little one straight into a nap.
I recommend hopping on this after checking out Soarin' Around the World as they're right next to each other.
Location: World Nature Land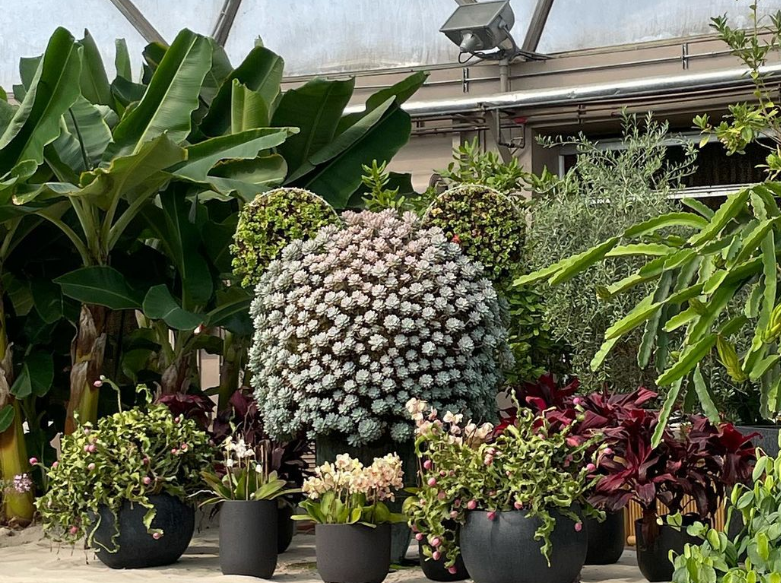 Journey Into Imagination With Figment
Journey Into Imagination With Figment is a glorious journey through color that's ideal for children.
It's described by Disney as a "delightful ride through the sensory labs of Imagination Institute" – and I'd say that was accurate!
It's classed as a slow and dark ride that's suitable for all ages without any height restrictions.
So, this cool and crazy musical adventure (featuring Eric Idle from Monty Python fame!) is a wonderful pick for small kids.
It's worth preparing for the loud burst of sound that occurs at the end of the right, but there's nothing to worry about otherwise.
Overall, it's a great way for kiddos to engage with the five senses without any spooks.
Phew.
Location: World Celebration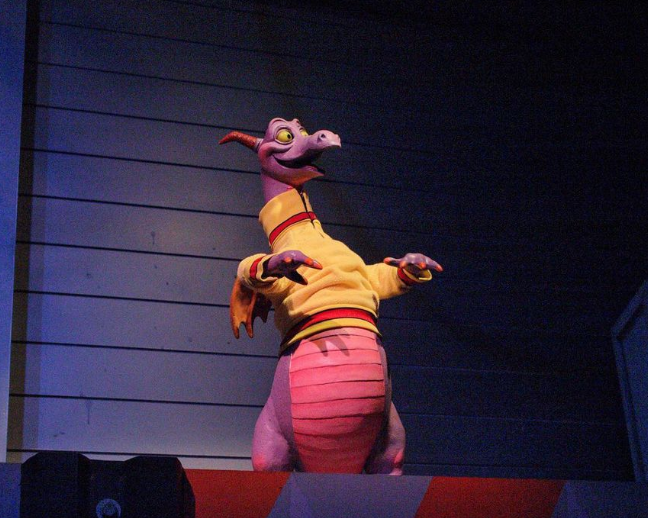 Frozen Ever After
Frozen Ever After is popular with visitors of all ages, but it's also one of the best Epcot rides for toddlers!
This ride takes you on an exciting trip to Arendelle in a Nordic boat, and you'll encounter all your favorite Frozen characters along the way.
This includes Anna, Elsa, Olaf, Kristoff, and the loveable rock trolls!
There are no height or age restrictions, but it's a very dark ride with a couple of small drops that may freak out sensitive kids.
As you're heading down short "waterfalls", there's also a small chance that you'll get splashed with a bit of water.
But otherwise, there's really nothing to worry about.
And who doesn't love the Frozen soundtrack?
Location: Norway Pavilion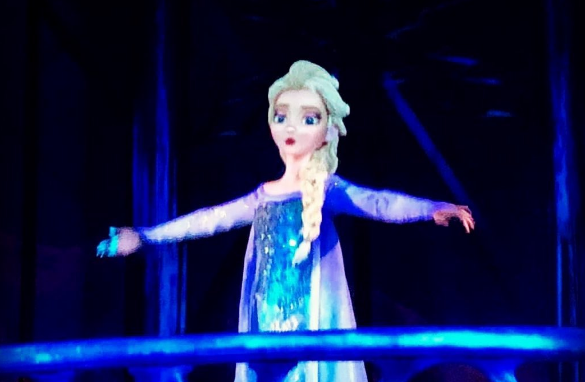 Gran Fiesta Tour Starring the Three Caballeros
I have always loved the Gran Fiesta Tour as it's packed with authentic charm and features my main man Donald Duck.
This ride isn't explicitly designed for kids, but they adore the bright colors, lively music, and gentle feel of the boat.
Like many of the other Epcot rides for toddlers, this is designed for all ages and has no height restrictions.
If you're wondering what this ride is about, it essentially follows Donald Duck's disappearance south of the border.
And you guessed it – the 2 remaining Caballeros are responsible for finding him!
It's a truly adorable ride that's inspired by the classic 1944 film The Three Caballeros and is worth checking out for visitors of all ages.
Location: Mexico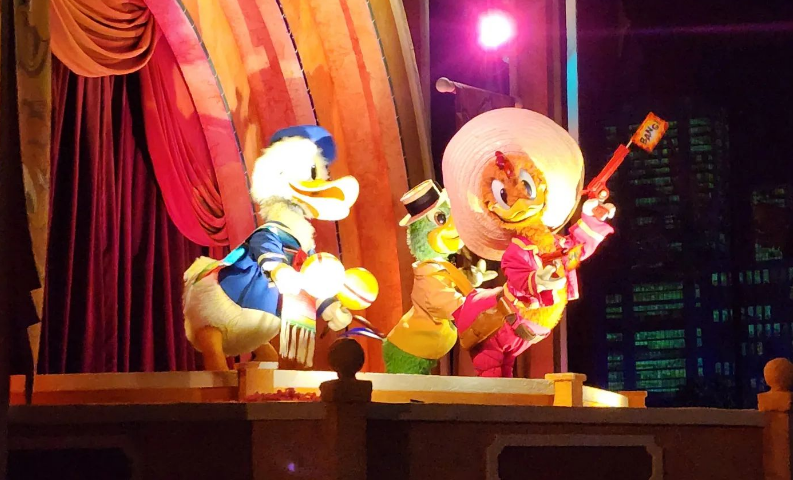 The Seas With Nemo & Friends
The Seas With Nemo & Friends is one of the most popular Epcot rides for toddlers.
If you're wondering why, it's because it's slow-moving and absolutely packed with color!
As you head through this dark ride, you'll meet characters from Finding Nemo.
You'll even spot them projected onto a real aquarium at the end of the ride!
Although there's nothing particularly scary about this ride, you might want to prepare for the appearance of Bruce the Shark.
Due to his size and huge teeth, he might frighten very small kids.
But to be honest, I'd say that this was among the failsafe Epcot rides for toddlers that shouldn't upset anyone!
Location: The Seas with Nemo and Friends Pavilion
Soarin' Around the World
Soarin' Around the World is a ride at Epcot that's suitable for older toddlers as it has a height restriction of 40 inches.
It's located in World Nature and makes you feel as though you're quite literally soaring over international landmarks on a hang glider.
Not only will you cover the Swiss Alps, but you'll spot Sydney Harbor, Mount Kilimanjaro, the Great Pyramids, and the Taj Mahal!
Young kids appreciate the feeling of flying and the bright colors of this ride, and the 80-foot IMAX projection is genuinely impressive.
Oh, and don't forget the incredible score by Bruce Broughton and Jerry Goldsmith!
It's genuinely one of the best Epcot rides for toddlers, but you'll need to check their height carefully before queuing.
Location: World Nature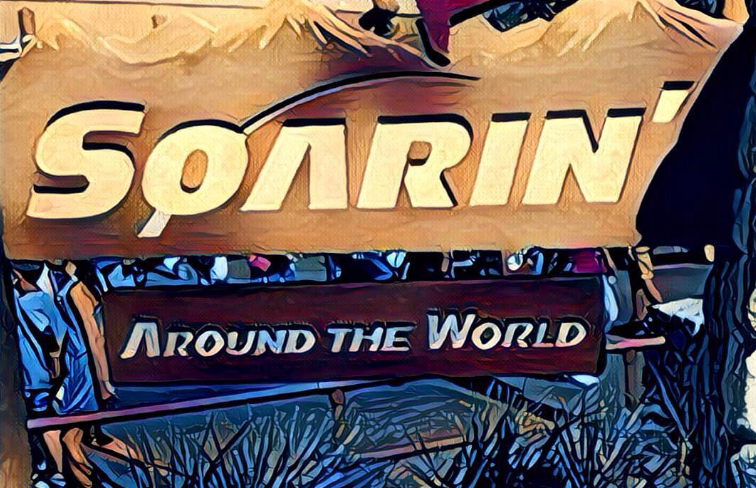 Other Great Things to Do In Epcot with Toddlers
If you've exhausted all the suitable Epcot rides for toddlers, you might be looking for other things to do in the park. With everything from playgrounds to coloring stations available for little ones, you'll have no trouble filling an entire day!
Turtle Talk with Crush
Turtle Talk with Crush is inside The Seas with Nemo and Friends Pavilion and is a wonderful activity for kids of all ages.
You essentially get to speak with Crush from the Finding Nemo movie as it allows you to have a conversation in real time.
It only lasts for 15 minutes, making it the perfect length for toddler attention spans.
You can ask him about everything from the East Australian Current to fun facts about marine biology.
Just be aware that very young toddlers might not be able to articulate any questions (as you'll know!).
But they should still have fun watching the older kids and hearing Crush's responses.
To avoid disappointment with timings, check out the park's Entertainment Schedule before arriving.
Location: The Seas with Nemo and Friends Pavilion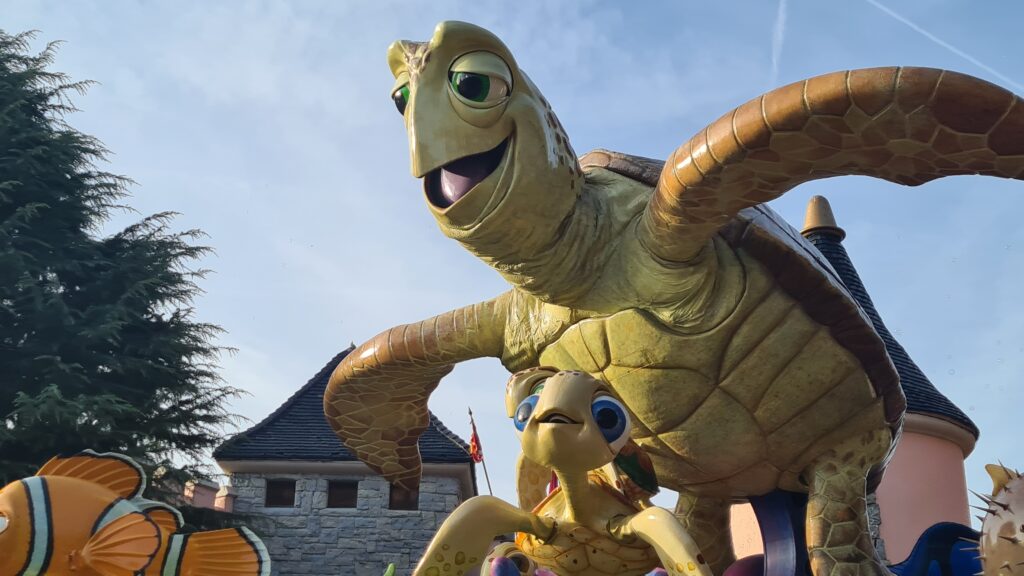 Beauty and the Beast Sing Along
Who doesn't love Beauty and the Beast?
From Gaston's amazing one-liners to Belle's gorgeous songs and her relationship with the Beast – it's a slam dunk!
If your toddler can't get enough of this tale as old as time, make sure you check out the Beauty and the Beast Sing Along.
It's inside the World Showcase and is a simple 15-minute film that features a selection of songs from the movie.
And to make things even better, the entire showcase is narrated by the late, great Angela Lansbury.
Whether your kiddo loves "Gaston" or "Be Our Guest", they can have the time of their lives singing along!
Oh, and it's one of our favorite things to do at Disney World when it rains or the sun is bearing down.
Location: World Showcase – France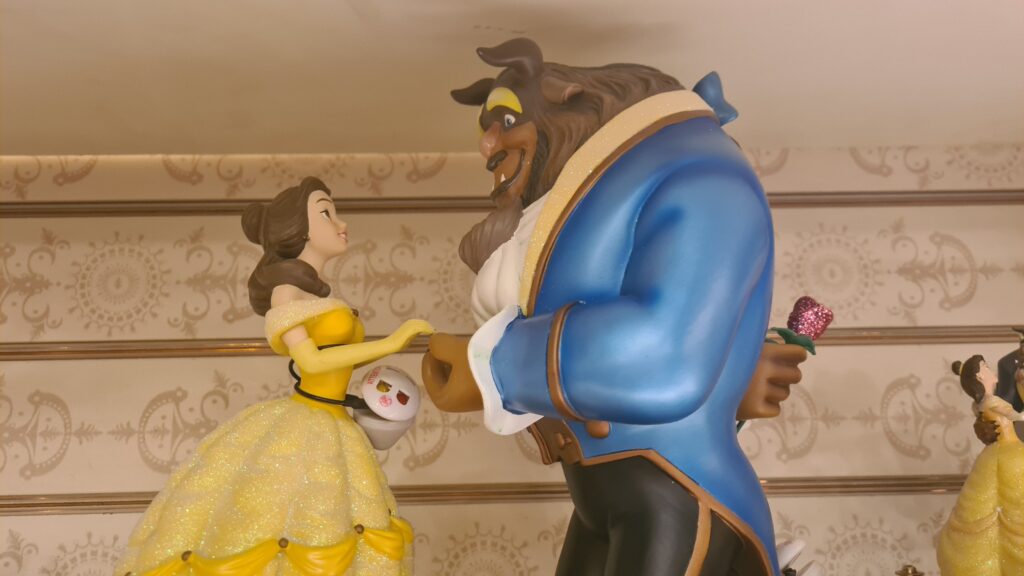 Character Dining and Meets
There are so many incredible meet-and-greet and character dining opportunities at Disney World.
So, it only felt right to include them on our list of things to do at Epcot for toddlers!
Not only can you meet princesses like Belle and Aurora as you waltz through the parks, but you'll find Mickey and Friends at Garden Grill.
Along with these incredible characters, here's a list of others that you'll find throughout Epcot:
Snow White in Germany
Anna and Elsa in Norway
Mary Poppins and Alice in the UK
Joy from Inside Out at the Imagination Pavilion
Mulan in China
Jasmine and Aladdin in Morocco
Donald in Mexico
Snow White, Mulan, Anna, Elsa, Jasmine, Ariel, and Belle at Akershus Dining Hall
Kidcot Fun Stops
If your kids are fans of exploring and learning, make sure you head to the Kidcot Fun Stops while you're in the park.
They're just small souvenir stops that allow you to pick up small mementos from the various World Showcase stations.
It's a great way to keep kiddos engaged throughout the day, and you'll find the stops at:
China Pavilion (near the exit of Reflections of China)
Germany Pavilion (at Volkunst)
American Adventure Pavilion (outside, near Art of Disney)
Italy Pavilion (outside La Bottega Italiana)
Canada Pavilion (exit of Canada Far and Wide in Circle-Vision 360)
Morocco Pavilion (at the Marketplace in the Medina)
United Kingdom Pavilion (at The Toy Soldier)
France Pavilion (at Souvenirs de France)
Norway Pavilion (Puffin's Roost)
American Adventure Pavilion (near Art of Disney)
Japan Pavilion (Bijutsu-kan Gallery)
Disney and Pixar Short Film Festival
If you're on the hunt for things to do in Epcot for toddlers, head to the Disney and Pixar Short Film Festival.
It's nothing out of the ordinary, but the 18-minute 3D showing of Disney and Pixar shorts will keep toddlers entertained.
And hey – it keeps you out of the rain and you won't usually have to queue which is always a bonus!
ImageWorks
ImageWorks is another activity for toddlers in Epcot with no height or age restrictions.
It's essentially a creative play space that lets kiddos roam free and is full of color and bright lights that they'll adore.
Not only can they conduct an orchestra with their arms, but they can create tunes on a virtual piano!
Although you won't want to spend ages here (it's LOUD), I think this is a wonderful experience for musical tykes.
Location: World Discovery
Advanced Training Lab
Advanced Training Lab is a high-tech play space for kiddos that offers space-themed games for children of all ages.
I've always felt that things were slightly out of reach for tiny toddlers, slightly older kiddos are bound to appreciate the theming.
Whether you're soaring over Mars (virtually!) or trying to send a rocket into space, it's bound to be a learning experience!
Sea Base Aquarium
If you've not had your fill of aquariums while riding Finding Nemo, you may want to check out the Sea Base Aquarium.
This is one of my favorite things to do in Epcot with toddlers as it features over 60 species of marine life.
Including manatees, rays, and dolphins, by the way!
You can easily spend half an hour in here, but you can also head in and out in a few minutes if you're pressed for time.
Just make sure you see Bruce's Sub House before leaving!
Oh, and there's fish feeding at 10 am and 3:30 pm each day which toddlers always find fascinating.
Location: World Nature
Space Base Playground
Space Base Playground is tucked away near Mission Space, and it's an incredible themed playground for little ones.
It's a simple climbing playground, but it's a great way to keep children occupied while one parent is riding Mission Space!
You won't want to spend hours here, but it's perfect for burning excess energy.
Tips for Visiting Epcot with Babies or Toddlers
Strollers are a must as you'll be walking around a lot. Most of the attractions are located quite far apart in different lands, so make sure you have a reliable and comfortable stroller with you.
Epcot has excellent character dining, but it's important to book ahead to avoid disappointment.
It's easy to grab a drink or a snack while you're walking around the pavilions. I suggest stopping when the heat is at its worst (between 1 pm and 3 pm) for a nap and a refuel.
If you can, hit Epcot on weekdays as it's far more popular on the weekends. This goes for almost every park, but Epcot is adored by local adults who want to drink around the world!
If you didn't know, there's an Epcot Baby Care Center that offers private areas for changing and feedings. These are located at all parks, but Epcot's is by the Mexico Pavilion.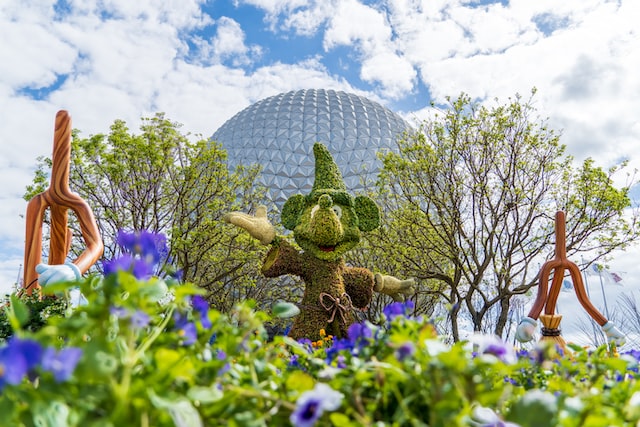 Fun Facts About Epcot and FAQs
Does Epcot have rides for toddlers?
Yes, it totally does!
What rides can a two-year-old ride at Epcot?
They can ride virtually anything without height restrictions. I suggest:
Remy's Ratatouille Adventure
Frozen Ever After
Gran Fiesta Tour
The Seas with Nemo and Friends
Spaceship Earth
Living With the Land
Journey Into Imagination With Figment
Enjoy!
What does Epcot stand for?
It was once called Epcot Center and it stands for Experimental Prototype Community of Tomorrow!
Can you do Epcot in a day?
If you're traveling with toddlers – absolutely. If you're planning to visit as an adult, I suggest allocating at least a couple of days so you can drink around the world.
What time are the fireworks at Epcot?
Disney Harmonious usually runs between 9 pm and 10 pm depending on special events and the time of year.
How early can you park at Epcot?
You can park at Epcot around an hour before the scheduled park opening time. This should give you plenty of time to wrangle your toddlers for rope drop!
There you have it: the ultimate list of the best Epcot rides for toddlers!
Do you have any rides that your tiny tykes enjoyed when they visited Epcot for the first time? Do you have any top tips for parents traveling with young children? I'd love to hear about your experiences in the comments below.
If you loved this post, why not check out a few related ones below?