Are you on the hunt for a ranked list of all the Disney Castles around the world? Read ahead for everything you need to know about these beautiful structures.
Disney parks are magical for many reasons, but nothing makes them more unique than their amazing castles. Whether you're in France, the USA, or traveling through Asia, these Disney castles around the world are bound to take your breath away.
And hey – each one is super unique which gives you a genuine reason to visit them all!
Although it's almost impossible to rank the "best" Disney castles around the world, I'll be taking a stab at it based on factors like size, aesthetic, and "wow-factor".
Most of these structures boast incredible detail, but a few of them have interactive walkthroughs, activities, and shops inside which will boost them in the rankings.
So, are you ready to uncover the most gorgeous Disney castles in the world?
Let's go!
How Many Disney Castles Are There?
There are SIX official Disney castles around the world.
Although there are a few honorable mentions, I'll only be ranking the "main" castles that are in each park!
A List of The Official Disney Castles Around the World
1. Cinderella Castle: Walt Disney World Magic Kingdom
2. Sleeping Beauty Castle: Disneyland California
3. Cinderella Castle: Tokyo Disney Resort
4. Le Château de la Belle au Bois Dormant: Disneyland Paris
5. Castle of Magical Dreams: Hong Kong Disneyland Resort
6. Enchanted Storybook Castle: Shanghai Disney Resort
Although Fortress Explorations at Tokyo DisneySea looks like a castle, it doesn't fall under the official "Disney Castles" umbrella.
My Personal Ranking of Disney Castles Around the World
6. Enchanted Storybook Castle: Shanghai Disney Resort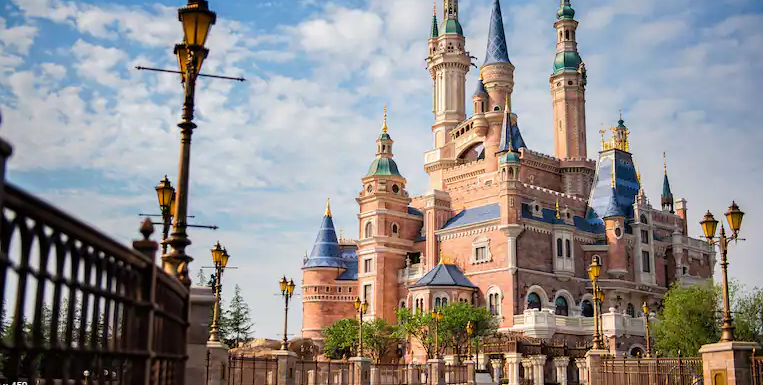 I feel a bit harsh putting the Enchanted Storybook Castle this low on the list as it's so tall and impressive.
But there's just nothing about it that completely blows me away and it's honestly a bit over the top when it comes to size.
Also, it looks the same from virtually every vantage point, which makes photos a bit boring!
While it's undeniably impressive, I've always found it was a bit "cartoon-like" and it just doesn't have that signature Disney feel.
However, don't think it's not worth visiting – it totally is!
Not only is it home to the beautiful Gardens of Imagination, but it's quite interactive as it has a gift shop and a restaurant tucked inside.
Facts about Enchanted Storybook Castle
It's the tallest and largest Disney castle in the world.
In the main hall, you'll spot mosaics of four princess movies to represent the seasons.

These are The Princess and the Frog, Tangled, Brave, and Frozen.

This castle was inspired by Renaissance architecture but also weaves in Chinese stylings like golden peonies.
This castle is featured in the opening credits of the live-action Mulan movie!
5. Sleeping Beauty Castle: Disneyland Resort
This is the OG Disney castle and it was built way back in 1955 in Anaheim.
Although it's super nostalgic and is packed with gorgeous detail, it's quite underwhelming when you compare it to other Disney castles around the world.
Sorry, not sorry!
It's just 77 feet tall and is far less ornate than other castles.
But it does have that classic, old-school Disney vibe that makes it a complete fan favorite.
Oh, and it also boasts a walk-through attraction that gives it a few brownie points.
Facts about Sleeping Beauty Castle
It was built in 1955 and was the FIRST Disney castle!
It's just 77 feet tall, but it still packs a punch.
Like Cinderella's Castle in Walt Disney World, it was inspired by Neuschwanstein Castle in Bavaria.
The castle was used to promote the upcoming film "Sleeping Beauty". It hadn't been released when the building was unveiled!
4. Cinderella Castle: Tokyo Disneyland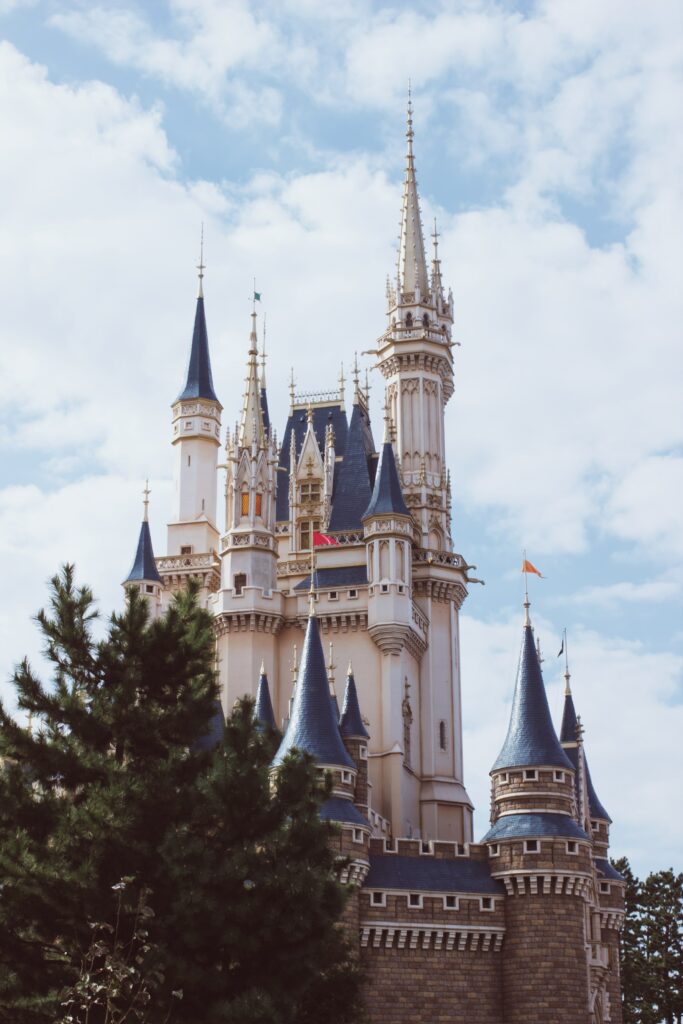 Another castle that's modeled after Neuschwanstein Castle can be found at Tokyo Disney Resort.
It was built in 1983 and stands at an impressive 168 feet.
Now, I think this is one of the most beautiful Disney castles in the world and it's made better with the "attraction factor".
Unlike a few Disney castles around the world, this spot is home to Cinderella's Fairy Tale Hall.
It tells the story of Cinderella and lets you look at her amazing glass slipper along the way!
I almost put this place at #2, but I felt that it wasn't as magical as Walt Disney World's offering as Main Street is covered.
This means you don't get that "OHMYGOD" moment as you approach the attraction from the entrance gates.
It's not a total dealbreaker, but it does shift it down a few spots!
But don't worry. The beautiful nighttime lights, excellent paintwork, and gorgeous bricks still make it a marvel.
So, if you're visiting Tokyo Disneyland anytime soon – you'll want to make a beeline for this beautiful castle!
Facts about Cinderella Castle
Herb Ryman was in charge of the construction of this castle, but none of the team spoke English.

To get around the language barrier, everyone communicated through sketches!

Until 2006, visitors to Tokyo Disneyland could head on the Cinderella Mystery Tour which delved into the lives of Disney villains.
3. Castle of Magical Dreams: Hong Kong Disneyland
I seriously considered putting the Castle of Magical Dreams at #1 as it's just so unique.
But I decided to place it at #3 as the castles clinching the top spots are just oozing nostalgia!
The castle used to look virtually identical to Sleeping Beauty's Castle in Disneyland, which probably would have landed it at #6.
But honestly, the new designs are incredibly impressive and it's become one of the most incredible structures on any Disney property.
The castle is modeled after 13 different Disney princess stories and each turret or spire has a reference to each one.
Think statues of Mushu, Snow White's apple, and Arabic fabric patterns on Jasmine's tower.
Overall, it's an extremely creative feat of Imagineering and makes it deserving of a high spot on my list of Disney castles around the world.
Facts about Castle of Magical Dreams
This castle replaced the original Hong Kong centerpiece in 2020 and is inspired by the 13 main Disney Princess stories.
It's designed to be a beacon of hope and positivity and looks completely different from any of the other Disney castles.
Each tower and spire is modeled after a different princess story.

My favorite additions are the Mushu sculpture and Snow White's apple at the top of separate towers. But you'll probably spot something different every time you visit!

The castle carefully incorporates elements of Chinese architecture.
A Bauhinia flower pattern can be found at the castle's front gates as a nod to Hong Kong.
It's the first reimagined castle in Disney's history and took over 100 Imagineers to bring to life.
2. Cinderella's Castle: Walt Disney World
Cinderella's Castle in Walt Disney World nabs the #2 spot on my list of Disney castles around the world.
This is mainly because it's gorgeous to look at and is right in the center of Magic Kingdom.
But it's also super tall, and just encapsulates that magical and wondrous feeling that Disney is known for.
It's pink and blue with beautiful sparkles that are lit up during the holidays.
This gives it an almost ethereal look that prepares you for the nighttime spectacular.
Inside Cinderella's Castle, you'll find Cinderella's Royal Table, the Bibbidi Bobbidi Boutique, and the Cinderella Castle Suite which is notoriously hard to stay at.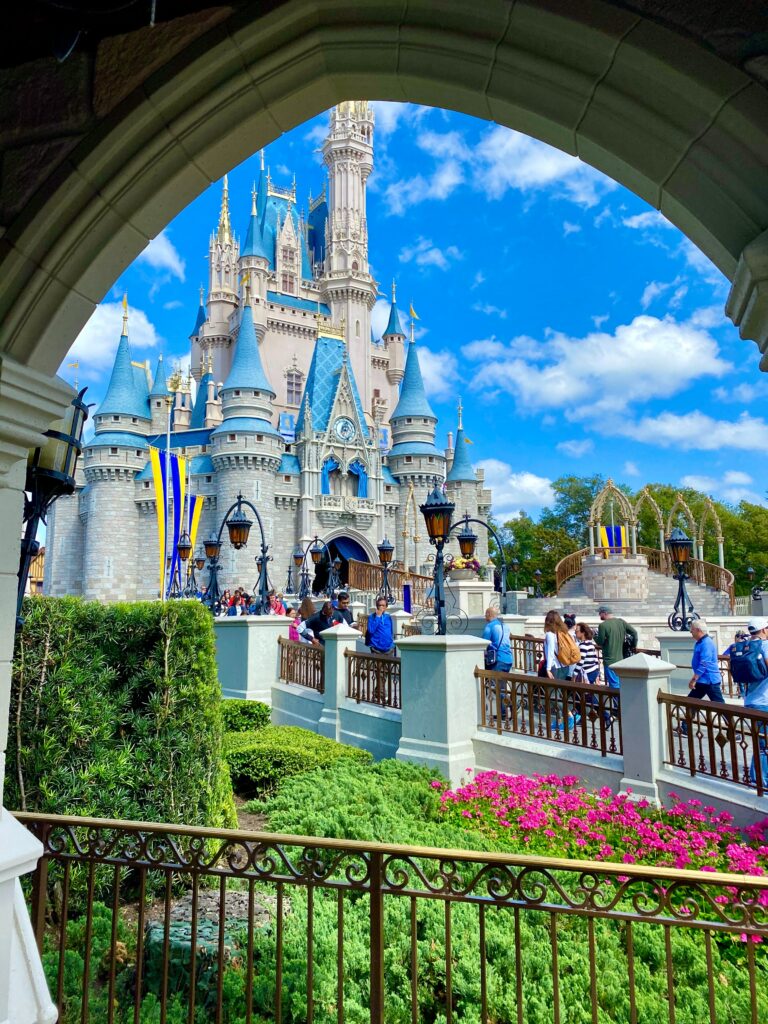 I don't feel that it's quite as interactive as the castle at Disneyland Paris, but it's a wonderful spot for snapping a photograph at any time of day.
Oh, and the castle looks huge as you walk down Main Street thanks to the forced perspective that the turrets offer.
The castle recently underwent a paint job and is now way more vibrant with gold accents.
Although a few die-hard fans didn't love these additions, I'd say that the new pops of pink and the deeper blues are gorgeous.
The only thing I don't like is how inaccessible the castle is.
The drawbridge doesn't rise and you can only walk through the center of the castle.
Considering how large this place is, that's not great.
Facts about Cinderella Castle
It was built in 1971.
It's 189 feet tall and boasts a filled moat that contains 3.37 million gallons of water!
If you step inside the castle, you'll find a collection of beautiful mosaics that tell the story of Cinderella. This was designed by Imagineer Dorothea Redmond and took 22 months to complete with the hard work of 6 artists.
The turrets and spires are designed to pull the eyes upward – this makes the castle look taller!
There are 27 towers in total.
Cinderella's Royal Table is a restaurant that's tucked inside and it's one of the best character dining experiences at Disney World.
1. Le Château de la Belle au Bois Dormant: Disneyland Paris
I might be biased here, but the castle at Disneyland Paris has always been my favorite.
It's possibly because it's the one I grew up with.
But it's also because it's the most detailed and elegant of all the Disney castles around the world.
La Chateau is narrower and taller than other Disney castles and it has gorgeous gold detailing, a striking pale pink body, and deep blue turrets.
Oh, and did I mention the stunning windows at the front of the castle, the drawbridge, and the huge moat?
I'll say that this is probably the most impressive Disney castle in the world as it was designed to impress European visitors.
Europeans are spoiled when it comes to bougie castles and creating a carbon-copy of existing American designs just wouldn't fly.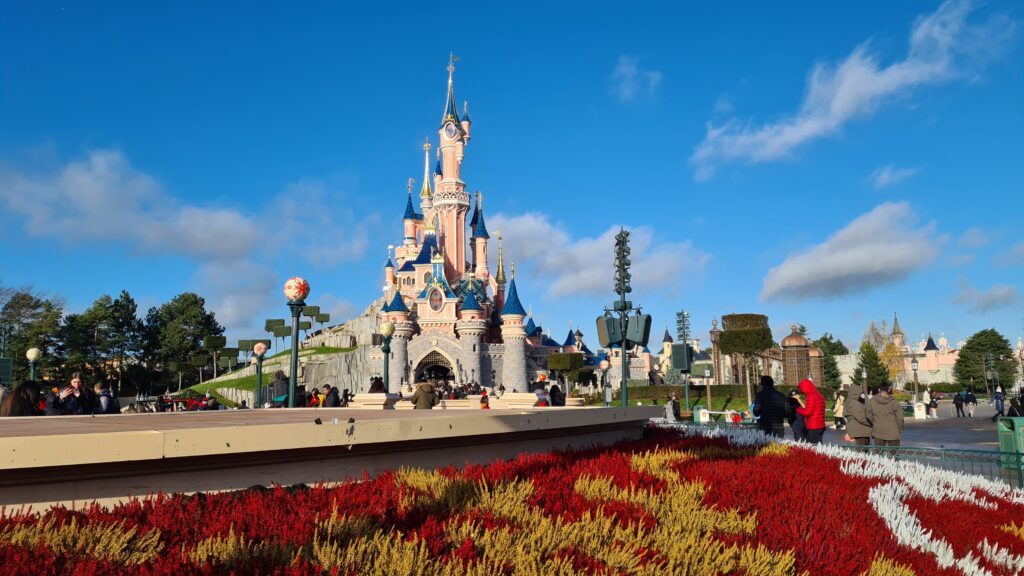 Not only is it beautiful on the outside, but inside you'll find several shops, stained glass windows depicting the story of Sleeping Beauty, and a wonderful view over Fantasyland.
If that wasn't enough to convince you that it deserves top billing, there's an actual DRAGON beneath the castle!
It's an animatronic, but this attraction is unique to the Paris parks and is honestly worth the price of admission.
Facts about Le Château de la Belle au Bois Dormant
This isn't a fact per se, but if you head to the small platform to the left of the castle, you'll be able to get a wonderful shot with no guests in it!
The Disneyland Paris castle is the only one with its own dragon.
The castle is covered in tiny snails.
It's twice as tall as the castle at Disneyland California and is also inspired by the Neuschwanstein Castle in Germany.
The architecture is said to be Gothic-inspired.
The interior pillars are supposedly inspired by the Eglise Saint-Severin which is in Paris.
The castle faces south to make sure it looks beautiful at any time of day (and doesn't have any backlighting!).
If you're walking through the castle, listen closely for guards snoring.
Every turret has a slightly different weathervane on top of it.
An Extra Mention!
Fortress Explorations: Tokyo DisneySea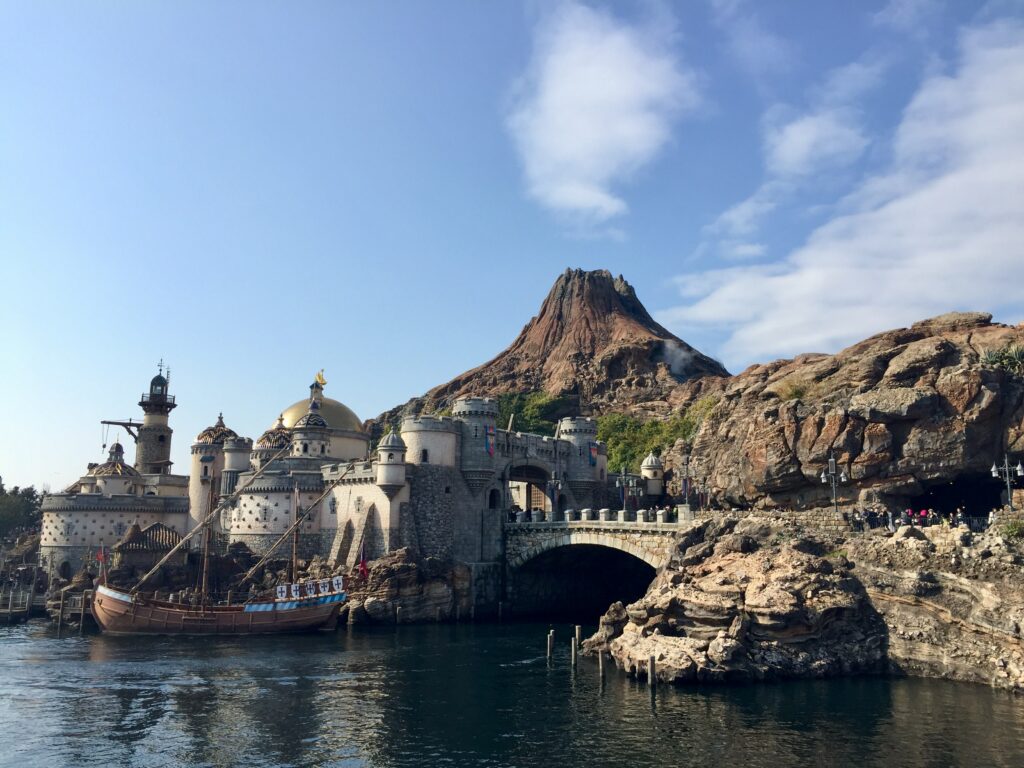 This isn't technically a Disney castle, but I felt Fortress Explorations deserved an honorable mention on this list of Disney castles around the world.
As you can see, it looks completely different from the classic pink and blue Disney castles.
Instead, it's designed to look like an authentic coastal citadel.
Next to the Fortress, you'll spot a large pirate ship that's proudly sitting in the water!
FAQs About Disney Castles Around the World
Where is the largest Disney castle?
Shanghai Disneyland is the largest castle and it looms over the park at 190 feet. It only opened in 2016 which allowed the Imagineers to use modern building techniques to achieve this incredible height.
Which Disney castle is the smallest?
Sleeping Beauty Castle at Disneyland – it's only 77 feet tall!
Whose Castle Is At Disney World?
It's Cinderella's Castle!
Whose Castle Is At Disneyland?
It's Sleeping Beauty's Castle.
It was originally based on Snow White, but the Imagineers used the castle to promote Sleeping Beauty which was released in 1959.
What is Cinderella's Castle based on?
It's based on Neuschwanstein Castle in Bavaria.
The resemblance is quite amazing and you'll spot similarities in the turrets and façades in Florida.
What castle is Beauty and the Beast based on?
You won't find it at any Disney parks, but it's Château de Chambord in France!
It's a Renaissance and Medieval building that was commissioned in 1519 by Francis I.
What is the difference between the Cinderella Castle and Sleeping Beauty Castle?
There are a few aesthetic differences, but Cinderella's Castle is also much taller than Sleeping Beauty's Castle.
It's around 100 feet taller, but the California version uses forced perspective to make it appear larger.
Can you go into Sleeping Beauty's Castle?
Yes! The castle is a walkthrough attraction as well as a backdrop.
Can you stay in Cinderella Castle?
You technically can, but you need to be invited to do so.
Disney will occasionally run competitions to stay in the Cinderella Castle Suite, but it's usually a right reserved for celebrities.
Which Disney castle has a dragon?
Disneyland Paris!
La Taniere du Dragon is an attraction that's tucked underneath the castle and can be accessed through a separate entrance.
How much is a tour of Cinderella's Castle?
If you want a tour of Cinderella's Castle in Disney World, you'll have to go on the "World of Dreams" VIP tour.
This will set you back around $12,000, but you'll also get access to so many cool things for 12 hours.
You can take up to 6 people on the tour which can reduce the cost per person.
There you have it: my ultimate guide to Disney Castles around the world!
Which Disney castle is your favorite? Have you seen them all?
Let me know which castles you love in the comments below and don't be afraid to share your photo-taking tips with everyone!
If you loved this post, why not check out a few related ones?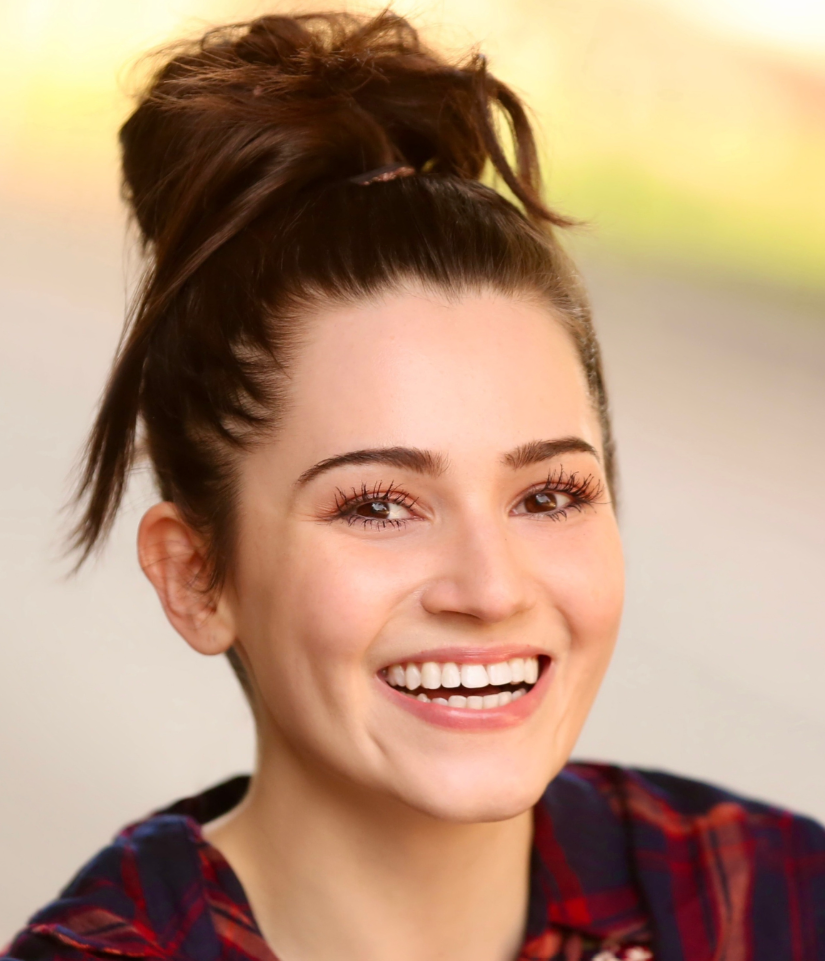 Grace is the creator, editor, and sole writer for Pixie Dust and Passports – a blog that's ALL about Disney! She's made it her life's mission to visit the Disney parks as much as possible and loves trying new snacks, grabbing the latest spirit jerseys, and rocking Loungefly bags. Oh, and she also holds a BA in History from UCL, which makes her a research and deep-dive enthusiast into all things Imagineering.