Are you searching for the best Frozen themed cupcakes to jazz up your next party? Be sure to check out these incredible suggestions.
I'm always on the lookout for Frozen-themed cupcakes to whip up for parties.
They add color and brightness to a dessert table and they please kids and adults alike. Realistically, what more could you want from party food?!
If you can't visit the Disney parks or simply want to whip up some Disney magic at home, I've got you covered. On this list, I have everything from simple snowflake designs to intricate fondant cupcakes that look extremely realistic.
Are you ready to discover some seriously impressive Frozen cupcake ideas?
Let's do this!
Best Frozen-Themed Cupcakes To Try
Queen Elsa Cupcakes
The first Frozen themed cupcakes that you need to try are these Queen Elsa cupcakes.
Elsa is one of the main characters in Frozen, and everyone adores her ability to stay true to herself, overcome fear, and embrace love.
She's amazing if you ask me.
I love how creative you can get with this Frozen cupcake idea. You can keep things simple with cake toppers and blue icing or push the boat out with intricate, themed icing.
As you'll want it to be clear that you're creating Elsa cupcakes, Elsa cake toppers are an excellent idea.
Trust me!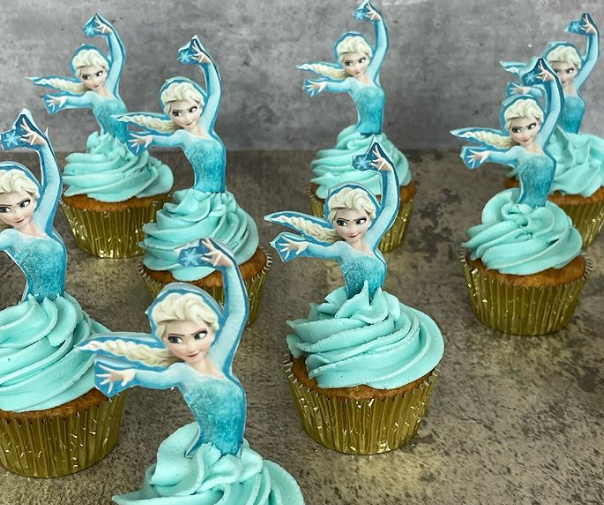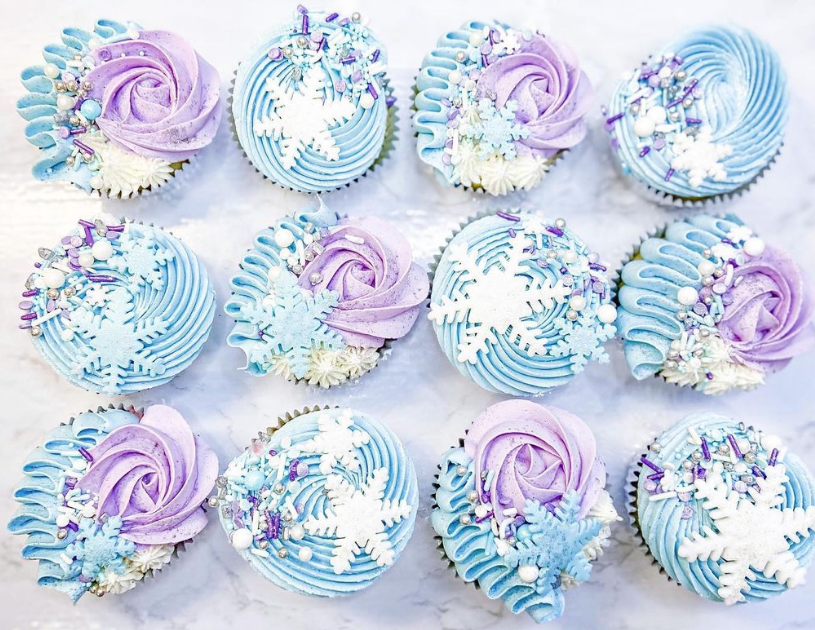 Blue Snowflake Cupcakes
Blue snowflake cupcakes are guaranteed to make your dessert table a thing of beauty.
In fact, you may even start to believe that "Love Is An Open Door" after taking a bite of one of these bad boys.
To get started on these incredible Frozen themed cupcakes, check out Dancing Through The Rain's incredible recipe.
They walk you through how to bake, decorate, and finish your party cupcakes for the ultimate wow factor.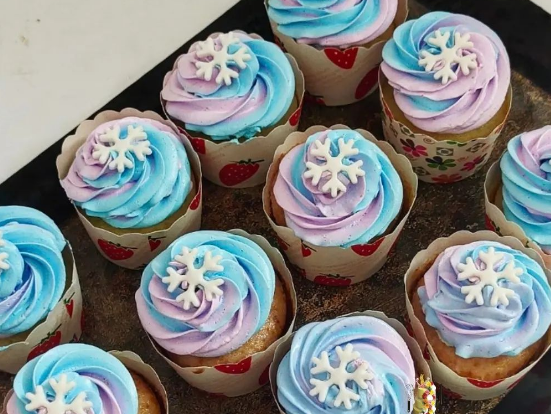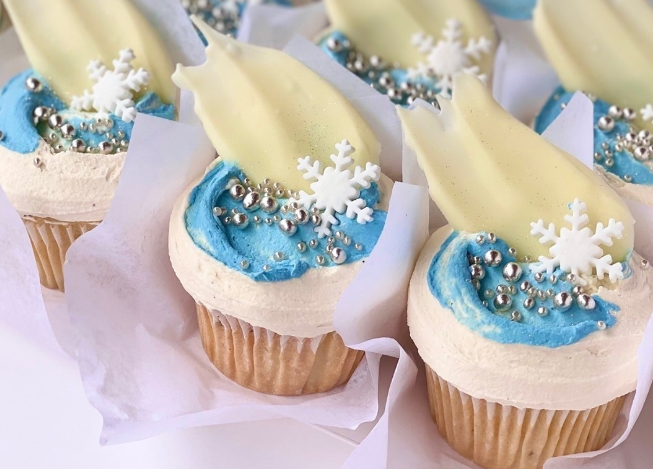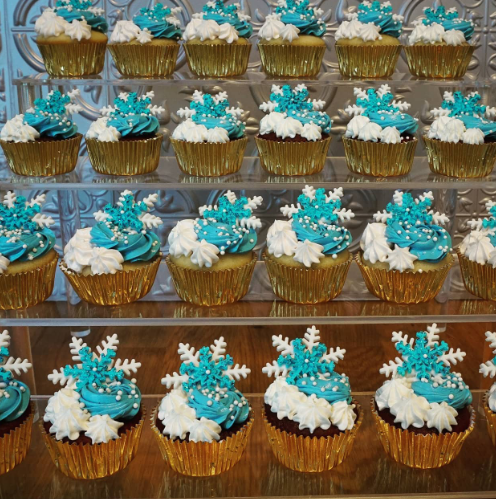 Frozen Vanilla Cupcakes
Frozen vanilla cupcakes are the best way to keep your party table simple but undeniably tasty. If you ask me, that's the perfect dessert combo!
If you don't have a go-to vanilla cake recipe, check out these Frozen vanilla cupcakes from Huang Kitchen.
The recipe walks you through the baking process from start to finish, making this one of the best Frozen cupcake ideas for beginners!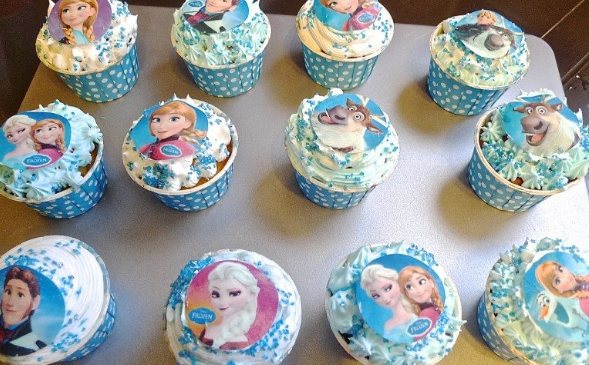 White Chocolate Frozen Cupcakes
White chocolate Frozen cupcakes are probably my top choice for chocoholics.
They're delicate enough that you'll want to grab several from the buffet table, but they're not too light that you won't feel satisfied.
If you're not a natural baker and need a helping hand creating Frozen-themed cupcakes, Plowing Through Life has got your back.
This incredible White Chocolate Frozen Cupcakes recipe pulls together Funfetti cake mix and white chocolate pudding mix for the ultimate moist bite.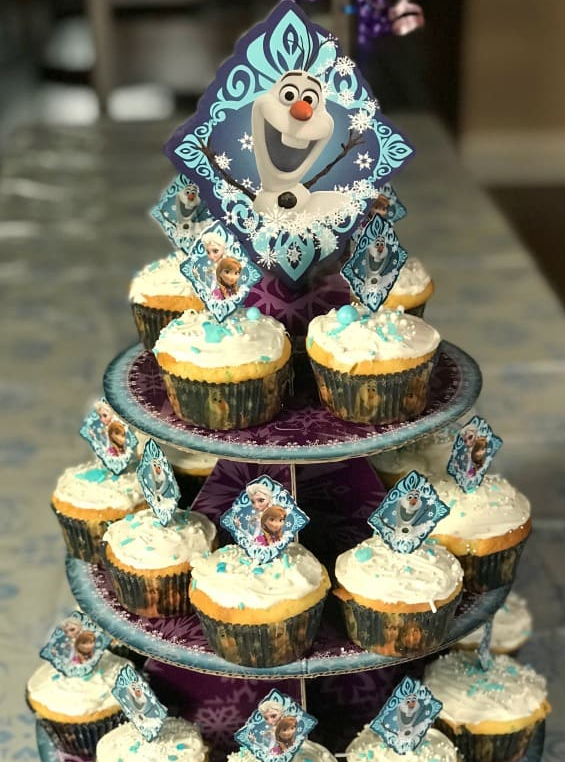 Two-Tone Frozen Cupcakes
Two-tone Frozen cupcakes are a fabulous way to experiment with color for an adult's birthday party.
To bring this Frozen cupcake idea to life, you'll need decent piping bags. Once you have those in hand, you'll want to mix blue and purple icing together to create an amazing ombre-like design.
You can leave the cakes as they are or top them with fondant decorations, Anna and Elsa cake toppers, or colorful sprinkles!
If you're decorating Frozen theme cupcakes for little ones, it's a great idea to pipe their name into the cakes for a personal touch.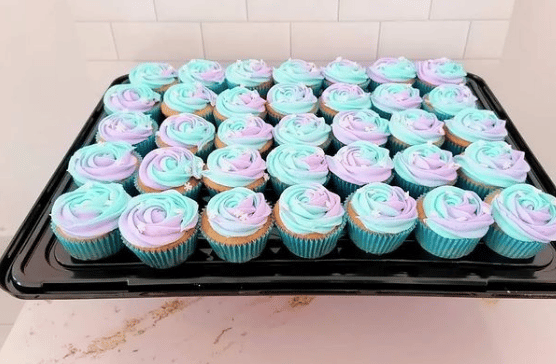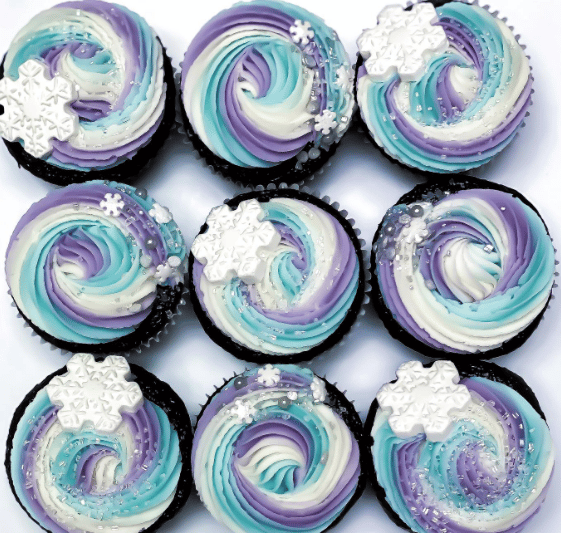 Frozen 2 Cupcakes
Frozen 2 cupcakes became extremely popular after the movie was released, and you can easily bake your own for a special occasion!
We were introduced to a few new characters during the second movie (including the adorable Bruni!). So, don't miss them out when you're decorating your Frozen cupcakes!
You can also experiment with the colors of the elements with this idea as Elsa gains control of her new powers during this flick.
Blues, oranges, reds – you name it, these Frozen 2 themed cupcakes have probably got it!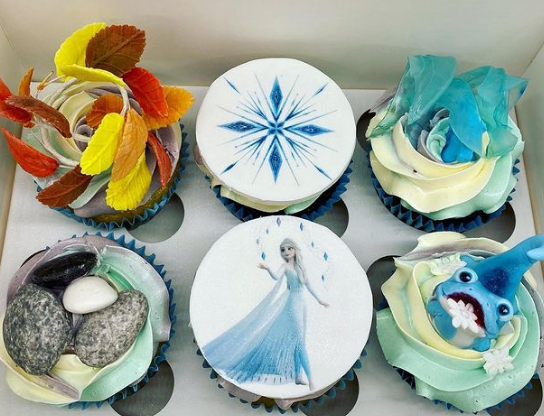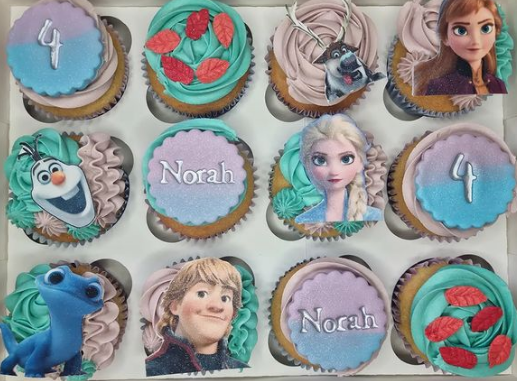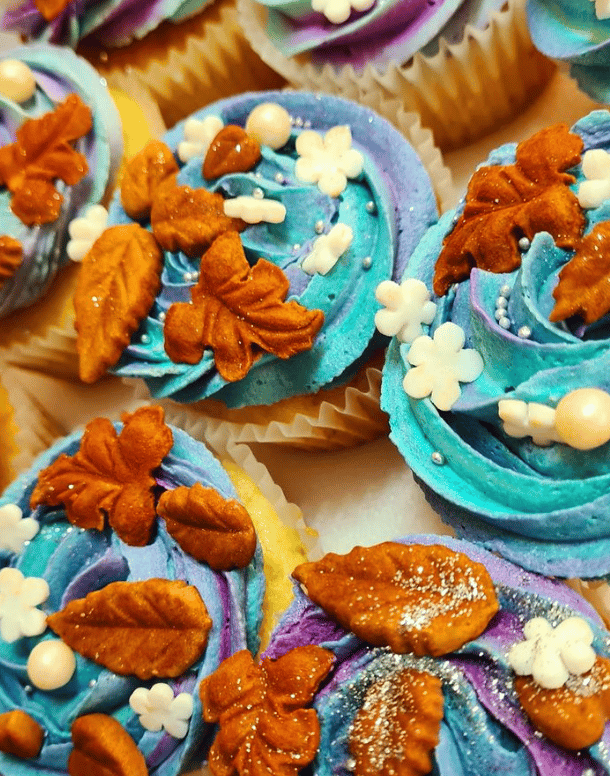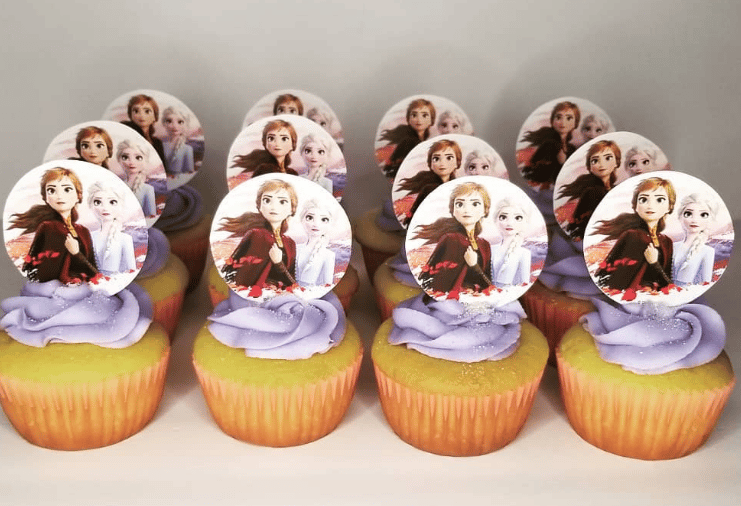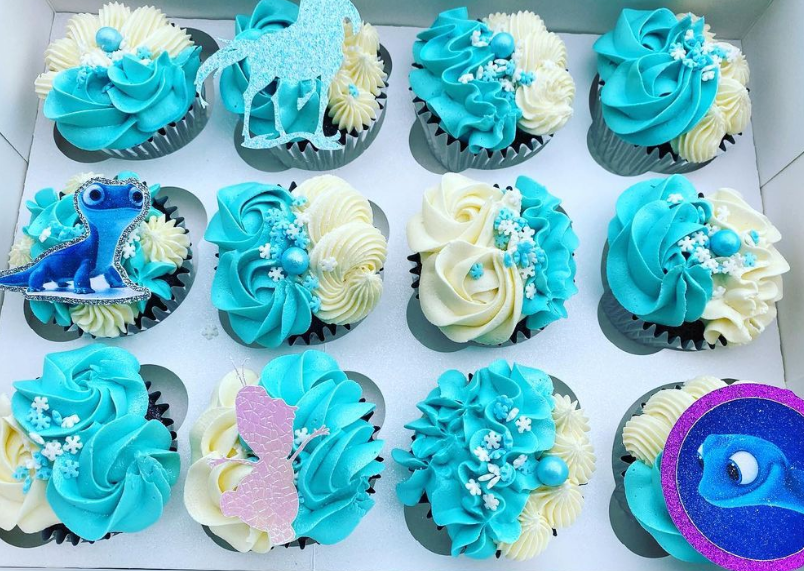 Frozen Birthday Cupcakes
Frozen birthday cupcakes are a cute and creative way to showcase your love for Disney.
Like many of these other Frozen cupcake ideas, you don't have to use cake toppers or obvious character add-ons.
Instead, you can use the magic of color to reference the first or second movie!
I can't get enough of these blue and purple cupcakes. They're delicately piped and use basic "Happy Birthday" decorations that you can pick up on Etsy or Amazon for next-to-nothing.
If you want to dial things up, feel free to add edible portraits of Elsa, Anna, or the movie logo!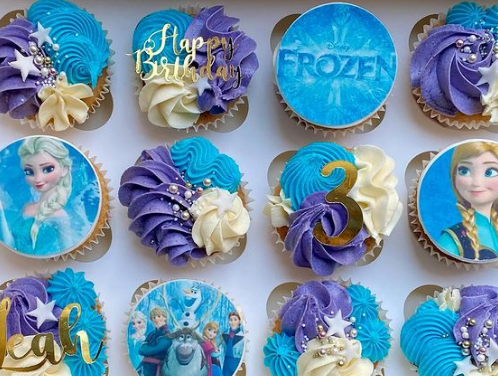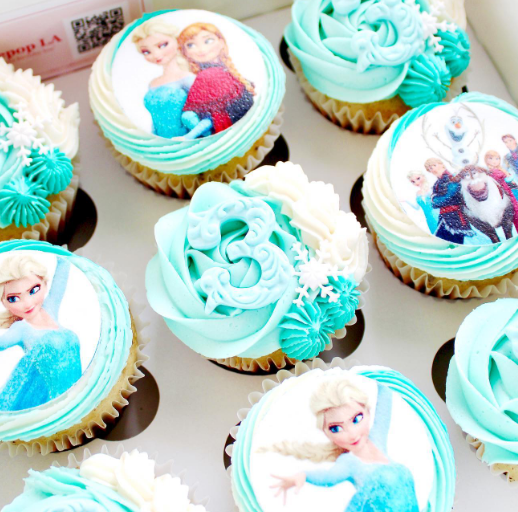 Frozen Fondant Cupcakes
These Frozen fondant cupcakes allow you to get creative with your party food while keeping the magic alive.
What I love about fondant is the fact that you can make seriously impressive designs if you're creatively minded.
Sure, it may take time and effort, but you can do photorealistic portraits of Sven, Elsa, Anna, Kristoff, and anyone else that takes your fancy!
I can't get enough of these adorable Frozen-themed cupcakes from Sugar High.
It's surprisingly simple but will produce Frozen cupcake designs that will certainly wow your party guests.
To get started on these Frozen-themed cupcakes, just check out the video below.
Princess Anna Cupcakes
Princess Anna is one of the most important characters in the Frozen franchise.
So, she totally deserves to be on our list of Frozen themed cupcakes.
Your approach to Princess Anna cupcakes can be as complicated or simple as you like.
I adore this complex piping idea that creates Anna's dress. However, you can also use delicate piping in Anna's signature colors to create a simple but effective cupcake.
If you'd like to try the color-coded cupcakes, Two Sisters Crafting has an amazing how-to guide that has you covered.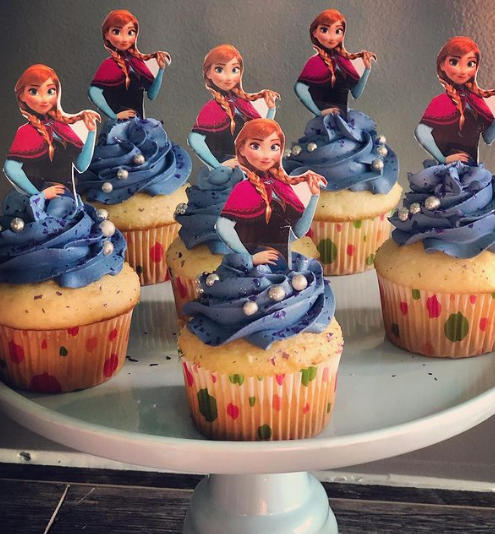 Anna and Elsa Cupcakes
These Anna and Elsa cupcakes are an incredible choice for child and adult birthday parties that need a lift.
Believe me when I say that you can get extremely creative with this idea.
To bring your cakes to life, keep things easy with Frozen cupcake toppers and a few edible silver balls. Otherwise, you can go all-out with colored icing to match each sister and intricate fondant work. It's entirely up to you!
When it comes to Frozen theme cupcakes, the world is your oyster. So, don't be afraid to experiment.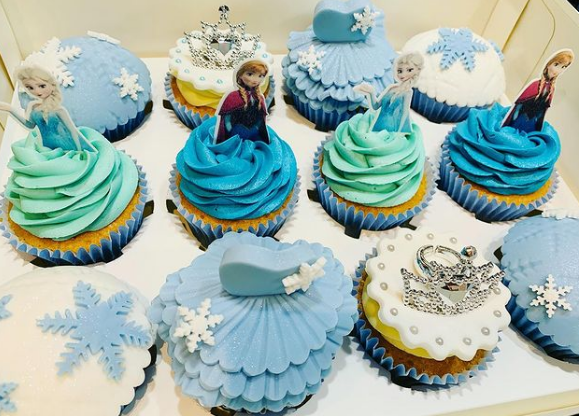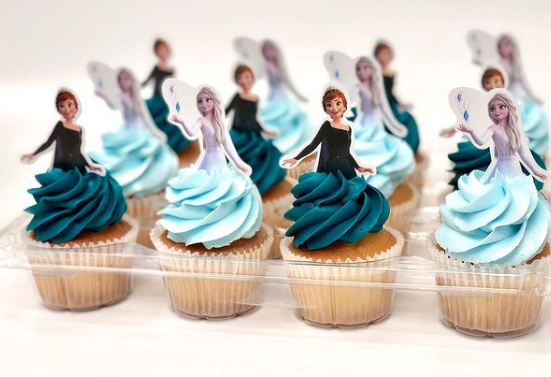 Olaf Cupcakes
Olaf cupcakes are my favorite way to celebrate a Frozen themed birthday party without making Anna and Elsa the center of attention.
I absolutely love these simple Olaf cupcakes from Easy Family Recipe Ideas. They're not super Disneyfied, which makes them ideal for an adult birthday bash.
I also love how the bow mold and two 'ears' end up looking like Minnie Mouse ears!
Oh, and did I mention that the base is just a simple cupcake recipe?
We love to see it.
Cute Frozen Cupcakes
Cute Frozen cupcakes are a wonderful way to spice up a birthday party – and that goes for adults, too!
These cupcakes are made with a simple vanilla base, a bunch of different fondants, and a few finishing touches.
You'll need a delicate hand to get incredible results, but anyone with patience (and a bit of time!) should be just fine.
To make these Frozen themed cupcakes as gorgeous as they can be, refer to guide images regularly to get your proportions right.
Trust me, it'll be worth it.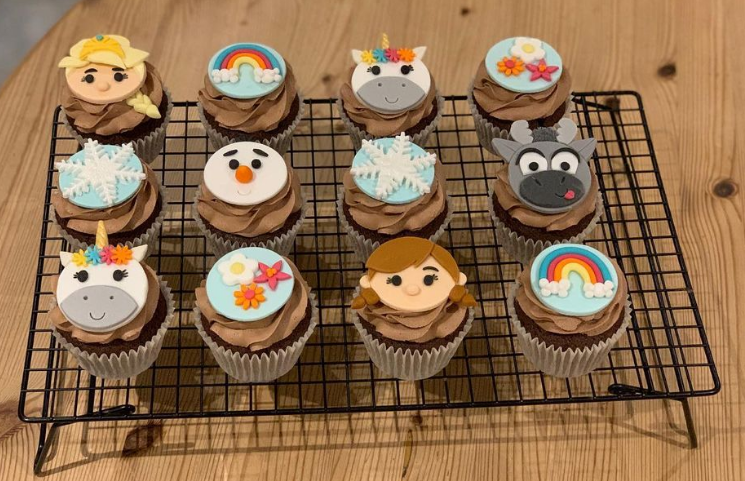 Frozen Cake Pops
Okay, I understand that Frozen cake pops aren't quite cupcakes. However, they're an awesome alternative to regular cupcakes if you're short on time.
These frozen cake pops are extremely simple to make and require just a few ingredients.
If you want to make things as easy as possible, I suggest checking out this recipe from The Soccer Mom. The recipe requires just 3 ingredients, and the result makes a wonderful centerpiece for any dessert table.
Just grab Funfetti cake mix, blue frosting, and white chocolate wafers.
Then, you'll be good to go!
I hope that you loved this list of Frozen theme cupcakes! Whether you're planning to bake for a birthday or a special occasion, these adorable cakes are bound to go down well.
Have you recently made any Frozen themed cupcakes? If so, I'd love to hear about them in the comments below.
If you want to make your Disney party even better, check out these related posts!