When you're visiting the parks, it's crucial that you find the best water bottles for Disney World to stay hydrated. After all, walking around the parks is a lot of work and you'll need to keep downing fluids throughout the day!
It's no secret that Florida is incredibly hot and humid most of the time. And when you're trawling around the parks, it's important that you keep hydrated to replenish all that sweat you'll be losing!
Although you can buy water at the parks, it's incredibly overpriced and will quickly eat into your souvenir budget.
For this reason, I always recommend bringing your own water bottle to Disney World.
Not only will it save you tons of cash, but it's convenient, won't leak, and will make sure you don't become dehydrated or get the dreaded Disney Rash.
Talk about a trifecta!
These water bottles for Disney World are all suitable for the parks. There are sport-lid options, wide-rimmed bottles, and everything in between.
So, you'll be able to find the best bottles for Disney World that suit your needs without the stress of finding the best options yourself!
The Answers to a Few Important Questions
Before we discuss the best water bottles for Disney World, you might want to have a few of your burning questions answered!
From the cost of bottled water at the parks to where you can refill your bottles, these answers have got you covered.
How Much Does Bottled Water Cost at Disney World?
Bottled water currently costs $3.50 for a single 500ml bottle.
When you consider buying a bottle for each member of your party over several days, it's easy to see how this adds up!
Can You Bring Your Own Water to Disney World?
You can absolutely bring refillable water bottles to Disney World to save cash (and the planet!).
If you don't love the taste of water, you can also bring bottles of juice or soda if you prefer. I'd always advise bringing water for the hydration factor – but you do you!
It's best to stick with light and leakproof bottles for Disney World as they're easy to carry in your park bag.
While I get that insulated bottles are great for keeping things cool all day, they'll weigh heavy in your bag as the day wears on.
It's also a good idea to bring cheap bottles that you don't mind getting dented or lost during your trip.
You never know whether someone will leave their bottle at a restaurant or near a ride.
So, don't bring your very best bougie bottle to Disney World!
Where Can I Refill a Water Bottle at Disney World?
There are a few spots around Disney World to refill your bottle, but you'll need to know where to look.
There are refilling spots at:
Hollywood Studios
Galaxy's Edge near the restrooms
In the exit corridor of Millennium Falcon: Smugglers Run
Near the park's Skyliner station
Around Slinky Dog Dash
EPCOT
Near the restrooms at the Refreshment Port
Between Test Track and Mexico's Pavilion
Outside International Gateway
Near Starbucks at the World Showcase
Magic Kingdom
Inside Comic Ray's Starlight Café
Animal Kingdom
Around Pandora in the queues for Flight of Passage and Na'vi River Journey
Around Expedition Everest
Jambo House Playground
There are water refilling stations outside of a huge number of restrooms at Walt Disney World.
There are also several quick-service locations with water fountains. If you can't find any at a quick-service station, just ask for a cup of water at the counter (it's free!).
I also recommend bringing along water filtration tablets or getting a filter bottle if you want to make things taste slightly better.
But all the water at Disney World is 100% drinkable, so don't worry about it!
The Best Water Bottles for Disney World
Best Insulated Water Bottles for Disney World
Simple Modern Summit Water Bottle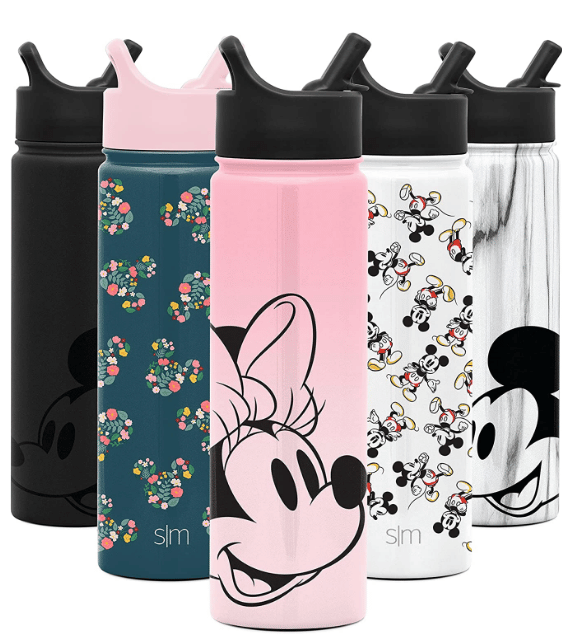 This Simple Modern Summit Water Bottle is an excellent choice if you're a fan of insulated bottles.
Not only does it include a BPA-free straw for safe drinking, but it's dishwasher safe and leakproof.
Oh, and did I mention that it keeps beverages warm or cold for several hours thanks to Double Wall Insulation?
But I haven't even mentioned my favorite part.
This is one of the best water bottles for Disney World as it's just so themed.
From the adorable Mickey Mouse patterns to artsy images of Minnie, you're bound to agree that this is one of the water bottles for Disney World that's worth a second look.
Hydro Flask
If you're on the hunt for reliable water bottles for Disney World that you can use in and out of the parks, check out the Hydro Flask.
This water bottle is a classic for a reason as it promises to keep your drinks cold ALL DAY.
And trust me when I say that it's going to be a godsend when the summertime heat hits in Florida.
Not only is it extremely affordable (it's usually between $25-30), but it fits perfectly inside most park bags.
I recommend choosing the smaller version of the Hydro Flask as it'll fit inside a few Loungefly backpacks.
But if you're guzzling water all day long, the jumbo size is probably a better option.
Takeya
This is one of the best water bottles for Disney World, and I brought it with me on my last trip after picking it up at TJMaxx!
The Takeya Bottle is an extremely popular pick as it's made from food-grade stainless steel that's designed to keep drinks cold or warm for hours.
Better yet, it has a completely leakproof seal and is incredibly easy to clean at the end of the day.
You can purchase this water bottle in several different sizes, but I suggest going for the 500ml version if you want to carry it around.
Thermoflask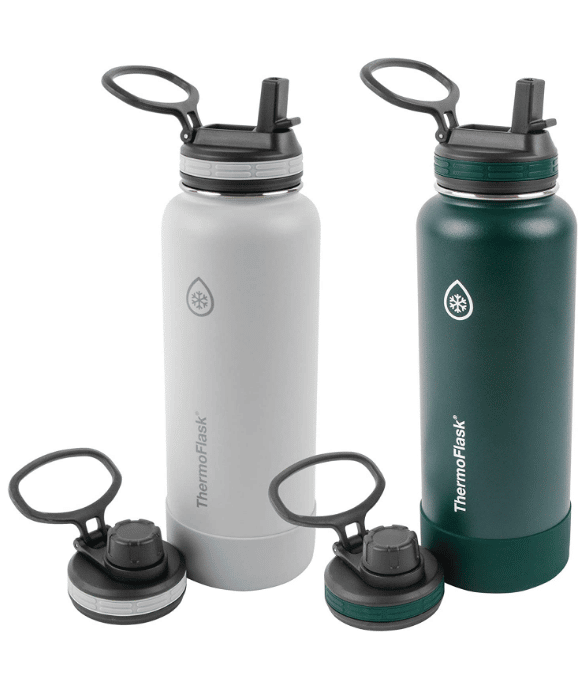 If you're on the hunt for the best bottles for Disney World that are leakproof and insulated, the Thermoflask is ideal.
This bottle has an incredibly durable straw that's easy to clean. But you can also drink from that main opening if you're not a fan of straws.
To make things even better, this stainless steel flask will keep everything from juice to soda cold for 24 hours!
Best Filtered Water Bottles for Disney World
Epic Bottle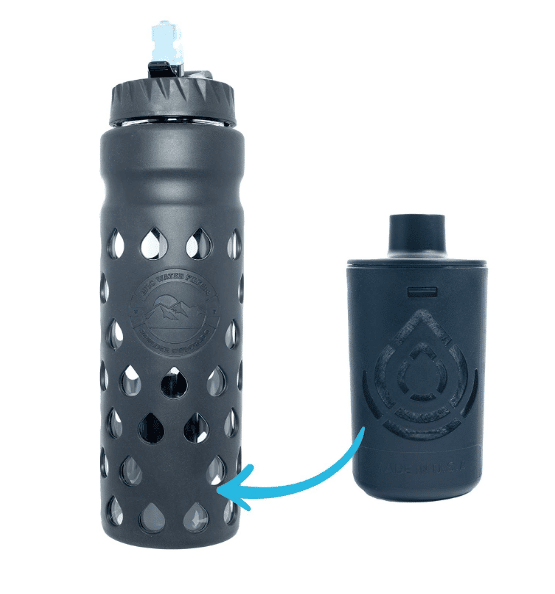 The Epic Bottle is a reliable water filter system that fits into the top of Nalgene bottles.
They help you avoid single-use plastics and make tap and fountain water taste incredibly delicious.
The filters are all made in the USA, and you can grab bottles with distinctive patterns to showcase your individuality as you sip.
If you'd prefer to use the filters with a Hydro Flask, there's an attachment you can use for that bottle too!
Talk about a jack of all trades.
Brita Bottle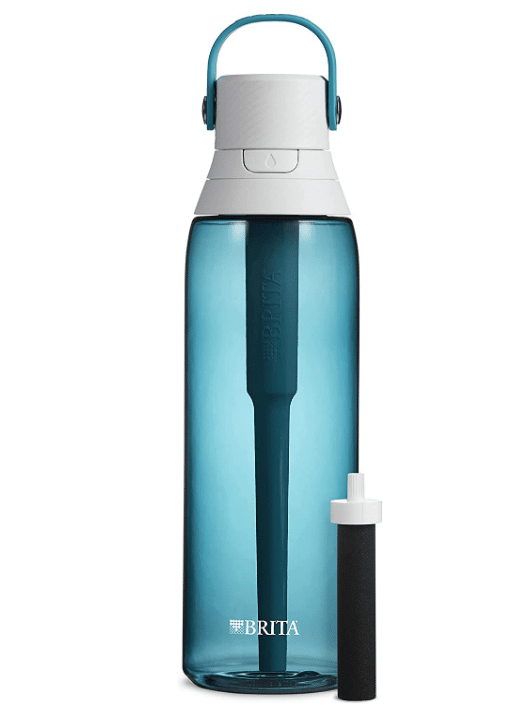 If you haven't heard of Brita bottles, you've probably been living under a rock.
These bottles are some of the most popular filter bottles on the planet and they remove any tastes from tap water that you might not like.
The Brita Filtering Water Bottle is a beautiful 768ml option that will keep you hydrated all day long.
Although it's slightly larger and will only fit in regular-sized backpacks, it's incredibly lightweight, BPA Free, and comes with a handy straw!
Best Themed Water Bottles for Disney World
S'well Water Bottle
S'well is one of the best brands on the market for insulated and themed water bottles for Disney World.
This Minnie Mouse Bow Bottle is one of my all-time favorites, as it keeps drinks cold for 24 hours and hot for 10!
To make things even sweeter, the opening of the bottle is just the right size for ice cubes.
So, you can enjoy ice-cold water all day long!
As this is one of the water bottles for Disney World that holds around 15 ounces, it's the perfect size for slotting into a backpack.
Best Lightweight Water Bottles for Disney World
Nalgene EH Sustain
Nalgene water bottles are among the most popular options on the market.
These incredibly lightweight bottles come in over 15 different colors to suit your family's tastes.
And to make things even sweeter, the screw cap and small nozzle make drinking incredibly easy.
Oh, and don't worry about spillages either. The legendary seal means that it's leakproof and designed for throwing into backpacks!
Whether you go for the lovely lilac color or the vibrant orange, this is one of the best water bottles for Disney World by a mile.
Nefeeko Collapsible Water Bottle
Sometimes, there's nothing like a collapsible bottle for your park bag for saving space and keeping things light.
This Nefeeko Collapsible Water Bottle is a complete gem when you're visiting Disney World as it's just so lightweight.
I love shoving this inside my Loungefly backpack and then refilling it once I'm inside the parks.
And once I've chugged that glorious bottle of water? I can collapse it and toss it in with the rest of my stuff!
To make things even better for families with kids, these bottles are completely shatterproof (ideal for tiny butterfingers!).
Hydration Bladder
If you're a family of Disney-goers who take hydration seriously, then you'll want to grab a Hydration Bladder.
These water bottles from Bubuxy are technically camping must-haves that are suitable for hikes and long trips.
But there's nothing to say you can't strap one of these bad boys to your back and drink as you're waiting in line.
No fuss – just grab the straw and sip!
They're also among the cheapest water bottles for Disney World and are entirely leak-proof as they have an ON-OFF valve.
If that wasn't enough to convince you, they can hold anywhere between 1.5 liters and 3 liters. So, they're a great choice if you don't want to constantly refill during the day.
I hope that this list of the best water bottles for Disney World has helped you plan your next trip to the House of Mouse!
As you can see, there are tons of amazing bottles for Disney World that'll keep you cool and hydrated throughout the day.
Have you got any bottles that made your last trip to the park a rousing success? I'd love to hear about them in the comments below.
Related Posts: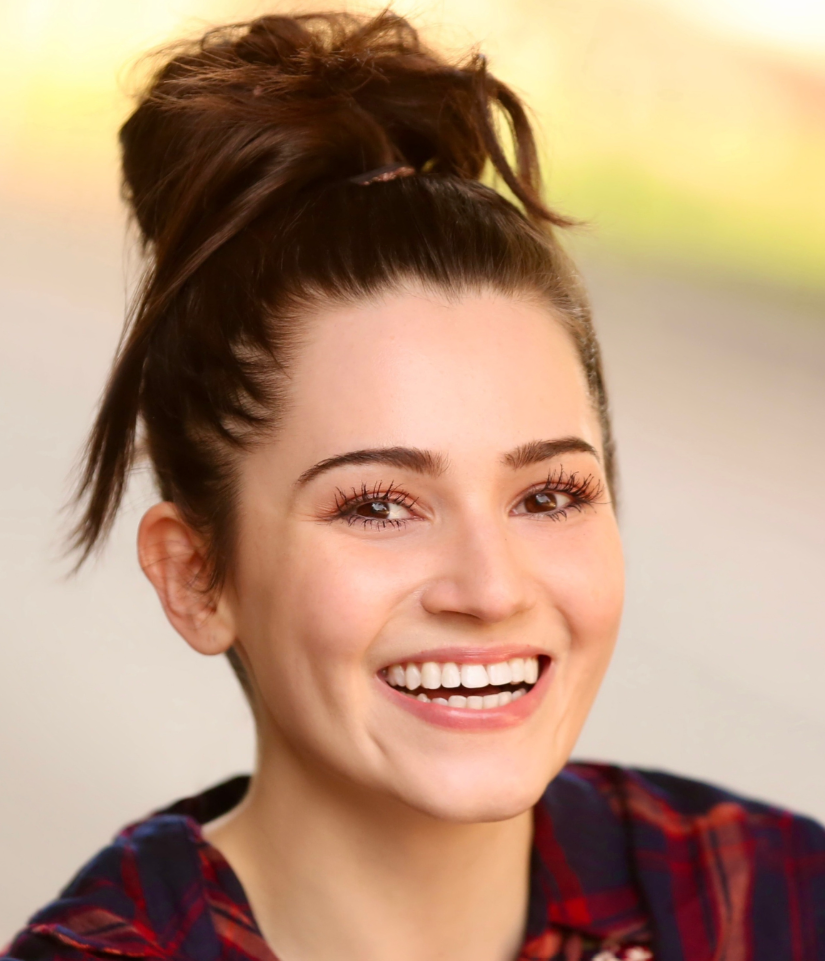 Grace is the creator, editor, and sole writer for Pixie Dust and Passports – a blog that's ALL about Disney! She's made it her life's mission to visit the Disney parks as much as possible and loves trying new snacks, grabbing the latest spirit jerseys, and rocking Loungefly bags. Oh, and she also holds a BA in History from UCL, which makes her a research and deep-dive enthusiast into all things Imagineering.