Have you been looking for a full list of abandoned Disney World attractions that are no more? Join me as I run through the rides and attractions that closed or were otherwise scrapped over the years!
If you're a mega-fan like me, you may want to dive into Disney World's iconic history.
Now, I'm always down for learning more about existing rides.
But believe me when I say that the abandoned Disney World attractions are just as fascinating.
It's no secret that Disney repurposes and rejigs attractions to match modern interests (hello, Splash Mountain/Tiana's Bayou Adventure!).
However, Disney occasionally scraps attractions and concepts that just aren't working or cause major problems to guests.
And that's where I come in.
In this rundown of abandoned Disney attractions, we'll look at old-school rides that were closed or scrapped for one reason or another.
If you're wondering why these attractions couldn't stand the test of time, just keep reading!
9 Abandoned Disney World Attractions
Discovery Island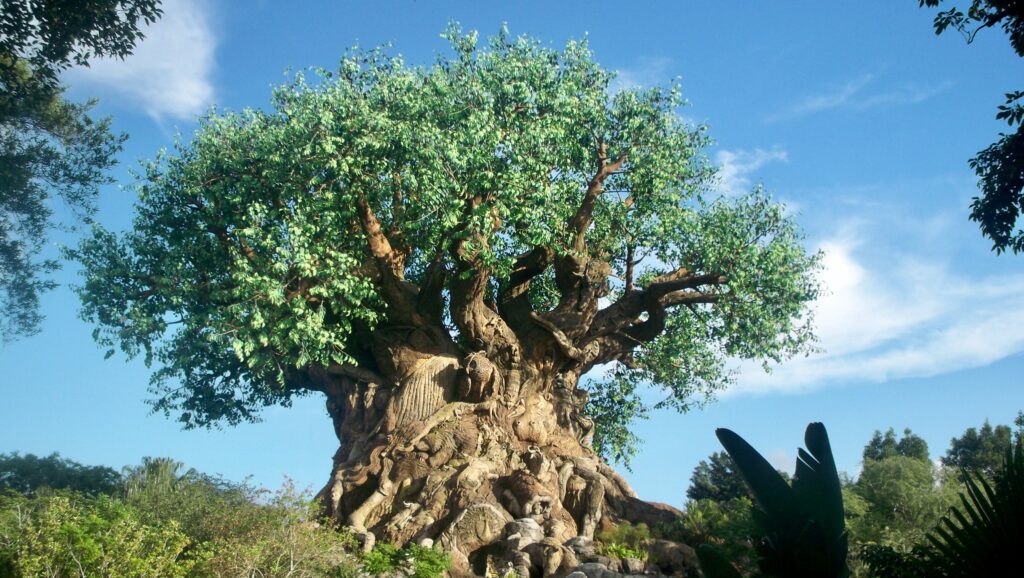 To kick off this list of abandoned Disney World attractions, it's Discovery Island.
This is probably the most prolific scrapped attraction as it was a full land that was designed to replicate Treasure Island.
Yep, we're talking about the Robert Louis Stevenson novel/movie!
It first came to life as an 11.5-acre bird sanctuary and play area in 1974, giving guests the chance to see various animal species.
It housed an impressive 150 small birds and mammals.
But it was said that Disney wasn't particularly up-to-scratch on the actual care of the animals. In fact, it even received allegations from Federal officials for animal cruelty – yikes.
Later on, the name was changed to Discovery Island where admission was charged separately.
Attractions included Parrots Perch, Monkey Colony, and Pelican Bay (which included training shows).
It finally closed its doors on April 4, 1999 when it was moved over to Disney's Animal Kingdom.
Well, not the concept per se, but the animals were!
With so many animals available to guests on Kilimanjaro Safari and other rides, Discovery Island was kind of unnecessary.
Since it closed, it's been virtually untouched and is unavailable to visitors.
If you DO want to see it though, you can try and catch the monorail. It's visible from several spots along the journey along with Wilderness Lodge and the Contemporary Resort.
There have been a few people who have checked out the island over the years. But as it's considered trespassing, I really wouldn't advise doing this.
If you're curious though, you can look up photos and videos from trespassers.
The Island looks incredibly derelict and abandoned, and it's super weird to see a completely disused space at Disney World.
You might spot Discovery Island in the movie Treasure of Matecumbe from 1976. It was used to represent Florida Key!
Body Wars: EPCOT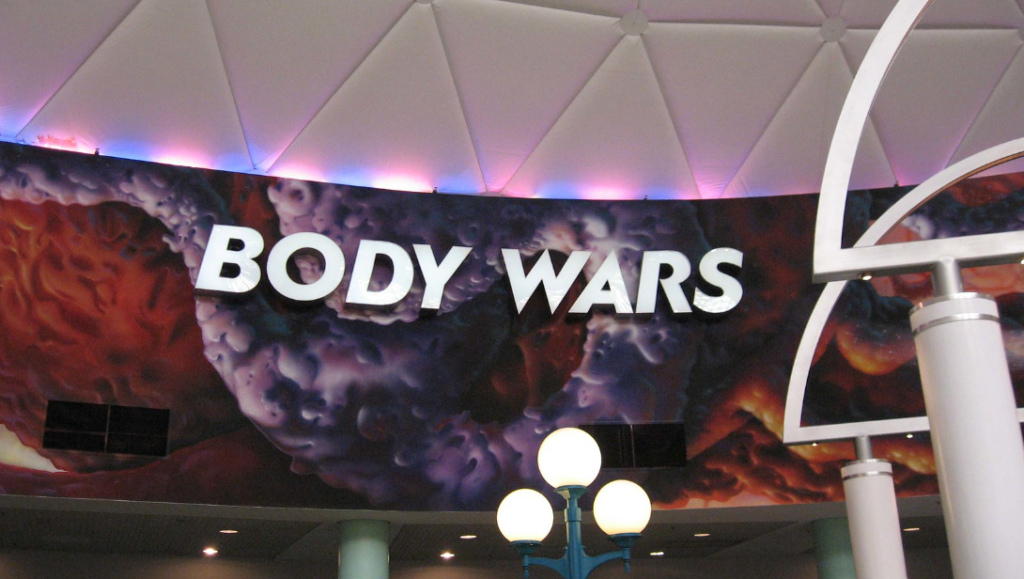 If you're on the hunt for abandoned Disney World attractions, then Body Wars is something that's bound to interest you.
Now, it's slightly weird – but it could have been wonderful if it came to fruition.
EPCOT was originally meant to have a Health Pavilion worked into its structure alongside the World Showcase.
It never properly came to fruition, but Body Wars was supposed to be THE major attraction on offer.
Riders would board a realistic simulator that would take them through the human bloodstream.
The ride mechanism would be similar to what you see in Star Tours, but you'd be sailing through veins and arteries.
You know, instead of outer space.
Okay, so it DID open to the general public on October 19, 1989 but the wait times were nuts at around 90 minutes.
Plus, Star Tours opened just 2 months later to much better reviews (Body Wars caused major motion sickness!).
Although the Wonders of Life Pavilion stayed open until 2007, Body Wars was operating on a seasonal basis.
And honestly, it just wasn't popular enough to stay afloat!
What happened on the ride?
In case you were wondering, the ride would take you into vehicle Bravo 229.
This shrinks you down to the size of a water droplet.
You'd be on a mission to destroy a splinter (yep, really) and would see white blood cells heading to the site.
Once you got to the splinter, you'd get pulled into a capillary, head into the right ventricle of heart, before entering the lungs.
And this is where the doctor you're with (Cynthia Lair) would be attacked by a white blood cell.
It's all very intense as you can imagine.
Once the captain of your ship frees the doctor with a laser, you exit through the left atrium to the brain.
You'd be able to get around 40 riders into a single vehicle, and the ride duration was around 7 minutes.
It wasn't a bad ride, but I can see why it's one of the abandoned Disney World attractions!
THEN, you'll regain power and return to your regular size outside of the body (AKA: that's the end of the ride!).
Cranium Command: EPCOT
Believe it or not, Cranium Command is actually relatively similar to Body Wars – it just came first!
This attraction first burst onto the scene in 1989 and was also part of the Wonders of Life Pavilion.
The pre-show length was 5 minutes, while the total ride duration was 17 minutes (so, it was a good length!).
Instead of being a motion simulator, this ride was a basic theatre show that aimed to showcase the human brain.
The humorous script was written by staff writer Jenny Tripp and revolved around the mind of a 12-year-old boy.
General Knowledge was the primary narrator (who was voiced by Corey Burton!) and aimed to keep our boy out of trouble.
Yup – it's kind of giving Inside Out vibes, right?
The theatre was designed to look like the human head, placing the 200-or-so guests inside the brain.
The navigation soldier "Buzzy" was represented by an animatronic, but you also had the stomach, bladder, and Adrenal Gland here.
The show itself would take you through the boy's average day.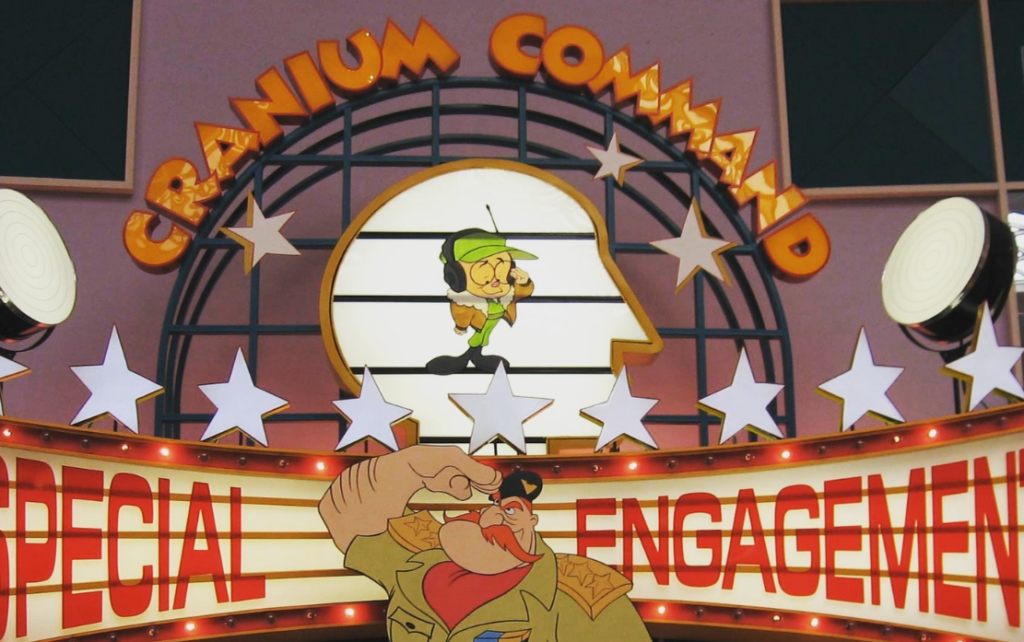 From waking up to taking the bus and getting a first crush, it was all relatively simple.
But the main thing of note was that General Knowledge would tell Buzzy how to guide the boy and deal with new situations.
Although it was surprisingly popular, it closed in 2007 and shows no signs of reopening.
You can still see the remains of the Pavilion around EPCOT though – there's just no public access.
There's no saying what will happen to this abandoned Disney World attraction once the Play! Pavilion opens.
I guess we'll just have to wait and see!
Making of Me: EPCOT
You can see that the Wonders of Life Pavilion got a seriously raw deal, as it includes several abandoned Disney World attractions.
Including Making of Me which opened on October 30, 1989!
This is a film that was all about conception and birth, so you can see that it may have ruffled a few feathers.
It starred the wonderful Martin Short who tells the story of how children are conceived.
It goes through fertilization, fetal development, and birth in an easy-to-digest and animated style.
As you might expect, the view was that the film "may elicit controversy". For this reason, there was an advisory warning outside the theater aimed at parents.
There was nothing untoward in the film itself, but it wasn't exactly a smash hit.
Along with the other abandoned Disney World attractions from Wonders of Life, this one closed in 2007.
The theater is still used to screen short films though!
River Country
River Country preceded Blizzard Beach and Typhoon Lagoon as Disney World's very first water park.
It was tucked along the edges of Bay Lake near Disney's Fort Wilderness Resort and was designed to look like an old-school swimming hole.
Yep – with a rustic wilderness theme that featured man-made boulders, trees, and everything in-between.
There was also an artificial lagoon, a Slippery Slide Falls attraction, and a clean-water pool.
Oh, and don't forget the 330-foot-long inner tube river (otherwise known as White Water Rapids!).
Although it wasn't bad, several people died at River Country over the years.
It wasn't inherently dangerous, but there were a couple of drownings and a death related to a brain amoeba infection.
So, it wasn't ideal for the Walt Disney Company's image.
River Country remained open even after Typhoon Lagoon and Blizzard Beach opened in 1989 and 1995.
But as it was less popular than both parks, it eventually closed permanently in 2005 (after closing in 2001 indefinitely).
It wasn't demolished, but was gradually reclaimed by the surrounding forestry and lies abandoned.
Mike Fink Keelboats: Magic Kingdom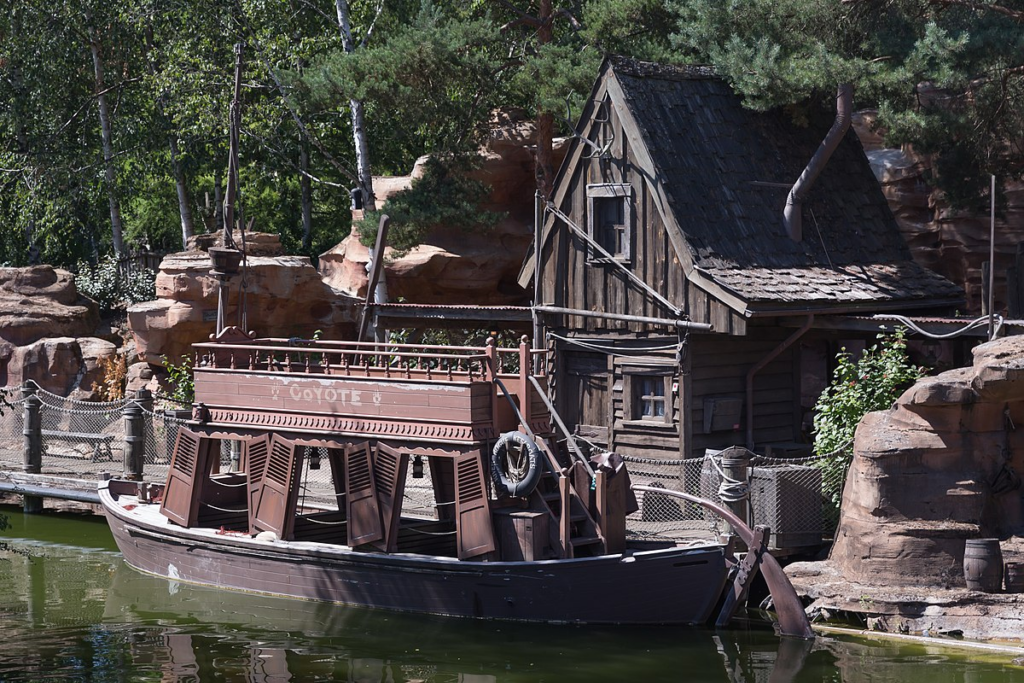 The Mike Fink Keelboats have been a Disney attraction since launching in Disneyland California.
But as this is a post about abandoned Disney World attractions, we'll be focusing on the Liberty Square boats!
The free-floating boats were designed to travel around the Magic Kingdom (sailing out of Liberty Square).
Although they were quite popular as a relaxed ride, they had several issues.
The boats were known for rocking side to side. As a result, there was an incident in Disneyland where a boatload of passengers was tipped over in 1997.
Many of the passengers were injured, which led to the Gullywhumper and Bertha Mae boats being removed from operation.
After this, they simply never reopened at Disneyland.
At Disney World, they operated seasonally until the attraction closed on April 29, 2001.
There IS a Mike Fink Keel Boat displayed as a prop on Tom Sawyer Island, but you won't see them floating around anymore.
And I'm sure they're not coming back, as the mooring dock has now been repurposed into a Haunted Mansion queue line.
The Skyway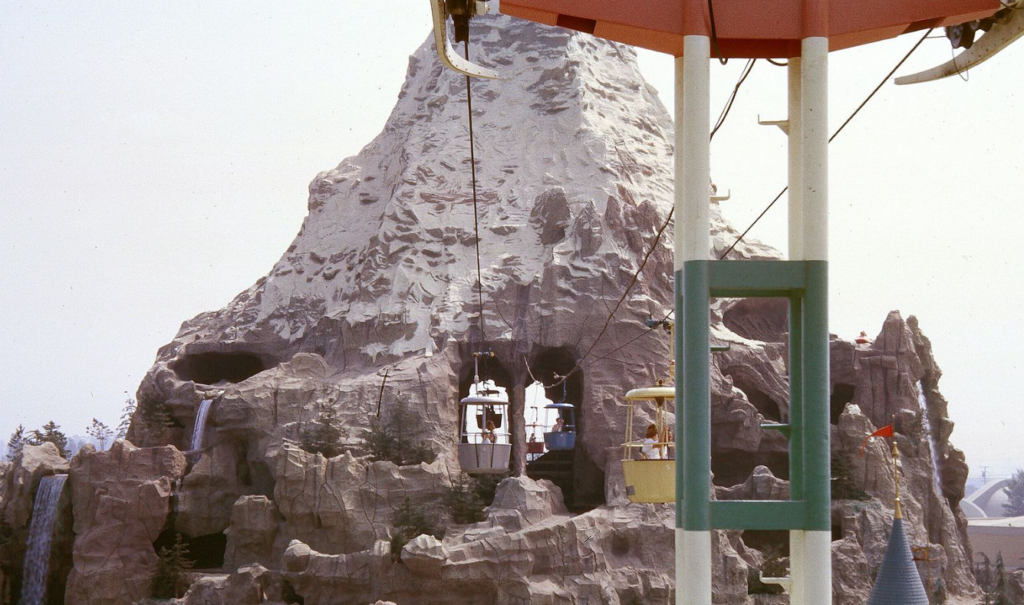 We all know about the current Skyliner, but the Skyway is one of the abandoned Disney World attractions you should know.
It opened along with the parks in 1971 and was pretty expensive to operate (which is part of the reason it closed!).
Plus, it wasn't a high-capacity ride and the lines always moved quite slowly.
There were two routes that took guests from Skyway to Fantasyland and from the Skyway to Tomorrowland.
It was a fun way to get an aerial view of the Magic Kingdom until 1999 when it was removed.
This wasn't because it was unpopular, but it had to be eventually demolished when Space Mountain was renovated.
As a result, we said goodbye to the Tomorrowland Skyway in the summer of 2009.
The Fantasyland section remained intact until 2012 when it was removed and replaced by a Tangled bathroom area.
If you want to see what the old-school Skyway carriages looked like, there are a few gondolas at the DisneyStyle store!
The Walt Disney Plane
Okay, so this may not be an attraction, but Walt Disney's abandoned plane totally deserves a place on this list.
It's said that "The Mouse" was used by Disney for a whopping 28 years before being grounded.
This personal aircraft (the Grumman G-159 Gulfstream 1) has been sitting outside of Disney Studios in Florida for years.
It's in a service area near Animal Kingdom, but it's literally starting to fall apart from disuse (and attacks by moths!).
It's supposedly being moved to the Palm Springs Air Museum and being restored after being displayed at the D23 Expo in California.
So, it's not quite as abandoned these days!
BONUS: The Legendary Years at Pop Century
Pop Century isn't an abandoned attraction by any means.
But this hotel was meant to look VERY different initially – and that relates to the Legendary Years section of the resort!
Although Pop Century is all about guiding you through different iconic decades, there was meant to be MORE.
If you visit now, you'll see inspiration from the 50s to the 90s dotted around the resort.
But the original plan was to have a section of the hotel dedicated to the 1900s – 1940s.
The buildings were constructed, but they lay empty after the plan was abandoned. You'll now know these buildings as part of the Art of Animation Resort!
You may feel some kind of way about this, but I honestly love Pop Century as-is (so I'm not too pressed!).
There you have it: the ultimate guide to abandoned Disney World attractions!
As you can see, many of the abandoned Disney World attractions were closed for renovations or lack of interest. There really isn't anything that was closed because of inherent dangers (phew!).
Have you been lucky enough to visit any of these old-school attractions? Do you wish any of them fully came to fruition? I'd love to hear your thoughts in the comments below!
Related Posts: