Although it's meant to be one of the best-kept Disney secrets, Club 33 has always been one of the most talked-about places at Disney World.
Despite opening in 2017 (which really wasn't that long ago!) it's already becoming the hottest ticket in town.
Do you know what Club 33 Disney World is? Perhaps you want to know how to join this elite establishment. Or maybe you're wondering how much it costs to be part of this infamous club.
Whatever your questions are, I've got all the answers!
So, sit back, grab a signature cocktail, and learn everything you need to know about Club 33 at Disney World!
What is Club 33 at Disney World?
Before I discuss anything else about Club 33, let's find out exactly what it IS!
Walt Disney created Club 33 as a Disneyland-only, exclusive membership club in 1967.
He always believed that Disney Parks should be for everyone. But that didn't mean he'd forgotten how crowded and overwhelming the parks could be!
Walt built the parks for the people, but he understood that he'd frequently be dealing with investors, folks from the film industry, and elite-level guests.
So, he understood that these folk would be looking for somewhere decidedly fancier to settle in than bustling Main Street.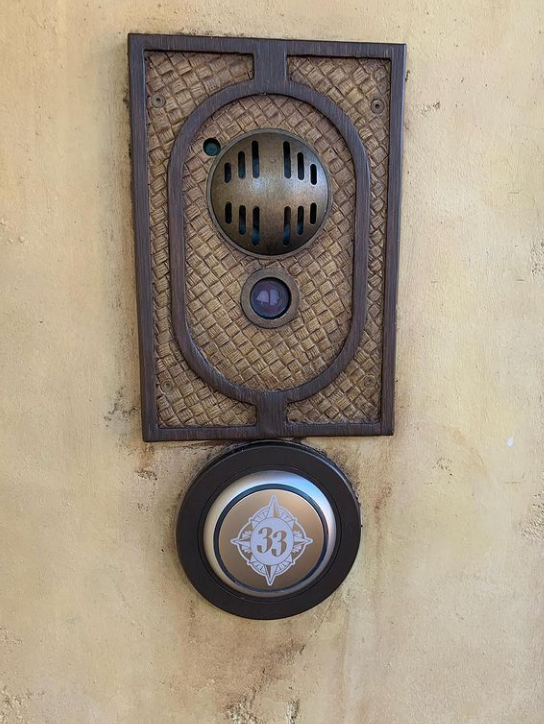 Why Is Club 33 So Special?
Club 33 is incredibly exclusive, and each of the Club 33 locations is named after the original address at Disneyland – 33 Royal Street.
Believe it or not, Club 33 Disney World was only conceptualized in 2017 and each location across the main parks opened between 2018 and 2020.
Animal Kingdom's area was the last to make an appearance!
But there's so much more to Club 33 than first meets the eye.
Not only is it a truly gorgeous restaurant and bar that's cloaked in elitism and secrecy, but there are unique artifacts dotted around that you'll love.
If you look closely, you'll spot movie props from Mary Poppins, a glorious jazz bar, and a stunning balcony where you'll get a fantastic view of Fantastic.
Another thing that makes Club 33 incredibly special is the fact that you'll find tons of memorabilia from Walt and Lillian Disney's exclusive collection.
Although much of the artwork displayed has been replaced with replica pieces to keep the originals safe, it's still impressive to see.
If you keep walking through the club, you'll find an animatronic vulture (that was meant to speak to guests!), a beautiful piano, and Imagineer concept art.
Essentially, Club 33 at Disney World is the place to be if you want to spot exclusive items from Walt Disney's private archives.
History of Club 33
If you didn't know, the concept of Club 33 first came around during the 1964 World Fair planning stages.
Not only did Walt decide to build iconic attractions like It's A Small World and Ford's Magic Skyway around this time, but he came up with the idea of an exclusive member's club.
AKA: Club 33!
But this idea wasn't strictly down to Walt.
When Walt attended the World's Fair, he found himself bopping in and out of private and exclusive lounges created by corporate sponsors.
He appreciated the refreshments, air of creativity, and generally exclusive vibe that came from each and every spot.
And as Disneyland's design and production progressed, General Electric agreed to sponsor the Carousel of Progress if a private lounge was created in the parks.
And thus – Club 33 was born!
Walt was inspired by the beautiful lounges he saw during the World's Fair, but he also added his own touches to make it Disney-related.
Without removing the air of exclusivity, gorgeous chandeliers, and dining areas, of course.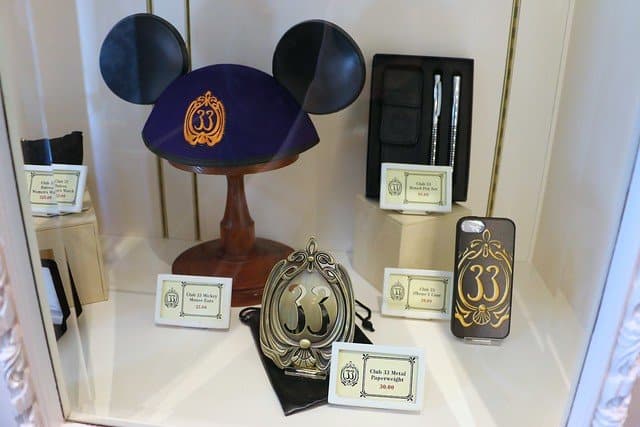 Where is Club 33?
Club 33 Disney World isn't hidden away – in fact, the entrances are in plain sight across the main parks.
Or are they?
Although you may see what you think is the entrance to Club 33 dotted around the parks, these doors are fake-outs.
The real doors are tucked around the corner and require you to scan in and out.
So, if you have no pass, you won't be able to enter.
Magic Kingdom Location: Adventureland – Name: Captain's Quarters. You'll find it just on the left of Cinderella's Castle and it's designed to represent the Adventurers Club.
Epcot Location: American Adventure Pavilion – Name: Constellation Club. You'll find this spot around the World Showcase (near the middle!).
Hollywood Studios Location: Perched above the Hollywood Brown Derby Restaurant – Name: Spotlight Lounge. The Spotlight Lounge is designed to look like old Hollywood, but I can't confirm exactly how it looks (sadly, I've not been inside!).
Animal Kingdom: near Africa – Name: Harambe House. If you look closely at the door, you'll find the words "thelathini na tatu" written on the doors which translates to "33" in Swahili!
Each of these Club 33 Disney World locations has its own unique décor which is meant to reflect the area its housed in.
You'll also have access to exclusive souvenirs that you won't find in any other location in the park, which is worth noting if you're a collector.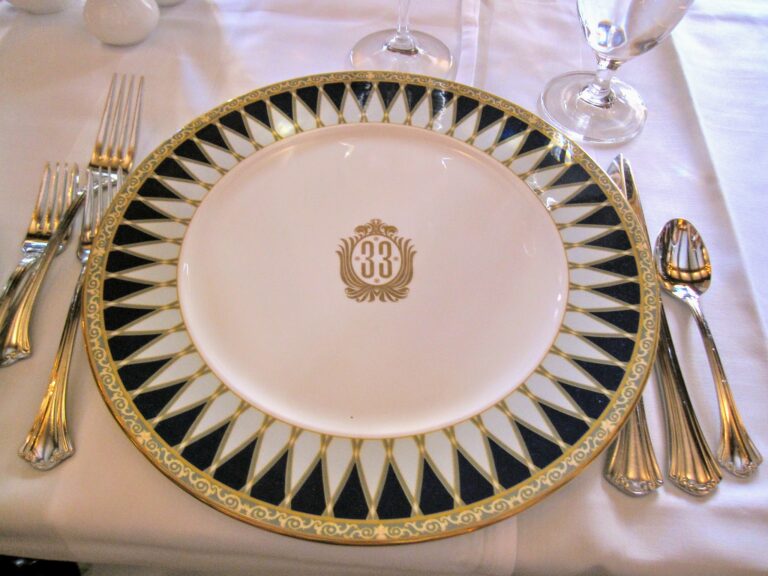 Club 33 around the world
If you're planning to visit Club 33 around the world, then I've got you covered with locations.
Club 33 Disneyland
You'll still find Club 33 in California in New Orleans Square on 33 Royal Street (which is the very first and original location!)
Club 33 Tokyo Disneyland
Club 33 in Tokyo can be found on Center Street where you'll also spot the World Bazaar. It's slightly more obvious than other locations, so don't worry too much about seeing it.
This club was the second to open after the California one, and it's inspired by turn-of-the-century designs.
It's one of the most beautiful Club 33s as it offers a stunning private balcony where you'll get views of Cinderella Castle and the entire park.
Club 33 Shanghai
Club 33 at Shanghai Disneyland can be found on Mickey Avenue!
This spot opened in 2016 and is inspired by 19th century designs and Fantasia.
The furnishings are gorgeous and there are plenty of hidden Mickeys and interesting symbols dotted around the area.
Club 33 Benefits
Okay, so there's a reason this exclusive club is so popular and it's largely down to the incredible benefits that membership offers.
One of the major benefits is the exclusivity factor. Club 33 is so successful as it creates the allure of having something that others don't. It's human nature and we love this kind of thing.
If you can boast that you are part of Club 33 at Disney World, people will instantly know that you have the cash to splash and that you've managed to score a coveted membership card.
However, in addition to the bragging rights you'll also get all these major benefits if you're part of Club 33:
Annual Park Passes with access to Disney World and Disneyland for yourself, a partner, and any children you have that are under 26. Perks with your pass include:

Unlimited PhotoPass downloads

Discounts associated with your pass on dining, merch, and tours

50 one-day admission tickets for park-hopping
Up to 5 private day-long VIP tours per year
Five-star dining
A large and full bar
Access to all exclusive lounges and restaurants throughout the parks
Access to Club 33 merchandise
Access to top-notch concierge services
Sadly, if you have access to one Club 33, this doesn't mean you have access to all of them.
How Do You Join Club 33?
I hate to be the bearer of bad news but becoming a member of Club 33 Disney World is virtually impossible for most people.
This is partially down to the immense waiting list for membership and just how sky-high the fees are (which I'll get to in just a moment!).
Joining Club 33 Disney World requires serious patience and perseverance, as Disney only offers a few memberships yearly.
The best way to apply for membership is by emailing Club 33 at Club33@WaltDisneyWorld.com.
But you can also write to member services at 1600 S. Disneyland Drive Anaheim, CA 92802 if you want to throw your hat in the ring!
You'll probably get a courtesy response that your inquiry has been received. But you'll only receive good news if Club 33 membership slots open (as it's invite-only!).
Sadly, this virtually never happens!
There are some exceptions, as residents of Orlando's Golden Oak community were asked to join spontaneously.
However, this kind of thing is a rarity and Club 33 rarely needs to plan recruitment drives to drum up interest!
Oh, and anyone who lives in Golden Oak probably doesn't need to give joining Club 33 a second thought when it comes to financials.
Totally how the other half lives.
If you do manage to join Club 33, you'll be joining famous faces like Elton John, Tom Hanks, Katy Perry, and Christina Aguilera!
Disney Club 33 Waiting List
Believe it or not, the waiting list for Club 33 is around 14 years long and there's no guarantee that you'll ever be accepted.
I'd say that you need some kind of family or park connections to stand a chance of being invited.
And after that, you'll need to cough up the cash!
Inside Club 33 Disney World
The original Club 33 (Disneyland California!)
There were originally two dining rooms, a lounge area, and several separate rooms that pulled everything together.
In every room, you'd find gorgeous antiques, a French-style lift (you'll find a similar one at Walt's in Disneyland Paris!), and stunning artwork.
Walt drew inspiration from sculptures and architecture that he'd seen on his European travels, so you'll spot oak banisters and glass panels all over the place.
Once you moved into the Lounge Alley, you'd spot a painted piano, tons of plants, a couple of ornate mirrors, and again – lots of art!
After strolling through the Lounge, you'd walk into the dining areas.
The Imagineers decorated one in the Napoleonic/First Empire styles and adorned it with chandeliers, flowers, and antique bronze sculptures.
They wanted to fill the other with entertaining animatronics, but it ended up being a refined and elegant space that mirrored Dining Room 1!
The current Club 33
The original Club 33 was undeniably beautiful.
But it underwent a refurbishment (and a huge one at that!) in 2014 that completely rejigged the décor and general design.
Frustratingly, Disney doesn't currently publish official photos or updates about Club 33 as they want to maintain its exclusive vibe.
But you can still find detailed videos, reviews, and sneaky photos across YouTube and Instagram thanks to lucky fans!
Phew.
The only thing to note is that it's pretty risky to snap photographs as anyone found publishing information can have their membership removed.
And as it's extremely difficult to get membership, not many people are going to risk it!
If you want a detailed tour inside Club 33, I recommend checking out this video as it gives you a decent idea of the layout.
If you're visiting Club 33 at Disney World, you'll find that it's largely inspired by the original Club 33 in décor and atmosphere.
So, you certainly won't feel short-changed.
What's on the Club 33 Menu?
If you're looking to visit Club 33 at Disney World for the food, then I've got you covered.
Disney Food Blog has kindly shared an example of the kind of thing you'd find on the Club 33 menu as of July 2017.
Now, it's probably changed by now, but it gives you a decent idea of what to expect!
Just check out these gorgeous entrees!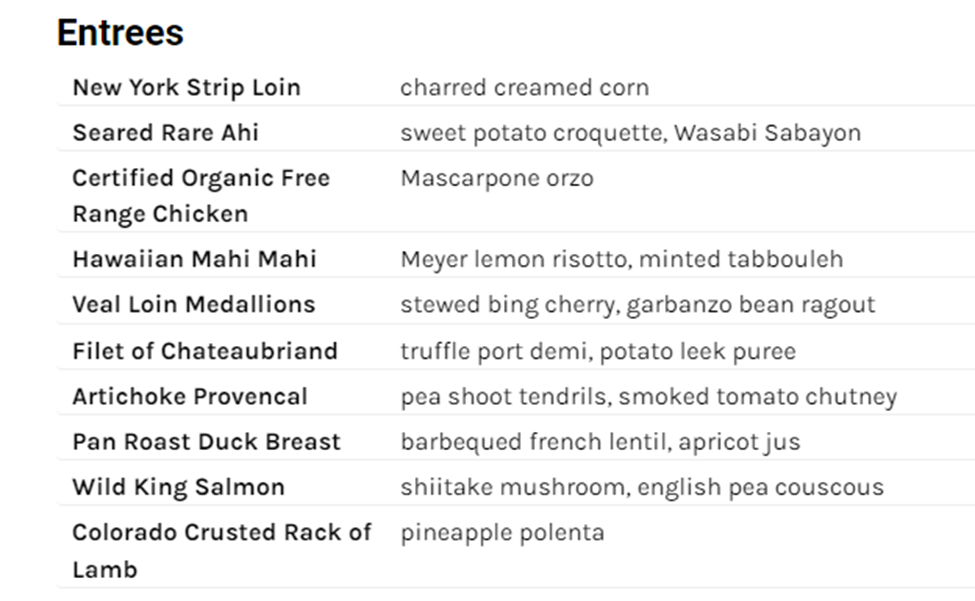 How Much Does Membership to Club 33 Disney World Cost?
If you're lucky enough to be offered a space at Club 33 Disney World, you may be wondering how much it costs.
Well, it isn't cheap.
You can expect to pay approximately $60,000 to join the club itself and then stump up an annual fee of $25,000 to stay signed up.
You may scoff at these prices, but the reason prices are so high is to keep the experience as exclusive as possible.
When you consider the many benefits that I've mentioned earlier in the post, membership to Club 33 Disney World almost pays for itself.
Almost.
It's worth noting that the membership varies depending on which Club 33 you're visiting. But it's expensive everywhere – sorry!
Important Things to Remember
If you're lucky enough to visit Club 33 Disney World (I truly envy you!), then you'll want to keep a few things in mind.
Keep the secrets
As this is an exclusive, members-only club, everything is for your eyes only. If too many people see what's behind the doors here, the entire place will lose its mystique.
For these reasons, Club 33 Disney World keeps things guarded by keeping photos and videos off-limits.
You'll see the occasional leaked photo floating around on the web, but there's honestly not that much footage out there.
Pay attention to what you're wearing
It's also worth noting that the place operates a smart-casual dress code for the most part, but members frequently sport casual dress during lunch.
Staff won't kick you out if you're super casual, but I recommend double-checking what you're wearing before arriving at Club 33.
What are your thoughts on Club 33 Disney World?
What do you think about Club 33 making its way to Disney World? Does it appeal to you? Do you think the membership price is ridiculous? Are you lucky enough to be a member?
Regardless of what your answers are, I'd love to hear your thoughts in the comments below!
Until then, I'll dream about my invite to Club 33 (and an all-expenses paid lifetime membership to boot!).
Related Posts: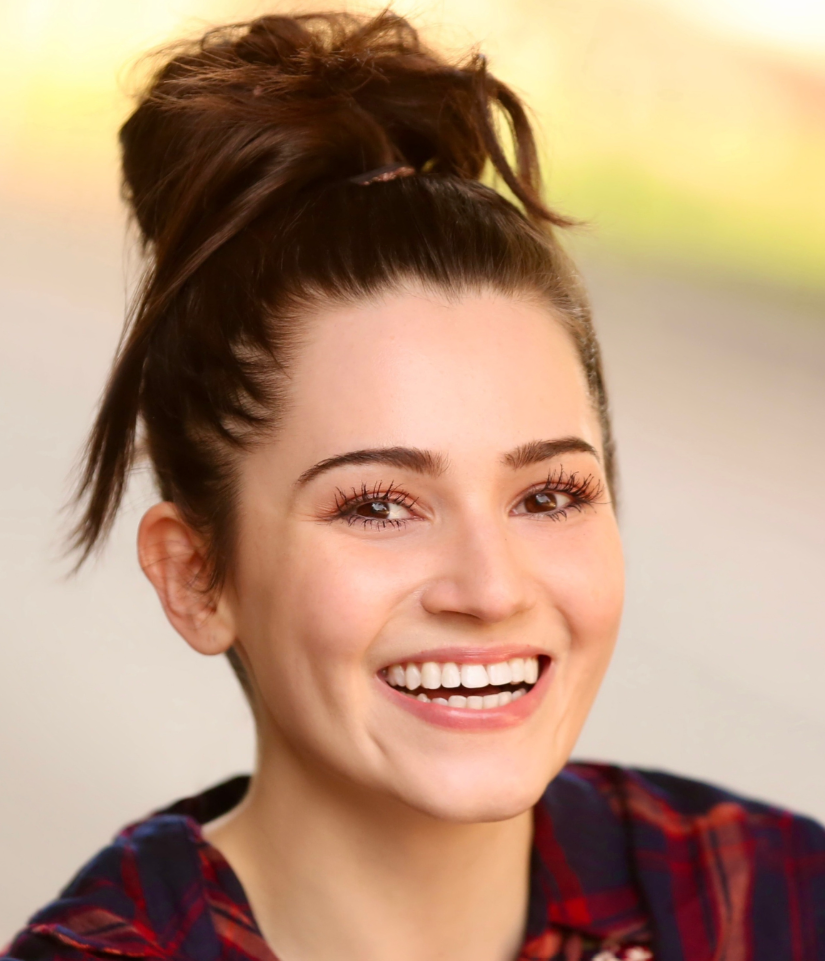 Grace is the creator, editor, and sole writer for Pixie Dust and Passports – a blog that's ALL about Disney! She's made it her life's mission to visit the Disney parks as much as possible and loves trying new snacks, grabbing the latest spirit jerseys, and rocking Loungefly bags. Oh, and she also holds a BA in History from UCL, which makes her a research and deep-dive enthusiast into all things Imagineering.