Are you trying to figure out "Is Avatar Flight of Passage Scary"? Join me as I run through everything you need to know about this incredible motion simulator flying experience.
Avatar Flight of Passage opened back in 2017 and has quickly become one of Walt Disney World's finest attraction.
It gives guests the chance to go right to the heart of Pandora as you soar over the ocean and greenery on a Banshee.
Yup, it's rather intense.
But have you been asking yourself "Is Avatar Flight of Passage scary?". Well, I'm here to help you work that out!
Covering everything from visuals and motion to drops and jump scares, this ultimate guide covers it ALL.
Now let's dive in.
What is Avatar Flight of Passage?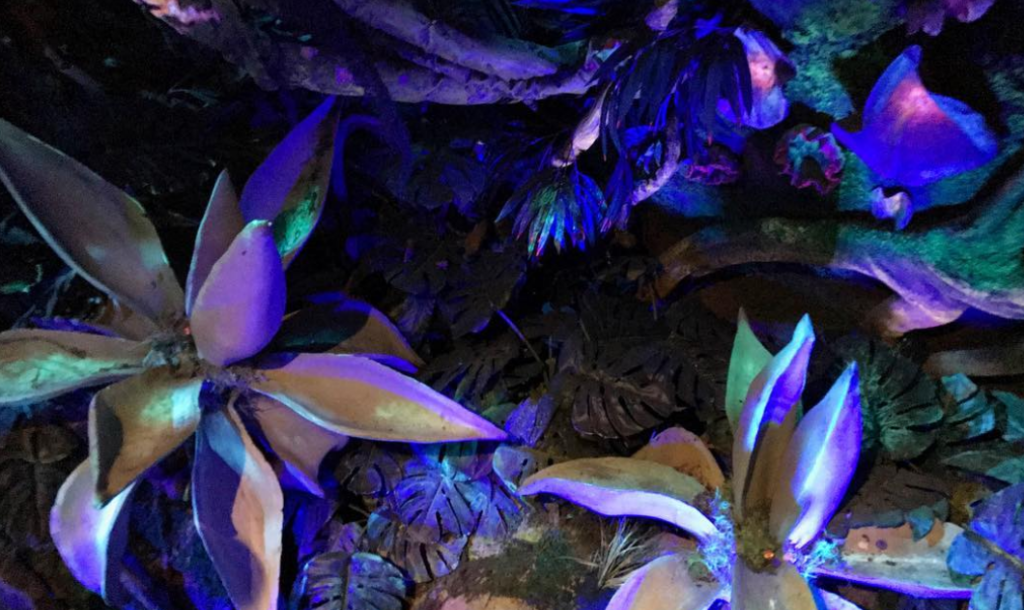 Flight of Passage is relatively similar to Soarin' and allows you to climb on a winged banshee for an impressive 3D flight over Pandora's otherworldly landscape.
In short, it's a semi-simulator ride that has you perched on a bike-like structure (think TRON!) as you watch a large screen.
There are some motion simulator aspects here as well as wind and scent elements that bring you into the scene.
It's a pretty impressive attraction that's probably the best way to experience the magic of Pandora in a ridiculously realistic way.
And because it's so realistic, I'd say that it might freak some people out.
This isn't a 'scary' ride per se (though I'll get to this later!), but it's certainly a thrilling experience that's like nothing else.
Yup – even Soarin' which is essentially this ride's little sister.
Which Park is Avatar Flight of Passage In?
Avatar Flight of Passage is actually one of the newer rides at Walt Disney World and it's tucked inside Animal Kingdom.
You'll find it right after Discovery Island inside the dedicated "Pandora Land" by the Tree of Life.
Luckily for you, the Tree of Life is very hard to miss.
If you keep walking inside Pandora, you'll find the Satuli Canteen and the entrance to Flight of Passage.
Considering there's a huge ride here, it's surprisingly hidden and you might need to ask a Cast Member for assistance.
But these instructions should help you out!
Is Flight of Passage Scary
Right, now let's get to the question you've all been waiting for: "Is Avatar Flight of Passage scary?".
And I'll say that the answer is: it depends.
I know, I know.
I'll say that this is certainly a thrilling ride (especially for the motion-sensitive out there – including me!).
The large screen basically captures your sense of sight and along with the movement of the ride, truly makes you feel as though you're flying.
Feeling weightless and experiencing dips and turns might be your bag, but it also might make you feel out of sorts.
If this does happen, you can momentarily shut your eyes to recenter yourself before opening them again.
And hey, looking at your feet to steady yourself is equally valid on rides like this!
Most of the motion sickness-like feeling you get from this ride come from the disorientating screen and the slight movements.
If you glance to your left or right (unless you're on the end!), you'll see the way the platform dips and swoops.
It's a smooth motion, but it does intensify as the ride goes on and can be a lot to manage over 3 or so minutes.
You're not actually moving much at all, but it feels as though you're zooming through Pandora.
So, rider beware.
Oh, and though I won't spoil the actual plot of the ride, there's a very brief and quick jump scare that might frighten smaller children.
N.B.: To give you more context, here's a note from the team at Plan Disney if you're trying to compare the ride to something like Space Mountain:
"It is hard to compare it to other attractions, since it is so unusual. Does your child like Soarin'? If so, they should love Avatar Flight of Passage. It's a simulator experience, so you are seated on what feels a bit like a motorcycle, and it moves around in place while you are watching a coordinating video on a huge screen in front of you. It simulates big swoops and drops, but if you are frightened you can just close your eyes and you will be able to reorient yourself. My youngest child, who never does Space Mountain, loved Avatar Flight of Passage. She went on it twice, in fact, and she is younger than your child [9 years old]."
***Related: Is Space Mountain Scary? Everything You Need to Know.***
What to Expect on Avatar Flight of Passage (to Gauge the Spook-Factor!)
Queue line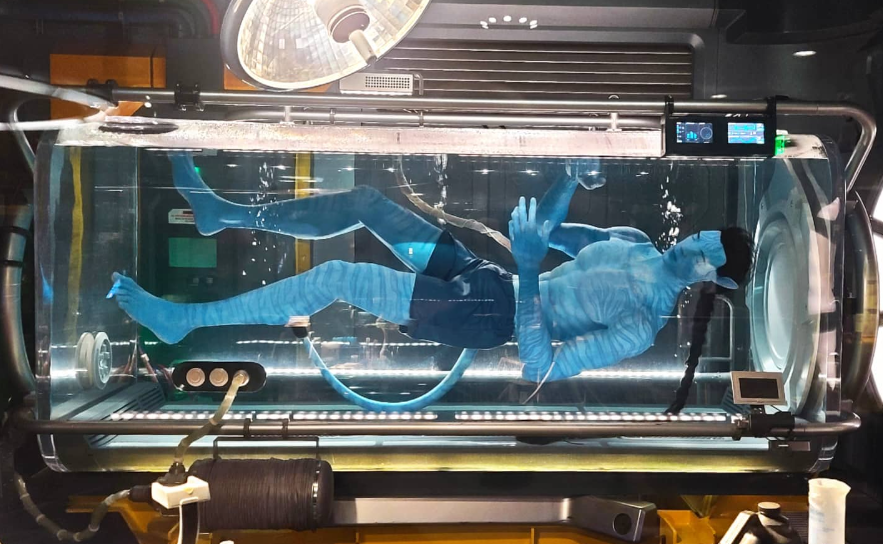 The queue line is well-themed and is honestly worth checking out even if you decide not to ride Flight of Passage.
Hey, I'm no stranger to the last-minute exit door escape!
It brings you into a research lab packed with alien experiments, and there's even a suspended Nav'i inside a glass chamber.
The walk-through queue isn't overly dark, and there aren't any hidden spooks to worry about either.
From this point (although it can take a long time), you'll be sorted into groups to ride.
It's also worth mentioning that there's a pre-ride video that's played at this point which includes a semi-jump-scare.
I wouldn't say it's much to worry about, but if this scares you, I recommend stepping out of the exit door at this point.
There's no shame as a Cast Member literally invites you to leave at this point in the experience if you need to!
Just be aware that you won't get the same opportunities to leave or walk through the queue if you're using a Lightning Lane.
You'll skip right to the front of the line which means you'll skip over a lot of the cool theming.
Visuals
I'll say that the sheer darkness in the queue line might be relatively off-putting for younger kids.
But because of the enormous ride screen, the actual experience itself is well-lit.
So, if you're mainly worried about darkness then you can breathe a sigh of relief.
Ride vehicle and mechanics
This is a 3D Screen + Motion Simulator ride that sits you on the back of a bike.
I'd say that the mechanics are relatively smooth and don't make you feel unsafe, but the motion sickness element might play into the scariness.
The restraints actually come up behind the knee and around the calf (like on TRON!), which makes this a tricky ride for plus-sized passengers.
But like with many rides at Disney World, there's always the trial seat outside the ride that you can try out.
I'd say that if you're on the cusp of fitting, the restraint might make you feel a bit uncertain about riding.
And that's fine!
But if the Cast Members give you the go-ahead, you should be completely safe to ride.
I also thought I'd mention that the ride vehicle is quite a novelty and you might not feel particularly comfortable leaning forward.
If you feel this might frighten you or make you feel unstable while riding, give the ride a miss.
Are there drops on Flight of Passage?
I wouldn't say there are any drops to worry about on Flight of Passage as it's technically a motion simulator.
But you will feel light "dips" and "swerves" as you navigate Pandora that are caused by the mechanism shifting forward or slightly down.
I'd say you should also keep an eye out for the section of the ride where the Banshee goes upside down.
You won't (don't worry!), but the flying sensation will feel much more intense during this section.
It's also worth mentioning that the air blown at you on the ride will make any dips and swoops feel larger than they are.
This is because the axis your bike chair moves on increases or decreases the level of gravity you feel bearing down on your body.
As it moves, you'll experience a feeling of falling.
Now, I'm honestly not a fan of this feeling and I'll be the first to walk away from intense rollercoasters as it's just not my vibe.
When I rode this for the first time, I was freaking out.
But honestly, the dropping sensation doesn't go full-blown G-force levels at any stage and doesn't make my stomach flop.
If that's your biggest concern about drops, you should be good to go with Avatar Flight of Passage.
Speed
As I just mentioned, sections of the ride can feel incredibly fast because of the screen and the simulator effect.
Height and motion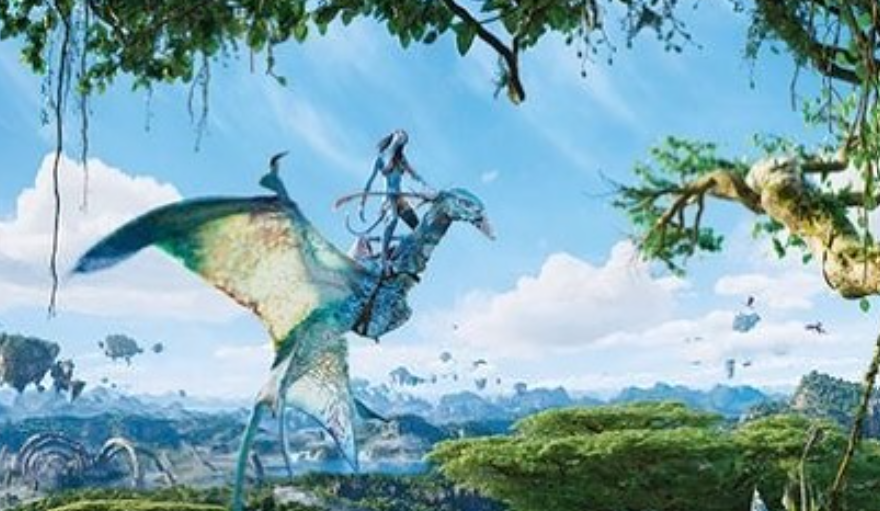 I wouldn't say you need to be particularly worried about height on Flight of Passage as you're not set "high up".
But if you have a major fear of heights, the flying feeling and the image of being high above Pandora might not be pleasant.
If you deal relatively well with Soarin', you'll probably be able to deal with the height factor here.
The same goes with the motion of the ride.
Although the 3D glasses make the simulated drops feel relatively intense, you're not technically going anywhere.
Spooks and jump scares
Okay, I'll be the first to say that I'm not a big fan of jump scares.
I can ride the Haunted Mansion all day long, but something about loud noises combined with a sudden visual change is a NO from me.
There's only one section in Flight of Passage where this might be an issue.
In the middle to end of the ride, your Banshee is trying to escape a scary-looking Pandora monster that's chasing them.
The ride really picks up the pace (well, it feels like it does!) and the jump scare that comes during this section may scare small children.
I wouldn't say adults have much to worry about here, but sensitive children will not enjoy this.
I'd say that you can gauge your own child's expected reaction as it can be quite startling.
But if they struggle with loud noises and spooky creatures, they're going to leave the ride terrified.
So, it's just something to bear in mind!
I will say that it's quick and over in a flash, meaning kids usually recover from it and forget about it before the ride ends.
Sensory considerations
The final thing you'll need to think about when you're trying to figure out "Is Avatar Flight of Passage scary?" is general sensory input.
Some kids (and adults!) find too much sensory input overwhelming, and that's more likely to scare them than any runaway creature.
I'll say that the ride
Are There Any Ride Restrictions?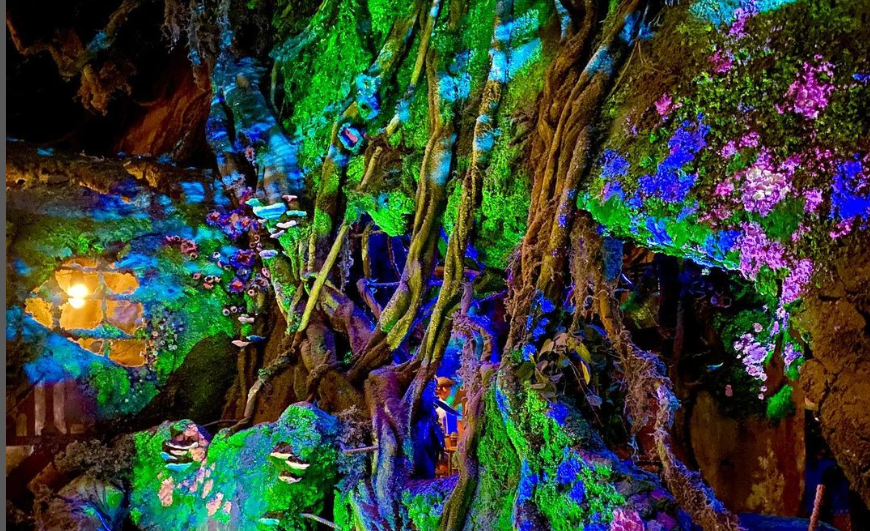 Because Avatar Flight of Passage is a motion simulator ride, there are a few safety restrictions in place.
The main one is that you'll need to be over 44 inches to ride.
But you'll also not be able to ride if you're pregnant, have high blood pressure, head, neck, or back problems.
Trust me when I say that the ride mechanics will make any kind of joint or muscular issue feel triggered.
It won't necessarily flare up these problems, but sitting forward simply won't be comfortable if you have certain medical conditions.
What Are Wait Times Like for Flight of Passage?
Wait times for Flight of Passage are always intense as it's probably the most popular ride in Animal Kingdom.
Well, one of them, anyway!
Depending on when you ride, you can be waiting anywhere from 60 minutes to 110 minutes and up!
I've even seen this ride come in at an almost-ridiculous 240-minute wait (which is something I'd never do!).
As this ride is incredibly popular, it's absolutely one that I'd grab an Individual Lightning Lane for.
If you don't want to use the Lightning Lane, this is the ride in Animal Kingdom that you need to rope drop.
Otherwise, you'll be spending half your day queueing to fly over Pandora.
What is the Best Age for Flight of Passage
I'd say that the best age for Flight of Passage is a mixed bag and there's no strict answer to this question.
For starters, you need to be at least 44 inches tall to get on (which takes toddlers out of the mix!).
You'll also need to make sure your child will be able to handle the visual and external stimuli from the wind and 3D glasses.
Because of that, I'd say even 4-year-olds that meet the height requirement might not be best-placed to head on Flight of Passage.
If I'm being honest, even kids up to the age of 7 might struggle with the motion and general theming of the ride.
But of course, this depends entirely on your children!
When it comes to adults, I'd say virtually anyone will enjoy this experience if they're okay with sensory input.
Adults with additional needs might struggle with the sensory overload, but most adults will appreciate the incredible ride mechanics and visuals.
So, when it comes to fully appreciating how incredible the ride layout is, I'd say the best age for flight of passage is 16 and up!
FAQs
How long is Avatar Flight of Passage?
The ride itself runs for around 4 minutes (which can feel like a long time if you struggle with motion sickness).
When is the best time to ride Flight of Passage?
If you're not grabbing a Lightning Lane pass, the best time to ride Flight of Passage is right at rope drop.
I'm not kidding.
I've seen people sprinting over from the entrance gate to the Tree of Life in the hopes of riding this without a massive queue.
If you're not rope dropping, I suggest waiting until the end of the day to ride when the crowds have cleared.
You benefit from the Magic Kingdom Park Hoppers moving for the fireworks and most families with kiddos heading home.
It's not always a reliable strategy, but it gives you a better shot than riding in the middle of the day.
Can I grab a Genie+ reservation or Individual Lightning Lane to beat the queues?
You sure can!
But, there's a catch – you can't use regular Genie+ as this is a Disney World Premium Ride!
As I mentioned earlier, I highly recommend just grabbing a Lightning Lane pass for this ride as queueing takes forever.
Seriously, this is a popular ride – don't underestimate it!
There you have it: the ultimate guide that should help you answer the question "Is Avatar Flight of Passage scary?".
If you have any further questions about Flight of Passage (or just want some park tips!), leave me a comment below. I'll happily run you through the best ways to navigate Animal Kingdom to make the most of your time in the parks. Now, go forth with your knowledge that answers the question "Is Avatar Flight of Passage scary?"!
Related Posts: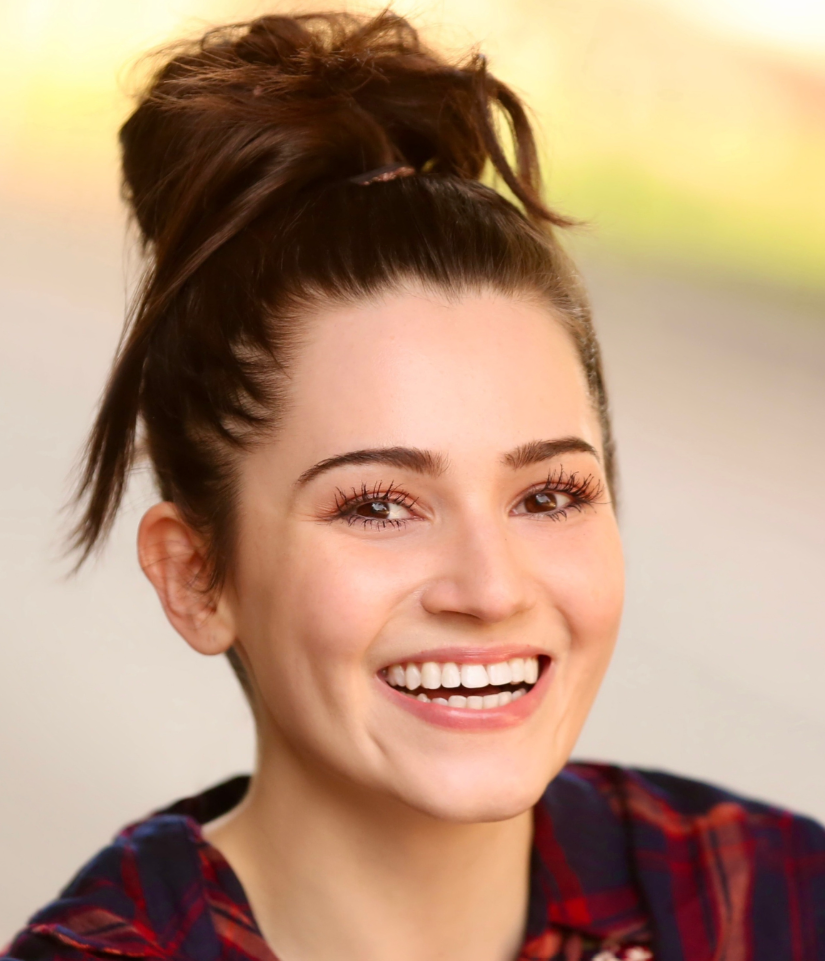 Grace is the creator, editor, and sole writer for Pixie Dust and Passports – a blog that's ALL about Disney! She's made it her life's mission to visit the Disney parks as much as possible and loves trying new snacks, grabbing the latest spirit jerseys, and rocking Loungefly bags. Oh, and she also holds a BA in History from UCL, which makes her a research and deep-dive enthusiast into all things Imagineering.