Are you trying to figure out "is Busch Gardens open on Thanksgiving Day"? Read ahead for everything you need to know about Tampa and Williamsburg's large theme parks for the holidays!
There's nothing worse than rocking up to your favorite attraction for a holiday getaway and realizing it's closed.
And that's why you might be asking yourself that burning question – is Busch Gardens open on Thanksgiving Day?
Don't worry folks, that's where I come in!
I've rounded up literally everything you need to know about visiting Busch Gardens on Thanksgiving Day.
From food options to activities and opening times, you don't need to worry about a thing when planning your itinerary.
Now let's get right to it and answer the question "is Busch Gardens open on Thanksgiving Day?"!
What is Busch Gardens?
Busch Gardens is the shared name of two United States-based amusement parks that are owned by SeaWorld Parks & Entertainment.
The first park that burst onto the scene is the largest one in Tampa Bay that opened way back on March 31, 1959.
It's home to an impressive 2,700 animals and spans 335 acres of land in Florida (though it's not as big as Disney World!).
Williamsburg's Busch Gardens followed slightly later on 16 May, 1975, but I'd say both parks were equally popular.
What is the Address for Busch Gardens?
Williamsburg
If you're heading to Williamsburg, you'll find Busch Gardens at 1 Busch Gardens Blvd, VA 23185.
To find it, just pop this Google Maps pin into your phone and get driving (or hop on public transport!).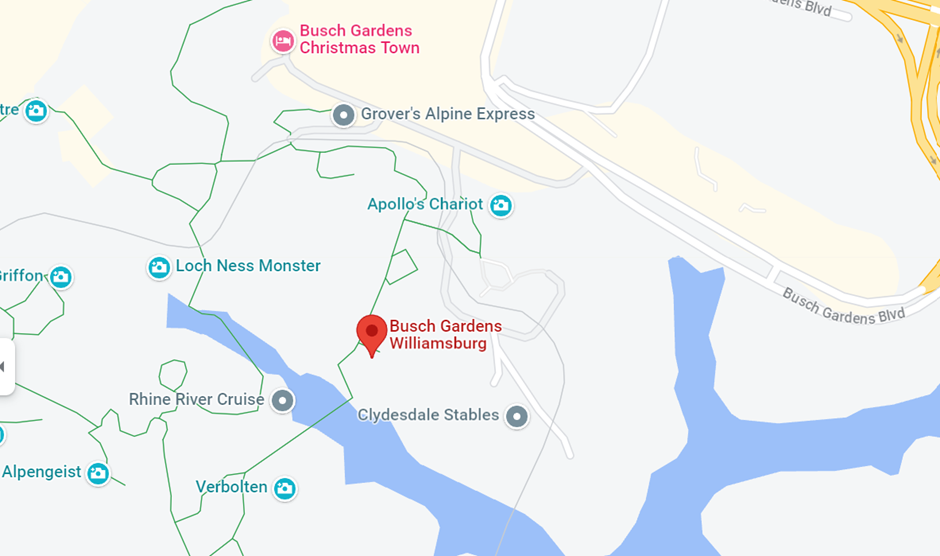 Tampa
The address for Busch Gardens in Tampa at 10165 N McKinley Dr. which is around 8 miles from downtown Tampa.
You can get here by traveling South on the I-75 from the North.
If you're not sure how to get there, I suggest following this handy Google Maps pin.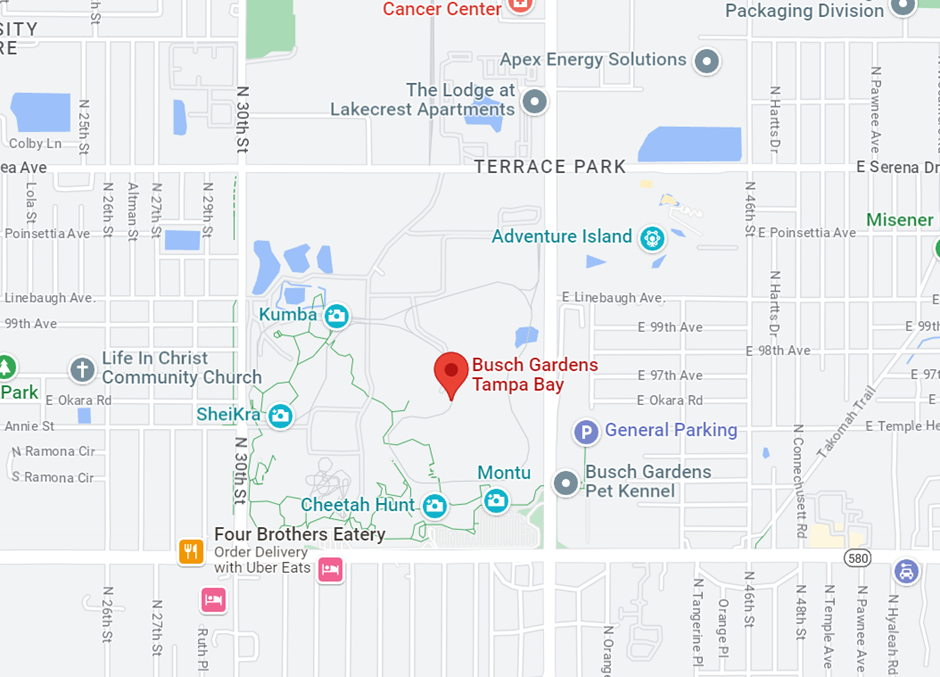 Is Busch Gardens Open on Thanksgiving Day?
YES, Busch Gardens Tampa is currently open on Thanksgiving Day between 10 am and 10 pm.
Just so you're totally sure, here's the proof!
The opening hours vary slightly across the month, but Thanksgiving week offers 12-hour days for maximum holiday cheer.
Just be warned that the park will be VERY busy during Thanksgiving as people take advantage of Christmas Town.
You'll find everything from twinkling holiday lights to holiday meets and delicious food.
So, it's no surprise that Tampa locals and visitors from across the country make their way to Busch Gardens.
In Williamsburg, there's a much more reduced schedule on Thanksgiving Day (although the park is still open!).
You'll be able to visit Busch Gardens between 2 pm and 9 pm to enjoy the best of the holiday magic.
Just don't plan on having Thanksgiving breakfast here – you'll be out of luck.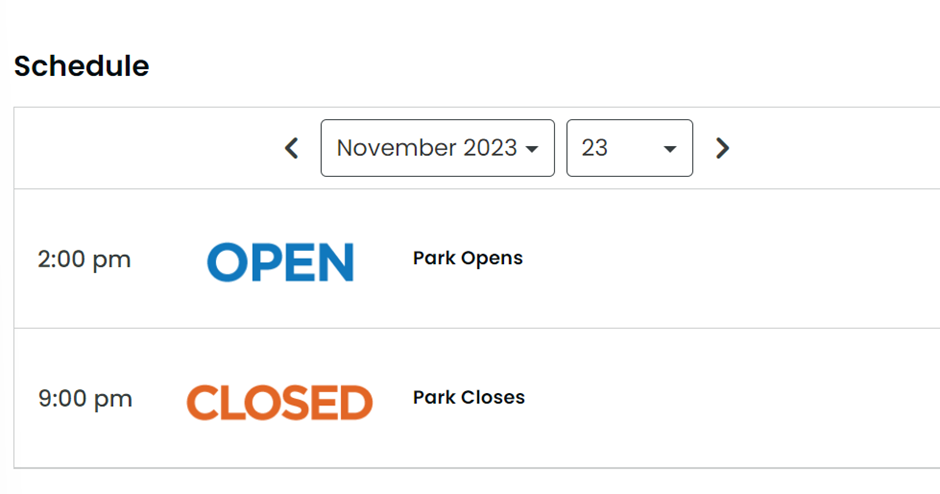 Where to Get Thanksgiving Dinner at Busch Gardens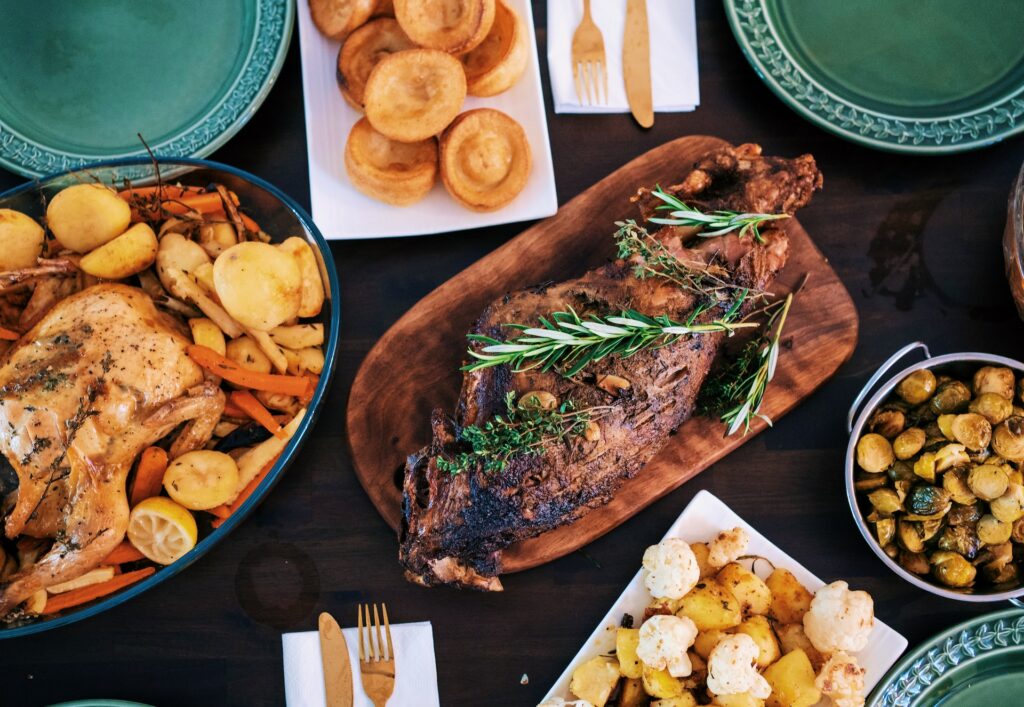 If you want to get Thanksgiving Dinner while you're at Busch Gardens, you'll want to head to the ever-popular Christmas Town.
This place is all about Christmas, but they also serve indulgent holiday treats that are ideal for Thanksgiving Day.
And if you're wondering "is Busch Gardens open on Thanksgiving Day?", you're going to want some grub.
I'd say that the absolute best way to get food at Busch Gardens on Thanksgiving is to grab a sampler lanyard.
These handy passes let you try culinary delights from holiday-inspired stands.
You can either grab a 5-treat pass, a 10-treat pass, or a full 12-item Food and Beverage Sampler Lanyard.
The Food and Beverage Cabins are usually open daily at 4 pm which might be a touch too late for some people.
But I mean it when I say that the holiday dining experience at Busch Gardens is well worth waiting for.
Williamsburg
If you're visiting Williamsburg, a great place for Thanksgiving Dinner is the Festive Dining Hall (Das Festhaus).
You can usually grab oven-roasted chicken and German grub which is a great alternative to old-school Thanksgiving eats.
You can also head to the Squire's Grille (which is decorated for the holidays) and grab seasonal beverages.
I'd say Brauhaus was a great option, but virtually anywhere will serve great drinks.
Tampa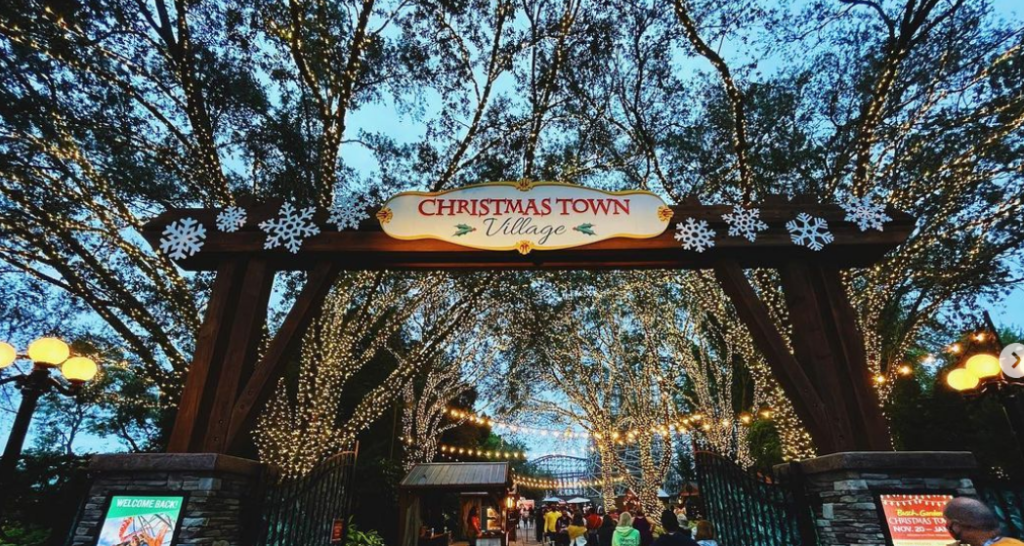 Among the treats in Tampa, you'll find:
Wine & Truffles
Christmas Cocktails
Char Siu Christmas
Christmas Celebration (a GREAT pick for Thanksgiving)
Polar Pavilion
Xcursions
Holiday Joy Tasting
Dasher's Delight
Cookies, Cocoa & Cocktails (spanning cabins 13 and 14)
Cookie Time
Cocoa and Cream
Zambia Smoke House
Twisted Tails
Dragon Dog Mobile (another awesome pick for Thanksgiving food!)
Giraffe Bar
I think the Dragon Dog Mobile is a fabulous option if you're craving brown sugar and pineapple-glazed ham.
You'll also be able to pick up glorious green beans and an amazing arugula salad to get in some greens.
I also suggest heading to the Christmas Celebration cabin for a roasted apple salad (very festive!) and pork loin.
The chocolate peppermint brownie here is slightly Christmassy, but it's a good dessert option for Thanksgiving Day.
While you're here, you can also get eggnog from the Holiday Joy Tasting station and amazing holiday cookies.
And when Thanksgiving rolls around, nothing beats gingerbread and pumpkin spice cocktails, right?
I personally think it's a really creative way to have Thanksgiving Dinner at the parks without a sit-down meal.
You have tons of options and you're not locked into a pricey set menu.
The only issue is that you might have too much choice and might get slightly tipsy from all the themed cocktails.
But hey, it's the holidays, right?
What Can You Do at Busch Gardens on Thanksgiving Day?
Well, aside from riding all the rides, you can also visit the glorious Christmas Town!
Alongside the food festival, ice skating, and festive fireworks, you'll also be able to experience: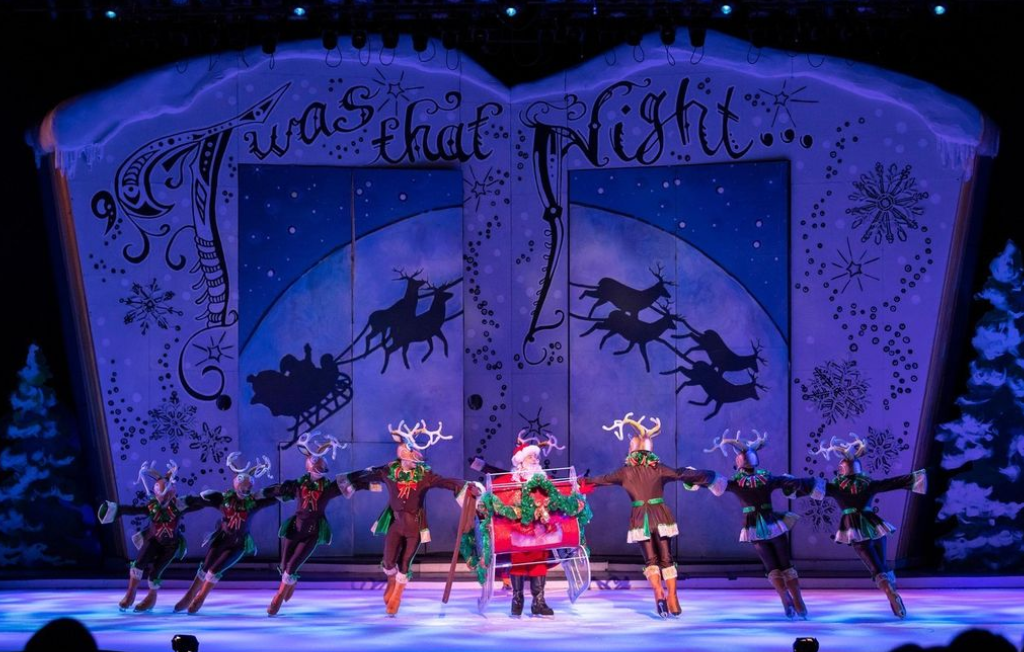 Santa's North Pole (which is in his workshop!)
Rudolph's Winter Wonderland
The Holly Jolly Express (a locomotive train ride)
Christmas lights experiences
These events are all included in your admission ticket and the experience runs from early to Mid-November to early January.
It's worth mentioning that the events tend to start in the early afternoon. So, don't expect to get as much festive stuff done during the early hours.
Final Thoughts
As you can see, the answer to the question "Is Busch Gardens open on Thanksgiving Day?" is a resounding YES!
Although you won't get a full-on sit-down Thanksgiving dinner, the exciting festive treats are more than good enough.
And with less time sitting down, you'll have a better chance of covering everything the parks have to offer.
Are you planning to visit Busch Gardens on Thanksgiving Day? Are you prioritizing one of the other Florida parks like Universal (or maybe Disney Springs)?
I'd love to hear your thoughts in the comments below!
FAQs
What is the biggest Busch Gardens?
Busch Gardens in Williamsburg is the largest Busch Gardens at 442 acres.
The theme park in Busch Gardens is 335 acres.
But honestly, you won't feel short-changed if you visit either of these parks – they're both incredible!
Which is the best Busch Gardens?
Okay, so the parks aren't exactly the same so it's tricky to make this call.
Busch Gardens in Tampa has an African-themed, Serengeti feel to it.
On the other hand, Busch Gardens in Williamsburg has a distinctive European vibe.
This means that the attractions are different (for example, Tampa has animals!) and the food is completely different.
I'd say that if you're looking for cool theming, Williamsburg is probably more detailed.
But if you're going based on number of attractions and the animal factor, Tampa is probably a better option.
Related Posts: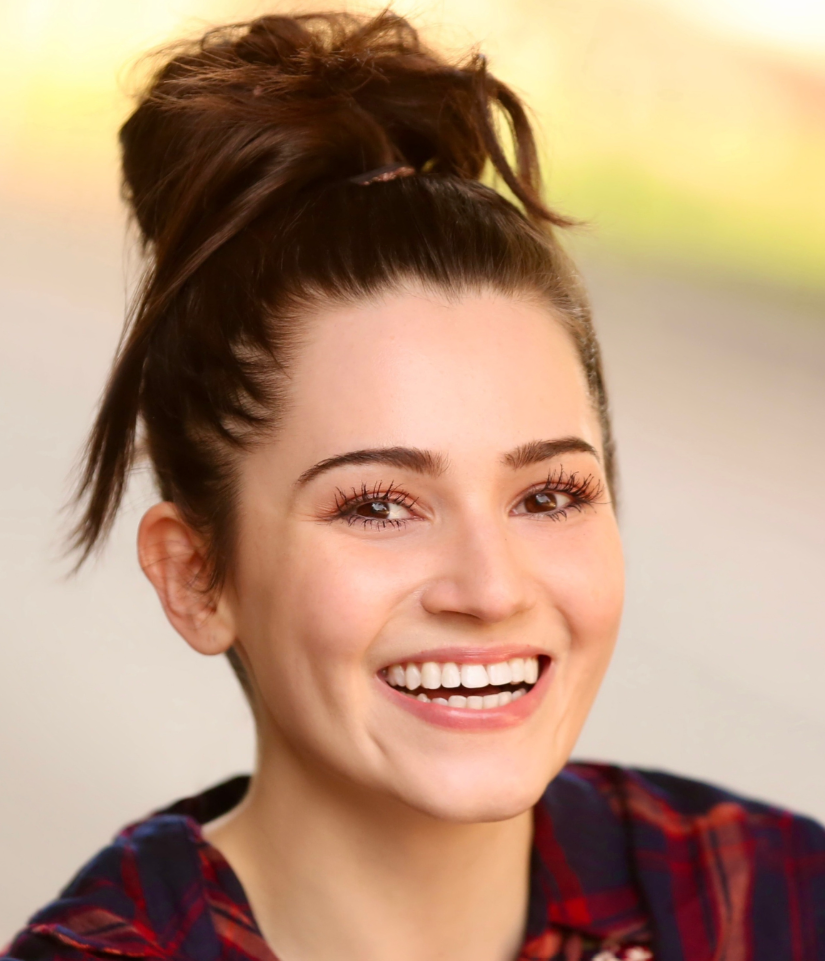 Grace is the creator, editor, and sole writer for Pixie Dust and Passports – a blog that's ALL about Disney! She's made it her life's mission to visit the Disney parks as much as possible and loves trying new snacks, grabbing the latest spirit jerseys, and rocking Loungefly bags. Oh, and she also holds a BA in History from UCL, which makes her a research and deep-dive enthusiast into all things Imagineering.