Have you been trying to figure out "Is Seven Dwarfs Mine Train scary"? Join me as I run you through everything you need to know about Fantasyland's journey through the mines!
Are you trying to figure out whether Seven Dwarfs Mine Train is scary? Well, you're in the right place Disney lovers!
I'm the first to admit that I'm not a thrill ride fanatic, and the prospect of unexpected drops and speediness can spook me.
But I'm totally fine with the ghosts and ghouls of Haunted Mansion – go figure, right?
In this detailed rundown, I'm going to answer EVERYTHING that goes into answering the question "Is Seven Dwarfs Mine Train scary?".
From visuals and theming to the queue ride, speed, and dreaded dips, I'll fill you in on it all.
Now let's get to it.
What is Seven Dwarfs Mine Train?
Seven Dwarfs Mine Train is a family-friendly rollercoaster at Disney World and Disneyland Shanghai.
It's designed to take you on a race through the diamond mine from Snow White and the Seven Dwarfs.
But it's also storytelling journey that recounts the tale of Snow White (in a speedy way!).
It's a swinging coaster that rocks side to side and incorporates tight turns, drops, and is relatively speedy.
But I'll get to the ins and outs of ALL that later.
The coaster itself is manufactured by Vekoma (AKA: a top rollercoaster manufacturer known for creating the Flying Dutchman).
Where Is Seven Dwarfs Mine Train?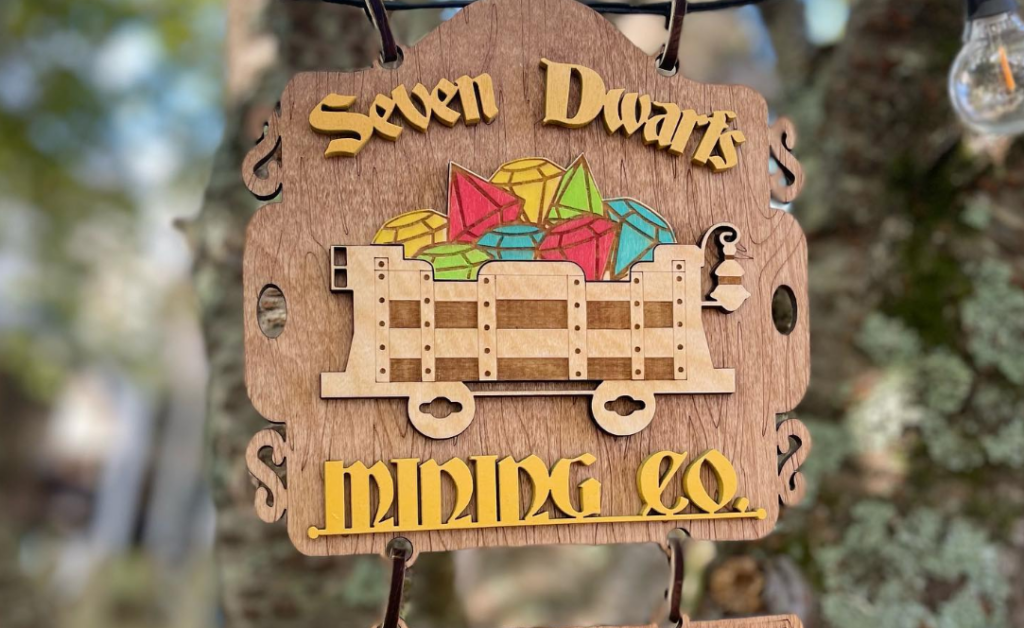 You'll find Seven Dwarfs Mine Train inside Fantasyland inside an expanded section called Enchanted Forest.
So, it's technically part of what's called "New Fantasyland".
This ride actually came as a replacement for Snow White's Scary Adventures (although it's not in the same spot geographically).
In Shanghai, this ride is also inside Fantasyland.
It's all about theming, folks!
What Is the Seven Dwarfs Mine Train Like? The Lowdown on Ride Experience.
Before I fully answer the question "Is Seven Dwarfs Mine Train scary?", I thought I'd run you through the ride experience.
This should give you the full rundown on what to expect and whether it'll scare you!
Here's a full list of the points we're going to run through.
Queue
I actually LOVE the queue for Seven Dwarfs Mine Train as it's packed with interactive games and activities.
And when you're visiting Disney World with toddlers and small children, that can be a lifesaver.
There's a spot of barrels that you can spin to create reflective images on the ceiling that comes together to form an animation.
You'll also be able to play around with musical "spigots" that represents a chromatic scale.
I don't suggest spending too long playing around with these as people will walk past you in the queue.
Honestly, been there, done that!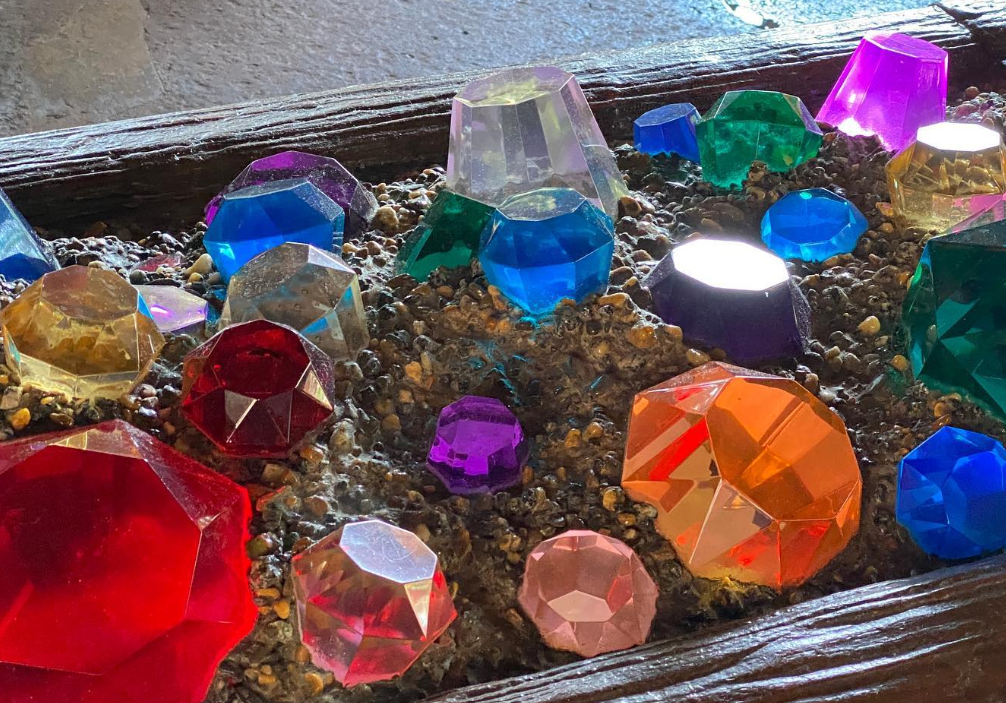 Speed
Seven Dwarfs Mine Train is actually one of the fastest rides at Disney World with a top speed of 34 miles per hour.
But if I'm being completely honest, the smooth ride mechanism and side-to-side motion makes it feel much slower.
So, if we're assessing the scare-factor here, I'd say that the speed was a relatively minor factor.
It's also worth mentioning that the 34 miles per hour speed is only seen during certain sections of the ride.
For much of the ride, you're actually moving WAY slower than this!
Drops
When you're asking "Is Seven Dwarfs Mine Train scary?", the first thing you'll probably think about is drops.
And I get it, I'm not a fan of flip-flopping stomachs or the "heart in the mouth" feeling either!
So, Seven Dwarfs Mine Train does have drops and the highest one comes in at 39 feet.
But because the entire track isn't overly steep, the drop feels more like a tight curve than a strict drop.
It's still definitely a drop (don't get me wrong!), but it won't give you the same dropping sensation you get on major thrill rides.
And by that, I mean the mega drop you see on Expedition Everest or Rock 'n' Roller as examples.
The intensity of the drops also relies on speed, but I find that this also feels less intense than the advertised speed.
Aside from drops, you'll want to think about maneuvers.
There aren't that many to speak of, but sharp curves, small hills, and subtle turns are all things to consider.
Honestly though? I'd say that anyone that meets the height restriction will have no problem tackling those!
Noises
Even highly sensitive children should be fine on Seven Dwarfs Mine Train as most of the auditory input is through the soundtrack.
You'll hear the dwarfs singing "Heigh Ho" and the classic "dig dig dig dig" tune during the ride.
And there's also a bit of noise inside the tunnel and during the indoor portion of the ride.
I wouldn't say it's major, but there are a couple of sudden noises that might take you aback if you're sensitive to sound.
The only other thing I'll mention is that I always find the soundtrack quite loud in general.
This is typical for most Disney Park rides, but I feel like it's really dialed up to 11 when "Heigh Ho" is blasting!
Darkness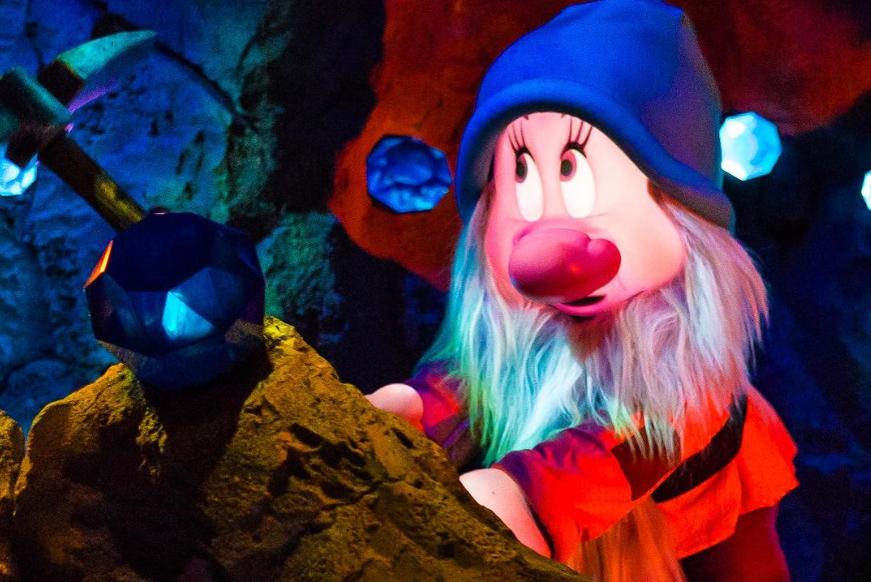 Interestingly, this ride travels both indoors and outdoors which means you'll get a whole host of visuals.
Not only will you spot parts of Fantasyland while you're traveling outside, but you'll get views of the mines too!
There is a section where the ride will go through a dark tunnel, and this might frighten anyone who doesn't like the dark.
But otherwise, there are very few sections of this ride that aren't at least marginally lit.
And most of the time, you're either outside or surrounded by dwarf animatronics and gemstones!
Ride vehicle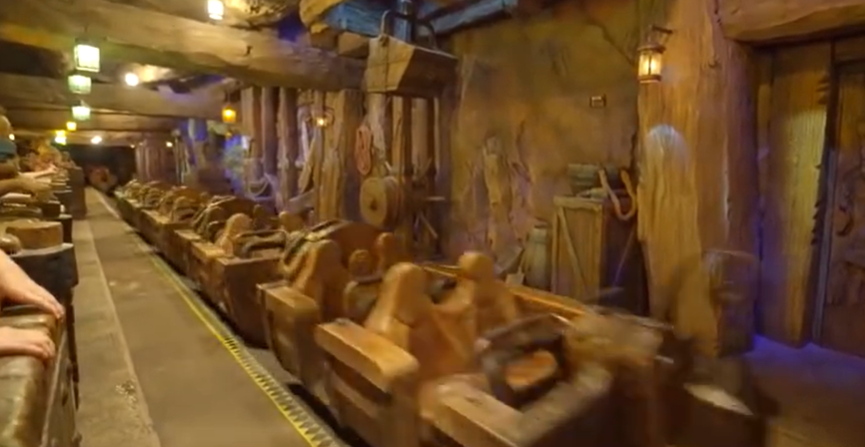 I actually love the Seven Dwarfs Mine Train vehicle as it's pretty spacious and has separate lap bars.
This means that the entire vehicle feels roomy (which is helped along by a 2-seater design!).
I'd say that the barrel-like design of the ride vehicle does contribute to how fast you travel as it's slightly disconnected.
And by that, I mean that each 4-person barrel is totally split from the next which adds to that side-to-side movement.
I know I keep harping on about it, but it's a major feature of the ride!
As the barrels are separated, you're less sure about which direction YOUR barrel is going to move in.
I find that it adds to the thrill factor, but this uncertainty might scare people.
And if you're in a barrel with someone that "leans into the skid", you'll probably feel as though you're moving more quickly.
Which you know, might be no bueno.
Animatronics
Okay, I'm the first to admit that I'm a sucker for an incredible animatronic.
Seriously, the Shaman on Nav'i River Journey still blows me away and I've seen it multiple times now!
I wouldn't say that the Seven Dwarfs Mine Train animatronics quite match that level of detail (though they're still lifelike!).
But that's almost a positive thing, as it gives the ride a cartoonish, friendly feel that's not remotely intimidating.
If you're on the lookout for drops, I suggest keeping an eye out for Doc.
He'll take you on the final big descent and will usher you in with a giant "Heigh Ho" that's difficult to miss.
So, if you're not a drop fan – you'll have fair warning of the drop and final twists and turns.
Visuals and theme
The theming of Seven Dwarfs Mine Train isn't scary at all, but some of the visuals might be overstimulating.
When you're inside the mines, there are scenes of glistening jewels accompanied by quite bright lights.
There isn't any flashing though, so that's a plus.
And I'll also say that there are NO specifically scary visuals aside from a quick appearance by the Evil Queen at the end.
If I'm honest, it's very blink and you'll miss it – so, you can probably distract small children here.
Should they get scared, it's literally right at the end of the ride and you'll be able to hop off in a few seconds.
Is Seven Dwarfs Mine Train Scary?
I personally wouldn't say that Seven Dwarfs Mine Train was scary in its theming, but the drops and curves might spook sensitive riders.
It's an excellent way to experience a rollercoaster without major drops though, as even the 39-foot drop feels minor.
So, if you're traveling with kiddos (or are rollercoaster-shy!), this is a great entry-level and family-friendly option.
As with any ride, whether you find it scary will depend entirely on what you can tolerate.
Some people might find drops no big deal but don't appreciate darkness. Others hate drops but love spooky scenes (like in Haunted Mansion!).
Another thing to consider on the scary front is how you handle the barrels tilting.
If you move with the flow of the vehicle, everything certainly feels a lot more intense.
But as you can control this with the other people in your vehicle (if they're game!), you should be fine.
How Long Is Seven Dwarfs Mine Train?
Seven Dwarfs Mine Train runs for just under 3 minutes at 2 minutes and 50 seconds (give or take a couple of seconds!).
It's also one of the fastest rides at Disney World, which makes the entire experience feel quite a bit faster.
Are There Any Restrictions or Accessibility Considerations for Seven Dwarfs Mine Train?
There's a 38-inch height limit for this ride which might prevent toddlers from heading on it.
Other than that, it's worth mentioning that kids under 7 will need to ride with someone that's at least 14 years old.
Oh, and if you're traveling in a wheelchair or an ECV, you'll need to transfer into the ride before heading off.
In addition to those points, pregnant women and those with heart conditions shouldn't ride.
This is because the sudden starts and stops on any rollercoaster ride can put a lot of pressure on the heart and abdomen.
And as I always say – safety first!
What Is the Best Age for Seven Dwarfs Mine Train?
Seven Dwarfs Mine Train is a great ride for all ages (above a certain height limit!).
But it's probably best for families with kids above the age of 4 or 5.
There's no saying that Disney Adults (AKA: my clan!) can't ride Seven Dwarfs Mine Train and adore it.
It's just that I wouldn't necessarily say it was worth sticking out a 90-minute wait time for.
If you're into subtle drops, fun theming, and Snow White though? Well, it's a total slam dunk.
How Long is the Wait for Seven Dwarfs Mine Train?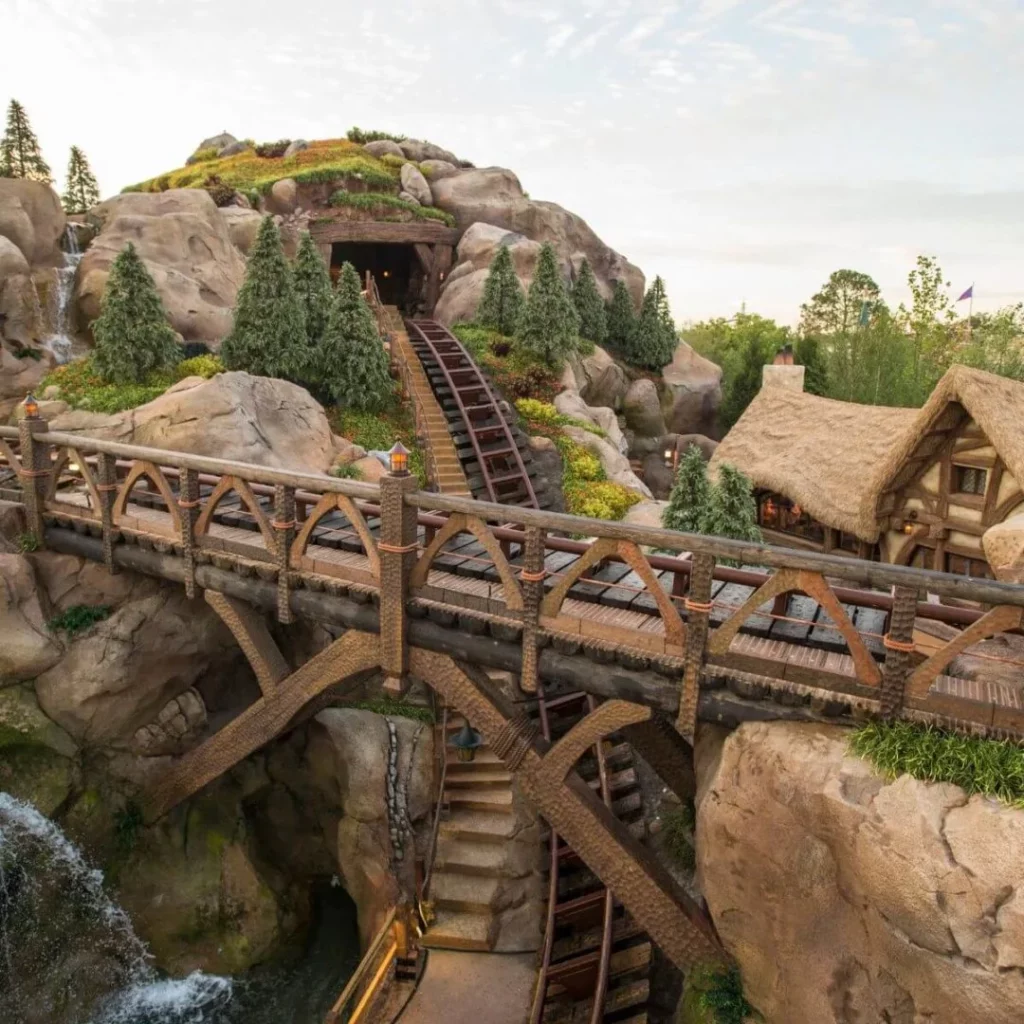 I'll be real and say that the wait for Seven Dwarfs Mine Train is always on the long side.
I'd say that the longest you'll probably wait is around 90 minutes in the standby line.
But it's been known to go up to 120 minutes during peak periods (although it's honestly not very common).
If wait times are above 45 minutes, I suggest trying to grab a Lightning Lane as this ride probably isn't worth the 90-minute wait.
Kids love it, but solo adults should try and minimize waiting for this to allow time for other Magic Kingdom picks!
FAQs
When did Seven Dwarfs Mine Train open?
Following a soft opening on May 21, 2014, the ride officially opened on May 28, 2014!
It replaced 20,000 Leagues Under the Sea and later Pooh's Playful Spot.
Because it's inside Fantasyland, you can kind of assume that it was going to be relatively family-friendly!
In Shanghai's Fantasyland, Seven Dwarfs Mine Train opened on June 16, 2016.
Can you use Genie+ or Lightning Lane for Seven Dwarfs Mine Train?
Frustratingly, Seven Dwarfs Mine Train isn't eligible for Genie+.
This means you'll need to purchase an Individual Lightning Lane if you want to beat the queues.
At least it's the only ride in Magic Kingdom that currently does this, giving you the chance to use Genie+ elsewhere.
But honestly, it IS a bummer.
Is rider switch available for Seven Dwarfs Mine Train?
If you're traveling with young children, you'll be pleased to know that you CAN use rider switch here.
In case you're not aware, this means that one party rides (and queues!) and then the next party rides without queueing.
This means that younger children don't need to spend hours in queues.
Can you use a single rider lane for Seven Dwarfs Mine Train?
There's currently no single rider line available for Seven Dwarfs Mine Train in Walt Disney World.
But if you're traveling to Shanghai, you can take advantage of it there!
Is Seven Dwarfs Mine Train scarier than Thunder Mountain?
I'd say that Thunder Mountain was the scarier ride of the two.
Not only is Thunder Mountain ricketier (which makes it scarier!), but the "haunted" theming can be spookier.
With Seven Dwarfs Mine Train, the theming is very laid-back and relaxed and the ride mechanics are smoother.
This means that everything from the speed to the drops feels more manageable on Mine Train!
Why is Seven Dwarfs Mine Train so popular?
I'd say it's popular because of a mix of theming (which is very nostalgic!) and excellent ride mechanics.
The unique side-to-side motion of the track pairs perfectly with the awesome soundtrack and amazing visuals.
I'd also say that the fact this ride is family-friendly makes it a must-ride for most park visitors.
Can toddlers ride Seven Dwarfs Mine Train?
As long as they reach the height requirement, I can't see many toddlers having an issue with Seven Dwarfs Mine Train.
I'd just watch a POV video of the ride on YouTube before riding if you're worried about your child being sensitive.
Although the theming is nothing to worry about, the swinging motion might unsettle very young children.
When is the best time to ride Seven Dwarfs Mine Train?
I suggest trying to rope drop this ride at Magic Kingdom if you can as it can get busy incredibly quickly.
If not, last thing before rides close for the fireworks is a decent option.
There you have it: the ultimate guide that should help you figure out "Is Seven Dwarfs Mine Train scary?".
Are you ready to ride Seven Dwarfs Mine Train? Is there anything else that you'd like to know about this iconic ride? Get in touch and I'd love to fill you in!
Related Posts: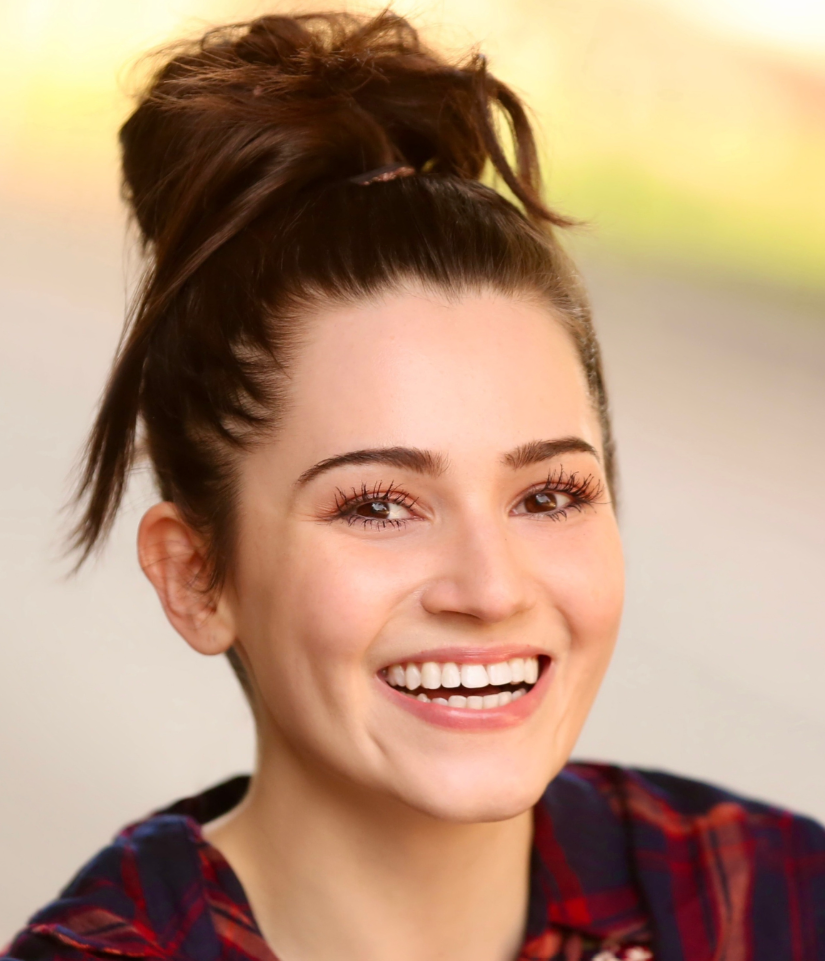 Grace is the creator, editor, and sole writer for Pixie Dust and Passports – a blog that's ALL about Disney! She's made it her life's mission to visit the Disney parks as much as possible and loves trying new snacks, grabbing the latest spirit jerseys, and rocking Loungefly bags. Oh, and she also holds a BA in History from UCL, which makes her a research and deep-dive enthusiast into all things Imagineering.