Are you wondering where to find Mary Poppins at Disney World? Join me as I run through all the meet-and-greet spots for this wonderful character that'll make your vacation a Jolly Holiday!
Did you watch Mary Poppins and Mary Poppins Returns? Were you blown away by the magic?
If so, you might be wondering where to find Mary Poppins at Disney World so that you can meet her in the flesh!
Mary Poppins is a popular meet-and-greet character at most Disney parks around the world.
And luckily, there are several places to meet Mary Poppins at Disney World (so, you don't have to miss out!).
Now let's learn all about this practically perfect nanny!
Who Is Mary Poppins?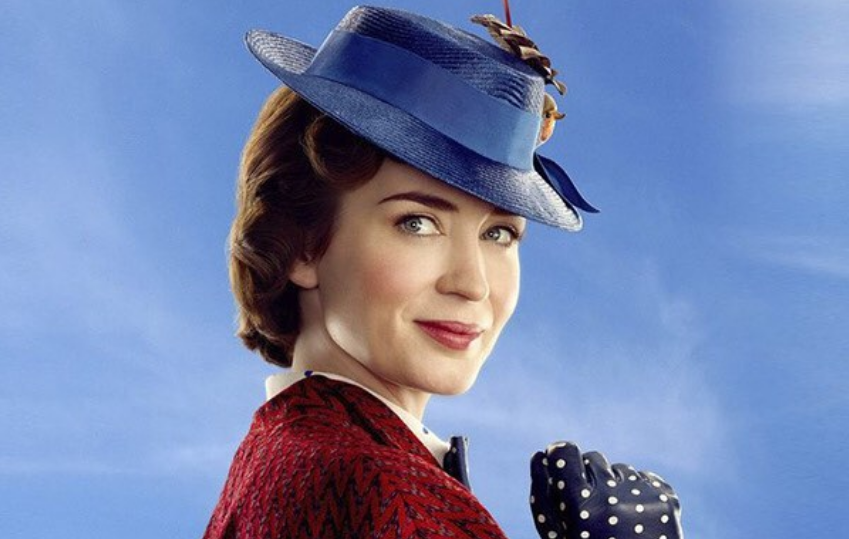 Mary Poppins is the heroine in P.L. Travers' Mary Poppins series.
She is known for being a prim and proper English nanny who is good-hearted but extremely firm when faced with naughty children.
Despite being a lot to adjust to, the children that she cares for always respect her and she fills them with childlike wonder.
And hey, she even manages to bring joy back to the jaded Mr. Banks!
Julie Andrews played her in the original 1964 movie (which won her an Oscar!).
In Mary Poppins Returns, Emily Blunt takes on the coveted role.
***Related: Where To Meet Stitch at Disney World (+ Facts and Tips!)
Mary Poppins at EPCOT
UK Pavilion
If you want to meet Mary Poppins at Disney World, your best bet is to head to EPCOT.
She typically meets in the United Kingdom Pavilion inside EPCOT and this happens every day!
Her meet-and-greet timings vary depending on the day, but they are usually around 11:30 am and 4-5 pm.
She tends to be on a rotating schedule with Alice in Wonderland.
But honestly, I'd check the My Disney Experience App for accurate timings on the day of your visit (and locations!).
Mary is quite easy to spot as her meet-and-greet location is in the same place at all times.
So, you'll find her around a bunch of foliage by the UK Pavilion's garden (there's a clear archway that should signpost you).
If you can't find her, have a look around the back of the pavilion or around the gazebo.
Cast Members often move characters here to avoid crowds and create clear lines.
When you spot her, you'll always find her wearing her Jolly Holiday outfit. This bums me out a bit as I love the famous blue and green carpet bag look.
But that might just be me!
I wouldn't usually say that her line is completely unbearable, and you can usually expect to wait between 0 minutes and 45 minutes. Usually, I'd say it falls somewhere in the middle at around 20 minutes.
As character meets go, I'd say this is super reasonable!
Mary is a face character, which means you can ask her a bunch of questions and get legitimate responses (instead of gestures).
So, you might want to ask her:
How's Bert?
Have the children been behaving?
When's your next holiday?
How are the Chimney sweeps doing?
Ask her to say Supercalifragilisticexpialidocious!
Ask her which way the wind is blowing
Ask her about her favorite paintings and which ones she'd jump into
Akershus Royal Banquet
There's never a guarantee of who will appear at a character dining experience at Disney World.
But Mary Poppins is part of the rotating cast of characters at the Akershus Royal Banquet!
She's usually a hilarious addition to the classic range of princesses on the roster (like Belle, Ariel, Jasmine, Snow White, and Sleeping Beauty!).
Plus, you get to enjoy Norwegian-inspired fare while you chat with Mary – and what could be better than that?
Seriously, the Norwegian waffles and traditional meatballs (or kjØttkake!) are delightful.
Mary Poppins Attraction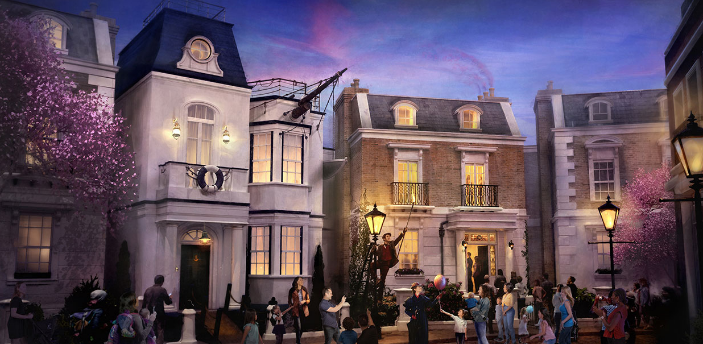 Although it's tricky to meet Mary Poppins at Disney World, she is about to become a BIG part of EPCOT!
Disney recently announced at D23 that there was going to be a Cherry Tree Lane section around the UK Pavilion in EPCOT.
And that means there would also be a full Mary Poppins attraction going into this part of the park!
Unfortunately, it's been put on hold by then-CEO Bob Chapek as of late 2022, but it's certainly not been canceled.
This is mainly down to strict budget cuts and difficulty bringing the plans to life. But I'm holding out hope that the project will come to life in a few years.
The formal explanation given was that:
"As with most businesses during this period, we are further evaluating long-term project plans. The decision was made to postpone the development of the "Mary Poppins"-inspired attraction and Spaceship Earth at this time."
When this project finally comes to fruition, it's likely that a Mary Poppins meet-and-greet will pop up here as it's a full neighborhood concept.
Disney hasn't fully realized the concept of the attraction, but it's likely to be a dark ride or a simple spinning ride.
Either way, it's likely to take you to Number 17 Cherry Tree Lane and into the lives of the Banks family.
As Mary isn't a major feature at any of the parks around the world, I'd honestly love to see this project come to life.
But knowing Disney's track record with postponements and cancelations, it's impossible to say what will happen!
Mary Poppins at Magic Kingdom
Mary Poppins isn't in Magic Kingdom as often as EPCOT, but she does appear here.
She used to meet here every day, but this tapered off and disappeared in recent years (boo!).
If you're planning a day at Magic Kingdom and want to see Mary, you should wait for the Adventure Friends Cavalcade.
She's only a small part of it, but you should spot her.
You'll also see lesser-spotted characters like The Incredibles, Miguel from Coco, and the Zootopia crew.
Aside from this cavalcade, she also takes part in Mickey's Very Merry Christmas Party each year. You'll need a separate ticket for this though!
Mary Poppins at Hollywood Studios
You won't usually see Mary Poppins at Hollywood Studios as she's not part of any parades or character meets here.
But you can watch her in Walt Disney: One Man's Dream.
It covers Walt Disney's biggest hits and is a self-guided attraction packed with multimedia.
After you walk through the gallery, you'll watch a 15-minute documentary that features recordings and footage of Walt.
And that's where you'll briefly spot Mary Poppins!
I get that it isn't much, but it's totally better than not seeing Mary Poppins at Disney World.
Where to Find Mary Poppins at the Disney Resorts
***1900 Park Fare is temporarily closed, but it's hoped that it'll reopen at some point!
Mary's a touch elusive at the Disney resorts, but you will see her if you book a character experience at 1900 Park Fare.
I love their afternoon tea party (which is also amazing if you're looking for babysitting at Disney World).
But it's the Supercalifragilistic Breakfast that you want to pay attention to for a Mary Meet.
Not only will you get to eat Mickey waffles, fluffy omelets, and pancakes, but you'll meet Mary, Alice, The Mad Hatter, Tigger, and Winne the Pooh!
The character appearances are always subject to change, but meeting Mary is relatively reliable here.
Just be warned that reservations for this can be hard to come by. So, I recommend booking as far in advance as possible.
Tips for Meeting Mary Poppins at Disney World
Get there early
I find that you can usually meet Mary Poppins at Disney World without queueing for too long.
But as time is of the essence in the parks, you should get there at least 5 or 10 minutes before her scheduled meeting time.
This should have you near the front of the queue and get you moving along to the next attraction quickly.
Come armed with some great questions
I've run through some awesome questions to ask Mary Poppins at Disney.
So, you should totally bring a few of them along to move your experience along smoothly.
If you're struggling to say anything, Mary will usually prompt you with something – don't worry!
Have your camera ready
As Mary's meet-and-greet isn't currently a PhotoPass spot, it's a good idea to have your camera ready if you want a decent shot.
Other Places to Meet Mary Poppins at Disney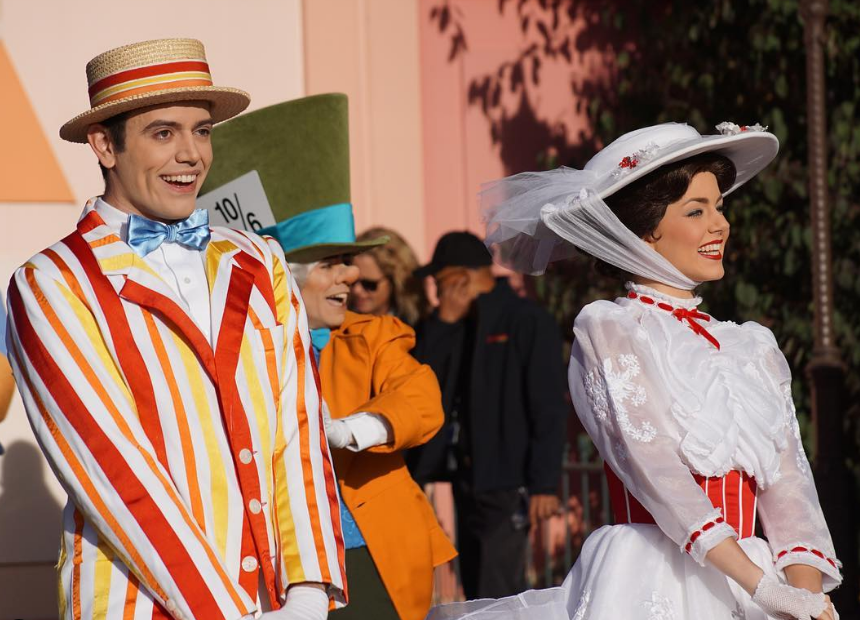 If you're not visiting Disney World but want to meet this magical nanny, I've got you covered.
At the other parks, you'll find Mary Poppins in these spots:
Disneyland Paris: in Town Square or around Fantasyland. She sometimes appears in Walt Disney Studios at the Production Courtyard too!
Disneyland: You'll find her on Main Street throughout the day.
Disneyland Tokyo: She's usually in Fantasyland, but she can also be spotted walking through the parks occasionally.
Unfortunately, she currently isn't in Hong Kong or Shanghai.
FAQs
What is Mary Poppins known for?
Mary Poppins is known for her slightly stern and professional character. But she's also known for being a super-efficient nanny with magical powers! Plus, she's an awesome vocalist!
Who is Mary Poppins based on?
According to the original author P.L. Travers, Mary Poppins is based on a stern great-aunt called Ellie who took care of the family.
Who turned down Mary Poppins?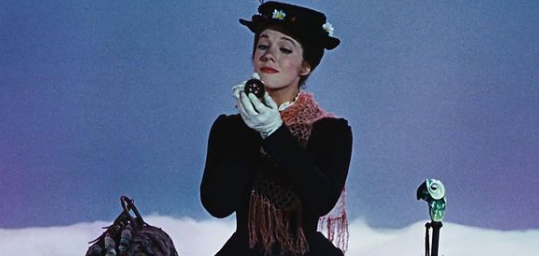 Julie Andrews is originally the person who turned down Mary Poppins as she was pregnant at the time. Luckily, it all worked out in the end.
Why doesn't Mary Poppins age?
It's never been fully confirmed, but it's essentially because she's a magical being.
What is the message of Mary Poppins?
With the power of love, family, and determination, anything can happen if you let it!
I hope that this guide has helped you figure out where to find Mary Poppins at Disney World!
Have you met the world's most amazing nanny? Did she make your holiday well and truly jolly? I'd love to hear about your Poppins-related stories in the comments below!
Related Posts: