Are you wondering where you can meet Stitch at Disney World? Join me as I talk you through every single location and a few wonderful questions to ask this character!
Although Stitch starts Lilo and Stitch as a bit of a troublemaker, this blue alien quickly won our hearts as a family member that should never be left behind.
If you want to meet Stitch at Disney World in all his fluffiness, then you'll want to stick with me.
In this ultimate guide, I've drawn up a list of every single place where you can currently meet Stitch at Disney World.
From designated meeting spots to parades and attractions, I've covered all the bases.
Now let's get down to business and track down Experiment 626!
Who Is Stitch?
Also known affectionately as Experiment 626, Stitch is one of the main protagonists in the movie Lilo and Stitch.
He starts the story as an escaped alien experiment that was formed by Jumba Jookiba, but he escapes to earth!
This adorable character tries to pass as a dog when he's adopted by Lilo and her sister Nani.
But he quickly causes trouble with his incredible strength, mischievous personality, and hyper-intelligence.
After spending time with Lilo, Stitch realizes that he is part of her "Ohana" (which means family!).
And after pleading his case to the Grand Councilwoman, Stitch is allowed to stay with Lilo as part of her family forever.
Talk about a redemption arc!
Which Disney World Park Has Stitch?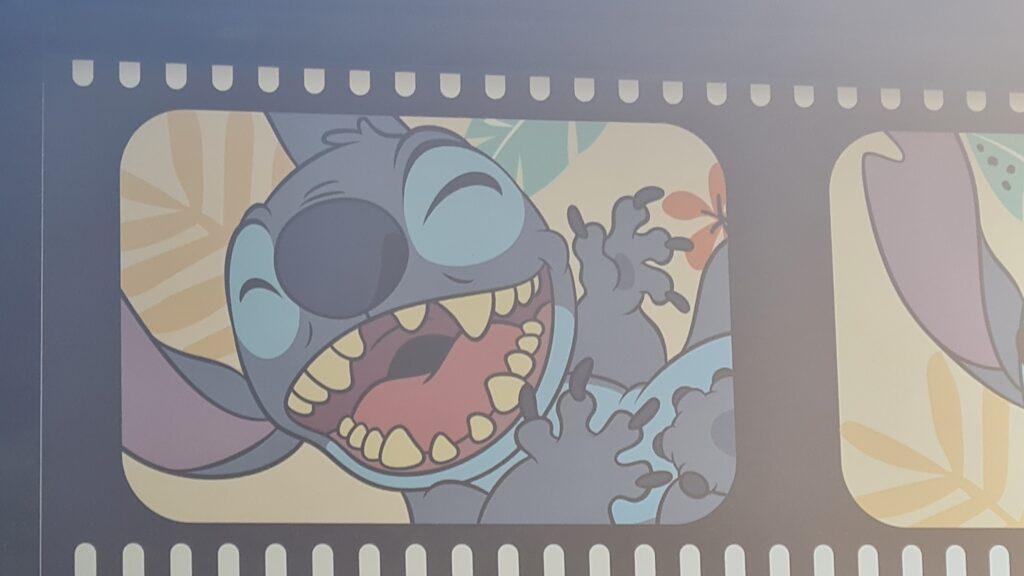 Okay, so Stitch can appear at almost every park in theory.
But he's most reliably found at Magic Kingdom where he appears in parades and meet-and-greets throughout the day.
And if you keep an eye out, you'll even spot a special Stitch statue perched on the wall by Tomorrowland Terrace.
It's there to commemorate the 50th Anniversary of Walt Disney World, so it may not be a permanent fixture.
But it's certainly a great photo opportunity!
The Best Places to Meet Stitch at Disney World
Best Friends Breakfast at O'Hana
If you want to meet Stitch at Disney World, the best place to visit is O'Hana as you're almost guaranteed to see him.
Plus, I'm always a sucker for a wonderful breakfast at Disney World!
The Best Friends Breakfast is a character dining experience at Disney World that features Lilo & Stitch and is priced at $35 to $59.99 depending on your chosen menu.
It's a family-style dining experience and the food is heavily influenced by Polynesian flavors.
But don't worry, you'll still be able to grab classic dishes like breakfast potatoes, scrambled eggs, sausages, and Mickey Waffles!
Although the parks never fully guarantee the appearance of a character (just in case!), the breakfast is marketed as a meet and greet with Lilo and Stitch.
The dining experience is designed so that Lilo and Stitch pass every table to pose for photos, sign autographs, and interact with guests.
You can usually give Stitch (or Lilo!) anything to sign, but I recommend bringing a souvenir or an autograph book for ease.
If you have the PhotoPass, you'll also be able to get a professional shot taken that you can treasure forever!
Personally, I find this experience far less rushed than other character meet-and-greets around the park.
So, it's an amazing choice if you want to meet Stitch at Disney World!
Disney's Polynesian Resort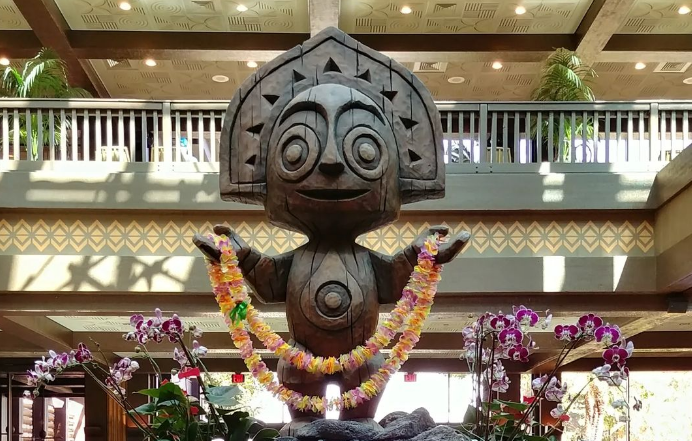 Although it's relatively rare, you might spot Stitch strutting around the Polynesian Resort.
I honestly haven't seen this in a while, but it's said that he still pops up occasionally for meet-and-greets.
But if I were you, I'd book a character breakfast at Ohana to make sure you'll definitely see Stitch at Disney World.
Otherwise, you'll be relying on being in the right place at the right time.
It will certainly cost you more than a meet and greet at the parks, but I find the character breakfast an experience to remember!
H20 Glow Night
It's tricky to spot Stitch at the water parks (although he does appear!).
But you'll often see him during the H20 Glow Nights that happen which are essentially after-hours parties at Typhoon Lagoon.
This is an admission-only event, and you'll typically be able to meet a few select characters at each event.
Just be aware that the events run between 8 pm and 11 pm. So, it's going to be tough for kiddos as it's just so late for them!
But if you can stay up, you'll benefit from lower wait times for attractions and a few amazing refreshments and snacks.
Move it! Shake! Dance and Play It! Parade
There's nothing I love more than a legitimate dance party, and the Move It! Shake It! MousekeDance It! Party is an amazing place to see Stitch.
It's not currently available as of early 2023, but it's hoping to return with a vengeance!
It usually runs for around 35 minutes along the Magic Kingdom Parade Route past Cinderella Castle and Main Street.
As the floats move, you'll jive along to bopping tunes (and Disney remixes!) while waving to Donald, Daisy, Mickey & Minnie, and of course – Stitch.
If you don't want to miss this parade, I recommend checking the park's Entertainment Schedule before visiting.
This should let you plan your park day around meeting Stitch at Disney World!
You should try and perch yourself near Cinderella's Castle or along Main Street if you can.
But as it's a premium spot for most parades, you might need to get here relatively early to secure a decent spot.
You may also want to get near the front of the route near the ropes as you'll get amazing photos without obstructions.x
**As soon as this attraction is back up and running, I'll let you know!
Magic Kingdom Park – The Rocket Tower Plaza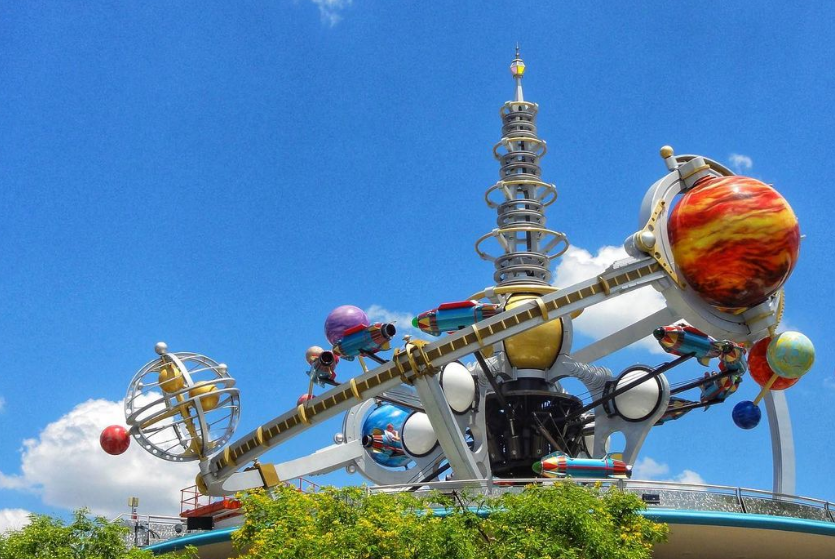 Another popular place to find Stitch at Disney World is on the Rocket Tower Plaza Stage in Tomorrowland.
If you weren't aware, this is the futuristic-themed part of the park where you'll find rides like Buzz Lightyear Space Ranger Spin!
So, it's fitting that Stitch and his alien ways show up here.
And in case you can't find it, this meeting spot for Stitch at Disney World is between Carousel of Progress and Space Mountain!
The only downside to meeting here is that his schedule is tricky to follow as it's not strict or published.
This means you'll need to regularly pass the area in the hopes that you'll catch a meeting opportunity.
If you chat with a Cast Member though, they might give you an idea of when 626 is planning to appear during the day!
Stitch's Alien Encounter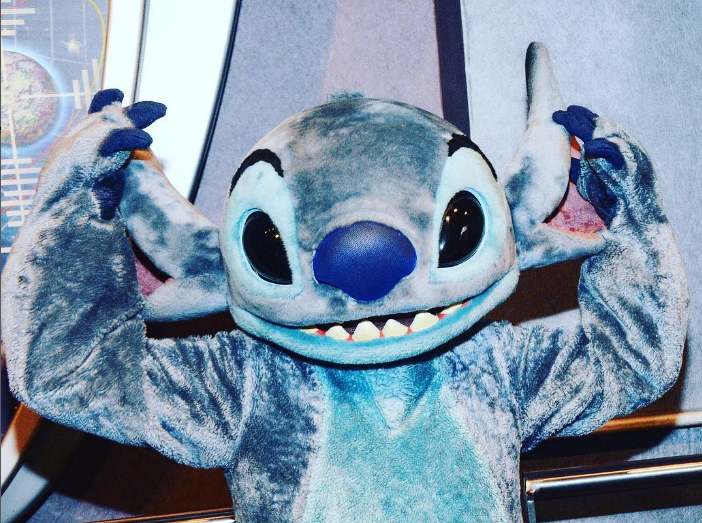 If you're willing to queue up for a bit, you might want to head to Stitch's Alien Encounter.
This is a dedicated meet and greet spot for Stitch at Disney World and used to be the attraction "Stitch's Great Escape".
Although we've waved goodbye to that iconic ride, the replacement isn't half bad!
At this meeting spot, Stitch will sign autographs, interact with you, and take photographs with you.
And you'll even get a few warm and cuddly hugs from Experiment 626 if you want!
There are usually times available for booking on the My Disney Experience App (which is a must-have Disney app, BTW).
This way, you can return to the meeting spot when Stitch appears which prevents you from waiting around.
You may want to arrive 30 minutes or so before the meeting to secure a spot in the queue. But if you're happy to wait, just rock up when Stitch does!
If you can, I also suggest trying to meet Stitch right at the start of the day (around rope drop) or close to park closing.
You take a bit of a risk at park closing as the queues might increase based on FOMO – hey, we've all been there.
But usually, the parks will have cleared out significantly by this point which reduces the crowd levels enough for a shorter wait.
And if you can't find any of the meeting times or feel confused, a Cast Member posted near the meeting spot will be happy to help.
In the stores!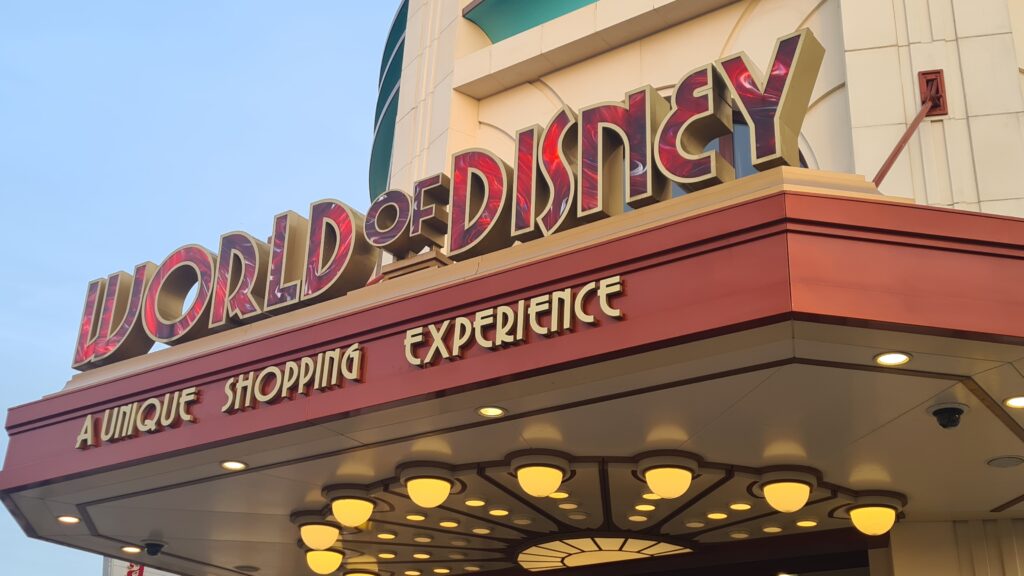 Okay, this might be cheating.
But you'll also find Stitch at Disney World if you visit any of the merchandise stores (like World of Disney!).
World of Disney is probably one of the best spots to visit for Stitch merch as there's just so much here.
And that's probably no surprise, as it's one of the largest stores in the 120-acre Disney Springs!
If you don't feel like battling other guests at World of Disney, stores in Tomorrowland usually stock tons of Stitch merch. In my opinion, Mickey's Star Traders is probably the best place to stop for varied Stitch merchandise.
Have time to head to the resorts? The Polynesian stocks a bunch of Lilo and Stitch clothing, plush toys, and everything in between!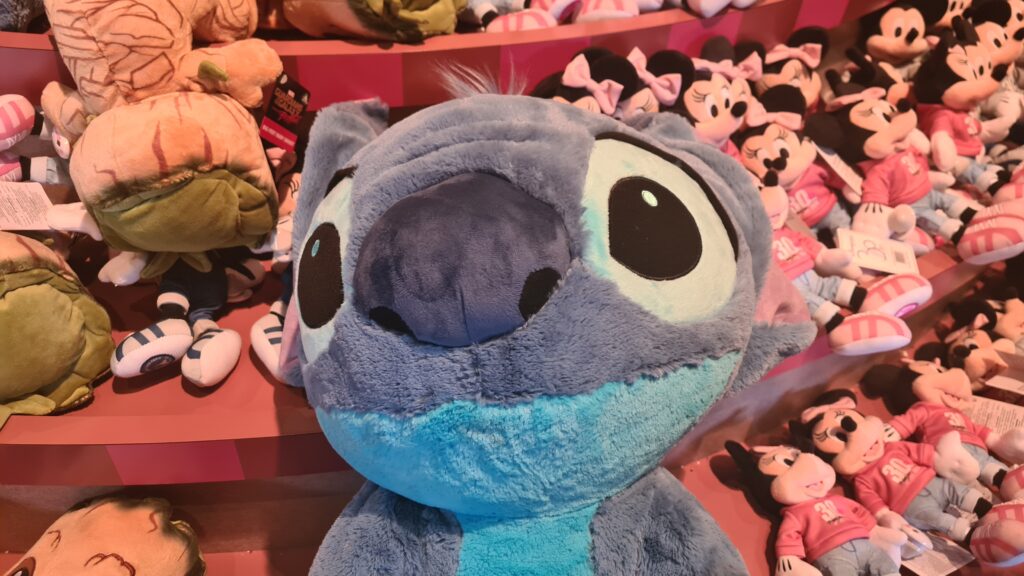 I've actually bought a shirt at Star Traders that I've basically worn to threads at this point.
But keep an eye out for costumes and ears too!
The gift shops here are great places to stop after a character breakfast, but you can easily visit the stores if you're not staying at the hotels.
So, don't worry.
Plus, if you miss out on anything – you can always grab your favorite Stitch merch online!
Is Stitch at Hollywood Studios?
There aren't currently any places to meet Stitch at Disney World, but you can spot him in Fantasmic!
His appearance is relatively short, but the fireworks, pyrotechnics, and wonderful music will more than make up for it!
The show only runs for around 29 minutes and it's a fantastic way to round off a day at Hollywood Studios.
Plus, there are a few showtimes in the last couple of hours of the day, which makes it ideal for trip planning!
Is Stitch at EPCOT?
Stitch can appear at EPCOT, but he can be a tricky alien to track down throughout the day.
You'll sometimes find him at the EPCOT Center at the Character Meet and Greet Spot.
But luckily, his appearance times are usually posted on the My Disney Experience App for guests to find.
Just be warned that his appearances aren't that frequent, so I recommend planning your time carefully.
Questions to Ask Stitch
If you tend to panic about things to ask characters in the parks, then this list of questions to ask Stitch has got you covered!
Just remember that he won't actually be able to respond to anything other than YES or NO questions with much meaning.
So, I recommend asking him:
Are you having a good day?
Have you seen Lilo lately? (he'll probably respond with a cute chuckle and a few gestures!).
Were you happy when you found your family?
Can you strike a pose with me?
Can you dance like Elvis Presley?
Are you a dog?
Overall, you should try and stick with questions that relate to their movie story that can be answered easily (without words!).
Fun Facts About Stitch
Stitch's actual name is Experiment 626 – he's only called Stitch after Lilo names him!
Believe it or not, Stitch was initially designed to be an alien gangster instead of a cute and cuddly character!
When Stitch first appeared at the Magic Kingdom on November 16, 2004, guests saw toilet paper thrown across Cinderella's Castle which said that Stitch "Is King"! It was quickly removed, but it was certainly a fun Disney prank.
Stitch has tons of incredible powers including being fireproof, bulletproof, and quick-thinking!
It might be a bit of a copout, but Stitch's birthday is said to be June 26th when fans celebrate this wonderful Disney creature.
There you have it: the ultimate guide to meeting Stitch at Disney World!
Have you ever met Stitch at Disney World? What did you talk about? I'd love to hear about your meet-and-greet experiences in the comments below.
Related Posts: