Have you been on the hunt for the ultimate guide to Universal Studios Singapore rides? If so, join me (a true-blue local!) as I run you through everything you need to know.
I have such a soft spot for Universal Studios Singapore as I lived in the city for 18 years until I moved away for university. At one point, I even had an annual pass and visited the park every single weekend. Yep, I was obsessed.
Although I don't live there anymore, I still go back at least twice a year to sample everything this glorious park has to offer. So, I kind of see myself as an expert on Universal Studios Singapore rides (and how you should tackle them!).
This detailed rundown of Universal Studios Singapore rides covers the basics of each attraction and when you should ride them. This way, you should be able to buzz through the park without a hitch.
Now let's do this thing!
Important Information Before We Start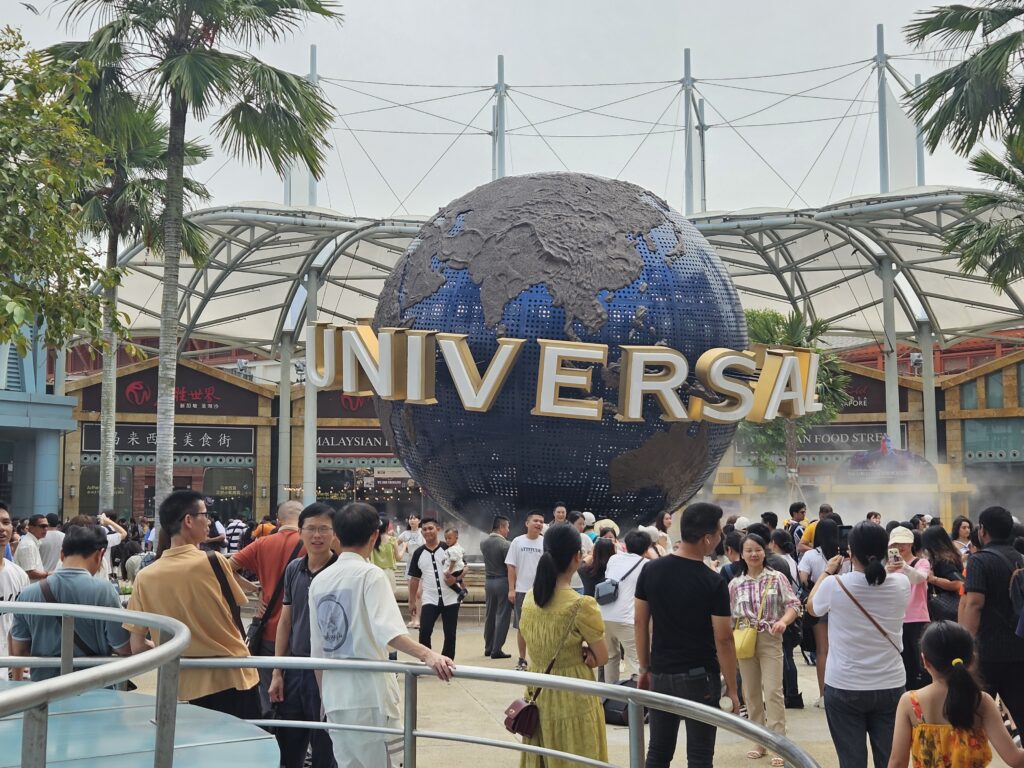 Universal Studios Singapore Location: Universal Studios Singapore is tucked away inside Resorts World on the island of Sentosa. You'll find it just off the monorail (heading towards Beach Station) or coming up from the Resorts World Car Park and Drop-Off. It doesn't really matter which route you take, but you'll need to pay the island entry fee to get through to Sentosa. When I last visited in October 2023, it was $4 (and I took the monorail!).
Closest MRT Station: Habourfront. The easiest way to get to the monorail is by heading out of the main exit towards VivoCity (there's a McDonalds there to guide you!). Then, you just need to go up to Level 3 by the nearest escalators to the MRT Exit. If you're not sure, it's right next to a KFC. Just keep heading up to Level 3 and you'll find the monorail entrance.
Closest Bus Stop: Any bus that stops at Habourfront or VivoCity will get you here easily.
Closest Hotel: Any of the Resorts World Hotels will be within walking distance, but Hard Rock Hotel is the absolute closest.
Ticket booking website: https://www.rwsentosa.com/en
Ticket prices: $82SGD for adults and $61SGD for children. There are also discounts for residents that can bring tickets as low as $55.
Universal Studios Singapore opening hours: The park usually opens at 10 am or 11 am (depending on the day) and closes between 5 pm and 10 pm. I highly recommend checking out the calendar for exact opening hours during your planned trip. If you want to leave and reenter, you'll need to retain your ticket and get an invisible stamp on your arm.
Top Universal Studios Singapore Rides (Especially for Adults!)
Battlestar Galactica: Human & Cylon
Zone: Sci-Fi City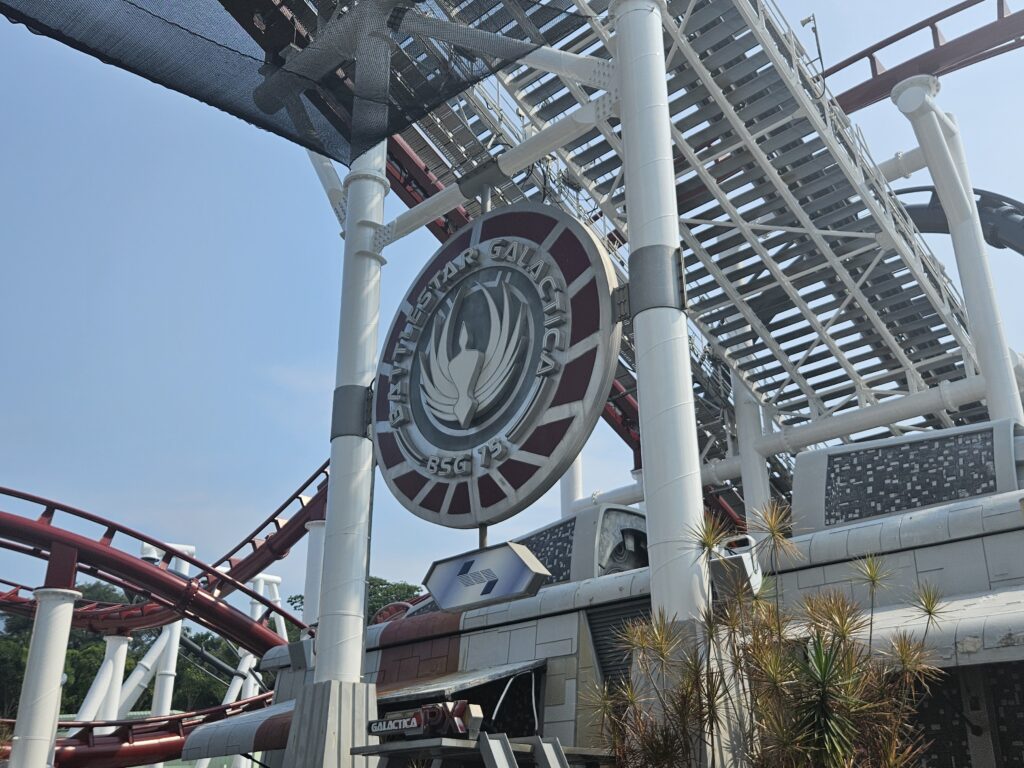 The first attraction I'll cover on this list of Universal Studios Singapore rides is Battlestar Galactica.
This ride is legendary and involves 2 different coasters in a single ride. These are the regular rollercoaster Human and the upside-down sensation Cylon (AKA: the red and blue tracks).
What makes this coaster unforgettable is that it's designed as a dueling coaster with the Humans taking on the Cylons. The tracks never actually cross, but it absolutely feels like they do.
Cylon is by far the most intense of the two with inversions, a below-ground drop, and sections of thick mist.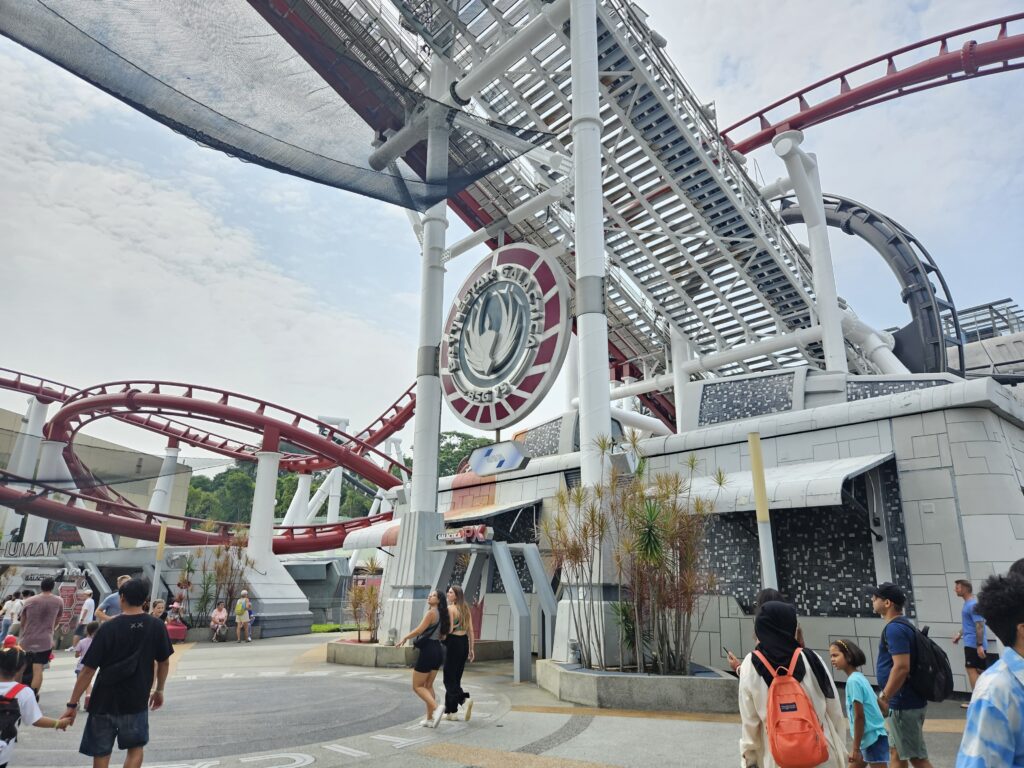 Human isn't a walk in the park, but there are still extreme drops and turns that'll keep you on the edge of your seat.
Just be warned that this is one of the Universal Studios Singapore rides that make you shove your belongings in a locker.
It's usually fine as the lockers are free for 45 minutes. But if you're visiting at the weekend when lines can exceed an hour, you'll need to shell out to keep your belongings secure.
You can't even take your phones on the ride as there are park workers stationed at the entrance to check that you don't have anything on you!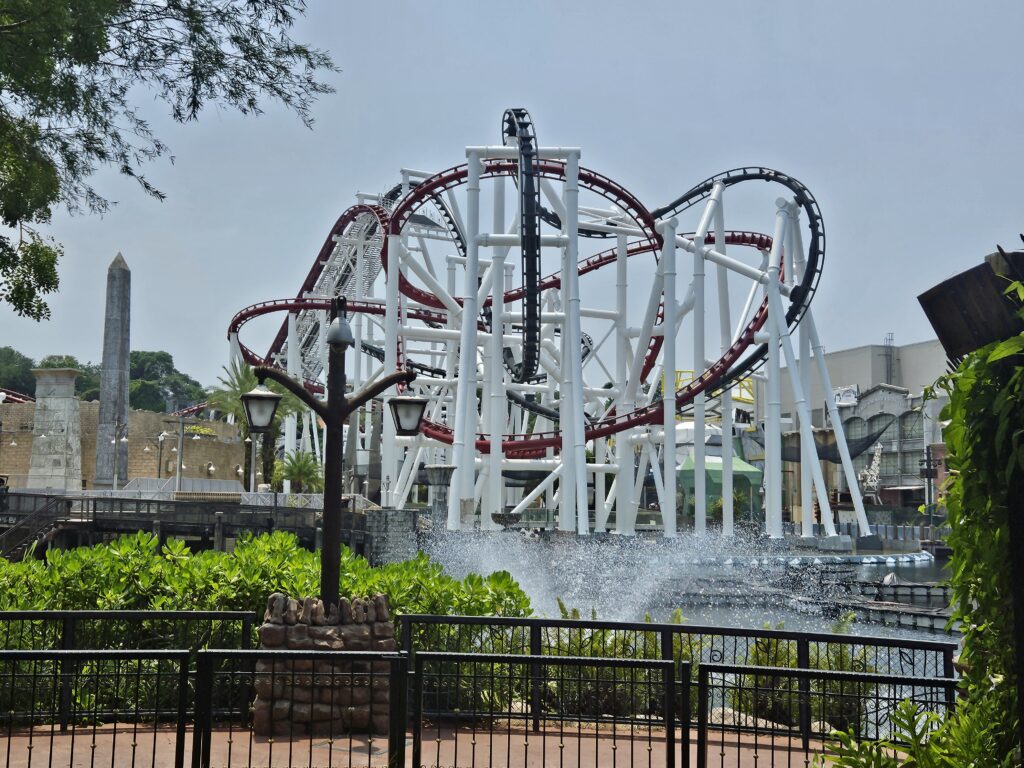 When should I ride?
I find that the queue times for Human have always been lower than Cylon, going down to just 5 minutes at times (just before close).
So, I'd prioritize riding The Mummy before heading back to Battlestar Galactica.
Revenge of the Mummy
Zone: Ancient Egypt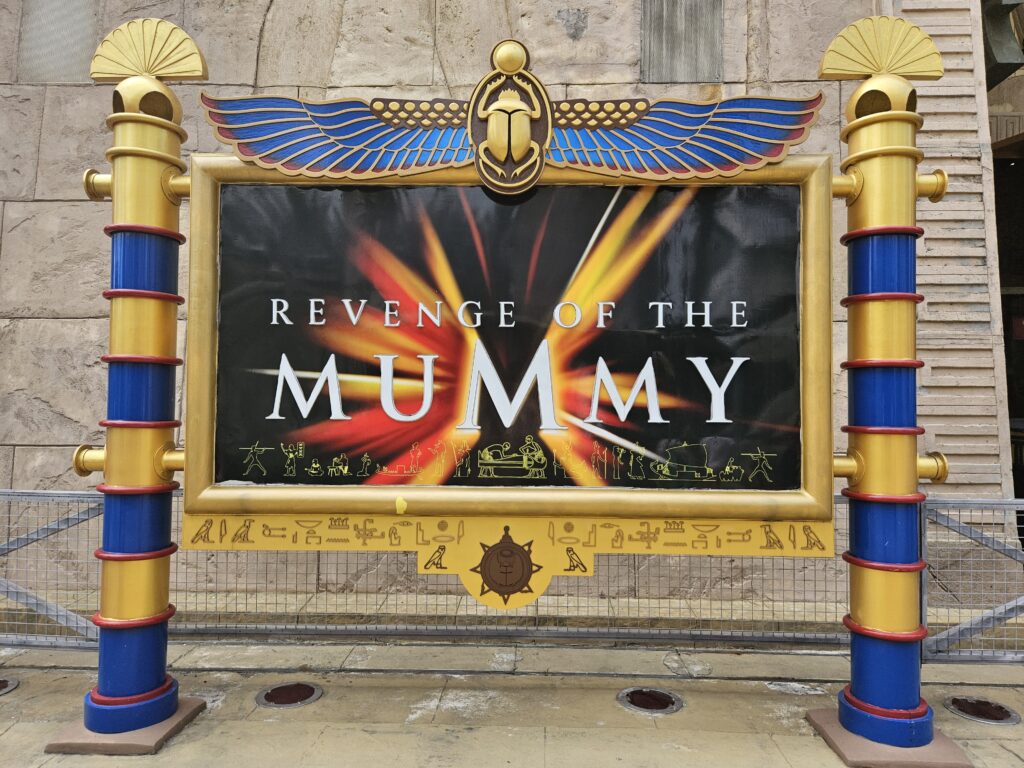 Revenge of the Mummy isn't for the fainthearted, and I'd say it's the most intense rollercoaster at the park (next to Cylon).
It's a fabulous ride that takes place almost entirely in the dark and goes backwards.
It also accelerates incredibly quickly at its climax point (64km/h!) which is worth mentioning if you're not a fan of speed bursts.
The track layout is relatively similar to the one you find in Florida, which is considerably more intense than the Hollywood version.
It's not totally unmanageable drops-wise, as there are only 2 significant drops during the ride.
But because you're completely in the dark for the majority of the ride, everything feels faster and steeper.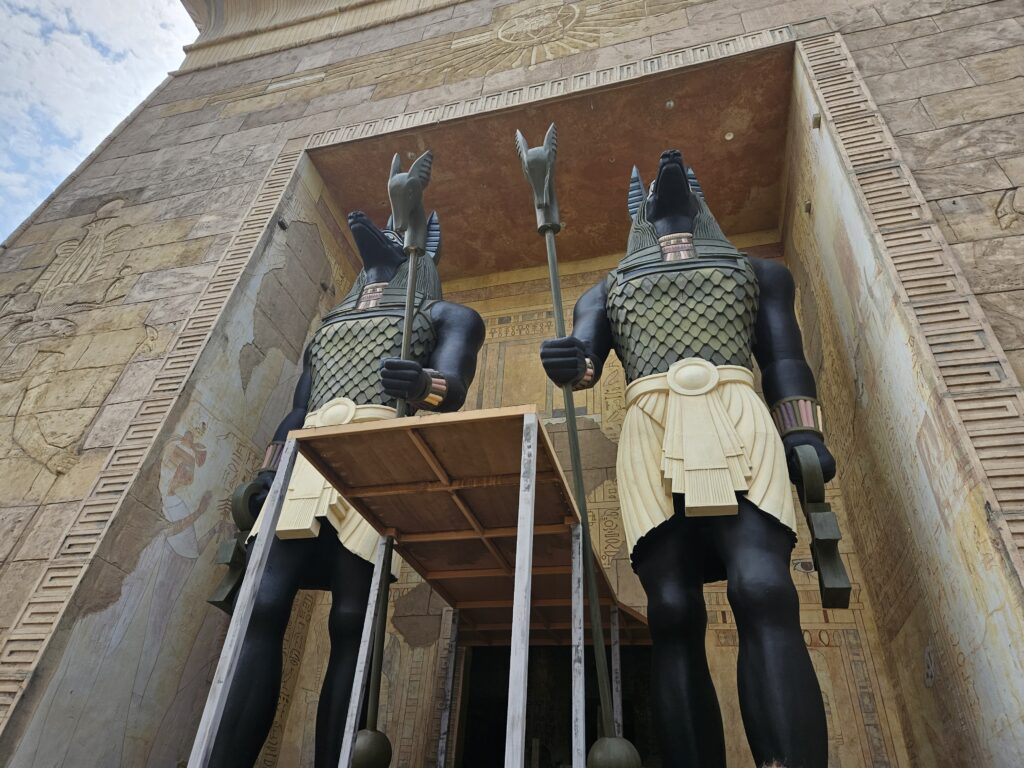 Even if you're not a huge rollercoaster nerd, this is a must-ride attraction as it's packed with cool effects (animatronics and great lighting!).
Just be aware that it might frighten younger children with its dark theming and "haunted" vibe.
Oh, and just be warned that you'll need to put everything you own into lockers (that are only free for 45 minutes!).
When should I ride?
This is a great option to hit after Battlestar Galactica or Transformers in the morning. The queues are typically around 20 minutes or so until the afternoon where it shoots up to about 45 minutes. The good news is that it's a fast-moving ride. So, you won't be waiting over an hour at any time of day (most of the time!).
Jurassic Park Rapids Adventure
Zone: The Lost World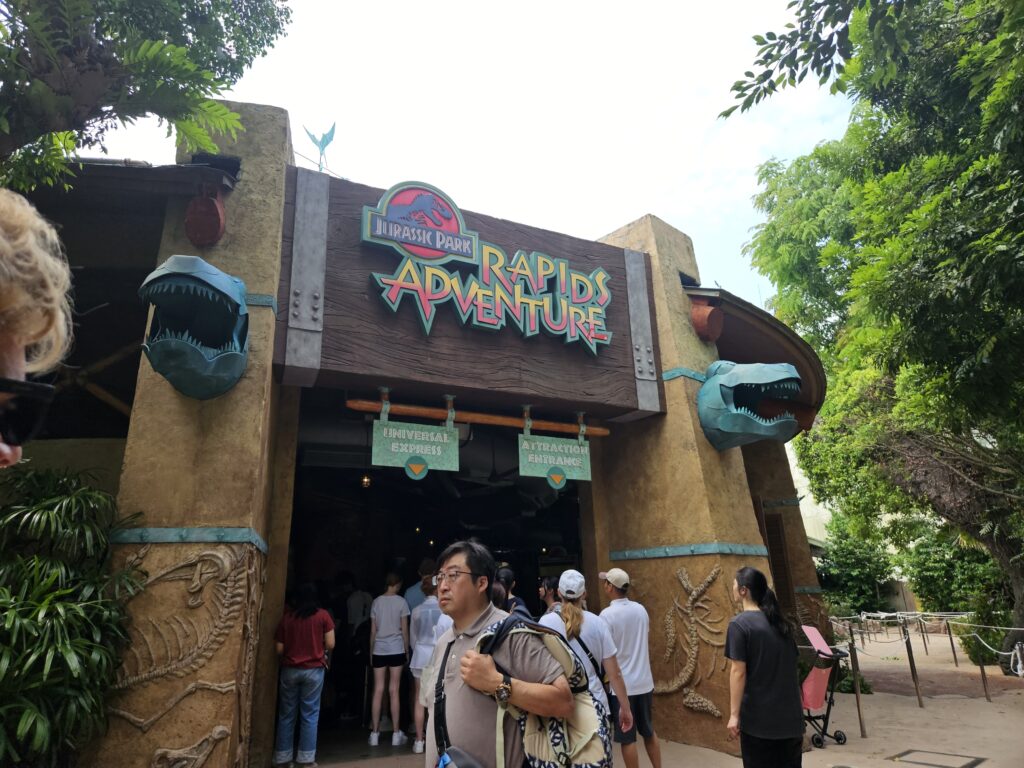 If Singapore's humidity is starting to beat you down, Jurassic Park Rapids Adventure is a great place to stop.
It's a classic river raft ride that features a breathtaking drop, plenty of Jurassic Park IP, and a guaranteed soaking.
Well, if you're facing backwards as you fall, that is (which somehow always happens to me!).
If you're facing forwards, you'll probably escape with a few splashes. But make sure you look out for dinosaurs that squirt water at you throughout the ride.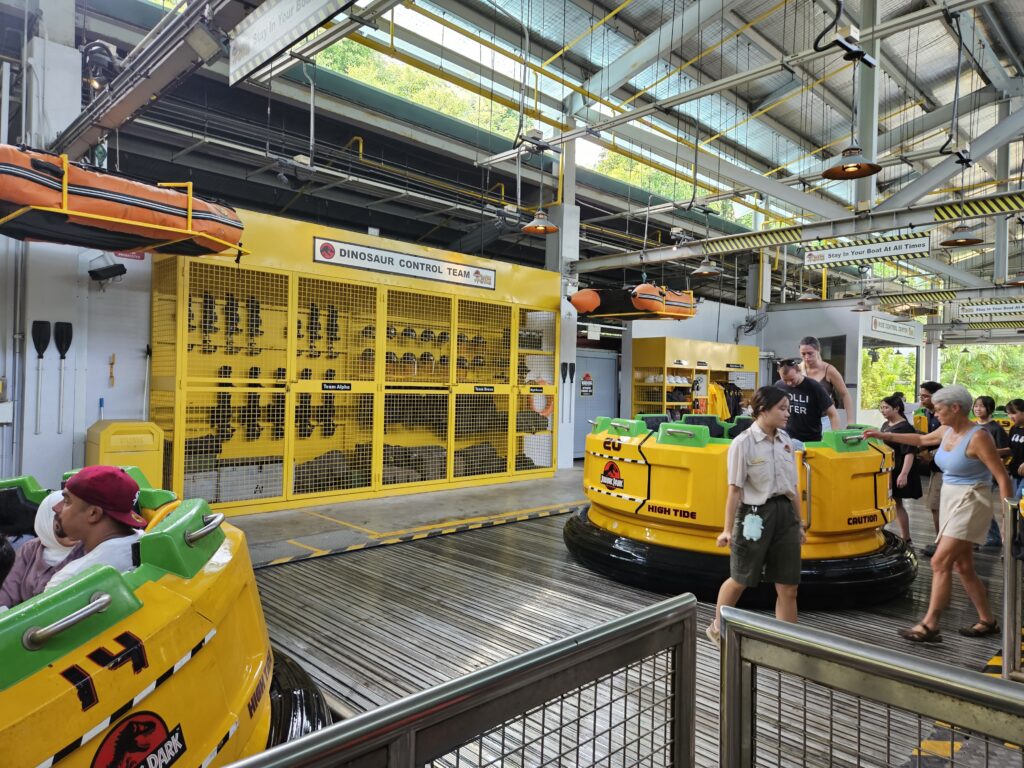 You'll need to pay for lockers here regardless of how long you queue for. I'm usually cheeky and head to Battlestar or Revenge of the Mummy to take advantage of the free time. The queues for Jurassic Park Rapids Adventure are usually around 20-40 minutes, so you should be fine.
You can technically keep your bags with you, and I usually carry a nylon waterproof backpack to avoid the hassle.
I don't usually bring a protective poncho, but they're available for $5 at a dedicated vending machine if you're worried. If you got really drenched, there are also drying pods perched outside for the same price – so, pick your poison!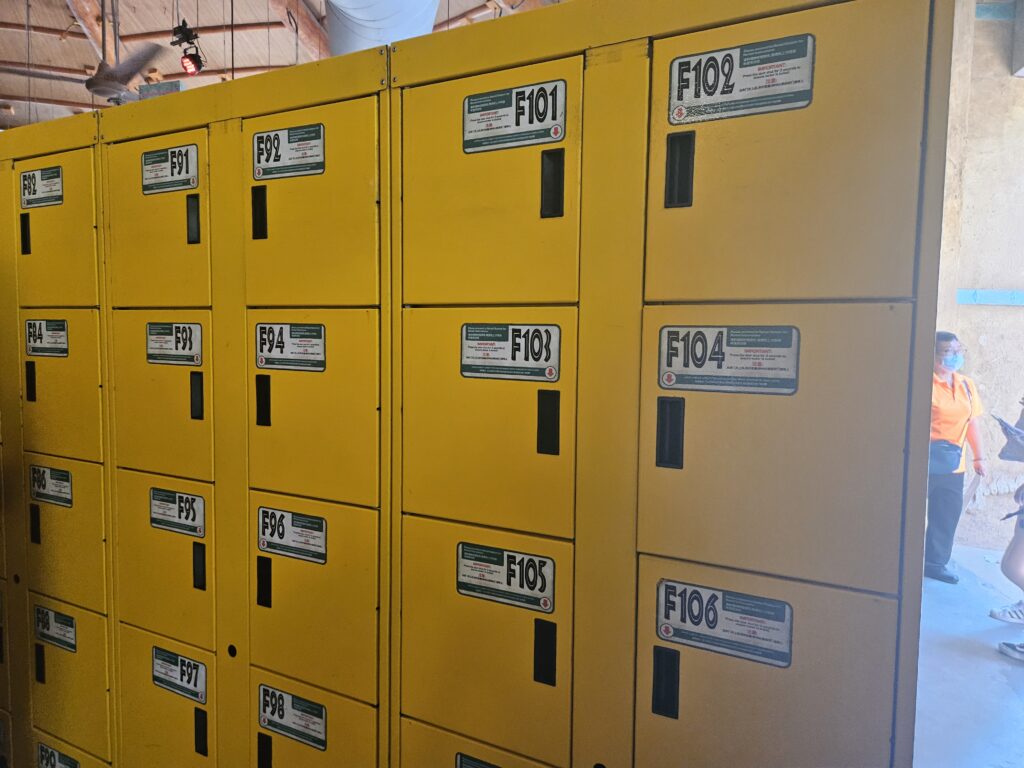 When should I ride?
I honestly find the queues for this ride relatively similar throughout the day as it's a constantly moving conveyor. I suggest heading here once you've ticked off Battlestar Galactica and Revenge of the Mummy. Even during the afternoon in October 2023, I was able to get on in 15 minutes.
Transformers: The Ride
Zone: Sci-Fi City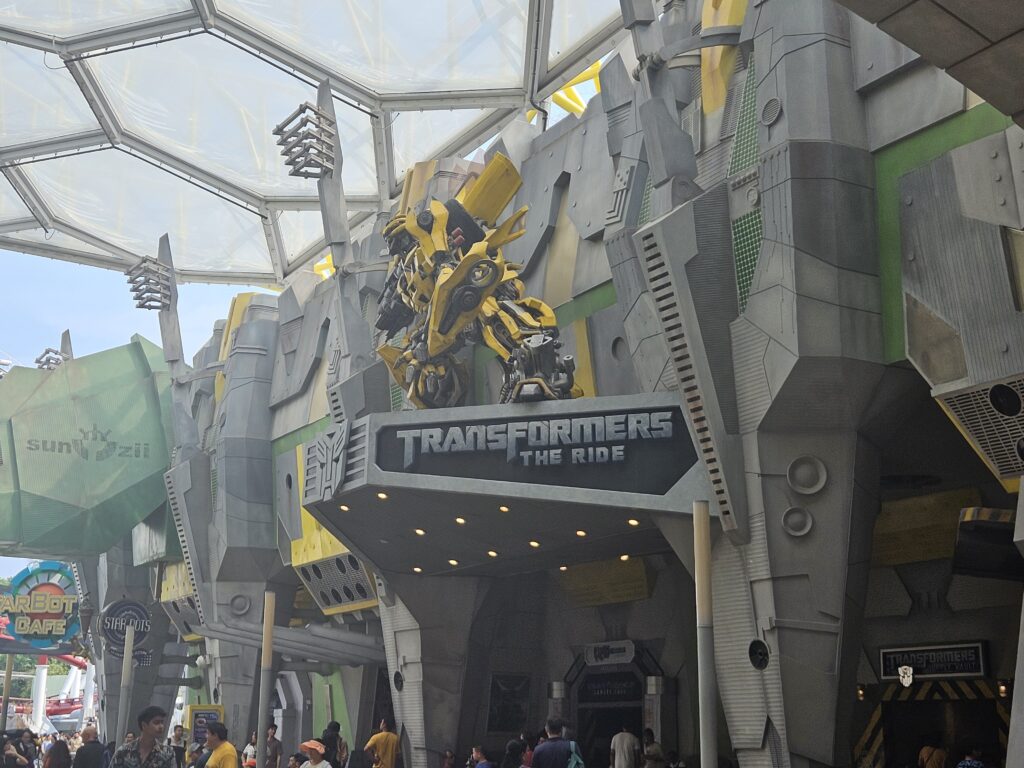 If you're into motion simulator rides with 3D effects, then you'll adore Transformers.
It essentially sends you riding along subway tunnels, across the rooftops, and along city streets as you fight to save humanity.
And the concept is simple, but super effective.
During the queue's pre-show, you're "recruited" to fight the Decepticons alongside the Autobots in the ultimate battle.
Once you're in the loading station, you'll travel through a crash scene (through a wall!) before fighting Megatron.
I won't give everything away, but there are explosions, helicopter fire, and you even fall off a building.
Now that's an intense ride.
I don't recommend this one if you have major motion sickness issues, but it's certainly a headliner that's worth a try.
When should I ride?
People literally run to this ride first thing in the morning which can shoot waiting times up to 60-120 minutes. If you want to skip the queues, wait until just before park closing or mid-afternoon (4pm-ish).
Shrek 4-D Adventure
Zone: Far Far Away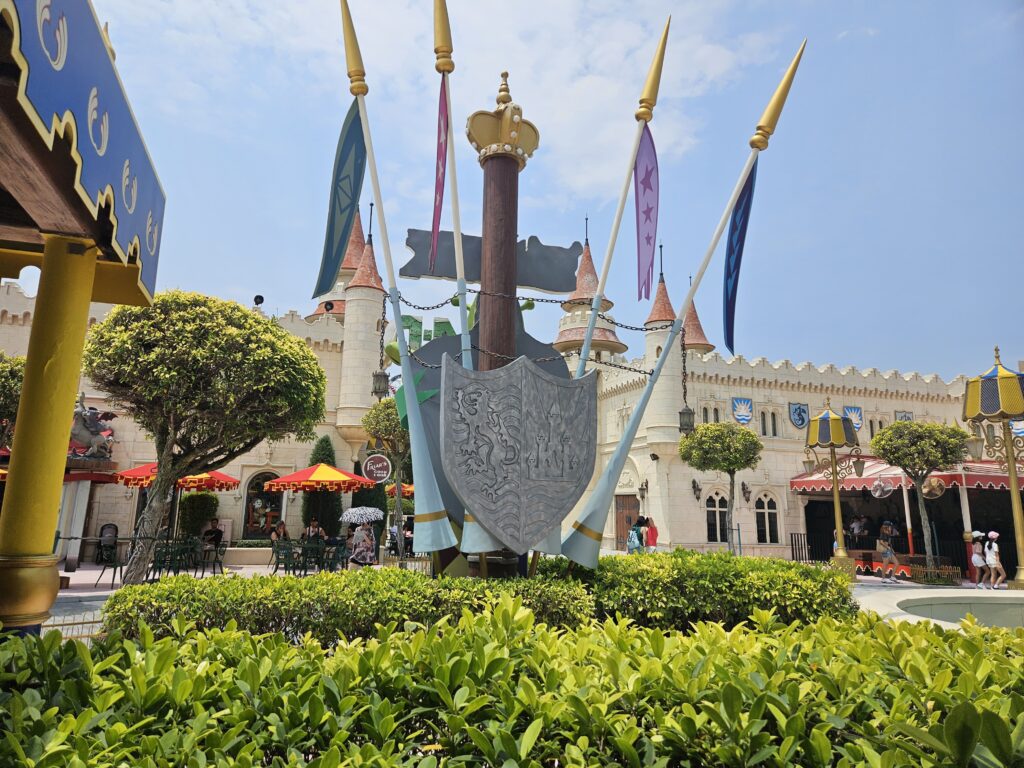 Shrek 4-D Adventure is a classic 4D ride that sprays you with water, moves, and shows you a 3D film.
It plays back-to-back throughout the day and you're led into a preshow room before watching the main show.
I'd say the entire experience will take around 30-40 minutes (depending on how long you queue for).
So, you'll want to make sure you allocate enough time in your schedule.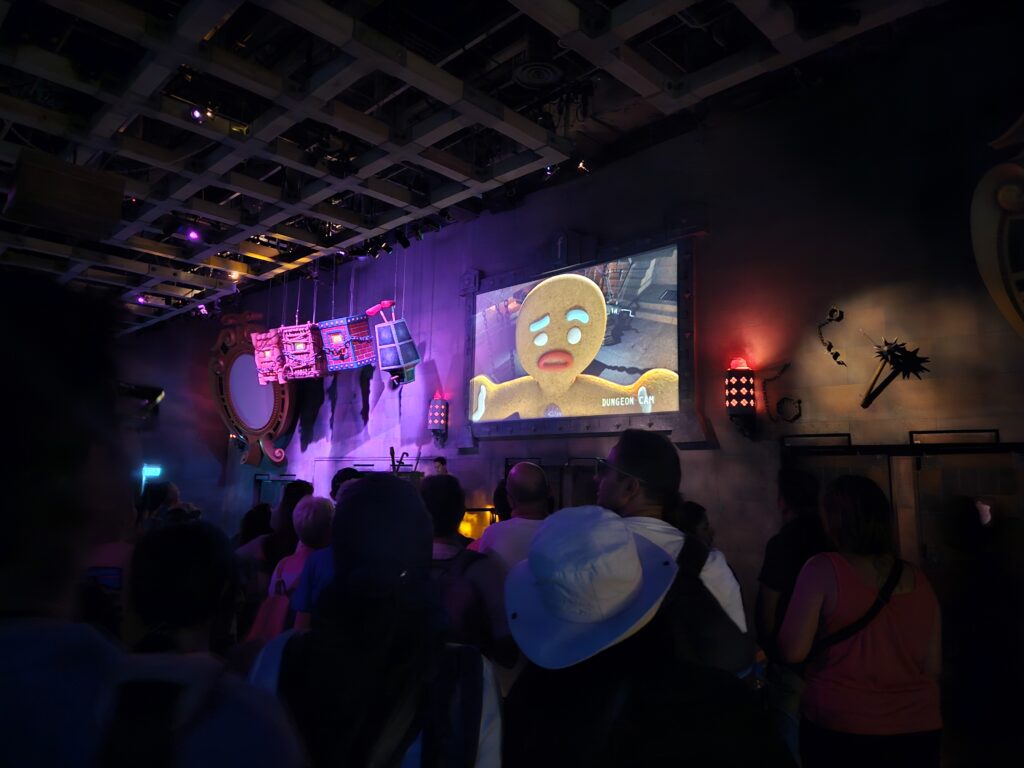 Now, I wouldn't say that it's the smoothest 4D ride in the world as it quite literally throws you around.
I've ridden this a few times, and I'm always taken aback by how intense the seat movement is (and the 3D glasses can sometimes be slightly unreliable!).
Just for reference, you often hit "obstacles" and ride horses in the context of the film you're watching.
And the mechanism for the seat movement is NO JOKE.
So, if you're pregnant or have any health concern at all, you'll want to guide yourself to the non-moving seats.
I'd even recommend moving to them if you have issues with motion sickness, as the sudden jolts might make you feel unwell.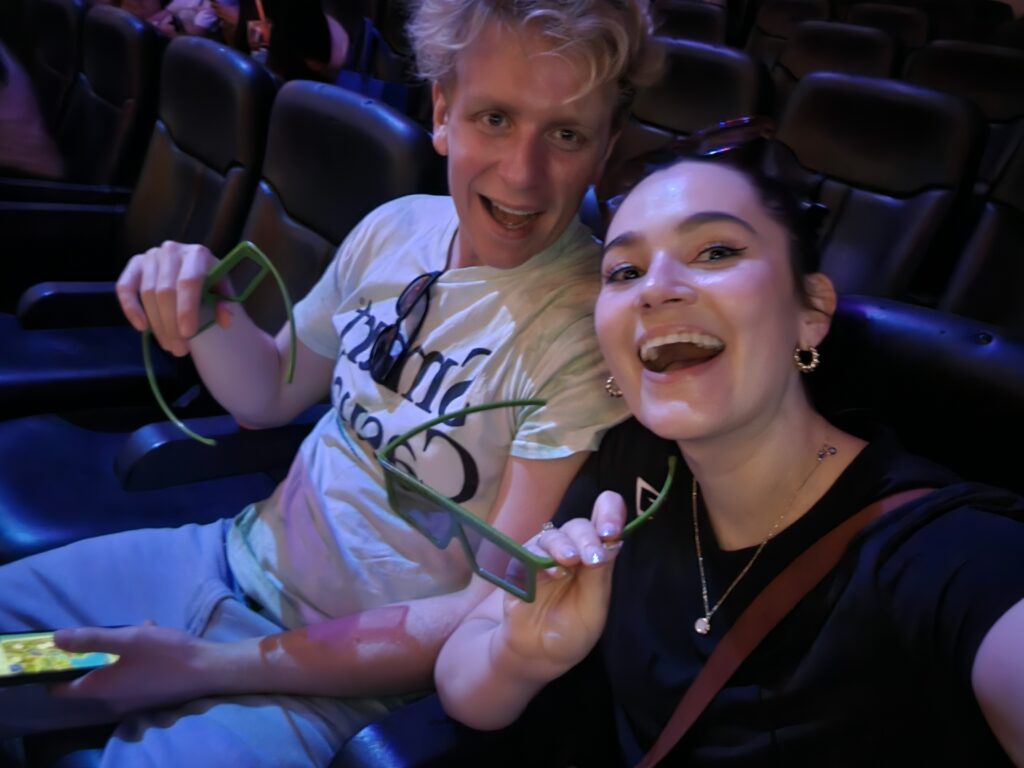 Canopy Flyer
Zone: The Lost World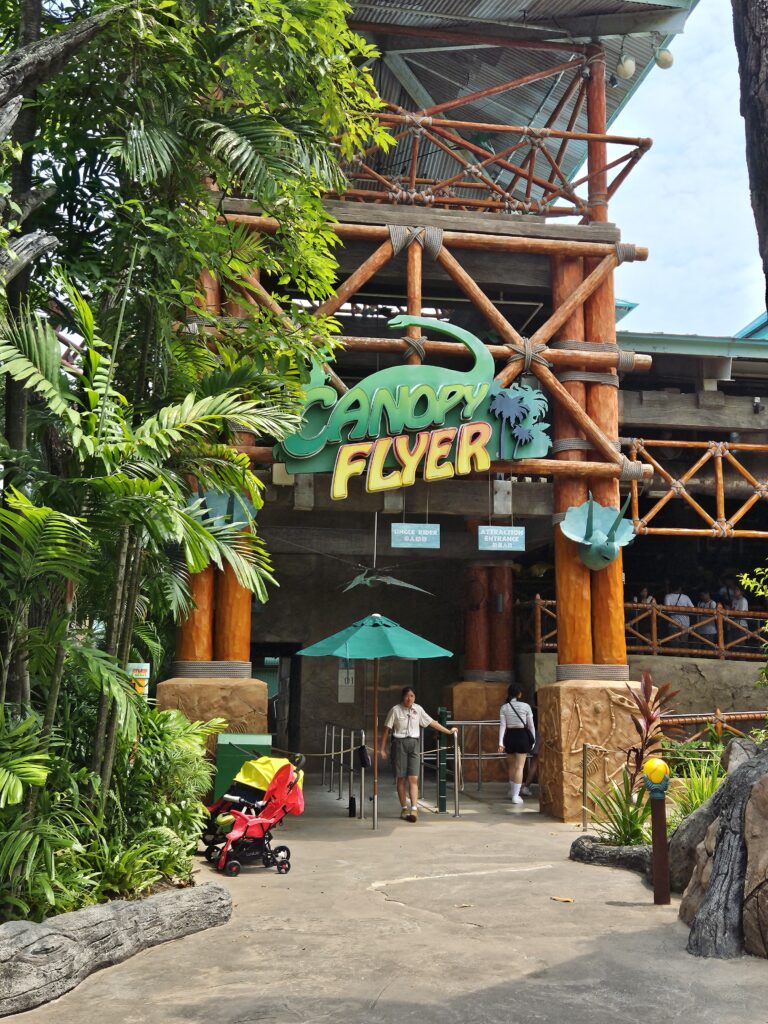 Another one of my all-time favorite Universal Studios Singapore rides is the Canopy Flyer.
This might be an unconventional pick as it isn't a headlining ride or a thrill ride.
But I love the amazing park views you get from this ride (and you can see all the way to Sentosa and Harbourfront!).
Honestly, I recommend queueing for the views alone. But the smooth ride mechanism and exciting dips and weaves are also worth the (sometimes excessive!) queue time.
I usually try to ride at the front as the back gives me a touch of motion sickness.
If you prefer thrills, the back is far more unexpected and excited – so, it's entirely down to you!
When should I ride?
Try to hit this as early as you can, because ride times only get worse as the day wears on. If you can't get to it in the morning, check this ride out just before the park closes for the day.
Best Universal Studios Singapore Rides for Kids
Enchanted Airways
Zone: Far Far Away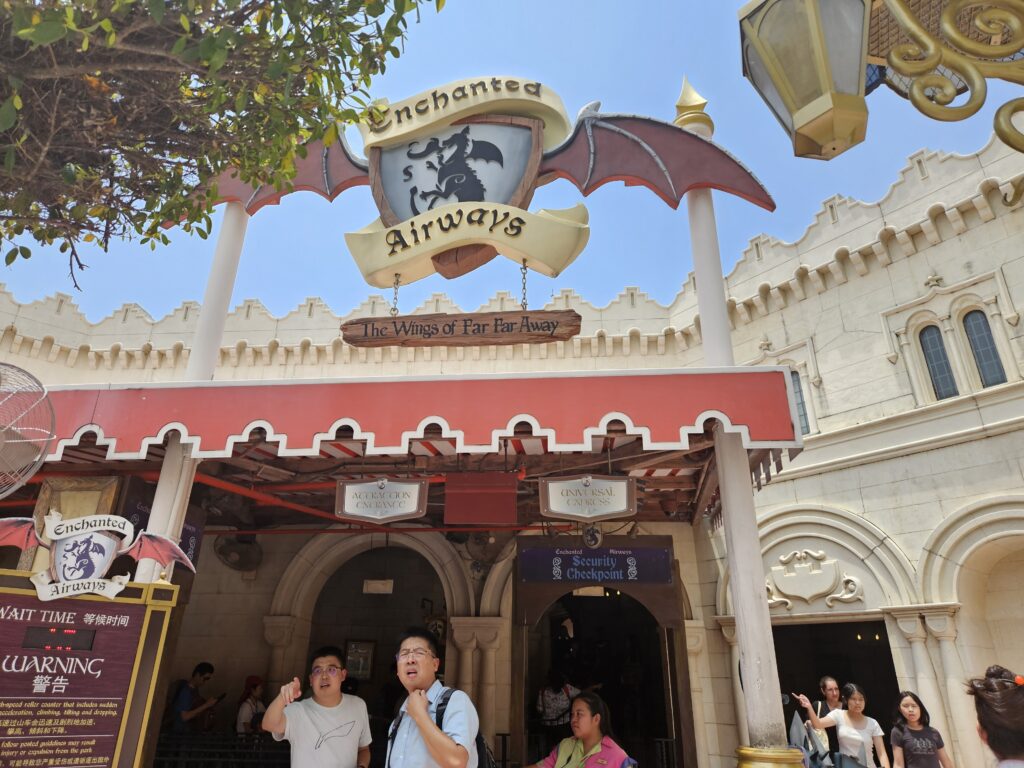 Enchanted Airways usually has a relatively short queue, and it's a great starter coaster if you're traveling as a family.
But saying that, I've always found this coaster quite intense for a kiddie ride.
It moves quickly, has surprisingly tight turns, and has a couple of decent drops.
So, if your kids are very young or don't particularly like rollercoasters, I'd steer clear of this one.
And if you're an adult and are running out of time at the park (curse those short opening hours!), you can probably skip this.
What I do love is that you get excellent views over the park from the top of the coaster climb – it's worth queuing for!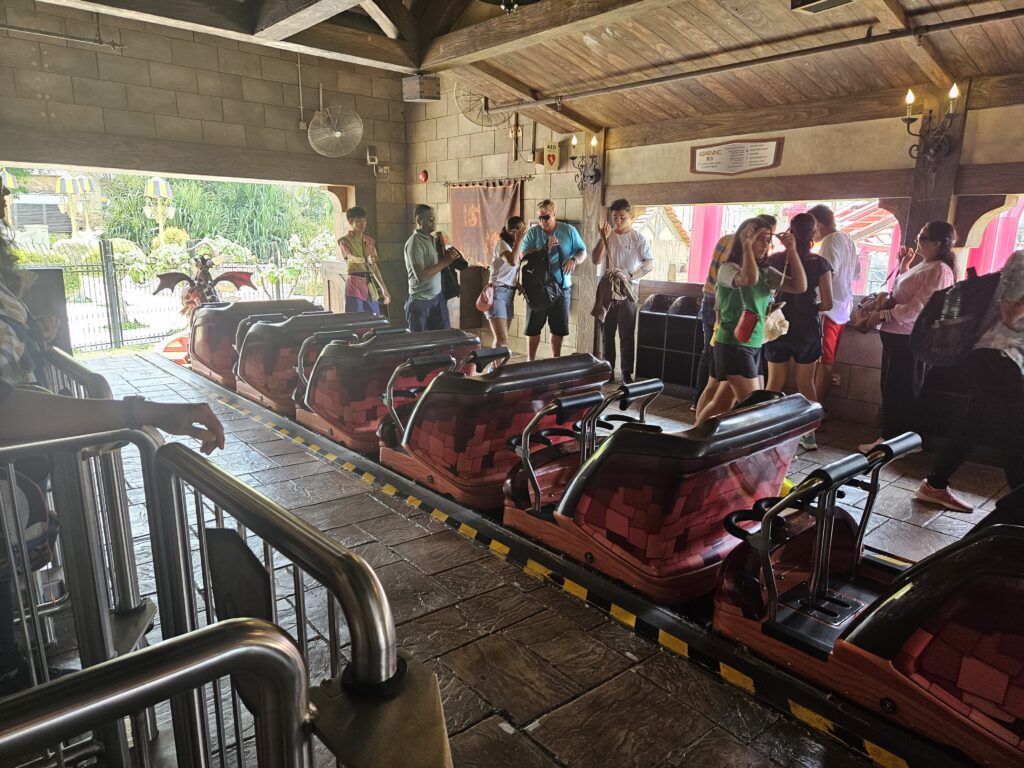 Accelerator
Zone: Sci-Fi City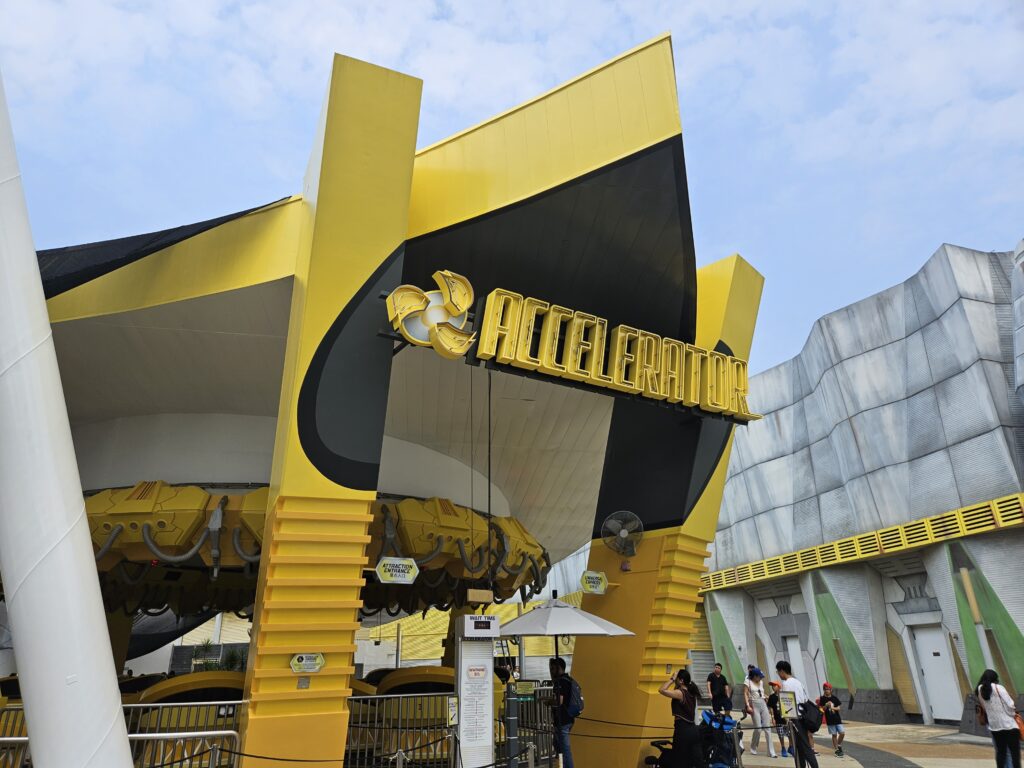 If you're a fan of teacups, then Accelerator is going to be a ride you need to hit during your trip to Universal Studios Singapore.
The official description talks about "centrifugal force", but I'll be honest – this isn't an intense ride.
It might trigger you if you struggle with motion sickness, but it's a relatively run-of-the-mill seated spinning ride.
It's a great one to ride with kiddos as they appreciate the competitive aspect of spinning as fast as they can.
But for adults? It's one you can bypass unless you're trying to kill time.
When should I ride?
You can ride this anytime. I've found that queues are rarely more than 10-15 minutes throughout the day unless the park is incredibly busy.
Puss In Boots' Giant Journey
Zone: Far Far Away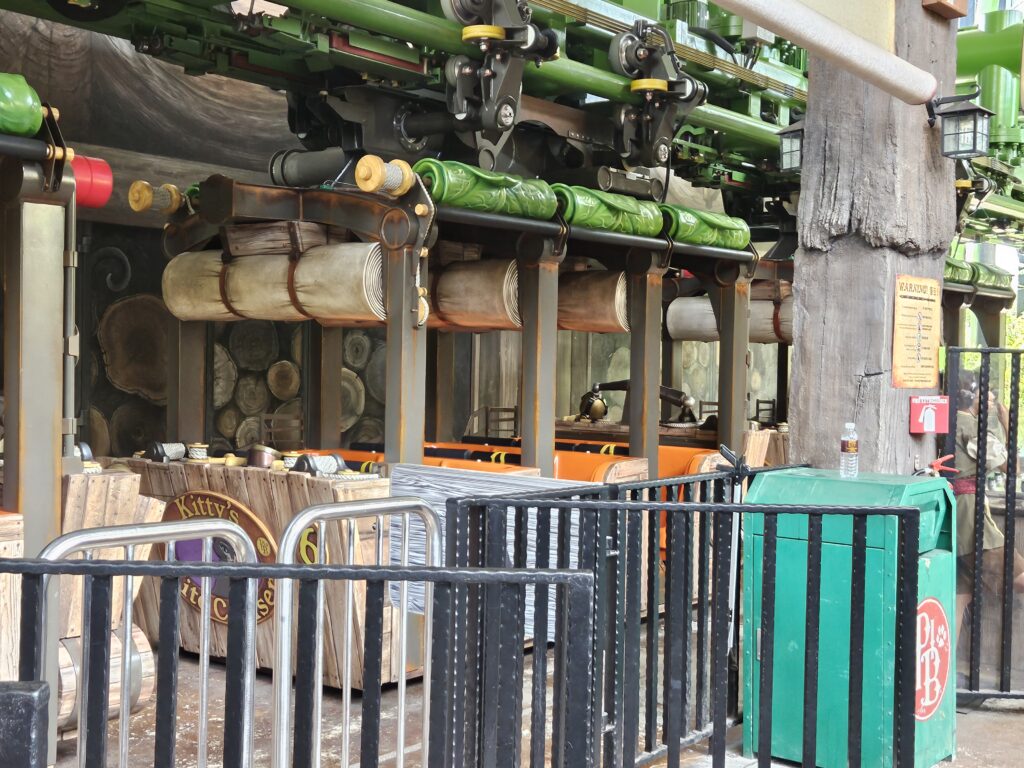 This is a relatively recent addition to the Universal Studios Singapore ride roster as it opened in 2015.
Okay, so it's 8 years old, but I remember visiting the park when it first opened back in May 2011!
Puss In Boots' Giant Journey is described as a family rollercoaster (which I'd agree with), but there are a few startling dips.
I found this ride a touch jolty when I rode it as there are some seriously sudden stops before each "section" of the ride.
It's not anything to worry about, but it can jam your stomach into the lap bar which isn't overly pleasant.
But overall, I love the idea behind climbing the beanstalk and retrieving the Goose's golden eggs.
Just be warned that it's over quickly and can be slow to load, so the wait times are usually longer than advertised.
When should I ride?
I'd ride this when you've hit all the major attractions and are looking to tick off the smaller rides. It's not an absolute must-do, but children absolutely adore this ride. I'd reserve about 30 minutes for queueing on regular days and 45 minutes when you're here at peak periods.
Sesame Street Spaghetti Space Chase
Zone: New York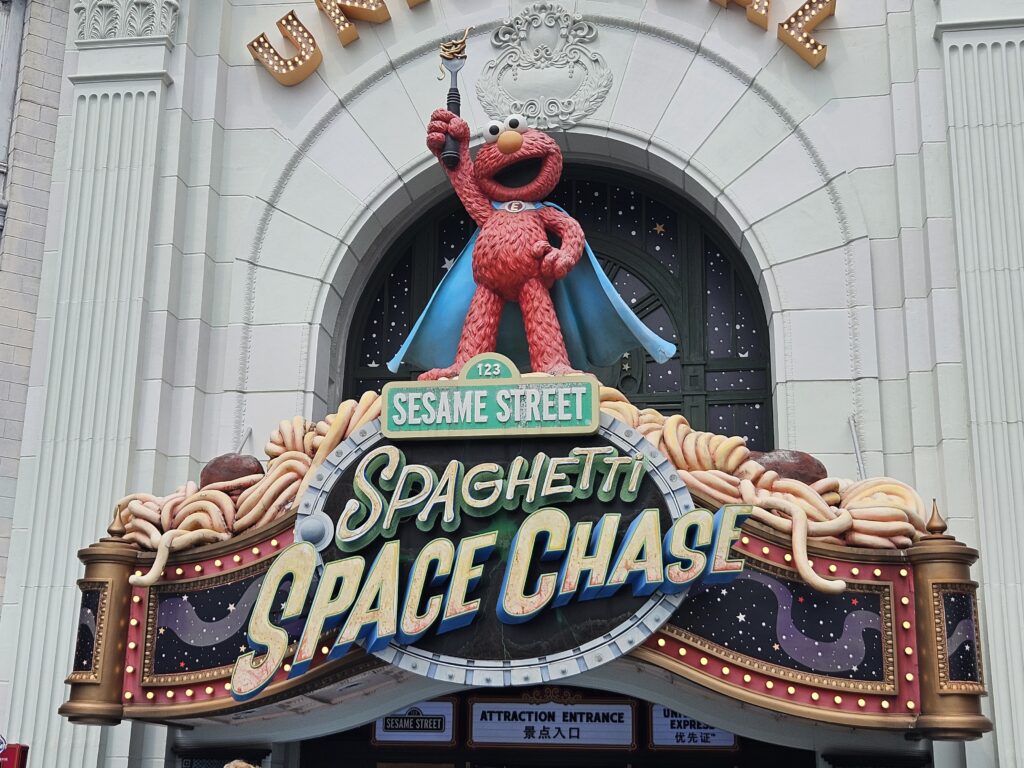 I'm an absolute sucker for Sesame Street Spaghetti Space Chase as it's colorful, quick, and super air-conditioned.
The wait times can get quite high at the start of the day, but tend to peter out as people head out for lunch.
It's a classic slow-moving dark ride (think Peter Pan's Flight at Disney!) and takes you through an adventure to save the spaghetti.
That's right – the entire concept is that Macaroni the Merciless has stolen all the spaghetti from earth.
It's on the silly side, but it's fun and bright (so, kids will absolutely love getting sucked up in the Sesame Street world!).
Although I wouldn't say this is geared as adults, it's a nice step back from the more intense thrill rides.
And in my opinion, it's a must-ride (if you can get on it before the park closes!).
Dino-Soarin'
Zone: The Lost World
Dino-Soarin' isn't much to write home about, but it's a classic flight ride for kiddos (it's similar to Dumbo at Disneyland).
I don't think that adults need to prioritize this one, but kids usually refuse to leave the park without giving it a whirl.
Like most of these rides, you control the movement of your Pteranodon by moving a small toggle up and down.
The motion isn't super swift and young children won't get any kind of G-Force feeling from it.
Seriously, it's super tame!
The queues aren't usually terrible for this ride, but expect to wait between 20 and 30 minutes as it's slow to load.
When should I ride?
The queues don't change much throughout the day, so try and slot it in whenever you can. As it's right next to the Rapids Adventure, I recommend tacking it on straight after that.
Treasure Hunters
Zone: Ancient Egypt
Treasure Hunters is possibly the most popular ride at Universal Studios Singapore for kiddos and always has a long wait time.
Seriously, we're talking upwards of 50 minutes all day.
If I'm being completely honest, this is a ride I usually skip as an adult as it simply isn't worth the wait time.
It's basically a short car ride (where you don't drive!) around a few Egyptian artifacts with a couple of pop-out scares.
According to Universal Studios Singapore itself you'll:
"Venture out into the forbidding sands of ancient Egypt, where young treasure hunters can drive their own vintage motor car for an exciting forage through an abandoned excavation site. A treasure of experiences awaits."
I wouldn't say it's a bad ride per se, but it's over extremely quickly and is really geared towards families with young kids.
If you're an adult, you will be annoyed if you've waited almost an hour for a 2-minute ride without any thrills.
That's just my opinion, but I'd keep it in mind before adding it to your list of Universal Studios Singapore rides to shortlist.
When should I ride?
If you're heading to the park as a family, RUN to this ride and hit it first (before you head to Jurassic Park). It's an easy win as the ride wait times should be 5-10 minutes. It doesn't tend to come down after that and typically stays between 45 minutes and 60 minutes for the rest of the day. So, get there quick!
Magic Potion Spin
Zone: Far Far Away
I don't usually go on this ride as I honestly think the capsules are slightly too claustrophobic for adults.
But this is a fun and incredibly entry-level pick for frightened kiddos who want to experience a Ferris Wheel-type ride.
The waiting times aren't usually too bad as most adults will skip this one (including me!).
But it's certainly big enough to accompany a child if that's what suits your family best.
Just be warned that any child under 110cm needs to ride with an adult – so, bear that in mind.
When should I ride?
Virtually any time should be fine to ride Magic Potion Spin. When I've visited, the queue time is rarely more than 15 minutes. It's tucked inside a gift shop, which also means that people can accidentally bypass it!
BONUS: WaterWorld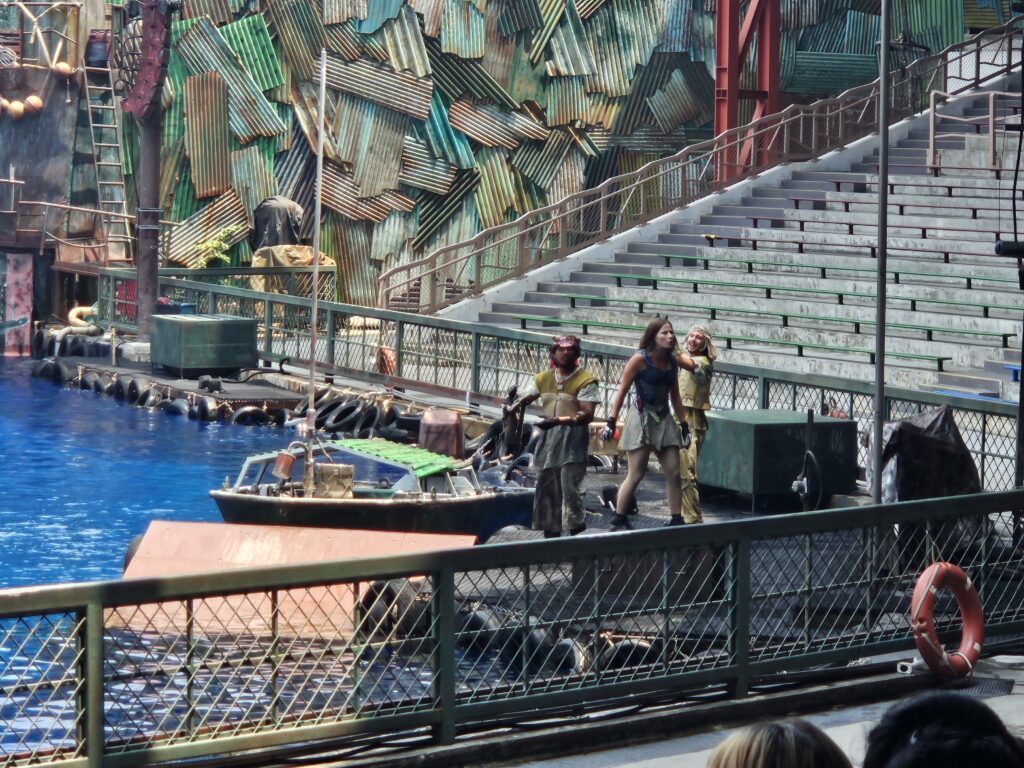 Okay, so I get that this isn't technically a ride – WaterWorld is a show.
But I had to include it on this rundown of the best Universal Studios Singapore rides as it's a stellar attraction that you shouldn't miss.
It's set inside its own dedicated theatre and it's simply 20 minutes of breathtaking fun.
In the preshow, you'll be guided to 3 types of seating banks called the Soak, Splash, and Regular zones. As you might expect, a show called WaterWorld hints that you might just get wet if you sit in the Soak Zone.
I find that sitting at the back of the Splash zone is the best way to go as you're close to the action but won't get wet.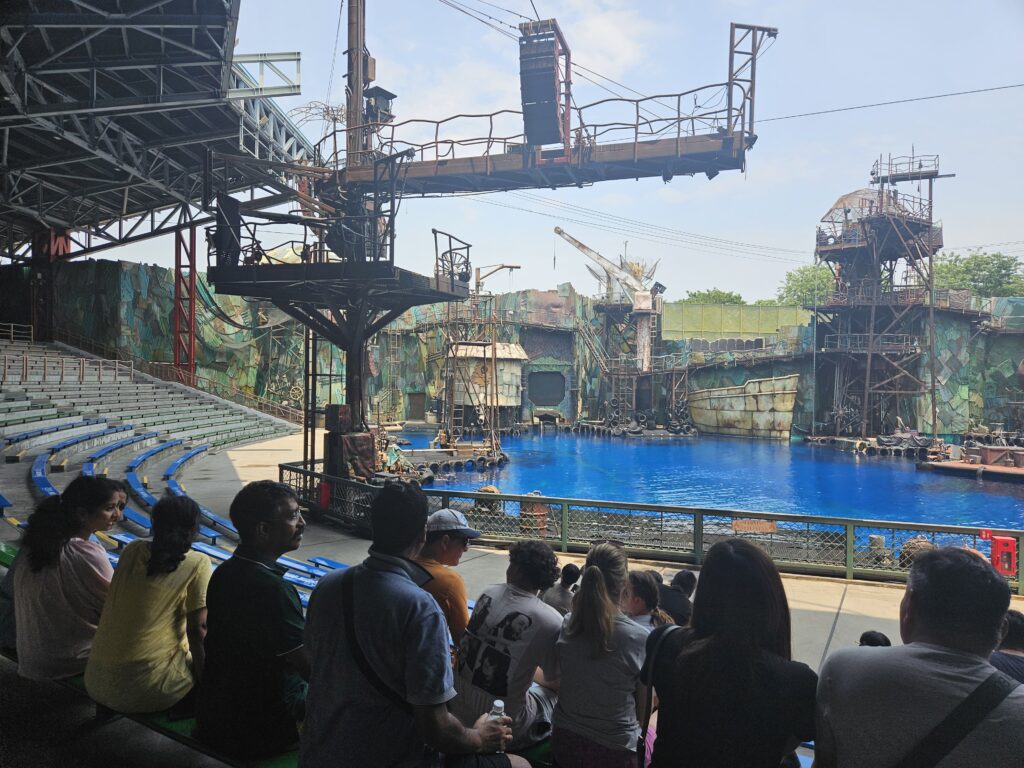 If you're at the front – well, you will get soaked. And that's because the actors quite literally tip entire buckets of water over guests seated in this area.
It's no joke, so don't sit there if you're not happy to be doused with water.
Once the show starts, there's slapstick comedy, dramatic stunts, people falling into toxic waste buckets (fake ones!), and jet ski choreography.
In short, there's A LOT happening and the show will keep you glued to your seat for the entire runtime.
The plot is simple and follows an enemy group and a pair of "good guys" who are on a quest to find dry land. Early on in the show, a woman called Helen shows up who's has supposedly found a map to dry land (she's a good guy!) and chaos ensues.
At one point, there's even an entire PLANE that shoots out over the back of the set. So, it's well worth watching if you can fit it into your schedule.
How to Make the Most of Your Time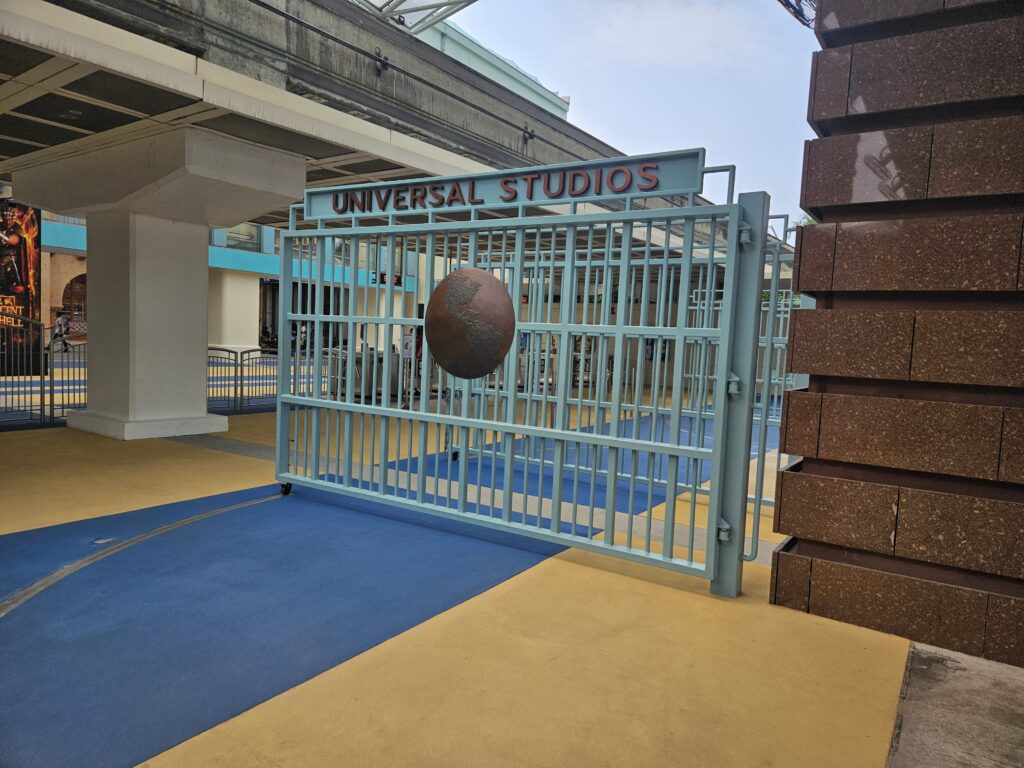 If money is absolutely no object, you might want to grab an Express Pass.
This gets you right to the front of the line for every single eligible attraction and can be a great purchase as a first-timer.
But as someone who has been to Universal Studios Singapore several times (and even had an annual pass!)?
You just won't need it if you're savvy.
I recommend following my tips for riding times as it should get you the most bang for your buck time-wise.
And as I'm quite a budget-conscious traveler, I just can't justify paying the same price for an Express Pass as I did for my ticket.
That's right, an unlimited Express Pass is currently $82SGD (the same price as an entry pass!).
Although Universal Studios Singapore has less-than-impressive opening hours, I still think it's possible to cover almost everything in a day.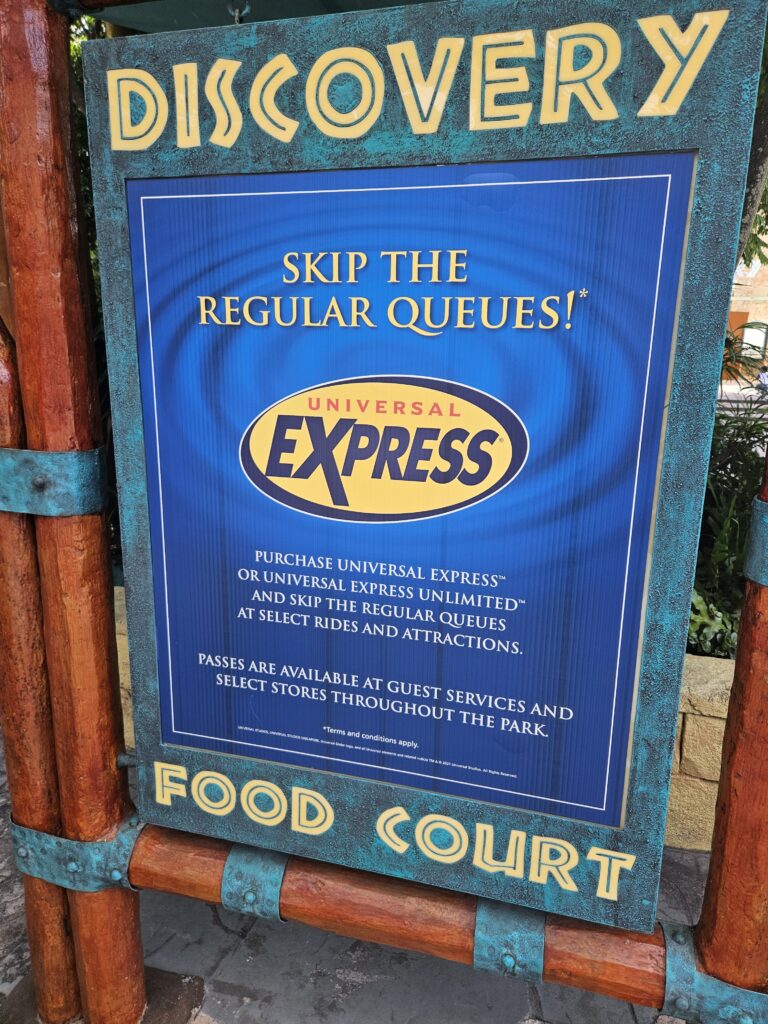 You'll probably need to prioritize and skip a couple of the rides and shows you're less bothered about.
But you should have NO problem clearing the major rides and a handful of shows and meet and greets before closing.
Trust me, I've done it several times.
Aside from planning your time well, I suggest visiting on a weekday and outside of local holidays.
This should keep visitor numbers down and give you the chance to plough through multiple rides in the morning.
There you have it: the ultimate guide to Universal Studios Singapore rides!
If you have any questions about navigation Universal Studios Singapore, just drop me a comment. I lived in Singapore for 18 years before moving away (but I still go back regularly!). So, I'm here for anything Singapore-related!
Related Posts: