Have you been trying to figure out "is Universal Studios open on Thanksgiving"? Join me as I run through everything you need to know about visiting Universal during the holidays!
Don't get me wrong – I love visiting Universal Studios at any time of year.
But there's something particularly glorious about the parks during the holidays.
From the festive décor to the delicious eats and general good vibes, getting a ticket in November or December is dreamy.
There might be one thing you're wondering though: "is Universal Studios open on Thanksgiving?".
And you might also be trying to figure out where to grab dinner and whether the parks will be super busy!
If those sound like your November problems (hey, me too!), then I've got you covered.
Not only will I run you through opening hours and tips, But I'll give you restaurant recommendations too!
Now let's get festive.
Is Universal Studios Open on Thanksgiving?
Yes, Universal Studios IS open on Thanksgiving as it's open 365 days a year!
That goes for both the Hollywood and Orlando locations, just so you're aware.
The park usually operates its usual opening hours during the day (I'll get to those!), which gives you around 10 or 11 hours to explore.
You'll just need to remember that Universal Studios is typically very busy during the holidays.
So, stick with me and I'll help you plan how to make the most of your day at the parks!
For most of the Florida theme parks, Thanksgiving signals the start of the official holiday season.
Once Thanksgiving is done, you can expect the full force of Christmas to hit you from every angle.
But for the most part, Universal's Christmas decorations will already be up and running.
What Hours Is Universal Open on Thanksgiving?
Universal Studios Theme Park
The main Universal Studios theme park is open during its usual hours on Thanksgiving.
This means you'll be able to get into the parks between 9 am and 9 pm.
The parks occasionally close an hour early on actual Thanksgiving Day (so, 8 pm!), but that's not always the case.
Islands of Adventure
Islands of Adventure is typically open later than the main Universal Studios Theme Park.
On Thanksgiving Day, you can expect to get into the park between 9 am and 9 pm.
But over the Holiday Weekend (AKA: Friday and Saturday!), opening hours extend for an extra hour.
This is always subject to change, which is why I suggest checking Universal's Official Opening Hours before your visit.
This will give you day-to-day rundowns of each park's opening hours, including Volcano Bay!
Volcano Bay
Volcano Bay usually has shorter hours than Islands of Adventure, and the same hours apply on Thanksgiving.
The only thing to remember is that this park is always open if the weather allows.
So, if the weather is looking inclement on Thanksgiving – you're out of luck!
Volcano Bay is usually open from 9 am to 7 or 8 pm depending on the day.
It's usually 7 pm on Thursdays, but it's always a good idea to check the official hours for Thanksgiving as it can change year-on-year.
How Do You Get into Universal on Thanksgiving?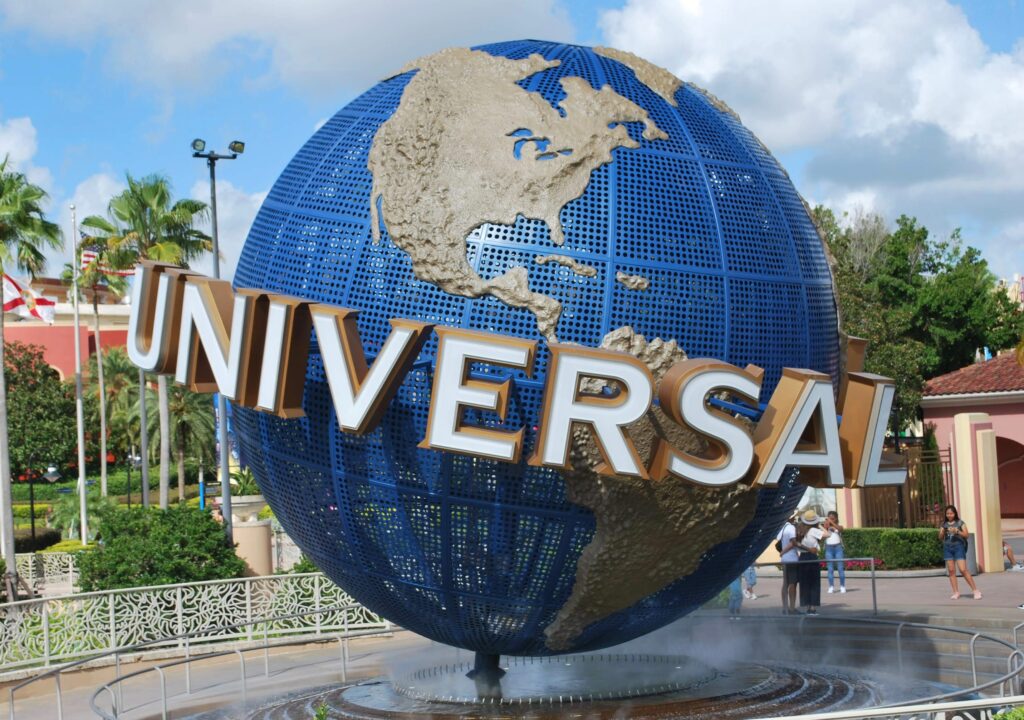 Now that I've answered the question "is Universal Studios open on Thanksgiving?", let's figure out getting in!
You can get into Universal on Thanksgiving by holding a valid ticket or pass and getting there EARLY.
I'm not talking about arriving at opening time. I'm saying you'll need to get there at least an hour before opening.
That gives you the best possible chance of taking advantage of early entry and hitting rides at rope drop.
You'll also want to make sure your ticket is purchased in advance (trust me, there will be NO extra capacity!).
Otherwise, you can be almost certain that you won't be getting in.
How Busy Is Universal Studios Around Thanksgiving?
Universal Studios is always busy on Thanksgiving – to the point where I'd say it's the busiest day of the year.
So, if you're not a fan of crowds or hate waiting in long lines, you'll probably want to skip it!
It's not completely wall-to-wall in the sense that you won't be able to ride anything.
But it's unlikely to be a leisurely day of hopping from ride to ride.
For this reason, I always suggest picking up an Express Pass on any large holiday as it gives you way more time to work with.
Don't worry – I'll get to this in more detail later!
And I'll also mention that the entire Thanksgiving week (and weekend!) are usually jam-packed.
It's slightly busier than school holiday periods, and it's similar to the kind of crowd levels you'll see at Christmas.
I've always found that the crowds tend to have on until about Wednesday after Thanksgiving week.
So, try and go a week AFTER Thanksgiving Day if you're trying to avoid the rush of the holiday crowds.
In terms of wait times, I'd expect to wait in line for uber-popular rides for up to 120 minutes in a regular line.
If you're waiting for smaller attractions, it's usually 60-90 minutes (sometimes less, but that totally depends!).
Is Thanksgiving a Good Time to Go to Universal Studios?
Whether Thanksgiving is a good time to visit Universal Studios is 100% down to you.
I won't say that it's the best time to visit the parks if you're planning to whizz through rides and minimize wait times.
But it's a fantastic time to visit if you want to enjoy the holiday activities or grab Thanksgiving Dinner at one of the hotels.
I'd say it's also a better time to visit than Christmas Day or Christmas Eve (oh, and NYE!).
These times are usually absolutely jam-packed as a lot of the country will take a few days off around this time.
You'll also have a greater influx of international visitors who might not celebrate Thanksgiving around Christmas.
If you want to avoid crowds, you'll want to stick to off-peak periods like January, February, and September.
Is It More Expensive to Go to Universal on Thanksgiving?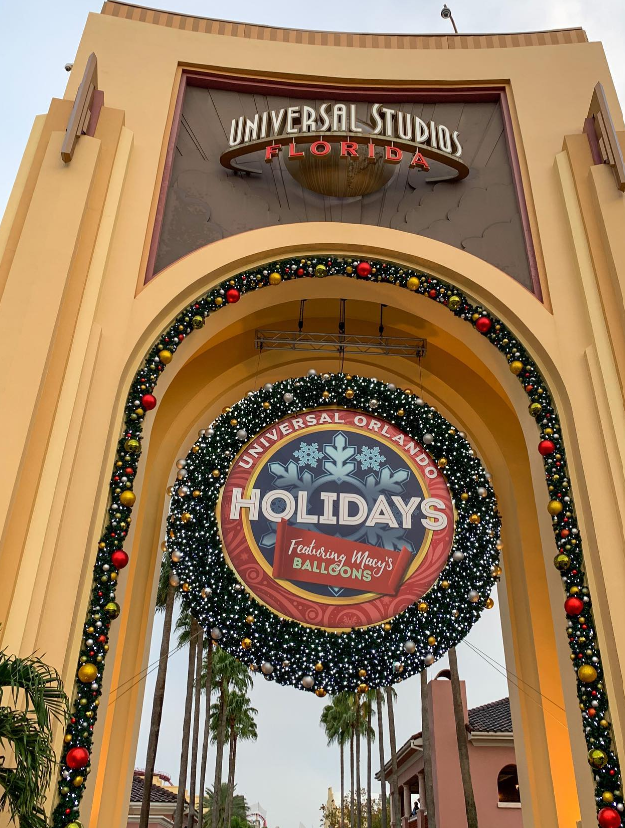 It's not more expensive to go to Universal on Thanksgiving as the ticket prices don't change across the year.
But you might end up spending more on a Thanksgiving Dinner, merch, or general revelry.
Hey, we all tend to go nuts around the holidays, right?
The only time I will say that your ticket price might cost more is if you're buying a one-day ticket.
These are typically more expensive than multi-day options as Universal offers small discounts the longer you stay.
2-day tickets tend to undercut Disney's prices for the same period, so it's a decent alternative to Disney World.
And if you want a taste of Disney magic on the same day, you can always spend your evening at Disney Springs!
Oh, and one more thing – the Express Pass DOES get more expensive during peak periods.
So, just bear that in mind if you want to skip the lines.
What is Typical Orlando Weather at Thanksgiving?
You'll be looking at classic November temperatures which are usually around 60°F (16.5 Celcius) on average in LA.
You can get lows of around 53.6°F during the month, so I recommend bringing a light jacket along.
It's not usually coat weather in LA, but it's always good to be prepared!
In Orlando, you can expect similar average temperatures with lows of around 59°F.
But honestly, I've never felt overly hot or cold during Thanksgiving – it's usually pretty pleasant!
Can I Get Into Universal on Thanksgiving with an Annual Pass?
Whether you can get into Universal on Thanksgiving will depend on the Blackout Dates associated with your pass.
And just so you know, this rule applies to both Hollywood and Florida's passes.
If you have a higher tier pass, you'll get access 365 days a year which makes guaranteed entry way easier.
With the lower-tiered passes, you're usually blocked from entering the parks on high-value holidays (like Thanksgiving!).
If you're even remotely doubtful of your blackout dates this year, I suggest double-checking them!
Where to Get Thanksgiving Dinner at Universal Studios Orlando
Although you can head home for Thanksgiving Dinner if you're a local, why not skip the cooking and eat out?
These are a few of my favorite spots to get Thanksgiving Dinner at Universal Studios on Thanksgiving Day.
Some are more expensive than others, but you shouldn't expect overly cheap grub on Thanksgiving.
Universal know they're catering to a hungry and specific market – so, prices can be through the roof at some places!
Hard Rock Hotel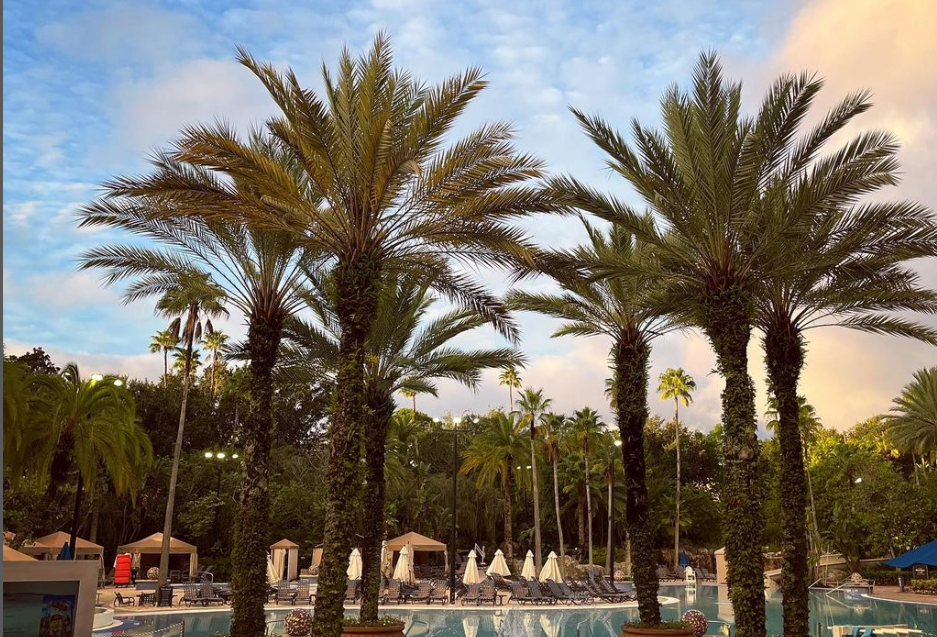 If you're planning to visit Universal Studios Orlando for dinner, you can head straight to the uber-cool Hard Rock Hotel.
They serve classic grub like slow-roasted turkey breast, roasted veggies, classic stuffing, and creamy sweet potatoes.
It's usually served between 11 am and 9 pm (so you've got plenty of time!), with complimentary meals for under 3s.
The price for adults is usually under $80, but this is subject to change each year.
If you're dining here, I highly recommend heading online to book a reservation. You'll want to do this as far in advance as humanly possible as slots tend to fill up fast.
Cabana Bay Beach Resort
Another amazing option for Thanksgiving Dinner at Universal is the Cabana Bay Beach Resort.
Dinner is served in the Bayliner Diner from noon until an impressive 11 PM!
So, you'll have virtually all day to get your turkey and stuffing fix.
This is one of the super affordable options for a Thanksgiving Dinner at Universal as it comes in at just over $21.
And to be honest, you can't go wrong with their turkey stuffing, veggies, gravy, and mashed potatoes.
You don't get dessert included here, but you can add a slice of pumpkin pie for under $5!
Loews Portofino Bay Hotel
Not only is the Portfino Bay Hotel an awesome Premium Resort, but it serves a hearty Thanksgiving Dinner too!
They usually serve a Thanksgiving feast (AKA, a buffet!) each year, which means it's slightly more expensive.
You'll get turkey, stuffing, traditional eats, and some international picks to give you a taste of Italy.
Hey, it's all in the theming after all!
The feast usually costs under $70 (the price varies year on year) and under 3s dine free.
It's not bad value for money, but it's one of the more expensive options available onsite.
If you don't want to go for dinner, you can grab breakfast instead!
Loews Sapphire Falls Resort
If you need somewhere to grab Thanksgiving Dinner this year, try the Loews Sapphire Falls Resort!
The prices here are almost identical to what you'll pay at the Portofino and the dinner runs relatively late.
You can book dinner between 11 am and 9 pm, so you'll have a decent amount of time to grab grub.
Just head up to the Amatista Cookhouse for glorious turkey, stuffing, mash, and all the trimmings.
And the Spiced Pumpkin Tart? To die for.
You can also visit for a wonderful Thanksgiving Day Breakfast if you'd rather fuel up pre-park!
Royal Pacific Resort
Royal Pacific Resort is another glorious spot to grab Thanksgiving Dinner and it's around the same price as other Loews spots.
It's usually slightly cheaper (closer to $60 for the average adult), and you'll get similar buffet fare.
What I love about this spot is that you'll also get a spread of Asian-inspired grub that makes a change from turkey!
Don't worry though, there's still plenty of classic Thanksgiving fare to go around.
You'll find the buffet at the Islands Dining Room between 11 am and 9 pm.
But if you want breakfast, head to Jake's American Bar from 7!
Universal Aventura Hotel
Universal Aventura Hotel is a stunning spot for a plateful of turkey.
Dinner is held at the Urban Pantry, and it runs slightly later between 4 pm and 10 pm (so, not for early birds!).
This is another affordable spot for Thanksgiving, and a full plate will usually come in at around $20.
For kids, it's typically just over $10.
You can expect classic Thanksgiving food, but it won't be quite as bougie as a few of the other options here.
Endless Summer Resort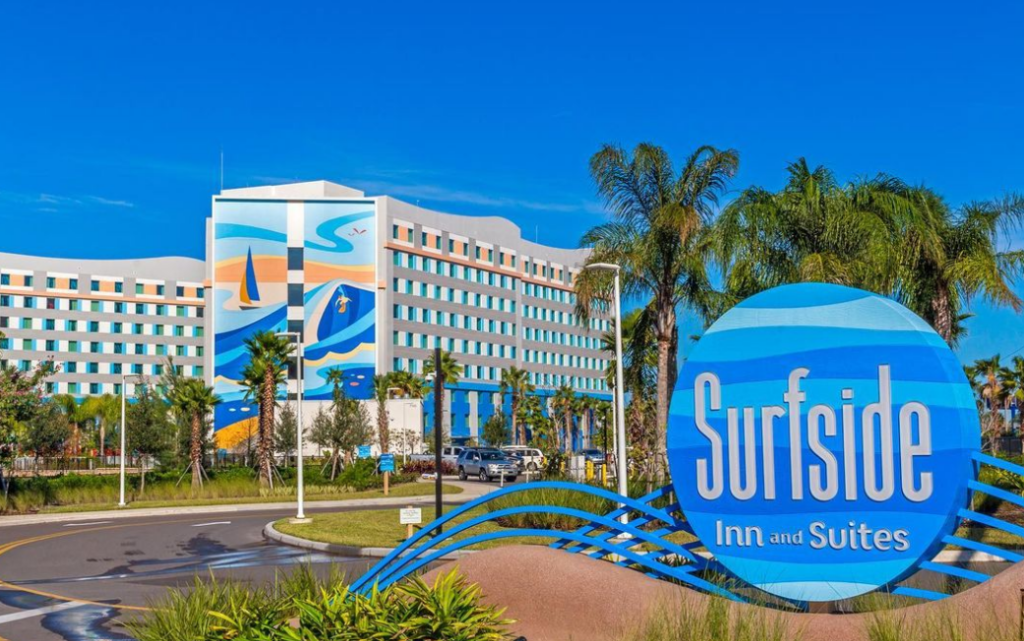 Endless Summer Resort is a super-popular hotel at Universal, and it serves a pretty good Thanksgiving Dinner!
You'll find the dinner at the Surfside Inn and Suites from 2 pm to 10 pm.
The meal includes roasted turkey, mash, cornbread stuffing (AMAZING), gravy, dinner rolls, and cranberry compote.
It's super affordable, and it's one of my favorite spots for a cheap dinner that won't take too long.
Special Events at Universal Studios on Thanksgiving
If you're visiting Universal Studios on Thanksgiving, then you'll want to check out some of the park's special events.
Now, there's very rarely anything specifically set up for Thanksgiving Day itself.
But you can certainly get into the holiday spirit by checking out the parades or the festive treats at the CityWalk!
Holiday Parade Featuring Macy's
The Holiday Parade Featuring Macy's is one of the major reasons people visit Universal during the holidays.
Okay, so it's not the main reason, but it's a major spectacle that's totally worth seeing.
The parade features huge balloons, massive floats, and characters from Shrek, Despicable Me, and Madagascar.
Among others, of course!
It usually takes place at 5:30pm during the holiday season and starts from mid-November (usually the 12th) to the start of January.
So, you have plenty of time to catch it!
Oh, and don't even get me started on the light-up gowns that the dancers wear – just fabulous.
Grinchmas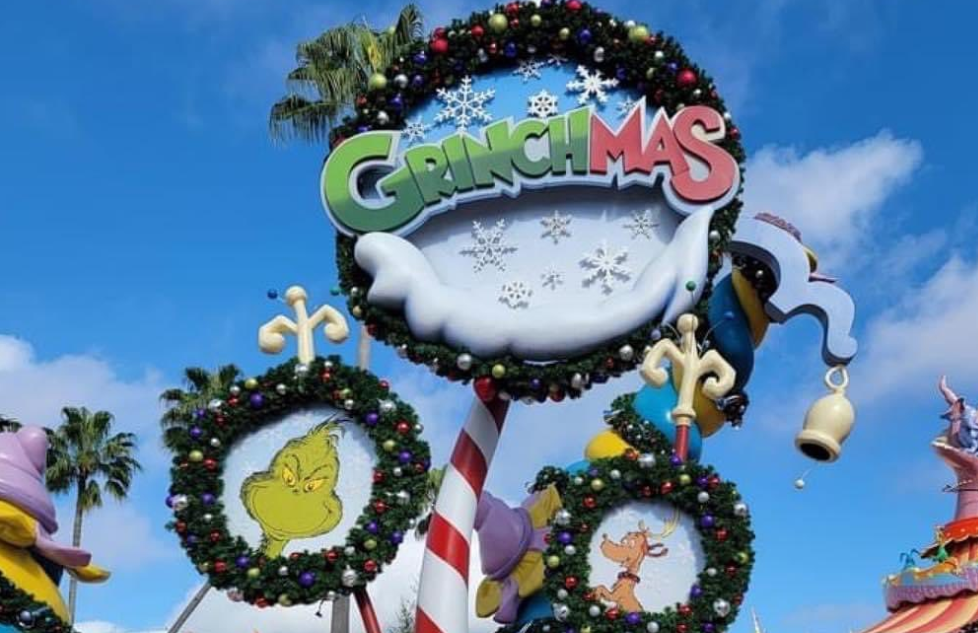 You'll probably notice that Universal is fully decorated for the holidays by Thanksgiving.
And that also means the return of Grinchmas around Seuss Landing!
This is a short show that features music from the The Grinchmas™ Who-liday Spectacular.
It runs during the same dates as the rest of the holiday festivities and is a great break from waiting in lines.
Just be warned that you can't use your Express Pass here.
So, you'll want to arrive at least 15 minutes before your scheduled showtime to secure a seat.
The Wizarding World of Harry Potter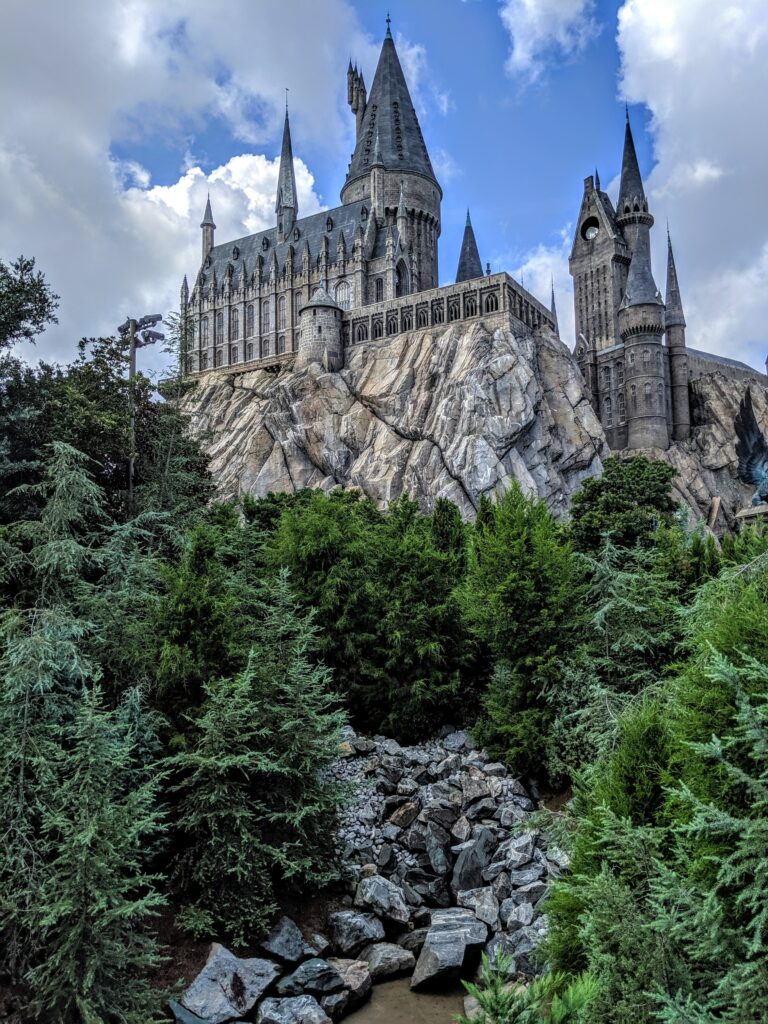 If you've ever watched the Harry Potter Franchise, you'll know that Christmas at Hogwarts is dreamy.
Seriously, it feels like a warm hug from one of Mrs. Weasley's iconic Christmas jumpers.
Diagon Alley and Hogsmeade are usually decorated to the nines with festive baubles and décor.
But you get the added bonus of getting to watch the Frog Choir during the holidays (which is always a treat!).
You'll also find holiday merch and treats being sold if you're craving something different from classic butterbeer.
CityWalk
I genuinely love heading to the CityWalk around the holidays as it's beautifully decorated.
Plus, it's absolutely packed with holiday-themed activities, snacks, and merch.
And really, that's what I live for.
You can also visit the CityWalk for dinner if you don't feel like heading to one of the nearby hotels for a bite.
Just be warned that the CityWalk is usually pretty busy in the evenings around the holidays.
For that reason, you'll need to leave plenty of time to explore and navigate stores and restaurants.
Tips for Visiting Universal Studios on Thanksgiving
Arrive early and stay all day – no, SERIOUSLY
I know this probably sounds obvious, but arriving as early as possible and leaving at park close is always a good strategy.
It means you can take advantage of busy rides at rope drop and hit the lines at early entry.
If you're happy to take breaks throughout the day, you can also stay until park closing before grabbing dinner.
It's also worth splitting up your day by re-entering the parks and getting dinner around lunchtime.
As I mentioned slightly earlier, you really want to arrive at least 45 minutes to an hour before opening.
Then, you'll want to RUN to popular rides (like those at the Wizarding World!) to try and cut down your wait times.
I'd say Flight of the Hippogriff and Harry Potter and the Forbidden Journey are good ones to run to.
Try and avoid actual Thanksgiving Day
I know this kind of defeats the point if you're trying to visit Universal Studios on Thanksgiving.
But you should try and avoid visiting on Thanksgiving Day itself.
It's usually the busiest day of the holiday season (aside from Friday and Saturday which are equally packed).
If you want to have Thanksgiving Dinner here, I get it.
But otherwise, try and visit outside of the peak Thanksgiving Week to get the best of both worlds.
And by that, I mean the holiday spirit without the mega-crowds!
Hit popular rides first
I suggest doing this even when you're not visiting on Thanksgiving, but you should always make a beeline for big rides.
These almost always have long wait times (think anything in the Wizarding World or Jurassic Park!).
By running to these rides at rope drop/early entry, you have way more time of scoring a reasonable wait.
You should try and hit your absolute MUST rides first (I love the River Adventure and Flight of the Hippogriff!).
This way, you can cull a few less important rides if you run out of time!
Prioritize
If you're visiting Universal from out of State or it's your first time, you'll want to hit everything.
And I totally get that.
But if you're visiting on Thanksgiving (especially without Express Passes), you'll need to compromise somewhere.
So, I recommend mapping out a list of absolute must-do rides based on what YOU personally love.
If that's the big-ticket rollercoasters, then prepare to wait in line for several hours.
For smaller kid-friendly rides, you'll probably be able to stuff slightly more into your day.
If you can, try and add expected maximum wait times to your map to see what you can realistically fit in.
These won't always be accurate (sometimes you get pleasant surprises!), but it should give you a decent outline.
Purchase tickets in advance
I literally never recommend buying Universal tickets at the gate as it's always more complicated and expensive.
Buying tickets online removes queuing at the box office and means you can just hop in the entrance line ASAP.
It's also super helpful to buy your tickets in advance if you live out of state or want to purchase resident tickets.
Grab an Express Pass
I get that it's expensive, but an Express Pass might just save your sanity if you're visiting Universal on Thanksgiving.
Not only does it let you skip virtually every line (bar a few), but it's a great way to hit everything in time for dinner.
One piece of advice I can give is that you should try and stay overnight in a Premium Hotel.
These will give you the Express Pass as part of the package, which will typically SAVE you money.
I know it sounds a bit weird, but it's totally worth looking into if you don't want to spend all day in line.
If you're not sure what hotels to book, these offer Express Passes:
Loews Portofino Bay
Hard Rock Hotel Orlando
Loews Pacific Royal Resort
I hope that this guide has answered the question "is Universal Studios open on Thanksgiving?".
Have you ever been to Universal on Thanksgiving? Are you planning to visit any of these restaurant recommendations for dinner? I'd love to hear your thoughts in the comments below!
Related Posts: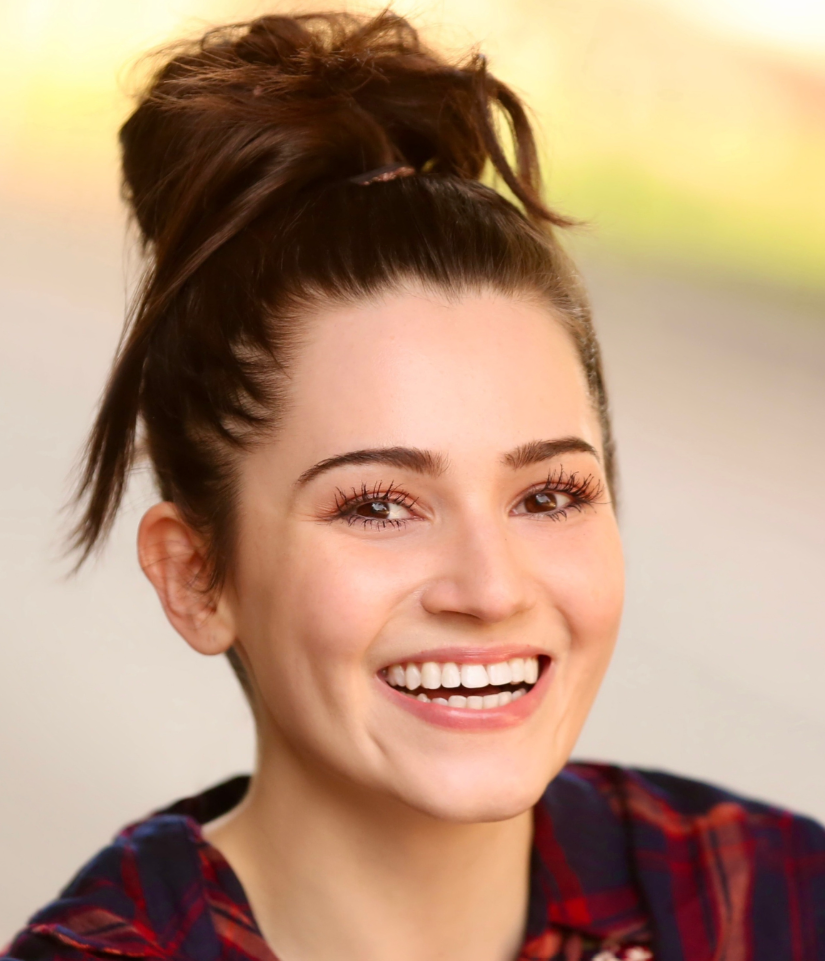 Grace is the creator, editor, and sole writer for Pixie Dust and Passports – a blog that's ALL about Disney! She's made it her life's mission to visit the Disney parks as much as possible and loves trying new snacks, grabbing the latest spirit jerseys, and rocking Loungefly bags. Oh, and she also holds a BA in History from UCL, which makes her a research and deep-dive enthusiast into all things Imagineering.