Are you trying to find a reliable scooter rental at Disney World that'll suit your needs? Read ahead for literally everything you need to know about Disney scooter rentals!
If you've been looking for the ultimate guide to getting a scooter rental at Disney World, then you've come to the right place!
I get that navigating the parks can be tricky if you have limited mobility, and finding the right aids is so important to a successful trip.
In this detailed guide, I'll cover everything from where you can rent scooters to tips that you can use to make your trip easier.
Whether you're planning to rent direct from Disney or want to experiment with third-party companies, I've got you covered.
Now let's learn all about Disney scooter rentals and how you can make your next vacation a BREEZE!
Can You Get a Scooter Rental at Disney World?
You can get a scooter rental at Disney World onsite or via third-party companies.
Disney World has its own ECV rental program that lets you grab your scooters from the park gates. But it's rarely the most cost-effective or practical option for most travelers.
It's partly because you'll often get discounts at third-party companies, but it's also because Disney scooters are pricey!
Hey, it's certainly in keeping with the rest of the experience at Walt Disney World!
If you want to save some cash and have someone that can push you around, a regular wheelchair can be an excellent option.
It's way cheaper, more compact, and less likely to be a hindrance to other parkgoers.
But I'll get to this later!
Who Should Rent a Scooter at Disney World?
I'd say that scooters are suitable for disabled guests or anyone who has trouble walking long distances without assistance.
There's no shame in getting a scooter, it's just worth noting that you'll want to be very sure that you need one.
That's partly because they can be expensive if you're visiting the parks for several days. But people I've spoken to have said they can be tricky to maneuver around the parks at times.
So, if you're on the fence and aren't completely reliant on scooters, it might be a good idea to stress test yourself on walks to see whether you can manage the mileage.
Just be warned that you walk a significant amount at Disney World, and even the most seasoned hikers can struggle with the step count.
If you're in doubt, I suggest just renting one as you'll avoid any discomfort that comes from walking long distances.
What Scooters Are Allowed at Disney World?
There aren't specific restrictions on brands or styles, but there are weight, size, and passenger limits for most scooter rentals at Disney World.
The maximum scooter size that's currently allowed on Disney property is 32" by 52" as this is the limit for using the Disney Transportation System.
This also helps out other parkgoers, as too many large scooters would simply impact everyone's experience.
When it comes to size limits, the maximum capacity for Disney ECVs is 450 pounds and they're not designed to hold more than 1 person at a time.
Otherwise, there's no need to rent a Disney World scooter if you don't want to – it just needs to fit within the set limits!
How Do I Rent a Scooter at Disney World?
If you're planning to rent a scooter at Disney World (on property!), then there are a few things that you need to know.
Anything direct from Disney will be rented on a first-come-first-served basis, and no reservations are allowed.
So, if you can't function without a scooter and aren't bringing your own – this could pose major problems if the parks are oversubscribed.
It's also important to note that all guests using scooters must be 18 years or older to use a scooter on property.
ECV Rentals at Walt Disney World (Direct from Disney)
If you're planning to invest in a scooter rental at Disney World, then you'll want to head to one of the rental sites around the parks.
Don't worry – I'll get to that in a hot minute!
You're not allowed to take the scooters from park to park (park hopping).
So, you'll need to try and secure a different scooter at every single park if you're planning to visit multiple parks during the day.
This won't always be difficult, but it can be a serious worry during peak periods when more scooters are being rented.
To avoid this, I suggest heading to your first park right at rope drop and trying to head to your second park when other families are on lunch.
Although this process can be a pain, you only need to pay the scooter rental fee once a day. Just show your rental receipt as you move between parks and you should be fine.
Small victories, right?
How much does it cost to rent a wheelchair or electric scooter from Disney World?
If you're planning to rent a regular wheelchair, you can expect to pay approximately $12 a day unless you're getting a multi-day rental.
This will bring the cost down to around $10 a day.
Like with scooters, you won't be able to take the wheelchair out of a set park. So, you'll need to secure another one if you're park hopping.
If you're getting a scooter rental at Disney World that's motorized, you'll be shelling out $50 a day (and a $20 deposit).
For the water parks and Disney Springs, you'll pay the same rental fee but a hefty deposit of $100!
This will very quickly add up and can be upwards of $1000 per trip if you're visiting for several weeks.
Where can I find ECVs or wheelchairs at Disney World?
There are several locations you can visit if you need a scooter rental at Disney World.
You'll find spots with scooters at all parks and Disney Springs.
At Disney Hollywood Studios, you'll find scooter rentals at Disney World at Oscar's Super Service.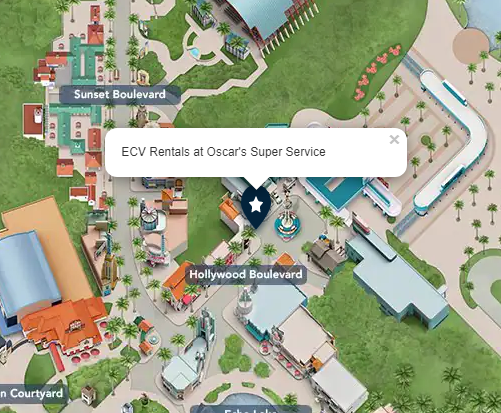 At EPCOT, there are 2 locations at the EPCOT Main Entrance and International Gateway. Just be warned that there are usually limited quantities at the gift shop by the main entrance – so you'll need to be quick.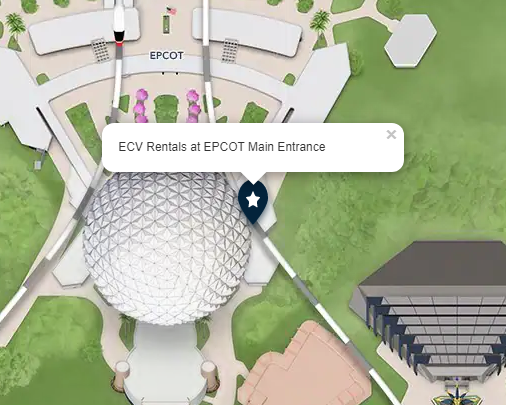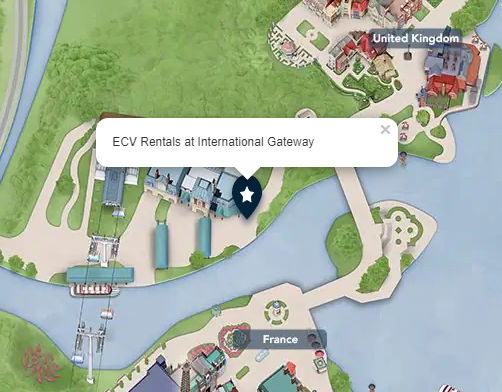 If you're visiting Magic Kingdom, you'll want to head to Mickey's Gift Station at the Transportation and Ticket Center. There's also a wheelchair station that rents ECVs right as you enter the park.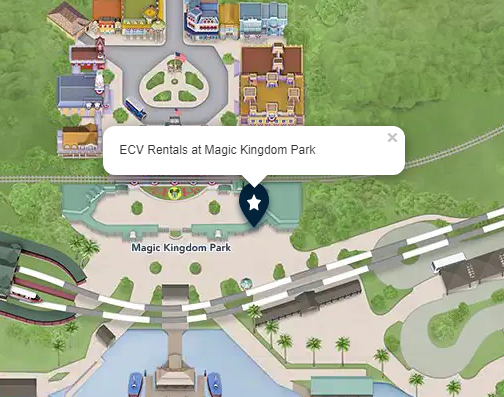 At Animal Kingdom, you'll find an ECV rental spot at Garden Gate Gifts and the Outpost. You can also grab them at Beach Haus if you're staying near the Animal Kingdom Resort Area.
In Disney Springs, you should make a beeline for Singapore Sal's and Sundries where there are rental spots for ECVs.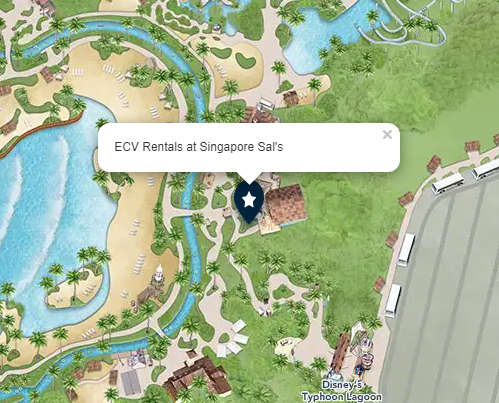 How to Get a Disability Accessibility Service Pass at Disney World
If you're not able to wait in line at Disney World, then you may qualify for a Disability Access Service Card.
These essentially allow you to wait "in line" somewhere outside of the main queue. This is especially useful if you're visiting Disney World with a scooter!
You can apply for this card online if you meet certain criteria, but you don't need to show a doctor's note to prove your eligibility.
Once you've been approved for a pass, you'll be able to virtually queue for rides using your My Disney Experience App.
You'll be able to bring a handful of your companions along with you, so don't worry about riding alone.
Believe it or not, it's surprisingly seamless.
Renting a Scooter at Disney World Via Third-Party Companies
Although you can sort a Disney scooter rental at the parks, I honestly don't recommend it.
It's expensive and you're always going to be worried that a scooter won't be available when you need it.
For this reason, I suggest going with a third-party company near the parks.
They typically allow you to rent a vehicle for your entire stay. So, as long as the scooter you rent matches Disney's requirements – you'll be good to go.
If you're staying for more than 3 days or so, I'd say you'll always be better off with a third-party company.
The Best Companies for Scooter Rental at Disney World
Not sure which third-party companies to go with for your Disney scooter rental? Don't worry!
I've rounded up a solid list of spots around the parks that are reliable and affordable.
Any of these options will be solid, but Scooter Bug and Buena Vista Rentals are probably your best bets if they have scooters available during your trip.
Buena Vista Rentals
Buena Vista Rentals has been in the business for years (literally over 2 decades!), and they're one of the best options for a scooter rental at Disney World.
You'll need to make sure you select a pick-up and drop-off time if you want a scooter delivered to your resort.
It's also important that you meet the delivery person at the resort where you're physically present or the resort may not accept the delivery.
The drivers tend to stop at resorts 3 separate times a day, so you'll probably be able to pick a slot that works for you.
I also think it's impressive that they have technicians onsite at the Disney Boardwalk that'll help you fix your scooter if anything goes wrong.
Overall, their customer service is excellent and they should be less overloaded than the Disney scooter spots.
They also offer a damage waiver which protects the unit during your trip for a fee of $20.
ScooterBug
If you want to rent a scooter from a Disney Featured Provider, you'll want to check out ScooterBug.
They offer strollers and mobility devices to guests visiting Disney World.
What makes them one of the best options for a scooter rental at Disney World is the fact that guests don't need to be present for delivery.
So, you can get your scooter safely delivered while you enjoy the parks on your first day.
Their rates are also extremely competitive, and you can cancel your booking within 48 hours if your plans change at the last minute.
The only thing to consider is that you'll need to pay $25 and $45 if you lose your keys or charger during your stay.
Otherwise, they're very reliable and are an awesome choice for a scooter rental at Disney World.
Gold Mobility Scooters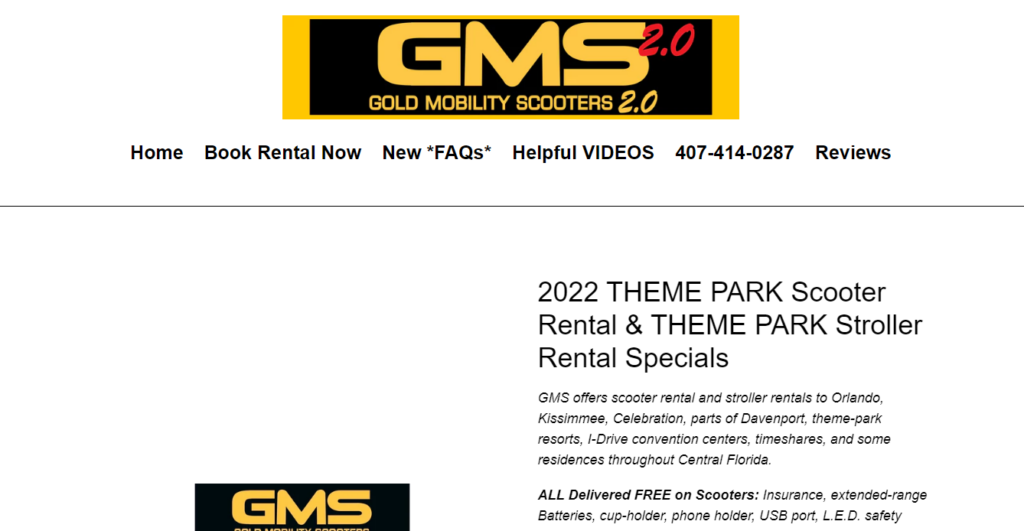 Another top-notch spot for a Disney scooter rental is Gold Mobility Scooters.
Not only do they have glowing reviews on Google, but they offer discounted and high-quality mobility scooters in the Orlando area.
Plus, you get cup holders, extended-range batteries, insurance, safety lights, USBs, and phone holders for FREE!
This is a great company to choose if you're looking for scooters with impressive battery life as they offer several options that are super long-wearing.
It's also a huge plus that Gold Mobility Scooters meet WDW scooter guidelines and are accepted on the park transportation systems.
Walker Mobility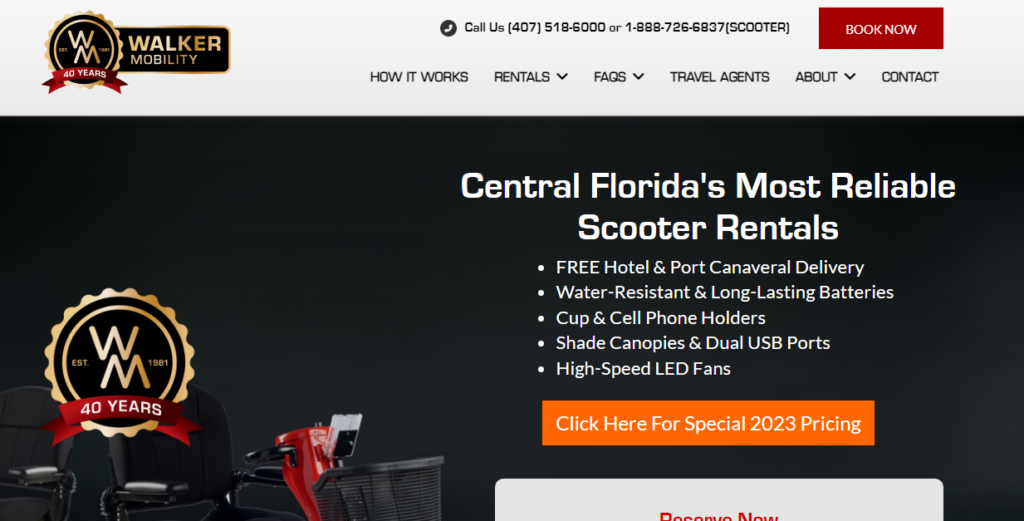 If you're hanging around Kissimmee (which is one of the best places to live near Disney World!), Walker Mobility is excellent for scooter rentals.
It's been providing scooters to visitors since 1995 and has built up a solid reputation as one of the best scooter rental services in Orlando.
They offer free pickup and delivery to local hotels, and most of the scooters are collapsible for easy transport.
The costs are slightly pricier than other options, but you can expect to pay $100 for one or two days and around $220 for 7 days. If you're staying longer than 7 days, you'll pay $15 for each extra day you use the scooter.
Overall, Walker Mobility is a reliable and affordable option if you're looking for a scooter rental at Disney World.
Regal Mobility
Regal Mobility is one of the best scooter rental services in Florida and their prices are excellent.
They actually sell scooters if you're looking for a long-term thing, but they also have a great rental service.
They offer drop-offs to hotels on Disney property and allow you to select a specific date, time, and delivery location.
Their prices are super competitive too.
For 1 day, you can expect to pay $65 for a basic scooter and around $15 a day for 8 – 30 days of use.
They're not the fanciest scooters around, but they're well worth the cost if you're on a shorter trip.
Advantages of renting a scooter from a third party
You can carry your scooter with you to each park without having to return it and re-rent it!
You can rent a scooter for your entire trip instead of taking your chances each morning.
You'll always know that a scooter will be available for your trip dates!
You can get the right scooter for your needs (which may actually save you money!).
You can get a slightly speedier scooter than the ones at Disney World which are on the slow side and not adjustable.
You can usually get a scooter with more storage.
They're far cheaper than Disney World scooters!
You can get them delivered to your Disney resort (for the most part).
Disadvantages of renting a scooter from a third party
You are responsible for transporting your scooter to and from the parks. This isn't a huge problem if you're planning to take park transport as your scooter should be compatible.
Rental scooters can be difficult to figure out and they can sometimes show a bit of wear and tear.
You won't always be able to get in touch with customer service for help once you're onsite.
Which Disney rides let you stay in your scooter?
There are actually several rides that let you stay in your scooter!
If you're looking for a full list, I've got you covered.
Magic Kingdom
Jungle Cruise
Enchanted Tiki Room
Country Bear Jamboree
Raft to Tom Sawyer Island
Hall of Presidents
Mickey's PhilarMagic
Carousel of Progress
Monsters Inc. Laugh Floor
Liberty Square Riverboat
Hollywood Studios
Indiana Jones Stunt Spectacular
Muppet Vision
Voyage of the Little Mermaid
Disney Junior Live on Stage
Beauty and the Beast Live on Stage
Fantasmic!
Star Wars Launch Bay
EPCOT
Advanced Training Lab
The Seas with Nemo and Friends
Turtle Talk with Crush
Bruce's Shark World
Journey Into Imagination with Figment
Image Works
Mexico Folk Art Gallery
Reflections of China
House of Whispering Willows
The American Adventure
America Gardens Theatre
Impressions de France
Canada!
Bijutsu-Kan Gallery
Stave Church Gallery
Animal Kingdom
Tree of Life Garden
Discovery Island Trails
It's Tough to be a Bug!
Festival of The Lion King
The Boneyard
Fossil Fun Games
Finding NEMO – The Musical
Gorilla Falls Exploration Trail
Wildlife Express Train
Maharajah Jungle Trek
Conservation Station
Rivers of Light
Blizzard Beach
Tips If You're Considering Scooter Rental at Disney World
Consider room accessibility requirements
If you're visiting Disney World with a scooter, you'll want to make sure you have an accessible room.
This shouldn't be a huge problem, but it's always wise to mention that you're bringing a scooter when booking your hotel.
The resort can then give you a room that can accommodate your scooter.
Think about transport if you have an ECV rental
If you're planning to take private transport with your scooter, you should be totally fine.
But you'll want to consider how comfortable you feel with Disney's transport before booking a scooter.
The monorail and the rest of Disney's transportation are relatively scooter friendly. But navigating these with a scooter you're unfamiliar with can be tricky.
If you practice using your scooter before heading to the parks, you shouldn't have much of an issue navigating ramps.
Use Disney apps to check what's scooter-accessible at the parks
If you don't want to constantly check my list of scooter-accessible rides that I mentioned earlier, just check the Disney Experience App!
Disney apps should be able to tell you which rides are wheelchair and scooter-accessible during your trip.
Learn how to reverse properly
This might sound like an obvious point, but you'll want to make sure you learn to reverse your scooter properly!
If you're not in control of your vehicle, you can cause serious damage to yourself, others, or park property.
And hey – it can also help you with getting onto Disney transportation without a hitch!
What Are the Downsides to a Scooter Rental at Disney World?
There aren't many downsides to a scooter rental at Disney World if you need a mobility aid.
But you should be aware that it can be slightly cumbersome trying to navigate a busy park with your scooter.
Most people will give way to scooters, but you might spend time stuck behind crowds which can be stressful.
As long as you keep calm and let the other members of your party take the lead – you'll be fine!
FAQs
Can I bring an electric scooter from one park to another?
You can if you're renting a scooter from a third-party company, but you won't be able to park hop if you rent a Disney scooter.
What do you do if your electric scooter battery dies at Disney World?
If your battery dies at Disney World and you're using a scooter you rented from the parks, someone will replace or charge your scooter.
If you're using a third-party scooter – you could be in trouble and will have to head to Guest Relations to recharge.
For this reason, I always recommend taking your key out of the ignition whenever you can as it'll stretch your battery life quite a bit.
Is the monorail ECV-friendly?
If you're staying at one of the Disney monorail hotels, you'll be pleased to know that the monorail is ECV-friendly.
But only just.
The ramps can be super narrow and you'll need to have someone in front of and behind you to guide you up onto the monorail.
It's not impossible, but it can be slightly tricky if you're not used to the scooter you're using.
Is it a good idea to take a rental with you or rent them at the parks?
I'll always recommend bringing your own scooter along or renting it from a third party as it's just way cheaper. It's also a good idea to park in the handicapped part of the parking lot if you can!
What happens if my ECV is stolen or moved while I'm on a ride?
I'll say that park thieves do exist at Disney World (though they'll usually be caught and sent to the park jail!).
But don't worry too much about this.
Most scooter disappearances are because Cast Members have moved them or someone has accidentally taken yours.
Usually, these issues are resolved very quickly.
Do scooters sell out at Disney?
Yes, scooters often sell out at Disney as they're very popular. To avoid this, grab a rental from a third-party company.
Will a scooter last all day at Disney World?
Most scooters will last between 8 and 10 hours with a full charge, meaning most will last for an average park day!
There you have it: the ultimate guide to scooter rental at Disney World!
Have you ever rented a scooter at Disney World? If so, I'd love to hear about your experience in the comments below.
Related Posts: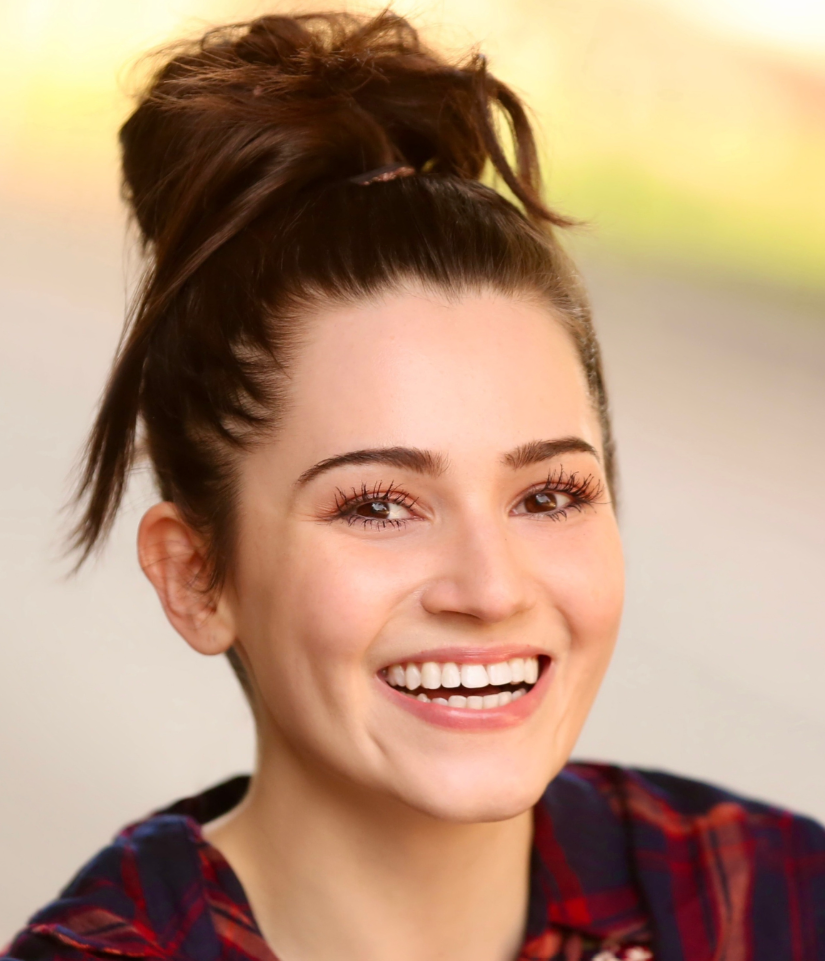 Grace is the creator, editor, and sole writer for Pixie Dust and Passports – a blog that's ALL about Disney! She's made it her life's mission to visit the Disney parks as much as possible and loves trying new snacks, grabbing the latest spirit jerseys, and rocking Loungefly bags. Oh, and she also holds a BA in History from UCL, which makes her a research and deep-dive enthusiast into all things Imagineering.