Have you heard stories about the famous Disneyland pickles that guests love? If you want to try them for yourself, keep reading to discover where you can find them at the parks!
It's no secret that Disneyland pickles have been an iconic park snack that for YEARS.
And I'm not surprised.
Not only are they incredibly delicious and always cold-pressed and fresh, but they're super affordable too!
If you've always wanted to try Disneyland pickles but don't know where to find them, I've got you covered.
I've gathered together every single location that sells pickles and have also compiled a few fun facts that might interest you!
Now let's dive in.
What Are Disneyland Pickles?
Disneyland pickles are different from regular dill pickles as they're cold-pressed and always fresh. So, they're not your average vinegar-flavored treats!
Although they still have a classic pickle-like flavor, they're so refreshing and are the perfect pick-me-up on a hot day.
Why Are Disney Pickles So Good?
Part of the reason why Disney pickles are so delicious is that they're cheap!
But I also think that the perfect tartness of the brine mixed with that classic crunch makes it a superior Disneyland snack.
But there's more to these pickles than first meets the eye.
I've always found them just slightly sweet, and the saltiness gives them a savory kick that I can't get enough of.
Plus, pickles have been at Disneyland for decades. So, it'd be rude not to try some on your next trip!
If you want something with more of a kick, you can get the Disneyland spicy pickles. They're not available everywhere, but you should totally try them if they're being sold!
How Much Do Disneyland Pickles Cost?
It depends on what stall you visit and the size of the pickles, but they're usually between $1.99 and $3.99.
If you're grabbing the famous hand-battered fried pickles from the Carnation Café, these will set you back $9.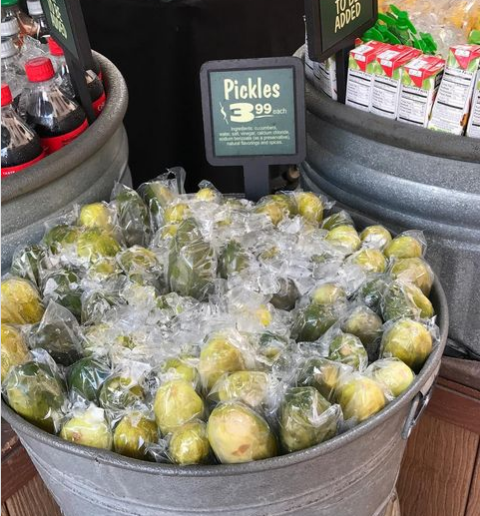 Where to Find Pickles at Disneyland
You'll be pleased to know that there are several spots around the park where you can find famous Disneyland Pickles!
They're usually sold at Disneyland's fruit carts, but you'll also spot them at a couple of restaurants.
If you're looking for a full list, you're in luck:
1: Critter Country Fruit Cart
I'm a big fan of the Critter Country Fruit Cart as it's right by Splash Mountain (ideal for snacking in the queue!).
2: Ship to Shore Marketplace
Looking for Disneyland pickles near Big Thunder Mountain? Head to Ship to Shore Marketplace which serves classic pickles!
3: Tomorrowland Fruit Cart
If you've been playing Buzz Lightyear Astro Blasters, you might want to refuel with some pickles at Tomorrowland Fruit Cart!
It's near Space Mountain and usually has average-sized queues.
4: Tropical Imports Snacks
Tropical Imports Snacks is another spot for grabbing Disneyland pickles which you'll find right by Jungle Cruise.
5: Main Street, U.S.A
If you want to buy pickles on Main Street, you'll find them by Disney Clothiers. They should be the same price as pickles at any other fruit cart in the parks.
6: Fantasyland Fruit Cart
The Fantasyland Fruit Cart is right by the Red Rose Tavern and is a cheap spot to grab $3.99 pickles at Disneyland.
7: Fairfax Market (when it's open!)
You'll find Fairfax Market in Hollywood Land at Disney's California Adventure Park.
It sells a mix of healthy snacks like sliced fruit, pickle spears (!), veggie cups, and hummus.
Plus, you can grab refreshing coconut water or some soda to enjoy as you walk around the parks.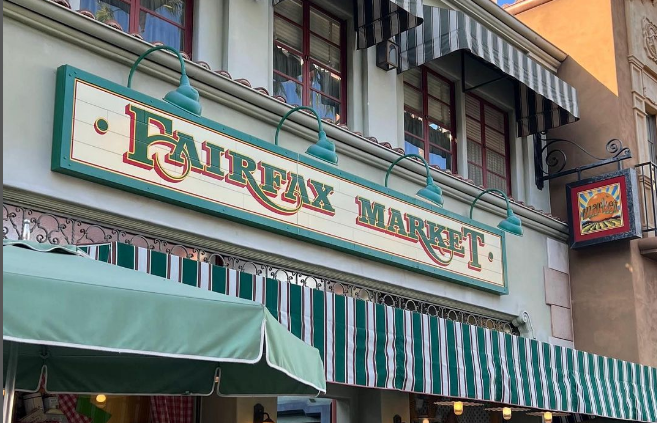 8: Carnation Café
If you want to try Disneyland pickles, then I highly recommend heading to the Carnation Café.
They serve the most amazing pickle spears and they're fried to perfection.
They're not quite the same as the classic Disneyland pickles, but these whole pickles are dipped in parmesan and covered with panko bread crumbs.
So, they crackle and crunch with every bite!
I always recommend booking a table at the Carnation Café if you want to try the pickles as it tends to book out.
But you may be lucky if you visit outside of peak mealtimes!
9: Mortimer's Market
Mortimer's Market is a good place to buy pickles at California Adventure if you need your fix immediately.
You'll find it right as you enter the park and it's pretty easy to spot.
10: Fillmore's Taste-In
You can also get Disneyland pickles at Fillmore's Taste-In which is right by Mater's Jamboree around Cars Land.
They're great for a grab-and-go treat as you're trawling through Radiator Springs.
Can You Get Pickles at Disney World?
You sure can!
Although they're more of a Disneyland staple, you can still get them at Disney World!
You'll find them at:
Liberty Square Market
Anaheim Produce (Pickles in a Pouch for $1.99!)
Harambe Fruit Market
Port Orleans Riverside and French Quarter
Where Does Disney Source Their Pickles From?
It's said that Disney source their pickles from Gielow Pickles!
They're an extremely popular supplier of pickles across the country, and you can usually find them at Costco.
But three cheers for experiencing a touch of Disney magic back home!
And hey, I love the fact that they're low-calorie and satisfy any salt cravings you might be having.
Can You Get Free Disneyland Pickles
NO, you can't get free Disneyland pickles.
There used to be a rumor that asking a Cast Member how their day was going would score you a free pickle. But so many people tried it and no one ever got free pickles.
In my opinion, it's always worth engaging with a Cast Member – but don't expect to get a free pickle out of it!
Can You Get Disneyland Pickles Outside of the Parks?
Unfortunately you can't get Disneyland pickles outside of the parks as they're exclusive to grab-and-go locations inside the gates.
You can grab them from Costco if you want a taste of the pickles at home, but they never taste exactly the same.
If you want to recreate the coldness of park pickles, just pop them into the freezer for 10 minutes (or on ice!).
Are you hanging around Downtown Disney? Then you might want to compromise with the fried pickle chips at Black Tap!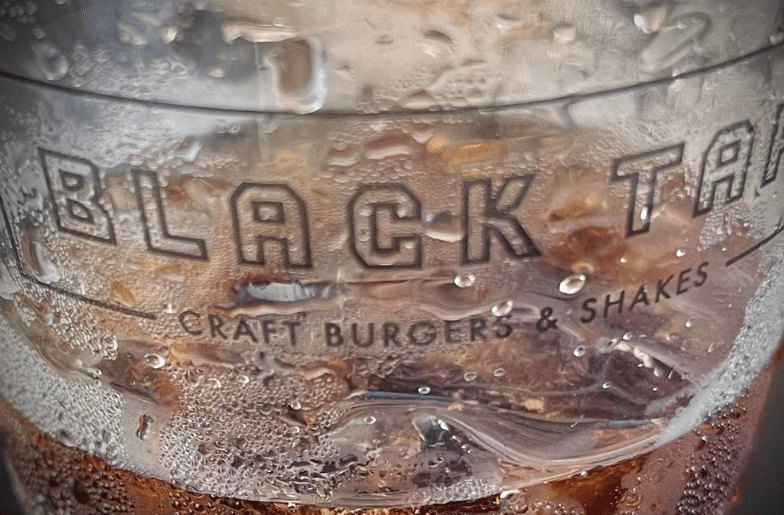 They're super crispy and have a slightly tangy flavor. You can also eat them with a delicious buttermilk dill sauce which dials things up in a big way.
Throw in one of their famous milkshakes, and you'll truly have a meal to remember.
If you want to try something different like the Disneyland pickle corn dog, check out the Blue Ribbon Corn Dogs Cart.
It sells expensive corn dogs, and one of them features a hot dog stuffed inside a dill pickle!
And did I mention that it's coated in batter and fried to create an incredible crust?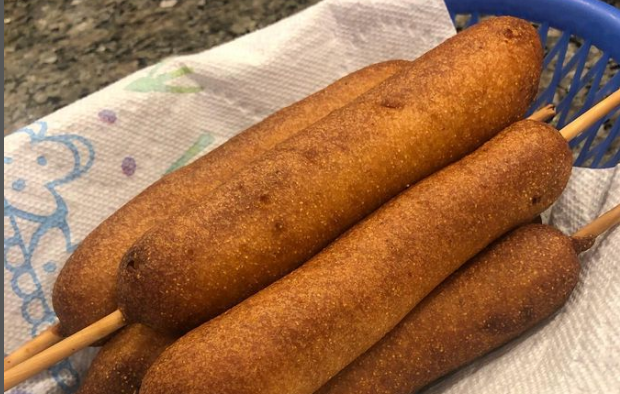 I hope that this guide to Disneyland pickles has helped you out!
These incredibly popular snacks are totally worth trying during your trip, and now you know where to find them!
Do you love Disneyland pickles? Do you have any tips and tricks for finding these delicious treats? I'd love to hear your thoughts in the comments below.
Related Posts: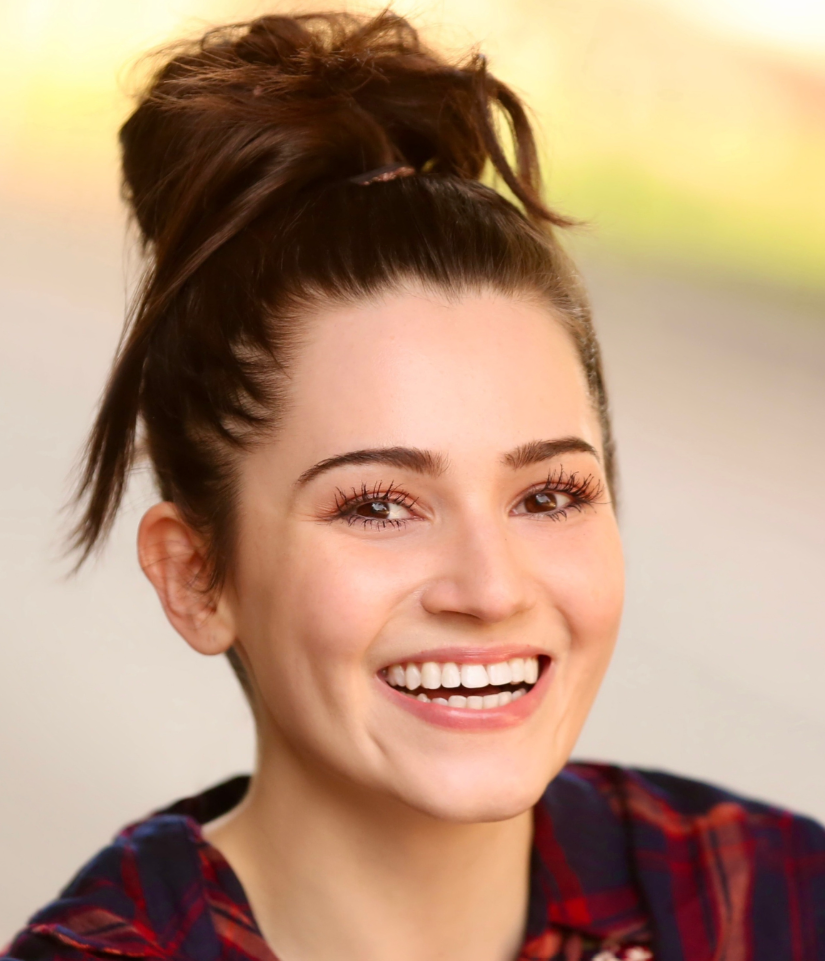 Grace is the creator, editor, and sole writer for Pixie Dust and Passports – a blog that's ALL about Disney! She's made it her life's mission to visit the Disney parks as much as possible and loves trying new snacks, grabbing the latest spirit jerseys, and rocking Loungefly bags. Oh, and she also holds a BA in History from UCL, which makes her a research and deep-dive enthusiast into all things Imagineering.