If you've been asking yourself "can you buy Disneyland tickets at the gate?", then you've come to the right place! Join me as I cover everything you need to know about purchasing Disneyland tickets!
Is there anything better than visiting the Happiest Place on Earth? I certainly don't think so!
If you're planning a visit in the near future, you may be wondering "can you buy Disneyland tickets at the gate?".
After all, there's nothing more exciting than an impromptu road trip with the kids in tow!
It honestly doesn't matter whether you're a total newbie to the Disney scene or a regular visitor. This in-depth guide covers everything you need to know about buying Disneyland tickets at the gate.
Now let's get to it!
Can You Buy Disneyland Tickets at the Gate?
You can technically buy Disneyland tickets at the gate at the moment, but there is a catch.
You'll need to have a park reservation alongside your ticket. So, Disneyland will only sell tickets at the gate if there is capacity available inside the parks.
And honestly – that's not overly common these days!
The main thing to remember is that buying tickets at the gate as a last-minute thing won't give you instant access to the parks.
The ticket officers will check reservation availability for both parks, and either sell you a single park or park hopper ticket.
If the parks are booked up – you're out of luck!
I will say that Disney does try to incentivize guests to buy their tickets online instead. This is mostly because it makes things way easier when it comes to guessing capacity.
But it's also to get a better idea of profit on any given day!
And honestly? Buying tickets ahead of time (and not at the gate!) means you can go straight through to the parks without queueing.
Can You Buy Disneyland Tickets At the Gate: How to Buy Disneyland Tickets
Online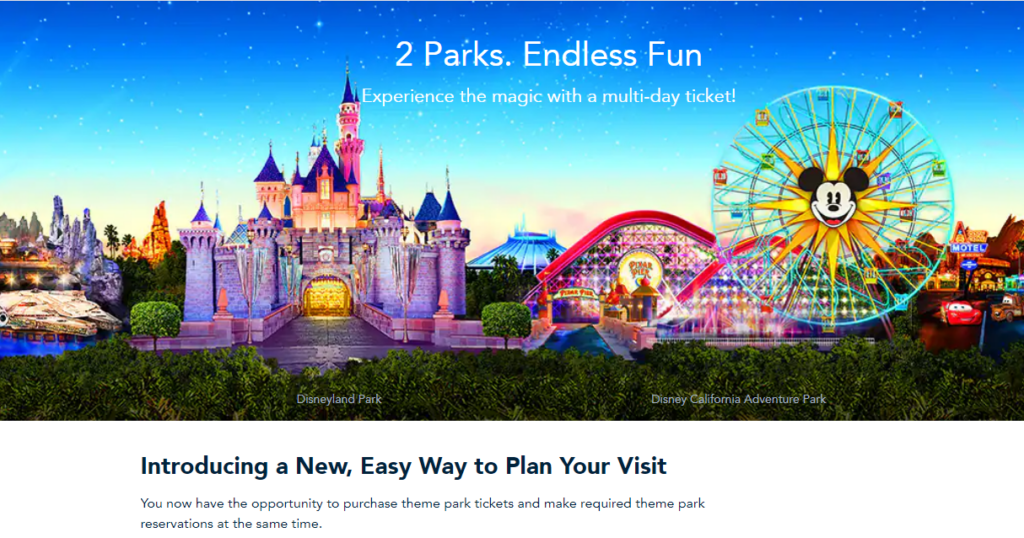 When you're purchasing Disneyland tickets online, you can just head straight to Disneyland.com.
You'll then head through their purchasing page and will get a ticket in a physical format or an eTicket (which I find easier!).
The tickets are delivered in a classic Adobe PDF format, so you shouldn't have issues opening or printing them.
When you get to the gates, just show your tickets and you'll sail right through.
Through the App
The process through the app is super similar.
It's available on Apple and Android and it essentially lets you download tickets directly to the app.
Not only does this mean you can skip any ticket office lines, but you'll have everything from Genie+ to handy maps in one place!
I'd purchase them in advance, but you can purchase them through the app when you're at the parks if you wish.
When it comes to actually buying the tickets on the app:
Head to the app.
Create an account or log in.
Go to the + symbol at the bottom of the app.
Go to Buy Tickets and Annual Passports.
Click on the tickets you'd like to buy and pick how many people are attending and how many days you're planning to visit.
Check out!
At the Disney Store
If you're lucky enough to live near a Disney store, then you can pick up Disneyland tickets there!
You will need a valid photo ID and a payment card to grab your tickets, but they're otherwise easy to purchase.
You'll purchase actual cards that can be activated online. Otherwise, you can use them at the park gates as physical tickets to bypass this step.
This is a perfect way to buy Disneyland tickets if you've been gifted a Disney Gift Card for the holidays.
Otherwise, it just might be your most convenient option!
If you're remotely unsure about how to use your tickets or when they're valid, just check in with the Cast Member at the store.
Types of Disneyland Tickets You Can Buy At the Gate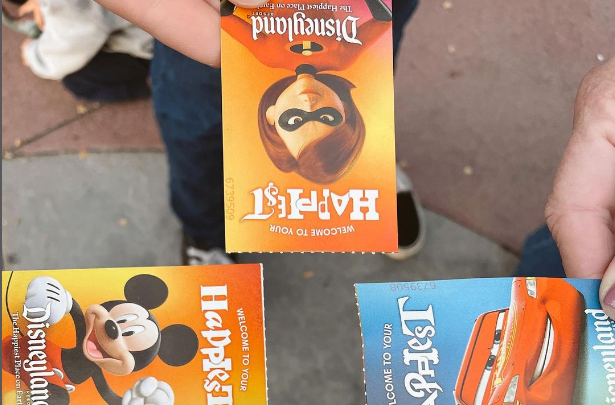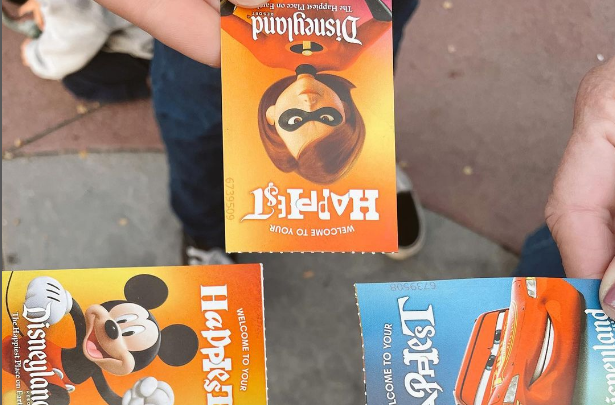 One-Day Ticket
A one-day ticket is the most commonly sold Disneyland ticket, and they're usually sold in price tiers.
These depend on how crowded the park will usually be during your visit,
Multi-Day Ticket
If you're planning to make a major vacation out of your Disneyland visit, then you'll want multi-day tickets.
They come as one-park per-day tickets or park hoppers.
The type you choose will be totally down to your itinerary and how flexible you want it to be.
If you're worried about running into queues or have impatient kids that want a change of pace throughout the day, a park hopper is perfect.
For families that have carefully planned their day from rope drop to fireworks – one-park per-day tickets will be just fine!
Just so you're aware, these are the prices of tickets as of 2023: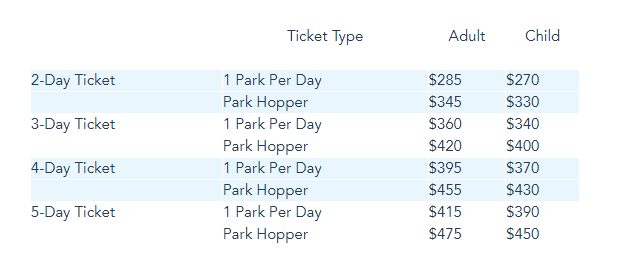 One-Park-Per-Day Ticket
If you want to save a bit of money and aren't interested in one of the parks, then a one-park-per-day ticket is a good option.
As you might expect from the name, these tickets let you into one park during the day but not the other.
Park Hopper Ticket
If you want to try and cover two parks in one day, I highly recommend buying a park hopper ticket.
That's if they're available of course!
You'll need to check whether park hopper reservations are available before purchasing, but you can always take your chances at the gate.
Park hopper hours usually start after 1 pm (but are often at 11 am as of 2023), which means you'll book a certain park for the morning and then be able to move over.
And luckily for you, the Esplanade takes just 3 minutes to cross (and that's all you need to do to get between parks!).
If you don't get to the parks until 1 pm but you have a park hopper ticket, you can choose which park you'd like to visit.
Just be warned that park hopper hours can change at any time. So, I highly recommend checking park hours before visiting.
Although park hopper tickets are more expensive than other options, I'd say that it's worth shelling out for if you're not around for long.
This should enable you to check out the headlining rides at both parks without visiting for multiple days.
Where Do You Buy Disneyland Tickets?
You can buy Disneyland tickets at any designated ticket booths around Disneyland Park and Disneyland California adventure.
You'll find the Main Gate Ticket Booths at the Esplanade area which links the two parks together.
It's always well-signposted – so don't worry about finding it!
How Do I Scan Disneyland Tickets?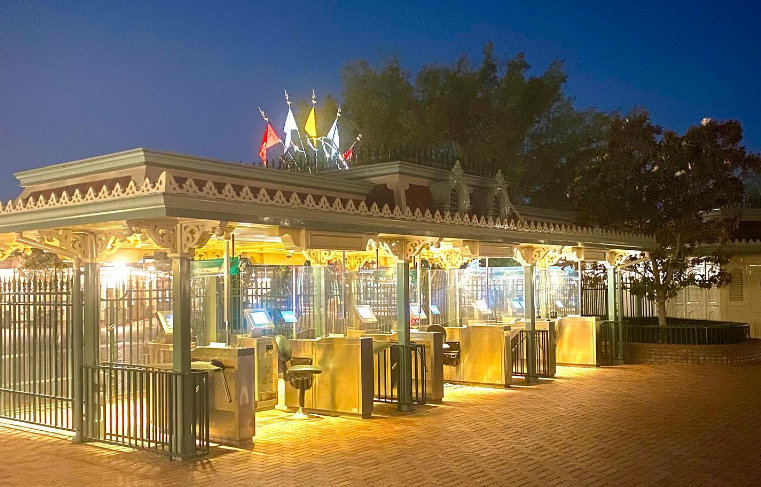 Before you actually scan your Disneyland tickets, you'll need to get up your reservations on the Disneyland App (or account).
I've always thought that using the app made everything easier as you'll also have access to any Genie+ or Lightning Lane bookings.
To get to your reservations, you just need to go to MENU > Tickets and Passes and you'll find your reservations ready to show the Cast Members.
Just so you know, you'll also receive QR codes for each reservation through your email. So, if you'd prefer to use your email to access park reservations – you can do so!
When it comes to actually using your e-ticket, you'll want to either print your online tickets or have them digitally on a device.
You should have a QR code on the phone that can be scanned for each ticket.
Oh, and don't forget that Disneyland tickets aren't transferable once they've been scanned for the first time!
How Do I Get a Disneyland Reservation?
As I've mentioned, you'll need a valid park reservation to get into Disneyland.
To do this, you'll want to check out the Disneyland Availability Calendar and take a look at your desired dates.
This should tell you which parks have spare spots and what you can book.
The page should look something like this, and you'll see symbols that will let you know what parks have availability.
You'll then just need to log into your Disneyland account, make a reservation with your ticket number, and that's all!
Just so you're aware, if reservations are transferred or sold, they'll be considered invalid. Your park reservations will also expire at the end of the day and won't be refunded.
If you can't get the reservation you want, it's always worth checking back.
Guests will often cancel their theme park reservations last minute, letting you swoop in to snag their spot!
And hey – the fact that you can get Mobile Dine Walk-Up Availability, you might even be able to get a dining reservation too!
If you need to change your reservation for any reason, you can cancel your reservation by midnight the day before.
Your ticket will then stay in your account until you can find a convenient date to visit the parks.
Can I Get a Disneyland Ticket Refund?
I've written an in-depth post about Disneyland ticket refunds, but in short – no.
Once you've purchased a ticket, you won't be able to get a full refund.
But you will be able to use your ticket on a different date if it's not already been used.
The only time you can get a ticket refund is if there's an unprecedented weather event or something that causes the park to close.
Is It Cheaper to Buy Disneyland Tickets at the Gate?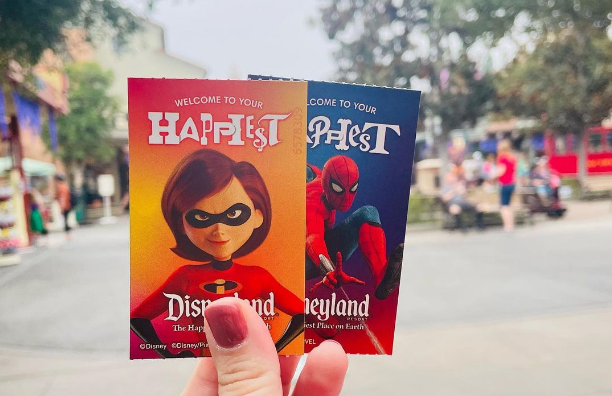 It really isn't cheaper to buy Disneyland tickets at the gate.
Not only do you secure your spot if you buy tickets online or via the app, but you usually save a bit of money!
You can also benefit from online-only offers that can include additional days for free, dining deals, and much more.
If you're buying tickets at the gate, you will always be paying full price.
Whether you choose to grab tickets at Disneyland.com or through the app – you'll always get a better deal.
The Best Way to Buy Disneyland Tickets
I'll always direct people to Disneyland.com as I've always found it the best place for tickets as you get a reservation simultaneously.
Not only are they reliable and you can troubleshoot directly with Disney, but the booking method is simple and user-friendly.
And this is especially true if you're just grabbing 1-day tickets!
If you're buying multi-day tickets, you might be able to grab discounts by booking a vacation package or using military discounts.
If you plan to visit multiple times during the year, I'd suggest purchasing an annual pass (or Magic Key!).
Over time, annual passes usually pay off and can save you significant amounts through discounts at restaurants and on merch.
If you're a California resident, make sure you take advantage of any resident promos.
You can often save on 3-day park hoppers with SoCal resident promos which can be super useful for families.
FAQs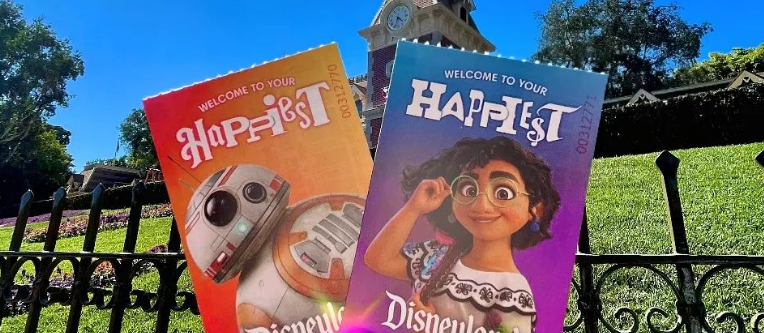 Are there any Disneyland ticket add-ons?
You don't need to add anything on to a normal Disneyland ticket, but Genie+ and park hopping are always popular. At the moment, Genie+ costs $25 a day to add to a Disneyland ticket.
Can you get discounted Disneyland tickets?
You can get discounted Disneyland tickets at certain travel agencies. If you visit the Disneyland website often enough, you may even come across a few discounts during off-peak periods.
Should I add Genie+ to my Disneyland tickets?
I'm still unsure about whether Genie+ is worth it as it depends entirely on your trip. If you don't have much time to play with or are traveling with young kids, skipping lines can be a godsend. But if you're traveling for multiple days, it can quickly add up!
What day is Disneyland least busy?
Disneyland is least busy in Early January and February, and weekdays are always less busy (excluding Friday!). If you want to avoid crowds, I suggest avoiding American national holidays, weekends, and periods like Christmas and Halloween.
How early should I get to Disneyland?
Honestly? Get to Disneyland as early as possible to avoid crowds. Try and get to the parks for rope drop if you can. Otherwise, just try and beat the afternoon rush!
I hope that this article has answered the question "can you buy Disneyland tickets at the gate?".
Have you ever bought Disneyland tickets at the gates? Did you face any issues or was it easy? I'd love to hear about your experiences in the comments below.
Related Posts: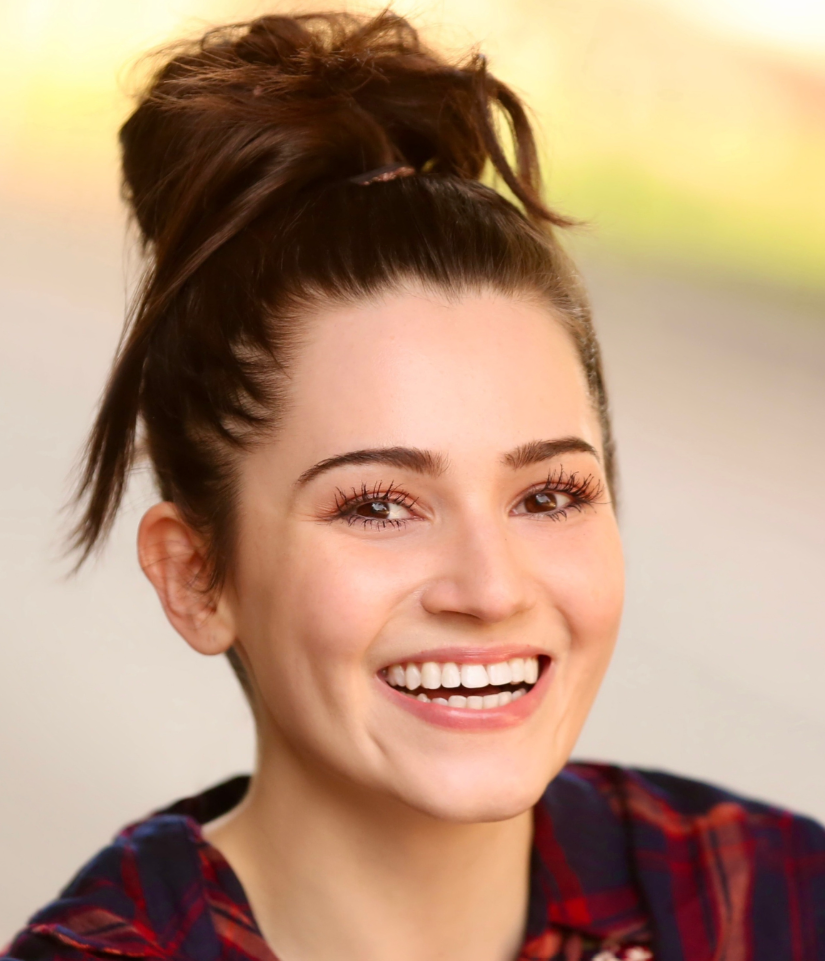 Grace is the creator, editor, and sole writer for Pixie Dust and Passports – a blog that's ALL about Disney! She's made it her life's mission to visit the Disney parks as much as possible and loves trying new snacks, grabbing the latest spirit jerseys, and rocking Loungefly bags. Oh, and she also holds a BA in History from UCL, which makes her a research and deep-dive enthusiast into all things Imagineering.